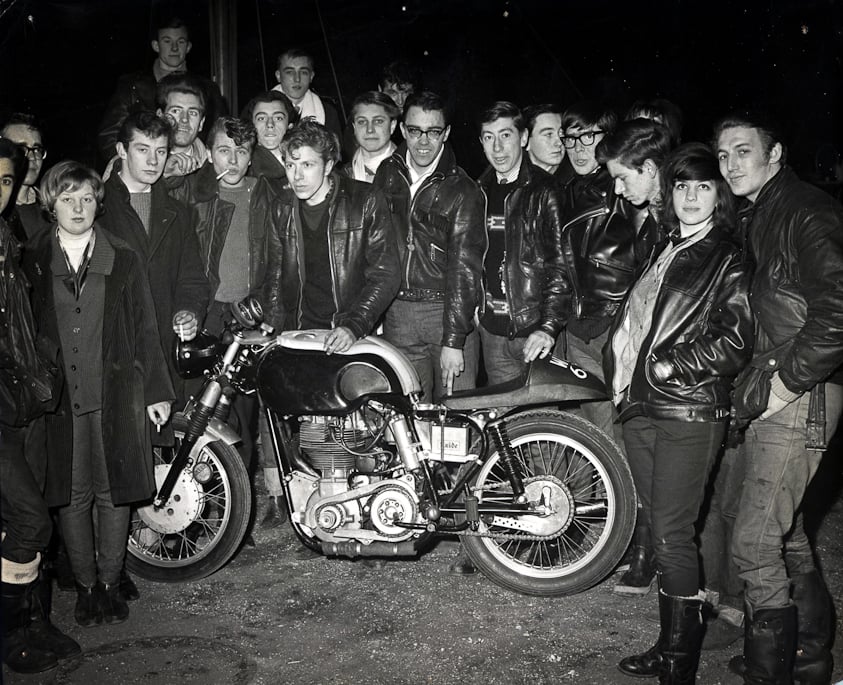 Cafe Racers were first invented in London in the late 1950s, their early creators and became known as the "Ton Up Boys". The "ton" was slang for 100 mph and the goal of any self-respecting cafe racer pilot was to exceed the ton by as much as possible.
Most of the cafe racers built in-period were based on large capacity British muscle bikes from marques like Norton, Triumph, BSA, Ariel, and even occasionally a Vincent.
The original home of the first generation of cafe racer builders was the Ace Cafe – a humble transport cafe in northwest London on the North Circular Road.
Due to the cafe's proximity to the North Circular Road, which was a popular location for illegal street racing, the Ace was inundated most evenings and all weekend by young men, young women, and hand-built custom motorcycles.
It was common for Ace Cafe regulars to race one another, as the story goes a song would be started on the juke box, as soon as the first note was heard the competitors would set off and reach speeds of 100+ mph. The goal was to get back to the cafe first – before the song finished.

Cafe Racer Motorcycles – A Definition
Although there's no official definition of a cafe racer, it's generally believed that they'll have clip-on handlebars, a single seat with a small rear hump or cowl, a fuel tank that may have knee indents in each side, and engine that's been reworked for performance above practicality.
All superfluous weight should be removed, this often includes fenders, side covers, heavy factory mufflers, and sometimes even license plates, headlights, and other legally required elements.
This collection includes every cafe racer we've ever published on Silodrome going back almost a decade. Have a look through, we hope you like what you see, and if you happen to have a cafe racer you think belongs on Silodrome, please get in touch!