Introduction: Porsche is Born
Dr. Ferdinand Porsche had long dreamed of building high performance sports cars just as he had also dreamed of creating cars that ordinary people could afford to own and run prior to Hitler's program that sought to create a system of high speed roads called Autobahns throughout Germany, and for affordable "people's cars" so that ordinary German workers could use those autobahns and enjoy a new much improved lifestyle.
The groundwork for the creation of the new "people's car" had been done by both Dr. Porsche and another fellow Austrian named Hans Ledwinka. The end result of these efforts was not only the creation of the iconic Volkswagen Beetle, but also the creation of the sports car based on its design, the Porsche 356.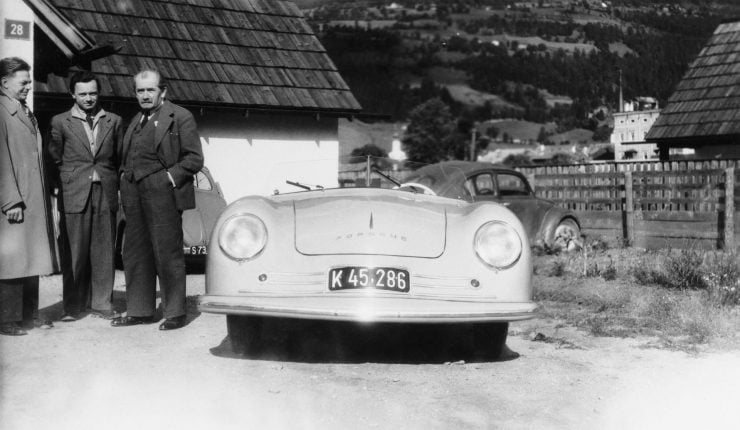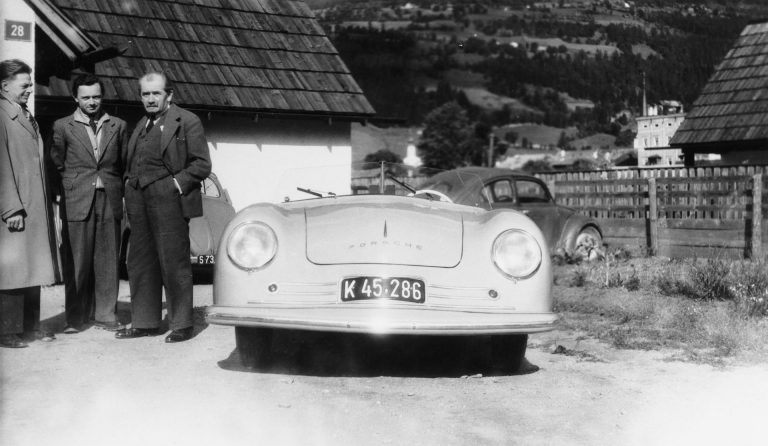 By the time the Second World War was over Dr. Porsche was old and the war and its aftermath had taken a great toll on his health, to the extent that he passed away in 1951, but not before he saw his son, Ferry, and daughter Louise establish a new family business, and with Erwin Komenda design the first Porsche 356 sports car.
The post war period had been very difficult and Ferry Porsche and his sister Louise, who was married to a lawyer, Dr. Anton Piëch, moved the family business to an old sawmill in a small town called Gmünd, in Carinthia, Austria, and established Porsche so that it would not be seized by the Allied occupying forces. From that business base they were able to secure their father's release from post-war internment, and it was during that time that Porsche designer Erwin Komenda working with Ferry Porsche and Dr. Ferdinand Porsche created the first Porsche prototype.
It is to be expected that the first Porsche, which was heavily based on the original "people's car", would become something of a "people's sports car". The Porsche 356 was moderately priced, and economical to run: it was also thoroughly thought through down to such details as having an all synchromesh gearbox, something the British seemed to have had a near religious resistance to providing.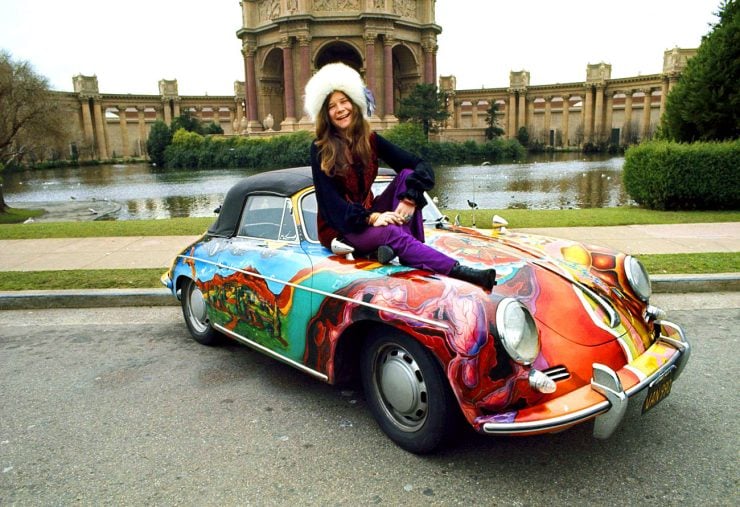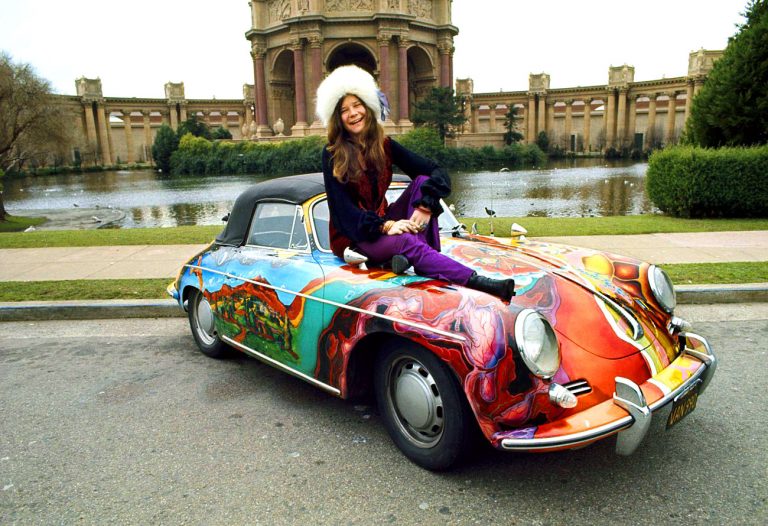 The Porsche 356 made her debut in 1948, three short years after the end of the Second World War and one year before the company relocated to a larger facility at Alpenstraße in Salzburg. The 356 went on to be the car that established Porsche as a well respected maker of sports cars. It proved to be reliable, quick, fun to drive, and affordable.
This was a car that brought excellence in sports car design and performance to many people: it really was a "people's sports car". Not only that but it became fashionable and stylish, riding on the coat tails of the trendiness of the Volkwagen, even American Rock and Roll singer Janis Joplin bought one and had it decorated in a psychedelic paint scheme. So it was not just a people's sports car, it was a people's sports car with a dose of the elusive "coolness" factor.
Porsche: The Second Generation
By the dawn of the 1960's Ferry Porsche, his son "Butzi" (Ferdinand Alexander) and the team with him had decided it was time to replace the aging Porsche 356 and their planned replacement was the much higher performance, and much higher priced, Porsche 911.
There was a significant risk associated with this strategy: would there be sufficient customers willing and able to pay the much higher price that the 911 commanded? This being an unknown quantity it was decided that a lower priced model was also needed, one that was at a similar price point to the 356 that was being phased out, and one that delivered similar performance and levels of comfort.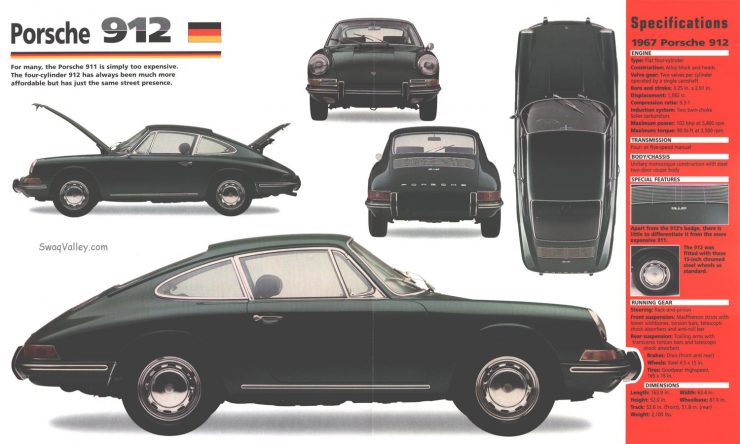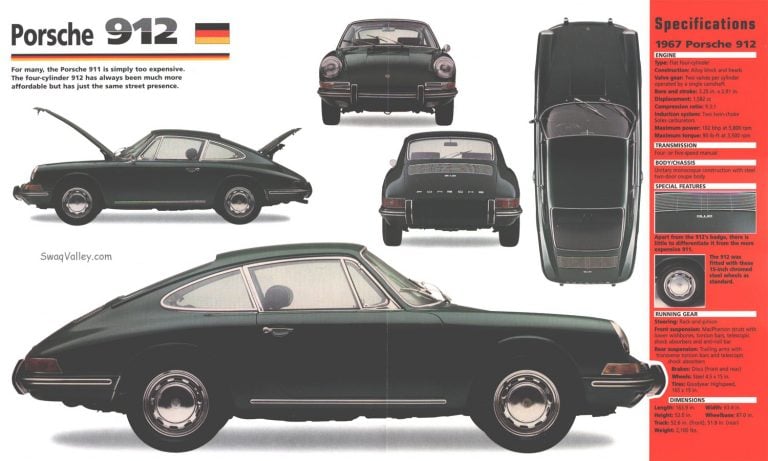 To keep the costs down in creating this new entry-level model a strategy that was floated was to use the Volkswagen derived Porsche 356 engine, but to build the car on the same body as the expensive 911. This would tend to ensure there were lots of similar looking new model Porsches out on the roads. There were a couple of strategies considered, one being to create a four cylinder engine based on the horizontally opposed SOHC boxer six cylinder used in the 911: the other being to use the OHV pushrod boxer four cylinder used in the Porsche 356 SC, which was the 616/16 engine.
For the 616/16 engine there were two possibilities considered, the most ambitious being to increase its capacity from 1.6 liters to 1.8 liters, give it Kugelfischer mechanical fuel injection, and do some redesign work on the cylinder heads, valves and cooling system. There were a number of reasons why the 1.8 liter fuel injected design idea was not pursued.
There were technical issues associated with the Kugelfischer fuel injection system, and the project would have involved a great deal of work, and a higher level of risk than simply developing the 616/16 in a moderately improved form. There was also the consideration that needed to be given to maintenance costs for the owners of the new cars and by using an engine based on the 616/16 those costs could be kept down.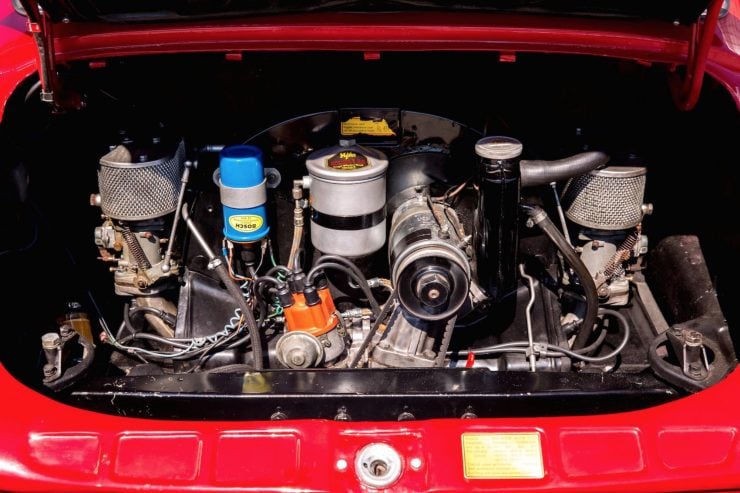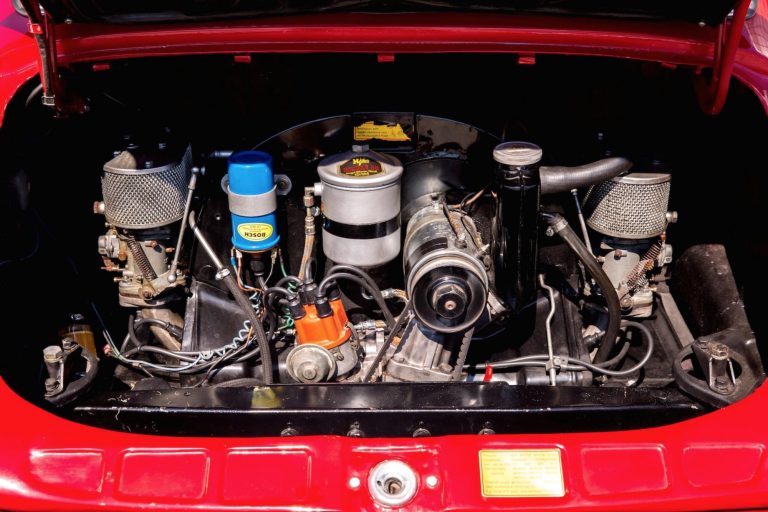 The 616/16 engine was the most powerful production pushrod engine Porsche had developed delivering 95 hp from its 1.6 liters, and this was the engine chosen for the 912 with some modifications. The engine's compression ratio was slightly lowered and it was fitted with different Solex carburetors.
This resulted in a mild drop in power to 90 hp, but improved the engine's flexibility and torque, making peak torque levels available at 3,500 rpm as opposed to the original SC engine which required the engine to be spinning up at 4,200 rpm. This engine was designated the 616/36. The Solex carburetors proved to be a tad troublesome to keep in tune with the result that many owners switched them for suitable replacement Webers in later years.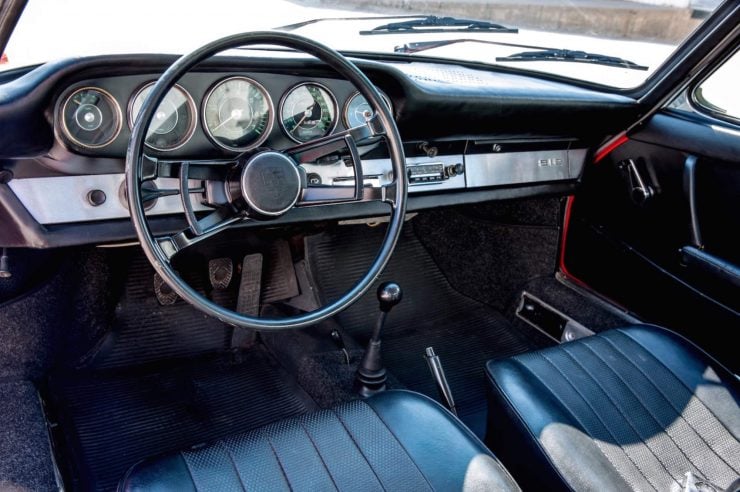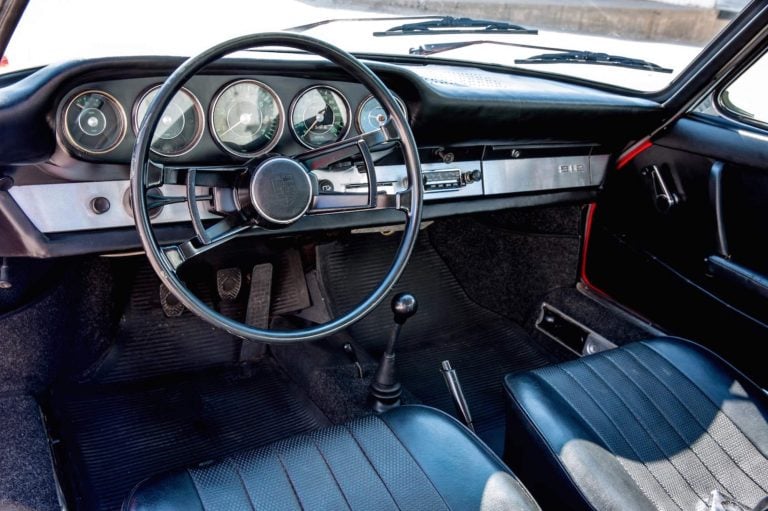 This 616/36 engine was significantly lighter than the six cylinder boxer engine used in the 911 with the predictable result that the 912's front to rear weight distribution was more even, making the car better balanced. Not only that but the 912 was more economical, giving it more range.
The cost cutting in the 912 meant that it did not have the same trim nor full range of instrumentation as was standard on the 911, but the additional instrumentation was available at moderate additional cost: and the 912 was fitted with a less expensive four speed gearbox but with a five speed being made available as a modest cost option (on early models that gearbox was from the 904 racing car). Interestingly both the four speed and five speed had overdrive top gears for autobahn cruising.
The 912 received progressive improvements over its production life. In 1966 two batteries were mounted in the front of the car to improve weight distribution, and the front and rear track were widened from 52.6 inches to 53.2 inches at the front, and 51.9 inches to 52 inches at the rear.
In 1967 the car's engine mounts were upgraded and that model was fitted with safety door locks and better carpet. For its final production year, 1969, the 912's wheelbase was lengthened by 2¼ inches with the aim of improving its handling. This did not result in any increase of room in the passenger compartment however.
Introduced in 1965 the Porsche 912 was a completely new looking car, with modern suspension and comfort on a par with its 356 predecessor, and it looked pretty much identical to its more expensive 911 sibling. Not only that but it had been designed, just like the 911, to be able to be built using modern mass production methods unlike its predecessor. It was the perfect successor to the Porsche 356 both as a driver's car, and as a production car.


Porsche 912 Specifications and Performance
Porsche 912 (1965-1969)
Engine:
1,582cc boxer four cylinder OHV pushrod type 616/36. Stroke and bore 74.0mm x 82.5mm. Compression ratio 9.3:1. Fuel supply by mechanical fuel pump and twin Solex 40 PII-4 dual throat carburetors. Ignition by coil and distributor. Power; 102 hp SAE, 90 hp DIN @ 5,800 rpm. Torque 120 lb/ft SAE, 90 lb/ft DIN @ 3,500 rpm. Fuel tank capacity 16.4 gallons (US), 62 liters.
Gearbox:
The standard gearbox was a four speed while a five speed was an extra. There were over a dozen specific units used depending on year and markets, so for full information refer to the technical data listed on the 912 registry.
Performance:
Standing to 60 mph in 11.6 seconds. Standing quarter mile in 18.1 seconds. Top speed 119 mph.
Porsche 912E (1976)
Engine:
1,971cc boxer four cylinder OHV pushrod. Stroke and bore 71 mm x 94 mm. Compression ratio 7.6:1. Fuel supply by electric fuel pump and Bosch L-Jetronic air-flow fuel injection. Ignition by capacitor discharge. Power 86 hp SAE @ 4,900 rpm. Torque 98 lb/ft SAE @ 4,000 rpm. Fuel tank capacity 21.1 gallons (US), 80 liters.
Gearbox:
Five speed standard.
Performance:
Standing to 60 mph in 9.7 seconds. Standing quarter mile in 17.4 seconds finishing at a speed of 76.4 mph. Top speed 111 mph.
The Porsche 912 as a Practical Road Car
One of Porsche's concerns in creating the 912 as a less expensive alternative to the 911 was that it would take sales away from its more powerful and faster stablemate. This was however preferable than losing sales because the 911 was too expensive, and sometimes too much car for customer's preferences. Rear engine cars can tend to produce handling characteristics that might better be described as vices rather than attributes. Among the best examples of this were the Tatra V8 cars designed by Dr. Ferdinand Porsche's friend Hans Ledwinka.
The Tatra featured an alloy V8 engine mounted in the rear, behind the rear axle line, driving by means of swing axles. The big Tatra were very much favored by some of Hitler's senior generals until it was discovered that the car's tendency to suddenly switch into dramatic oversteer in cornering could result in the driver losing control and the car flipping into a roll, often with fatal results. The Czechs at Tatra regarded this as being rather satisfactory, one Nazi general less seemed to be good to them, but Hitler took a different view and banned his senior staff from owning the car that became known as "The Czech's secret weapon".
The Porsche 911 and 912 did not use swing axles, which make this tendency worse, but instead had drive shafts with universal joints at both ends so the driven wheels would not be subject to the dramatic camber changes of swing axles. So the 911 and 912 were not subject to the dramatic handling quirks of the V8 Tatra, but the weight of the engine was still behind the rear axle line, and would still produce a quick switch into oversteer when pushed. The 911 with its heavier and more powerful flat six cylinder engine was more prone to this than the 912 with its lighter, and less powerful flat four cylinder engine, with the result that the 912 came to be regarded as a better balanced and thus easier to manage car. Front to rear weight distribution of the 912 was 44/56.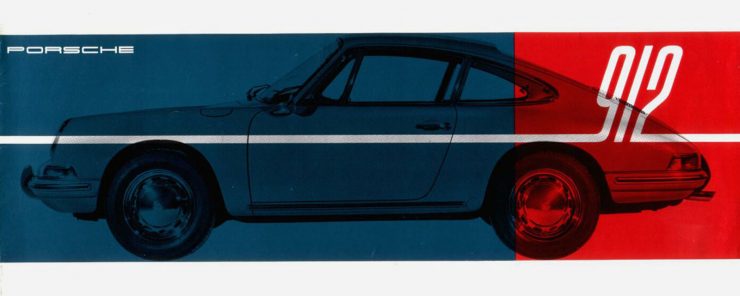 What the Porsche 912 did offer was superb point to point driving. Its more economical engine gave it more range, its better balance made its handing more predictable, and its long distance driver comfort level was much the same as the 911. So, if the driver was looking for lots of performance, then the 911 was the car to choose. But if the driver was looking for a well balanced road car with excellent handling and range then the 912 was the one to buy: and buy them is what people did. Porsche 912's outsold Porsche 911's by a margin of two to one.
Enter the Targa
In 1966, the year following the launch of the 911 and 912, Porsche introduced the Targa model to provide an open sports car for those who preferred that over the coupé. In the 1960's there had been some concern among manufacturers exporting to the United States that the government might decide to ban convertible cars because of safety concerns related to passenger protection in a roll-over. The Targa was Porsche's logical answer to this potential problem, providing a stylish roll bar, and also providing the car with both the ability to be a weather proof coupé, or an open roadster.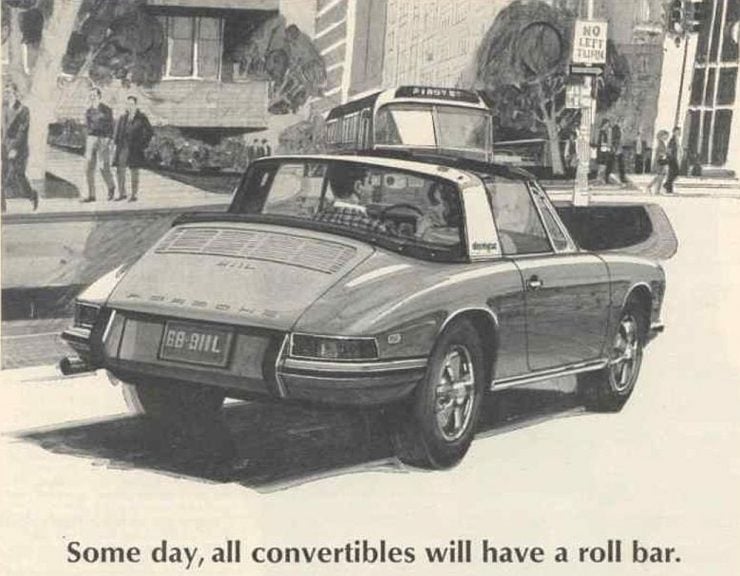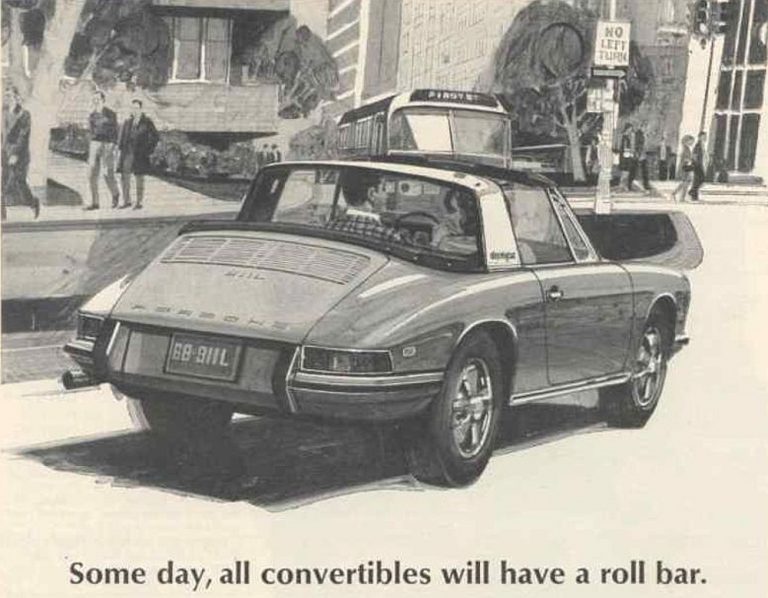 It was a 912 Targa that would be the 100,000th Porsche manufactured and it was a specially made for the police of Porsche's home state, Baden-Württemberg and presented to them on December 21st, 1966.
The first version of the Targa featured a removable roof section and transparent plastic rear windows which could be opened by a zip fastener. These "Version I" Targa cars proved to be a design that could stand some improvement. The plastic rear windows tended to deteriorate when exposed to the weather for long periods and were not doing Porsche's reputation any good. This led to the update to the Version II with a proper glass rear window in January of 1968 (this being called the "hard window Targa"). This model proved to be much better providing the same durability as a normal coupé, but with the removable roof to give open air driving when desired.
The End of the Road, the First Time
By the late 1960's Porsche's leadership was aware that it was going to need to come up with a new model to replace their 912, and indeed the thinking was that the 911 was also going to need to go at some future point too. Although the handling of the 911 was excellent it did have that characteristic switch into oversteer when pushed hard. This was something that a seasoned driver would handle with aplomb: at a race track I used to frequent during the 1960's and 1970's there was a German driver with a Porsche 911 who was often seen not with just one wheel off the ground, but two. He seemed to handle it with a boring ease that others may not have managed.
Porsche decided that a mid-engine sports car would be the way to go. The very first Porsche prototype of the late 1940's had a mid-engine layout but this had been deemed too expensive to put into production, so the rear engine was used instead. Porsche decided that the time had come for a mid-engine Porsche and the design team sharpened their pencils and got to work ( these were the days before Computer Assisted Drawing).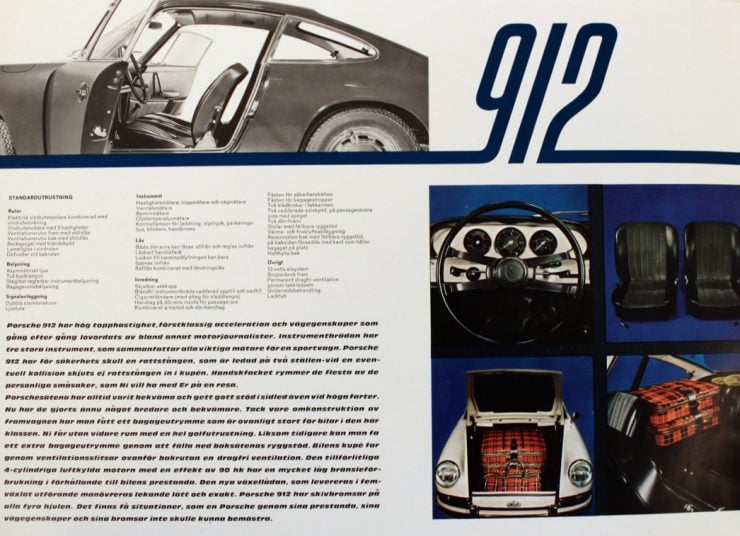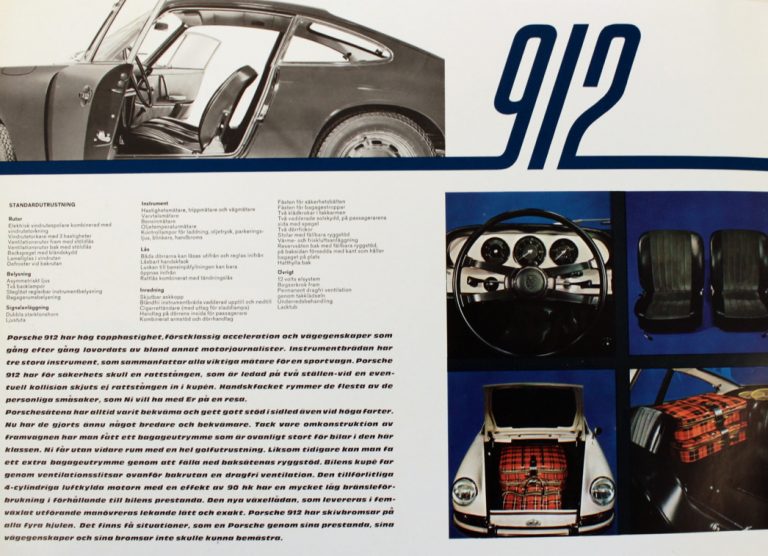 The new car was the Porsche 914 and it was made to be the direct replacement for the 912 as the entry level Porsche. During this period the United States and some other countries were introducing vehicle emissions standards and the 616/36 boxer engine of the 912 was going to be difficult to adapt to fulfill those standards. Porsche needed the production line facilities that were used for the 912 for its replacement the 914, and so continuing 912 production was deemed not viable and it was phased out in 1969.
The Porsche 912E: The Last of the Breed
Scottish poet Robbie Burns reminds us that "the best laid plans o' mice and men gang aft agley" (i.e. the best laid plans of mice, and men, often go astray): and by 1976 the Porsche 912 was required to be "born again" as the Porsche 914 was taken out of production pending the bringing in of a new entry-level model, the Porsche 924.
The impediment to the 912 remaining in production past 1969 had been the 1930's origin 616/36 engine and to bring it back it needed a new more modern power-plant sitting in its tail.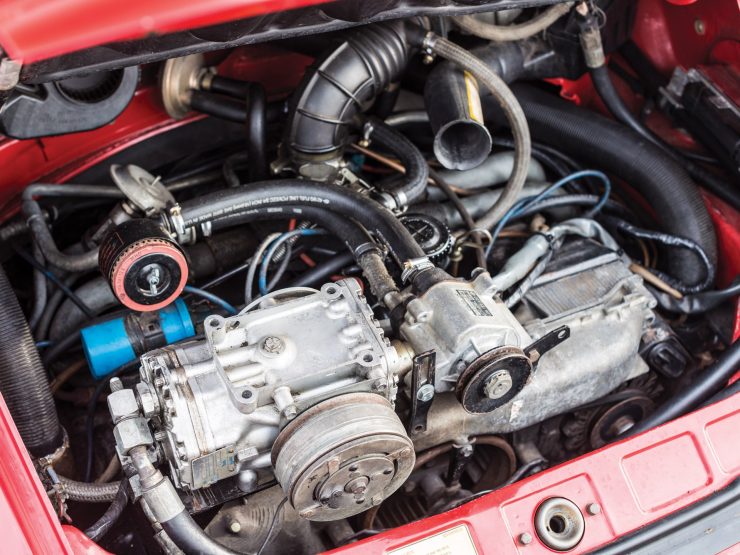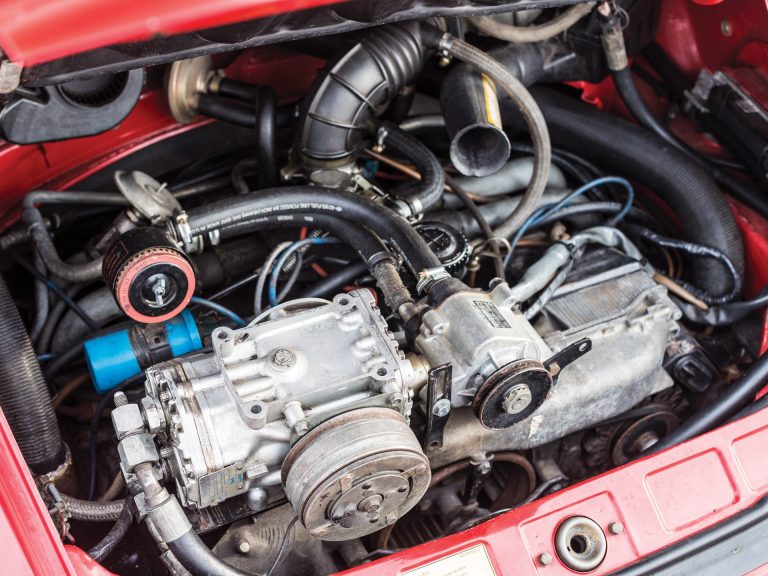 That more modern power plant was based on the Volkswagen flat four cylinder used in their Type 4 cars. The Volkswagen 1.7 liter capacity was increased by lengthening the stroke to 71mm and bore to 94mm bringing it up to 2 liters. The new engine did away with humble carburetors and instead used a Bosch L-Jetronic fuel injection system.
That engine had been used in the Porsche 914/4 and was transposed into the 912E. The body was the same as used on the 911 and the new 912E was offered with a galvanized chassis, something which helped a great deal in keeping 912E cars on the road and in good shape for many years. The "E" stands for "Einspritzung" indicating fuel injection.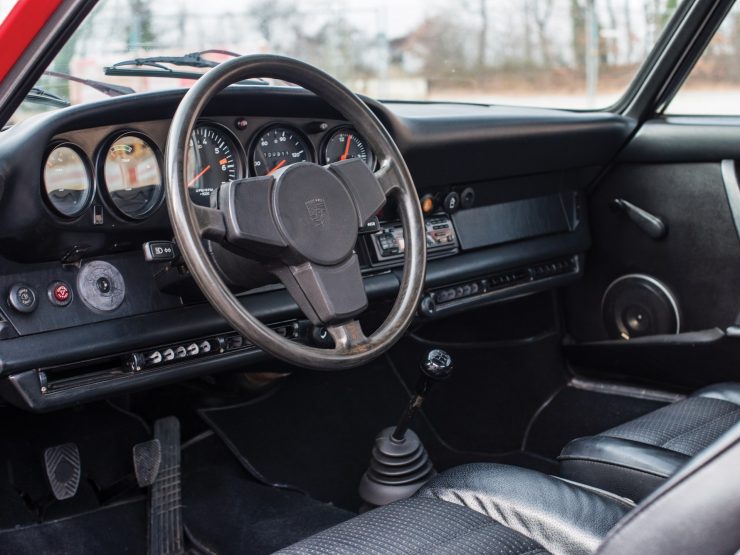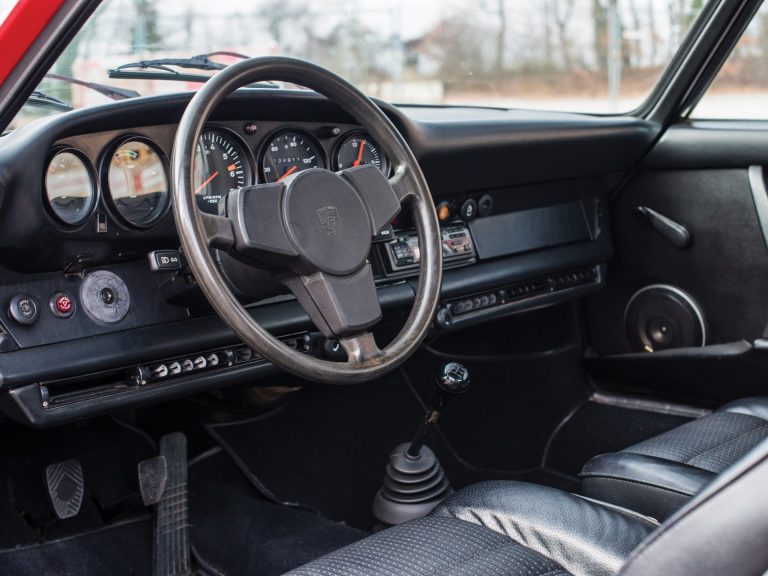 The 912E is regarded as one of the most practical Porsches to own: it came standard with a five speed gearbox and its 90 hp engine gives it a standing to 60 mph time of 9.7 seconds and a top speed of 111 mph. Not only that but fuel economy on long country drives can be around 30 mpg so with its 21.1 gallon (US) fuel tank it has long legs. The interior comfort level is on a par with the 911 and it is a less expensive car to maintain than a 911.
Conclusion
The Porsche 912 was created to be an affordable and practical coupé with sufficient power for point to point autobahn use. In this sense it was a better choice as a daily driver than its more powerful 911 sibling. When first introduced it sold far more readily than the expensive 911 and in so doing ensured that Porsche's balance sheets remained healthy so they were able to continue to thrive and prosper in those early years of the business.
The 912 had sufficient power and handling for motorsport as was demonstrated by Polish driver Sobiesław Zasada who won the European Rally Championship Group 1 in 1967 using a factory loaned 912. Not only that but Zasada won the 1967 Rally of Poland outright from a field of 50 entries.
The Porsche 912 was the direct successor of the 356 and these cars are, arguably, the a great choice for people who want a practical and affordable vintage Porsche. The 912E with its larger fuel tank, more modern engine, and comfortable interior, is a daily-driveable classic. If you have always dreamed of owning a Porsche as a car you can enjoy every day and work on yourself then a 912 is probably the best choice: and you will find plenty of advice in places such as the 912 registry to help you make your 912 a car you will never want to part with.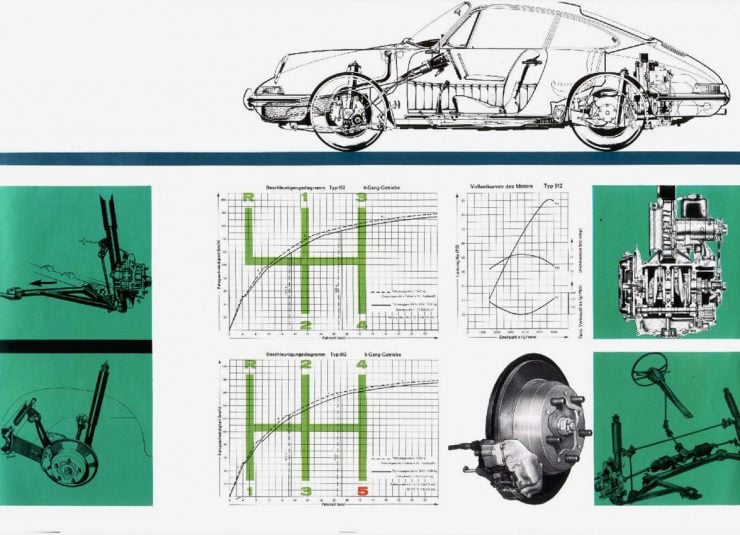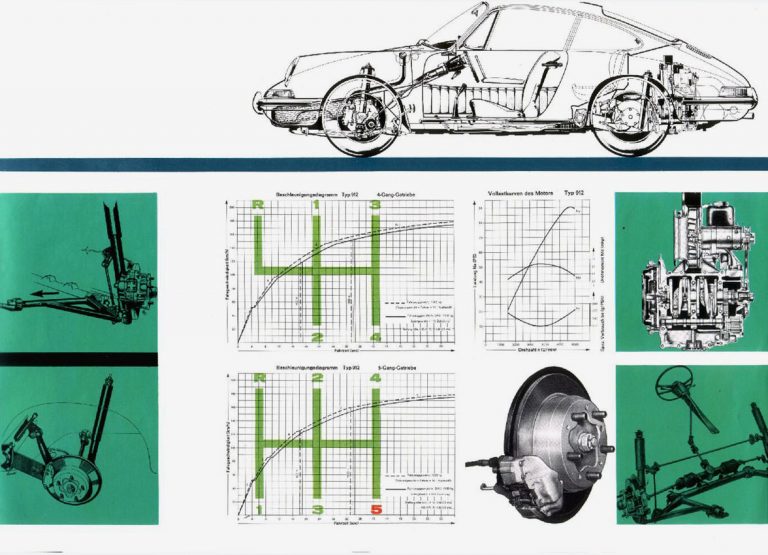 Photo Credits: Porsche, Bonhams, RM Sotheby's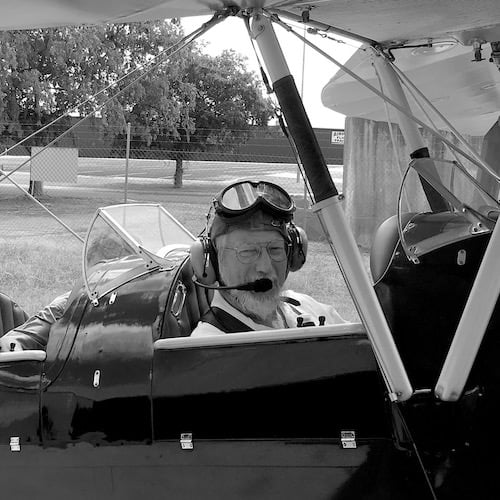 Jon Branch has written countless official automobile Buying Guides for eBay Motors over the years, he's also written for Hagerty, he's a long time contributor to Silodrome and the official SSAA Magazine, and he's the founder and senior editor of Revivaler.
Jon has done radio, television, magazine, and newspaper interviews on various issues, and has traveled extensively, having lived in Britain, Australia, China, and Hong Kong. The fastest thing he's ever driven was a Bolwell Nagari, the slowest was a Caterpillar D9, and the most challenging was a 1950's MAN semi-trailer with unexpected brake failure.