Bucephalus is a motorcycle that lit up the web when it was introduced earlier this year, it was at once both familiar and entirely new – with a unique frame unlike anything we've seen surrounding a vintage motorcycle engine. It's name is a reference that'll be immediately recognizable to those of you familiar with military history – Bucephalus was Alexander the Great's personal horse who carried him through all of his greatest military campaigns.
When we heard that the original Bucephalus prototype was due to be sold we got in touch with Kevin Dunworth – the head of Loaded Gun Customs and brains behind the bike, to interview him about the origins of Bucephalus and his plans for the future of the model line.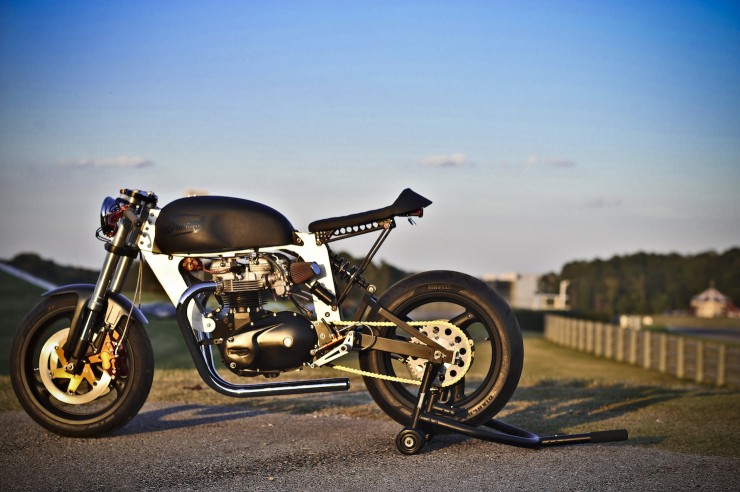 The Interview
What was your inspiration for building Bucephalus?
I wanted to build a bike that would WOW people, so much has been done, I also wanted to after talking with Paul Thede of Race Tech to try to really get one of these old engines to handle. Kind of an idea is what drove it to reality, funny one to some – I imagined if the "Skunk Works" or "race designers" had access to some of our materials and knowledge of geometry, balance, and construction would come up with around that engine.
Where did the idea come from for that unique frame?
A frustration of not being able to weld or have tooling for a modern aluminum chassis really, I was hoping to build the bikes out of plate carbon fiber, I figured I could make most of the other parts in house and have a super unique lightweight that would "Wow" the bored "Custom bikes" public. I could not get unique weaves tested to our satisfaction so I had to go with a metal alloy of some sort, even though we all know carbon's qualities I could at this point not test it – The Boeing corporation wanted $20k to run my ideas and three frames to destroy, I realized real quick I was in over my head.
How did you test Bucephalus?
I had a client that had a daughter's boyfriend going to Harvard to study engineering. They stopped in one day, and out of all the things I have in the shop they kept circling my drawings and very rough cut design hanging over a frame, they asked what was holding me up so I said I was concerned about material strengths. I had all the stress numbers on materials but literally no idea how to apply them to my application. The boyfriend was attempting to get his engineering degree and offered to take it on as a term project. I sent him over my drawings which he then put into a program and stretched, shook, bent, and impacted the 6061 material numbers. I tweaked the design a couple of times adding some length and width and finally had a pretty bullet-proof shape. We then added the other piece and 6061 connectors do the original plate design to make our virtual frame was then tested for fatigue and impact. We found that 7075 would be way overkill and only add a little weight. So I went with it. Again, no one at this time had good Carbon numbers due to the complex weaves, and ways to create 1/4″ plate. My geometry was based on countless hours on the phone with very knowledgeable builders and suspension experts. Basically taking my experiences building other vintage bikes with some modern theories and bridging the gaps. Some of our experimental ideas such as dropping swing arm pivot and shifting engines in Feather bed frames playing with modern forks and trails numbers we really liked had given us the basis for what we wanted. Our notorious Green-framed season one Cafe Racer TV Triton had the honor of being called "The Vintage Platform to shoot for" on camera by Eric Bostrom. So thinking that the designers, mathematicians, the publice eye, and pro riders would all approve of our theories we went forward.
I have since run this design with BST in South Africa we are working on a carbon version.
What were your most significant challenges when working with the vintage Triumph engine?
Basically size and shape. Most modern engines are designed along side the frame engineer for a complete unified package. Trying to apply the geometry we wanted while balancing front to rear and keep swing arm degree and length proved the most challenging.
Older British motorcycles have a reputation for unreliability, what did you do with Bucephalus' engine to mitigate engine problems?
First thing is to send the heads out and have modern valves, guides, and springs installed to a ported and polished original 10 bolt head. Next we used Nik-a-sil cylinders with only 9.5 to one compression. The crank has about 3lbs shaved off it and we use MAP aluminum rods. This brings the weight down on the entire package. We have House of Balance in Baltimore, MD from Gary Nixon engine balancing fame dynamically balance our rotating assembly. We hand sand and polish parts of the gear box, and run upgraded oil pump. We also believe heavily in proper fluids, and use for break in a zinc additive oil, and recommend it for its entire life. These oils are banned for street use yet still available for offroad use or track days, and will help tappets and cams survive a little better (wink wink again for off road use only…).
From a performance perspective, what's it like to ride Bucephalus?
Its like a WW1 bi-plane, you have to think about what you're doing because of the engine power band but with ~60 rwhp and a 280lb dry weight she rips under a 100mph. Bucephalus is not set up for anything other than 1-2 hour fast back road running with a coffee stop and then a return run – an exotic war horse purpose built.
What was the single most difficult challenge you faced when designing and building this bike?
Money!!!! And my talent – I got in way over my head. I have a pile of pretty exotic materials that just did not work. Thinking of maybe a limited production really put pressure on for safety and reliability that I feel with all our builds, but if I was off on one measure ment for a axle and had 8 made it was a lot tougher than designing one and it being off and just getting another one. Also everything relies on another part. Change one part or design and you affect three others. I had built until this point most of my stuff using other vintage frames, completely redesigning them yes, but still had a base frame to go back and pull a measurement or see how the factory did it, plus usually a herd of vintage racers with proven track numbers that work. I did not with this so my education and talent was pushed past the comfort zone at every turn.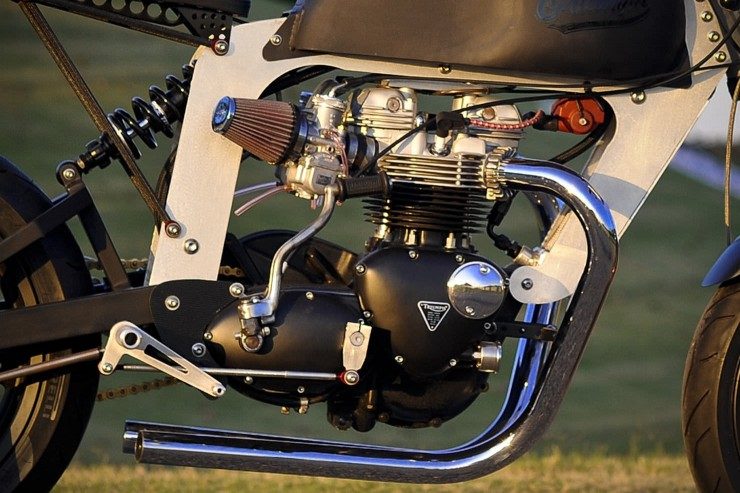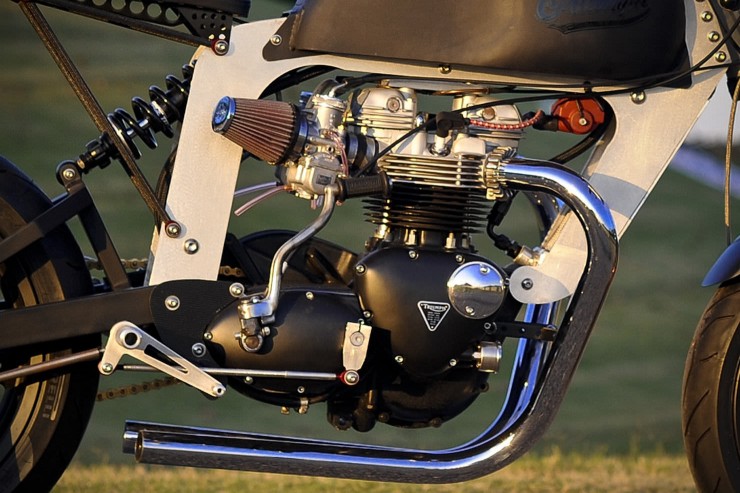 Have you ever taken Bucephalus out on the track/salt and reached her top speed?
No, been a little over a 100 with way more left, I am currently building a Triple for Black Bart Racing whom holds several Mile Record's we have his engine and are designing to to go 200mph with the exact frame plates a little more rake and 3″ longer wheel base, I figure next year we should be able to prove what my design can do. As far as marketing having the ability to say my design broke 200mph puts us in a different league that braking the ton. Bucephalus's engine is still being broken in I estimate a gear limited 132, which at those high rpms on a pushrod twin should only be touched and never held. We really tried to design her around that 40-100mph back road runner, over a hundered with that engine and with cops in USA is just pushing to many limits for us, a super quick vintage exotic 40- 100mph usually keeps us in enough trouble.
Did you seek (or receive) any outside advice that proved useful during the build?
Oh Man!!! Tons!!! Having so many proven builders, racers, and industry leaders that I have made friends with over the years was the only reason I ever got this one finished. I could read off a VIP list of advice and ideas a mile long with friends like Matt that Owns Independent Tattoo shop down the street putting my final shapes into a format that I could have them cut and smoothing some of the corners with a true artist eye. It continued once I built this bike with guys like Roland Sands, Willie G. Davidson, Ola from BMW seeing and asking questions or giving advice which has shaped the next generation coming out. However I do need to say With out Paul Thede And his Team at Race Tech pushing me to stay tru to my dreams of building a truly unique bike and offering sometimes that hard advice (like being dead wrong about stuff) I could not at my level ever have completed this bike. Their knowledge and willingness to teach, all of the names mentioned, is really whats cool about this industry.
Why did you choose the name Bucephalus?
He is this powerful and cool story, who knows if Alexander would have ever been Great If it was not for this legendary and in the times mystical horse. He is the only horse named in that era of history. He must have been pretty special. Google him! It's an awesome story.
What other vintage motorcycle engine or engines would you like to work with in this type of context (building a modern motorcycle around it)?
I just built a mono shock XS650 for Two Time Gold Boblsed Olympian Kaillie Humphries out of Canada, it's one of my favourites! And watching Hugh's HandBuilt work his magic with the XS650 engine makes me want to do a very crazy superbike inspired build with one of his hotrod XS'.I love the air cooled twins, but man, electric start is calling my name. I know its not vintage but the new Triumph Bonneville engine especially with the scrambler version having a rephased crank and firing order like a Ducati is definitely in my mind constantly, like a "hyde harrier" on crack or a Triumph air-cooled twin Based super bike to compete with the new Norton's!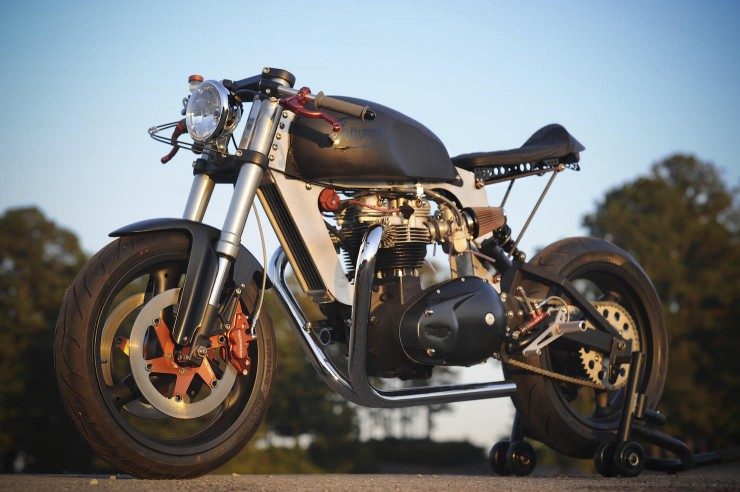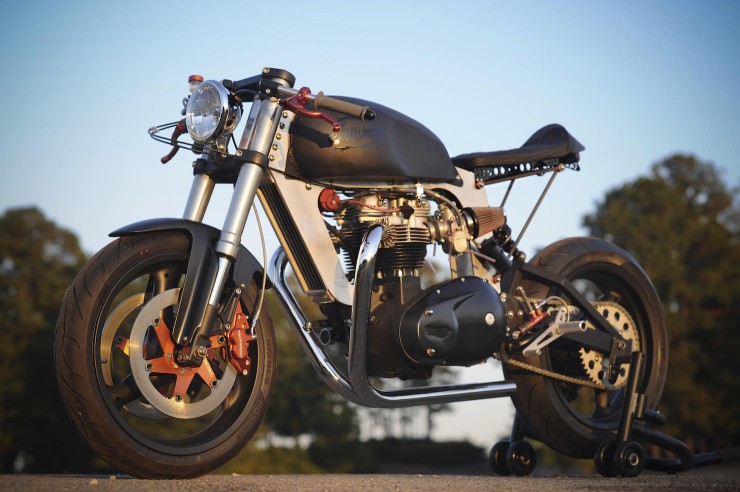 Bucephalus uses the engine as a stressed member, did you face any engineering challenges when designing it to work like this?
The engine is more of a brace for itself, hard to understand really. Kinda like a suspension bridge but think of it as connecting the head steering tube and swing arm pivot, and then adding the engine for acceleration. Yes the engine twists under load. Our frame design is very stiff and by itself can support itself. The engine hurdle was to deaden vibration yet keep chain alignment under load. We think we got it figured out. The frame allows us keep very square and precise measurements, much stronger and lighter than any vintage frame or modified stock frame and straighter, look at Fritz Egli's principles then look at our monocoque I just applied some modern material and a couple different theories to his base really. A little more complicated than that, but you get the idea.
Now that testing is complete, how many Bucephalus bikes will be built?
8 units available exclusively from LGC.
Will clients be able to specify different engines or other custom parts?
Yes 4 are already sold, and very different from the original, one is the land speed project mentioned above, the other is a 19″ wheeled street tracker, and the other two versions of this prototype with color and downgraded components.
I also think we may do a collaboration with a couple hand picked builders that have expressed interested in doing there own bikes based on our frame.
How much will they sell for?
Prices very depending on engine specifications and components but most builds starting around $18k.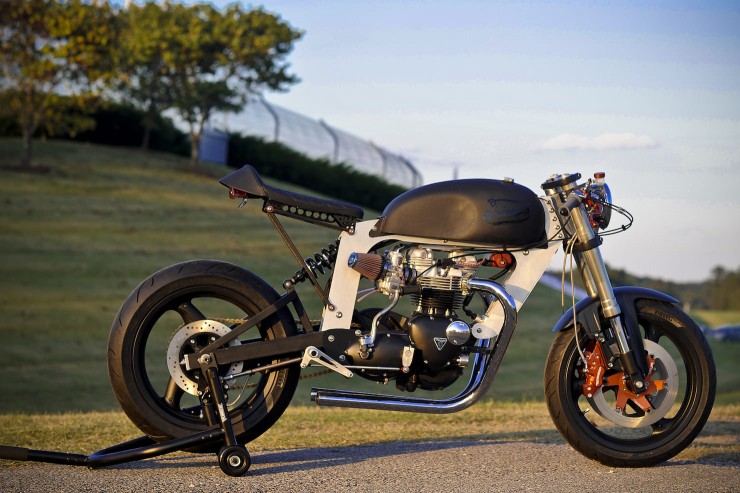 All images via the talented Erick Runyon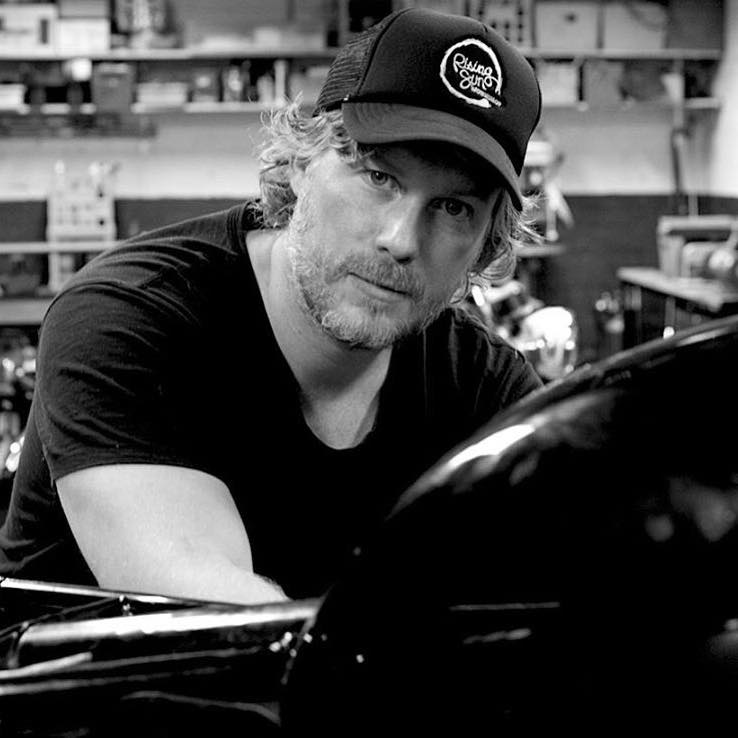 Articles that Ben has written have been covered on CNN, Popular Mechanics, Smithsonian Magazine, Road & Track Magazine, the official Pinterest blog, the official eBay Motors blog, BuzzFeed, Autoweek Magazine, Wired Magazine, Autoblog, Gear Patrol, Jalopnik, The Verge, and many more.
Silodrome was founded by Ben back in 2010, in the years since the site has grown to become a world leader in the alternative and vintage motoring sector, with well over a million monthly readers from around the world and many hundreds of thousands of followers on social media.