Williams: The Legendary Story Of Frank Williams And His F1 Team In Their Own Words
Reading time: about 2 minutes.
Williams: The Legendary Story Of Frank Williams And His F1 Team In Their Own Words is a must-read book about one of the greatest teams to ever turn a wheel on Formula One's world stage.
With news breaking recently that Frank and Claire Williams will be forever stepping away from the team as ownership passes into new hands, it's a good time for us all to reacquaint ourselves with the history of Formula One's favourite privateers.
Williams have an incredible F1 track record, the team claimed 9 Constructors' Championships, their drivers claimed 7 Drivers' Championships, the team has won a total of 114 races, with 312 podium places, 128 pole positions, and 133 fastest laps.
In more recent years Williams have had a combination of successes and failures, it became clear that the only way to secure the future of the team and its hundreds of employees was to sell it to a well-moneyed investment firm – which is exactly what they did.
Now as the Williams family takes a step back from the team they're being remembered far and wide for their countless contributions to the sport and the rich history the team developed between their founding in 1977 and the present day.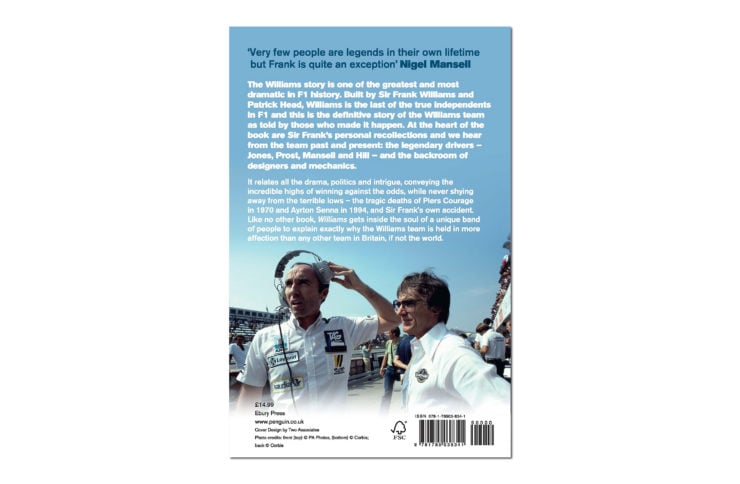 Official Blurb:
A story of true drive – now the topic of a major documentary Founded in 1977 by Sir Frank Williams and Patrick Head, Williams F1 represents the last of the true independent teams; a company devoid of corporate dogma and run by enthusiasts driven by a love of racing and the satisfaction that comes with beating the rest of the world.
Since its first Grand Prix victory at Silverstone on 14 July 1979, the team has won a further 116 GPs, delivered seven World Champions – among them Nigel Mansell and Damon Hill – and won nine Constructors Championships.
This is the definitive history of the Williams team as told by those who have worked for Williams past and present. At the heart of the book are Sir Frank's personal recollections, along with memories and anecdotes from those at every level: from the shop floor to the upper strata of management; from the mechanics and machinists to the drivers – Mansell, Hill, Alain Prost and Alan Jones among them.
It relates both the incredible highs of winning against the odds while never shying the terrible lows – the tragic deaths of Piers Courage in 1970 and Ayrton Senna in 1994 among them. Conveying the history and soul of a unique band of people, Williams F1 explains exactly why the Williams team is held in more affection than any other team in Britain, if not the world.
This article and its contents are protected by copyright, and may only be republished with a credit and link back to Silodrome.com - ©2020