A Retro Mod Toyota Land Cruiser BJ40 by Legacy Overland
Reading time: about 3 minutes.
Legacy Overland are headquartered in Greenwich, Connecticut, and they specialise in restoring classic 4x4s to better-than-new quality. This Land Cruiser is one of their latest builds, it's a great example of their work and it clearly shows why restored vintage 4x4s are seeing such an uptick in interest from collectors and enthusiasts.
A SHORT HISTORY OF THE TOYOTA LAND CRUISER BJ40
The first mass-produced 4×4 was the American Jeep, followed after WWII by the British Land Rover. During the Second World War soldiers of the Imperial Japanese Army found an American Jeep in the Philippines and sent it back to Japan to be studied. The usefulness of such a car was clearly apparent, so Toyota was commissioned to make a Japanese version of the Jeep called the Model AK.
The Model AK would be the godfather of all future Toyota 4x4s despite the fact that they weren't built in very large numbers. Post-WWII the US Government ordered a series of Toyota 4x4s for use in the Korean conflict, these would eventually be used to scale Mt. Fuji (up to the sixth stage), and hundreds of them were ordered for use by the Japanese National Police Agency.
These earliest Toyota 4x4s would be superseded by the J20 and J30 series cars between 1955 and 1960 with styling that would be evolved into the J40 series starting in 1960. Initially the J40 series were all petrol-powered with the rock solid 3.8 litre inline-6 Toyota F engine with 105 hp and 189 lbf.ft of torque.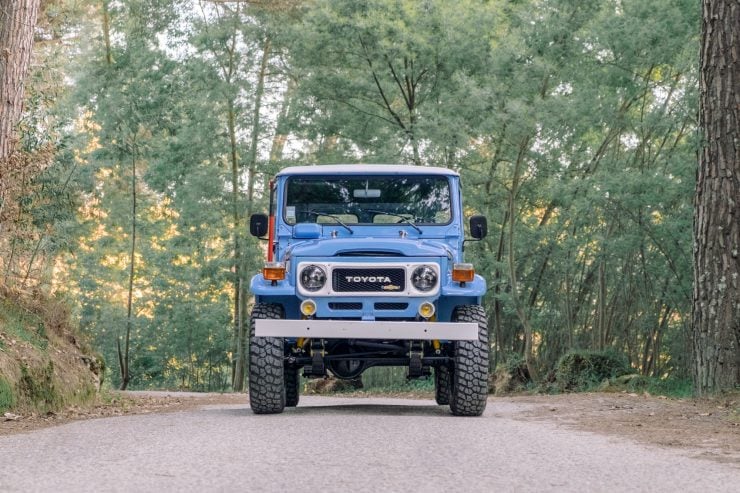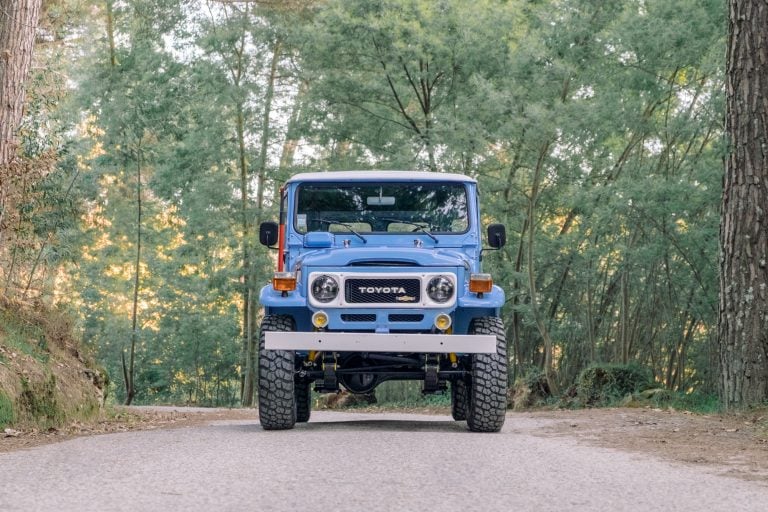 Over the ensuing years the J40s would be fitted with a variety of petrol motors, including Mercedes-Benz engines in the Bandeirante models built in Brazil. 1974 saw the first introduction of a diesel motor in the shape of the Toyota B engine – an inline-4 with a 21:1 compression ratio and 8 overhead valves operated by pushrods. This engine produces 80 hp and 141 lbf.ft of torque, and became renowned for its staggering reliability. The diesel-powered variant was named the BJ40, rather than the FJ designation given to the petrol vehicles.
A larger 4 litre inline-6 diesel would be offered in 1980, but the petrol powered FJ40s were always more popular, and were produced in much larger numbers. Surviving BJ40s are now considered quite collectible, and they typically fetch a premium over their FJ-badged siblings.
The Legacy Overland Toyota Land Cruiser BJ40 Shown Here
The BJ40 you see here has been comprehensively restored by Legacy Overland to better-than-original condition. Every part has been either reconditioned or replaced, and the body, chassis, engine has been comprehensively restored, using new parts and paint that'll far outlast their original counterparts.
Legacy Overland pride themselves on building highly functional vehicles meant to be driven, not used as museum artifacts or show ponies. This BJ40 has handcrafted, saddle stitched genuine leather seats, diamond-stitched alcantara headliner and sun visors, BF Goodrich All Terrain A/T tires on original wheels, a color-coded jerry can on the rear, and a retro-styled, Bluetooth-enabled sound system. There's also a Hi-lift jack mounted in front of the passenger door for when you get yourself stuck.
If you'd like to see more from Legacy Overland you can click below to visit their website.
Visit Legacy Overland here – or follow them on Facebook – Twitter – Instagram – YouTube – Pinterest