Crate Engine Heaven: A Ferrari 458 V8 With 562 BHP
Reading time: about 2 minutes.
The 562 bhp V8 in the back of the Ferrari 458 won both the "Best Performance Engine" and the "Above 4-Litre" category at the 2011 International Engine of the Year awards. Though it's no longer in production it's revered as one of the all-time great V8s – with a screaming red line of 9,000 rpm and 398 lbs/ft of torque.
The Ferrari 458 V8
The Ferrari 458 was unveiled in 2009 at the Frankfurt Motor Show as a replacement for the popular F430. Although it wasn't known at the time, this would be (likely) the last naturally aspirated Ferrari V8 due to increasingly stringent emissions restrictions.
Ferrari engineers designed the engine from a blank slate, it's an all-alloy 90° V8 with a swept capacity of 4,497cc. The engine has a dry-sump, a flat-crank, a 12.5:1 compression ratio, and direct fuel injection – a first for a mid-engined Ferrari.
One of the reasons for the remarkable specification list and 9,000 rpm red line of the 458 engine was the fact that there was significant, direct input from the Scuderia Ferrari Formula 1 Team.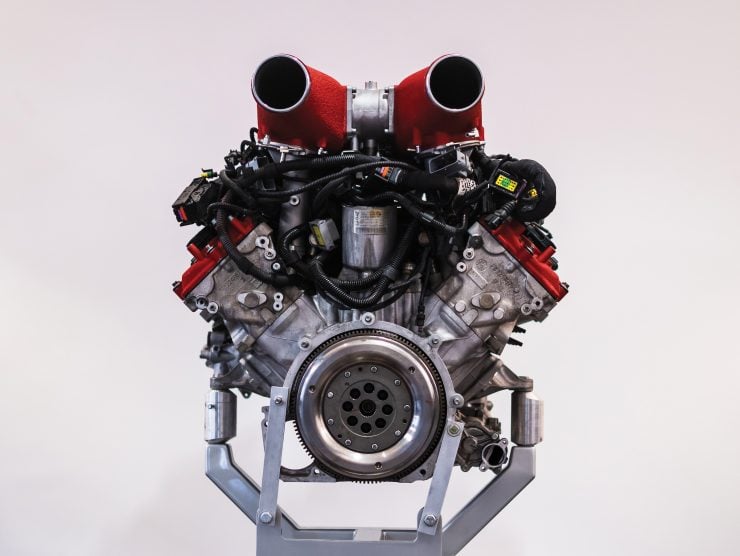 The Formula 1 engineers applied racing technology in order to achieve maximum fluid-dynamic efficiency – to achieve both the performance and fuel consumption/emission objectives. Building high performance naturally-aspirated engines capable of passing European emissions testing is no mean feat – particularly when you're heading towards 600 bhp.
The Ferrari 458 engine debuted the HELE (High Emotions Low Emissions) system, resulting in a 562 BHP V8 with a best-in-class 275 g/km of C02 emissions, and fuel consumption of 11.8 liters/100 km (combined) – or approximately 17.7 mpg (US).
The 458 would be replaced with the Ferrari 488 in 2015, fitted with a 3.9 litre twin-turbocharged V8.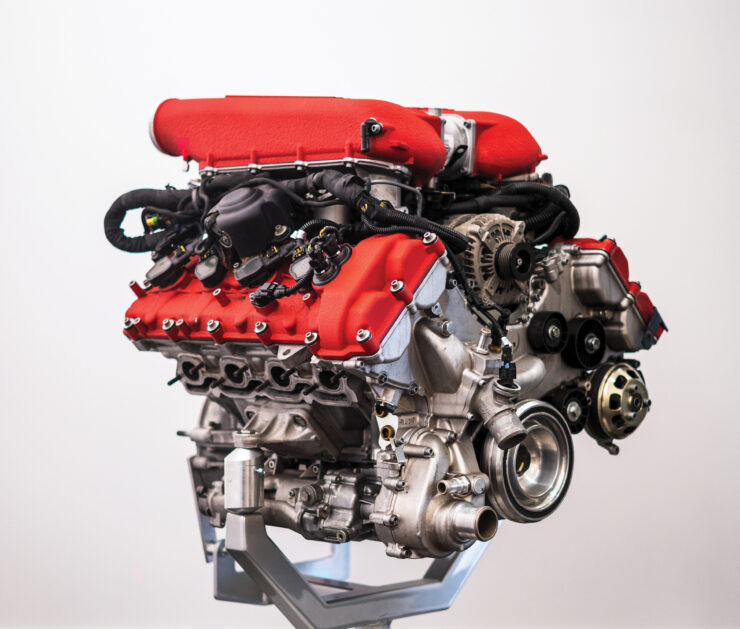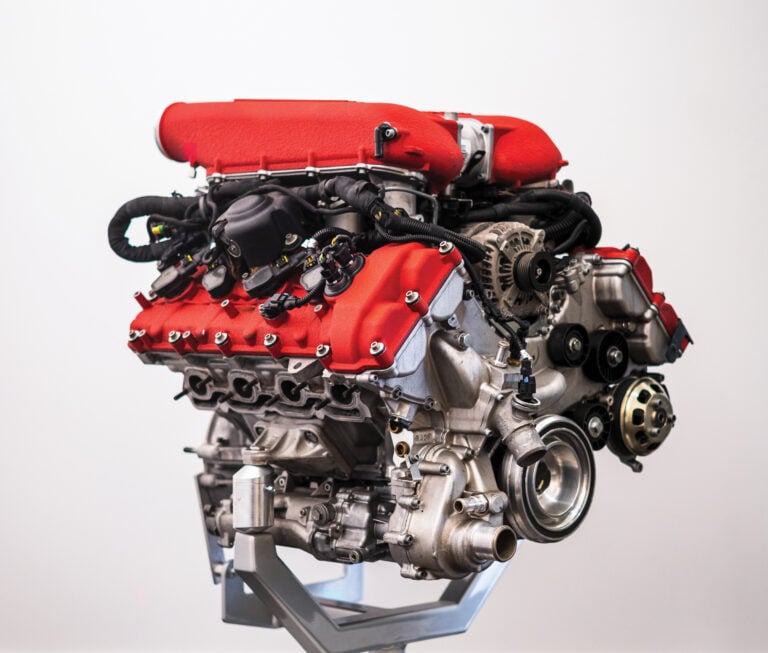 The Ferrari 458 Engine Shown Here
The engine you see here is a complete unit from a Ferrari 458, ready and waiting to be installed either into another 458 with a blown engine, or into the luckiest project car on earth.
Any prospective buyer would want to ensure they can also get their hands on a suitable dual-clutch 7-speed Getrag gearbox as the 458 engine was never offered with a traditional manual. The good news is that the Mercedes-Benz SLS AMG used the same transmission with some gearing modifications – so there are a few of them about as a result of ambitious amateur driving.
If you'd like to drop this crate engine (yes I know it's not technically a crate engine) into your Miata you can visit the RM Sotheby's listing here. There's currently no price estimate, but you know the old saying, if you have to ask…
This article and its contents are protected by copyright, and may only be republished with a credit and link back to Silodrome.com - ©2020