Introduction
The Honda CB750 was the bike that catapulted the Japanese maker Honda to the top echelon of motorcycle manufacturers. The road Honda had embarked on had been marked by careful study, careful preparation, and a thorough attention to detail. Back in the post war fifties and sixties Japanese goods were often regarded with a measure of scorn by people in Britain. Jokes were made about how if you pulled the door trims off a Japanese car you would find a label on the back of the sheet metal that read "Heinz Baked Beans". Japan was re-building herself after the devastation of the war and that re-building was careful and with that typical Japanese attention to detail. The Japanese applied that thoroughness to ensuring the goods they made and exported were second to none and as we move into the sixties the quality of Japanese goods was beginning to be noticed. Cameras, optical and electrical goods were amongst the first areas in which Japanese made products began to gain a real following.
Motorcycles were a market that was to be a natural opening for Japanese industry. Although the British, Americans, Italians, and Germans were making motorcycles that sold well they were steeped in traditional ideas of what a motorcycle should and should not be. The Japanese were not. Japan had worked on creating a motorcycle industry especially in the post war period. Small motorcycles were in high demand in Asia and if you could build small, tough, economical bikes you could find a ready market across Asia. So Japanese companies such as Honda cut their motorcycle design and manufacturing teeth creating just such bikes. If you've been to countries such as Indonesia, Thailand, Vietnam, or Laos for example you will have seen whole families and their shopping travelling on 125cc motorbikes by Honda or Suzuki.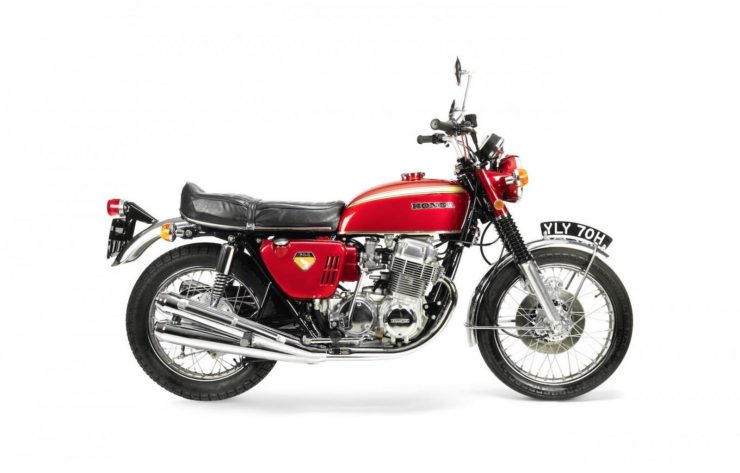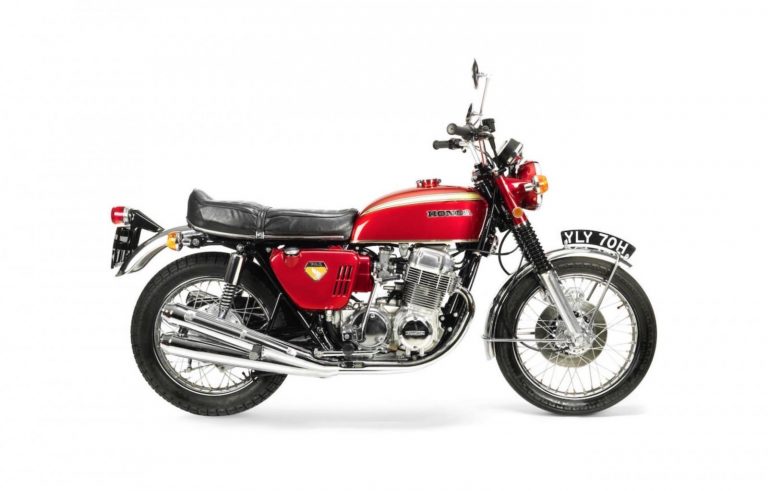 The Growth of Honda
With markets in Asia established Honda was also working to expand her markets into the United States and began this thrust in earnest in 1959. In the United States in the fifties and sixties you did not find whole families cramming onto a 125cc motorcycle to go and do their shopping. More typically they would jump into their very large six seater Chevrolet or Ford with a rumbling V8. The motorcycle market was completely different. Motorcycles were bought by enthusiasts for recreation not just for transport. Thus it was that Honda began researching the concept of motorcycles for the US enthusiasts market. To do this Honda's social research told them they needed to establish some "street cred" in motorcycle racing, but more than that they needed to discover what it was that American motorcycle enthusiasts were really looking for and to build it.
Honda's first milestone motorcycle for this market was the brilliant CB450 of 1965. This was a motorcycle that fitted with the engine size of a lot of the European motorcycles such as the 500cc bikes from the likes of Triumph and Norton. But in the United States the standard by which things were judged was the Harley-Davidson with its much bigger engine capacity. Engine capacity and low end torque on demand was what American motorcycle enthusiasts wanted, and lots of capacity. The bikes needed to be big and impressive, and powerful. Honda needed to somehow create a motorcycle that would demonstrate that it created best quality products and it needed to be just the right size and offer just the right features to grab its market share.
Soichiro Honda and his team had some analytical problem solving to do.
In 1967 Honda America service manager Bob Hansen flew to Japan to meet with Soichiro Honda and present some ideas to him. Bob Hansen wanted Honda to build what he described as a "King of Motorcycles". Around that time Soichiro Honda heard from a reliable source that British motorcycle manufacturer Triumph were working on a three cylinder 750cc motorcycle. Soichiro Honda made the decision to go ahead and create a 750cc four cylinder, four carburettor motorcycle to be the new "King of Motorcycles". And being Japanese Honda would built a bike that would not leak oil, unlike the British bikes that were famous for "marking their territory" with a little oil on the garage floor.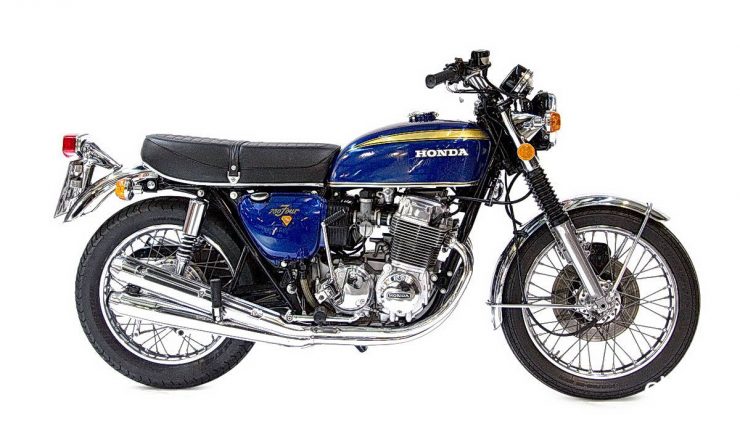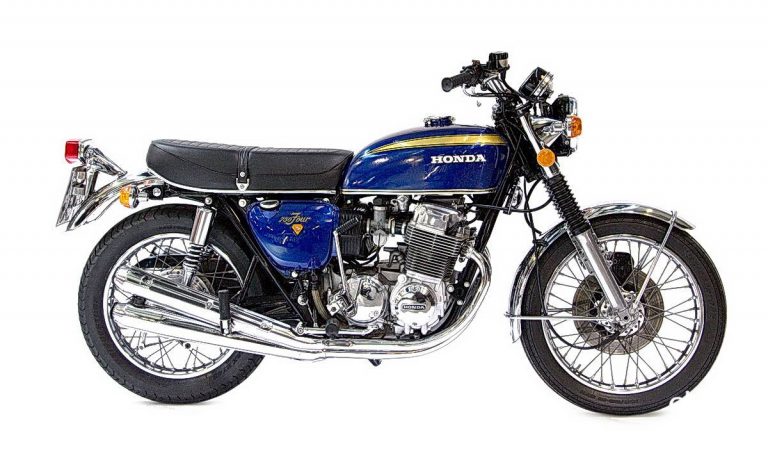 The Birth of the CB750
It took Honda a year to create the motorcycle and it was shown at the Tokyo Show in 1968. In the following year the bike was shown at the International Motorcycle Show in Britain. Britain was a centre for motorcycle enthusiasts and home to a well developed motorcycle community. The Honda was shown in the same show as the new 750cc Triumph Trident, 750cc BSA Rocket, and the 750cc Norton Commando. It was up against the toughest competition that Britain's motorcycle industry could muster. The Honda as shown had quite high and wide handlebars in contrast to its British competition because the Honda was aimed squarely at the American market. The Honda also had some features that the offerings from Triumph, BSA and Norton could not match. It had an electric starter and a hydraulic front disc brake. It also had a smooth four cylinder engine that Norton could not match. Prior to its showing at the International Motorcycle Show the Honda CB750 had been positively reviewed by the respected Cycle World magazine so the word as to how good it was had started to get about.
With its single overhead camshaft engine, push button start, disc brake that provided a surprisingly good amount of both stopping power and feel, and with those four cylinders each breathing through four carburettors and pushing out exhaust music through four megaphone style exhaust pipes – two on each side – this was a bike that offered a great deal for comparatively not a lot of money. It began to sell like hot cakes.
The following year 1970 the American Motorcyclists Association changed their competition rules that had formerly favoured the big engined Harley-Davidsons because side valve engines up to 750cc were allowed under the old rules but only 500cc overhead valves. But for 1970 the playing field was levelled and all could use 750cc. In that year Bob Hansen, the man who had presented the "King of Motorcycles" concept to Soichiro Honda, entered a CB750 in the Daytona 200 mile race ridden by Dick Mann. They won.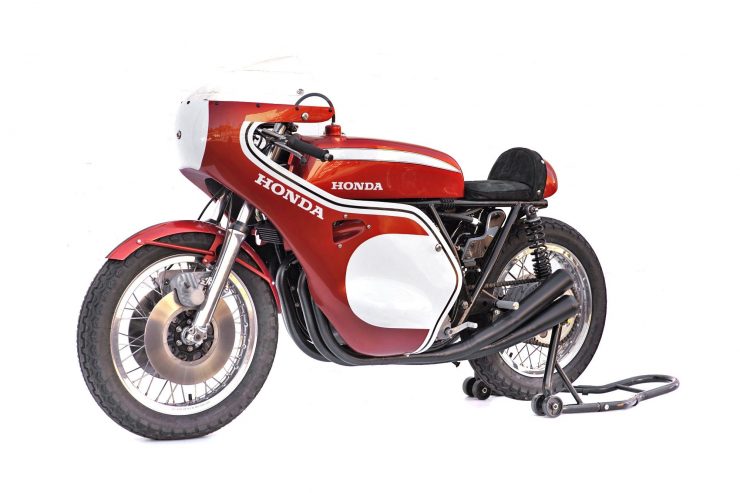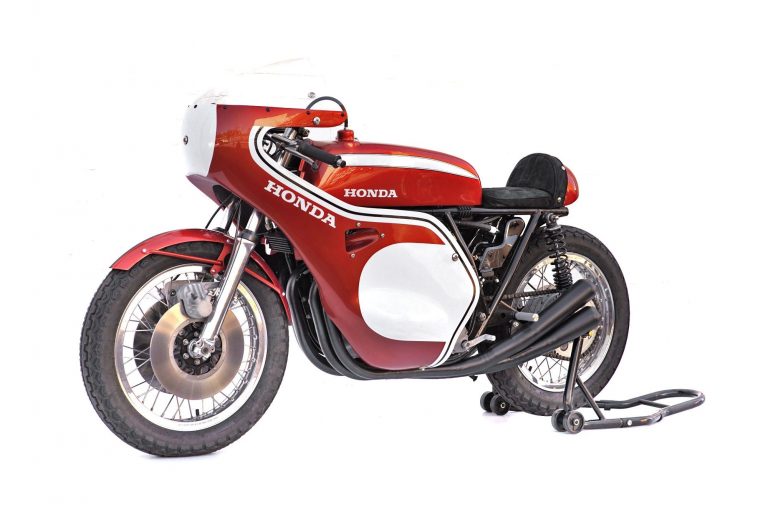 The Major Model Variations
Beginning in 1969 and ending in 1978 the Honda CB750 went through seven major model variations:
CB750K0 – Early models had a sand-cast crankcase housing. These were prone to cracking and/or damage from broken chains and few of the original wrinkle finish sand-cast crankcases survived to the present day. Most having been replaced. This model ceased production on 21st September 1970.
CB750K1 – This bike has smaller side covers without the ventilation slots of the K0. The throttle cable system was changed from a four cable set-up to a two cable; one cable for opening the throttle and one for closing it. Production ended in February 1972.
CB750K2 – In this model the rear tail light is changed and larger side reflectors are fitted. The front forks are chromed and the headlight is in black instead of being paintwork colour coordinated.
CB750K3 – Introduced in 1973 the fuel tank striping is changed to black with white accents and different paint schemes are used.
CB750K4 – The 1974 model remained mechanically the same but with different paint schemes and striping.
CB750K5 – 1975 model. The instruments given a dark green background colour and the speedometer reads in 10mph steps instead of 20mph steps.
CB750K6 – 1976, the instruments given a lighter shade of green background colour.
For 1977 and 1978 the bikes were re-styled with a more slab sided fuel tank and flatter side covers. The seat is stepped and the heat shields on the exhaust pipes are removed. These late versions of the SOHC Honda CB750 tend to attract less collector interest and so are good bikes to choose if you have a custom motorcycle project in mind. Less collector interest tends to mean lower purchase price.
In 1979 the SOHC Honda CB750 ceased production and was replaced by a new version with a 749cc DOHC engine.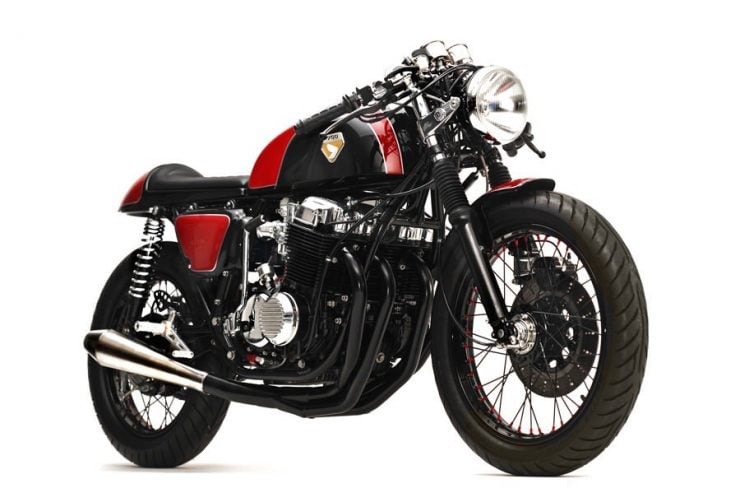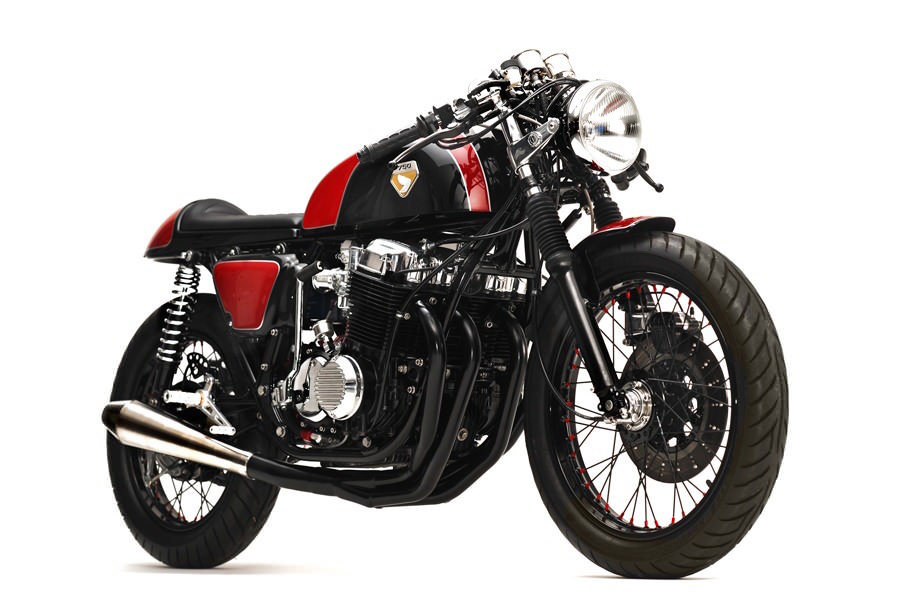 The Legacy
The Honda CB750 was the bike that transformed Honda from being seen as a maker of inexpensive small capacity motorcycles to being the manufacturer of the first official Superbike. This was the bike that raised the bar so high that the British were simply not able to compete with it, either for convenience of use because of the CB750's electric starter, for safety because the brakes of the British bikes were well behind the CB750's hydraulic disc brake, and for reliability, the CB750 was so reliable as were Honda products generally that the expression "boringly reliable" was born.
The Honda CB750 was the bike that marked the end of one era of motorcycle history, and the dawning of a new and wonderfully exciting one.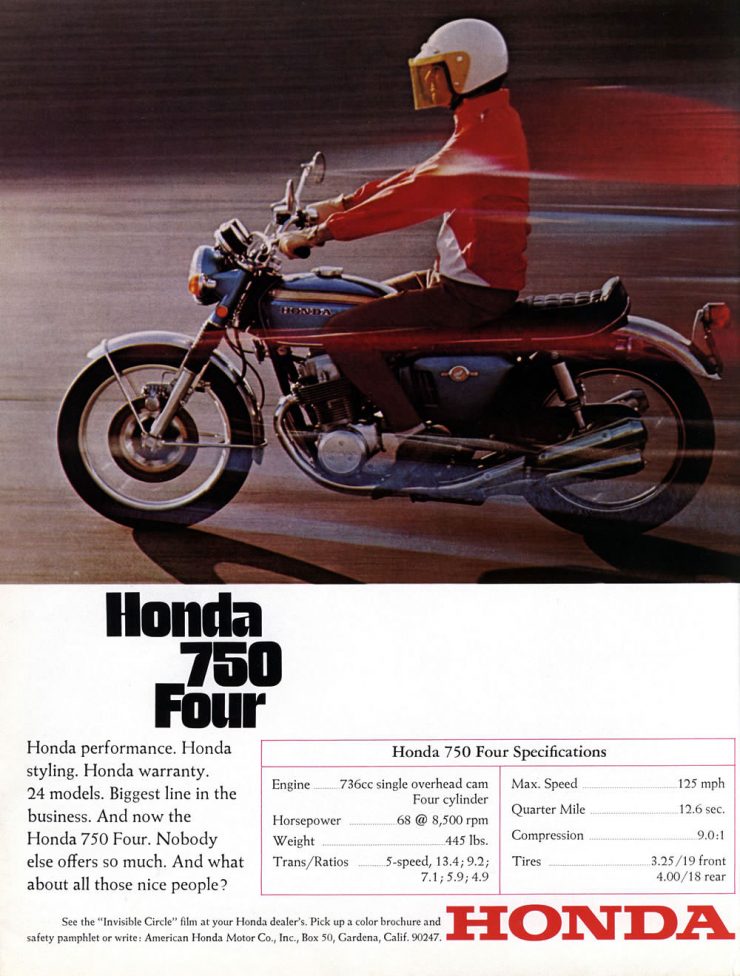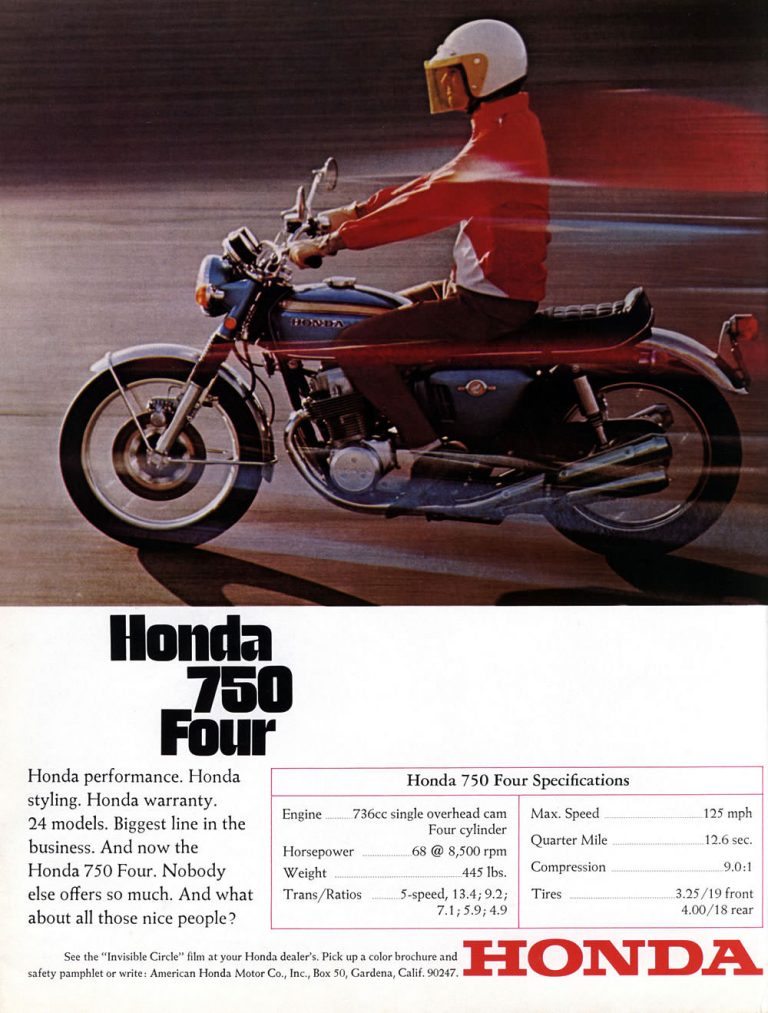 If you'd like to read more about the two custom CB750s pictured in this post you can click here to see the cafe racer, and here to see the fully faired racer.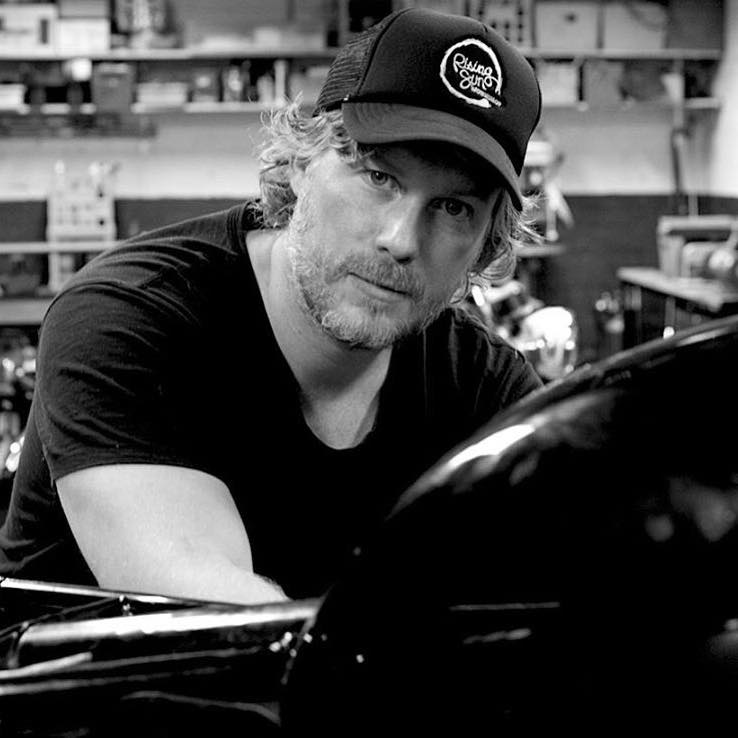 Articles that Ben has written have been covered on CNN, Popular Mechanics, Smithsonian Magazine, Road & Track Magazine, the official Pinterest blog, the official eBay Motors blog, BuzzFeed, Autoweek Magazine, Wired Magazine, Autoblog, Gear Patrol, Jalopnik, The Verge, and many more.
Silodrome was founded by Ben back in 2010, in the years since the site has grown to become a world leader in the alternative and vintage motoring sector, with well over a million monthly readers from around the world and many hundreds of thousands of followers on social media.