Footage: The 1971 Formula 1 Team Bosses Race – In Identical Ford Escort MKIs
Reading time: about 2 minutes.
The Jack Brabham Trophy Race was held at Brands Hatch in 1971, identical cars were piloted by the Formula 1 paddock's team bosses, and there would be absolutely no love lost in the competitive battle around the British circuit.
The bosses that lined up on the start grid were Frank Williams, Jack Brabham, Colin Chapman, John Surtees, Max Mosley, Eric Broadley, Ken Tyrrell, Mike Costin, Phil Kerr, Jackie Epstein, Ed Nelson, Doug Hardwick, Alan Rees, Ian Williams, and Tim Parnell.
The men were issued with identical Ford Escort Mexicos fitted with open exhausts and Dunlop radial road tyres. For the uninitiated, the Ford Escort Mexico is one of the most beloved blue-collar British cars of its generation, it was built to celebrate what was possibly the MKI Escort's greatest ever victory – in the 1970 London to Mexico World Cup Rally.
The 10 lap Jack Brabham Trophy Race was essentially a sprint – there's no need for pitstops or much in the way of strategy, they key to winning was simply to be slightly faster than everyone else, without blowing your engine or binning the car into the barriers.
The race was far from a series of parade laps – the team managers drove their Escorts at the very limit of car's capabilities. It's clear over the course of the race that some paint was swapped, and some dents were introduced, and one of the cars ends up with a blown engine (or some other drivetrain failure).
It's a shame we don't have a similar annual charity event held nowadays with the current crop of Formula 1 team managers, it'd make fascinating viewing and it'd likely have better TV ratings than half the Grand Prix on the calendar.
The Ford Escort Mexico
The specially prepared car was driven by Finnish rally legend Hannu Mikkola and Swedish co-driver Gunnar Palm, the Escort Mexico that was developed by Ford's Advanced Vehicle Operations (AVO) for sale to the general public was lower spec than the race car, but provided a thrilling driving experience at a price that was affordable for middle class petrolheads.
The Escort Mexico was built using the same strengthened (unibody) bodyshell as the RS model for optimal rigidity, it was powered by the legendary Ford Kent Crossflow 1600cc inline-4 capable of 86 bhp and 92 ft lbs of torque. These aren't power figures that'll set the world alight, but in a 760 kilogram car like the MKI Escort, the 1600cc Crossflow engine was capable of belting along B-roads at speeds that'll cause more than a raised eyebrow from the local constabulary.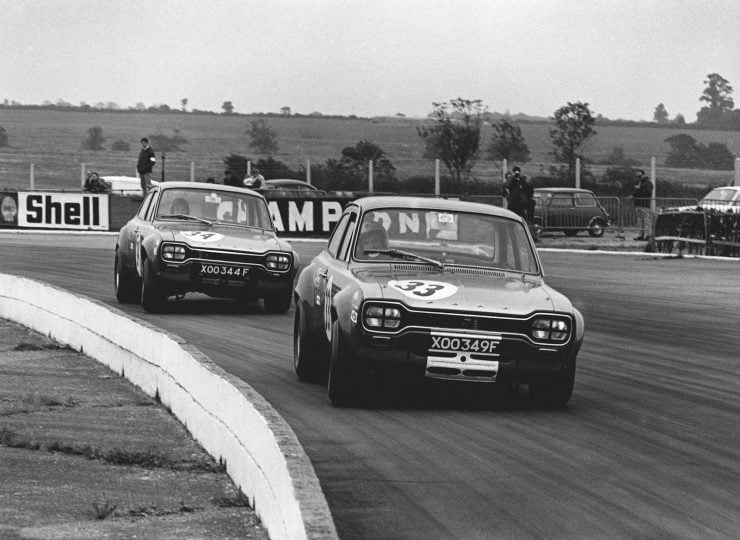 Note: The above image is not from the Jack Brabham Trophy Race, it's used for illustrative purposes only.
This article and its contents are protected by copyright, and may only be republished with a credit and link back to Silodrome.com - ©2020