The Sprintbeemer by Lucky Cat Garage did the rounds of all the major motorcycle blogs late last year, so many of you will have seen it already. After chatting with its creator, Sébastien Lorentz, we agreed that it's a bike that belongs here on Silodrome.
The story behind the Sprintbeemer BMW is extraordinary, in fact it's one of the best from 2013, so if you haven't read it yet I've included it below including a full list of parts used at the bottom. The photographer is David Marvier, a personal favourite of ours whose work leaves the enthusiastic amateur photographer inside of us deeply envious. I encourage you to scroll down, read the story and pour over the images – if you're anything like me it'll be the best 5 minutes of your day.
Additional images provided by the talented Daniel Beres.
Many ambitious custom projects start with a good-looking engine as the focal point to build a machine around, or even a hand-crafted frame. But this project was different. It started with the rear tyre. This special MH Racemaster dedicated drag slick tyre is designed and constructed to help a motorcycle go fast – but only in a straight line.
I fell in love with this MH Racemaster and was then looking for a bike to mount it on. I had never seen a real sprint bike based on a BMW, so I decided to find out why nobody had made one before – and I still don't have the answer as this Sprintbeemer turned out to be pretty fast! This latest project was born out of an interest in the sprint racing culture and a desire to know if a BMW bike was capable of taking on the more established British marques that are synonymous with the sprint racing world.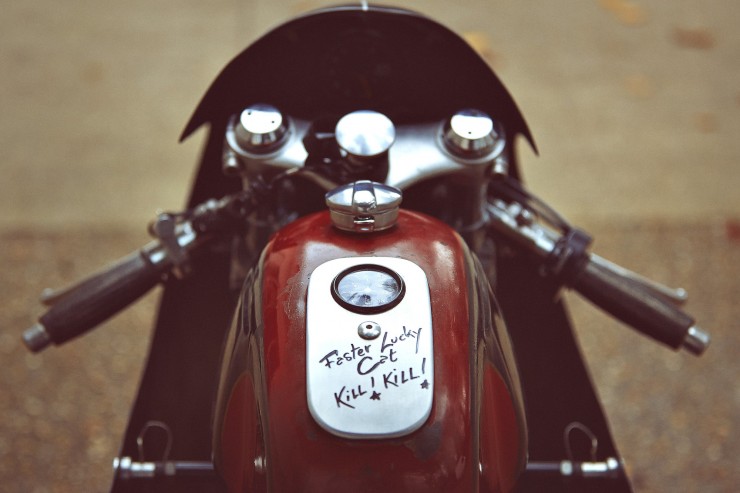 I just could not find anything suitable, which then gave me the challenge of building the exact BMW bike we needed from scratch, using a variety of parts and components I already had or could source, and designing and building the ones that I couldn't find from elsewhere. This would allow me to create the machine of my dreams, and one that would be perfect for sprint racing – with a long wheelbase, low centre of gravity, and no unnecessary parts that add too much weight.
On paper at least, the aims were simple: a fast-accelerating, great looking custom boxer, reduced to the maximum, with great traction and aerodynamic efficiency, all wrapped up in a stylish package that would turn heads – both at a standstill or flying down the narrow strip of asphalt where only a fraction of a second separates the winners from the losers.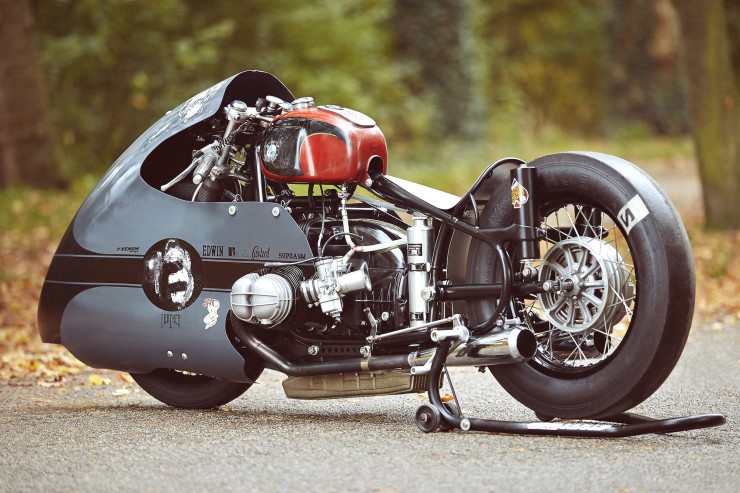 The project had a fixed deadline, as the Glemseck 101 event only takes place once a year and this was the best possible chance to show the finished motorcycle to those who would appreciate it most. Furthermore, I didn't just want to unveil a show bike; I wanted to actually compete in the sprint on it.
To call the bike a 'parts-bin special' would be an understatement, as I had mixed and matched BMW components from across the decades. The main frame is from a /2 from the 1950s, the front end is from a /5 from the 1970s, the engine from an R 100 RS from the late 1970s, the gearbox is from an R 100 R from the 1990s, the swingarm from a /7 from the early 1980s and the rear end is from a /6 from the early 1970s.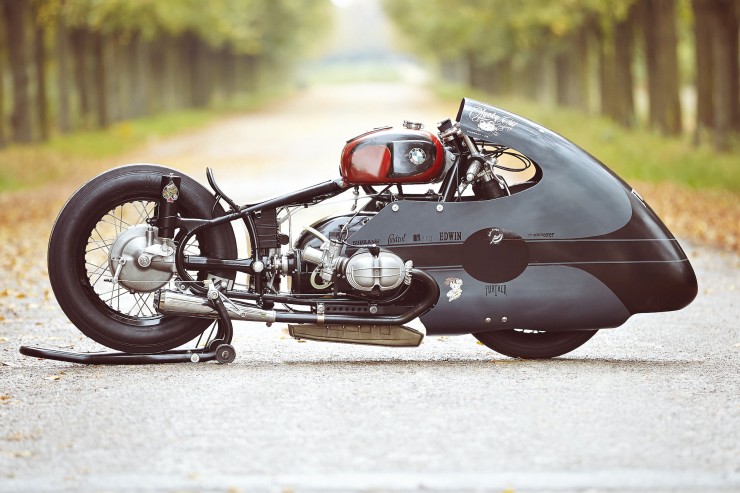 Interestingly, the fuel tank is from an Italian or french moped, which was found by a friend who noticed that it already had BMW logos stuck on to it, no doubt revealing a previous owner's dream to one day actually own a BMW bike rather than a moped! Imagine if this one-time owner reads this story and sees his old fuel tank on a crazy BMW special… I like the possibility of this and so I left the fuel tank exactly as it is as a mark of respect to the original owner.
Many of the above parts are second-hand ones found at 'swap' meets or via eBay. The ones that I couldn't find are unique, having been especially machined or welded for this project with the simple aims of not just looking fast but actually being fast! The focal point of this motorcycle is obviously the slim and sharp 'dustbin' fairing that was made by Airtech Streamlining in California.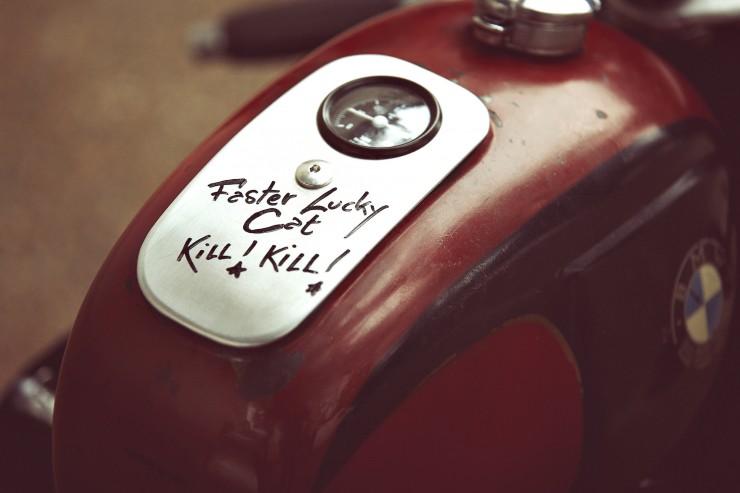 I am a big fan of special fairings and of the streamline design era who also built and often rides a one-off custom R 75/5 called the Dustbeemer. Clearly the speed quest stories of BMW Motorrad and Ernst Henne inspired me a lot. Nevertheless this was also mixed with my deep interest in vintage dragster and hot rod culture. The Dustbeemer is my on-road touring bike and features a Gran Turismo dustbin fairing and also saddlebags. The Sprintbeemer is a logical project after that and I guess it expresses my speed quest obsession!
As for power figures, I'm not entirely sure as the Sprintbeemer has not been on the test bench yet but I estimate around 80 hp. After all, the engine is a reconditioned R 100 RS unit from 1978 to which I had added a sport camshaft to increase torque, a racing electronic ignition, a pair of Dell Orto 40 carbs and a lightened clutch system. I also removed the electric starter and alternator, as well as strengthening the transmission and rear end, which I believe could have been a weak point of this machine for sprint racing duties.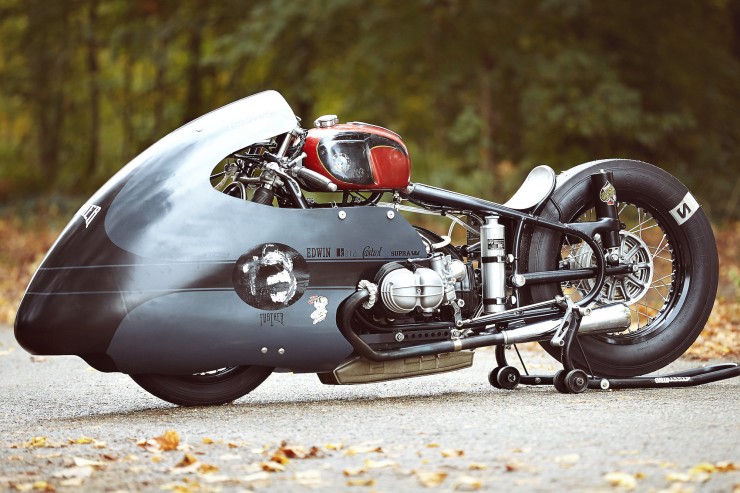 As work progressed, and the Glemseck event approached, the project neared completion. I had a chance of a few small runs on the unfinished bike and felt confident. Feeling like the luckiest guy alive, I named the bike 'Lucky Cat' and used a Maneki Neko (a Japanese symbol of luck) as a mascot, as it had been a gift from his brother-in-law.
So far, so good… until just a few days before the event itself, when my dreams of competing at Glemseck came quite literally crashing down to earth as I fell heavily while fooling around on a BMX bike. …I was looking for some inspiration performing tricks on a BMX but I crashed heavily, broke my left leg and nearly destroyed my ankle just one week before the race in Glemseck 101. But my friends pushed hard to help finish the Sprintbeemer in time. When I was at the hospital for some surgery after the crash my brother-in-law Frank Chatokhine worked through the night with a guy called Yves Kerlo to finish the fairing brackets. Frank is an awesome mechanic and runs a very well known vintage classic bikes workshop in France.
Wheelchair-bound, but with a strong desire to see the project to its completion, I watched as my group of friends was able to put the finishing touches to the bike – and then my friend Sylvain gladly stepped in to race it. Sylvain is a French designer who is actually working for BMW Motorrad. But most important, he's a good friend who supported me finishing the bike and a quick rider who is able to perform really good starts – which is critical for success in sprint racing!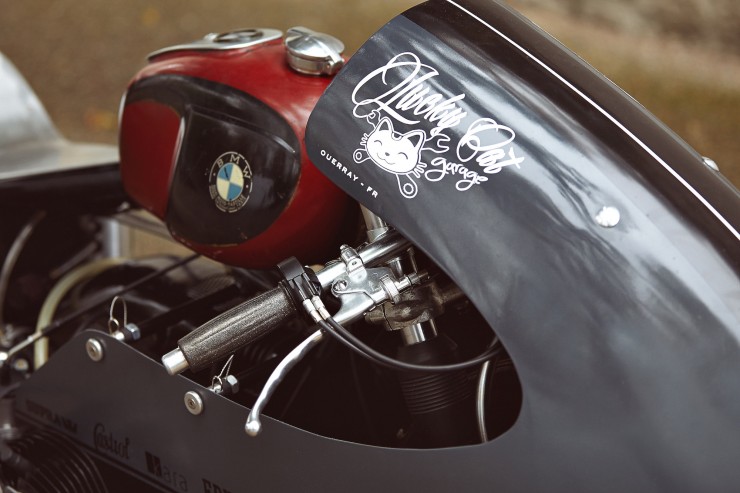 In the end, the bike was completed just one day before Glemseck 101, and despite my incapacity, there was no way that I would miss out on the journey to Germany to experience the unique atmosphere of this amazing event. So I was hauled into the passenger seat of a van with the Sprintbeemer safely strapped down in the back.
For sure not riding my bike was not the plan but I was still happy to be there and watch the bike running on the drag strip. We also won the 'Best of Show' award on the Saturday, which was decided by a jury of professional bike builders and personalities of the scene such as Ace Cafe, Walzwerk and JVB Moto. On the Sunday we won the STARRWARS sprint against lots of powerful rigid-framed Harleys, which was also an incredible achievement. But what was most important for us though was the incredibly warm welcome we received. I think we are the first French guys to race at the Glemseck 101 but I'm sure there will be a lot more of us 'motorfreakers' there next year !
Regarding the bike itself, here are some tech specs of this "beemer cocktail" using parts from the fifties up to the nineties (not to mention the S1000RR battery):
Chassis
– Frame: BMW R50/2 (from the 50′s) modified with a seat loop
– Front fork: BMW R75/5 (1969) shortened with machined lower triple tree mounted on top
– Brake steering: modified R75/5 steering damper. knob is a Norton Commando seat knob !
– Front brake: BMW R75/5 duplex drum brake modified : air scoop, vent holes and lot of machining of the wheel hub to save weight & improve surface finish
– Rear brake: BMW R100 drum brake modified with vent holes and machining of wheel hub also
– Front wheel: Excel black anodized aluminium / stainless steel spokes
– Front tire: Avon Speedmaster 19"
– Rear wheel: Morad black anodized aluminium / stainless steel spokes
– Rear tire: M&H Racemaster 18"
– Swingarm: BMW R100/7 modified to fit in /2 frame
– Rear end: BMW R60/6 short ratio transmission (will be changed soon for an even shorter one from a R45)
– Rear suspension: adjustable billet aluminium struts hidden in original shock covers
This & That
– Tank : unknown brand. barnfind with the BMW "Bastille" dealer decals already affixed. should probably come from a 50 french or italian sport moped. was just slightly modified with a high flow petcock, aluminium monza cap and temp meter mount
seat: one-off handmade aluminium seat pan bolted on one-off loop welded on frame
– Tachometer: Scitsu
– Handlebar: clip ons Menani
– Levers: Tomaselli style
– Throttle: Domino GP
– Grips: black glitter Amal style
– Fairing: dustbin MV Agusta style from Airtech Streamlining
– Fairing brackets: one-off bolted on frame and removable brackets with quick release system
– Rearsets: Tarozzi with one-off brackets
– Oil catch can: modified emergency tank from Mooneyes
Engine
-'78 big valves R 100 RS
– Ignition: digital Silent Hektik
– Carbs: Dell Orto PHM 40
– Camshaft: 336
– Engine wheel : lightened '81 R100RS (starter wheel removed)
– Clutch system: '81 R100RS
– Clutch plate: HPN 4 pads ceramic
– Gearbox: 5 speed '92 R 100 R / inverted gears for faster and easier shifts
– Engine cover: fiberglass Mombaerts Race & Restauration
– Other mods: electric starter & alternator removed
– Exhaust: modified Vattier race headers with race only open megaphone
Electrics
– Kill switch: billet aluminium Pingel with tether corde
– Battery: BMW S1000RR hidden in a Exide battery box
– Wiring: simplified & reduced to the maximum.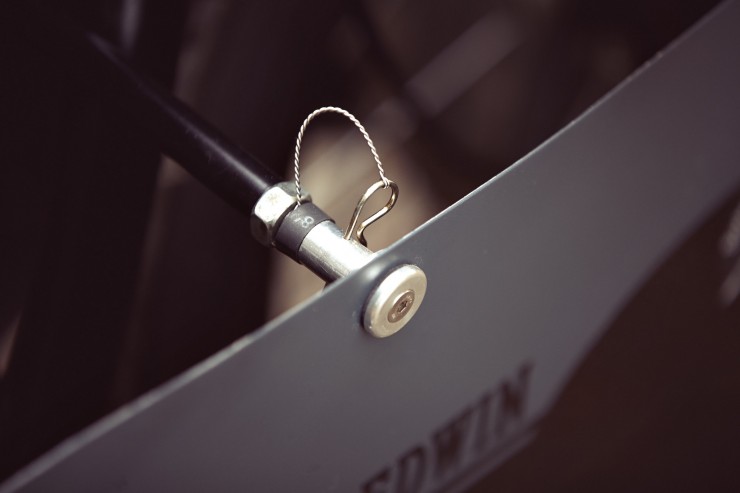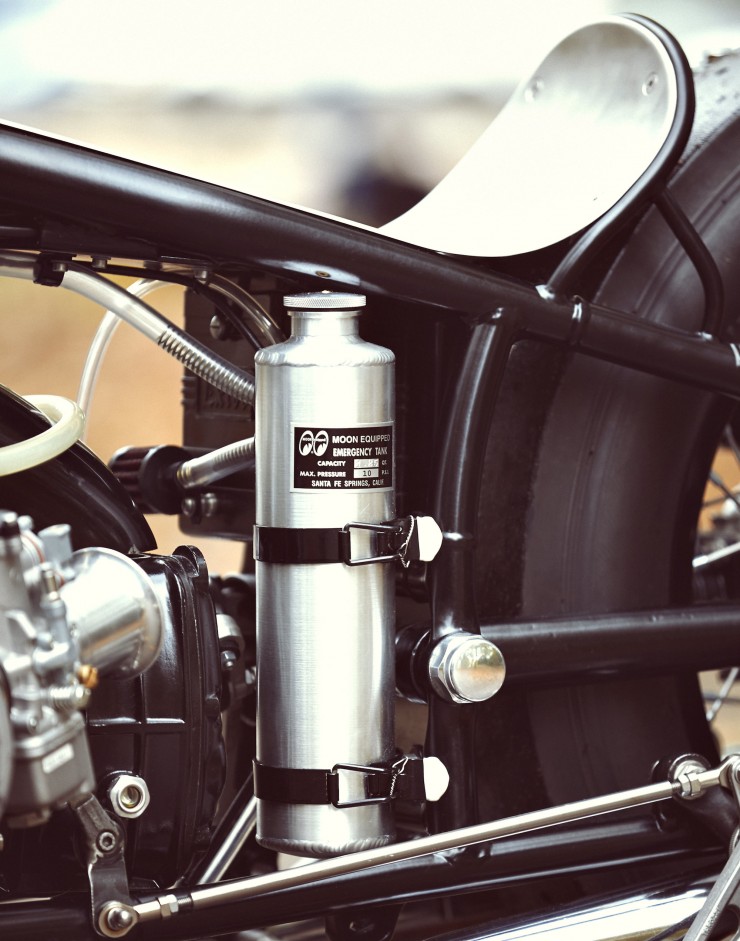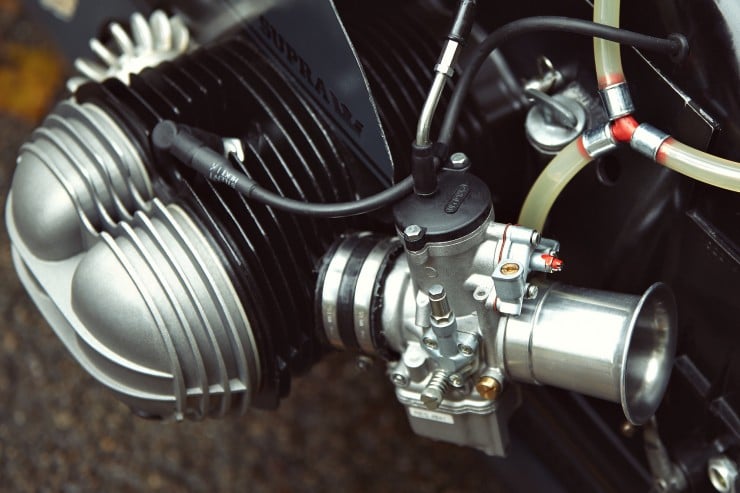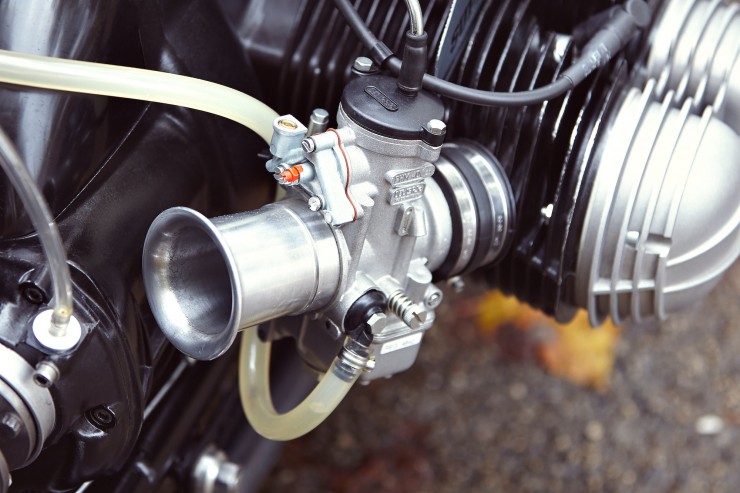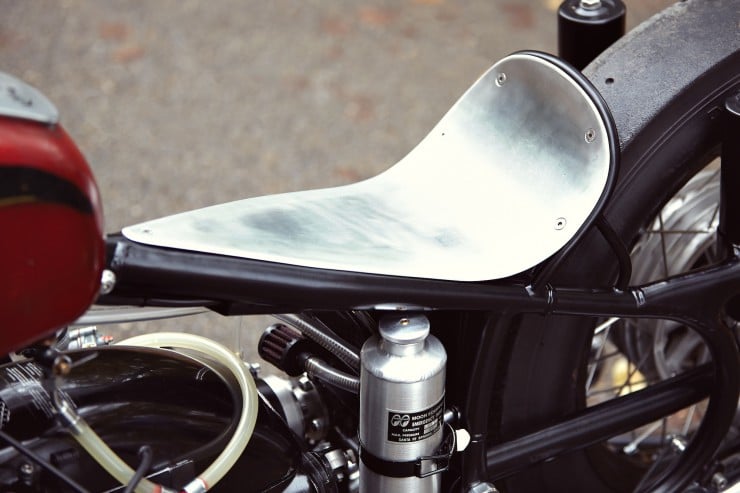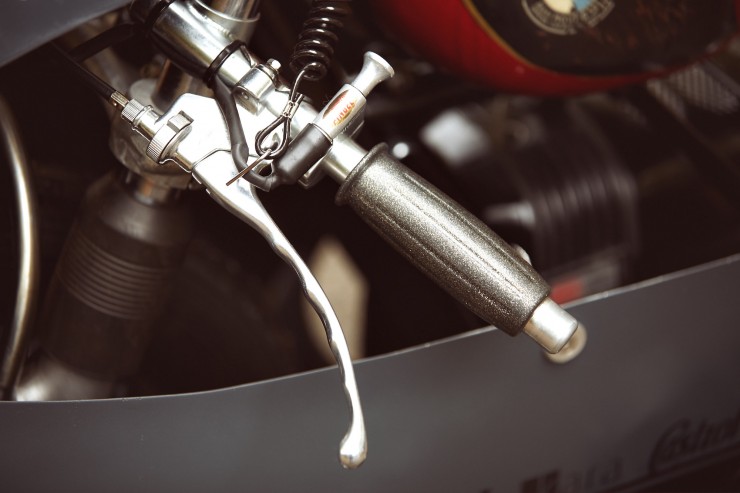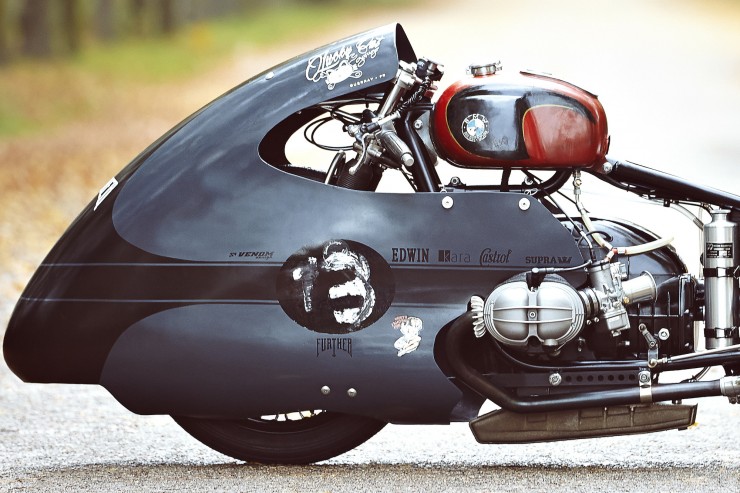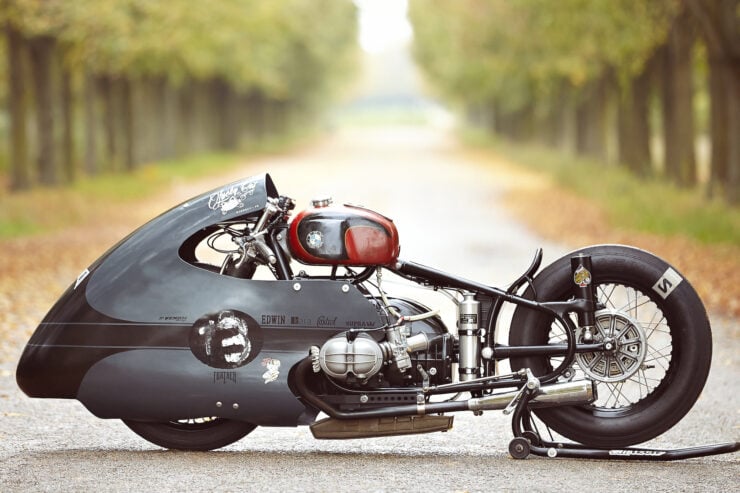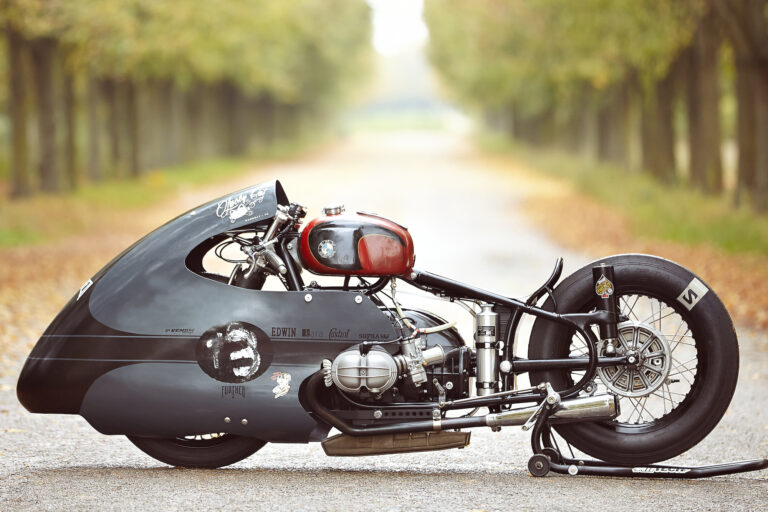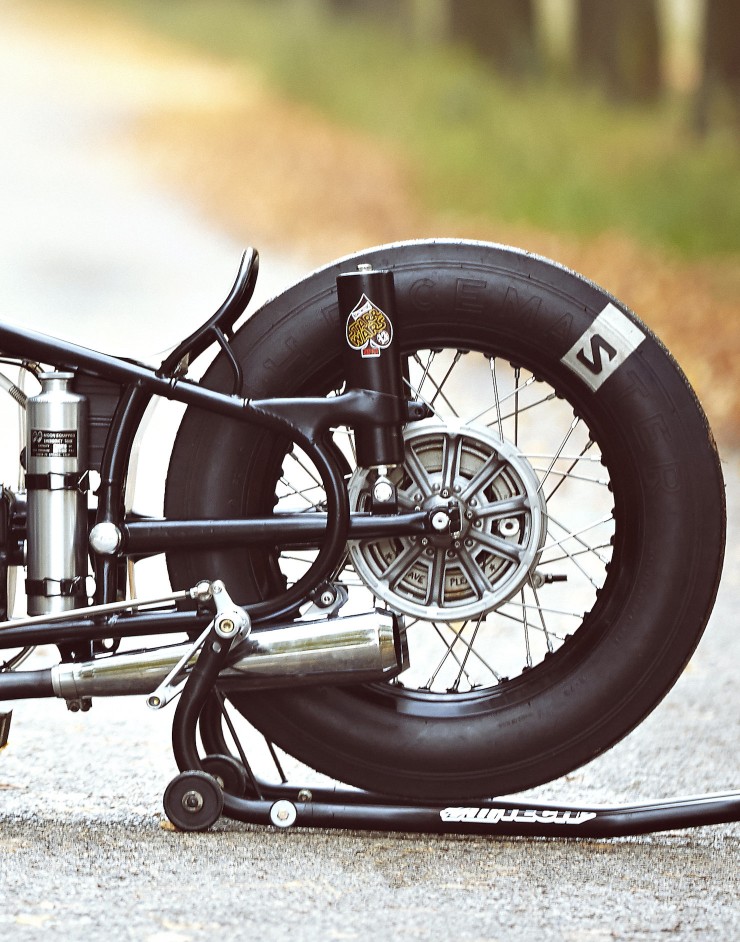 Additional information provided by our friends over at The Bike Shed.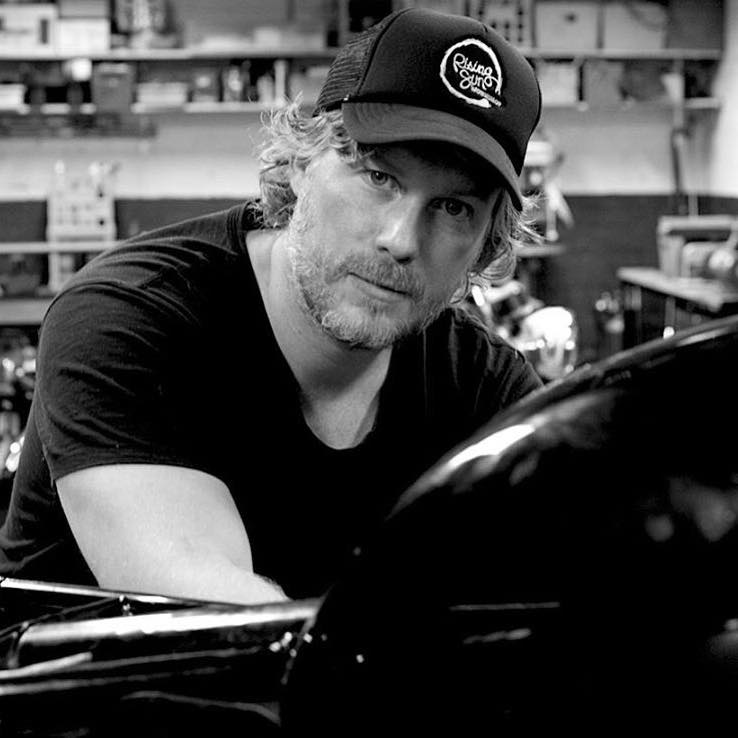 Articles that Ben has written have been covered on CNN, Popular Mechanics, Smithsonian Magazine, Road & Track Magazine, the official Pinterest blog, the official eBay Motors blog, BuzzFeed, Autoweek Magazine, Wired Magazine, Autoblog, Gear Patrol, Jalopnik, The Verge, and many more.
Silodrome was founded by Ben back in 2010, in the years since the site has grown to become a world leader in the alternative and vintage motoring sector, with well over a million monthly readers from around the world and many hundreds of thousands of followers on social media.