This post was written by Anton Knutsson, the founder of Swedish custom motorcycle garage Injustice Customs. When possible we like to bring you the story of a custom in the words of the people who built it to give you insight into their process and methods, and to cut out the middle man.
Meet Anton and Injustice Customs
The passion for motorcycles started when I was two years old and got my first bike for Christmas, a brand new white and pink Yamaha PW50. Since my father was a professional motocross rider during the 70-80s and I spent most of my youth in camper vans around Europe racing 85cc and 125cc motocross bikes, that's where I got my mechanical knowledge and the feeling for tuning in a perfect bike.
I also started professionally and being a bit of an adrenaline junkie I tried to make one BIG jump out of two double jumps during the qualifications to the Swedish championship. I landed 2 meters short which resulted in a broken hip and two broken arms. That was the end of my motocross career.
But I just couldn't stop riding, I bought a street bike instead and started do some small modifications to it. I sold the bike with good profit and put the money in to the next project, and that's how the story continues for about 5-6 years until I took it to the next step and started Injustice Customs in 2016. It's been a fantastic trip and I love every day of it.
Despite my mechanical skills from all the years on the race tracks, I've always been really creative when it comes to design, colors and shapes. I try to pick up inspiration from everything around me, the local sneaker store is the best hack when it comes to finding cool color schemes.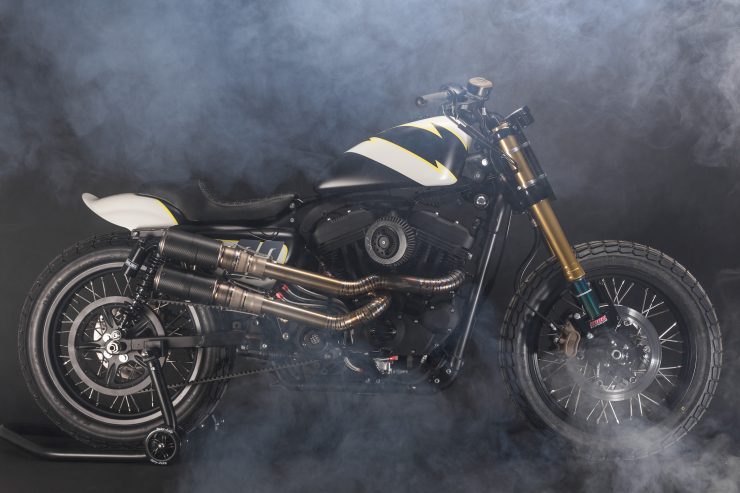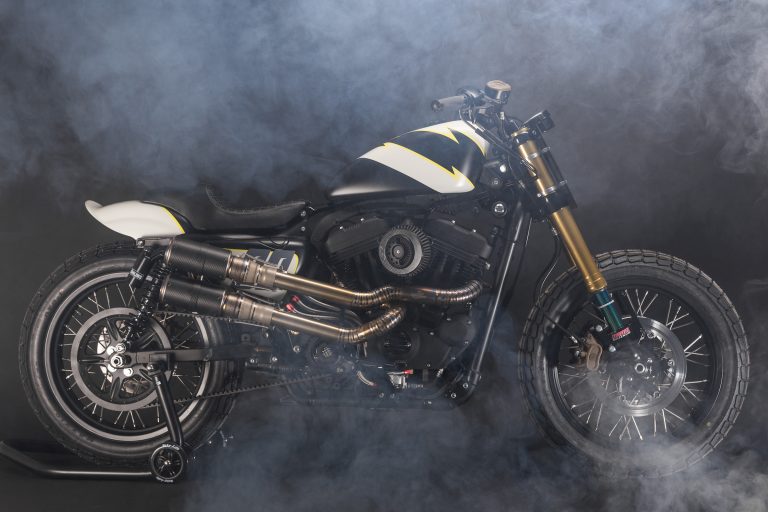 The Harley-Davidson XL1200CX Flat Tracker Build
To exhibit on of my build at the Bike Shed Show has been a dream and goal for a long time. When I got the invitation, March 2018, I decided to challenge myself. I'd never put my hands on a Harley-Davidson before, and Flat Track doesn't exist in Sweden so I didn't have so much inspiration to start with. Thats why I called the project BORN WITHOUT RULES.
I decided to mix the American flat track with the European MotoGP in one bike. Right now one of my biggest inspiration is factory road racing and motocross bikes from the 80-90s when everything was super handmade and one-off. Back then they used a lot of magnesium so I used a burnt brass coating on brake calipers and other details to bring back a bit of that feeling. The rainbow titanium nitride coating on the front fork stanchions also has a smell of the 80s!
One of the coolest parts on a MotoGP bike is the exhaust system, the way they turn and twist it around the engine to get the perfect length is just wicked, and the colorful titanium welds!
I'd never seen a flat track bike with titanium exhaust before so I decided to give it a shot. Italian exhaust manufacture SC-Project hooked me up with two awesome carbon fiber mufflers straight out of their racing department that we modified and I started to build headers…56 joints later and we had come up with a beautiful pie-cut titanium exhaust which hardly weighed anything.Titanium gives Harleys a fantastic sound, a bit sharper
than when you use stainless!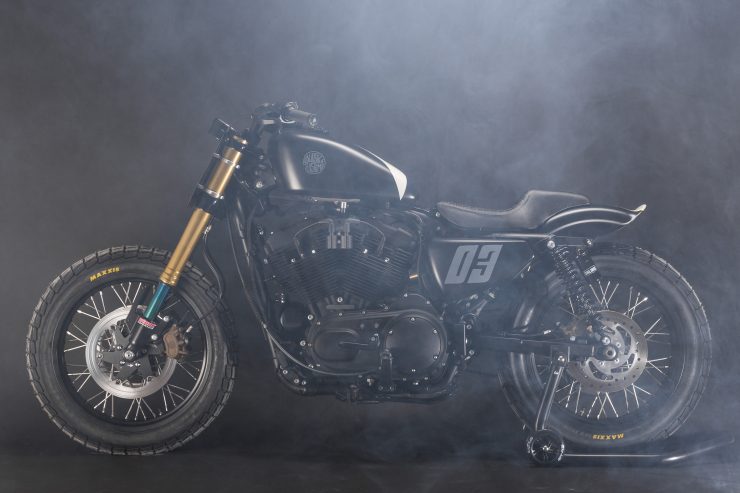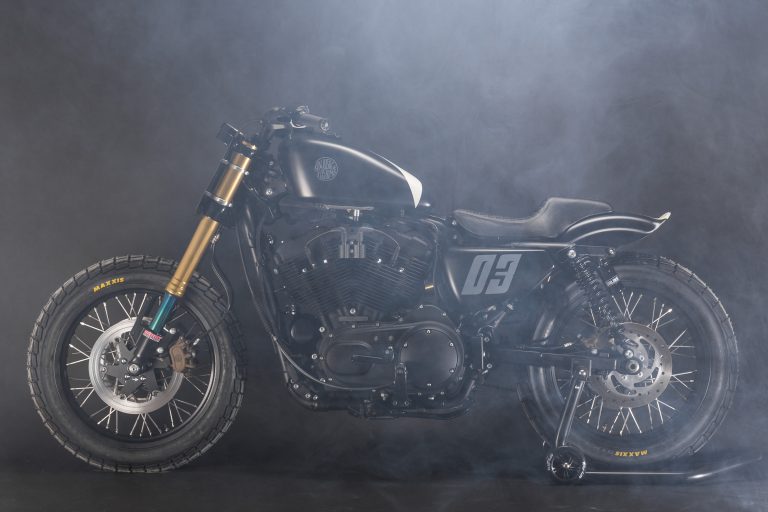 I know that brakes are not a priority on a real flat tracker, but this one is for the streets and to again mix flat track and road racing I went for cast iron Beringer disks, squeaks awful but what a grip when you need it! I decided to create two different sides on this bike. One is mostly black which is inspired from the American flat trackers, and the other one is black, white and neon yellow which is representing European racing.
As with all our bikes, it comes with a big lightning flash on the gas tank, I like the shape of lightning and since the beginning I've always put a lightning flash somewhere on my bikes. Dan Gold even tattooed one on my arm at The Bike Shed.
I bought this bike vandalized!
As it's a promo build, I needed to find a good base to start from and didn't wanted a bike that was too old. I managed to find this almost new bike for a good price via an insurance company, it had been stolen, hijacked and covered with black spray paint. So lot of hours has been put in to cleaning, blasting, re-coating on this project.
It feels nice to build a high spec project for the Bike Shed Show on such a low mileage bike. I also brought it to Wheels & Waves in France and then rode it back home. A 4000 km trip from Biarritz through the Pyrenees, the French Riviera and the headed north back to Sweden via the Alps, Probably the longest flat track race in the history!
Me and my girlfriend Susanna Gray were the odd couple when we met big groups of BMW adventure bikes and we had one flat tracker and her little single cylinder Yamaha SR400 Scrambler, riding around in Vans and just a small backpack.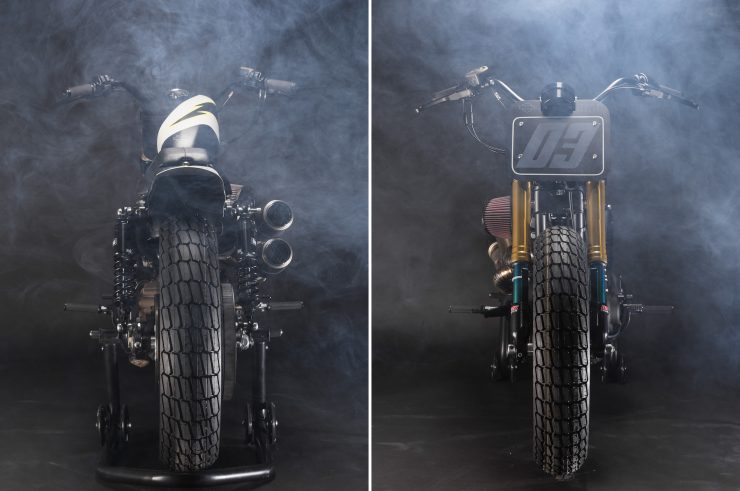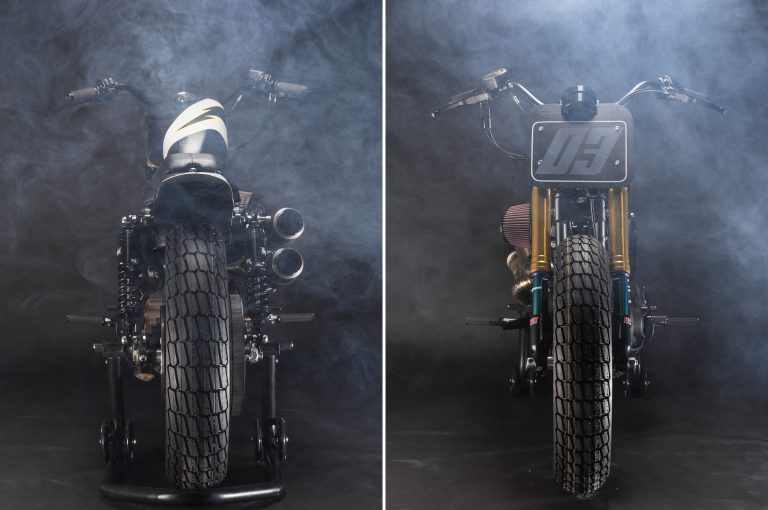 The fact that I decided to build my masterpiece on a bike brand that I never worked on and a style that I haven't done before might not have been my smartest choice. I have built a lot of Triumphs before and could do lot of the customizations on them without thinking. But I'm not the kind of person that likes to go the easy way, and when The Bike Shed gave me this opportunity I wanted to surprise people with my build.
Another scary moment was the exhaust! All Sportsters built after 2004 have rubber mounted engines, this means that when you're building a longer exhaust you need to mount your rear supports somewhere on the frame. So the engine that is rubber mounted can shake a lot and the exhaust frame mount will be stiff. The most important thing when welding titanium is to get it 100% clean which means that if you get a crack in it on your first ride, it's really hard to clean it from soot and stuff on the inside which puts you in big trouble fixing it.
I remember the first test ride, my eyes were more on the headers than on the road.
I'm proud of how the whole bike tured out, I think the lines are great, it looks like a flat tracker but it's also aggressive and fast. I use it as my daily ride and a fun thing with this bike is that wherever I park it, people come up and ask questions and take photos. When I tell them it's a Harley-Davidson people get very fascinated, I even had a bunch of Ducati superbike riders that loved the bike until they realized it was a Harley :)
The most important thing I learned from this project is to rely on your ability and stay true to your personal style. There are so many great builders around the world and just logging on to Instagram could make you feel unsure about your style and ideas some times. I think too many builders out there look at the big guys and dare not fully follow their own ideas.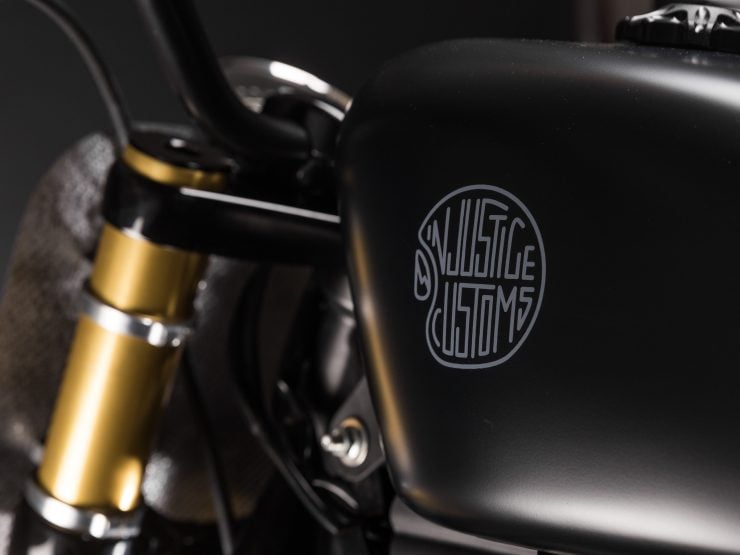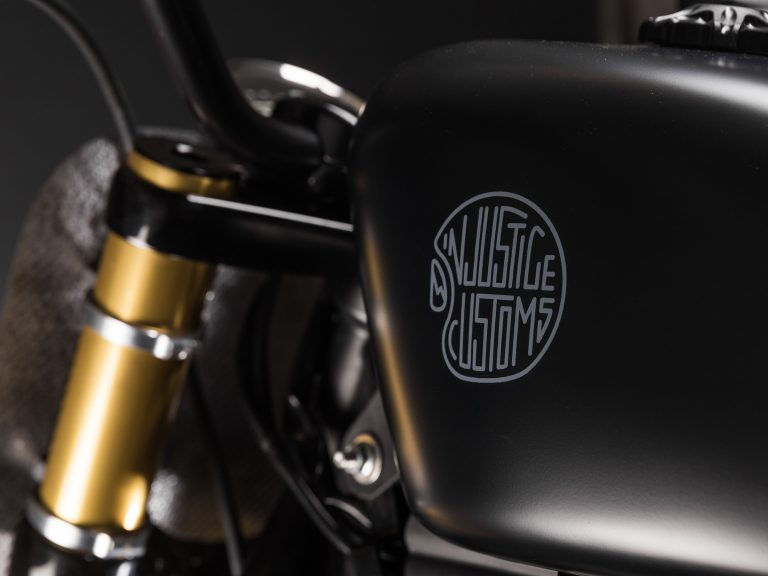 With all the great feedback I got on this project, I'm confident in my style and will continue build bald bikes with big lightning flashes on!
Original Bike: Harley-Davidson XL1200CX Sportster
Build Time: 4 months
Engine: 1200cc Harley Davidson 45 ́ evolution engine. Modified fule injection. Exhaust: custom built headers in titanium (56 joints, 44h of non stop welding..) customized SC-Project carbon mufflers, same as used in MotoGP
Air Cleaner: RSD Slant Carbon air cleaner
Frame: shortend OEM Harley frame
Forks: Harley OEM forks, Polished, re anodized and titanium nitrid coated for the right factory colour. Stiffer springs.
Shocks: Öhlins STX36P Black-Line 13,3" (Swedish quality!))
Wheels: Custom made 19" wheels both front and rear, 3,5" rear and 3,0" front with Maxis DT-R1 tires
Fuel Tank: OEM Sportster big model
Handlebars: 1" Flat Track style
Grips: RSD
Brakes: Beringer disks in cast iron with racing pads. re coated calipers with laser engraved logos (my logos on the calipers are actually engraved on grinder down 20 cent dimes)
Headlight: Small and really bad for night riding.. :)
Taillight: Rizoma integrated tail light and indicators, custom mounts
Seat: Biltwell Speedway
Paint: Håkan Lindberg, This dude has painted choppers longer than I lived! Amazing guy that was part of inventing "the Swedish chopper style"
You can click here to visit Injustice Customs
Follow Injustice Customs on Instagram – Facebook
Photographer: Mihail Jershov
Susanna Gray (black jacket)
Nicole Gray (blue jump suit)
Additional information via Iron & Air – Facebook – Instagram – Twitter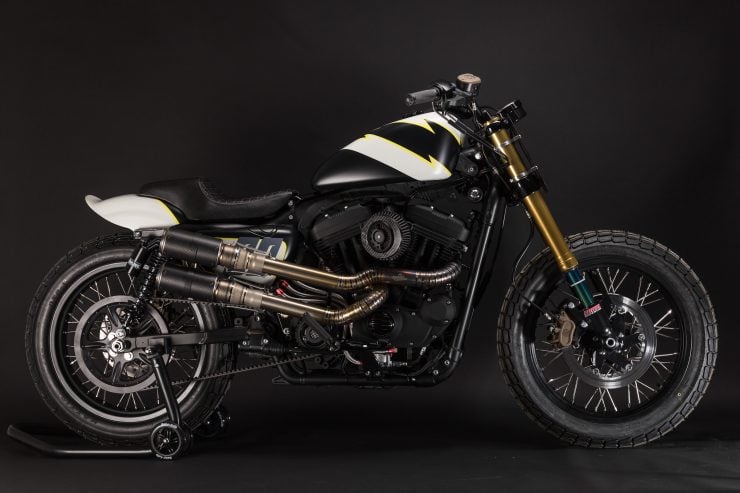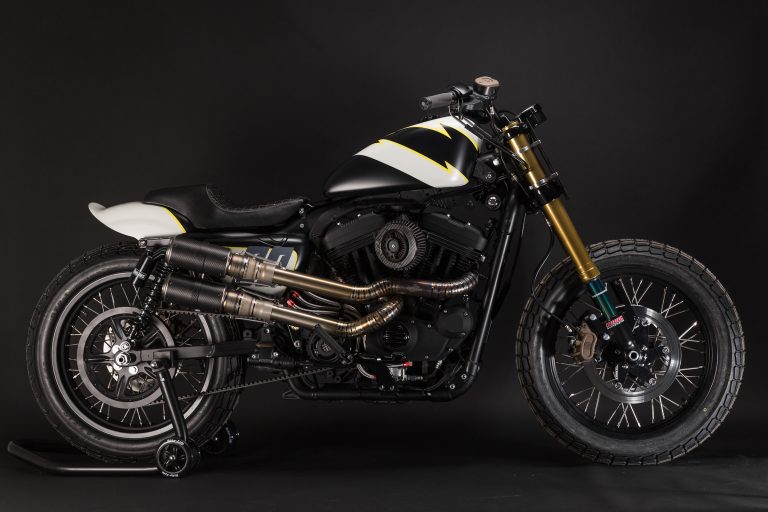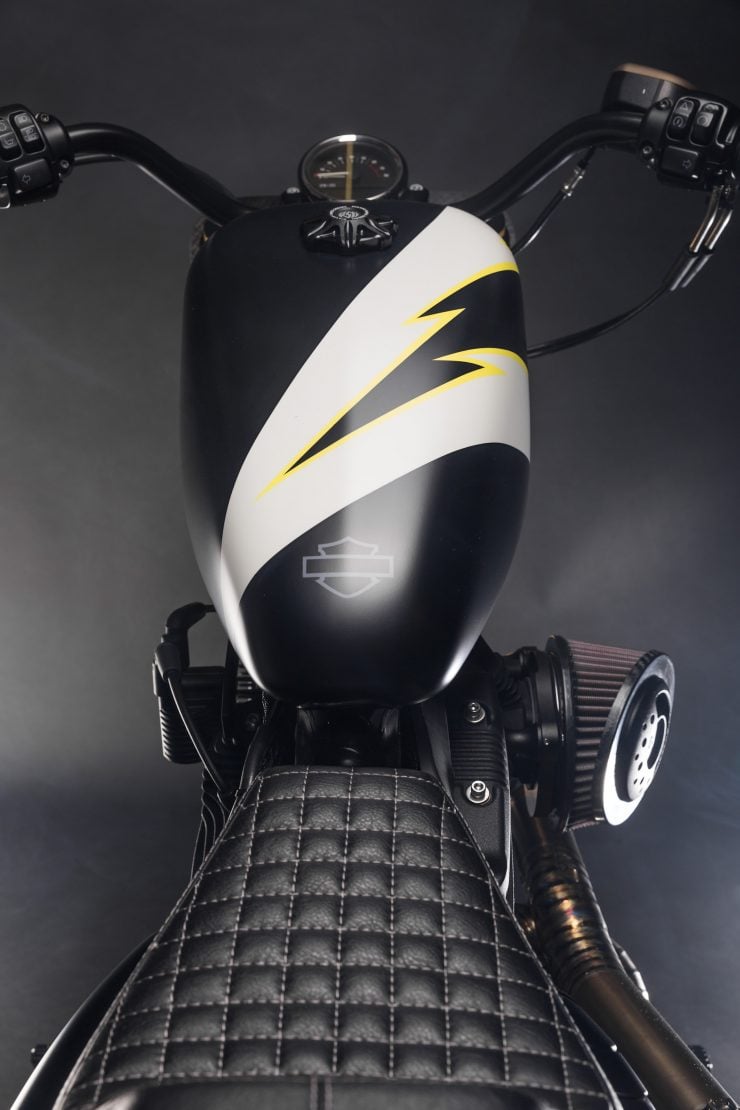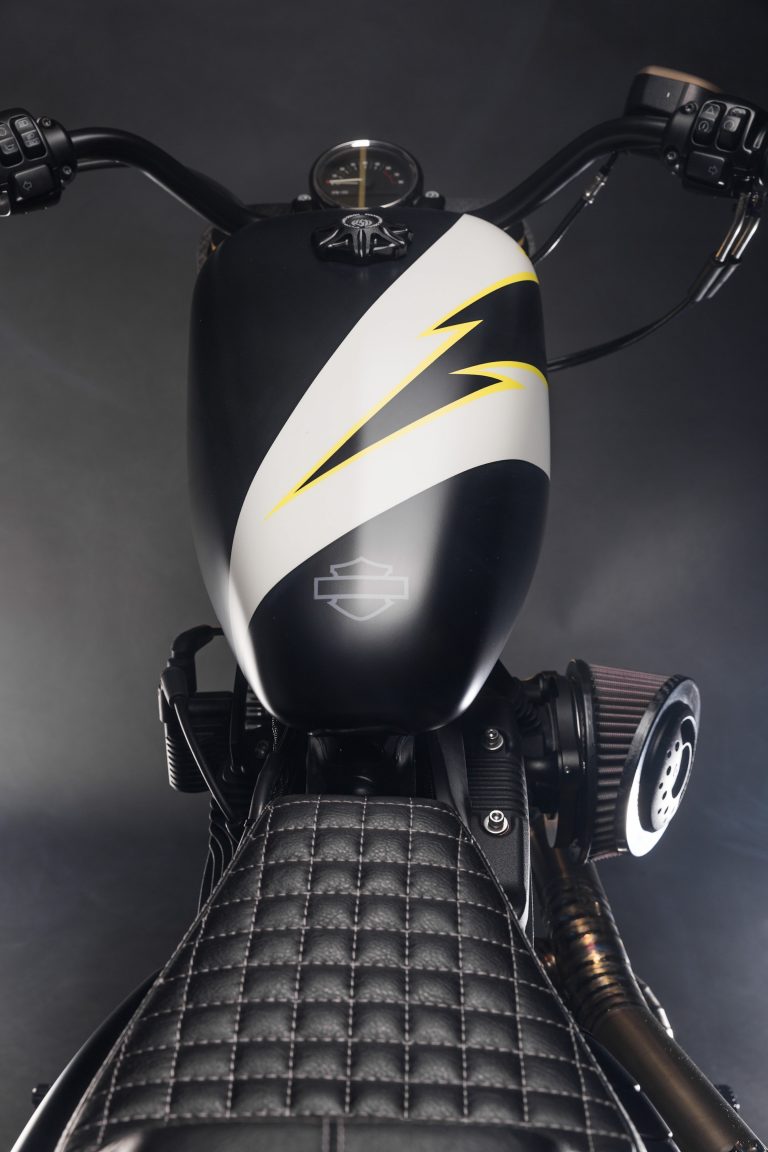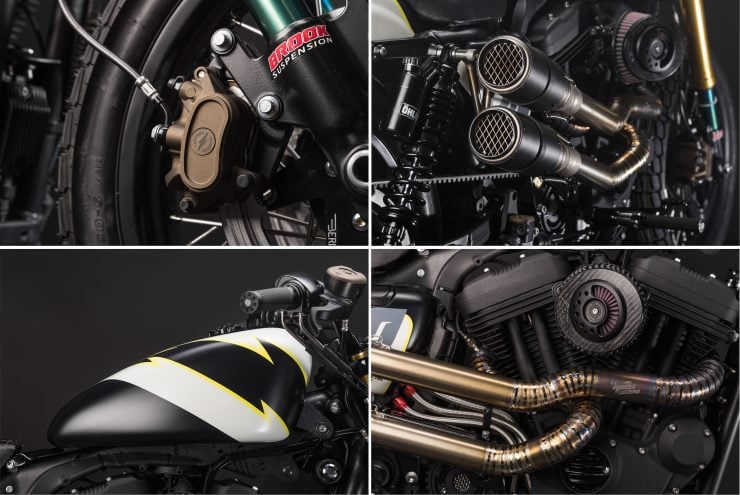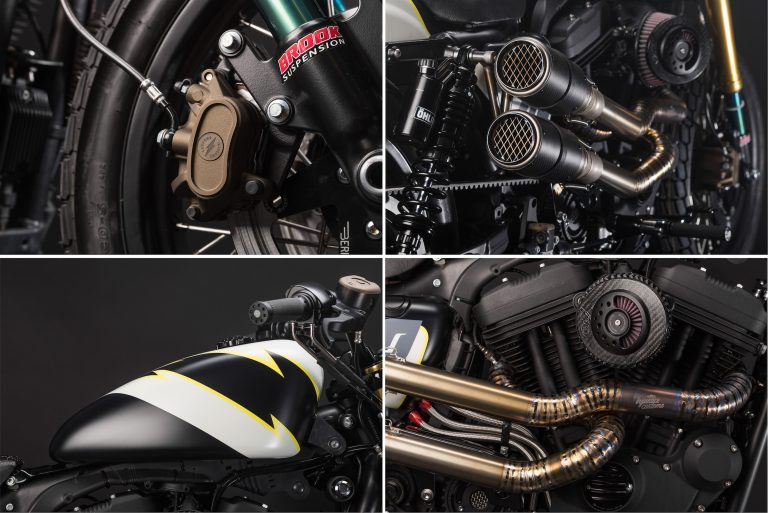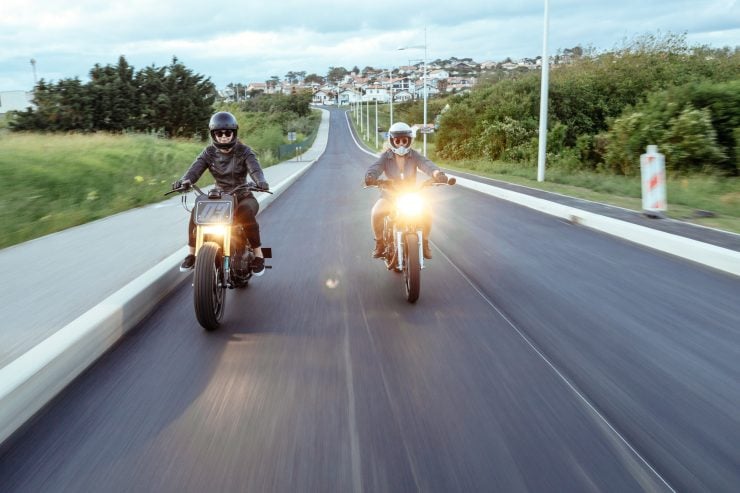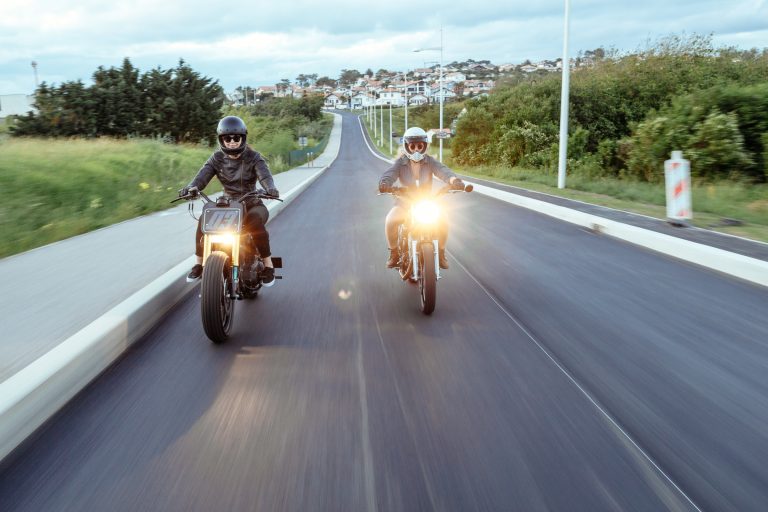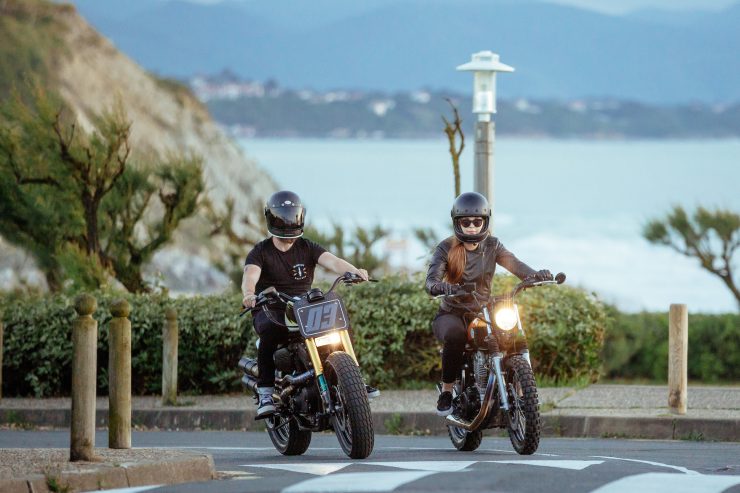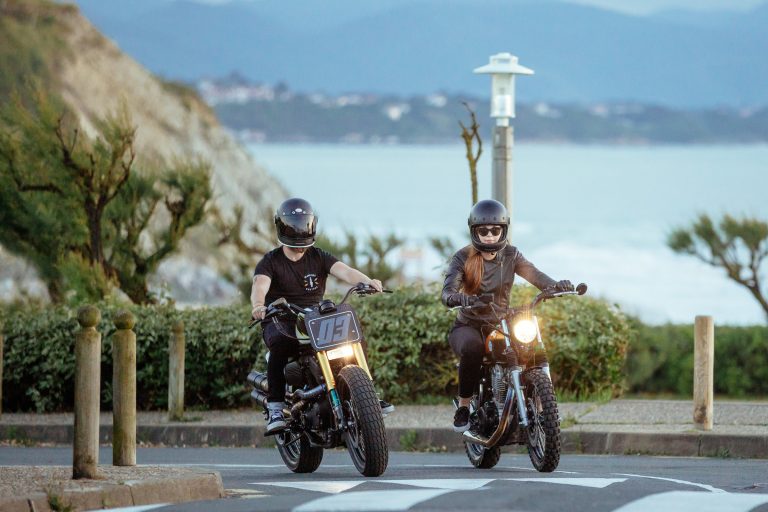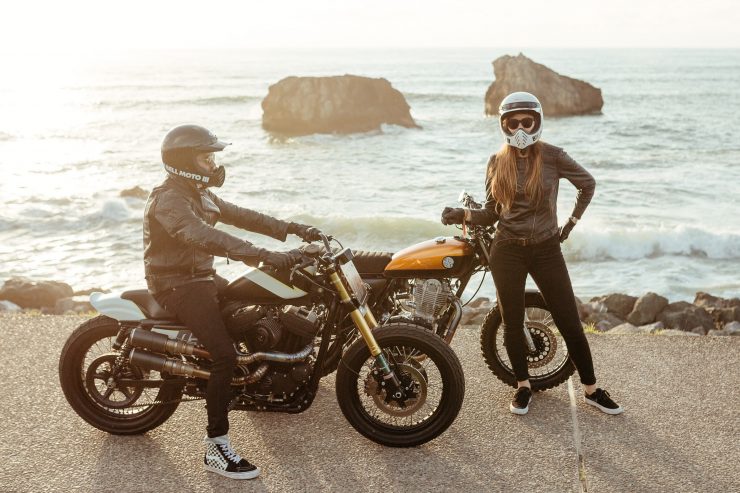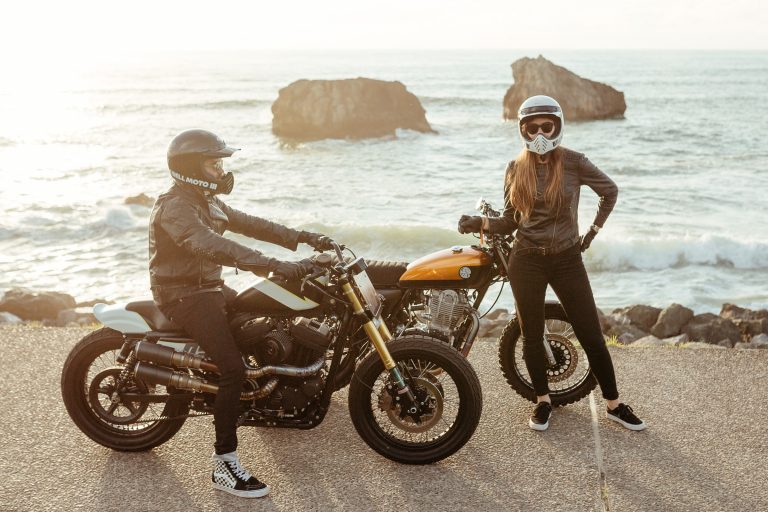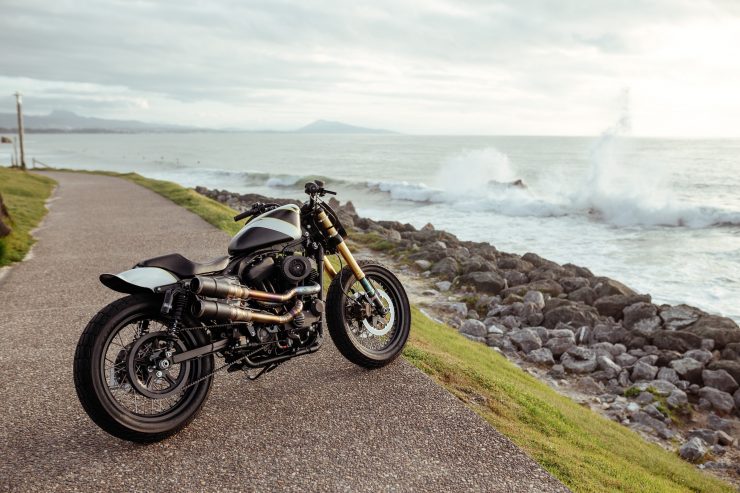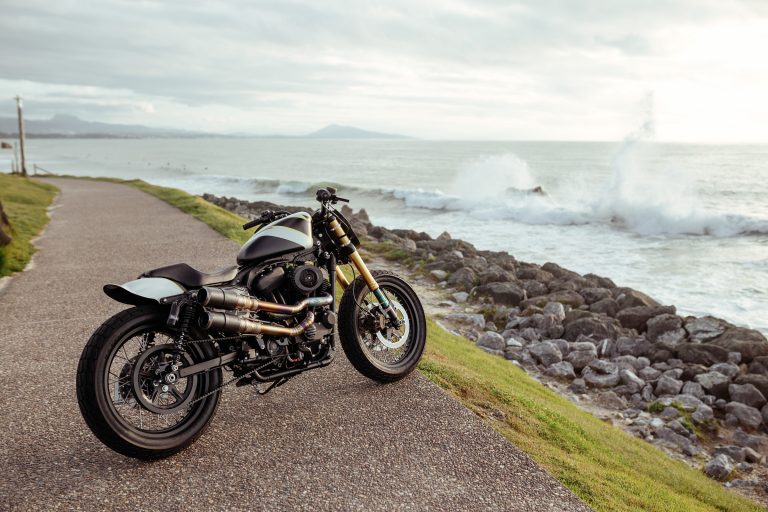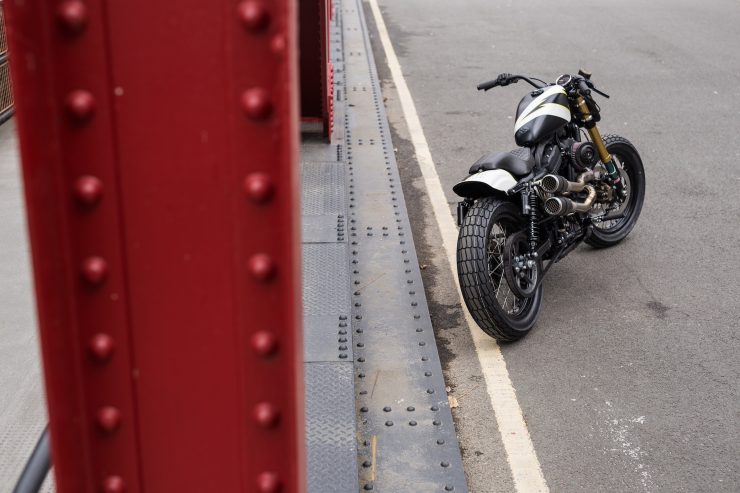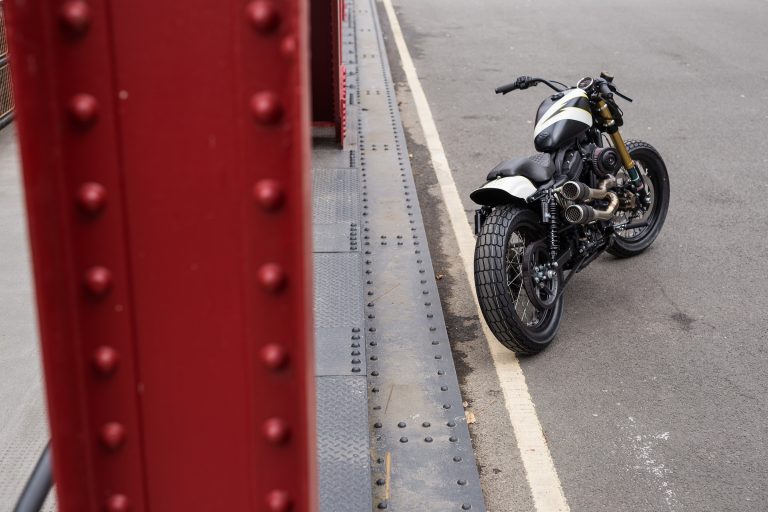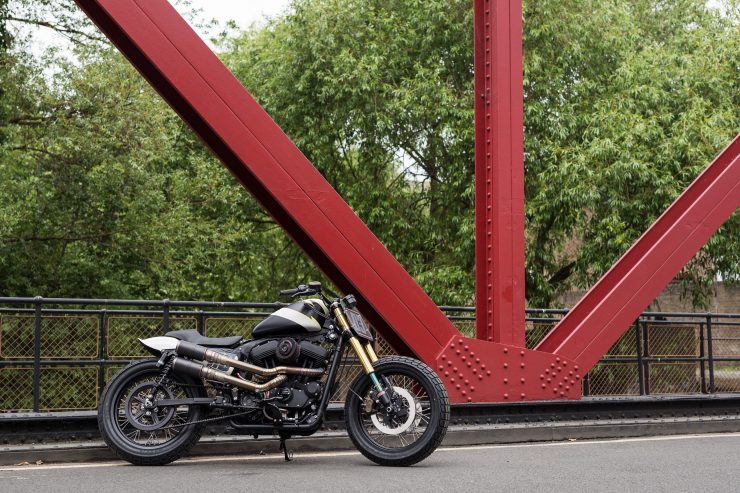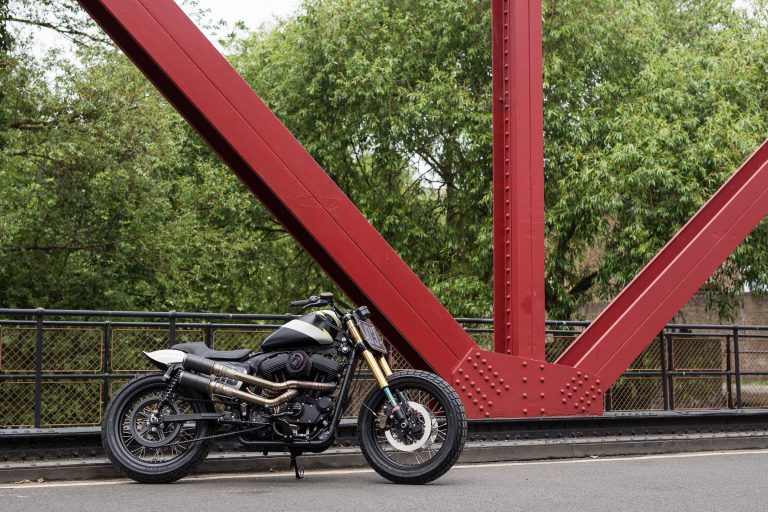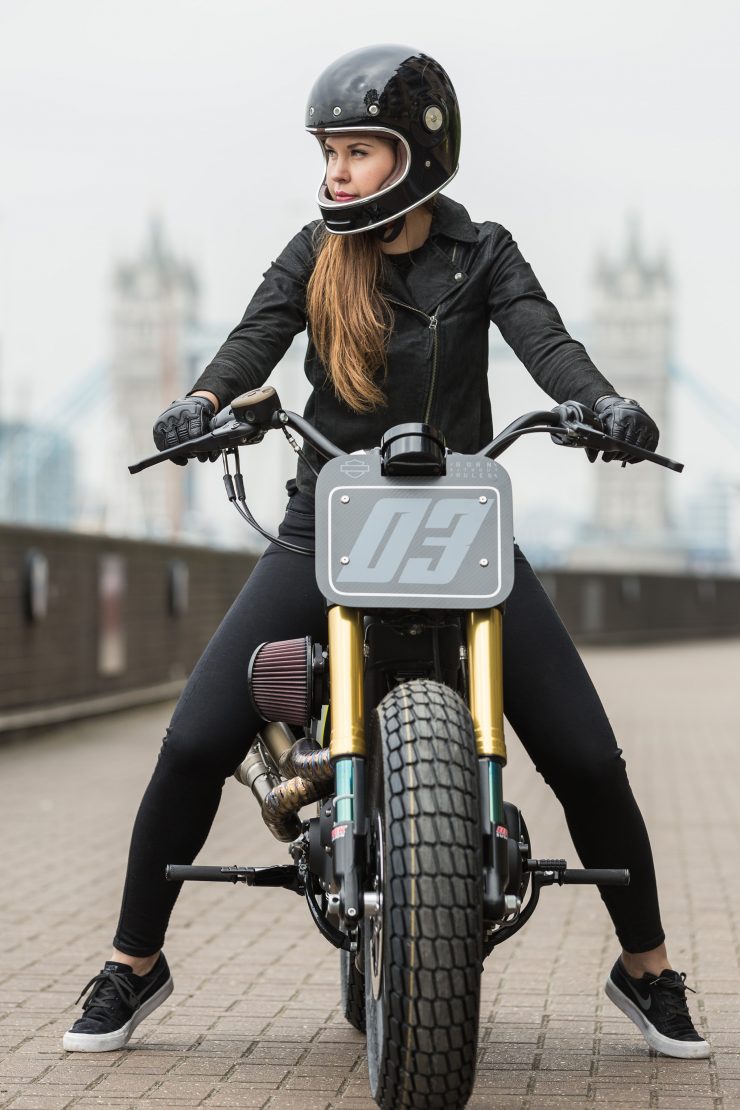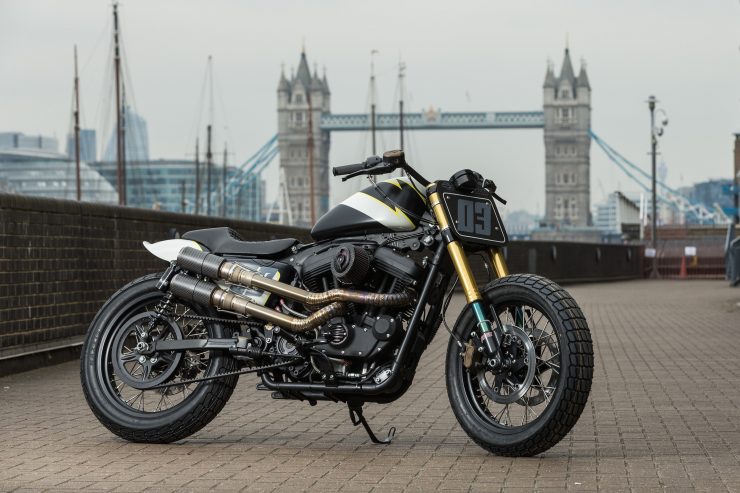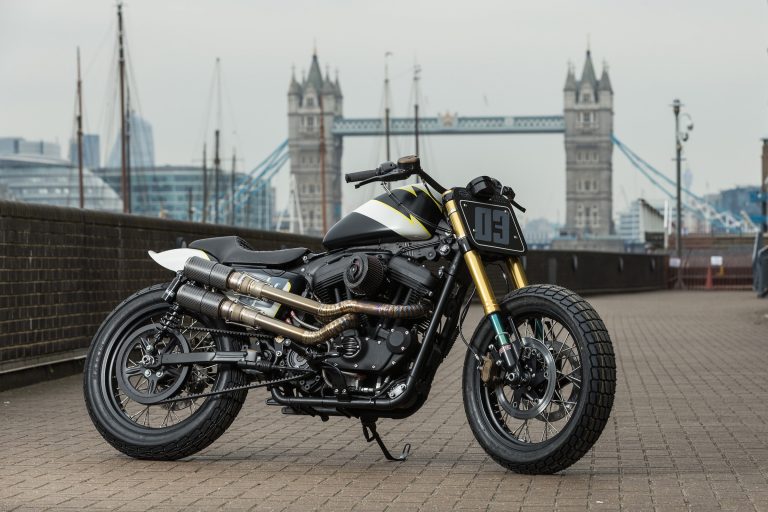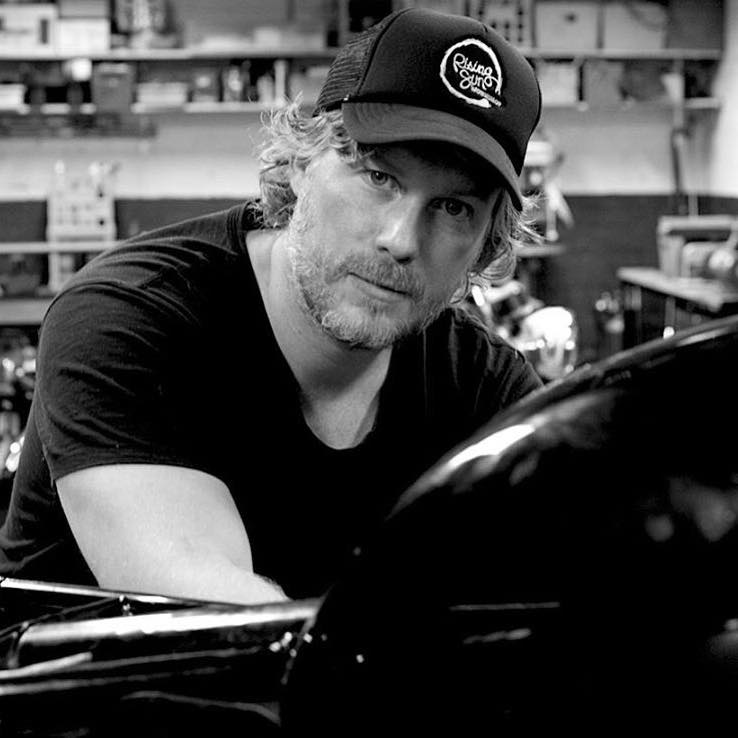 Articles that Ben has written have been covered on CNN, Popular Mechanics, Smithsonian Magazine, Road & Track Magazine, the official Pinterest blog, the official eBay Motors blog, BuzzFeed, Autoweek Magazine, Wired Magazine, Autoblog, Gear Patrol, Jalopnik, The Verge, and many more.
Silodrome was founded by Ben back in 2010, in the years since the site has grown to become a world leader in the alternative and vintage motoring sector, with well over a million monthly readers from around the world and many hundreds of thousands of followers on social media.