International Harvester Scout – An Introduction
The design brief that led to the creation of the International Harvester Scout sounded simple enough; "Create something to replace the horse". That was the instruction given by International Harvester's Manager of Engineering, Mr. Reese, to Chief Designer Ted Ornas back in the post-war '50s.
International Harvester were looking to design a competitor to the Jeep that so many former GI's had come to appreciate during their war service. The Jeep however was a bare bones military vehicle that would only have appeal to farmers, hunters, and fishermen.
Ted Ornas was being asked to create something that would both compete with the Jeep but also create a new concept of vehicle, and nobody was able to give him any real guidance on what to create. So it was that Ted Ornas started out with a blank sheet of paper and sharp pencil, and began trying to think up this new concept in vehicles.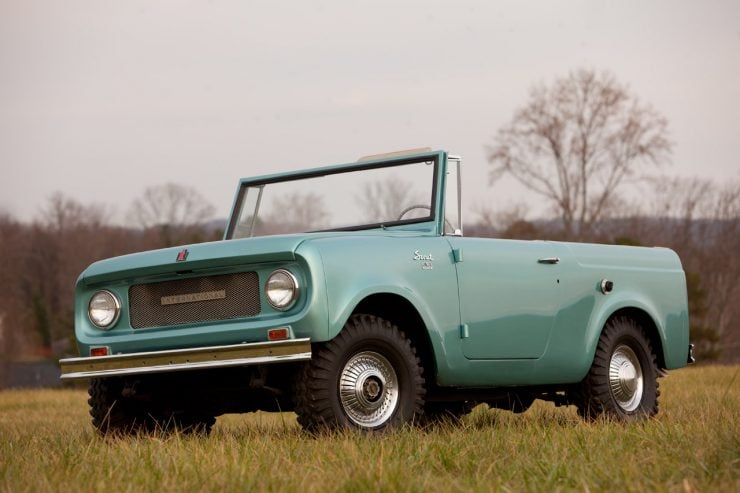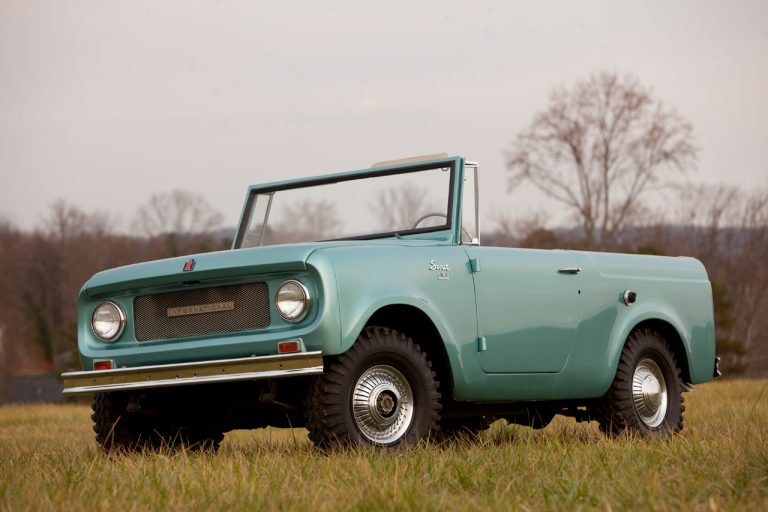 Scout History
The post-war 1950s were a time when vehicle makers knew they had a market for post-war "austerity" and re-construction vehicles and the Jeep had inspired many so over in Britain the people at Rover had created their Land Rover based on the concept of the Jeep, and to their surprise it sold in droves.
They also discovered that customers were asking for a vehicle with the off road and on road capabilities of the bare bones Land Rover but with a bit more luxury, which led Land Rover to create the Tickford station wagon. But designers were not really sure what exactly to create. Ted Ornas was in a similar position and his initial designs were very much like the bare bones Jeep and the equally bare bones Land Rover.
The initial designs did not inspire management because there just wasn't a coherent vision yet and the project almost died. But Ted Ornas decided to look at the use of plastics to create the body of the four wheel drive and his early sketches of what might be possible got management's attention. The sketches that proposed use of plastics featured curves rather than the slab sided look reminiscent of the Jeep and Land Rover; and the use of curves instantly gave the vehicle a different and more refined style.
The first clay model for the new vehicle was created in June of 1959 and received approval in November of that year. Because of the rising cost of building the vehicle in plastics from Goodyear the decision was made to build the new car with a steel body and after a total development time of just two years the decision was made to go ahead and put it into production.
One of the impediments International Harvester faced was the lack of a suitable four cylinder engine. They considered purchasing in engines from another manufacturer until someone came up with the simple but brilliant idea of cutting one of their own V8 engines in half to make it into a four cylinder. The V8 chosen for this exercise was the International Harvester 304 cu. in. which became the 152 cu. in. Comanche four cylinder engine.
Not only did this new four cylinder engine produce a healthy 93hp and 137 lb/ft torque but it also had high parts interchangeability with the existing 304 cu. in. V8 making servicing and provision of spare parts inventory to dealers much easier. The transmission used off the shelf components such as the Warner T-90A three-speed manual gearbox which was mated to a Dana 18 transfer case and Spicer 27 front and rear axles for the four wheel drive model.
The Scout 80 made its debut in 1960 effectively becoming the first American SUV ever created.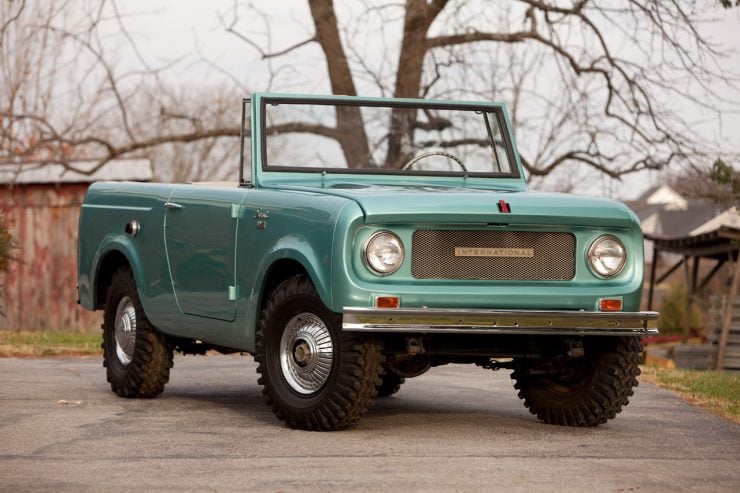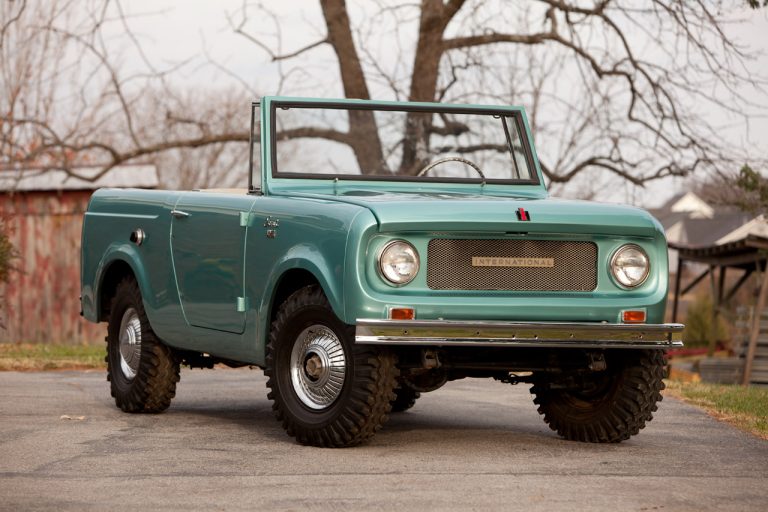 International Harvester Scout – Models and Specifications
International Harvester Scout 80 (1960–1965)
The Scout 80 was the first model of the International Harvester Scout and it was available as either a conventional 2WD or 4WD. Its engine was the Comanche 152 cu. in. (2.6 litre) in-line four cylinder producing power of 93hp and torque of 137lb/ft and mated to a manual three speed Warn T90 manual gearbox for both 2WD and 4WD models. The 4WD Scout 80 was fitted with a Dana 18 transfer case and with Spicer 27 axles. Suspension was by leaf springs front and rear whilst brakes were hydraulically actuated drums.
The Scout 80 used a conventional ladder chassis and steel bodywork but with a removable roof. The side windows were sliding like the Land Rover and removable. The original Scout 80's had a fixed steel separator between the front seats and the load carrying compartment at the rear but during production this was changed to a removable one. The windshield was foldable and the top mounted windshield wipers vacuum operated. Vacuum operated wipers were a simple and reliable system that were common at the time but which suffered from the problem that when the car is being accelerated the vacuum reduces and so the wipers slow down or stop.
International Harvester realised that they had stumbled onto a winner when sales for the Scout 80 doubled and then tripled exceeding the company's expectations.
Encouraged by their success International Harvester created a special luxury version of the Scout 80 called the "Red Carpet" version to celebrate that they had sold no less than 100,000 Scout 80's. The Red Carpet version was a Limited Edition and only 3,000 were made with one being sent to each International Harvester dealer across the country for showroom display and publicity events. These Red Carpet Edition Scouts were painted in white with a red fully upholstered interior. The cars were fitted with full carpeting and a roof head-liner. A badge on the side of the car read "100,000 Red Carpet Series Scout By International". In advertising International Harvester sought to make the Scout 80 attractive to women customers as was common for US car manufacturers to do at the time. Following on from the Red Carpet model International Harvester also built their Champagne Edition with similar features but instead of it being a limited edition it was offered as a regular option pack.
The other market testing version of the Scout 80 was the Scout 80 Campermobile version which was offered early in the production of the Scout 80 whilst International Harvester were testing the market potential. To create the Campermobile International Harvester extended the bodywork to the  rear and raised the roof height to enable an average height person to stand upright in the rear. Tented bunk beds were provided in the rear compartment.
The tailgate was replaced with an ambulance style swing out door. Options for the Campermobile included a dinette set complete with stand up galley, and a retractable screened chemical toilet. Given that hunting, shooting and fishing were extremely popular in the fifties and sixties it is likely that International Harvester were trying to create a vehicle for that market and it was a good design for fishing, hunting and shooting trips and for camping out at the shooting range for major events. Despite its practicality the Campermobile did not sell well and they are a rare find nowadays. They were quite expensive which is no doubt the reason for their rarity, just as is the case for the Land Rover Tickford station wagons.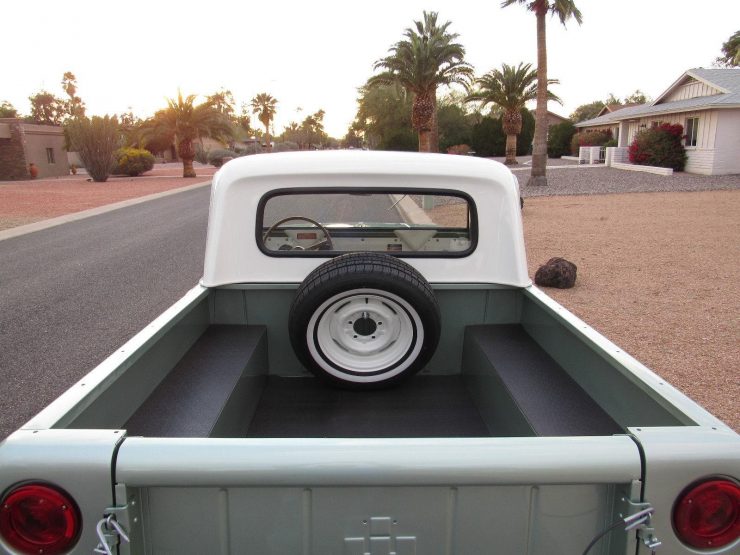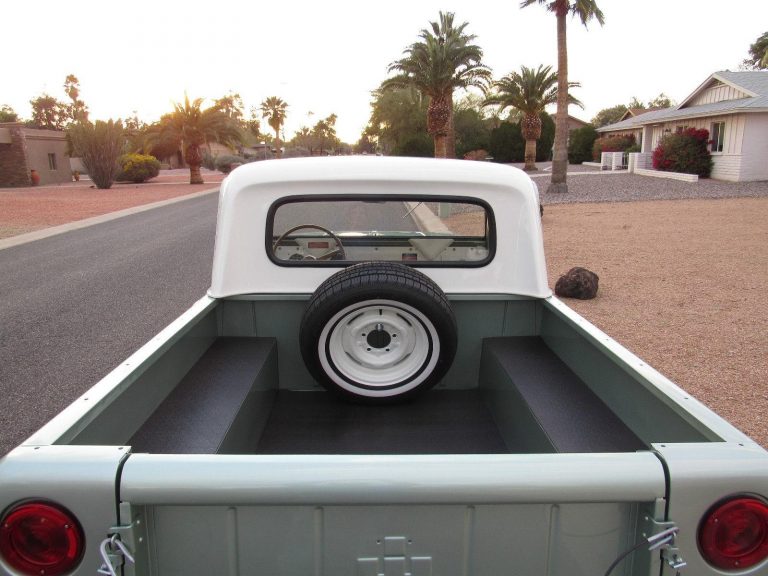 International Harvester Scout 800 (1966–1971)
In 1965 the Scout 800 began replacing the Scout 80 in dealer showrooms. The Scout 800 was an upgraded version of the original Scout 80 so it looked essentially the same in terms of body style but had various improvements including front bucket seats, good heating, revised instrumentation with an updated dashboard, and optional rear seats. The windshield wipers continued to be vacuum operated but were moved to the bottom of the windshield. The windshield of the new model was no longer folding. The luxury Champagne option pack introduced on the Scout 80 continued to be available on the Scout 800.
A new option pack for the Scout 800 was the Scout 800 Sportop which featured a new design fibreglass roof with a slanted rear roof. This model was also available as a four seater soft top convertible. The Scout 800 Sportop was fitted with a continental spare tire kit which carried the spare tyre vertically at the rear of the vehicle on the tailgate. This model also had divided rear bumpers.
New on the Scout 800 were engine options for a 196 cu. in. (3.2 litre) in-line four cylinder engine and a 232 cu. in. (3.8 litre) in-line six cylinder. Whilst the base engine remained the same 152 cu. in. in-line four this was also offered in a turbocharged version, the 152T, producing 111hp. Although it may seem to have been an unusual decision to offer a turbocharged version of the 152 cu. in. engine we should be aware that International Harvester customers were used to turbochargers on trucks so this was familiar technology to them. As it turned out the new 196 cu. in. conventionally aspirated four cylinder produced the same power but with better fuel consumption so the 152T turbocharged engine was dropped from production in early 1968.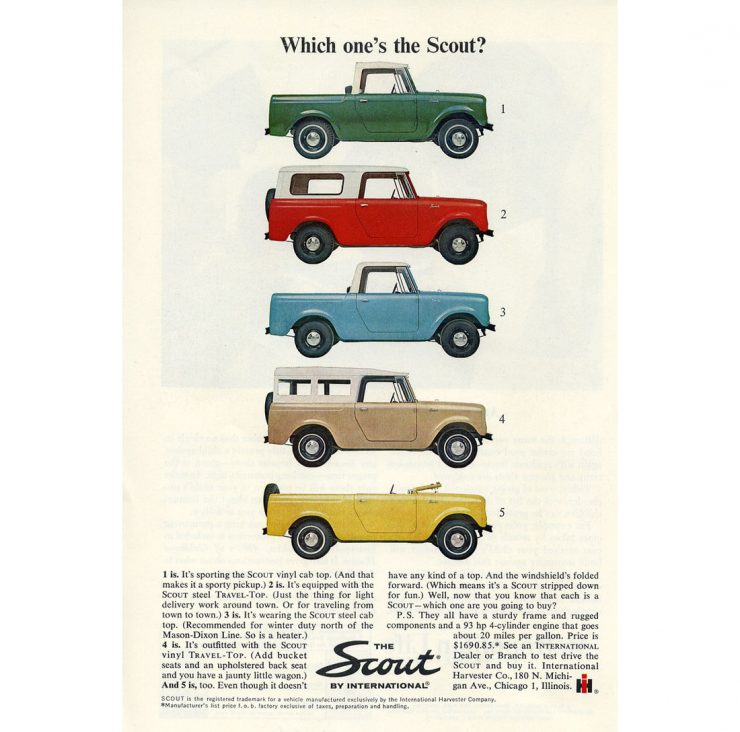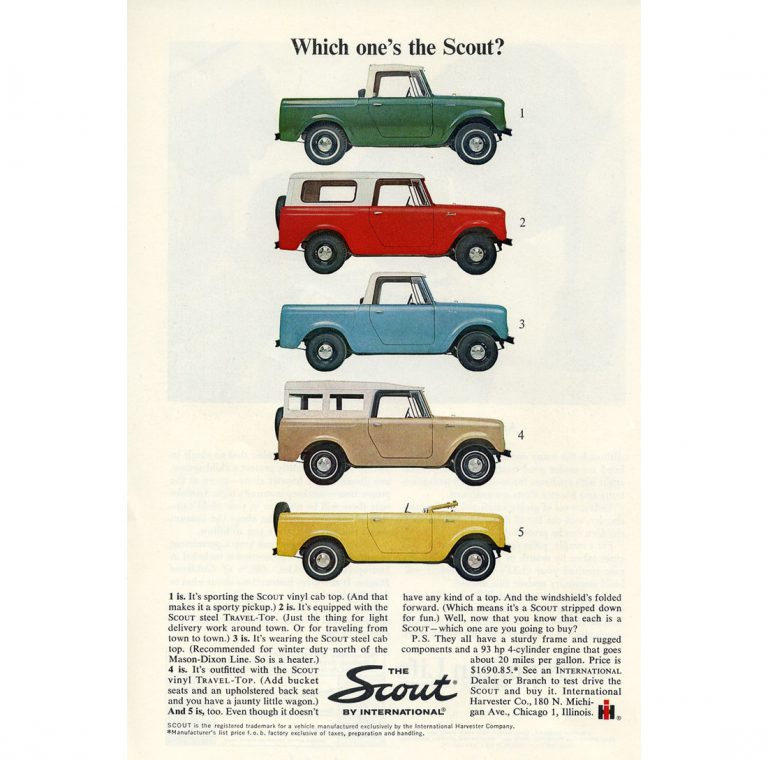 In 1968 the Scout 800 was upgraded to the Scout 800A. This model had some cosmetic changes but most significant were the improvements to the drive train. The transfer box was upgraded to a Dana 20 whilst the front axle became a Dana 30 hybrid and the rear axle a Dana 44. Final drive ratio was 3.73:1, with 4.27:1 and  4.88:1 available as options.
These drive train upgrades were necessary as new engine options were provided; 196 cu. in. four-cylinder, 232 cu. in. six-cylinder, 266 cu. in. V8, and 304 cu. in. V8. The 232 cu. in. in-line six was only offered for a short period in 1969 and was dropped from production. Later the manual gearbox was upgraded to a four speed unit.
The body styles for the Scout 800A were the Aristocrat, which was much like the original Scout 80 body style but with luxury features, the later SR2, and the Sportop.
Briefly, from August 1970 until March 1971 just prior to the end of production of the Scout 800A  a transitional model 800B was produced. This model had cosmetic changes such as the change from black headlight surrounds to chrome ones. Despite being in production for such a short time the Scout 800B was available with the luxury Comanche option pack and also as the SnoStar made specifically for snow plough use which was only made with the six cylinder engine.
The Scout 800B was the last version of the original International Harvester Scout 80/800 series of vehicles and it was superseded by the Scout II in April 1971.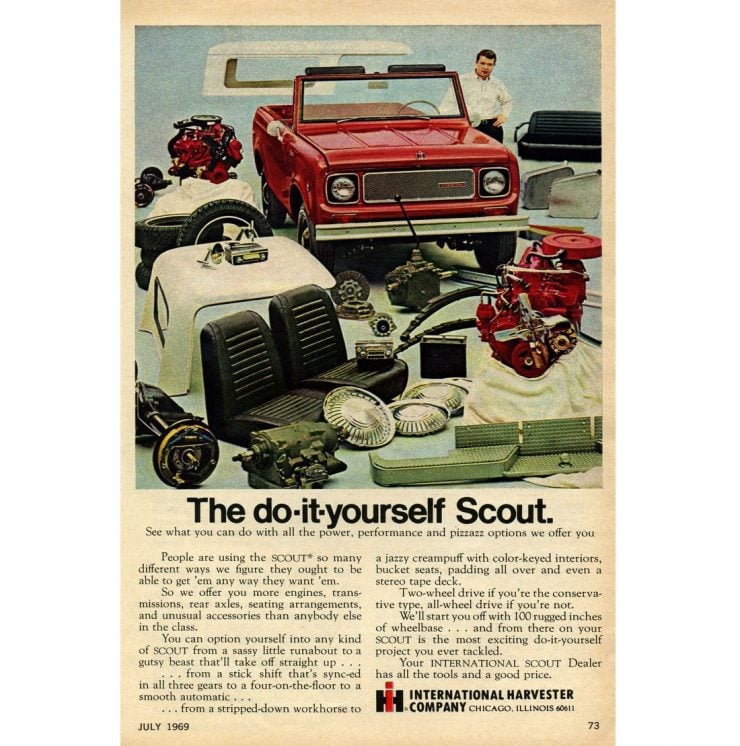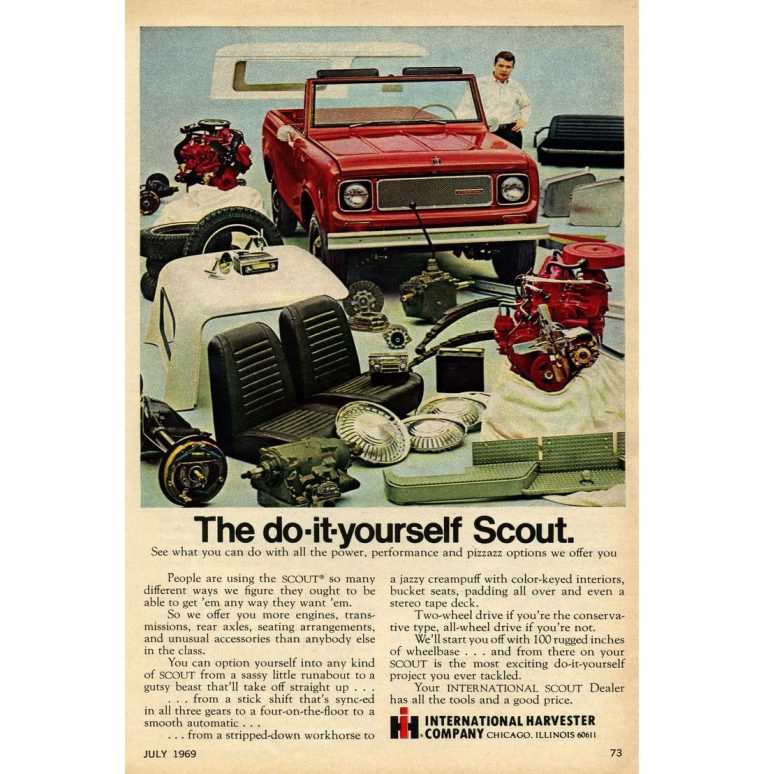 Buying an International Harvester Scout
The design brief that led to the creation of the International Harvester Scout sounded simple enough; "Create something to replace the horse". That was the instruction given by International Harvester's Manager of Engineering, Mr. Reese, to Chief Designer Ted Ornas back in the post-war '50s.
The International Harvester Scout 80 and 800 are conventional and technologically agricultural vehicles with a chassis and steel body. The engines in them are also very conventional and so these vehicles are not complex to work on. Power steering and power brakes were optional and if you are buying a Scout one with both these options is a better bet. Non power assisted steering is usable but will require a bit of muscle power and the same is true of the non servo assisted brakes.
The big ticket item to look for in an International Harvester Scout Scout 80/800 is body and chassis rust. There is no substitute for getting under the vehicle and thoroughly looking for corrosion especially around spring mountings. Remember that rust normally starts from the inside and works its way out so look for paint bubbling which will indicate rustiness underneath it. The same applies to all the body panels, look in the crevices where moisture, wet leaves etc. can gather, pick out the dirt and crud and have a good look at the metal underneath.
Watch areas inside the fenders and around welds. International Harvester were not greatly conscientious about rust proofing so expect to find problems. Many Scouts were used on snow treated with salt and so the steel work can finish up looking like a colander. The same goes for cars which have been used on the beach such as for fishing or have lived by the coast. That being said the body panels are available in steel or fibreglass so rusty bodywork can be restored. Just remember that if you try to restore badly rusted original panels you are going to be up for many hours of work.
With any off road vehicle you need to be aware that it may have been roughly used off road and such activities can leave dents in the chassis which weaken it and can deform it. So you need to check that chassis for damage and check chassis alignment.
Mechanically the engines and transmissions can be overhauled and rebuilt, the suspension likewise. So your Scout 80/800 is a bit like a Meccano set that can be fully taken apart and sorted out.
Thanks in large part to the high sales figures of the Scout 80 and 800, engine and transmission parts are widely available – many times you can buy brand new replacements. Although new parts are typically more expensive than reconditioned parts, they typically last longer and can offer improved reliability.
It's possible to make a series of mechanical upgrades to early Scouts, as with all vintage vehicles it can help a great deal to install a digital ignition system in place of the original points. Carburetors can be replaced with more modern units too, and if you really want to roll your sleeves up you can buy new wiring looms to totally replace the now aged originals.
Engine swaps have been very popular, particularly in early Scouts, and it can be a great way to significantly increase power without killing fuel economy. Of course, any increase in power needs to be paired with improved brakes, and a stronger transmission. Suspension upgrades are also a good idea, and kits for all of these items are easy to buy online.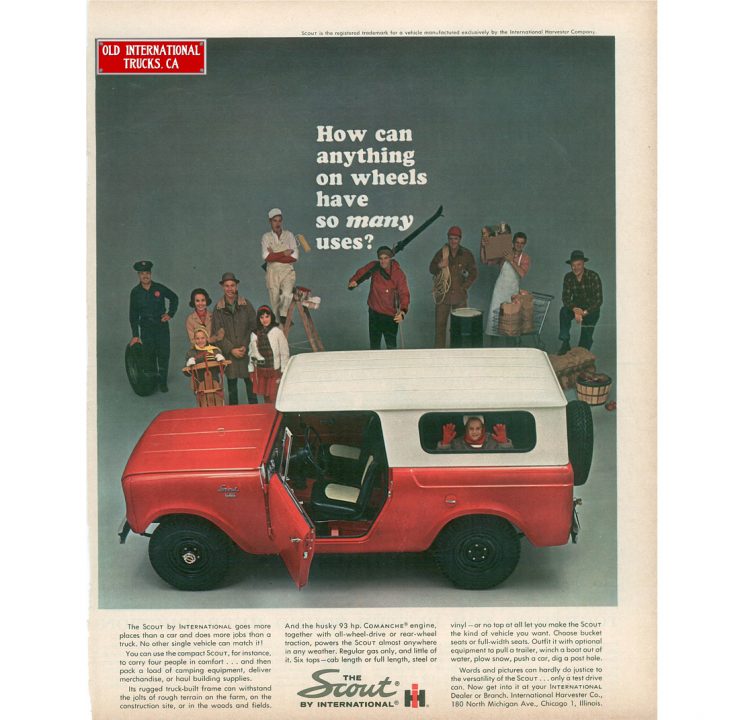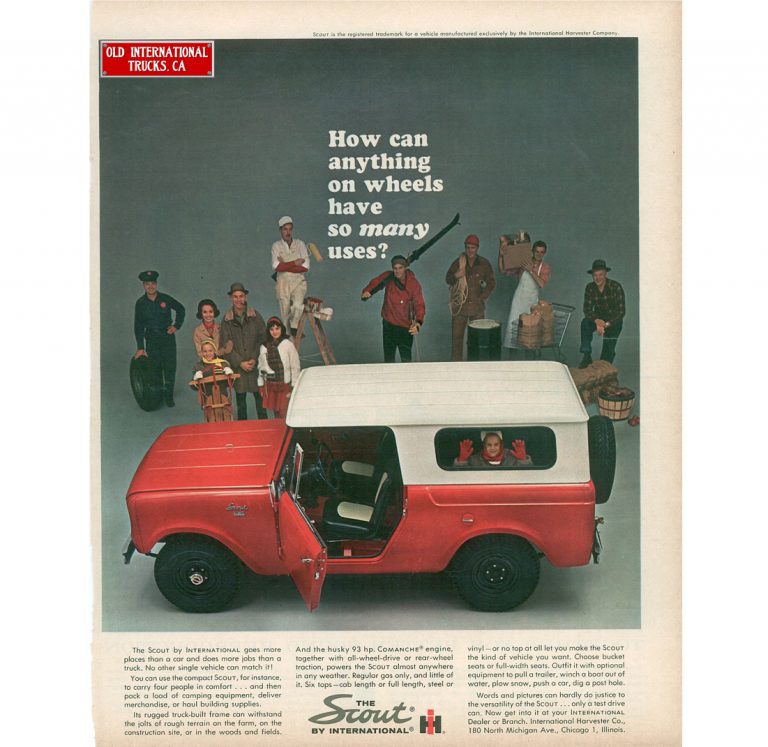 Conclusion
The International Harvester Scout 80 and 800 vehicles have a well deserved reputation for being excellent both on road and off road and all the shades in between. They are tough, well designed, not difficult to work on, and there are lots of after market parts available for them. If you are looking for a restoration project these are a great car to consider. Likewise if you are someone who will want to use their classic Scout for hunting, shooting, fishing or camping then the Scout 80 and 800 were always a great vehicle for that and still are today.
Editor's Note: If you have tips, suggestions, or hard earned International Harvester Scout experience that you'd like to add to this buying guide please shoot us an email. We're always looking to add to our guides, and your advice could be very helpful to other enthusiasts, allowing them to make a better decision.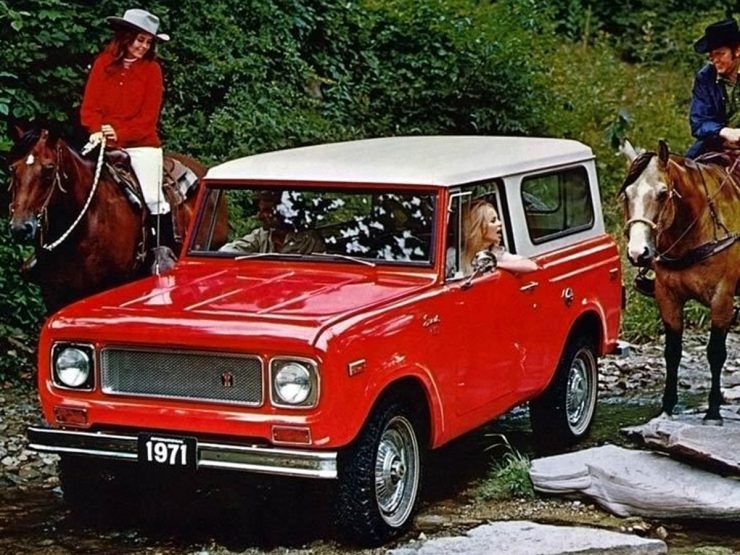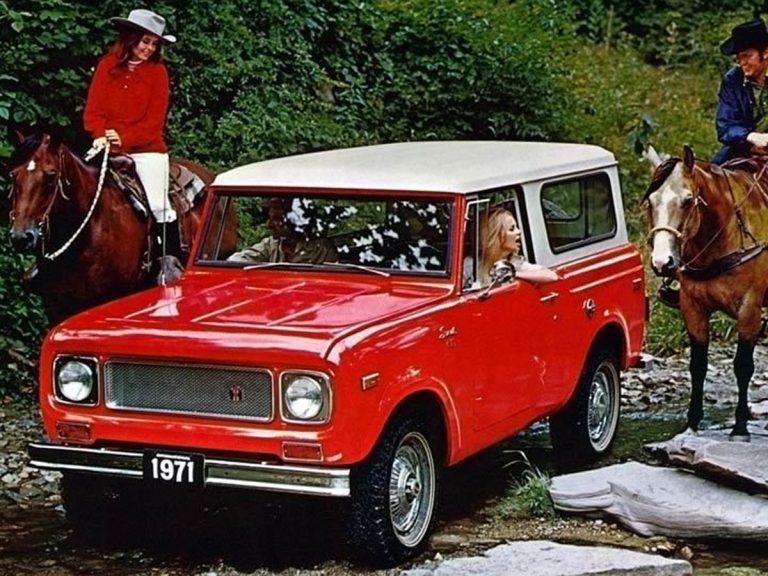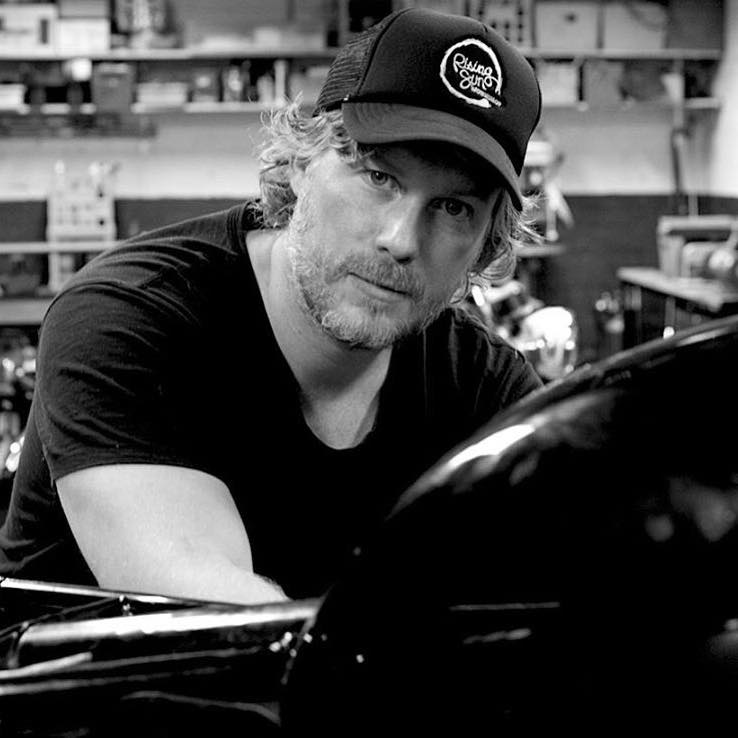 Articles that Ben has written have been covered on CNN, Popular Mechanics, Smithsonian Magazine, Road & Track Magazine, the official Pinterest blog, the official eBay Motors blog, BuzzFeed, Autoweek Magazine, Wired Magazine, Autoblog, Gear Patrol, Jalopnik, The Verge, and many more.
Silodrome was founded by Ben back in 2010, in the years since the site has grown to become a world leader in the alternative and vintage motoring sector, with well over a million monthly readers from around the world and many hundreds of thousands of followers on social media.