Introduction to the Toyota 2000GT: An Industry Seeking Credibility
The Toyota 2000GT was one of the most significant sports cars to come out of Japan during the 1960s – the decade that started the country out on the path to the global domination of the automobile market that it enjoys today.
By the end of the Second World War a defeated Japan, just like defeated Germany, was engaged in a struggle to rebuild as a nation, and rebuilding her industries was a crucial component of that. In the established western nations, such as Britain and the United States, Japanese manufactured goods were generally regarded as inferior regardless of the fact that the wartime aircraft, vehicles, optical equipment and arms created by Japanese industry were often built to a very high quality.
For a while the Japanese themselves had fallen into believing that Western technology was superior to Japanese and even the traditional Japanese sword was discarded as a weapon for Japanese officers in favor of French style sabers. That this was a mistake was realized during the Russo-Japanese war of 1904-1905 and rectified with the return to the traditional Japanese "daito" (i.e. long sword, aka "katana") and the establishment of the Toyama-ryu military sword school in 1925.
In the post-war years not only were Japanese manufactured goods looked upon as inferior, but the leaders of Japanese industries were also struggling to understand what products they could make that would appeal to western customers. Their small beginnings were for electrical goods using new technology, especially transistor radios, and optical goods such as cameras and binoculars.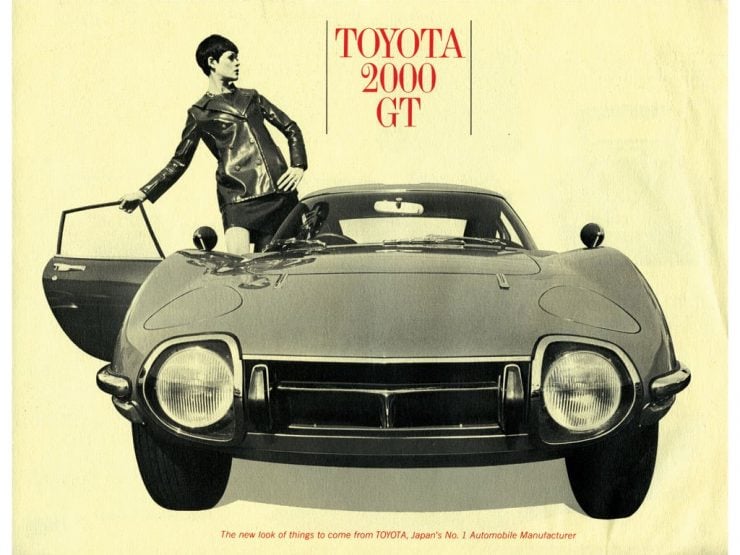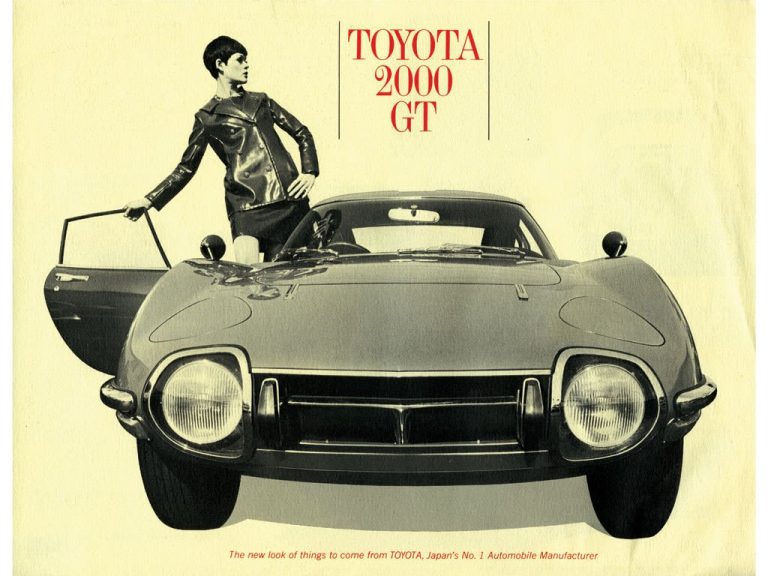 The Japanese automotive industry were at something of a double disadvantage. There was no tradition of private car ownership in Japan, except for the very rich. Similarly in Britain and Europe the tradition of private car ownership was still a relatively new concept (which is why the German Nazi Party created the "people's car" that would become known as the Volkswagen Beetle).
Thus it was that Japanese car makers, saw a plethora of small inexpensive cars being successful in Britain and Europe, cars such as the Volkswagen, the BMW Isetta, the Heinkel bubble car, and the Messerschmitt (a car that Elvis Presley proudly owned) and they decided to come to market with inexpensive practical cars. Toyota wanted to make their cars sound cute and appealing to western customers so they called their export models "Toyopet". Suffice to say they did not sell well. People joked that if you took the interior door trim off a Japanese car you would find a label underneath that read "Heinz Baked Beans".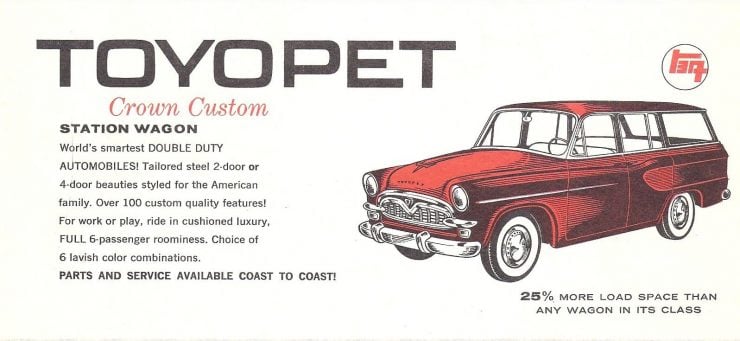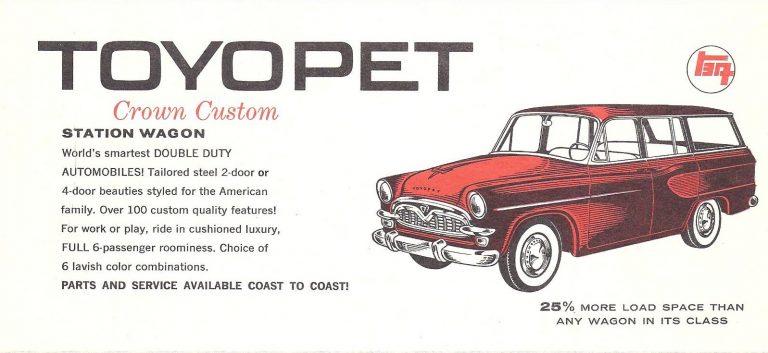 By the 1960's however the British were not laughing quite so hard any more. Soichiro Honda's motorcycles had begun taking the west by storm and Britain's motorcycle industry, bogged down in tradition, were the first to fall victim.
By the 1960's Toyota had already been nicknamed "Toymotor" and they realized that they needed to do something to establish some credibility. Thus the work began on creating a car that would send the nickname "Toymotor" into the trash can of history. The work to build a new image for Toyota would involve Toyota and motorcycle and musical instrument maker Yamaha.
Toyota and Yamaha Join Forces
The actual process that led to the creation of the Toyota 2000GT is steeped in a certain amount of myth and mystery simply because there were three Japanese auto-makers involved, and an American freelance industrial designer Albrecht Graf von Goertz, was contracted by one of them, Nissan.
Mixed into this brew is the design process for three cars, the Nissan A550X concept car which was based on the Datsun Fairlady 1600, the Toyota 2000GT, and the Datsun S30 (i.e. the Datsun 240Z and Datsun Fairlady Z432, the first of the "Z" cars).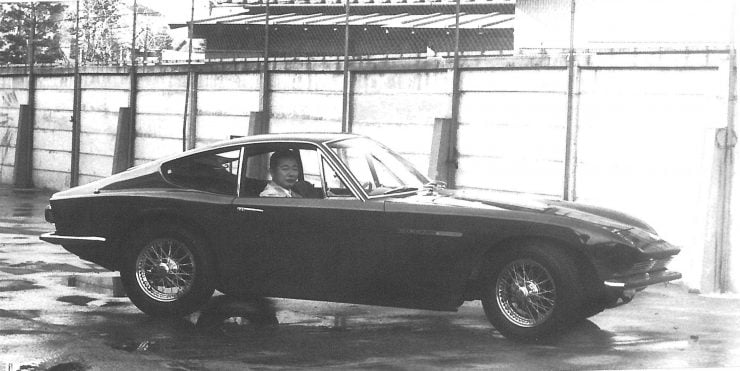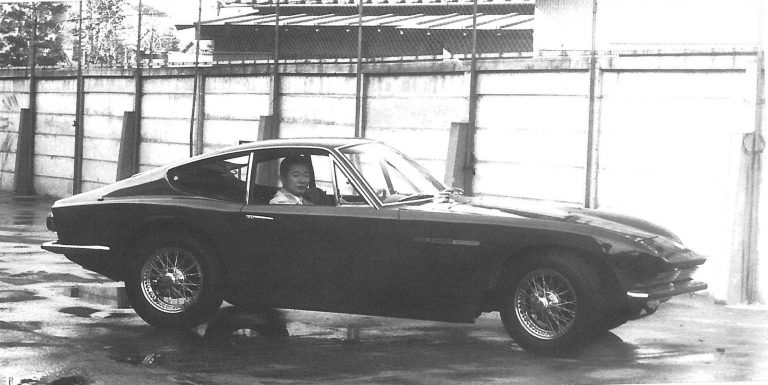 The story begins with Nissan, seeking a replacement for their Datsun Fairlady 1500 and 1600 sports cars. The Japanese had realized that the market for a traditional roadster style sports car was small and that a coupe would be a far better car, attractive to a wider range of buyers. With this in mind Nissan approached Yamaha and American freelance industrial designer Albrecht Graf von Goertz with a view to creating a suitable model.
Goertz was contracted by Nissan from 1963-1965 and his main role was in leading the design process for the Nissan A550X, which involved two Nissan designers, Kazuo Kimura and Fumio Yoshida. Although the three worked as a team it is probable that Kimura was the main designer of the A550X exterior assisted by Yamaha's Hitoshi Hanakawa, while Fumio Yoshida designed the interior, with overall design process guidance from Goertz.
The resulting prototype bears some resemblance to the second generation Chevrolet Corvette Sting Ray which first appeared in 1963, especially the front end design. Nissan decided not to go ahead with the A550X project but Yamaha continued development work and produced a functioning prototype in September 1964.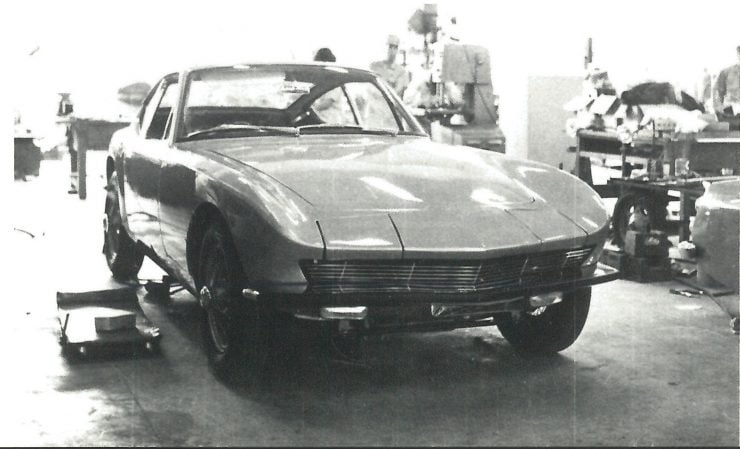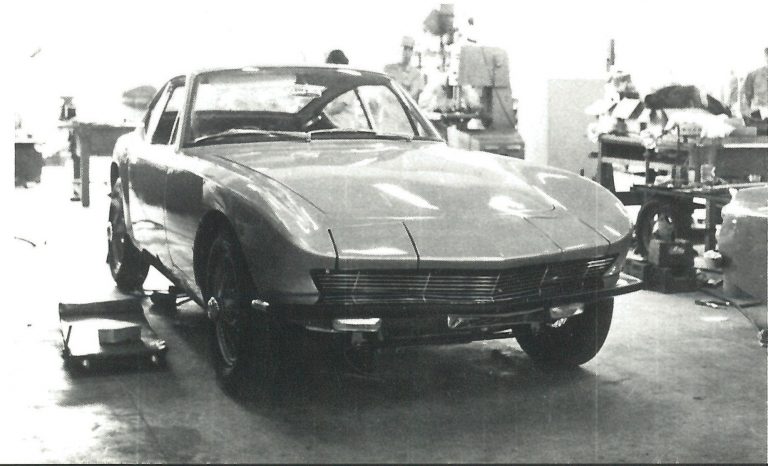 Yamaha found themselves with a lot of design work done, and no buyer for it. Rather than waste it they approached Toyota to see if they were interested in a project such as this. Surprisingly they were. This is surprising because the whole idea of manufacturing a sports car was not considered to be a good commercial risk.
There is little doubt that Nissan only proceeded with the creation of the "Z" cars because of the persistence of the Director of Nissan USA Yutaka Katayama (who would later be acknowledged as the "father of the Z cars"), and the success of the Datsun 510 whose design he had strongly influenced.
The joint development project to create the Toyota 2000GT began in December 1964 with a further technology sharing agreement for the sports car being signed on September 8th 1965. The project manager was Jiro Kawano, Toyota's racing manager, while the design team including engineers Shinichi Yamazaki and Hidemasa Takagi, test driver Eizo Matsuda, and design assistant/development driver Shihomi Hosoya, was under the oversight of Shoichi Saito, with the lion's share of the exterior design concept being attributed to Toyota industrial designer Satoru Nozaki.
The design brief was simple and to the point "Do whatever necessary to not only produce the Toyota 2000GT, but make it one of the – or perhaps even the – greatest car in the world." Toyota were embarking on a project to create a car that would, hopefully, be at least the equal of and perhaps greater than the Jaguar E-Type or a Porsche 911, and even more aesthetically stylish than anything the Italians could make.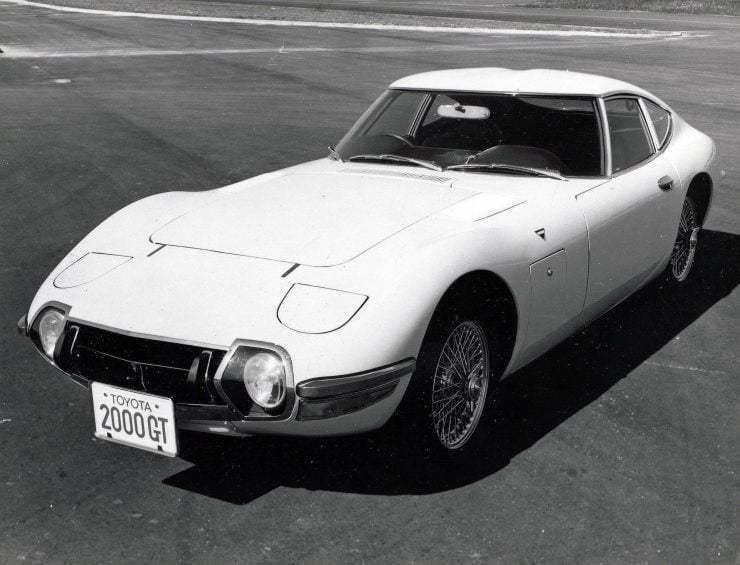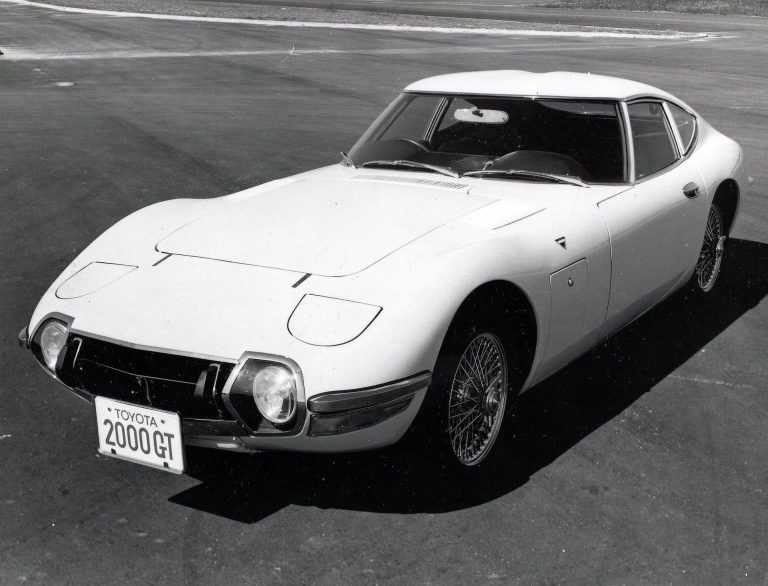 The design work done for the Toyota 2000GT was very different to the A550X work done with Nissan. Where the Nissan A550X had been designed with a unibody construction with a view to its being a moderately priced mass production car the Toyota 2000GT was not. It was based on a backbone chassis very much like that used in Colin Chapman's Lotus Elan. The backbone chassis formed an "X" shape with the engine fitted into the front of the "X" and the differential in the rear fork of the "X".
This also meant that the driver and passenger were fitted into the sides of the "X" which created a high central transmission tunnel and the feeling of sitting very close to the ground while being wrapped all around by the car's interior. Such an interior will feel "snug" with the dashboard ahead looking like something that would be quite at home in a Boeing 707 except done in Rosewood veneer by piano maker Yamaha for Facel Vega-like warmth and style, and because the roof height was kept low with overall vehicle height being 45.7″ (1.16m) this further added to the snug feeling. The effect was probably something like being in a space capsule and this was likely to have been intentional. The low roof height means that the Toyota 2000GT is not a car for those much over 5'10" tall.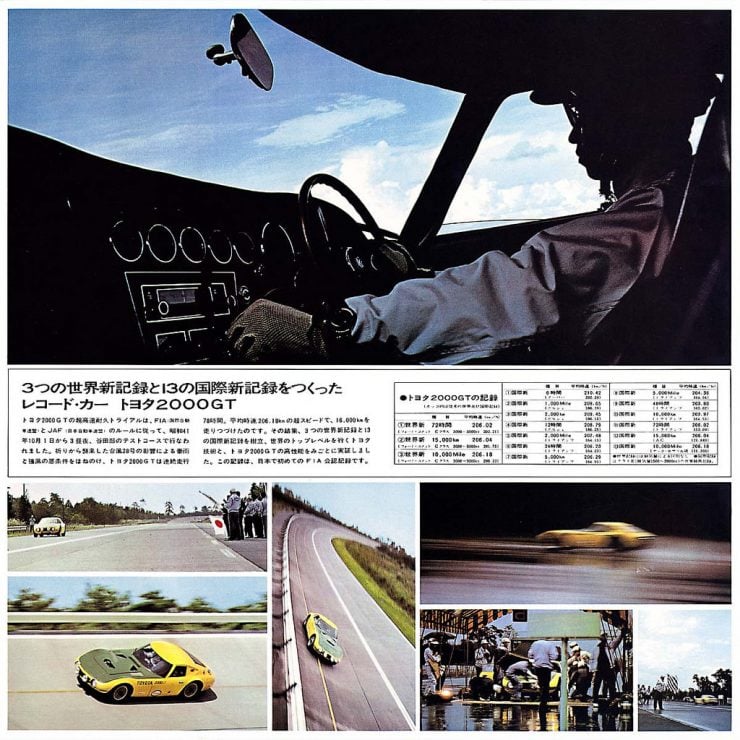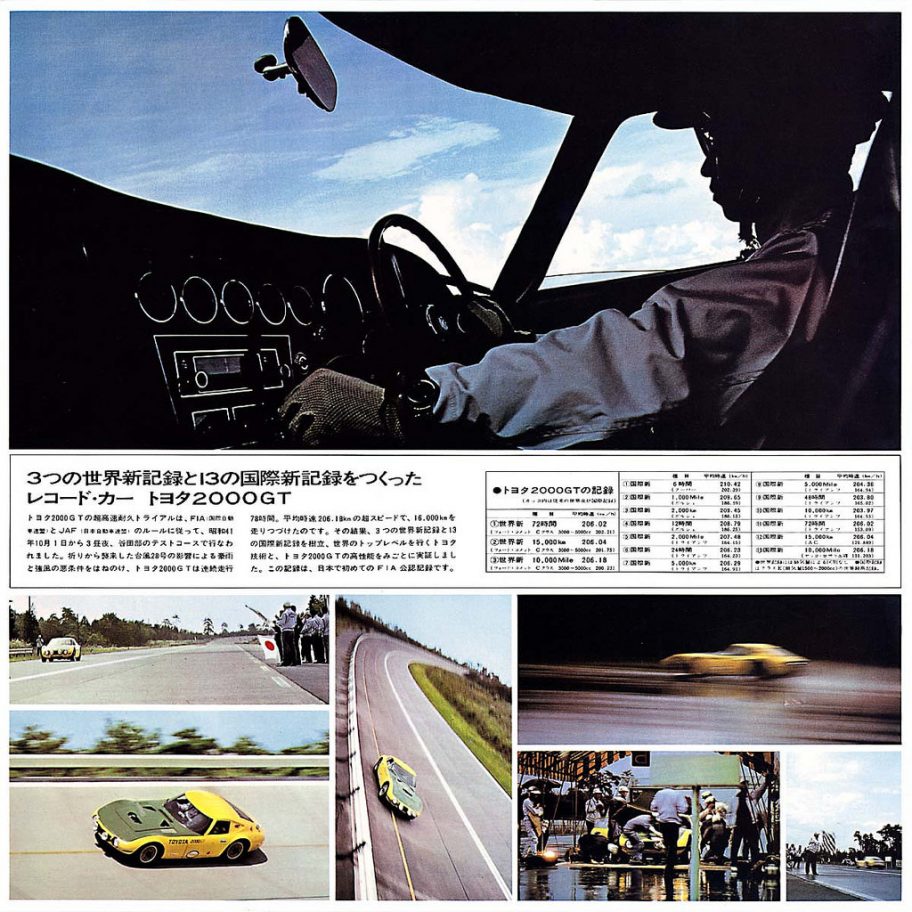 The suspension was independent all around with unequal length wishbones and coil springs with telescopic dampers front and rear. It was not really designed to be a mass produced car although it could have been: it was designed to be a limited production car, but it was created to be a world beater. Brakes were power assisted discs all around with 11″ at the front and 10.5″ at the rear. The handbrake was mounted on the dashboard, partly because of the confined nature of the interior but also likely to ensure a leverage system sufficient to grip the rear disc brakes firmly enough to be effective. Steering was by rack and pinion – nothing less would do.
In Japanese culture the things that are not seen are just as important as the things which are visible – sometimes even more so. Toyota and Yamaha were determined to do all the technical and aesthetic details as perfectly as the Japanese can do, and that standard is very high. This was going to be a car to dispel the "Toyopet Toymotor Heinz Baked Beans" image once and for all.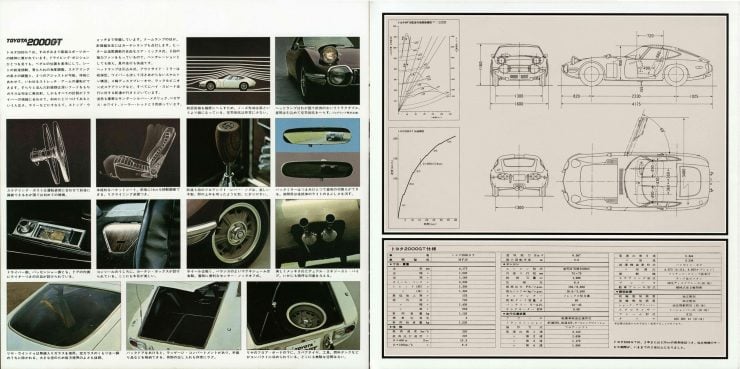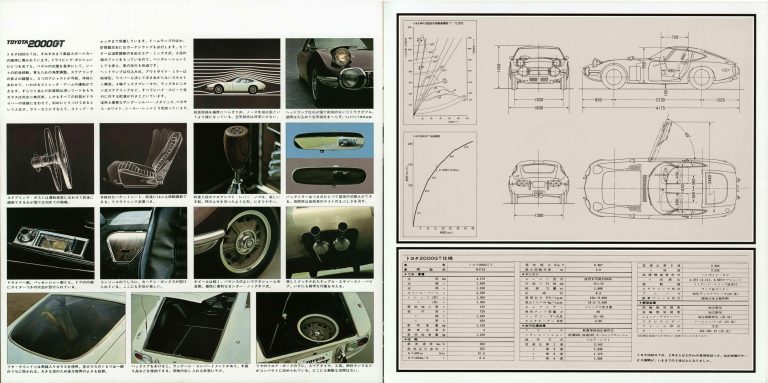 The external bodywork that was fitted to that Lotus style backbone chassis was all aluminum and contained complex curves of the sort that would delight the best Italian design houses. The style of the car was really more reminiscent of something one would find on a coach built European sports car than anything else. The Nissan A550X concept may have looked a bit like a second generation Corvette Sting Ray but the Toyota 2000GT was rather more European in style with unique Japanese aesthetics.
This can also be seen in Toyota's small sports car of 1965, the Sports 800, which certainly looks like something that could have emerged from Zagato, but didn't. In order to meet California headlight height regulations the 2000GT was provided with retracting headlights while the original enclosed lights that were mounted lower were kept in the design as driving lights, giving the car rather better lights than are found on most sports cars.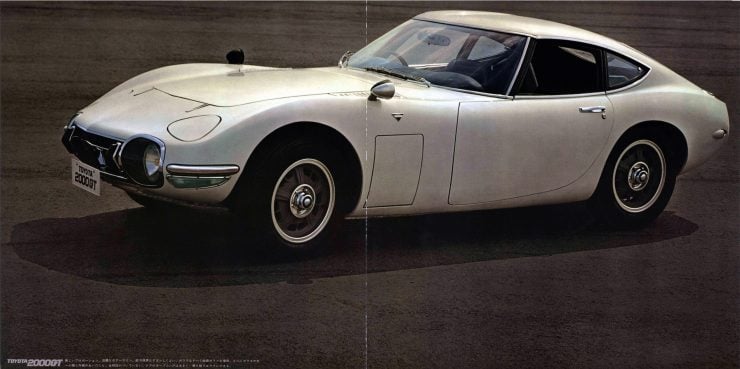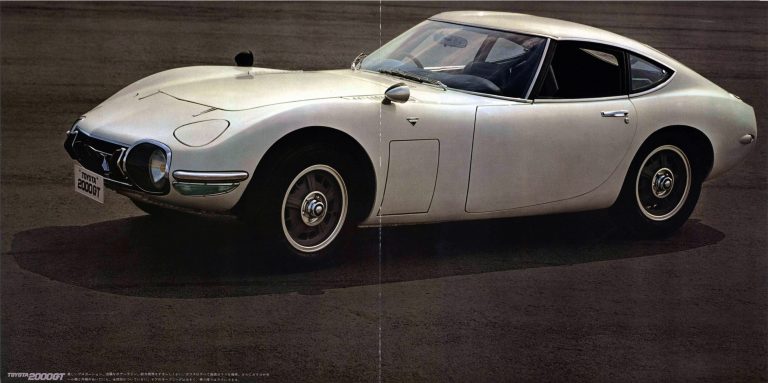 In the engine room sat a longitudinally mounted 1,998cc Toyota 3M in-line six cylinder engine fitted with a Yamaha designed DOHC aluminum head with hemispherical combustion chambers and 79° valves. Feeding fuel air mix into the engine were three Mikuni-Solex 40PHH carburettors and as a finishing touch the sump was aluminum. This engine produced 148 hp @ 6,600 rpm and 129 lb/ft torque @ 5,000 rpm. Compression ratio was a modest 8.4:1.
The gearbox was an all synchromesh 5 speed driving through a limited slip differential with an additional three final drive ratios being optionally available. Top speed was at least 133 mph making the 2000GT about as quick as the typical production Jaguar E-Types, especially those exported to the US. (Note: the Jaguar E-Type that achieved 150 mph was a specially set up car running on racing tires, not a standard production car as would be delivered to customers for road use: and at 150 mph the engine was well into the red-line).
Toyota 2000GT: Debut, Acclaim, and Disappointment
The Toyota 2000GT made her debut at the Tokyo Motor Show of 1965 and it caused something of a sensation. Some claimed it looked like a Jaguar E-Type, although it doesn't really. Some thought it to be technically inspired by the E-Type: but lift that unique aluminum Satoru Nozaki bodywork off and what was hidden underneath was nothing like an E-Type: it was very much like something one might see from Lotus, but not from Coventry.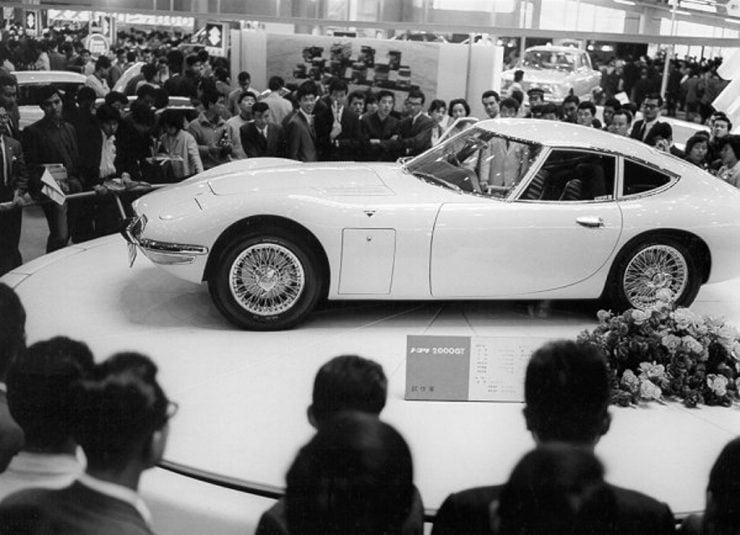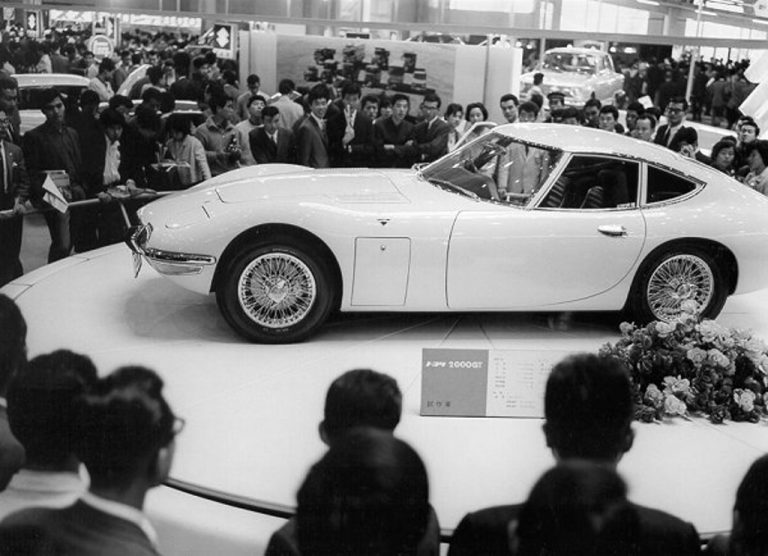 What did not immediately sink in for most observers was the sheer build quality that went into these cars: those few who got to own one discovered this. What was also not apparent in looking at the show car was the attention to detail in design and manufacture that was hidden from view, and that would only show itself when the car was driven, preferably by someone who was able to discern the car's qualities.
An example of this is the review in the June 2014 Classic & Sports Car magazine in which they do a side by side comparison between a 1963 Jaguar E-Type, a C3 Chevrolet Corvette Sting Ray, and a Toyota 2000GT. The British reviewer's interesting finding at the conclusion of the comparison test was that the 2000GT was "the only car here that feels like a sports car."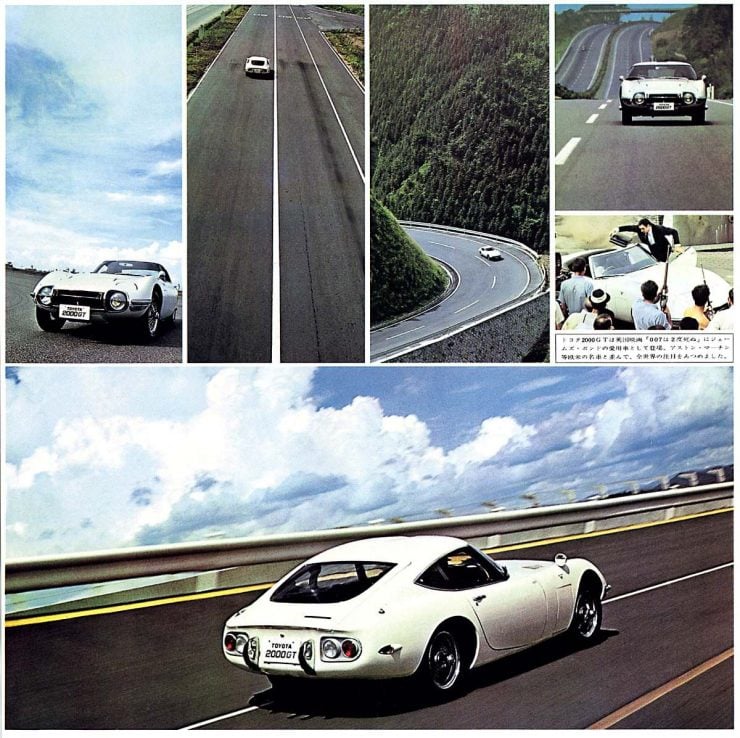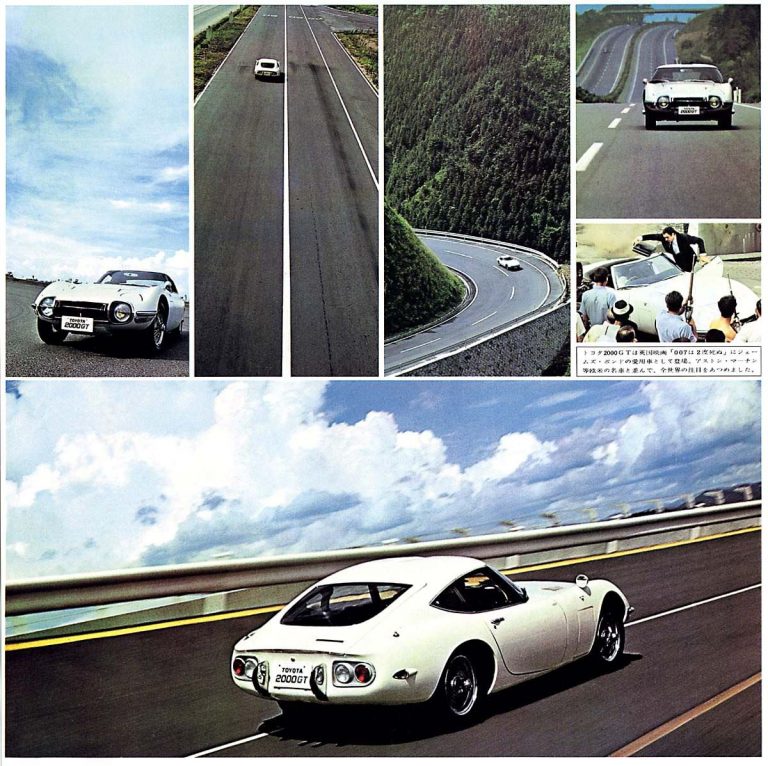 The driving performance of the 2000GT is what impresses owners and reviewers alike. Despite the engine's modest 148 hp rating it seems to deliver smooth and consistent power, the more especially once the revs are around 3,500 rpm or higher. It happily does 100 mph in third and when the engine revs are up around 7,000 rpm it still sounds comfortable.
The handling is predictable and precise while the gear changes are crisp. In short its a driver's car that combines a beautiful balance of power and handling while you sit ensconced in an exquisitely "old school" environment with your engineer's dashboard exuding the quality of Rosewood finished by a Yamaha master piano craftsman.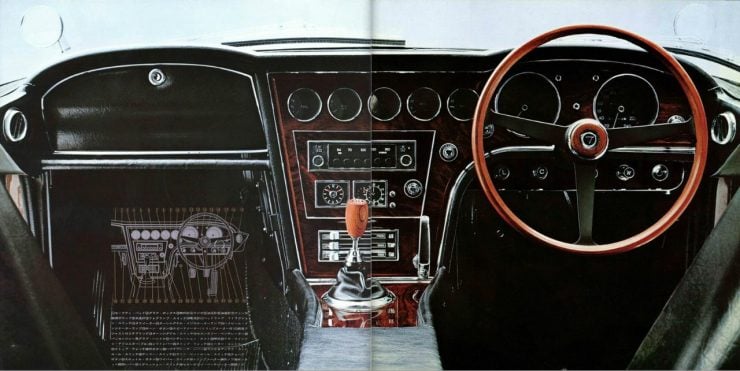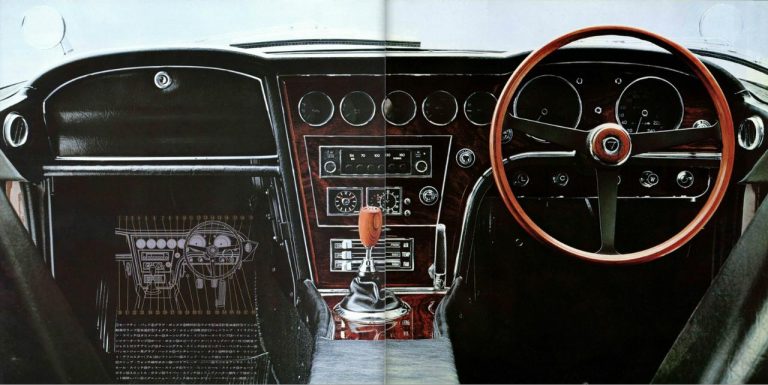 No doubt there were many who aspired to own this car and who had to deal with disappointment when they discovered the asking price was $6,611 USD, which was more expensive than an E-Type or a Porsche 911. Despite that, those who did invest in one and kept it well now have a car that is likely worth ten times more than a contemporary E-Type.
Toyota had hoped to sell 1,000 examples of the 2000GT's per month. That being said it is probably just as well that they didn't because it is likely that despite the high asking price they were not making a profit on each car.
The 2000GT was made from 1967-1970 in which time a total of 351 cars were made. There can be no doubt that the 2000GT was good value for money, despite its comparatively high price. What would have held sales back is probably best described as "badge snobbery". In the 1960's, and even nowadays, which sounds better, "My Toyota is parked downstairs" or "My Porsche is parked downstairs"?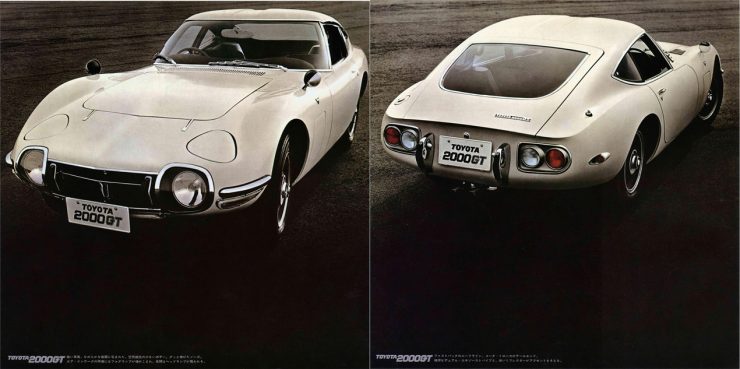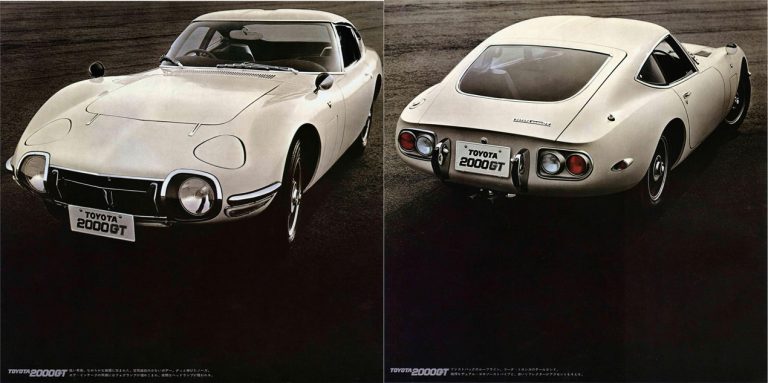 You can substitute a few other names such as Alfa, Lotus, Aston or Jaguar etc. but the badge snobbery effect remains the same. Toyota had created the 2000GT in order to establish their name as a credible prestige car maker. Great though it was the 2000GT alone was not able to accomplish that, and a couple of decades later Toyota would create a separate luxury brand, Lexus.
The Toyota 2000GT and the James Bond Halo
One of the things that prestige car makers lust after is to have one of their automobiles feature in a James Bond movie – having a car star in a Bond movie was almost invariably a passport to sales success. This holds true for other high profile things that star in movies also. The Smith & Wesson Model 29 .44 Remington Magnum revolver being a classic example.
The .44 Magnum was made for deer hunting and personal protection against the big bears in the north of the United States and Canada. The revolver was not popular until it became a centerpiece in the "Dirty Harry" movie: after which Smith & Wesson couldn't produce enough Model 29's to keep up with demand.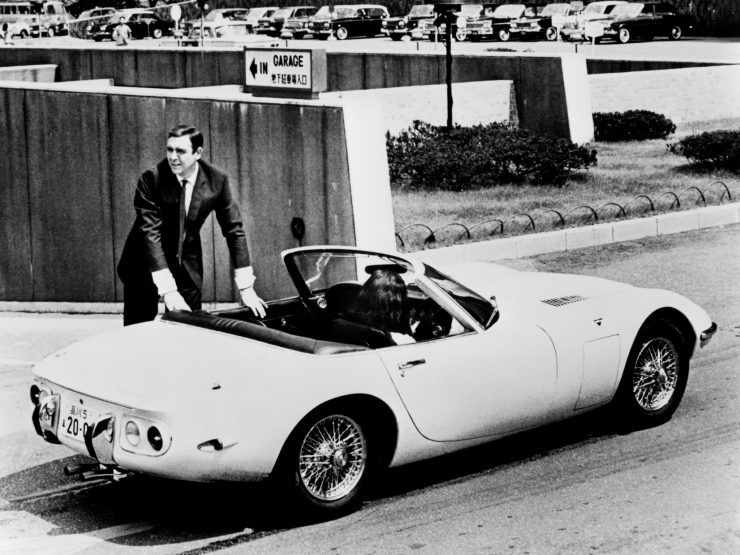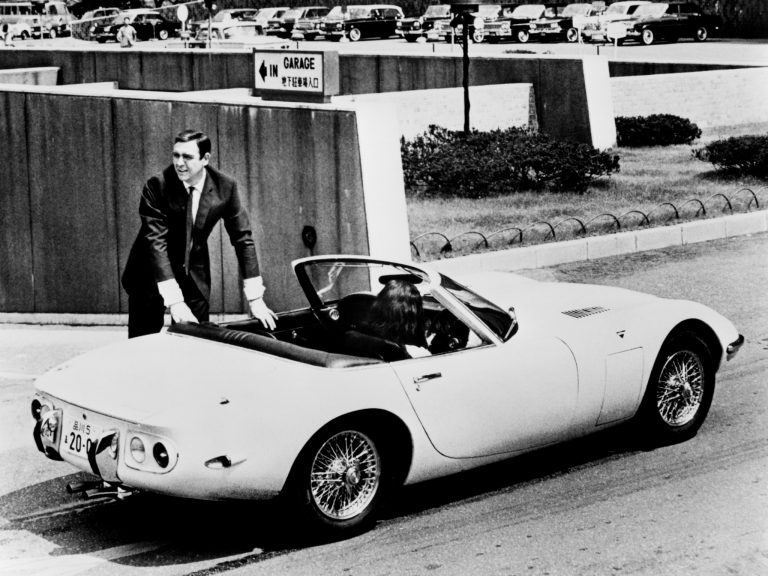 The Toyota 2000GT was given the opportunity to obtain that halo effect when it featured in the 1967 Bond movie "You Only Live Twice". In order to fit the 6'2″ Sean Connery into the 2000GT the roof had to be cut off and the car was mostly driven by Bond's lady friend in the film "Aki" (Akiko Wakabayashi), so it didn't have the same star halo as the specially equipped Aston Martin DB5 of "Goldfinger". It served to raise the car's profile in the first year of sales. But did not actually serve to sell 2000GT's.
The Toyota 2000GT in Motorsport and the Record Setting Endurance Run
After having shown the car at the 1965 Tokyo Motor Show Toyota fielded a factory prepared car in the 1966 Japanese Grand Prix. Back in those days the Japanese Grand Prix was a sports car race and attracted an array of sports cars including Porsches and the Prince R380, which was a purpose built racing car. The Prince R380 took first place with the Toyota 2000GT road car gaining third: a very promising start.
Toyota entered a 2000GT in the 1967 Fuji 24 hours endurance race (Japan's equivalent of the 24 Hours Le Mans) and this time obtained first place. The 2000GT was also discovered by American Carroll Shelby who took a small number of 2000GT's to the United States and competed in SCCA competition in 1968 obtaining four wins – the 2000GT had established its motorsport credentials.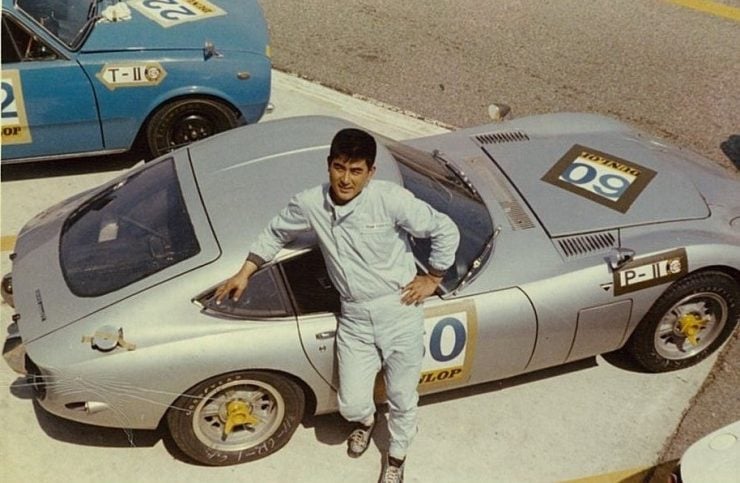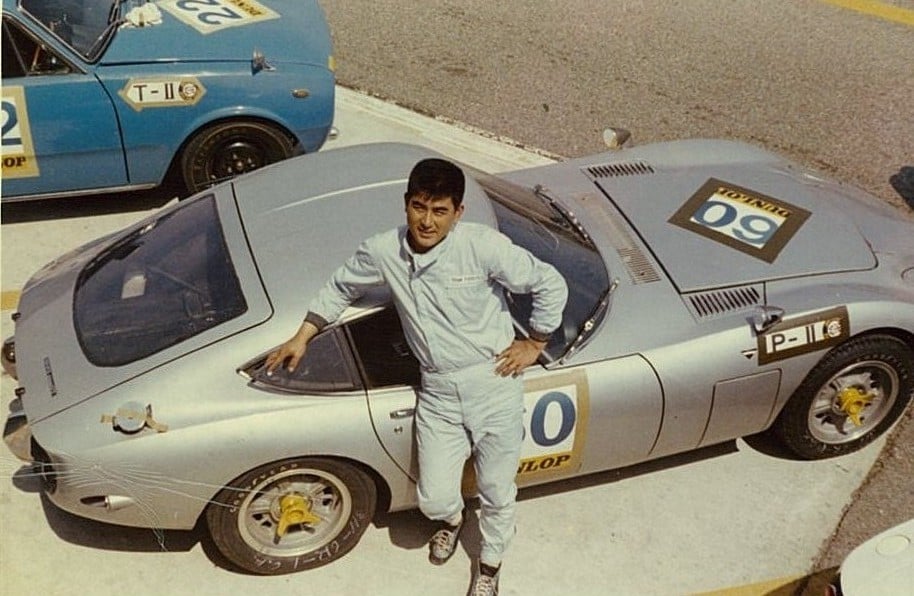 In 1966, which was just before the 2000GT went into full production at Yamaha's Iwata works, a small number of 2000GT's were made, probably four, including the Tokyo Show car. One of these cars was prepared for a world record attempt at the Yatabe test track. For their attempt Toyota targeted world records for 6 hours, 12 hours, 24 hours, 48 hours, and 72 hours.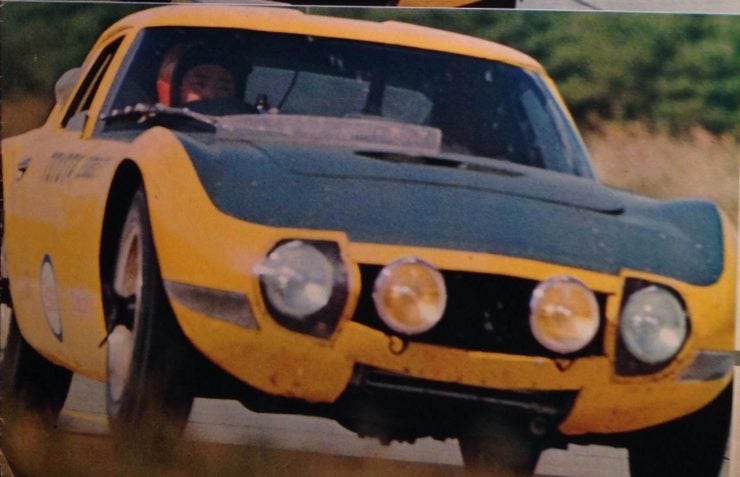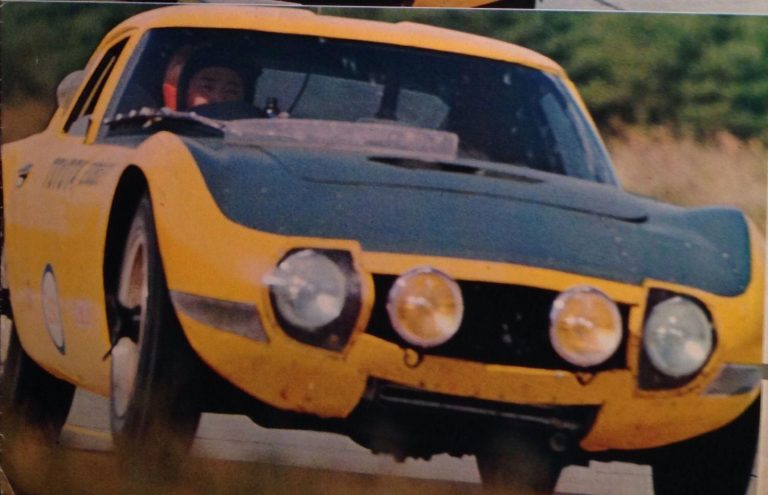 Four drivers were selected for the attempt; Sachio Fukuzawa,  Shinonome Hosoya, Mitsuo Tamura, and Hiroshi Fushida. Toyota prepared their record breaking attempt with typical Japanese attention to detail and over the course of the 72 hours the 2000GT obtained sixteen land speed and endurance records. Not only that but for part of the 72 hours the team had to deal with monsoon rain conditions that made things far more difficult.
Toyota 2000GT Specifications:
Chassis and Bodywork:
Steel backbone chassis fitted with either aluminum or steel semi-monocoque body. Fully independent suspension front and rear by unequal length A-arms with coil springs and tubular shock absorbers. Anti-roll bars front and rear. Brakes servo assisted discs 11″ front and 10.5″ rear. Wheels 15″x5″ Cast magnesium alloy with knock-off hubs. Tires 205/60VR15, factory fitted with Dunlop Sport 500 radials. Rack and pinion steering with 2.7 turns lock to lock and a turning circle of 32.8′.
Length 164.5″, width 63″, height 46.1″, wheelbase 91.7″, front track 55″, rear track 55″,
Front to rear weight distribution 49/51.
Weight as shipped 2,330 lbs.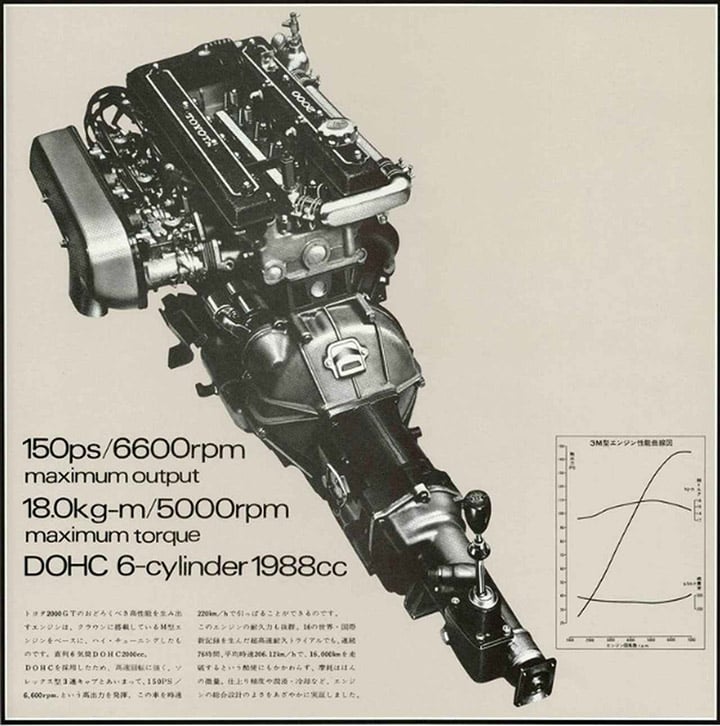 Engine:
Toyota 1,998cc/121.4 cu. in. Toyota 3M inline-6 cylinder iron block 7 main bearing engine fitted with a Yamaha designed DOHC aluminum head with hemispherical combustion chambers and 79° valves. Fuel system of three Mikuni-Solex 40PHH carburettors. Bore and stroke both 75 mm making this a square engine with a compression ratio of 8.4:1. Power 148 hp @ 6,600 rpm, torque 129 lb/ft @ 5,000 rpm
Gearbox:
Five speed all synchromesh gearbox with final ratios: 1st 3.14:1, 2nd: 1.64:1, 3rd: 1.18:1, 4th: 1.00:1, and overdrive 5th: 0.84:1. Reverse: 3.24:1
Final Drive:
Toyota limited slip differential with 4.38:1 standard and 4.88:1, 4.11:1 or 4.63:1 optional.
Performance:
Standing to 60 mph in 10 seconds.
Standing quarter mile in 15.9 seconds and speed of 97 mph.
Top speed approximately 133 mph or more depending on final drive ratio.
Fuel economy: approximately 26 miles to the US gallon.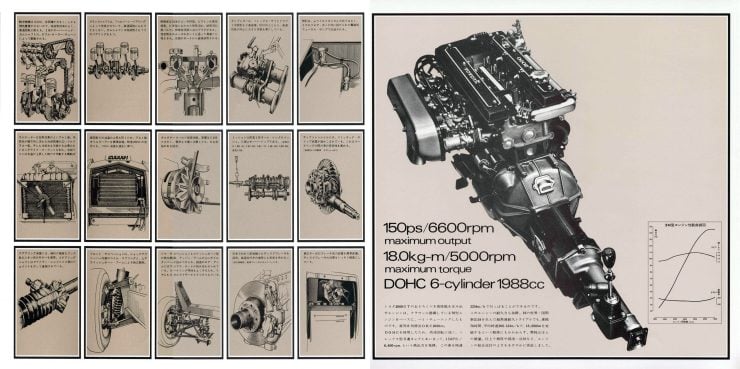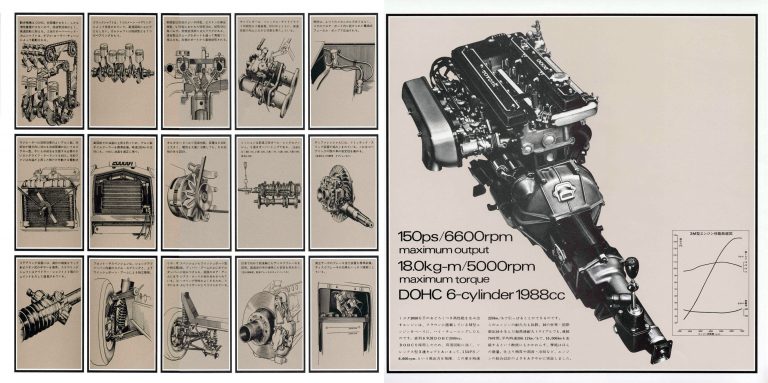 The End of Production: and the End of the Dream
The coolness factor is a very elusive thing to obtain. It requires having not only the right product, but the right brand appeal. Both the Jaguar E-Type and the Austin/Morris Mini gained that coolness factor because they made their debut at the perfect time: a time when the Beatles had become style icons and London's Carnaby Street had become a fashion center, much to the chagrin of the Parisians.
The Mini, as a small affordable and above all British car, became a style icon to go with your mini skirt or the dinky little sunglasses that the Beatles made fashionable, despite the fact that they looked like something one's grandmother would wear. The Jaguar E-Type rode on the coat-tails of this fashion revolution, despite not being chosen to be a James Bond car: and the Toyota 2000GT did not despite the fact that it did. Names like Jaguar, Porsche and Mini, even Land Rover, all gained the mysterious coolness. American rock singer Janis Joplin had a psychedelic painted Porsche 356, John Lennon a psychedelic Rolls-Royce, and all the Beatles had Minis, not Toyotas, not even 2000GT Toyotas.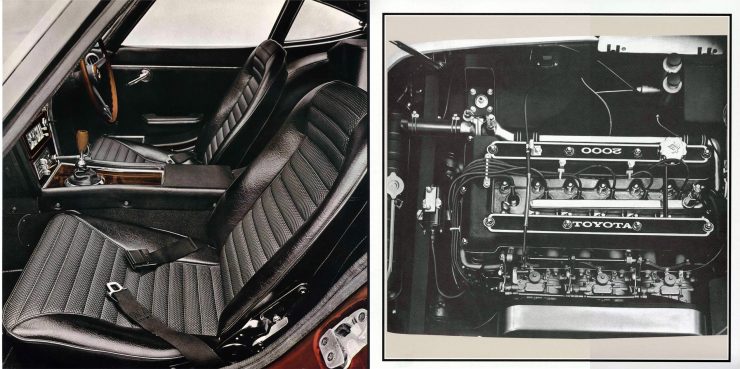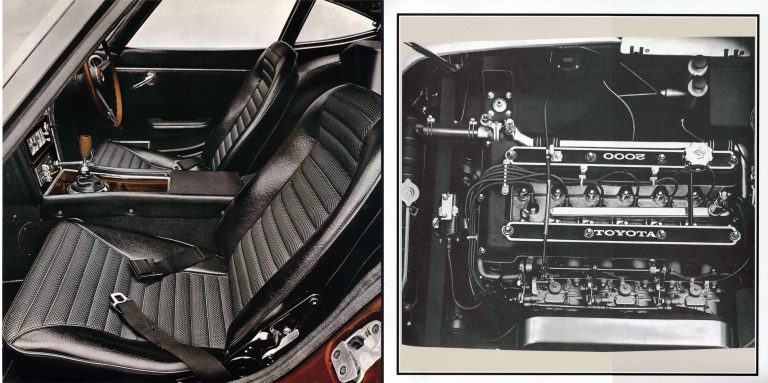 Production of the Toyota 2000GT ended in 1970 after a short four years of limited production. If you are not over 5'10" and have a suitably fat bank account you can perhaps own one. These are one of the most outstanding sports cars made during the '60s, and unlike most other sports cars, they are not fickle and unreliable, nor are they ridiculously expensive to maintain.
They were made by Toyota and they are a wonderful combination of an exciting driver's car that is happily reliable.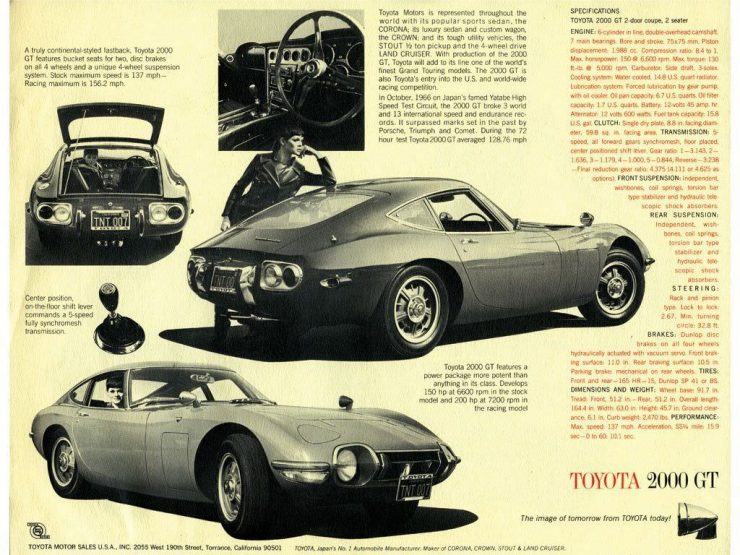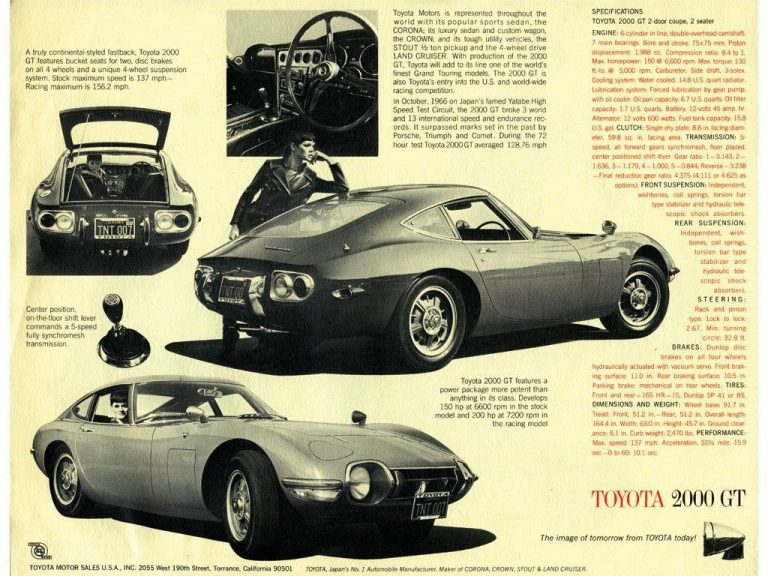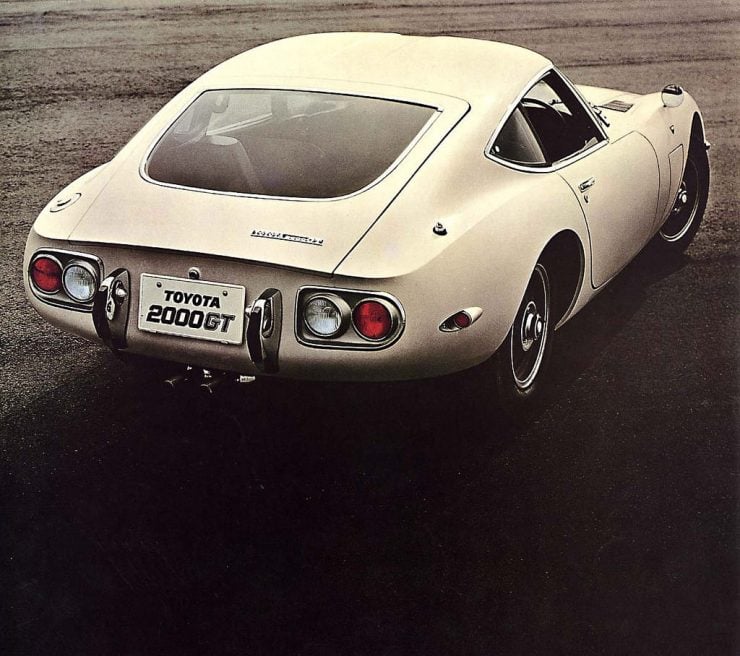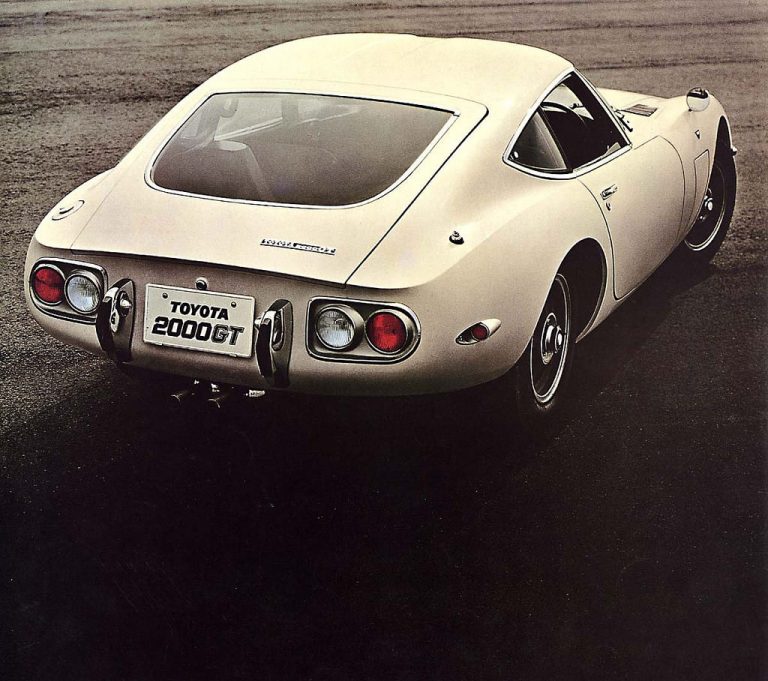 Picture Credits: Toyota, Nissan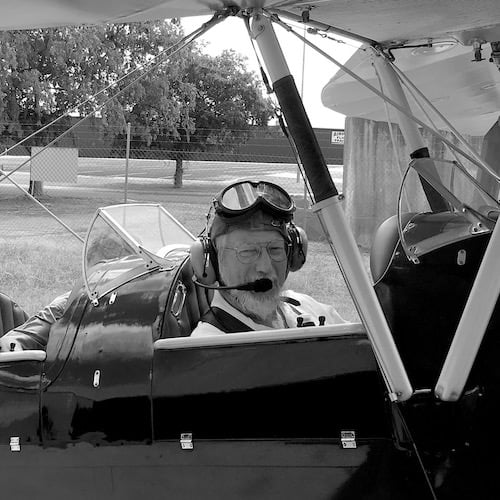 Jon Branch has written countless official automobile Buying Guides for eBay Motors over the years, he's also written for Hagerty, he's a long time contributor to Silodrome and the official SSAA Magazine, and he's the founder and senior editor of Revivaler.
Jon has done radio, television, magazine, and newspaper interviews on various issues, and has traveled extensively, having lived in Britain, Australia, China, and Hong Kong. The fastest thing he's ever driven was a Bolwell Nagari, the slowest was a Caterpillar D9, and the most challenging was a 1950's MAN semi-trailer with unexpected brake failure.