Corvette-Engined Land Rover Defender 90
Reading time: about 3 minutes.
Carroll Shelby might not have been the first person to drop an American V8 into a British vehicle, but he's by far the most famous.
Over the years there have been countless examples of Brits and Americans getting their heads together and turning out some genuinely remarkable automobiles – and this Land Rover by East Coast Defender is an excellent modern take on the partnership.
The team at ECD have managed to squeeze a 430 hp Corvette V8 into the Defender engine bay, then coupled it to a new 6-speed Chevrolet T56 manual transmission and an upgraded LSD transfer case to handle the additional power.
There aren't many Land Rover Defenders that can do the 0-62 mph dash in under 6 seconds, and this is one of them.
A Brief History of the Land Rover Defender
The Land Rover Defender was the successor to the Series III, it was originally called the Ninety or the One Ten (a reference to the wheelbase length in inches). As the Land Rover model range grew it was decided to rename the line to Defender 90 and Defender 110 to avoid any confusion.
To say the Defender had large shoes to fill would be a remarkable understatement. The Series I, Series II, Series IIA, and Series III Land Rovers took the world by storm and were very often the first motorised vehicle ever seen by people in developing nations.
The new Defender maintained the same basic structure as the Series vehicles, with a body-on-chassis design utilising a steel frame, a steel bulkhead, and aluminium body panels. Under the skin the Defender had been significantly updated with wider track axles, coil springs as opposed to leaf springs, a full-time 4×4 system borrowed from the Range Rover, and a lockable centre diff.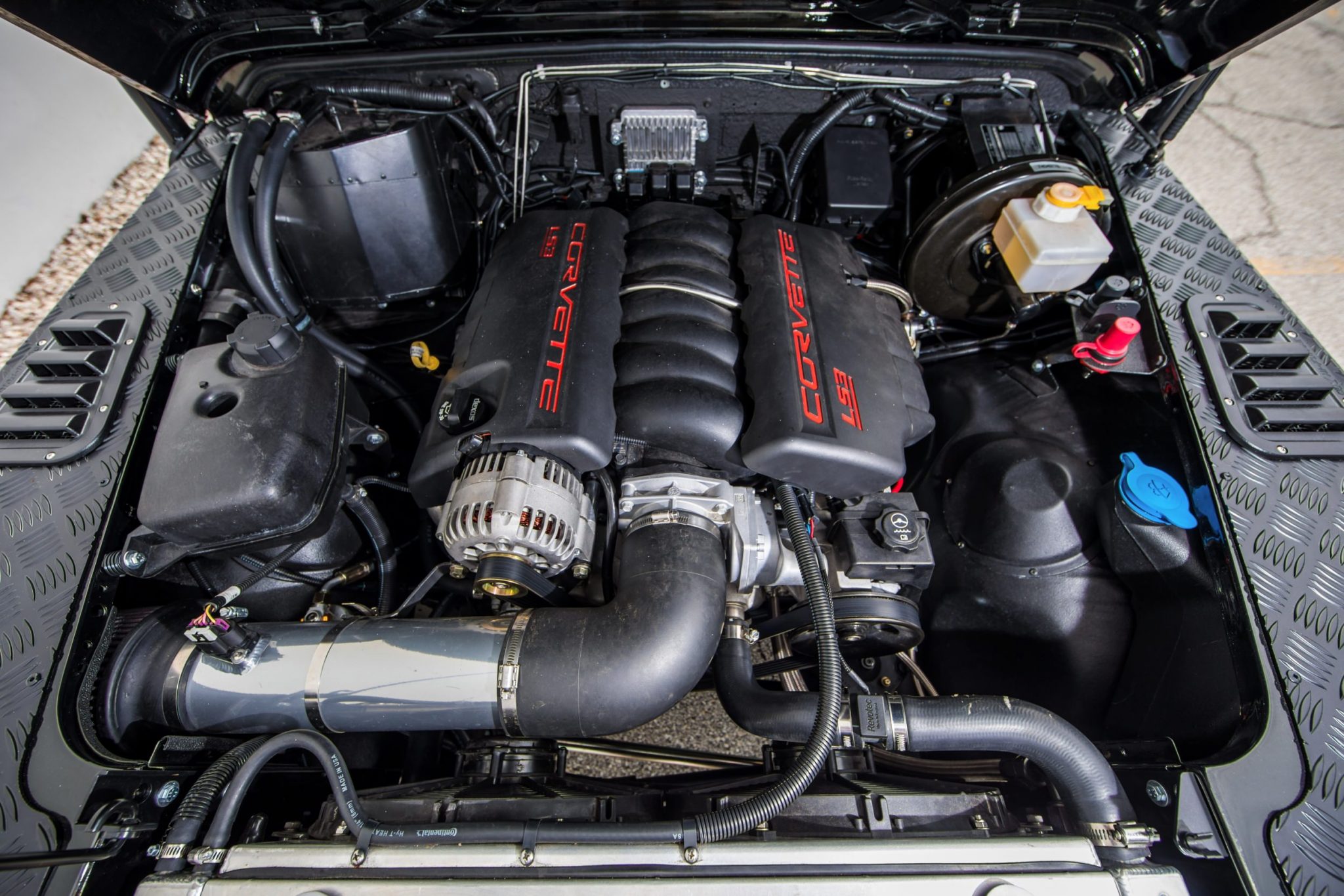 The interior had seen significant (and some would say overdue) upgrades over the Series Land Rovers, much improving the seats, sound-proofing, dashboard and instruments, and even offering amenities like air-conditioning and stereos.
Over the 3 decades of its production the Defender would get progressively more comfortable without sacrificing any of its raw off-road ability, and examples from the final few years of production are now highly sought after. Land Rover stopped making the Defender in early 2016 – largely due to increasingly stringent crash safety laws that the model couldn't meet with its older-style body-on-frame structure.
Land Rover have announced more recently an intention to introduce a new Defender, likely with a unibody design and significantly updated styling. It's widely hoped that Land Rover will stay true to the DNA of the model when they officially unveil the new Defender in 2019 – but only time will tell.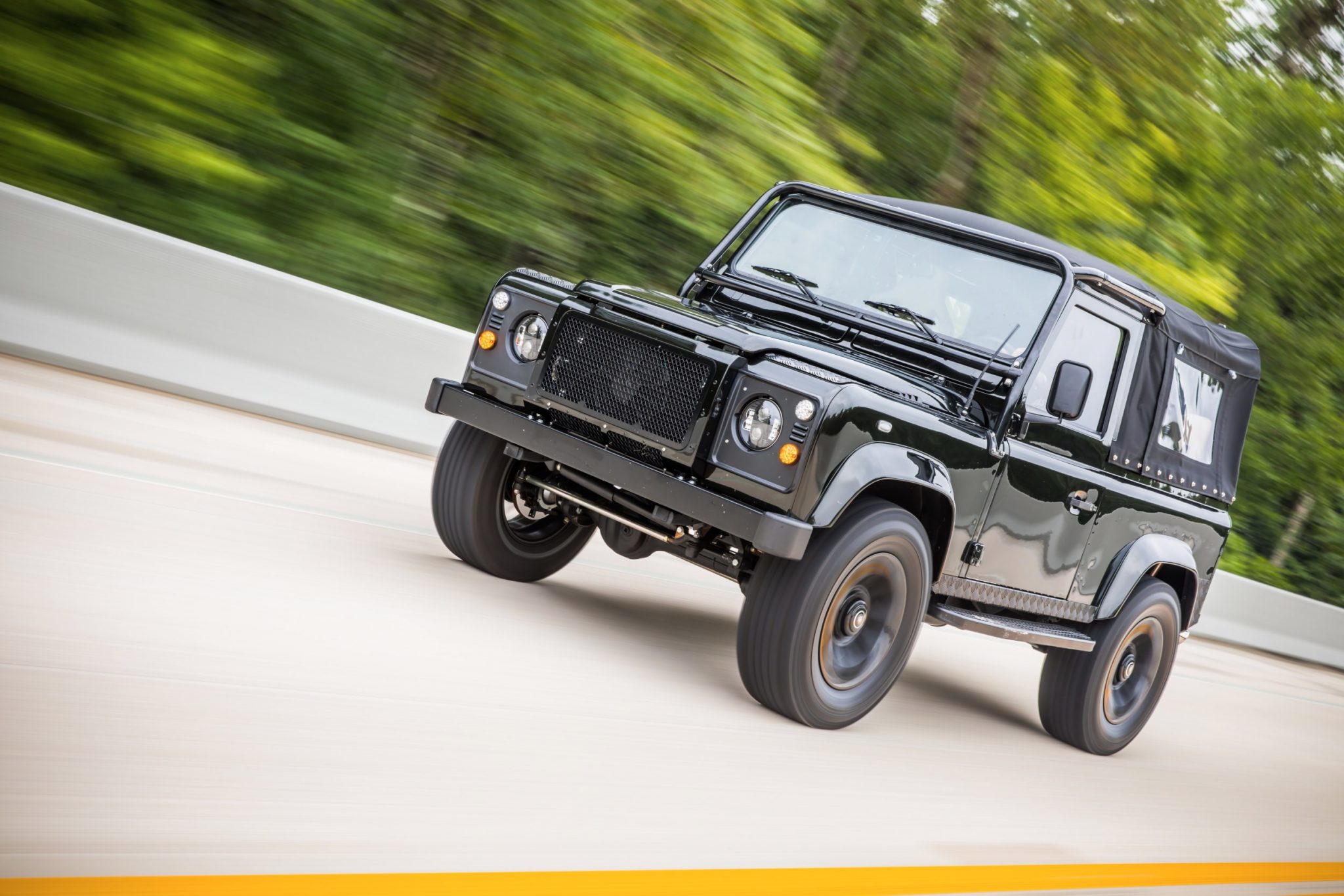 The East Coast Defender Corvette-Engined Defender
East Coast Defender is one of the pre-eminent Land Rover customisers in the USA, the company has 29 full-time employees and is made up of a mixture of Brits and Americans. They're based in Kissimmee Florida, and they've built a significant number of bespoke Defenders – all of which are far quicker and more luxurious than any examples that left the Land Rover factory.
The Corvette-Engined Defender shown here is their most recent build, with 430 hp on tap it's quick enough to embarrass many sports cars on the road, and off road it can sling mud half the length of a city block.
In order to improve breathing the LS3 V8 has a Borla exhaust fitted, there's also a Ron Davis radiator to keep things cool. All brake and fuel lines have been replaced with stainless steel examples, and inside there are Classic Instruments Moal Bomber gauges. It has a full roll cage installed, as well as ivory leather Corbeau seats with black accent stitching, a Quark steering wheel by MOMO, and Porsche Dunkelolive metallic paint.
It's riding on 18" Sawtooth wheels with BF Goodrich All Terrain KO2 tires, and it's fitted with a Kenwood infotainment center with a backup camera, wifi, JBL speakers and a subwoofer.
If you'd like to read more about East Coast Defenders or order your own, you can click here to visit their website.
Follow East Coast Defenders on Facebook – Twitter – Instagram