The Buick Riviera: An American Facel Vega
The Buick Riviera was created to be an American performance car: a pure bred American answer to the brilliant Facel Vega (which was coincidentally British racing champion Stirling Moss's favorite car, and for good reason), a car that was perhaps even hoped to be a bit of an American Ferrari.
The Buick Riviera was made to deliver acceleration, cornering and braking in exactly the way its main competitor, the Ford Thunderbird did not: it really was created to be more of an American performance GT car than many people seemed to realize, and this explains why it made its debut at the Paris Motor Show.
What killed the Buick Riviera was not any lack in the design, but it was instead killed by popular culture that adored Ford's "T-bird", an adoration fueled by the Beach Boy's song "Fun Fun Fun".
It was that elusive coolness factor that eluded the Buick Riviera despite its being the superior automobile, superior that is if you were looking for an American driver's car that blended performance, handling and comfort in a car that was a rolling work of automotive art.
Between a Custom Rolls-Royce and a Ferrari
When the concept that would become the Buick Riviera was first commissioned it was planned that it would be General Motors answer to the Thunderbird, and that it would be an American luxury performance car, directly competitive with European imports.
In the beginning the car was not intended to become a Buick at all: it was originally designed to become an up-market Cadillac and to resurrect the La Salle brand name. The project began when Bill Mitchell became General Motors Vice President of Styling at the time Harley Earl retired. Bill Mitchell had been the son of a Buick dealer and had been recruited to General Motors "Art and Color" section in December 1935. From there Harley Earl was sufficiently impressed that he promoted Mitchell to the post of Chief Designer of the new Cadillac design studio.
Bill Mitchell would create a number of famous General Motors automobiles including the Chevrolet Corvettes from 1961-1976, the Chevrolet Camaro from 1970-1981, and the first and second generations of the Buick Riviera.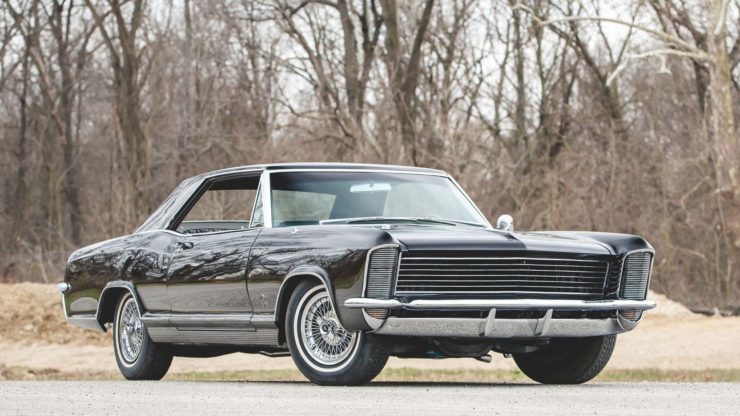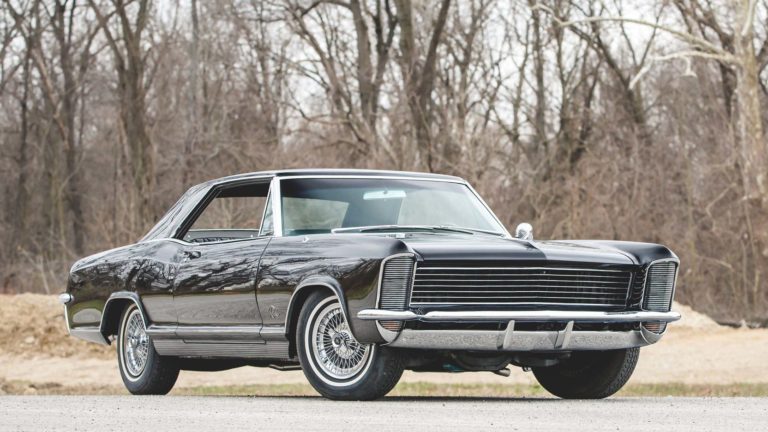 Bill Mitchell's first inspiration for the new model came to him while he was in London for the Earls Court motor show. He recalls he was coming out of Claridge's hotel into a typical British cold and foggy night when what met his gaze was a custom bodied Rolls-Royce. Its sharp lines caught his artistic eye and he reasoned that if they took that essential shape and lowered it they had a concept for the new car they wanted.
The design concept was given to Ned Nickles and he put together a watercolor which was intended to use the styling cues from the custom Rolls to create a concept that would have the look of a modern Cadillac La Salle, incorporating body styling inspired by the custom Rolls-Royce coachwork.
Ned Nickles hit the nail on the head with his painting right down to the twin vertical grilles that were to be reminiscent of the twin grilles of the original La Salles, but which were on the front of the fenders and behind which the headlights were to be concealed.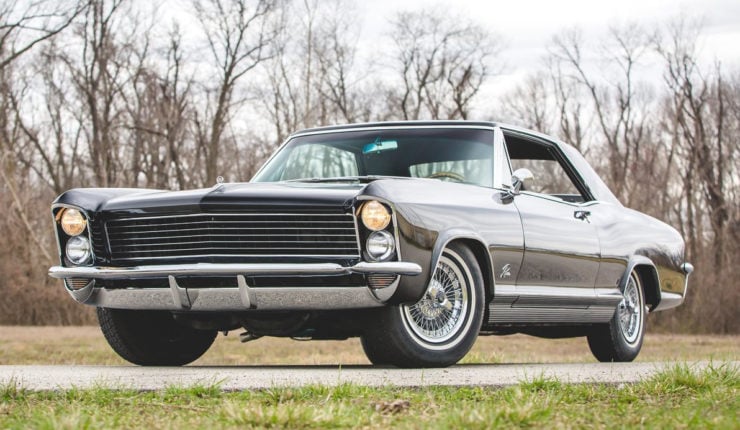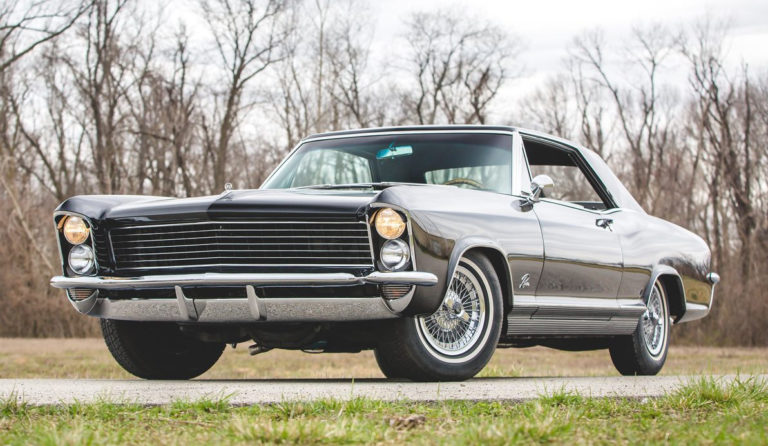 The initial concept was called the La Salle II and it was decided to move from artwork to a full size clay model, which was completed by spring 1960, a major step towards bringing the car to production. The project name at this point became XP-715.
Rejection, and the "Wallflowers"
The next problem was which GM division would take that clay model from concept to production. Bill Mitchell showed the clay model to Cadillac, the division it had first been intended for, but they were just not interested, they were already making and selling just as many cars as they could so there was no point in their minds in taking on a new model with an unknown future.
The next obvious candidate was Chevrolet: surely a Chevy to upstage the Thunderbird would be an attractive proposition? But no, Chevrolet were just not interested either. So this left the three GM mid-range "wallflower" divisions, staid and conservative Oldsmobile, Pontiac, and Buick. All three of these "wallflower" divisions were interested, but Oldsmobile and Pontiac wanted to change the design and Bill Mitchell did not want that to happen: only Buick were willing to make the car as originally designed.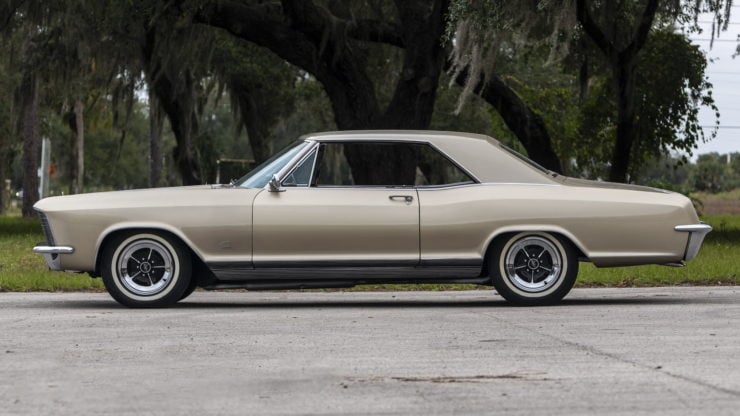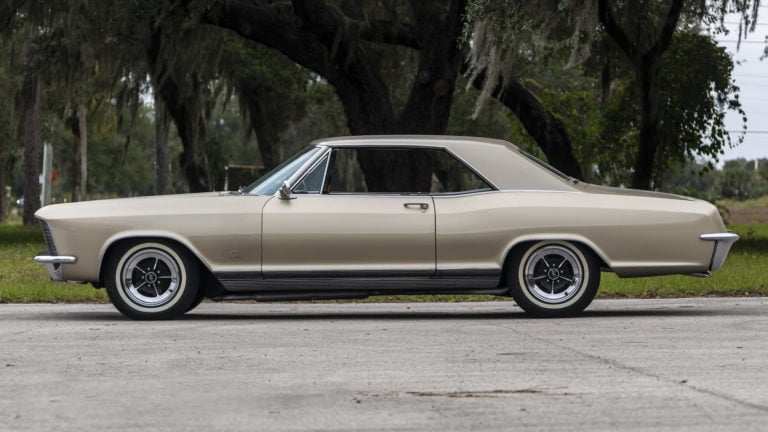 Buick's General Manager, Edward D. Rollert, was especially keen to get the go-ahead to make the XP-715 as a Buick. Buick were struggling and needed a car model that would bring sales back out of the doldrums – and a car that promised to be a Thunderbird killer could be just the ticket.
General Motors management were not keen to see the XP-715 go to struggling Buick however and so they decided that there should be a competition between the three "wallflowers" to determine who would get it. Ed Rollert employed the full power of his advertising agency, McCann-Erickson, to create the Buick presentation.
They did a superb job and so Buick won. But General Motors were horrified and took the unprecedented step of not accepting the result but running the competition again, with the result that Buick won again, and so the XP-715 was, perhaps reluctantly, awarded to Buick in April 1961, giving Ed Rollert a car model he hoped he could work some wonders with.
From Clay Model to 1963 Production Car
Ed Rollert did not want to waste any time in getting this new model into production and so the pressure was on and XP-715 would go from clay mock-up to full production in just eighteen months. It was to be a pillarless two door, four seater sports coupé with lots of engine power supplemented with a truckload of torque, and a relatively sophisticated suspension to give it handling rather like one might expect from a European car such as a Mercedes-Benz or Facel Vega.
Disc brake technology was not in widespread use in the early 1960's so the car would have drum brakes, but those drum brakes were going to be just as excellent as possible.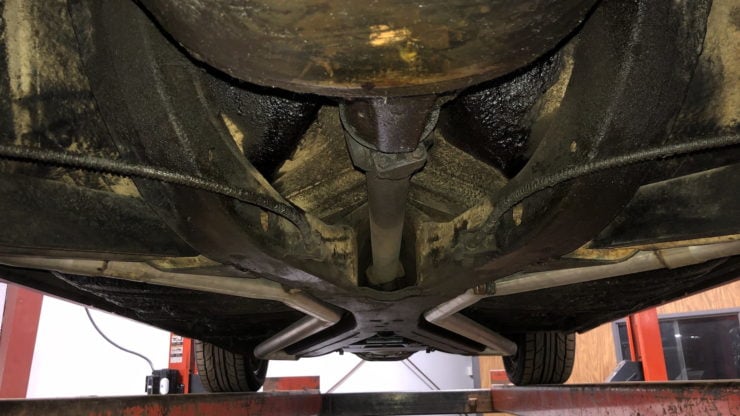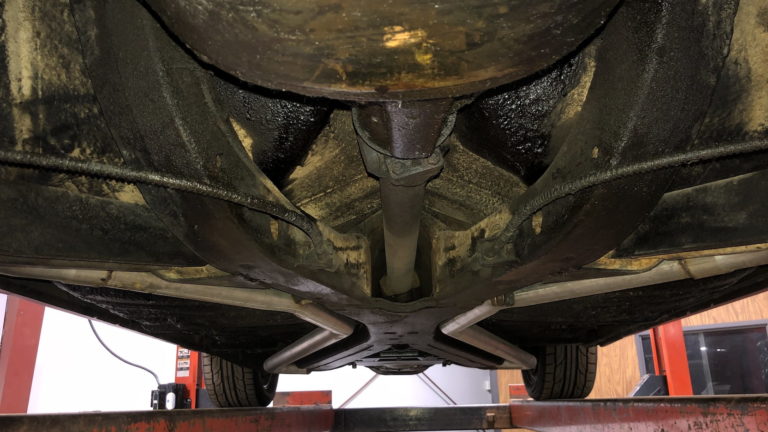 To get a suitable frame for the XP-715 the cruciform frame used for the larger Buick models was shortened to bring it down to the Riviera's 117″ (2,972 mm) wheelbase. As the engineers were working on getting the car into production Bill Mitchell contacted Ed Rollert and told him he wanted this car to be something special – basically a cross between a Rolls-Royce and a Ferrari.
This was of course a tall order, so tall that it wouldn't actually be accomplished, but it would be a lively and precise handling automobile, better than most American cars of that era, and very much on a par with the exotic and expensive Facel Vega HK500.
Handling was going to require intelligently designed suspension. At the front upper and lower "A" arms with coil springs were pretty standard and would work well. At the rear GM's parts inventory would require a live axle, but it was to be given trailing arms and coil springs with telescopic shock absorbers and a lateral track bar, so it was a very well located live axle.
To make the new model stop it was given nice big servo assisted 12″ finned drum brakes with "Al Fin" cast-iron lined finned aluminum drum brakes standard for the front. Steering was power assisted and turns lock to lock were kept to just 3.5 turns making it quite direct.
This new car didn't just need to corner and stop, it needed some serious "go-power" as well and Buick were well endowed with suitable V8 engines to provide "this power in spades. It was decided that the standard engine for the new car would be the Buick 401 cu. in. (6,572 cc) Nailhead V8 which sent no less than 325 hp into the transmission. This engine was given a 10.25:1 compression ratio and it delivered 445 lb/ft of torque to the torque converter in the automatic transmission.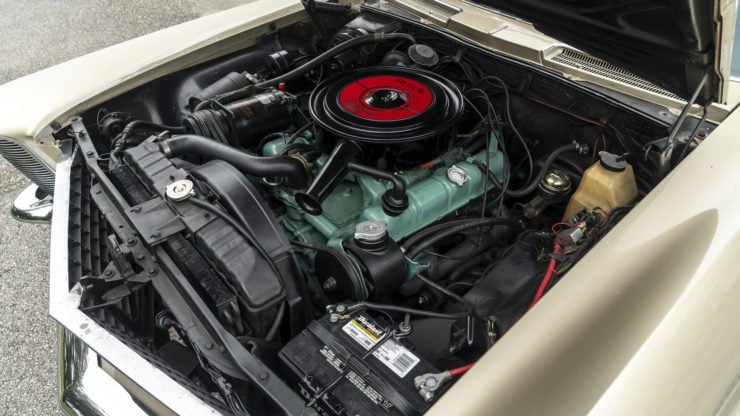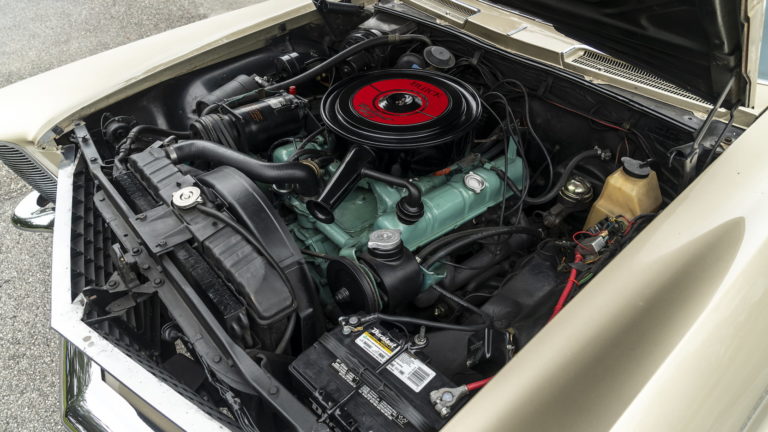 If that 6.6 litre V8 was thought by a customer to be a tad lacking in its tire shredding abilities Buick decided to offer an even more powerful "Wildcat 425" 7.0 litre 425 cu. in. V8 which sent 340 hp in the direction of the back axle. This engine option being announced in December 1962 in time for those writing themselves a "What I want for Christmas" list to get their Buick Riviera order in.
Promising though this was what comes next might well be a bit of a disappointment. The transmission was to be Buick's Twin Turbine "automatic" that actually wasn't an automatic. The Twin Turbine was a two speed manual transmission with a five element, dual-stator torque converter, so it did not have a clutch. It was a transmission that had first appeared in 1948 as the "Dynaflow" transmission.
Although described as being "continuously variable" this transmission was mainly operated as a single speed that used the five element torque converter to provide a variable drive accommodating engine speed and road speed so there was no need for actual gear-shifts. This made the transmission seem ultra smooth, but it was of course somewhat inefficient.
It was possible to use this system because of the great torque characteristics of the V8 engines attached to it. For general driving it worked nicely, but if the driver wanted maximum acceleration then he/she needed to manually move the transmission selector to "low" to obtain it, and they also needed to remember to shift back up to "Drive" as the engine revs got to the red-line. The transmission selector was located in the centre console between the front bucket seats this helped give a sporting feel to the car
With these specifications, and given that the Buick Riviera was about 390 lb (180 kg) lighter than the contemporary Ford Thunderbird, it's performance was lively. The standing to 60 mph time was just under 8 seconds, the standing quarter mile came up in 16 seconds, and top speed was 115 mph. The car's handling was also praised by motoring journalists who tested it, it was described as having an excellent balance of agility and comfort, something it owed to its well thought out suspension and brakes.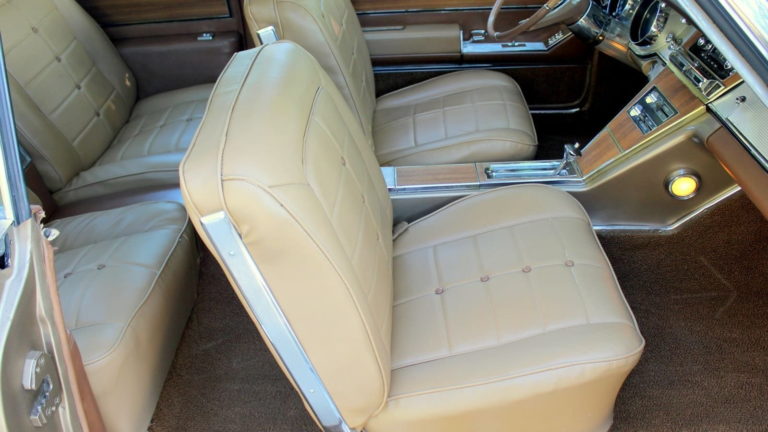 The eye-catching sharp exterior styling was complimented with an interior that provided twin front bucket seats and a centre console, somewhat like that of the Thunderbird but less impressive, and twin bucket-like rear seats. This was essentially dictated by cost as it was based on the George Moon designed interior of the Buick Electra 225. Had it been given a dashboard like that of the Facel Vega HK500 it would have been a show stopper, but that would only have been possible had the car actually been made by Cadillac as a La Salle II and priced accordingly.
It was decided to call the new Buick model the "Riviera", a name that had been used on previous models, but of course a name that lacked the originality of the "Thunderbird" and which did not have the same cachet: a cachet that had been earned by the Thunderbird because when it was first introduced it created a whole new genre of automobile style, the personal luxury car.
The Buick Riviera was a superior car to the Ford, cost a trifle less, but it was to suffer from the lack of imagination in its name, and in its marketing: although to be fair it was in a position of having to play catch-up to the "T-bird" which had enjoyed a six year head start to acquire its dose of coolness, which of course included having the Beach Boys write a song about it.
The Buick Riviera in Production 1963 to 1965
The base model Buick Riviera for 1963 came with power brakes and power steering and was a superb automobile straight off the showroom floor. But Buick had been careful to ensure it was priced just a little below the Ford Thunderbird, which in 1963 was the "bullet nosed" version. That T-bird had become a tad fat as it moved away from being sporty and became a stylish comfortable cruising car.
The Riviera had plenty to offer the driver looking for performance and for those looking for touring comfort, but it was offered with a substantial range of options so the buyer could have the car customized to their taste. Adding options would of course push the price of the car above that of the base model Thunderbird, but that was seen as being more acceptable to a new car buyer because they were adding their own customizations to their personal car.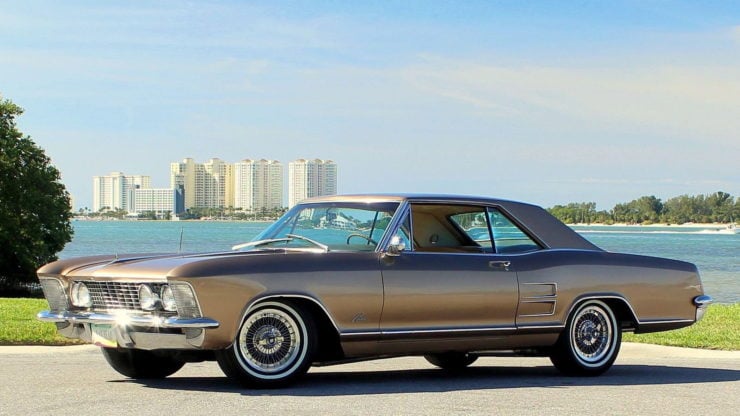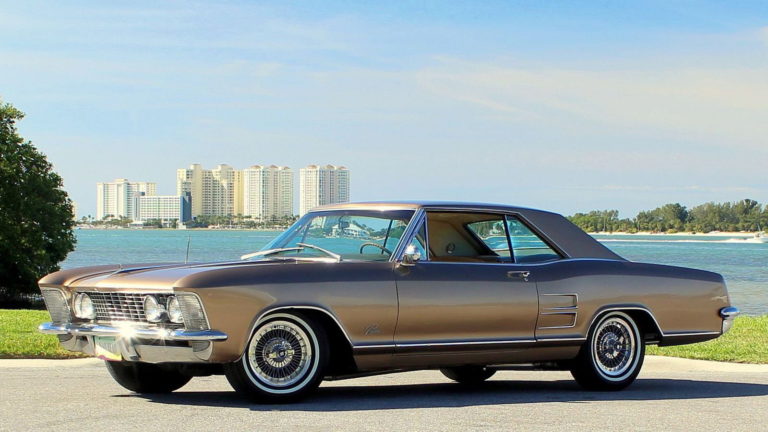 The options list included power windows, air-conditioning, leather upholstery, cruise control, an AM/FM radio, power door locks, automatic trunk/boot release, remote control side-mirror, power seats, and tilt steering wheel. The Riviera was also offered with optional whitewall tyres, wire wheel covers or 15″x6″ finned alloy wheels. So it was possible to option your Riviera up to a very high standard.
For that first year of production Buick wisely limited Riviera production to 40,000 cars: all of which were sold, which augured well for the new model.
For 1964 one of the most significant changes was Buick's decision to make the "Wildcat 425" engine the standard and to add the "Super Wildcat 425" as the more powerful option. The Super Wildcat 425 delivered 360 hp @ 4,400 rpm with torque of 465 lb/ft @ 2,800 rpm and was fitted with dual four barrel Carter AFB carburettors so it could breathe in fuel and air mix with great efficiency. Driven briskly this car would deliver fuel consumption in single digits below 10 miles to the US gallon. But people were used to gasoline being plentiful and inexpensive.
Of just as much significance was the phasing out of the "Twin Turbine" transmission and its replacement with the new General Motors "Super Turbine 400" three speed automatic transmission, which was rather more efficient and which helped improve both performance and fuel economy.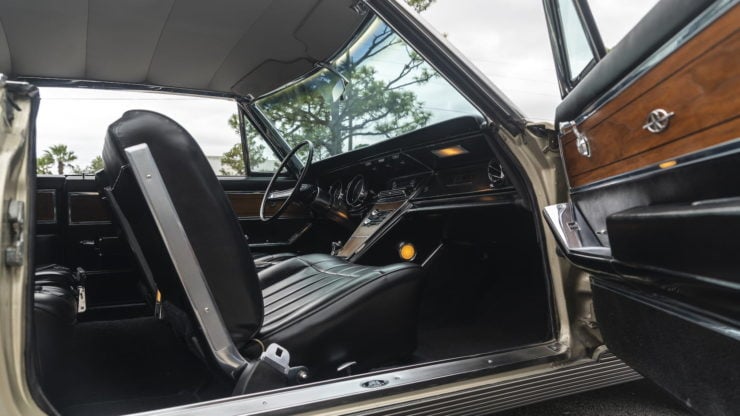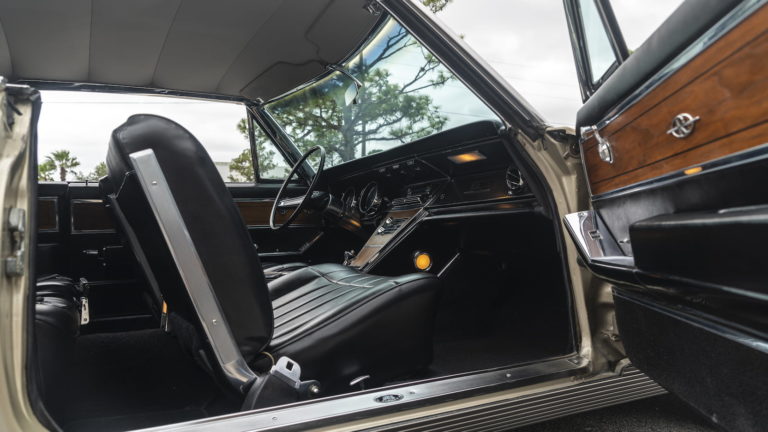 The interior of the 1964 Riviera was re-arranged somewhat. Genuine walnut veneer trim was offered for the door panels, quarter trim and radio face plate, and some cars left the factory with genuine leather upholstery despite its having been removed from the factory option list: vinyl upholstery being the norm.
Despite being an even better car the 1964 Buick Riviera only sold 37,658 cars, which was a disappointment for Ed Rollert who may have been hoping that Riviera sales would be on a roll – after all the Riviera was a more sophisticated car than the T-bird. But 1964 was the year the Beach Boys song "Fun Fun Fun" came out and promptly gave the T-bird vast amounts of free advertising over radio stations all over the US, fueling its desirable product image.
That song seems to have had a significant impact on sales of the T-bird: for 1963 the Thunderbird sold 63,313 cars, and in 1964 – the year the song came out – 92,465 new T-birds found happy owners, that's a full 46% increase in sales.
By 1965 Ed Rollert and the team at Buick may well have concluded that they were simply not going to match the T-bird in sales, primarily because of the Ford car's trendiness. Notwithstanding that Buick forged ahead with a revised model for '65 and gave it their best shot.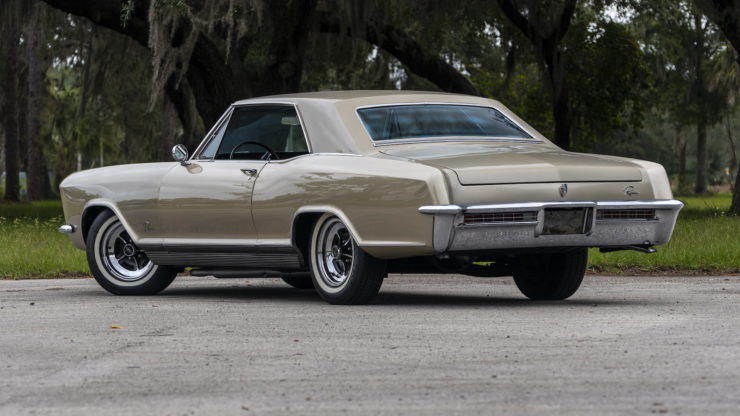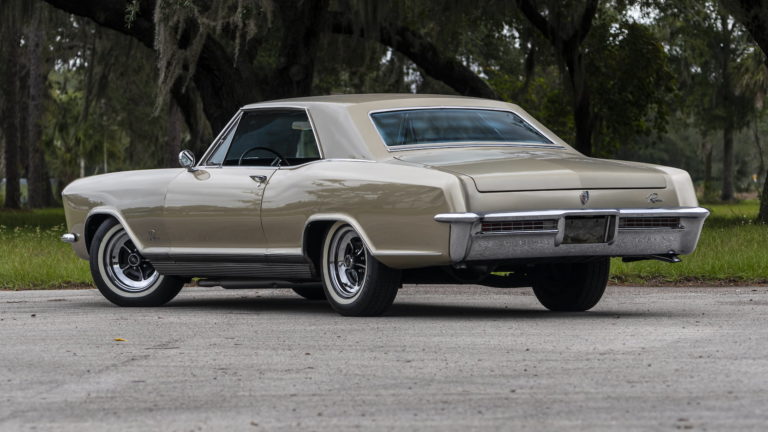 The 401 cu. in. "Nailhead" V8 came back as the standard engine, which would keep fuel consumption around 13-14 mpg which was acceptable for the average user: while as options were both the "Wildcat 425" and the "Super Wildcat 425". The 1965 Riviera was also offered with an optional "Ride and Handling" package which provided a quicker steering ratio along with stiffer springs and shock absorbers to give the car the sort of tight handling one would expect in a Mercedes.
The concealed headlights that had been a feature of the original XP-715 concept car made it into the 1965 Riviera production car, and the styling was tidied up with the fake air vents on the sides of the car eliminated. The Riviera was also treated to Buick's chrome "road wheels".
Buick did not stop there however and they decided to create a version of the Riviera that would be the ultimate expression of what the car had been designed to be. The top of the range model was the Riviera Gran Sport and it was first offered when regular 1965 production had been underway for two months.
The Gran Sport sat on larger 8.45×15″ tyres and was fitted with the 425 cu. in. Super Wildcat V8 which was treated to a free-flow dual exhaust with its considerable power and torque making their way via the Super Turbine 400 transmission to a Posi-Traction 3.42 ratio limited slip differential. This package was so attractive that it persuaded 3,354 customers to open their wallets just that little bit more and buy one, many also opting for the Ride and Handling package to compliment their car's performance.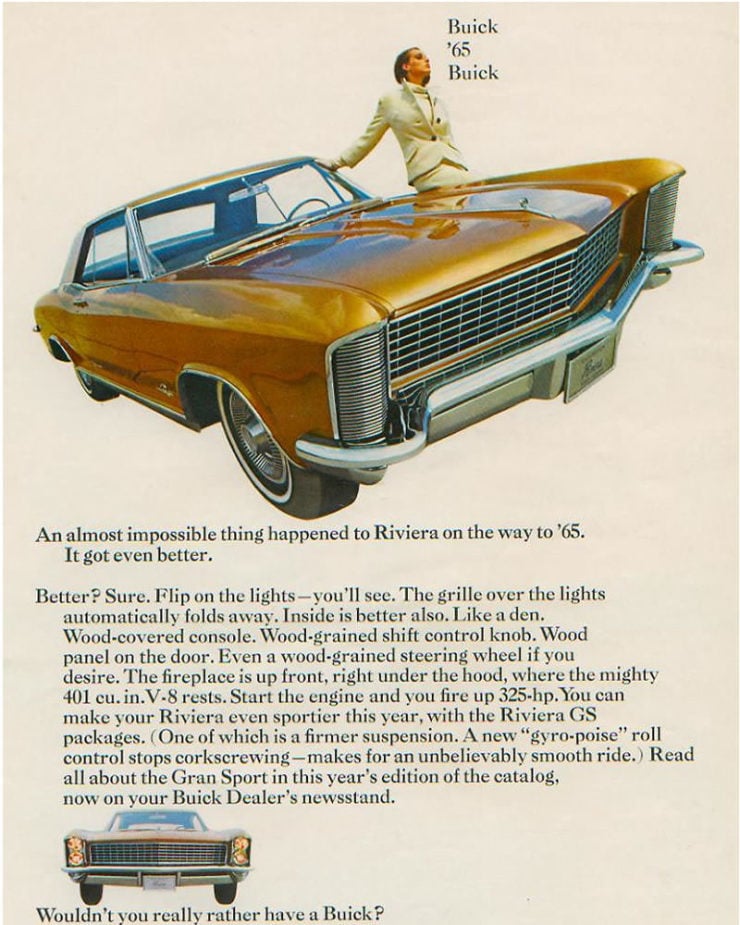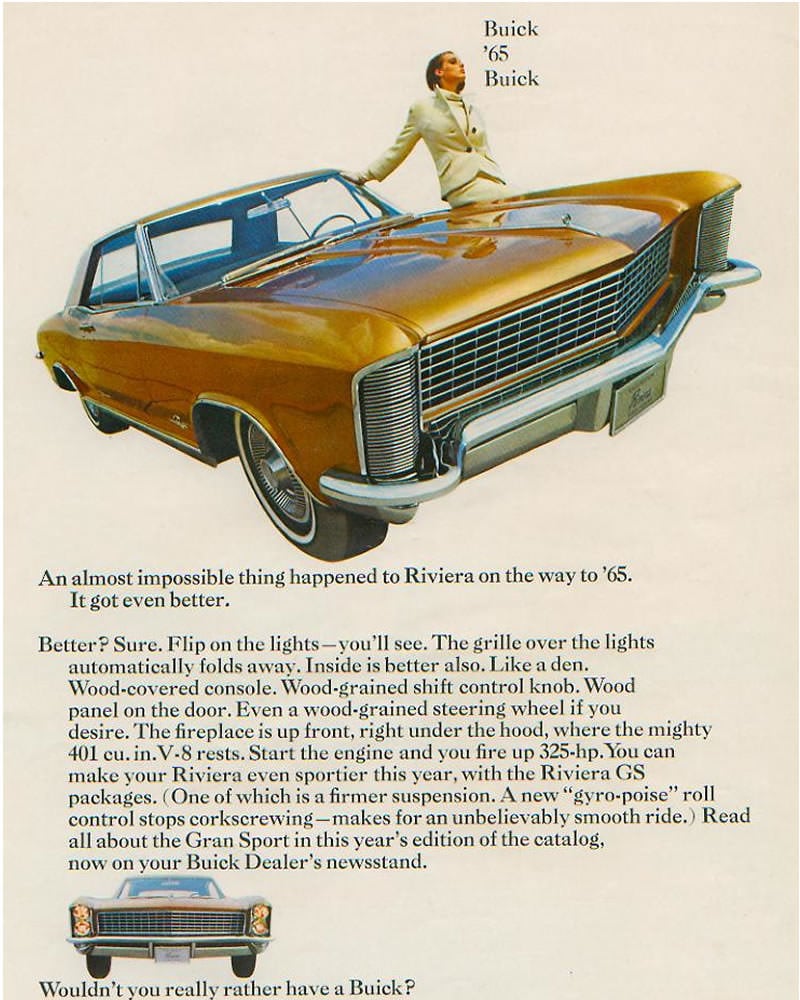 Buick Riviera Specifications
Body and Chassis:
Pressed steel body on a Buick cruciform chassis frame shortened for this model, vehicle based on the General Motors E platform – rear wheel drive version.
Length: 208″ (5,283 mm), width 76.3″-76.6″ (1,938-1945.6 mm), wheelbase 117″ (2,972 mm), height 53″ (1,346 mm).
Suspension and Steering:
Front; upper and lower unequal "A" arms with coil springs and telescopic shock absorbers. Rear; live axle with trailing arms and lateral track bar, coil springs, telescopic shock absorbers. Power steering with 3.5 turns lock to lock. For the "Ride and Handling" optional package a faster steering ratio was used along with stiffer springs and shock absorbers.
Brakes:
12″ finned drums with Buick "Al Fin" iron lined finned aluminium drums standard for the front, brakes equipped with servo assistance.
Engines:
1963 and 1965 base engine Buick "Nailhead" 401 cu. in. (6,572 cc) V8 with a 10.25:1 compression ratio producing 325 hp and 445 lb/ft of torque.
1964 base engine Buick "Wildcat 425" producing 340 hp.
Optional engine for 1963 and 1965 Buick "Wildcat 425" producing 340 hp.
Optional engine for 1964 and 1965 Buick "Super Wildcat 425" fitted with dual four barrel Carter AFB carburettors and producing 360 hp @ 4,400 rpm with torque of 465 lb/ft @ 2,800 rpm.
Transmissions:
1963: Buick Twin Turbine "Dynaflow" two speed manual transmission with five element, dual-stator variable pitch torque converter. This transmission was typically used like a variable speed "automatic" but for maximum acceleration the driver could manually change down to low gear and needed to remember to manually change up to high gear as the engine speed approached its redline.
1964 and 1965: General Motors "Super Turbine 400" three speed automatic transmission which continued to use a variable pitch torque converter and which provided automatic gear changes.
For the "Gran Sport" model the final drive was a Posi-Traction 3.42 ratio limited slip differential.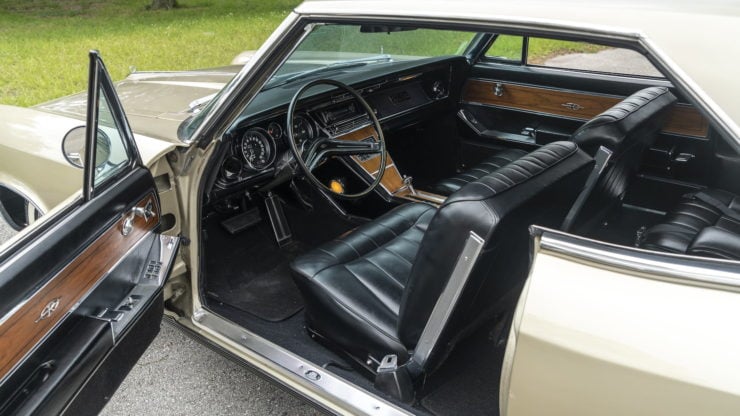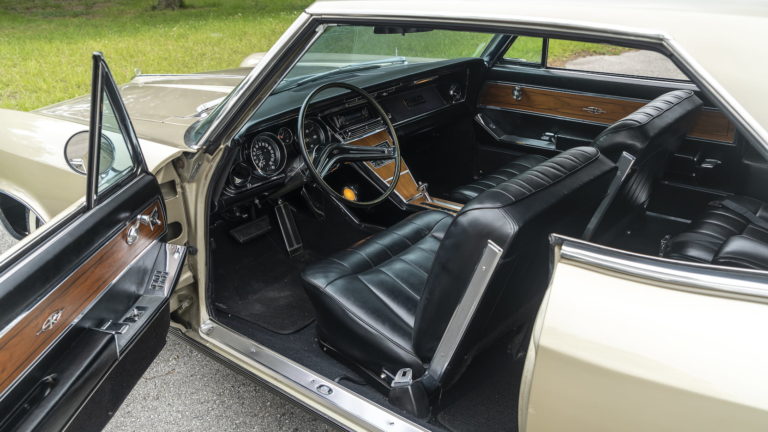 Buying a Buick Riviera
The Buick Riviera can be one of the best American cars for a collector or classic car enthusiast. These cars tend to be affordable, especially for the standard models, while the desirable Gran Sport model can command quite high prices depending of course on condition.
The market determines what price one of these cars might sell for and so to assess the value of any potential purchase it is wise to spend some time monitoring prices at auction. Mecum Auctions is one to look at as is Auctions America and RM Sotheby's. You can do your surveying on-line so its quite easy to build up a working knowledge of values at the time you are looking to buy something.
In terms of getting parts for a first generation Buick Riviera a lot of the mechanical parts were straight out of the General Motors parts inventory of the time in which these cars were manufactured and so mechanical parts are generally able to be sourced, either new, from the aftermarket suppliers, or from used parts sellers.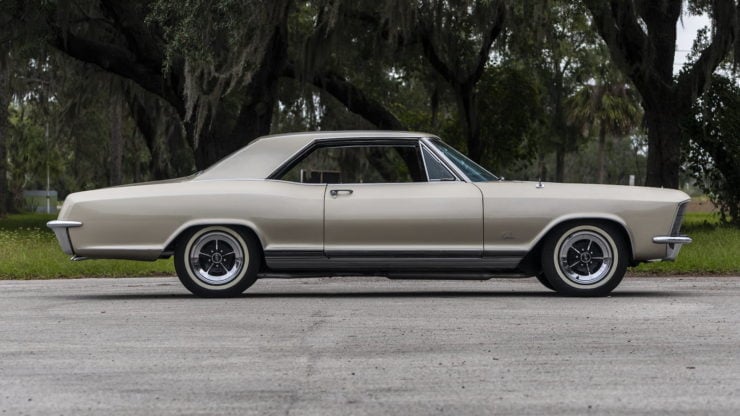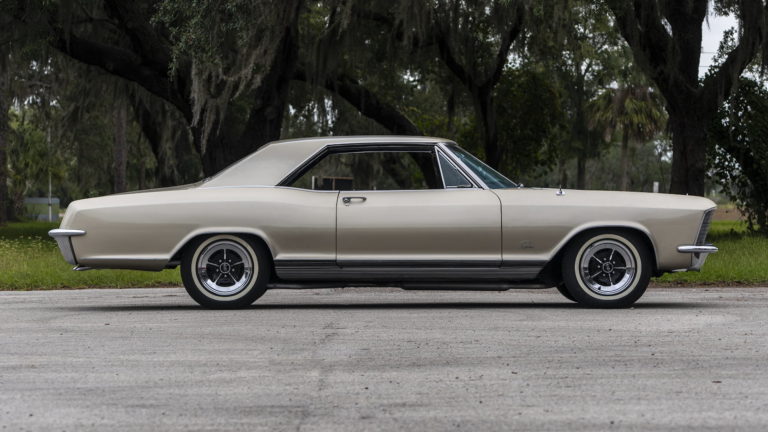 The bodywork is a bit of a different scenario. Back in the time when the first generation Riviera was being manufactured American automobile manufacturers were of the fixed opinion that they needed to produce a new model every year.
This fixation makes finding body and trim parts much more difficult than it would be if manufacturers had produced the same model for a period of years. For the Buick Riviera there were not a lot of changes made to body panels over the three years of production which helps make sourcing body parts a bit easier.
That being said these cars are over fifty years old and the body panels you want will most likely have to come from the second hand market, complete with whatever corrosion has afflicted them over that time. There are some aftermarket manufacturers making body panels and chassis nowadays but this is something you'll need to explore: the Internet makes such exploring a great deal easier than it used to be.
The best advice, I think, is to avoid the idea that you will look for a cheap "barn find" car in poor condition and do a full restoration on it. Finding the correct parts, especially trim parts, is likely to become an onerous process and prove to be rather more expensive than you had hoped. So buy the best car in the best condition that you can afford, and look after it is the preferred strategy.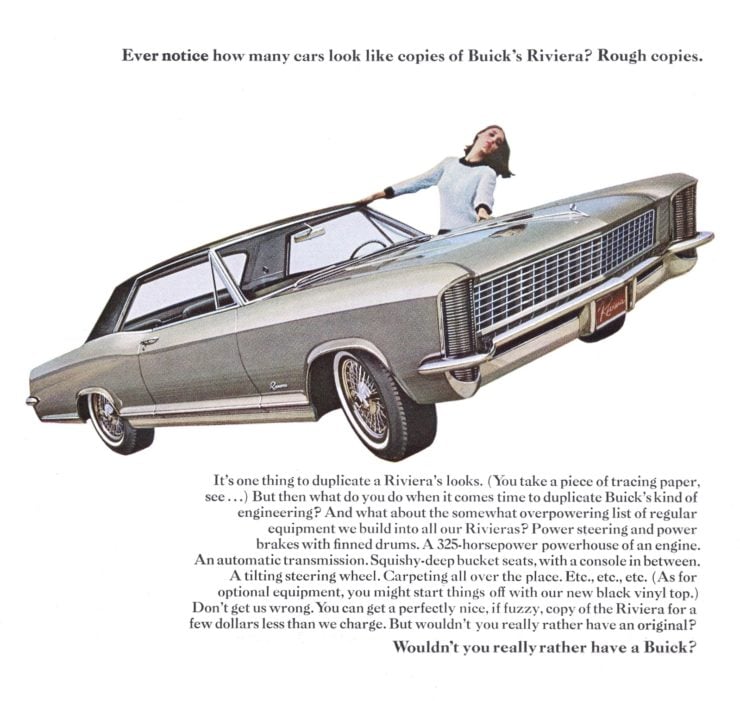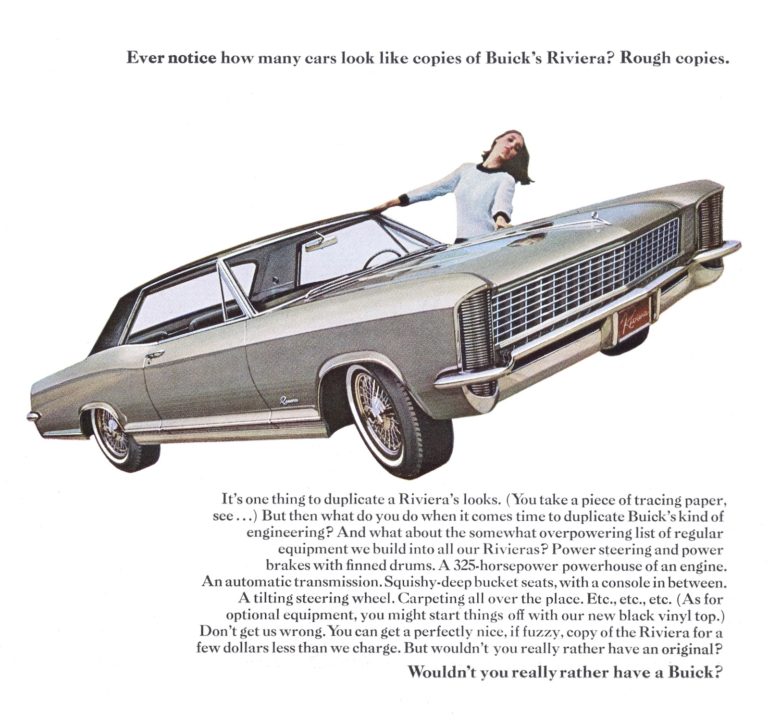 So look for a car in good condition, a car that is original and complete or very close to it.
As the engineering of the Riviera is typical of General Motors cars of the 1960's there is not really anything esoteric about assessing the condition of one. They rust in all the usual places, the mechanicals are subject to the usual ailments. So look for corrosion in chassis and body, look for accident or kerbing damage, check the chassis/body for alignment.
You may find that previous owners have done some modifications to these cars such as changing the front Al Fin drums to discs for example, which is worth doing if you don't need to keep the car absolutely original.
As for the interior trim there are aftermarket suppliers who can provide carpet kits and pre-made vinyl seat covers as well as door panels.
One of the best moves to make is to join the Riviera Owners Association (or for those in Australia the Buick Car Club of Australia). These enthusiast clubs typically have a wealth of knowledge of where to get parts from and specialist repairers to do work on your Riviera. You may even find the car you are looking for through contact with such a club.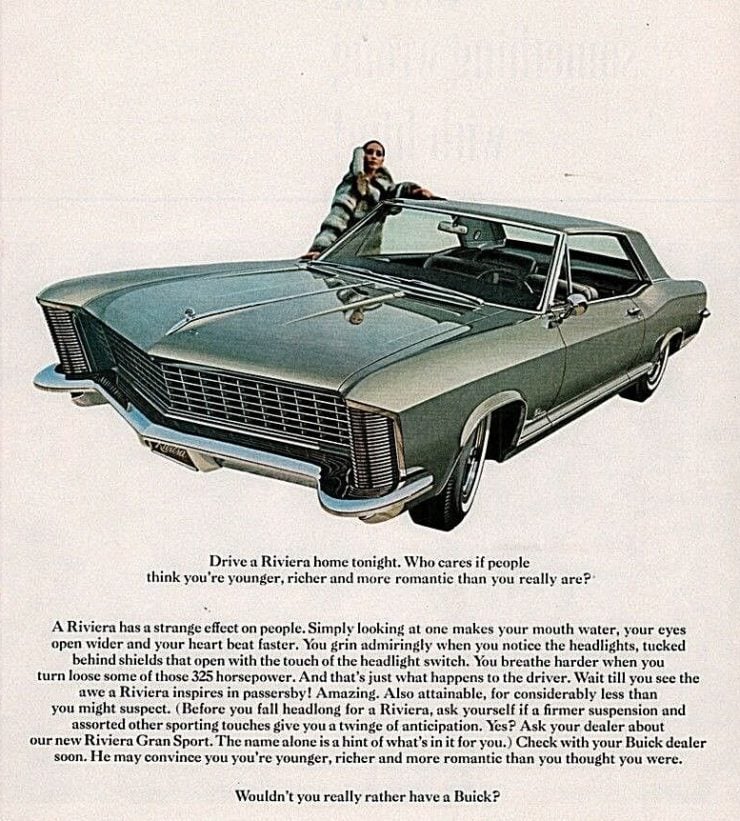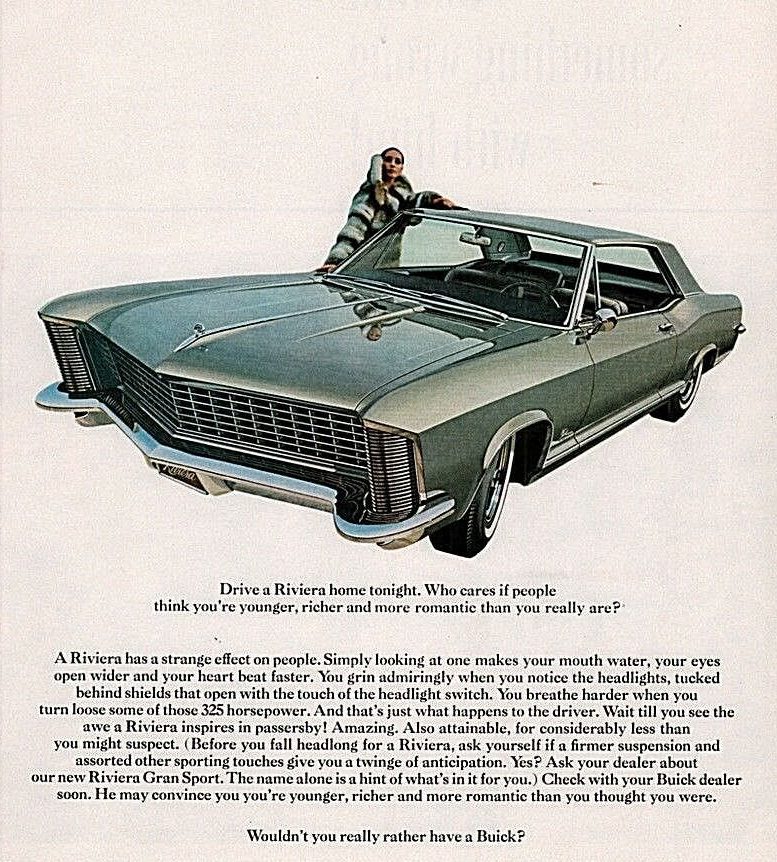 Conclusion
The first generation Buick Riviera was one of Bill Mitchell's favourites of all the cars he was responsible for, and with good reason. It really was an American "Facel Vega" like car which sold for about half the price but which produced American style big V8 performance with European like handling and braking. It was and still is one of the most outstanding American cars of the 1960's with its startlingly sharp body styling and excellence in handling and performance.
As a collector car the first generation Buick Riviera is in the process of being discovered. It has been hidden in plain sight for decades for much the same reason that it was never able to compete with the Ford Thunderbird in sales, and that was the simple fact that the "coolness" factor eluded it regardless of just how good a car it was.
So, if you are looking for a car that represents the best that the USA designed and built during the 1960's then the first generation Buick Riviera is a top contender.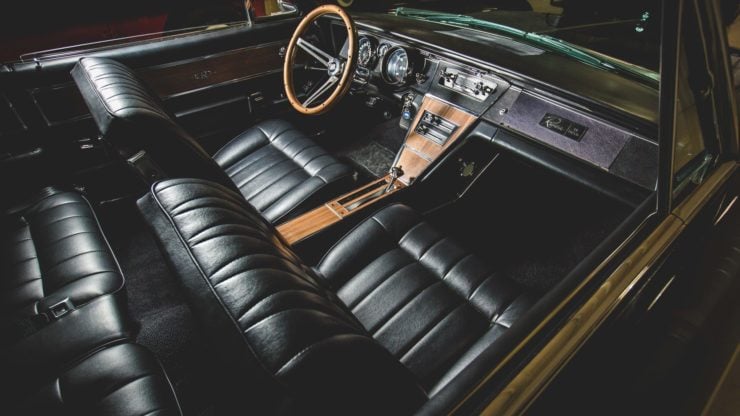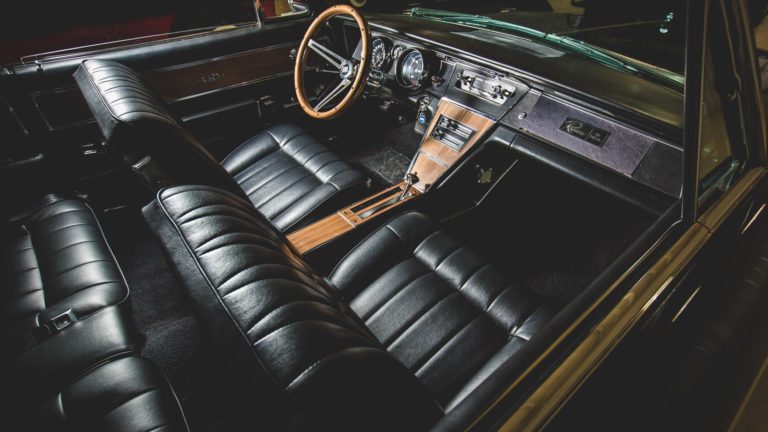 Picture Credits: Buick, Mecum Auctions, RM Sotheby's.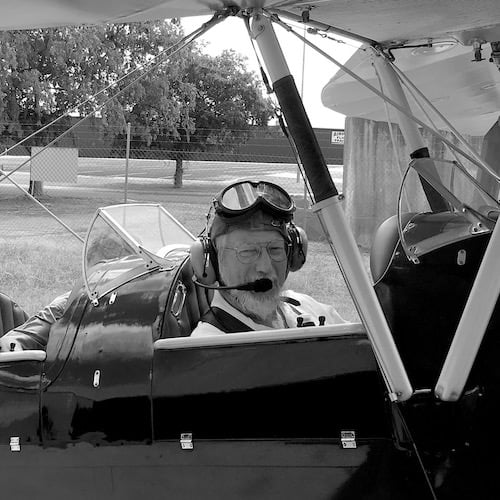 Jon Branch has written countless official automobile Buying Guides for eBay Motors over the years, he's also written for Hagerty, he's a long time contributor to Silodrome and the official SSAA Magazine, and he's the founder and senior editor of Revivaler.
Jon has done radio, television, magazine, and newspaper interviews on various issues, and has traveled extensively, having lived in Britain, Australia, China, and Hong Kong. The fastest thing he's ever driven was a Bolwell Nagari, the slowest was a Caterpillar D9, and the most challenging was a 1950's MAN semi-trailer with unexpected brake failure.