The triple-cylinder engine, as applied to motorcycles, provides an engine that can be inherently balanced. If you listen to a triple-cylinder motorcycle, such as a Triumph Trident or BMW K75, it sounds smoothly balanced for good reason. You will also coincidently notice that an engine with a multiple of three cylinders sounds smooth by comparison with a V8 for example. An inline-6, V6 or V12 are smooth sounding because of the relative ease with which such engines can be made balanced. So if you're looking for a motorcycle that won't rattle your bones, then the triples are bikes you should probably consider.
Amongst the first of the production triple-cylinder motorcycles was the Triumph Trident, which was in production from 1968-1975, and its badge-engineered sibling the BSA Rocket 3. The Triumph Trident was the last motorcycle developed and produced by Triumph Engineering at their original Meridan factory in Britain's West Midlands. The Trident, and its BSA Rocket 3 sibling, featured an air-cooled in-line 740cc transverse triple-cylinder engine producing 58bhp at a brisk 7500rpm. The engine was mated in a unit construction assembly with the four speed gearbox and drove the rear wheel by chain drive.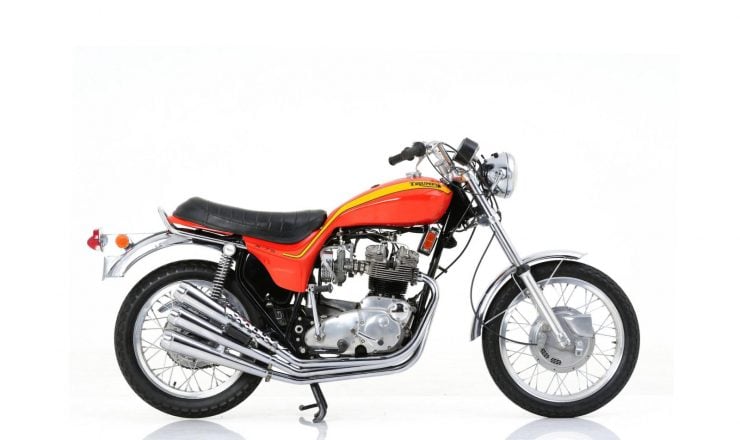 To create the Trident engine Triumph engineers Bert Hopwood and Doug Hele basically split the Edward Turner 360° parallel twin engine and fitted another cylinder in between the original twins. For Triumph the Trident was hoped to be a bike that would help save the company from the financial difficulties they were facing. The 750cc was an ideal size for the American market and the styling of the motorcycle was made to look sixties space age with ray gun silencers and a box like fuel tank that made it look nothing like the sort of thing Marlon Brando would have ridden in The Wild One.
That failure to get the styling right did not help sales and it was the American BSA Vice-President Don Brown who got fellow American designer Craig Vetter to create the Triumph X-75 Hurricane. Triumph was aiming at the US market, so one would think that commissioning Americans to get the product styling optimised for the US market made perfect sense. The design and management at Triumph/BSA in the UK did not like the X-75 styling which they regarded as being "too trendy" but they were about to close down the BSA production line and they had a stockpile of BSA Rocket 3 parts that could be used by creating a limited production run of 1,200 of this special bike between 1972-1973.
The Triumph Trident (and BSA Rocket 3) were released at around the same time as the Honda CB750; and the Honda was more bike for less money. The Honda had an overhead camshaft engine, five-speed gearbox and front disc brake; but it also had an electric starter, something the traditionalists at Triumph/BSA had not considered to be a good idea.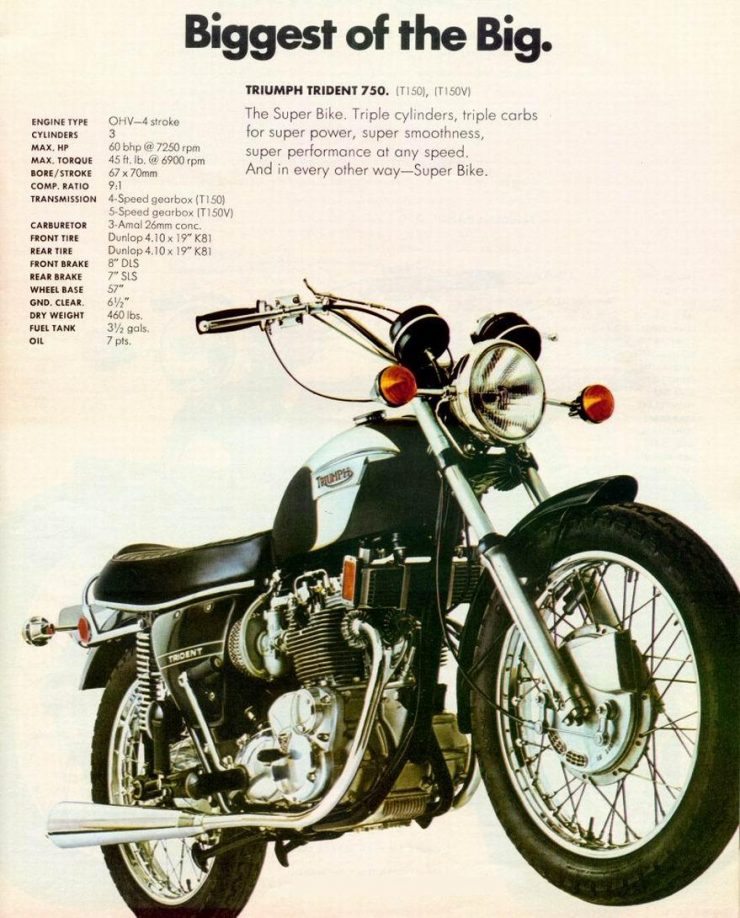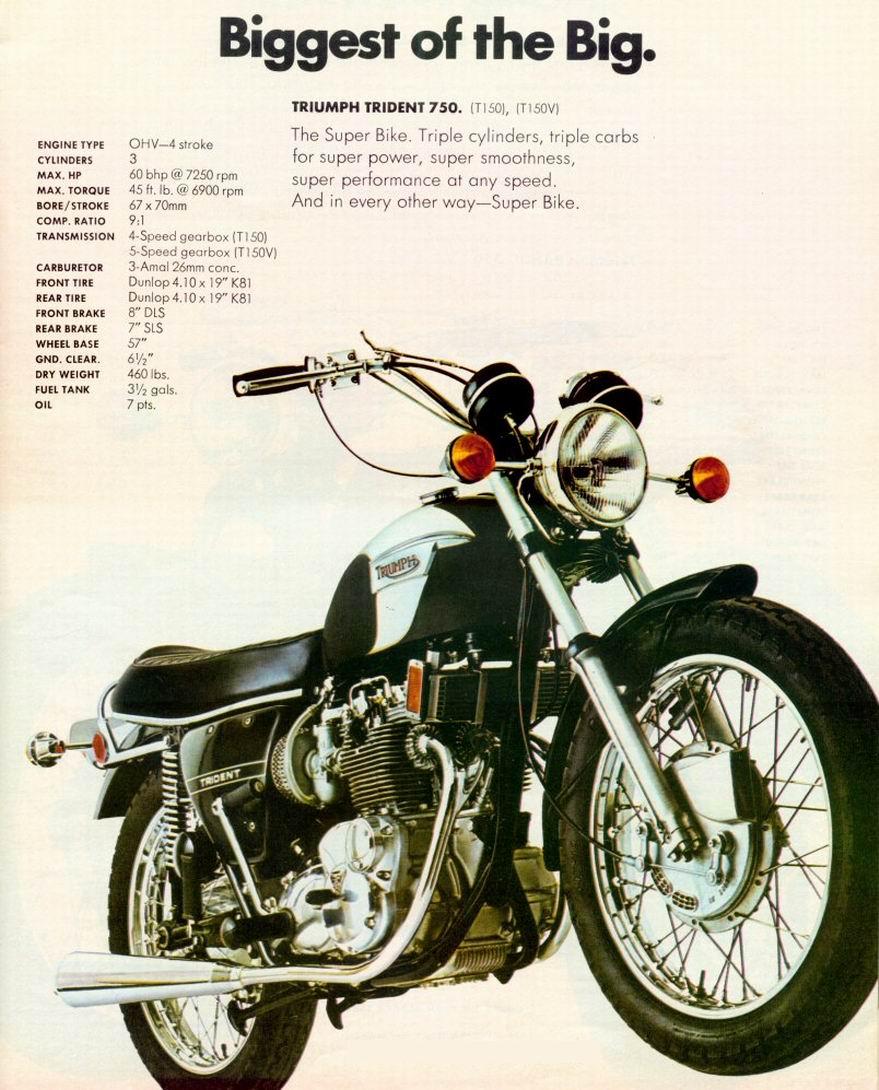 The other flaw of the Triumph Trident was its vertically split crankcase which in the established tradition of Made in Britain motorcycles tended to leak oil, something that young guys might happily put up with, but also something that wives and landladies would not. Oil stains on the lino or carpet might be OK in the man cave but were absolutely verboten in the rest of the home. The Triumph Trident was a fast bike and a fantastic bike to ride. In 1968 the US sales team took a Trident to Daytona and established some speed records that were not broken until 1971 by a 900cc Kawasaki Z1. The speed records might not have been broken by a Honda CB750, but Honda certainly won the sales race. Around the same time in the mid-sixties the creative minds at Kawasaki were doing rather more than just dreaming up the Z1.
They were dreaming up a series of two-stroke, triple-cylinder motorcycles and when they released the first of them, the 500cc Mach III H1 in 1969, they caused quite a ripple in the equanimity of motorcycle writers and buyers alike. A two-stroke engine might not be quite as efficient as a four-stroke but it makes up for that by producing twice as many power strokes, it fires on every revolution of the crankshaft. This also means that a two-stroke triple with a 120° crankshaft is going to be a smooth machine to boot. The 500cc Mach III H1 quickly gained a reputation for being quick, some riders of the time reckoning that they were a "quick way to get to heaven" and labelled those who rode them as "temporary residents", meaning that they would soon cease to reside on Earth and would be heading off for their interview with Saint Peter. Kawasaki factory test rider Tony Nicosia took an H1 to a drag strip and set a 12.96 second quarter mile finishing his run at 100.7mph.
The H1's triple-cylinder two-stroke engine was however let down by the Kawasaki chassis which was simply not up to the task of keeping the power and speed of the H1 under control. The factory drum brakes were similarly not up to the task of stopping this little highway missile and so Americans began calling the H1 the "widowmaker".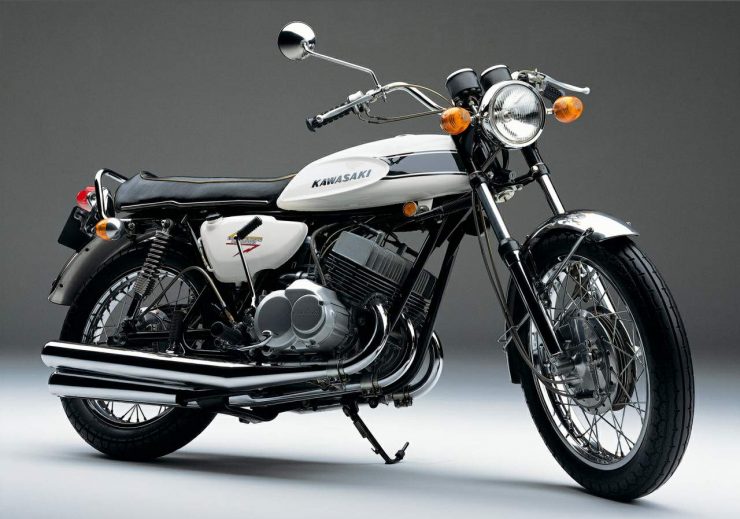 Kawasaki did not stop with the H1 however and released a range of two stroke triples onto showroom floors in 1972. These were the 250cc S1, 350cc S2 Mach II, and the 750cc Mach IV of which it was said it could "pull a wheelie" at 100mph. Fantastically quick though these bikes were Kawasaki had still not sorted out the handling and these bikes were known for speed wobbles as one ventured into the "upper reaches" of the open highway speed limit. We're not often thankful for the activities of the "fun police" but when US regulators got stuck into setting emissions controls this marked the end for two-stroke engines in motorcycles and this, coupled with the high accident rate for these bikes and the consequently high insurance premiums, caused Kawasaki to end manufacture with the KH500 in 1976.
In this case the "fun police" no doubt brought some fun to an end but also saved a few young guys from injuries or trips to see Saint Peter which was probably a good thing. All that being said these motorcycles are popular with collectors and enthusiasts and command healthy prices nowadays. Yamaha were the next Japanese maker to step up to the plate in 1976 with their XS750 which was subsequently followed by their upgraded XS850 (engine capacity actually 826cc). The Yamaha triples used DOHC four-stroke engines and the rev limit of the engine was raised from 7,500rpm to 9000rpm in the last two years of manufacture 1980-1981 with the fitting of electronic ignition.
The XS750 and XS850 were good handling and nicely featured machines with five-speed constant mesh transmissions and a shaft drive. In the 1976 Cycle World review the XS750 was described as a Bargain BMW. Advertising for the XS750 compared the bike to a Porsche sports car. Stating that the standing quarter mile time for the Porsche was 15.2 seconds whereas the XS750 with its electronic ignition and 9,000rpm redline could put down a 12.8 second time. These bikes had dual front disc brakes and a single disc at the rear and featured a well thought out chassis and suspension.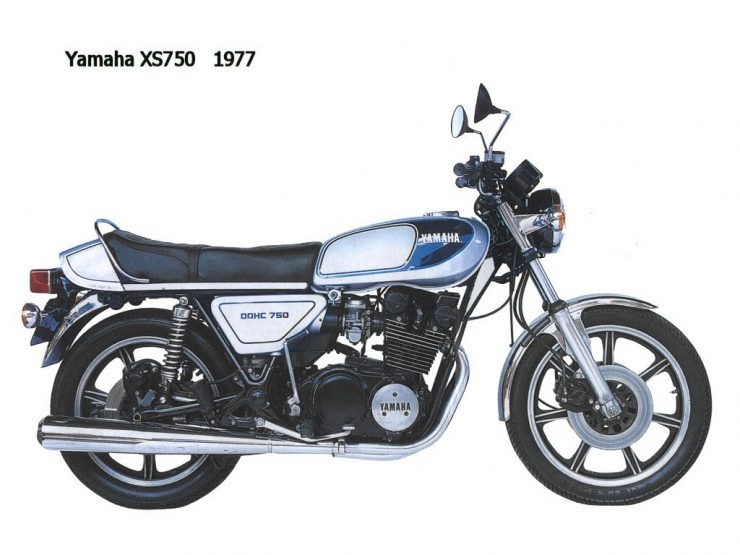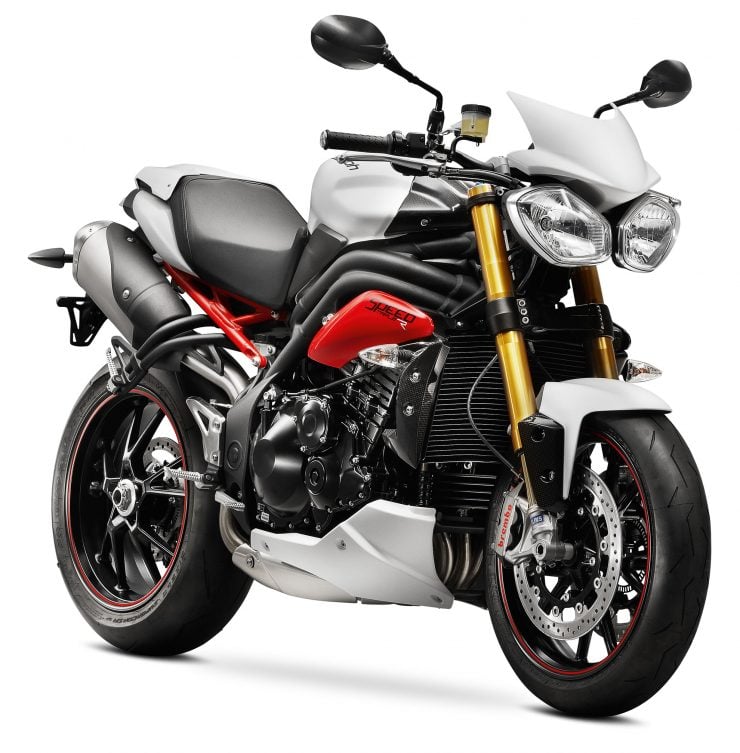 In recent years we've seen Benelli make their TNT 899 with an 898cc three-cylinder engine and the flagship TNT R with an 1131cc three-cylinder power plant. We've also seen the re-establishment of Triumph in the new Triumph Motorcycles Limited and a resurrection of the triple beginning with 750cc and 900cc bikes shown at the 1990 Cologne motorcycle show. These bikes use double overhead camshafts and liquid cooling along with the modern de rigueur unit construction. These bikes were called "Tridents" but made in a variety of model variations including the "Tiger 900" and the "Sprint 900". Triumph continued on the creation of ever larger versions of the new DOHC triple engine with the building of the Sprint ST 1050, and the Speed Triple 1050.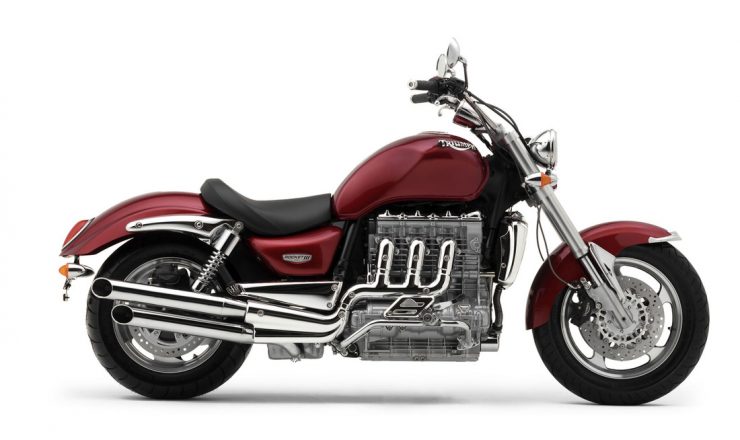 The American market however seems to be always looking for a bigger engine and so in 2005 Triumph created the 2.3 liter Rocket III highway cruiser with its in-line liquid cooled triple-cylinder engine sitting longitudinally and vertically like the Henderson Fours of old. The Rocket III remains the largest capacity production motorcycle in the world and with an engine that churns out 140hp at a modest 6000rpm we might be tempted to wonder how anyone might desire more. The answer is of course that the Harley-Davidson aficionados wanted more and a way was found for them to get more. Jim Fueling of Fueling R&D in Ventura, California recognised that there were Harley-Davidson owners out there who would very much like to add a significant chunk of engine capacity to their Harley-Davidson V twin so he created a new engine modification which essentially adds another cylinder to the V-twin making it into a W triple.
The end result is a Harley-Davidson with a 2.5 litre engine and a really eye-catching look without actually detracting from the iconic Harley-Davidson image. As for current offerings on the motorcycle showroom floors there are triple-cylinder motorcycles sitting there waiting for you to open your wallet for them. Current offerings include the Yamaha FZ-09 with an 847cc triple engine putting out 107hp, the MV Agusta Brutale 800, and the Triumph Speed Triple. And there's no doubt others are out there, both new and used to choose from. People who choose a triple over a twin or a four typically say they do so because the triple somehow feels "lively" and the sound they make is a characteristic even note.
Triple-cylinders have been making a comeback both on the motorcycle showroom floors and in automobiles also. In fact in 2014 Nissan showed their latest 400hp Le Mans engine and guess what? It's a triple. So far as I know no-one has yet tried to fit one of those into a motorcycle frame, but there's always someone out there looking for a challenge. A triple engine is ideal in a motorcycle especially for those of us who prefer a smooth performer to a pavement thumper. A bike for the gentleman rider.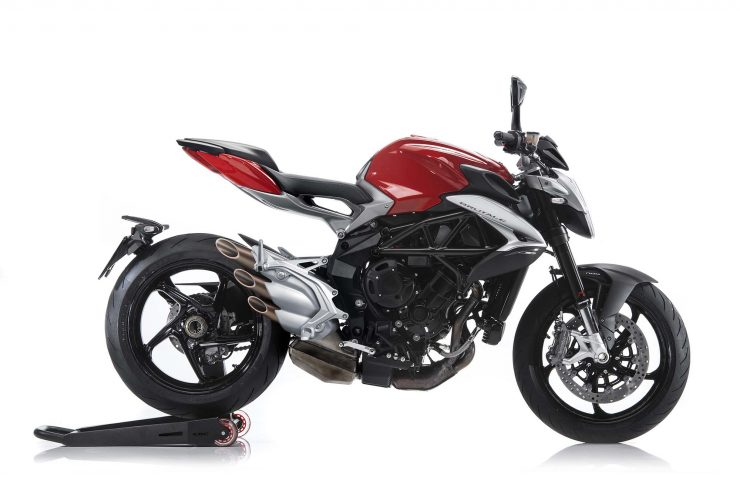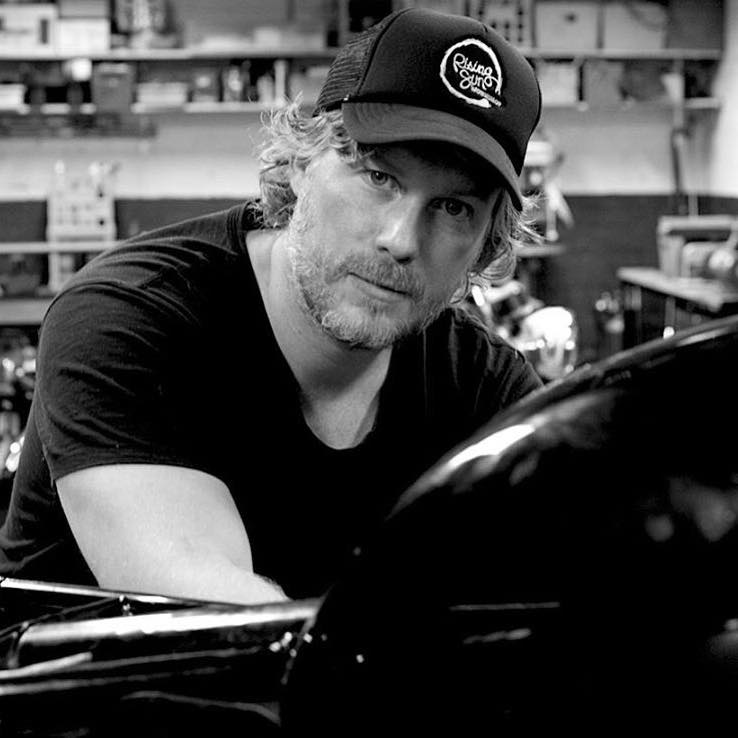 Articles that Ben has written have been covered on CNN, Popular Mechanics, Smithsonian Magazine, Road & Track Magazine, the official Pinterest blog, the official eBay Motors blog, BuzzFeed, Autoweek Magazine, Wired Magazine, Autoblog, Gear Patrol, Jalopnik, The Verge, and many more.
Silodrome was founded by Ben back in 2010, in the years since the site has grown to become a world leader in the alternative and vintage motoring sector, with well over a million monthly readers from around the world and many hundreds of thousands of followers on social media.