The Bimota Tesi 1D was described back in the early 1990s as being arguably the best superbike in the world. It combined advanced front and rear suspension, a Ducati superbike engine, and a state-of-the-art frame.
Only 20 examples of the Bimota Tesi 1D were made and they were approximately twice the price of their nearest rivals, but they were worth it. Super Bikes Magazine called it "the best production bike in the world." at the time of its release.
Fast Facts – The Bimota Tesi 1D 904
Bimota is a motorcycle maker based in Rimini in Italy. The company is still in operation. It was founded by three motorcycle aficionados, Valerio Bianchi, Giuseppe Morri, and famed designer Massimo Tamburini. The company name is made up of the first syllable of each of the founder's family names.
Initially, Bimota focused on developing high-quality frames to house engines from other manufacturers, notably using engines from Japanese brands like Suzuki, Kawasaki, and Yamaha. Their designs were renowned for improving handling and reducing weight.
As with many Bimota motorcycles, the Tesi 1D 904 was produced in limited numbers, just 20 were made in total. The "904" in its name denotes the engine capacity, which is sourced from Ducati's 904cc 90º V-twin.
One of the most distinguishing features of the Tesi 1D is its hub-center steering system, a departure from traditional telescopic front forks. This system was developed to reduce the effects of braking forces on suspension. It's a design that Bimota continued to evolve in subsequent Tesi models.
The Origins Of Bimota
Bimota is a small but highly-respected motorcycle marque based in Italy in Rimini. The company was started in 1973 by three men; Valerio Bianchi, Giuseppe Morri, and Massimo Tamburini who named their new enterprise using the first syllables of each of their surnames: i.e. BIanchi MOrri TAmburini to make the company name Bimota.
Although all three of the partners were driving forces in the new company it was Massimo Tamburini who was perhaps the most influential in the design of Bimota motorcycles.
Massimo Tamburini has been described as the "Michelangelo of motorbike design", and his passion for motorcycles and their design began when he was a child and became the centre of his life, and he literally taught himself the technology and art of motorcycle design.
Bimota from its inception focused on achieving as close to perfection in design and construction as humanly possible. This drive for the best of the best led them to create motorcycles that incorporated the most state of the art technology possible.
Tamburini's ideas for motorcycle design was summed up when he said "The ideal one would be a 750 with the power of a 1000 and the weight of a 500." And this central concept would tend to define the motorcycles Bimota would create.
Tamburini left Bimota in 1985 and went on to work with others including Cagiva, who had acquired Ducati. Bimota's new head of design was Federico Martini but Tamburini also did work for Bimota in cooperation with him.
It was during this time that the design work for the Bimota Tesi series of models was done.
The Bimota Tesi was created to be a lightweight but sufficiently powerful motorcycle with exemplary handling. The early Tesi models would indeed have the power of a one liter motorcycle in a bike that was about the weight of a half liter.
To give the Tesi handling that they hoped would stand out as superior to their competitors Bimota designed it using a radical form of hub-center-steering. In fact Bimota were the only motorcycle maker at that time to use this type of steering/suspension arrangement.
The front suspension of the Tesi 1D was a bowed swing-arm into which the hub-centric-steering mechanism was mounted. This assembly being suspended by an adjustable remote-reservoir Marzocchi monoshock.
This style of steering and front suspension provides a mix of advantages and disadvantages, but done with precision and a high level of engineering competence the advantages can far outweigh the disadvantages.
The idea of hub-centric-steering had first been pioneered in 1910 by the James Cycle Co. in Britain but it did not catch on. In the mid-1970's Mead & Tomkinson racing designed a modern version and experimented with it in racing motorcycles, but it was to be the 1991 Bimota Tesi 1D that created a design that took full advantage of the concept.
The 1991 Tesi 1D front suspension and hub-center-steering system worked beautifully and the system served to separate the steering, braking and suspension dynamics. This translated into the redirection of braking forces into the horizontal plane instead of the vertical, so that weight transfer under braking did not cause the motorcycle's front to dive downwards as it would in a bike fitted with conventional forks. The system allowed for a full thirty degrees of wheel turn.
The rear suspension of the Tesi 1D was also by a swing-arm, a rear box-section swing-arm with a remote-reservoir Marzocchi monoshock and stabilizer rod.
The braking system for the Tesi 1D comprised a pair of Brembo 320mm discs up front with four-piston calipers, and at the rear a Brembo 230mm disc with a single-piston caliper.
Wheels were 17″ Marchesini with 120/70-17 tyres at the front and 180/55-17 at the rear.
The engines for the Tesi 1D were sourced from Ducati, and the one fitted to the bike that is being auctioned is a liquid cooled DOHC 904cc L twin with 10.4:1 compression ratio, four desmodromic valves per cylinder, and Weber electronic fuel injection.
This engine is mated to a six speed gearbox via a multi-plate dry clutch.
The fuel tank holds 4.2 US gallons (16 liters) and the engine sends its exhaust to a two-into-two system with Kevlar silencers.
This engine produces 113hp at 7,500rpm and torque of 67.9 lb/ft, which is a nice balance for a motorcycle which weighs 414.5 lbs (188 kg) dry. This gives the bike a top speed of 140 mph (225.3 km/h). Fuel consumption is 32 mpg (US), 7.4 litres/100 km.
The carbon-fiber bodywork on the Tesi 1D for sale is fully faired and is finished in white with red and green accents, while the frame is of aluminium alloy. The single seater racing stye bodywork has the front turn signals integrated into it, and the rear brake light is integrated into the tail with the rear turn signal lights sitting below.
The frame is an interesting design comprising a pair of boomerang shaped plates which have the engine inserted between them. The engine is not used as a stressed member. These plates are not of cast aluminium but instead have been machined, they are mounted the front and rear swing-arms, which are also machined from anticorodal aluminum alloy.
Onto those boomerang shaped side plates is mounted tubular framework to support the bodywork and some other components including some of the suspension and steering components.
The Bimota Tesi 1D fitted perfectly with Massimo Tamburini's stated ideal for a motorcycle. It is indeed a bike "with the power of a 1000 and the weight of a 500" and it also has the suspension and steering advantages of swing-arms front and rear combined with beautifully executed hub-centric-steering.
It was described by Mac McDiarmid of Super Bikes Magazine as being "the best production bike in the world". It cost about double the price of its nearest competitor, but for the person seeking the closest thing to perfection it was and still is a bike worth a good hard look.
It is said to have been kept on display and only to have 1,300 kilometres on the odometer.
It is being offered for sale in Germany with an English and Italian-language owner's manual, a technical specification sheet, a tool kit, a rear stand, a red Bimota motorcycle cover, an unopened scale model of the bike, a TÜV inspection report, four keys, and German registration documents in the seller's name.
You'll find the listing on Bring A Trailer here if you'd like to read more of register to bid., it's being sold out of Wendhausen, Germany.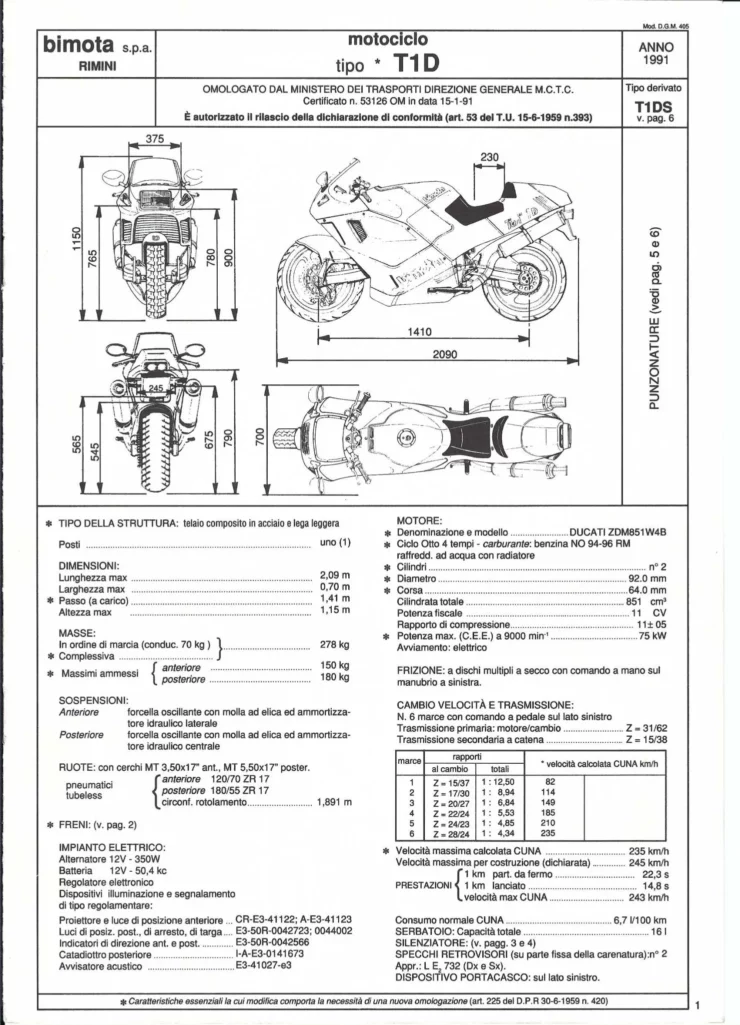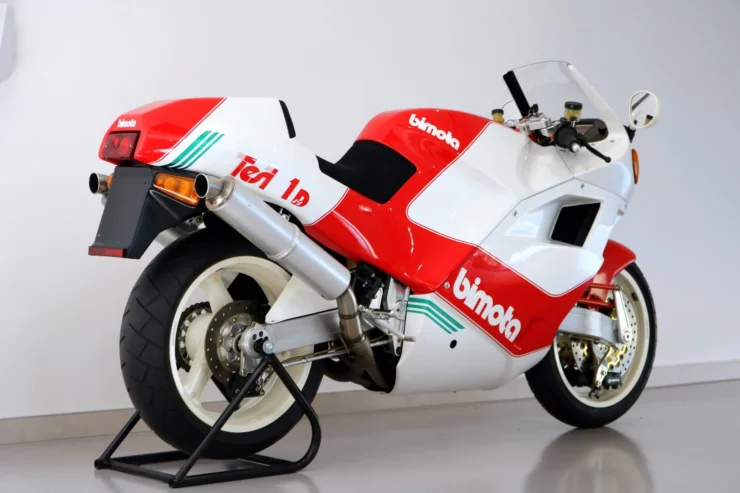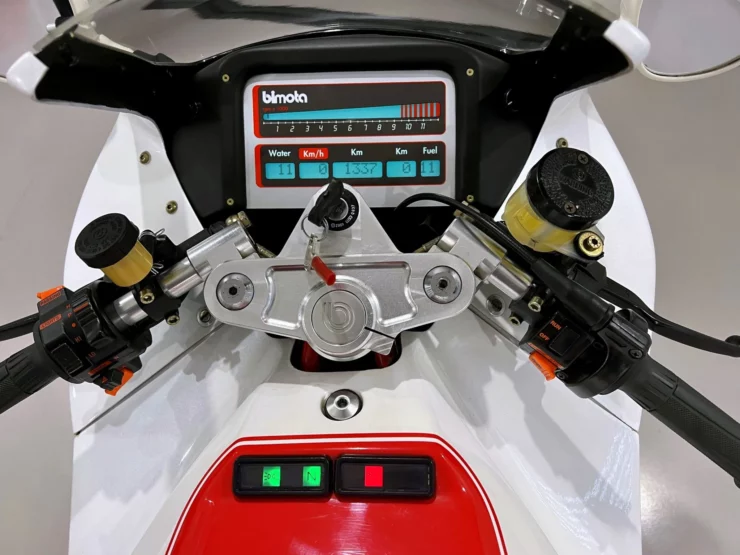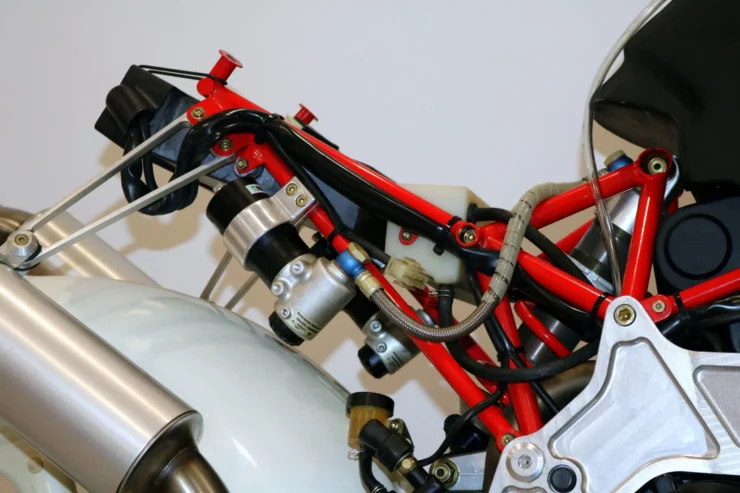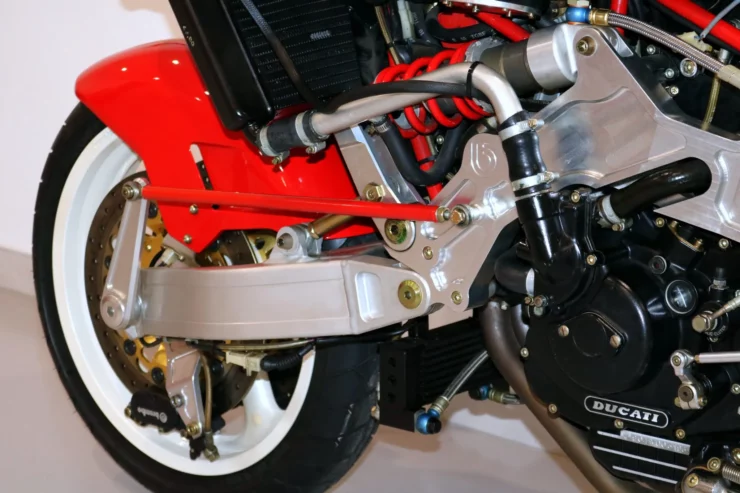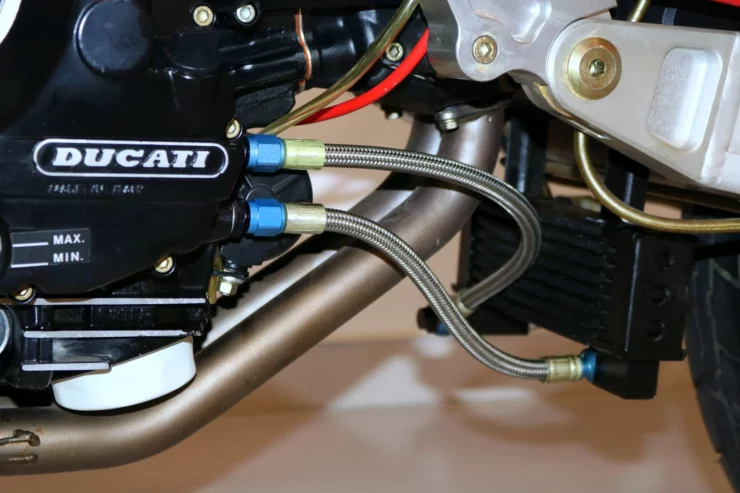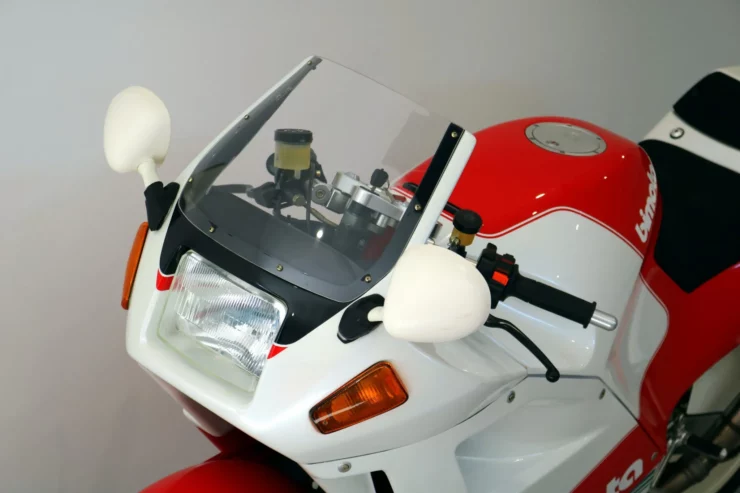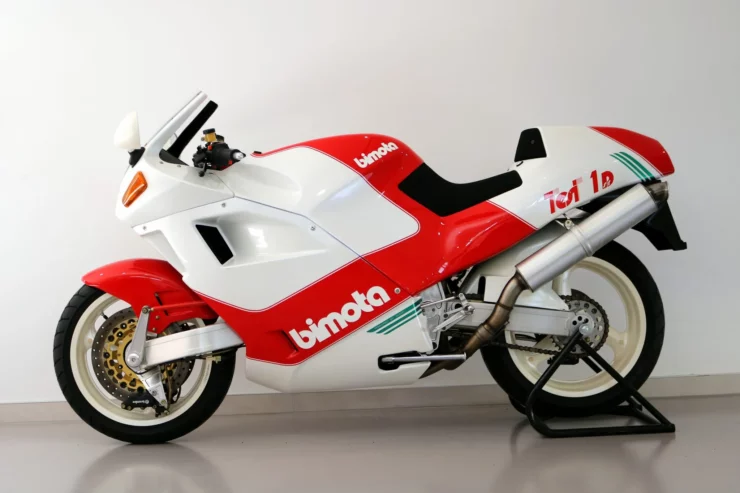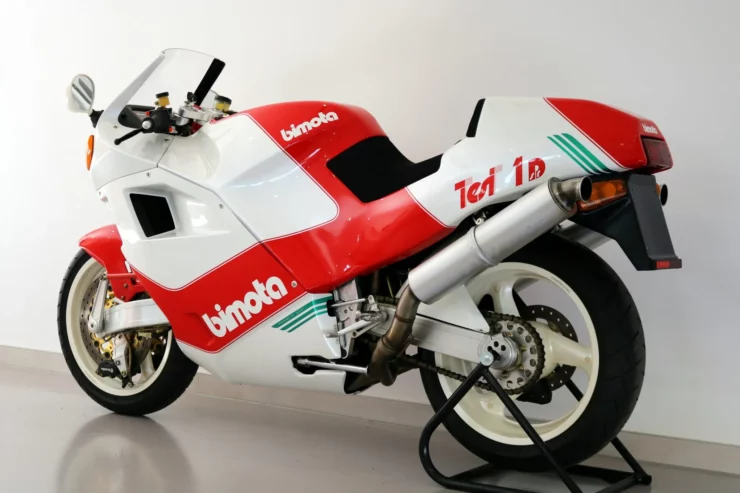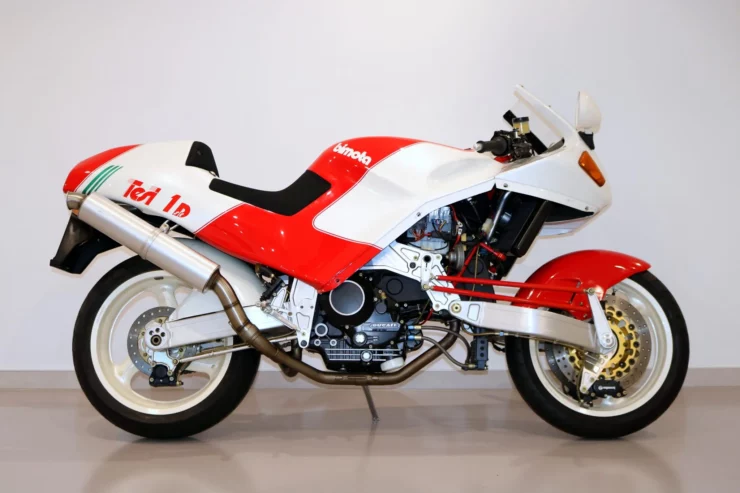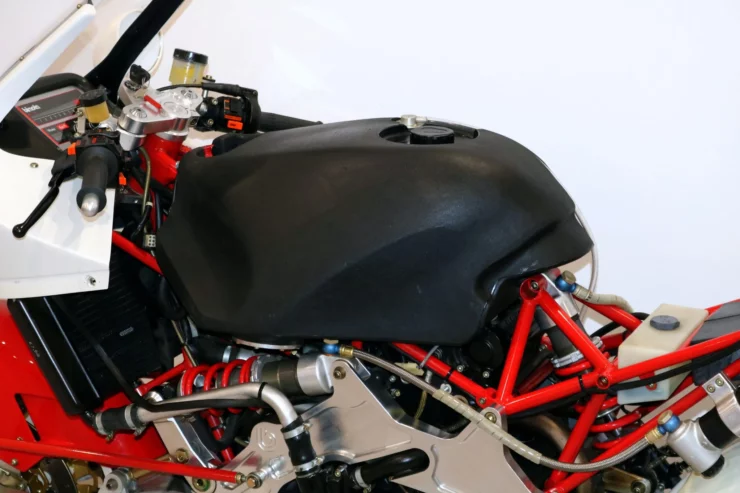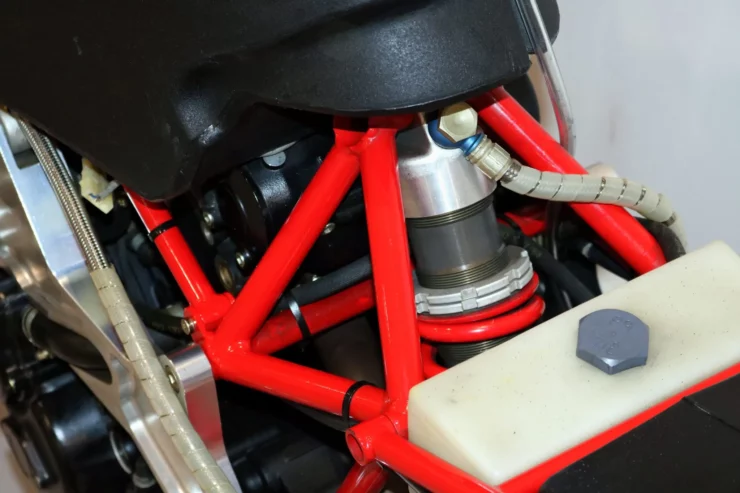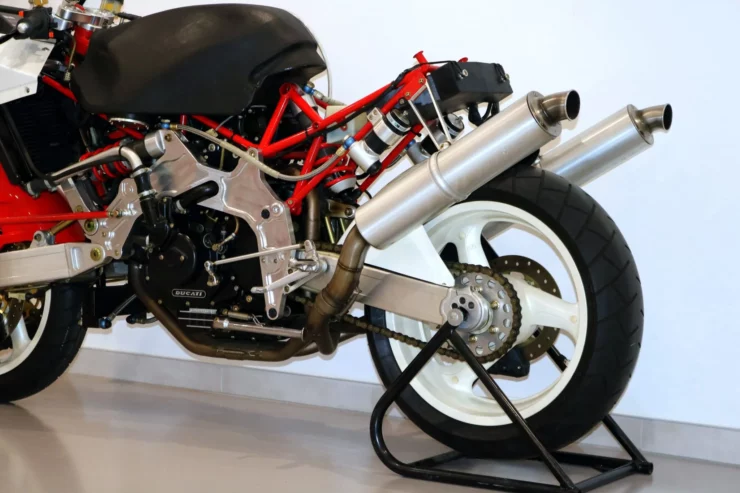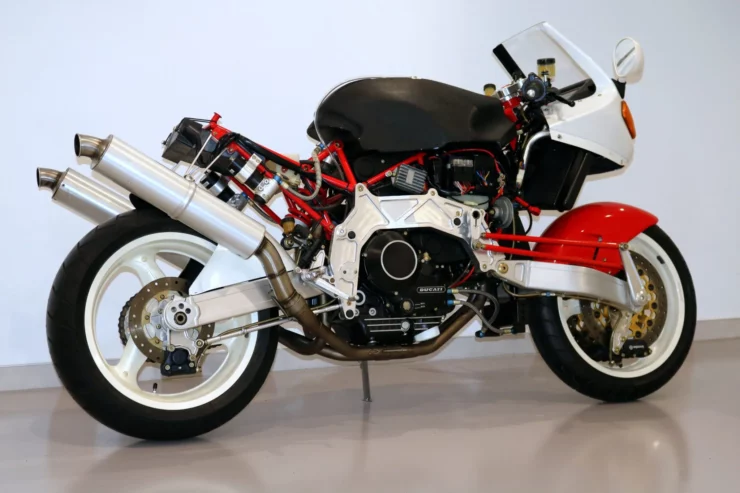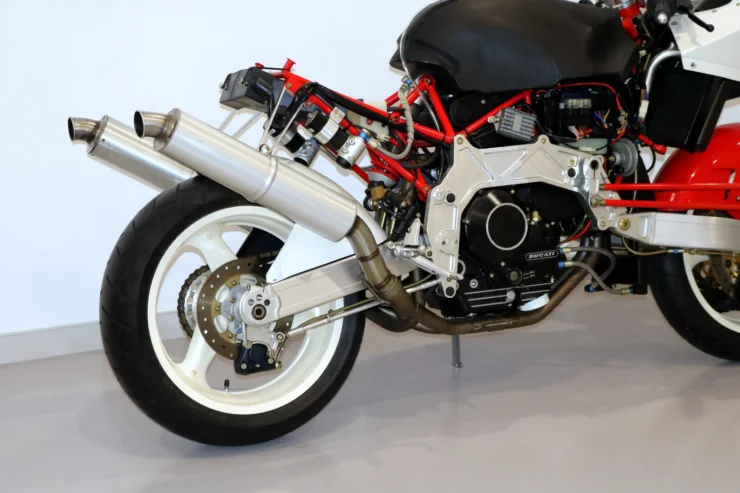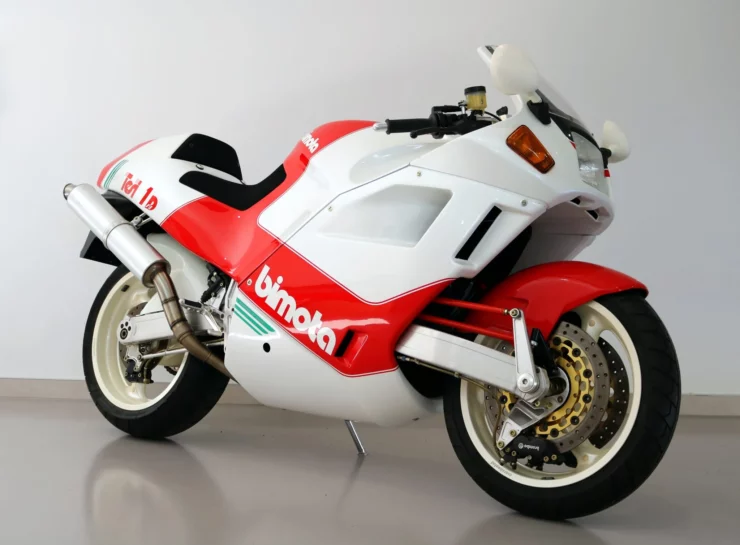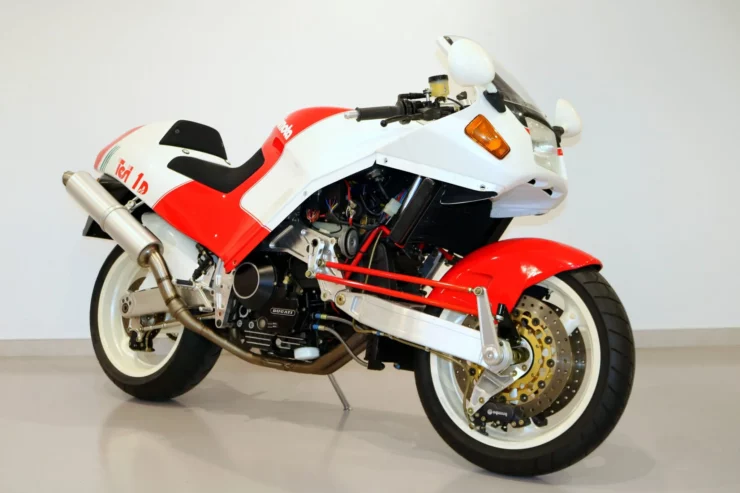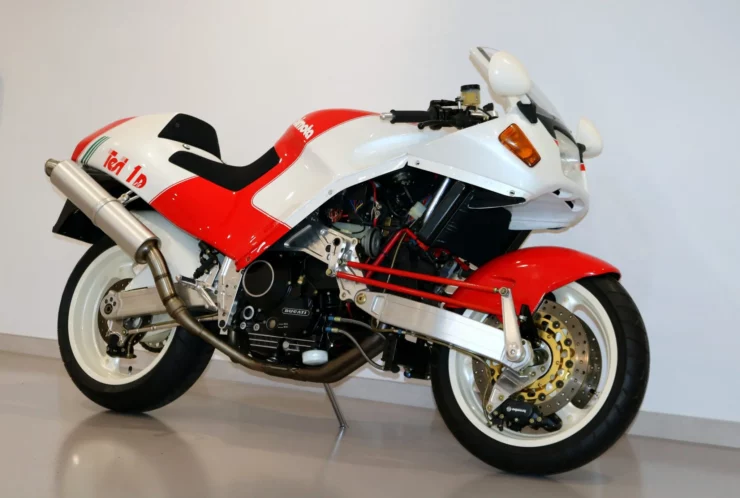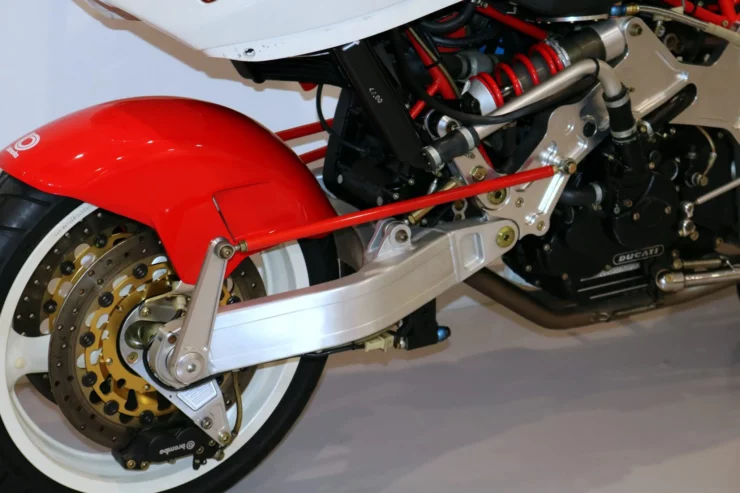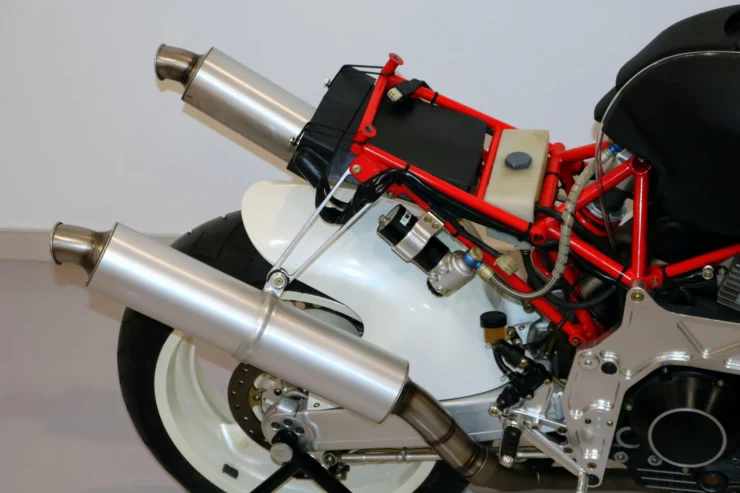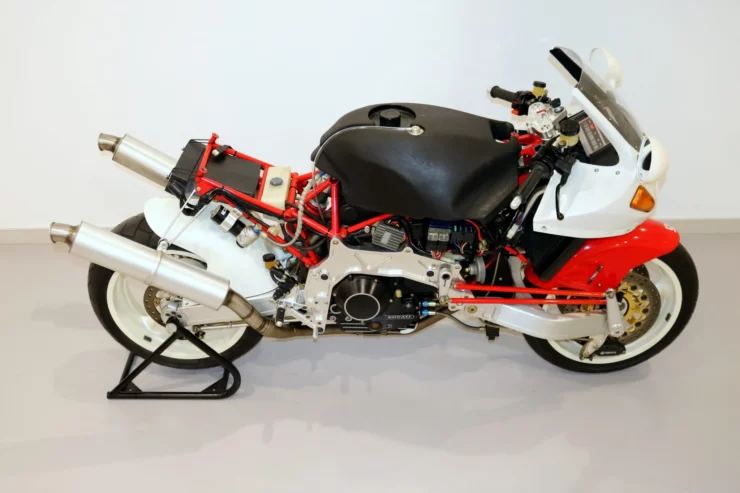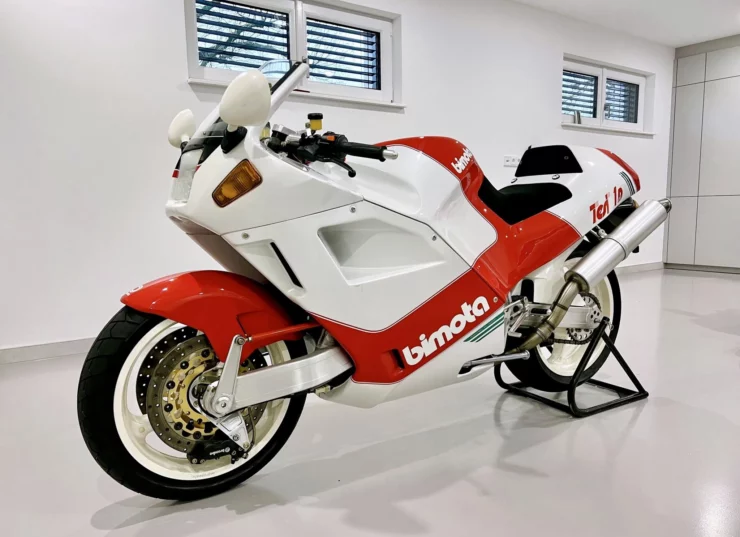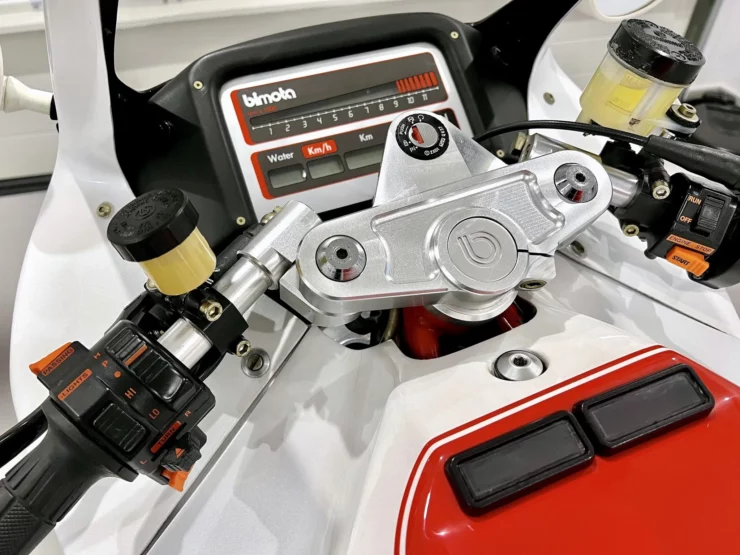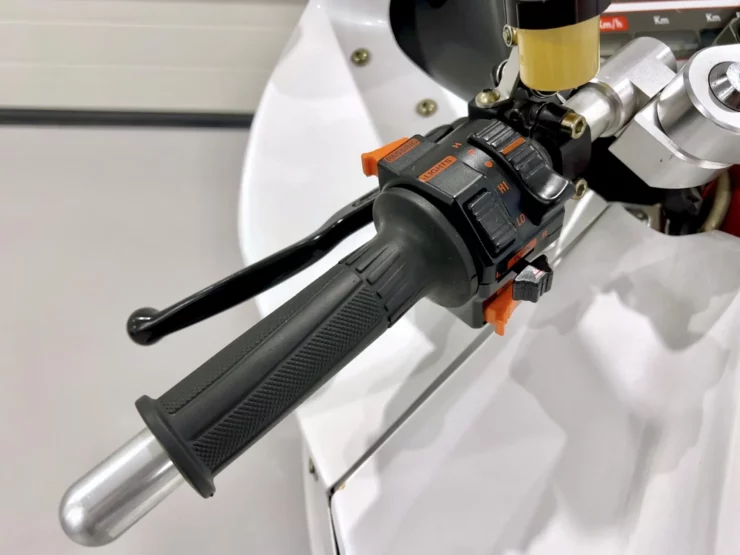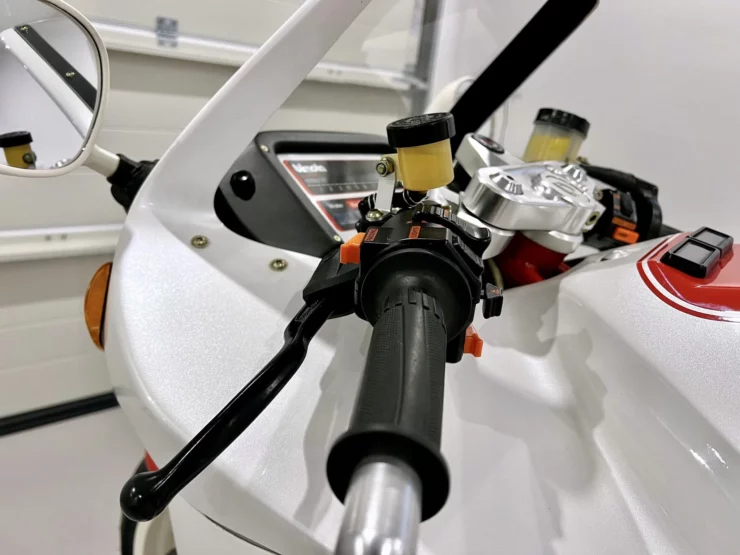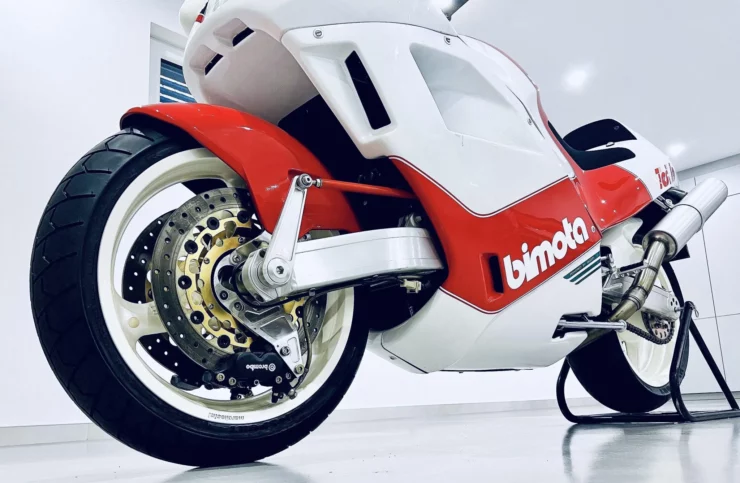 Photo Credits: Bring A Trailer.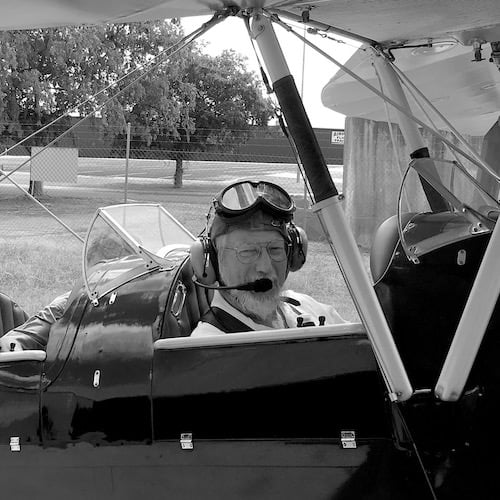 Jon Branch has written countless official automobile Buying Guides for eBay Motors over the years, he's also written for Hagerty, he's a long time contributor to Silodrome and the official SSAA Magazine, and he's the founder and senior editor of Revivaler.
Jon has done radio, television, magazine, and newspaper interviews on various issues, and has traveled extensively, having lived in Britain, Australia, China, and Hong Kong. The fastest thing he's ever driven was a Bolwell Nagari, the slowest was a Caterpillar D9, and the most challenging was a 1950's MAN semi-trailer with unexpected brake failure.