With the passing of his father Dr. Ferdinand Porsche in 1950, Ferry Porsche, though still grieving, took up the leadership of Porsche and proceeded to build it into a sports car manufacturer second to none.
With Erwin Komenda and Wilhelm Hild at his side, Ferry Porsche had the right team with which to design and create a new generation of Porsche racing cars– mid-engined cars that would establish the Porsche name as one to be reckoned with.
Fast Facts – Porsche 550A Prototype "Le Mans"
When Porsche began design and production of sports and racing cars in the late 1940s they based their initial model on the Volkswagen which had been created by Dr. Ferdinand Porsche.
Volkswagen invited Porsche to relocate back to Stuttgart and offered them the support of their dealer and service network in return for technical consultation on how to improve the Volkswagen automobiles.
Porsche relocated to Stuttgart in 1949 and put the Porsche 356 into full production the following year.
Ferry Porsche understood the importance of racing to the success of Porsche and so he with Erwin Komenda and Wilhelm Hild created a new racing car – the Porsche 550.
The Porsche 550 obtained significant success in motor racing and its improved successor the Porsche 550A turned out to be an even more formidable force to be reckoned with.
Creating The Porsche 550
It had not been possible for the Porsche family to relocate their business back to Stuttgart until 1949. Dr. Ferdinand Porsche's health had taken a battering in the preceding years and his son Ferry was very much at the helm for the creation of a Porsche sports car company.
Ferry Porsche had designed the Porsche 356 prior to this time while the business was located in the town of Gmünd, in Carinthia, Austria. Ferry was both creative and practical and he had understood that the business needed to get a sports car into regular production and that the best way to accomplish that was to base the design on the existing Volkswagen that his father had created.
It is a tribute to the design acumen of Dr. Porsche that the Volkswagen was in fact capable of being re-designed to become a desirable sports car instead of the utilitarian "People's Car" that it had originally been created to be. That humble Volkswagen had been an affordable passenger vehicle, and had been modified to be a military vehicle as well: and now it was to rise like a Phoenix from the flames of war to become a desirable sports car.
The move to Stuttgart had been precipitated by Volkswagen's Heinz Nordhoff who wanted to see Porsche return and prosper and so he had offered design work to improve the existing Volkswagen and in return would pay a royalty on every Volkswagen "Beetle" sold, materials for the building of the Porsche sports car, and support for Porsche's sports cars via the global Volkswagen network of dealers and technical support facilities.
This was indeed an offer too good to pass up on. Ferry with help from family members and staff managed to obtain a new production facility from an automotive body constructor called Reutter in 1949 and progressively install the equipment to begin production. Porsche's staff had largely migrated with them to Stuttgart so they started out with a skilled, committed, and knowledgeable workforce.
By 1950 the Porsche 356 was established in production and Ferry wasted no time in work to begin creating Porsche competition cars. He knew the company needed to build a reputation and to accomplish that he needed to create purpose built racing cars that would demonstrate the Porsche design and manufacturing expertise, cars which were both fast and reliable, in modern parlance we would call these halo cars.
The Volkswagen and the Porsche 356 were lightweight machines with relatively small capacity engines but these components were to provide the foundation for small, lightweight racing cars that possessed both the handling and power to weight ratios to successfully take on the complex and high powered cars from the likes of Ferrari and Maserati.
Ferry's father Dr. Ferdinand Porsche passed away after suffering a stroke at the end of January 1950 leaving Ferry to carry on the Porsche business and to bring to fruition the vision they had both shared.
The Porsche 550
Ferry Porsche was a visionary and he had been given a firm foundation in technical and business expertise to bring the things he envisioned into reality. He led the Porsche design and engineering team in the creation of the next generation of Porsche racing cars.
Ferry Porsche had been involved with his father in the pre-war development of the rear-mid-engine Auto Union racing cars and the P-Wagen project so he determined to create a new Porsche racing car with a rear-mid-engine and fully independent suspension.
Ferry's past experience gave him the understanding that the Achilles heel of the mid-engine Auto Union racing cars had been that their engines were heavy and too powerful for the suspension and tyres. So he set about creating a racing car with a light weight alloy engine of modest capacity in the rear-mid-engine position.
Ferry's inspiration for the new Porsche racing sports cars came from the Glockler-Porsches which had been hand-built racing specials built around a tubular space frame with aluminium bodywork.
The suspension was to be fully independent all around and the drum brakes needed to be as large and efficient as possible. In essence Ferry Porsche's idea was like that of Colin Chapman of Britain's Lotus "Simplify and then add lightness".
These first Porsche 550 were made during 1952-1953 and were based on a steel ladder style chassis with a hand-formed aluminum body.
By 1953 the first example of this thinking by the Porsche design team led by Erwin Komenda and Wilhelm Hild was built in the metal in the form of the Porsche 550.
The engine used for the first of the Porsche 550 cars (#550-01 and #550-02) was a 1.5 litre air-cooled four cylinder flat boxer push-rod engine much like those used in the Porsche 356. This engine developed 78 hp @ 6,000 rpm and gave the car a top speed of about 200 km/hr.
The transmission was a conventional all synchromesh four speed manual with a limited slip differential.
The first of these cars competed in its maiden race at Nurburgring in the "Eifel" race series. The little 550 won and thus inspired with confidence Porsche entered their first two 550 cars in the 1953 24 Hours Le Mans and achieved a notable first and second in the 1,500 cc class – adding to that a new race record into the bargain.
The Porsche 550 with Spyder style body made its debut at the Paris Auto Show of 1953.
The Arrival Of The Porsche 550A
Despite the 550's success the Porsche design team were not content to rest on their laurels. During 1955-1956 they worked on a new design. Although externally the new car looked just like its 550 sibling, underneath the hand beaten aluminium body by Karosserie Wendler of Reutlingen this new 550A was very much a new and different car. The 550A cars were fitted with louvered access panels behind the doors but otherwise looked nearly identical externally to their 550 siblings.
The Porsche 550A version improved on the design of the 550 by using a tubular space-frame instead of the steel ladder chassis. This made the car lighter, tipping the scales at 1,170 lb (530.7 kg) and rather more stiff.
The power for this new model was the Type 547 1.5L (1,498 cc) DOHC flat four air cooled "Boxer" engine: a dry sump unit with an 8 litre oil tank. This engine had originally been pioneered in 550 prototypes before its being installed in the 550A.
This engine was a complex design by Dr. Ernst Fuhrmann, who was chairman of Porsche, and it had dual overhead camshafts for each of the two cylinder banks, making four camshafts in total. It had two valves per cylinder but also featured dual ignition, i.e. two spark plugs per cylinder to make sure that the fuel/air mix went bang every time and with the right combustion characteristics. It breathed that fuel/air mix via twin Solex dual barrel 40 PII carburetors.
In the interests of achieving reliability and best efficiency at high rpm this Fuhrmann design used a multi-section Hirth roller bearing crankshaft.
This engine in its first iteration delivered 108 hp @ 6,200 rpm with torque of 89 lb/ft @ 5,000 rpm. With progressive development this engine would ultimately produce 135 bhp @ 7,200 rpm and in a final highly tuned form 180 hp.
The 550A also saw the introduction of the 5 speed gearbox. This unit had a non-synchromesh first gear which was fitted with a gear-lever barrier just like the reverse gear so it could not be inadvertently selected: this first gear was only used for starting the car moving. This gearbox drove through a limited slip differential.
Additional improvements in the 550A included a larger 34.3 US gallon (130 litres) fuel tank and larger improved finned drum brakes all around which were drilled for improved cooling. The swing axles of the 550 were replaced with a low-pivot design which helped make the handling more predictable.
The 550A cars lived up to Porsche's hopes for them. On their first outing in a 1,000 km race at Nurburgring the 550A cars delivered a first and second class win with fourth and sixth overall. But they were to improve on that already impressive result in the almost 450 mile Targa Florio in which a 550A driven by Umberto Maglioli won the event outright, and he managed this despite the fact that he was up against some rather more powerful competition.
To earn his victory Maglioli drove the entire 720 km course himself, only stopping for fuel. He covered the distance in seven hours, fifty four minutes and fifty two seconds.
The star event of 1956 was the 24 Hours Le Mans which was run in some of the worst weather conditions in the history of the event. The conditions were so bad that only fourteen of the race's forty nine entrants achieved an official finish: and Porsche's 550A entrants were not only among those fourteen, but they won the 1.5-liter Sportscar class and gained a fifth overall place and second in the Index of Performance with an average speed of 98 mph.
The 1956 Porsche 550A Coming up for Sale by RM Sotheby's
This car is chassis #550A-0104 and it is the sole surviving example of Wilhelm Hild and Erwin Komenda's streamlined 'fastback roof' design for the Porsche 550A.
Chassis #550A-0104 was the car that won the first in class victory and fifth overall at the 1956 24 Hours Le Mans Porsche Werks factory entry with drivers Richard von Frankenberg and Wolfgang Graf Berghe von Trips. A victory that served to make Porsche a household name.
Having earned for herself a race-winning reputation in what is probably the most challenging motor sport contest in history chassis #550A-0104 was sold to American John "The Kingfish" Edgar who ran her at Palm Springs on November 4th 1956, the car being driven by Pete Lovely. Following on from that excursion chassis #550A-0104 was taken racing by none other than Ken Miles and Jean-Pierre Kunstle at the 1957 12 Hours of Sebring, in which they managed a second in class and ninth overall.
Jean-Pierre Kunstle liked the car so much he bought it and campaigned it until the summer of 1958 when he sold her on to George Keck of Seattle, Washington after she suffered a transport accident. Keck had a new low-slung aluminum body from Nate Borgeault fitted and did extensive mechanical work.
The car was then sold to Tad Davies who campaigned her in the SCCA's Pacific Northwest Region's F-Modified class until late 1962.
chassis #550A-0104 was sold again in late 1962 to S.K. Smith of Medford, Oregon. He decided to do some "upgrading" of the old girl which included installing a Chevrolet Corvair engine mated to a Porsche 356 transmission.
Racing cars can tend to get damaged from time to time, the old saying "if you're not touching you're not racing" comes into play and sometimes the result of the touching requires major repairs.
The aluminium body was stripped off the car and a shiny new fibreglass one installed.
Several owners later Porsche aficionado Julio Palmaz tracked down chassis #550A-0104 and bought it with the intention of doing a thorough restoration back to her original glory.
In Palmaz collection was 1956 Targa Florio-winning 550A Prototype, chassis 550A-0101, and Palmaz had his own in-house workshop in which to undertake the faithful restoration of chassis #550A-0104. So with 550A-0101 as a reference example chassis #550A-0104 was rebuilt to be just as she was when she took her original shape back in Stuttgart in 1956.
This then is the car that is coming up for sale by RM Sotheby's at Monterey on 19 August 2023 – You can find the sale page here.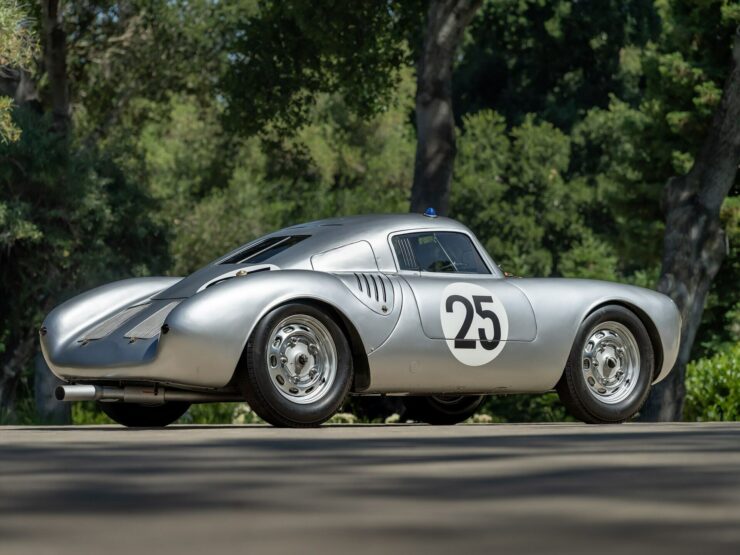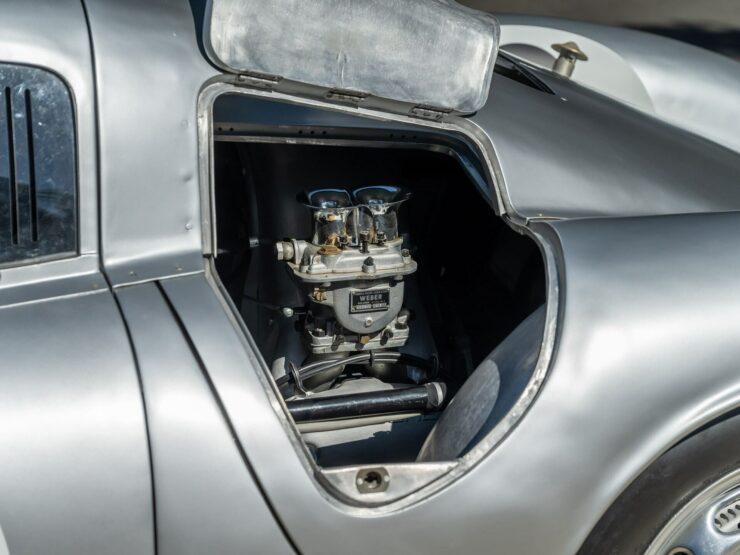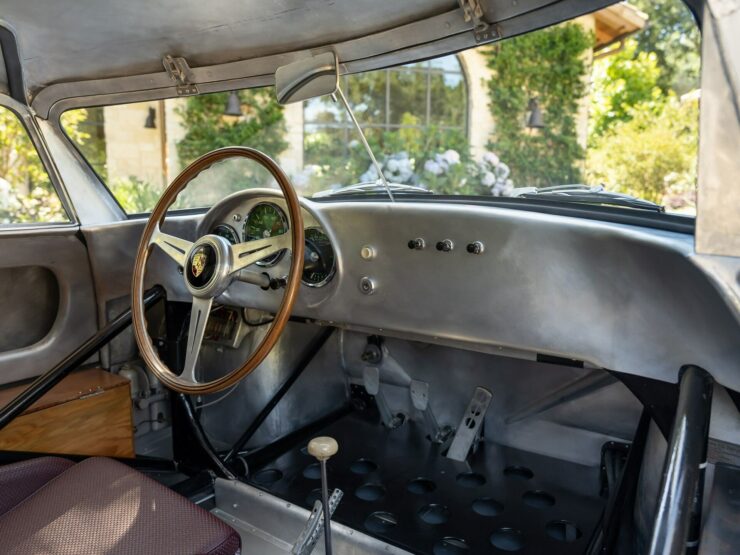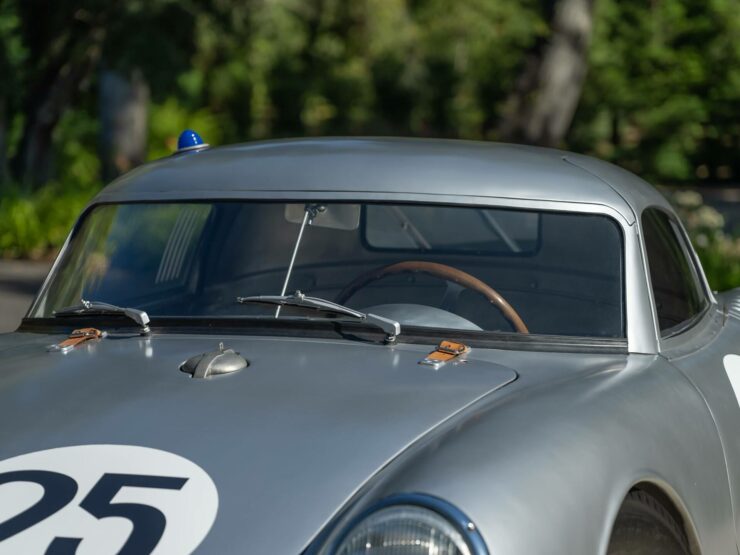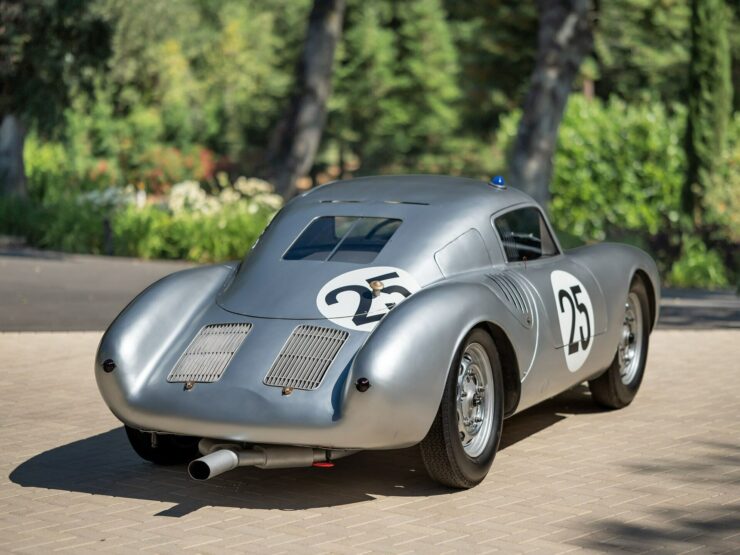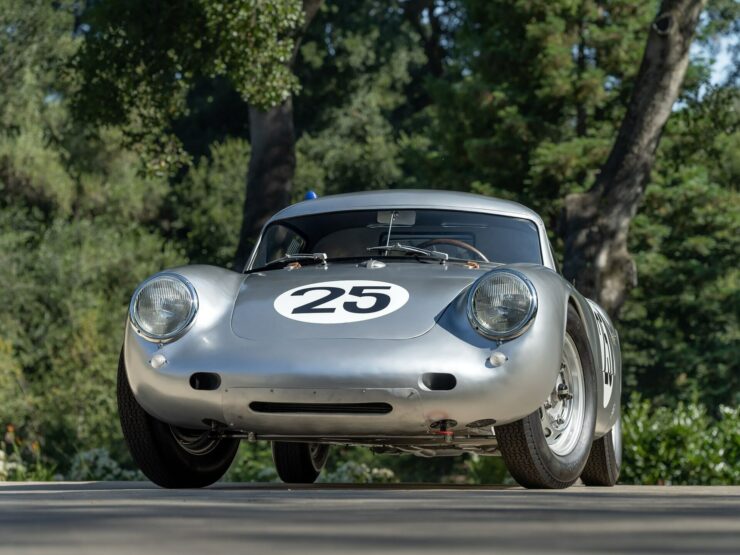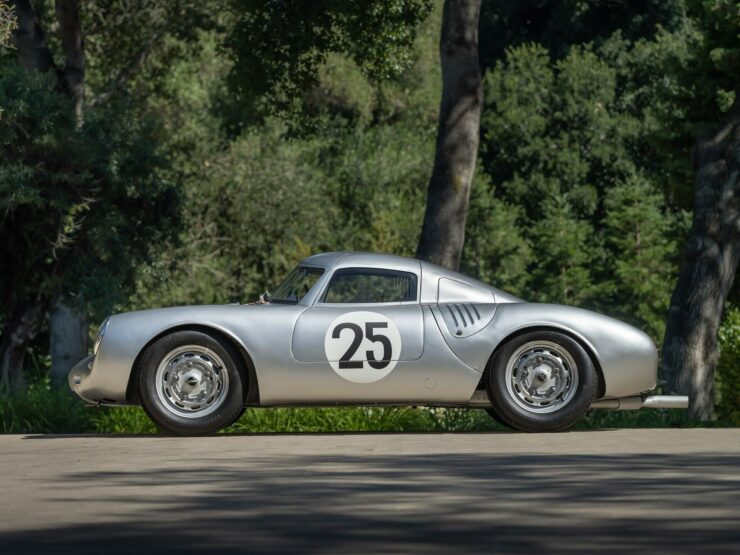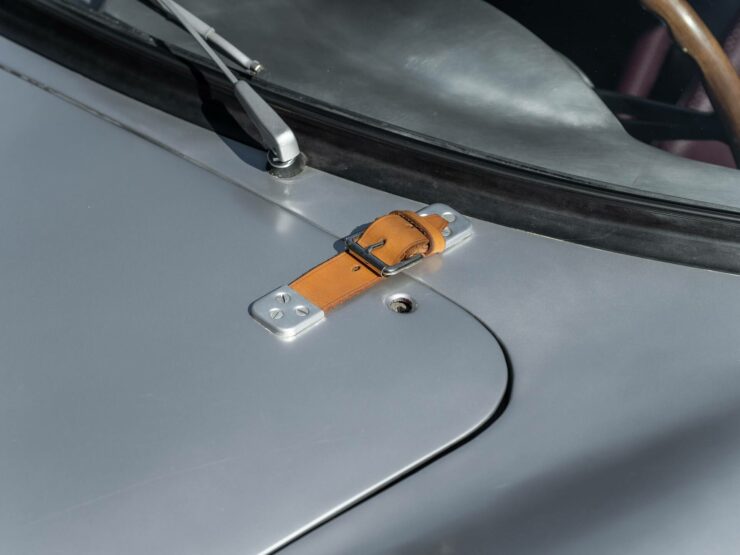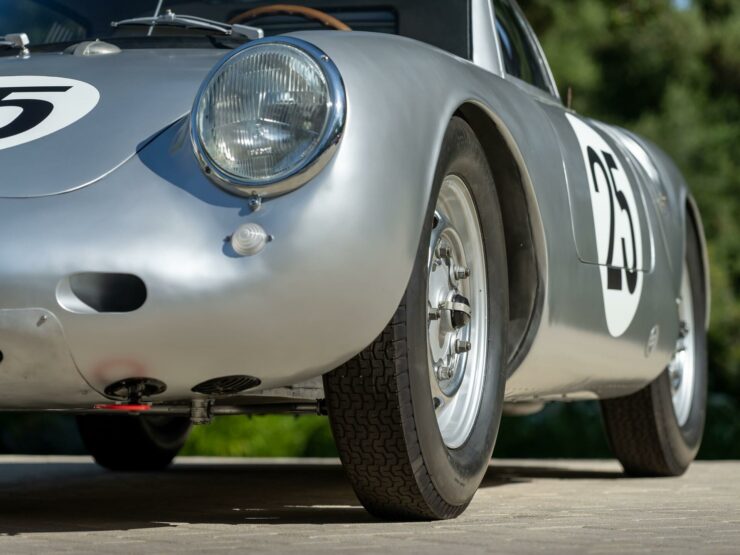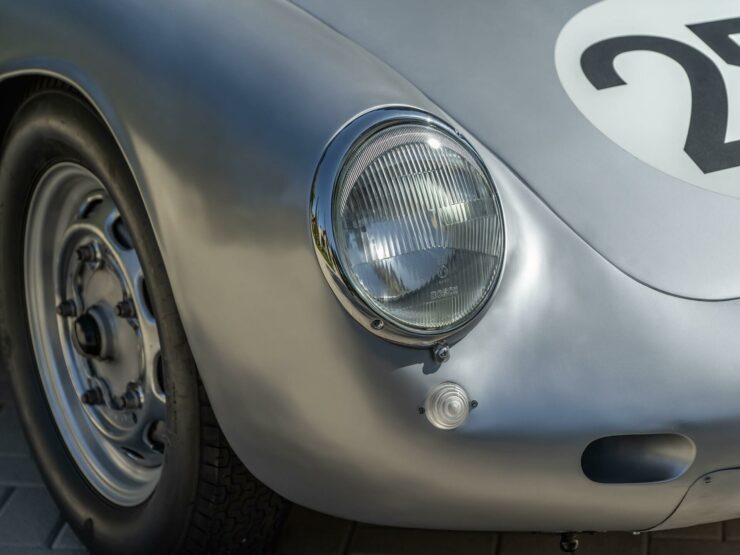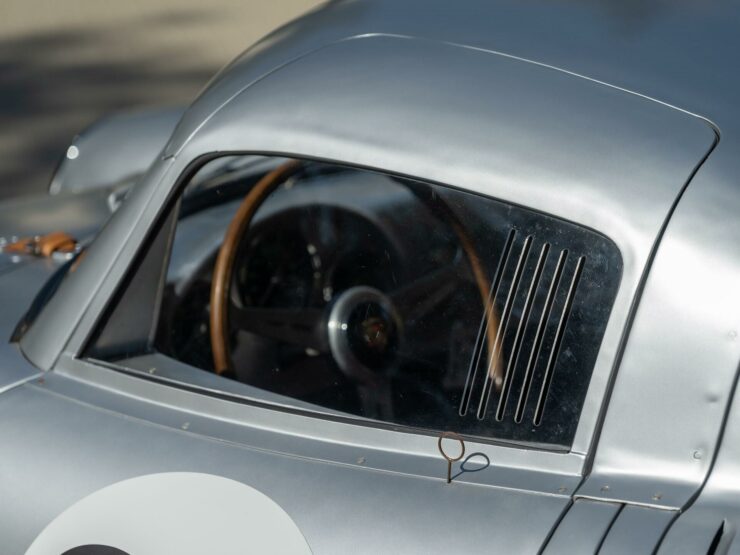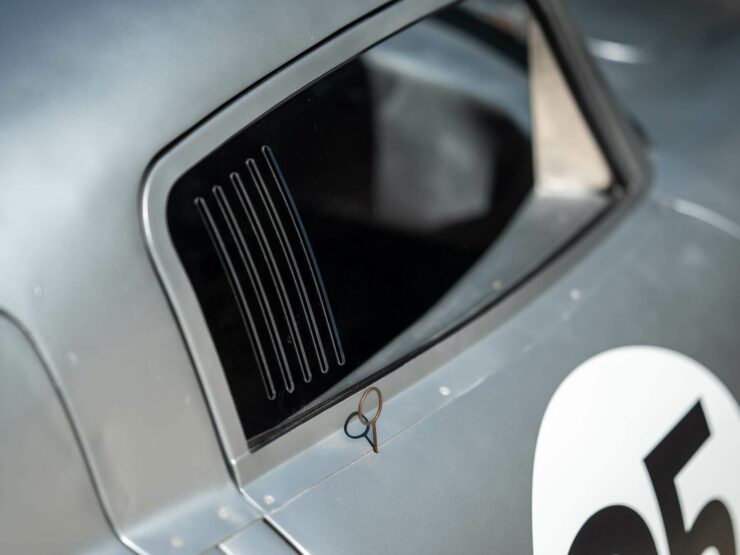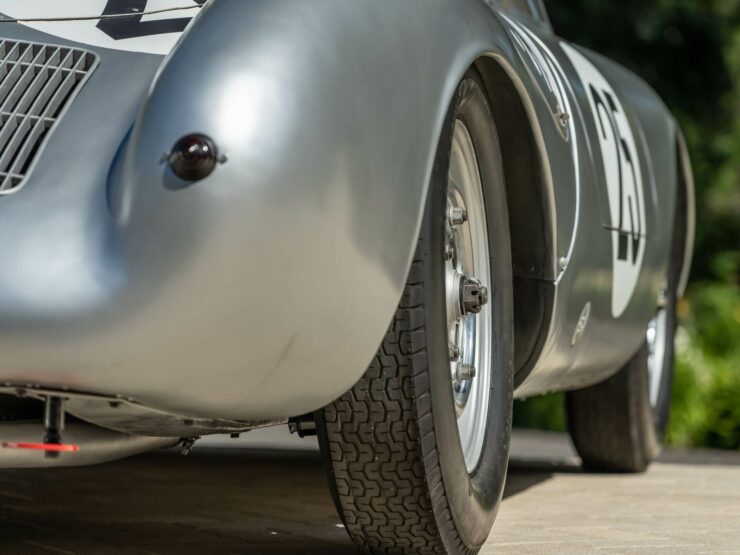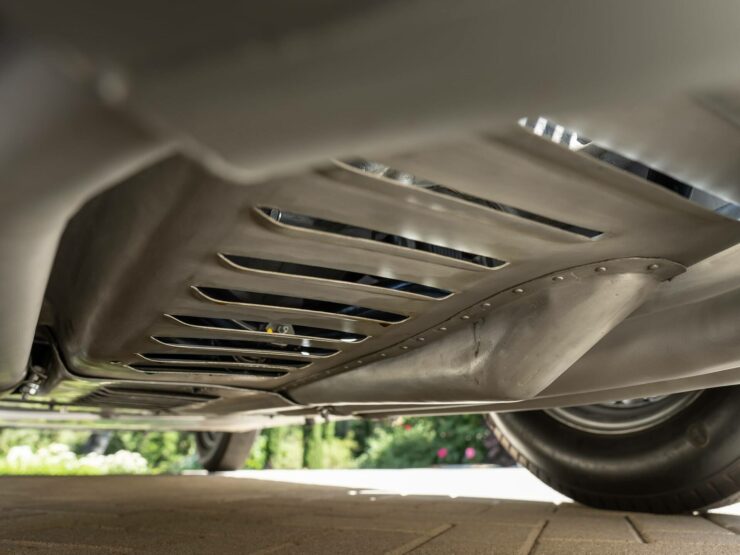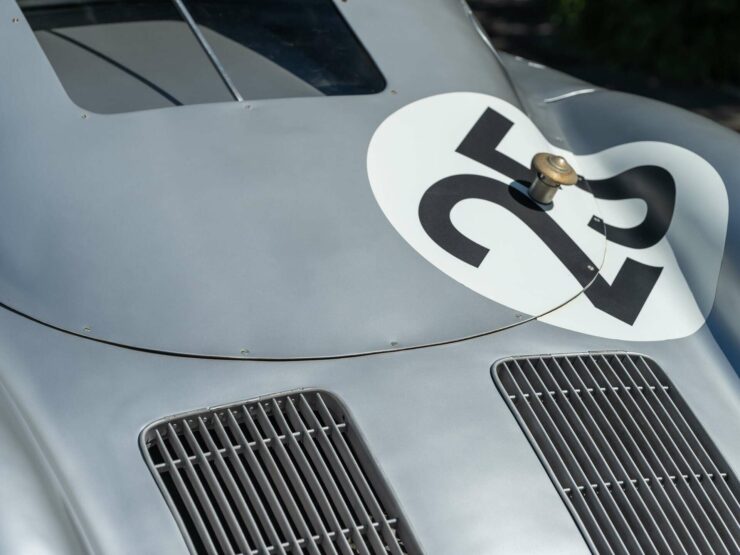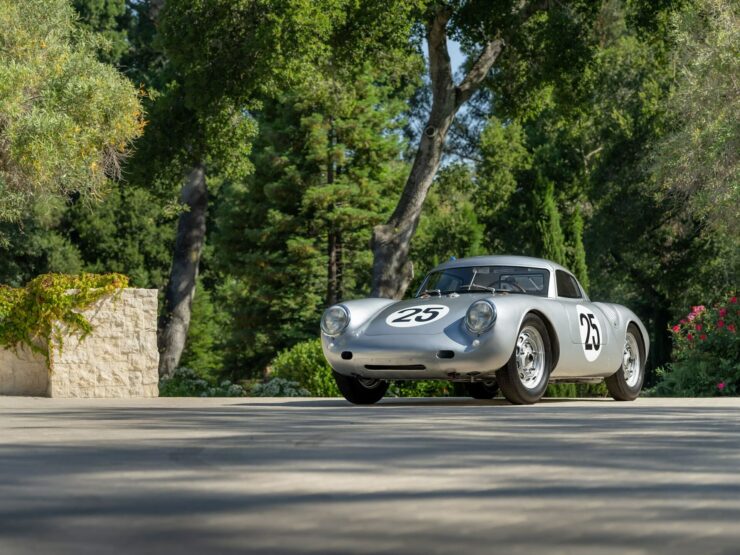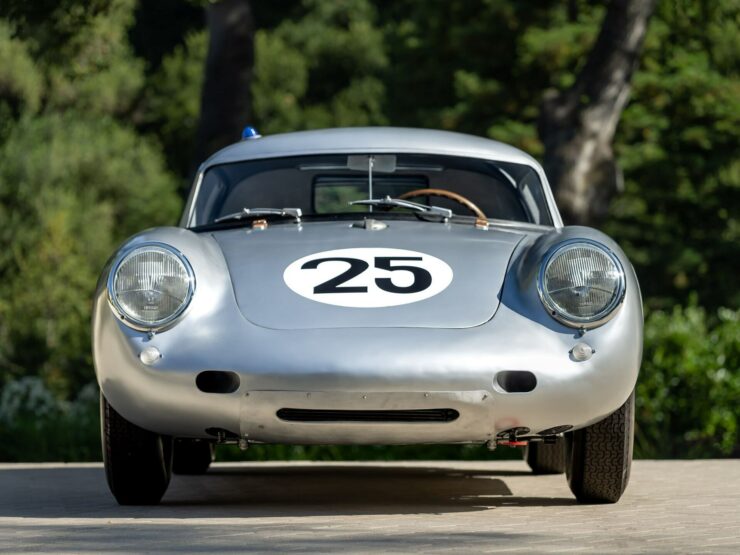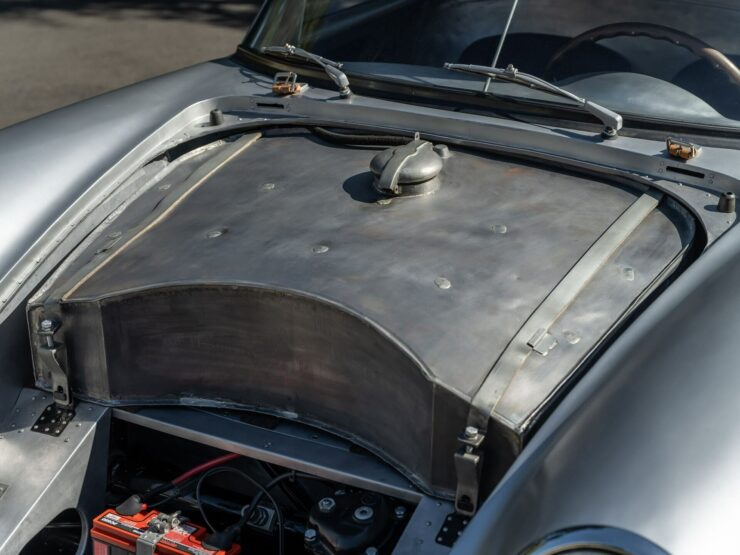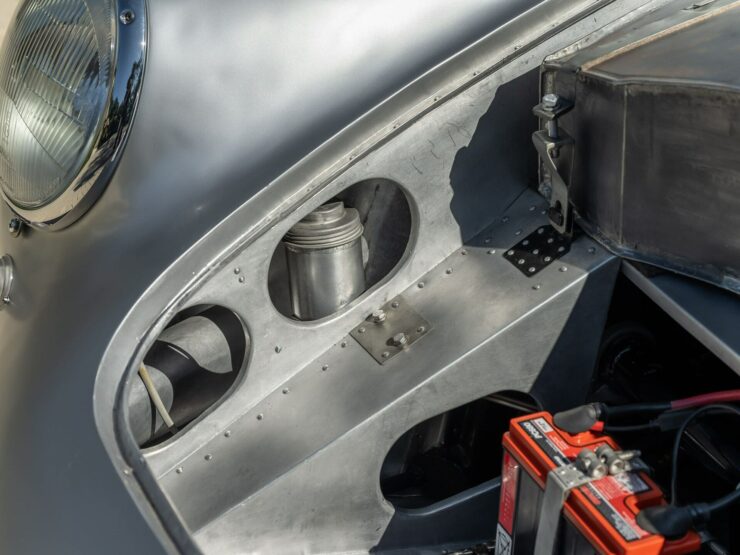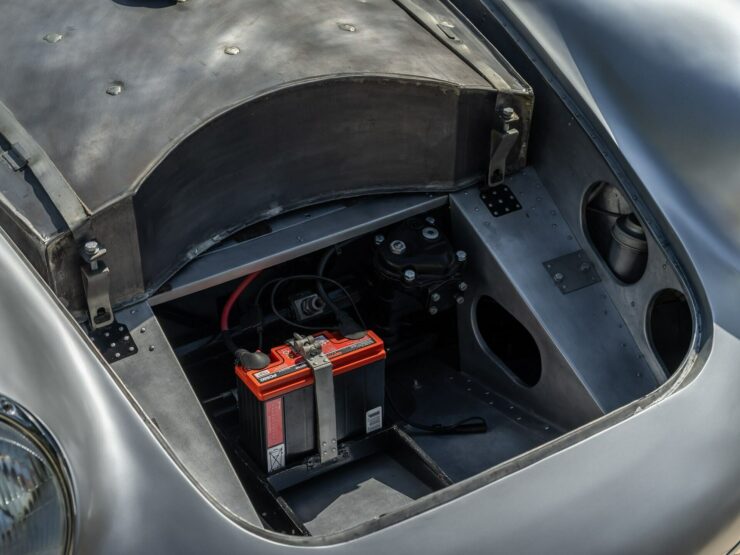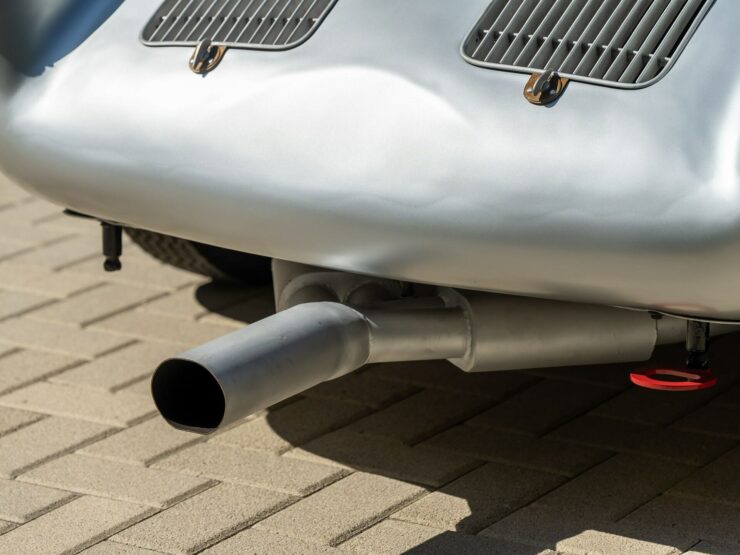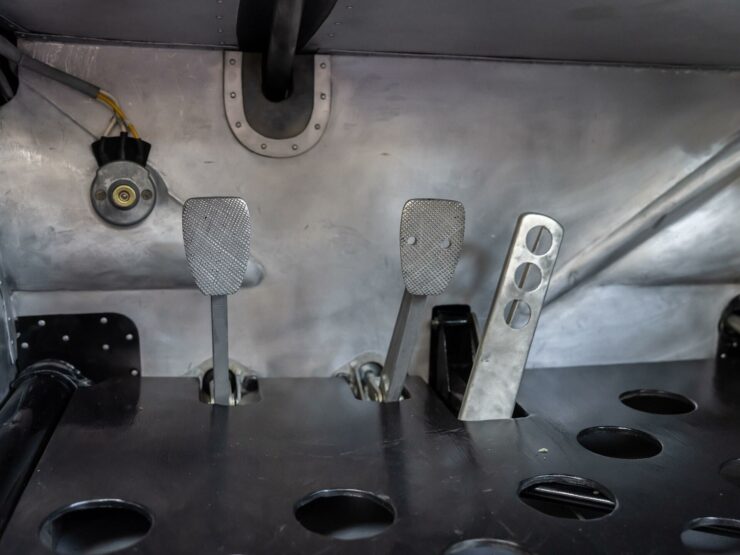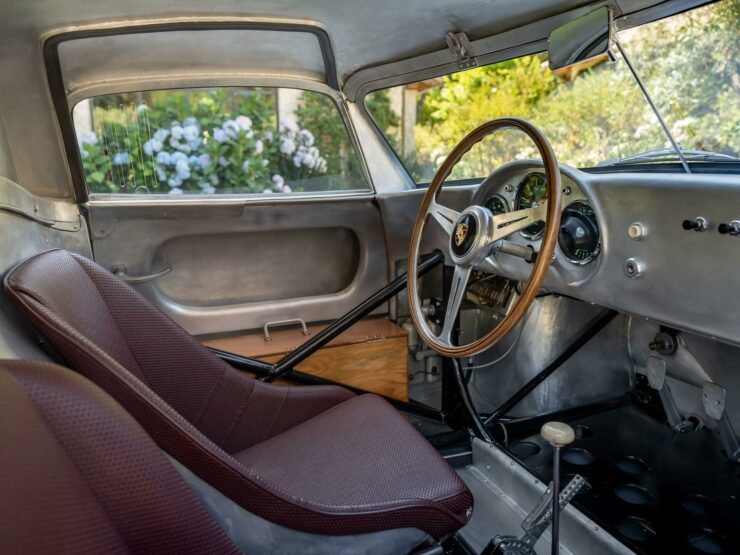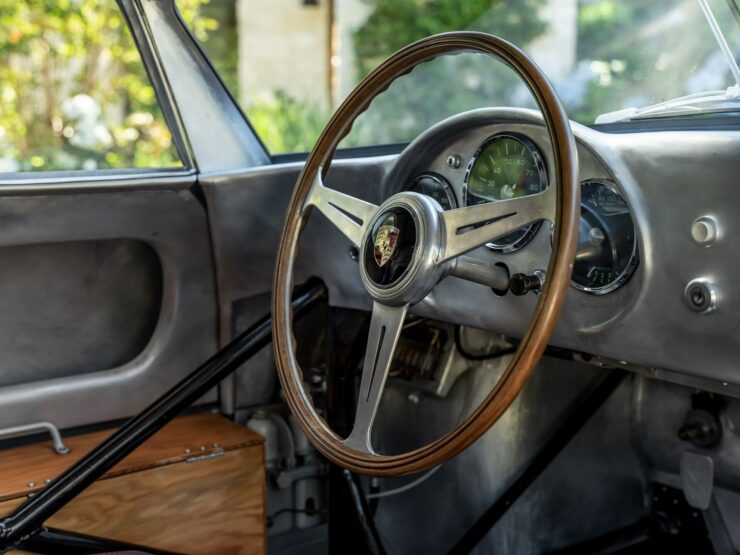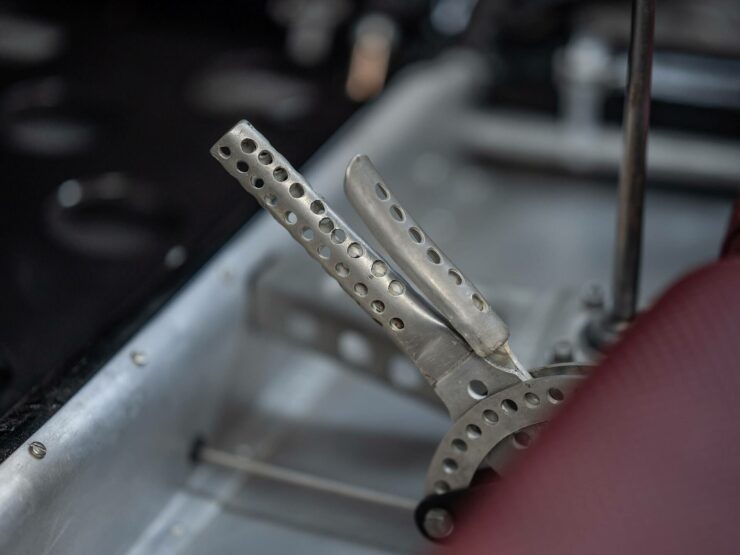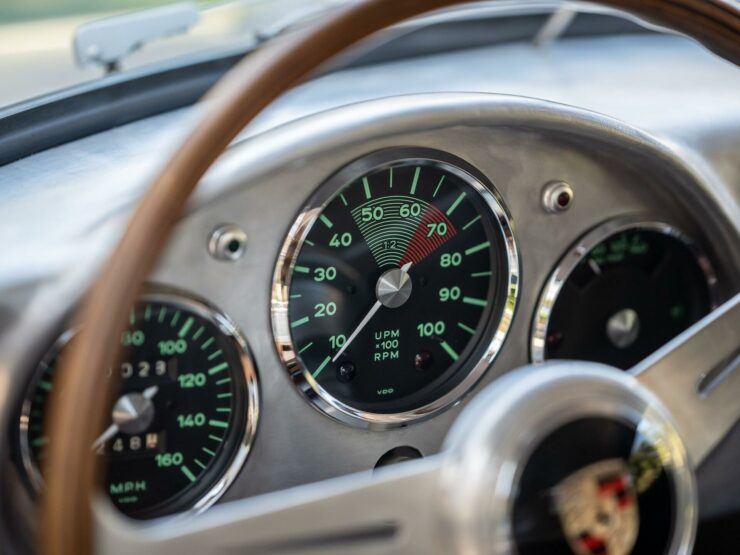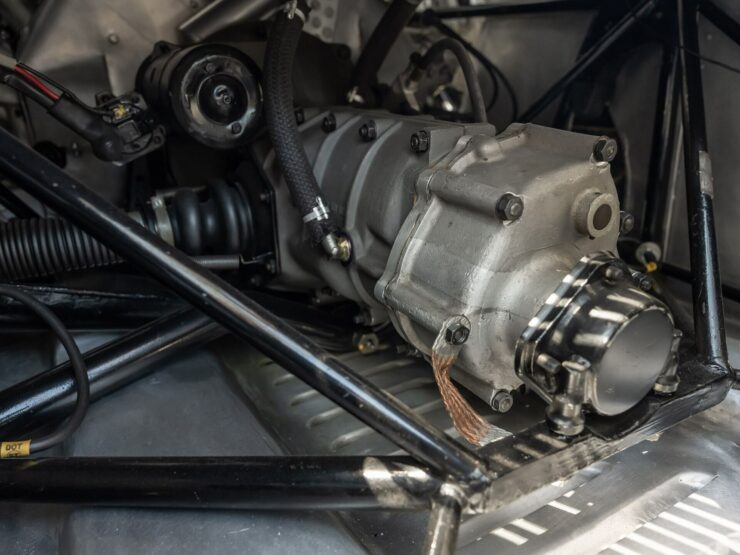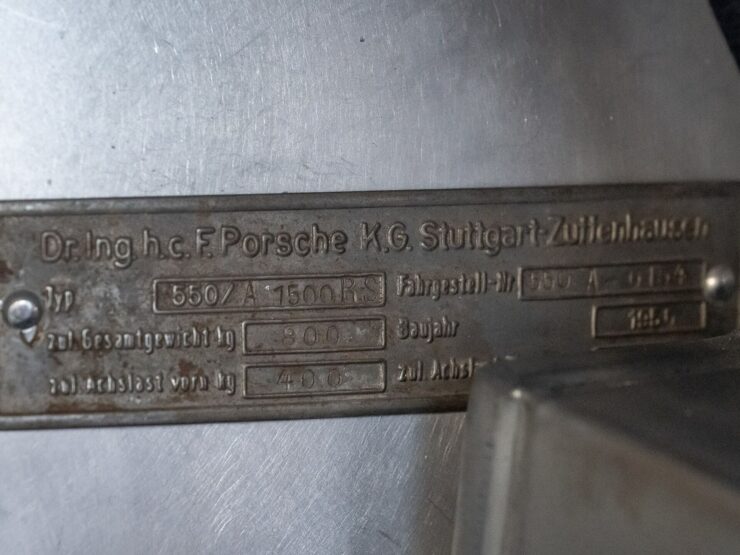 Picture Credits: Pictures courtesy Robin Adams ©2023 Courtesy of RM Sotheby's, Revs Institute, George Phillips, The Klemantaski Collection, Corsaresearch,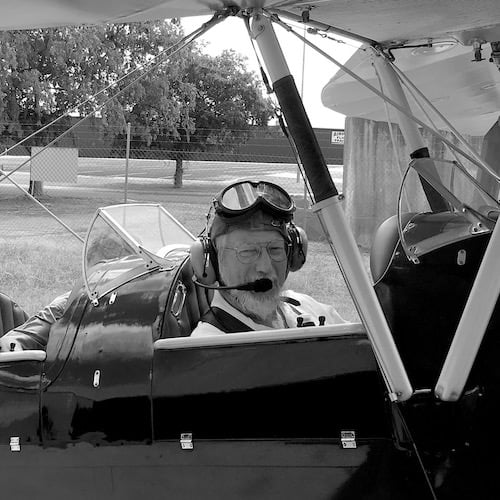 Jon Branch has written countless official automobile Buying Guides for eBay Motors over the years, he's also written for Hagerty, he's a long time contributor to Silodrome and the official SSAA Magazine, and he's the founder and senior editor of Revivaler.
Jon has done radio, television, magazine, and newspaper interviews on various issues, and has traveled extensively, having lived in Britain, Australia, China, and Hong Kong. The fastest thing he's ever driven was a Bolwell Nagari, the slowest was a Caterpillar D9, and the most challenging was a 1950's MAN semi-trailer with unexpected brake failure.