1978 Toyota Land Cruiser HJ45 Long Bed Pick-Up Truck
Reading time: about 3 minutes.
In 1973 the Toyota Land Cruiser HJ45 was released, it was a 3.6 litre diesel version of the Japanese 4×4, with a long wheelbase chassis. Toyota released three major wheelbases on their original Land Cruisers, the J40, the J43, and the J45 – the latter of which proved exceedingly popular with farmers due to its load carrying capacity and its bulletproof drivetrain.
The Toyota Land Cruiser HJ45
The core design of the Toyota Land Cruiser had a remarkably long production life, they first rolled out of Japanese factories in 1960 and they remained in production until 2001. After the Japanese stopped building them in 1984, the tooling and rights were sold to a Brazilian company who continued producing them for an additional 17 years.
In many parts of South America, the Toyota J-series Land Cruiser is still a ubiquitous off-roader, particularly in rural and remote areas. The styling of the J-series still carried many of the hallmarks of the Jeeps that it was based on, and the similarities were more than skin deep.
During the Second World War soldiers of the Imperial Japanese Army found an American Jeep in the Philippines and sent it back to Japan to be studied. The usefulness of such a car was clearly apparent, so Toyota was commissioned to make a Japanese version of the Jeep called the Model AK.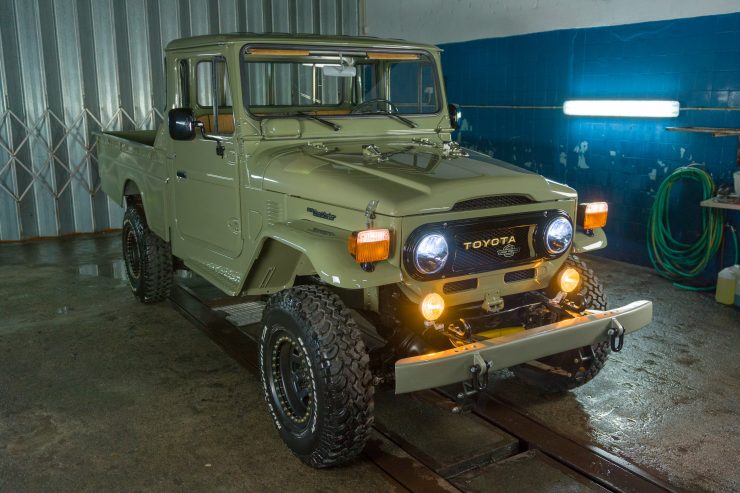 By 1973, the J-series Land Cruisers were a confirmed success. They were selling in large numbers and demand was strong, though demand for a diesel version had been growing. Toyota answered this with the 3.6 litre inline 6-cylinder diesel engine for the '73 model year.
The pre-exisiting petrol engines used in the Land Cruisers had earned a reputation for reliability, and the diesel engine would be no different. Although the 3.6 litre version only produced 90 hp, it made 151 ft lbs of torque – and that torque figure was far more important for farm and industrial use.
This 1978 Toyota Land Cruiser HJ45 Long Bed Pick-Up Truck
The HJ45 you see here is a fresh restoration from the talented team at Legacy Overland – a company that has earned a global reputation for their stunningly detailed rebuilds of classic 4x4s.
This restoration started in 2017, with an all-original 1978 Toyota Land Cruiser HJ45 Long Bed Pick-Up Truck. As with all Legacy Overland restorations, this one began with a complete disassembly and a thorough inspection.
The chassis and body was media blasted back to bare metal and repainted with modern paint, and every mechanical element was restored to better-than-new condition. The original suspension was significantly upgraded with Old Man Emu suspension components, a 2 inch lift for better off-road ability, Daytona Beadlock steel wheels were fitted and paired with BF Goodrich Mud-Terrain T/A tires on all four corners.
Inside the passenger cabin the original spartan interior was removed and replaced with a far more livable arrangement including full-grain natural saddle leather seats, door trims, and dash (upper and lower), and bespoke black carpeting throughout.
The original headlights were swapped out for more reliable LED units, there's a high-lift jack on the righthand side in case you get stuck, and there's a solid steel front bumper with twin D-ring shackles designed to be used for recoveries.
If you'd like to read more about this HJ45 or enquire after ordering your own, you can click here to visit Legacy Overland.