Klim SOL Hybrid 3 Kit – A 3-In-1 Motorcyclist Survival/First Aid/Repair Kit
Reading time: about 2 minutes.
The Klim SOL Hybrid 3 Kit is essentially three kits in one: a survival kit, a first aid kit, and a repair kit.
Motorcyclists don't have the luxury of ample space to pack for potential disasters, but they still need to be prepared for them. Though you may not be traversing the Sahara or Gobi deserts on your bike it is always an excellent idea to have a good first aid kit with you.
When going further afield on motorcycle road trips, weekends out in the woods, or cross-continental adventures its absolutely essential you have a survival kit and some basic means of repairing gear with you – it can quite literally be the difference between life and death.
The Klim SOL Hybrid 3 Kit measures in at 7″ x 6″ x 2.5″ and it weighs in at 1 lb 4 oz (0.56 kilograms), making it easy to tuck into panniers and backpacks. Inside the kit you'll also find a small nylon bag allowing you to pack the kit (or parts of the kit) into a smaller package if you need to make your way out on foot.
Inside the kit you'll find the following:
Survival Kit
– A Fire Lite™ striker, waterproof and tested to produce over 5,000 sparks.
– Tinder Quik™ burns up to two minutes, even when wet.
– A SOL Survival Blanket reflects 90% of radiated body heat. Survival instructions printed directly on blanket.
– A 2 Watt LED headlamp that projects a bright, focused beam.
– A Mini Rescue Flash™ Signal Mirror.
– A 100dB Slim Rescue Howler™ pea-less whistle.
– A liquid filled button compass.
– Heavy duty aluminum foil.
First Aid Kit
– Sterile dressings, adhesive bandages, and gauze to handle a variety of wounds.
– Alcohol swabs.
– A cloth.
– Butterfly closures.
– A splinter pick/tick remover.
– EMT shears.
– 45 Safety pins.
– Ibuprofen (200 mg)
– Antihistamine (Diphenhydramine 25 mg)
– After Bite Wipes
– Moleskin burn treatment.
– Gloves, Nitrile.
– Povidone Iodine.
– Skin Tac Adhesive Wipes
– Triple Antibiotic Ointment
Repair Kit
– Duct tape – 2″ x 50″
– 4″ Cable ties.
– 8″ Cable ties.
– Zip ties.
– Braided nylon cord.
– Tape – 1/2″ x 10 yards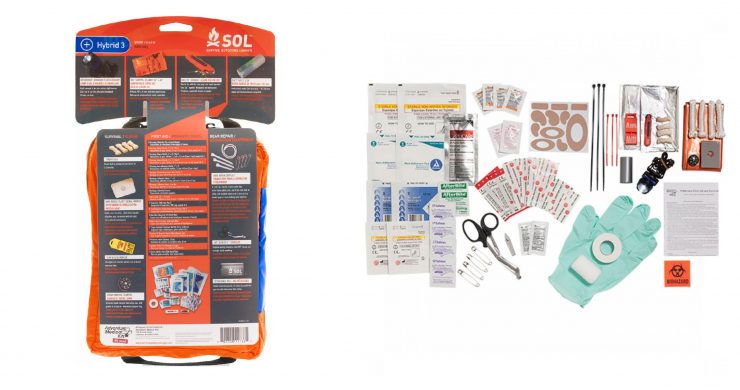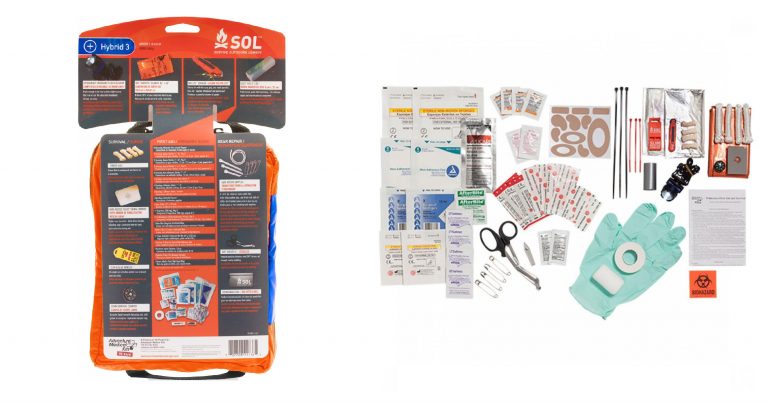 This article and its contents are protected by copyright, and may only be republished with a credit and link back to Silodrome.com - ©2020