Redonda Motors Harley-Davidson Ironhead
Reading time: about 3 minutes.
Redonda Motors and JP Barranca
Redonda Motors is a Portugese custom and racing motorcycle workshop run by JP Barranca, an engineer with a fascination for just about anything on two wheels. JP and his team have turned out custom Triumphs, Hondas, Ducatis, and Harleys over the years and their fledgling racing team fields a Suzuki GT 750cc in vintage competition.
The Harley-Davidson Ironhead Sportster
When JP decided to take on a 1985 Harley-Davidson Ironhead Sportster he knew he was taking on an entirely different beast to the European and Japanese motorcycles he'd build previously. As it happens, 1985 was the final year of the now legendary Ironhead engine before the Evolution engine made its appearance. The Evolution power unit was introduced with either an 883cc or 1100cc capacity, and it marked the end of the road for the Ironhead motor after a remarkable 28 year production run.
Today the Ironhead is remembered alongside the Knucklehead and Panhead as one of the most iconic engines to emanate from the Milwaukee factory of Harley-Davidson. It made its first appearance in 1957 and powered the Harley Sportster family of motorcycles through what was arguably their most iconic decades – the 1960s and 1970s.
Sportsters fitted with the Ironhead were proper carburetor fed American motorcycles with a lumpy engine note you can hear coming from a block and half away. The engines were mounted directly to the frame without any attempt at rubber bushings or vibration management, and if worst came to worst you could generally fix them by the side if the highway with hand tools, duct tape, and a big hammer.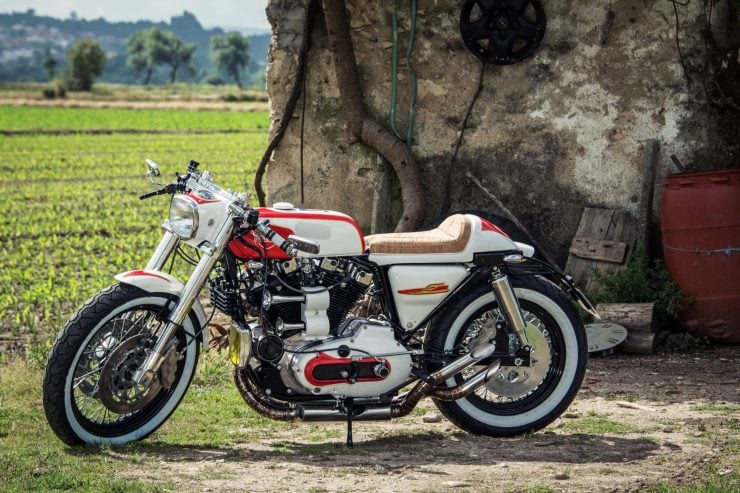 The Redonda Motors Ironhead Sportster
When the team at Redonda got their hands on the '85 Sportster they decided to turn it into an American cafe racer with a healthy dose of retro styling befitting its heritage.
In order to improve the bike's handling a new front end was sourced from a 1998 Suzuki GSXR and fitted courtesy of a new set of triple trees, the Suzuki hubs were laced to the original Harley rims to keep the same tire sizes. The upside down Suzuki forks and dual discs were paired with a new set of Koni Racing shock absorbers on the rear with a new 4-piston Konico caliper.
The team at Redonda decided that the original 1000cc V-twin already produced more than enough torque, so they aimed to improve reliability rather than increase power. A new S&S carburetor was fitted along with a new digital ignition and a Dyna coil.
Perhaps the most time consuming part of the build was the new 2-into-2 exhaust, it was welded up in-house from stainless steel. The exhaust curves down from the right side under the engine into the muffler, and from there up to the left side into a pair of matching slash-cut tips.
Upfront a new headlight was sourced from a Honda Dream, it suits the Harley better than the stock unit and has the advantage of an integrated speedometer. A set of clip-on handlebars were also fitted, with bar-end mirrors, and a set of dual airhorns were installed to the left side of the engine – just to make sure other road users can be alerted to your presence if needs be.
To finish the bike off it was decided to paint it in a classic American combination of metal flake candy apple red and white, with retro accents on the headlight, fenders, fuel tank, primary cover, and seat cowl.
If you'd like to see more from Redonda Motors you can visit their website here – their Facebook here – their Instagram here – their Twitter here – or their Pinterest here.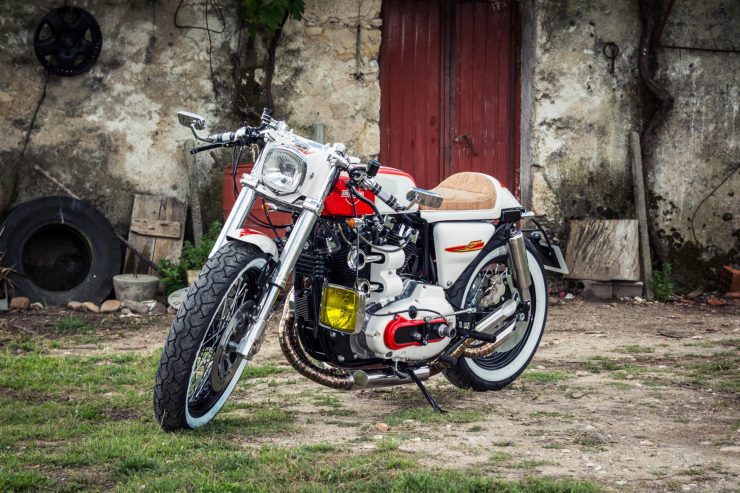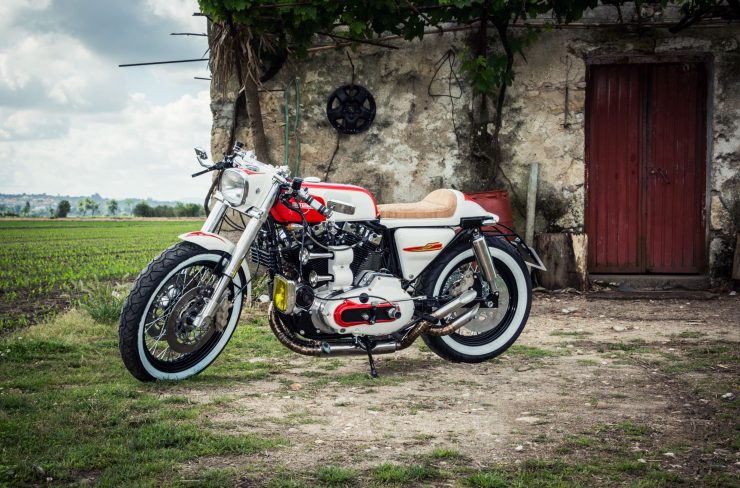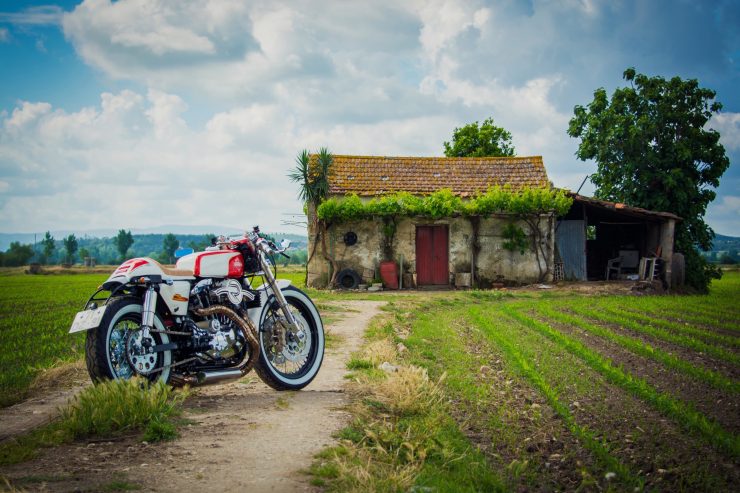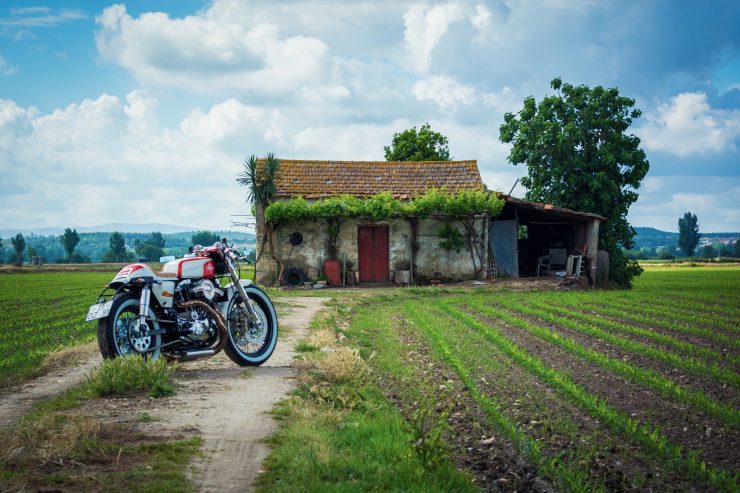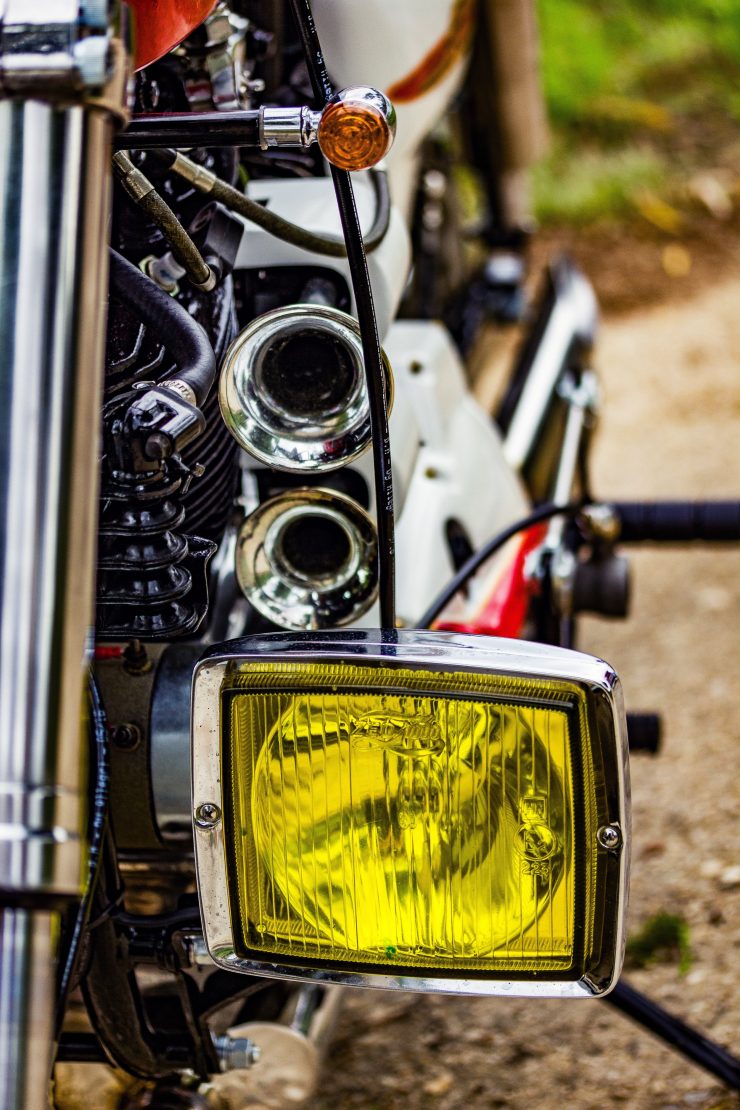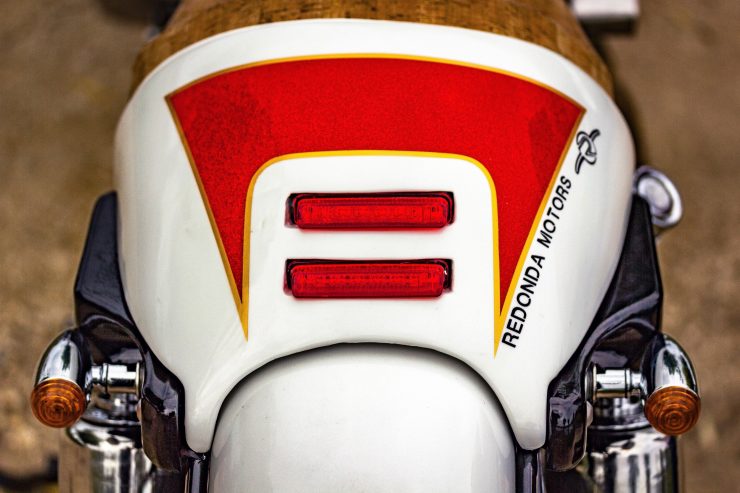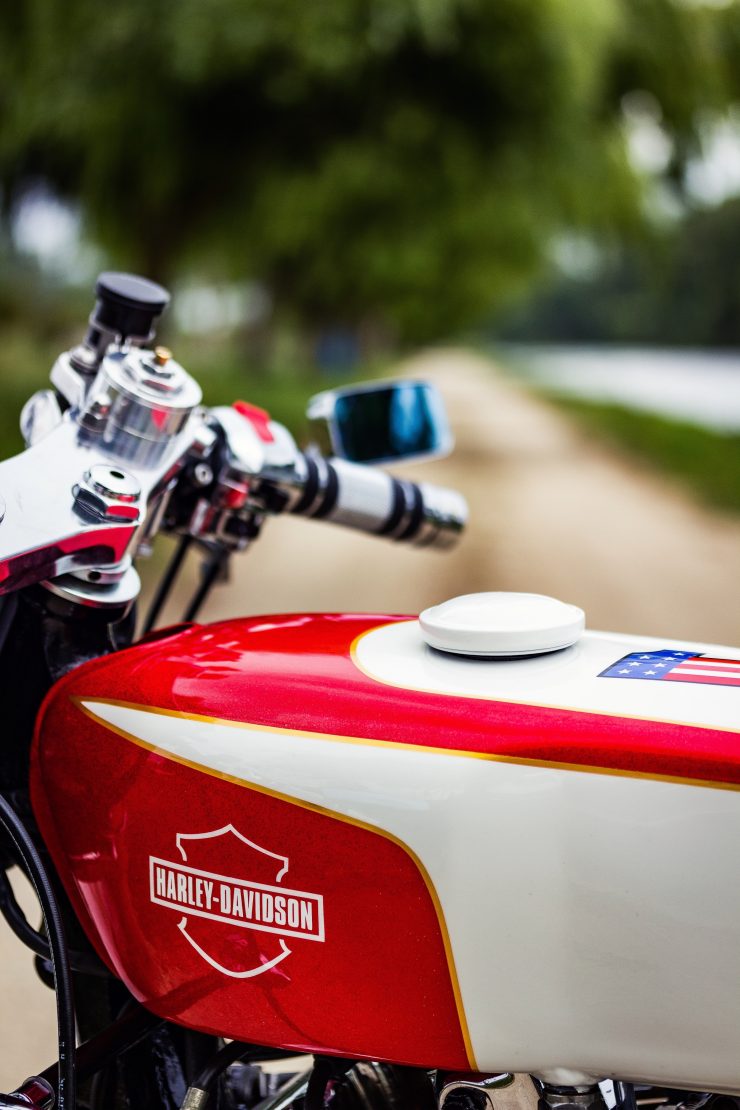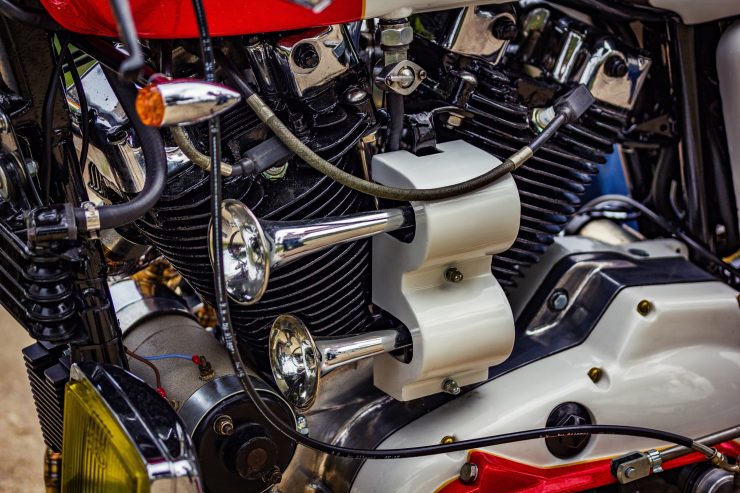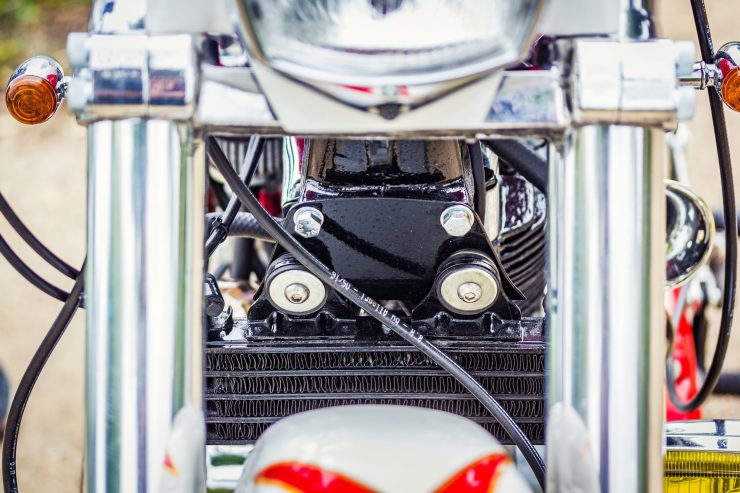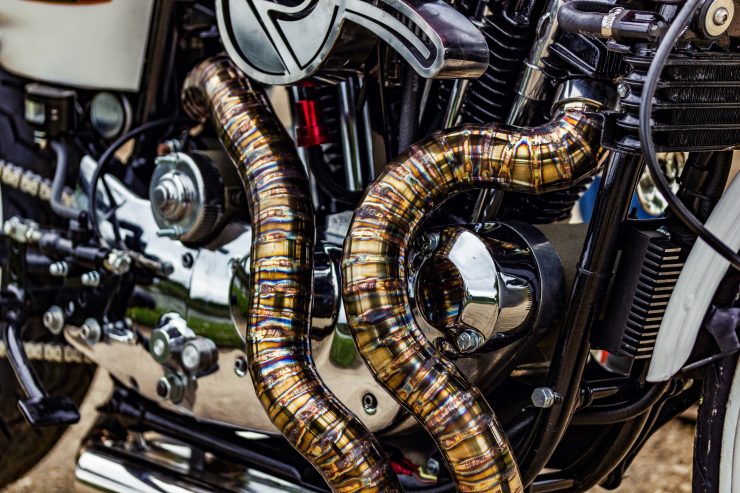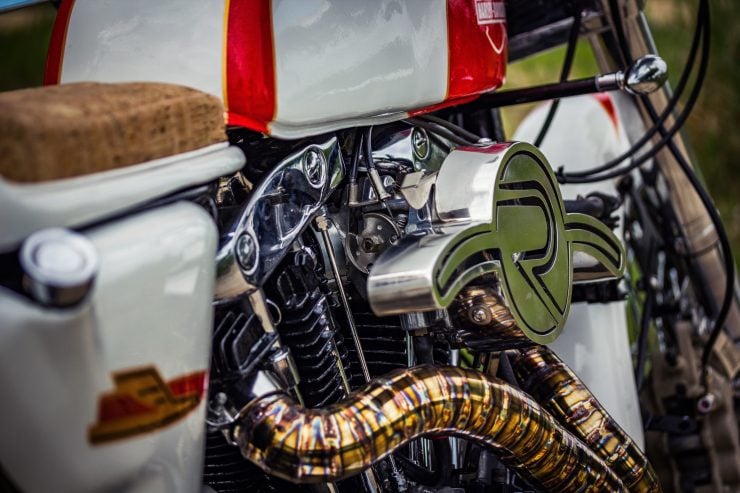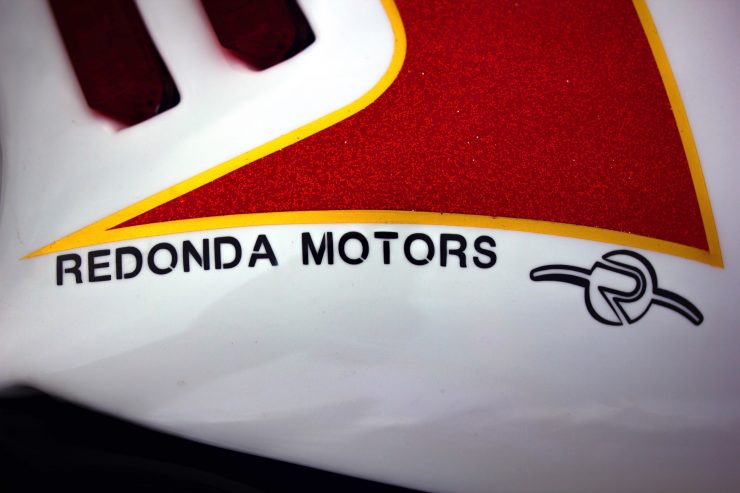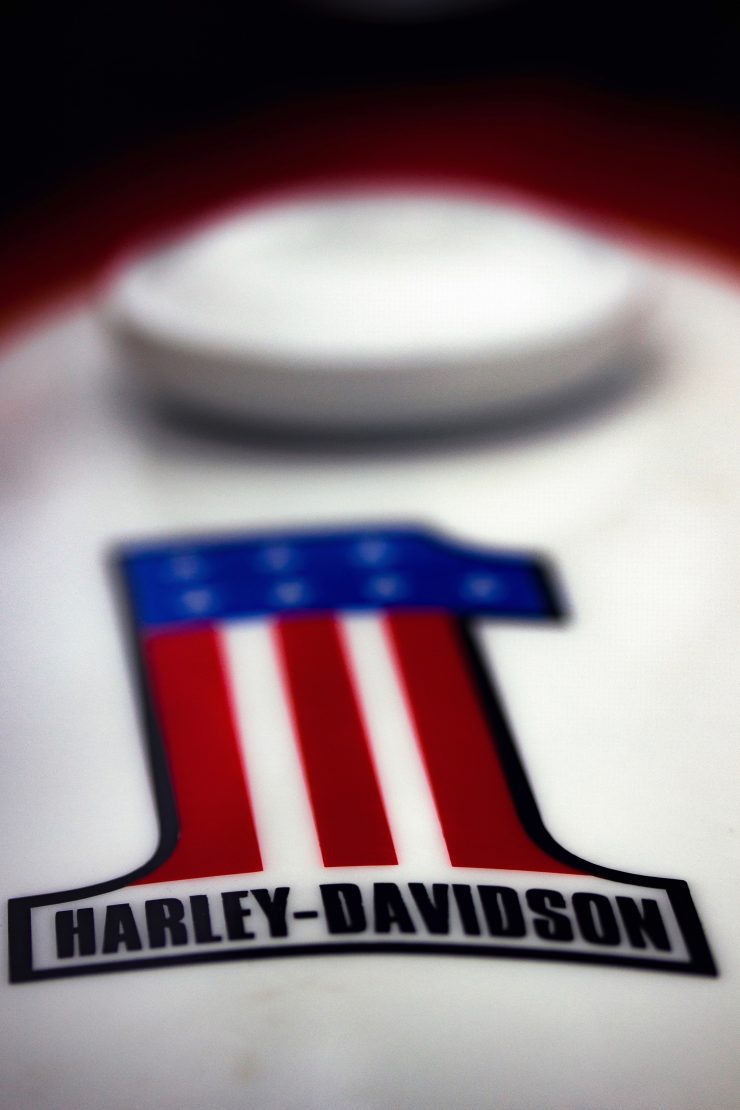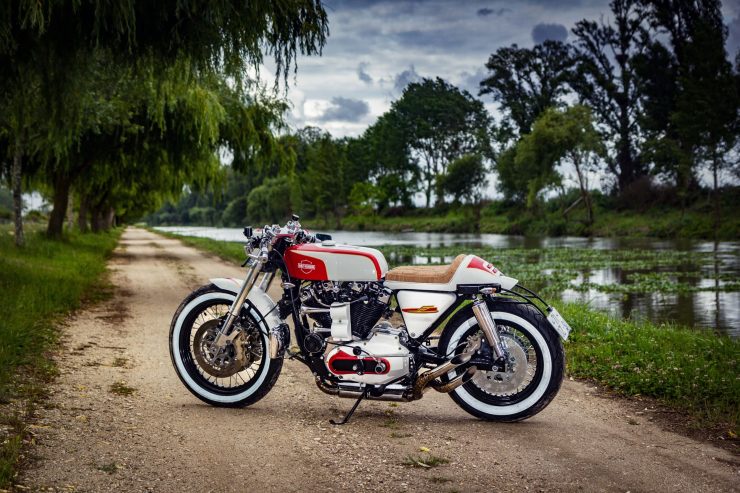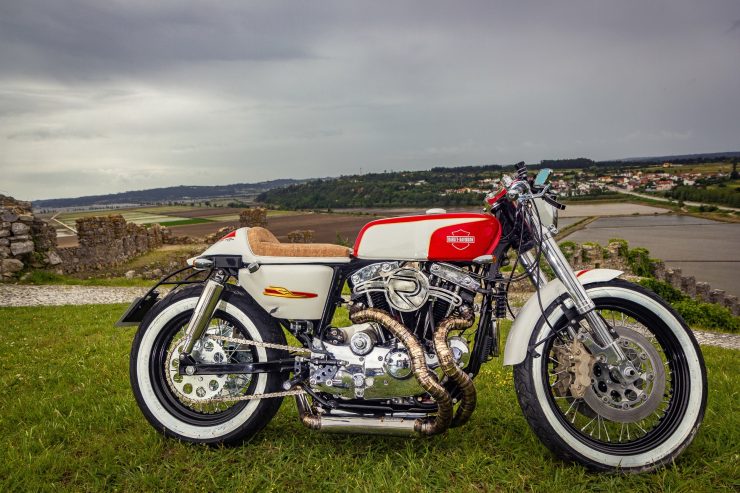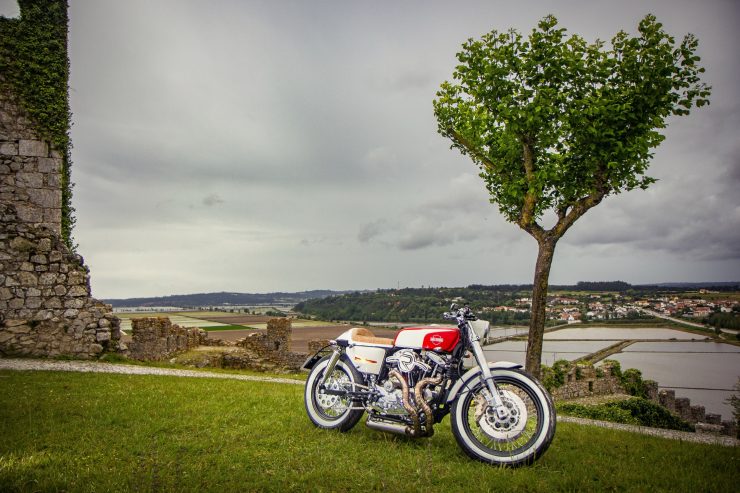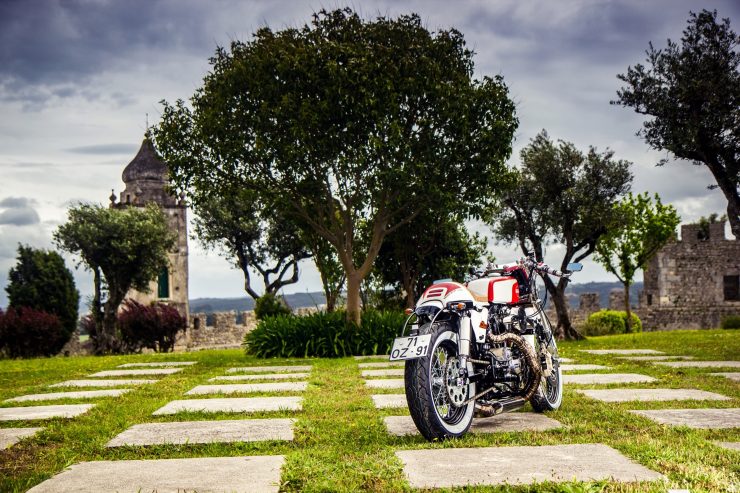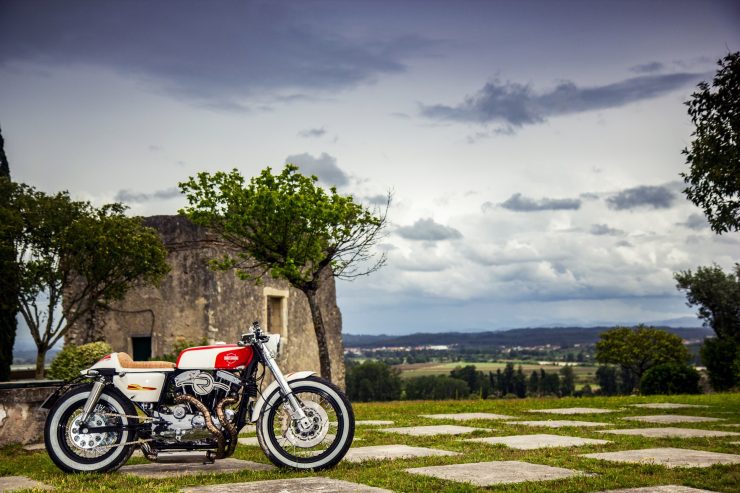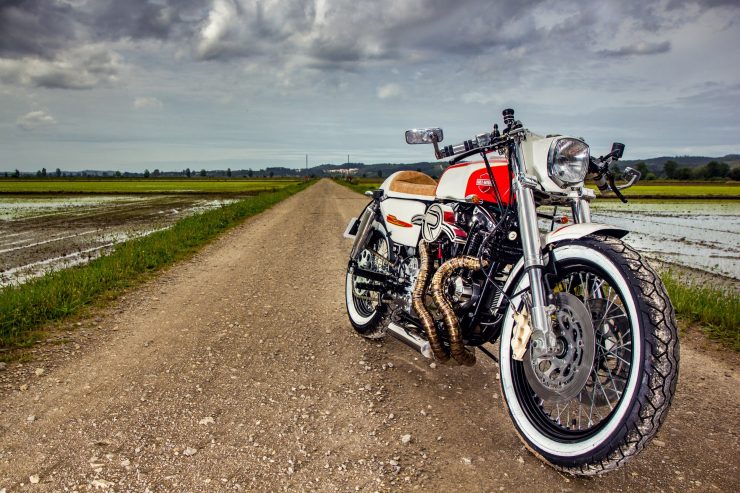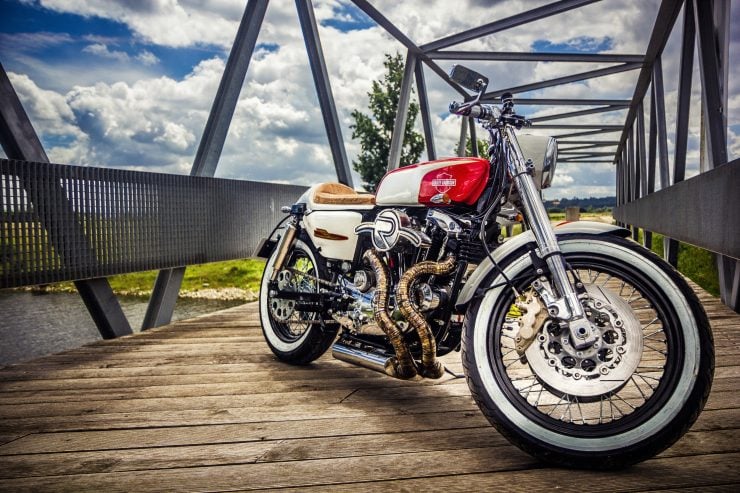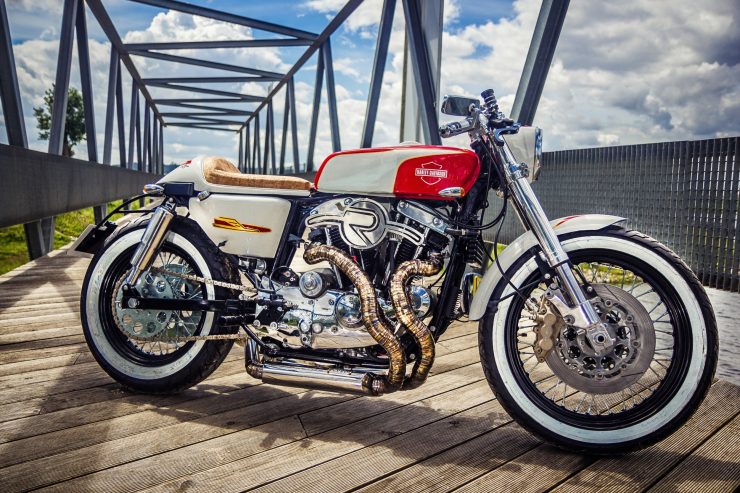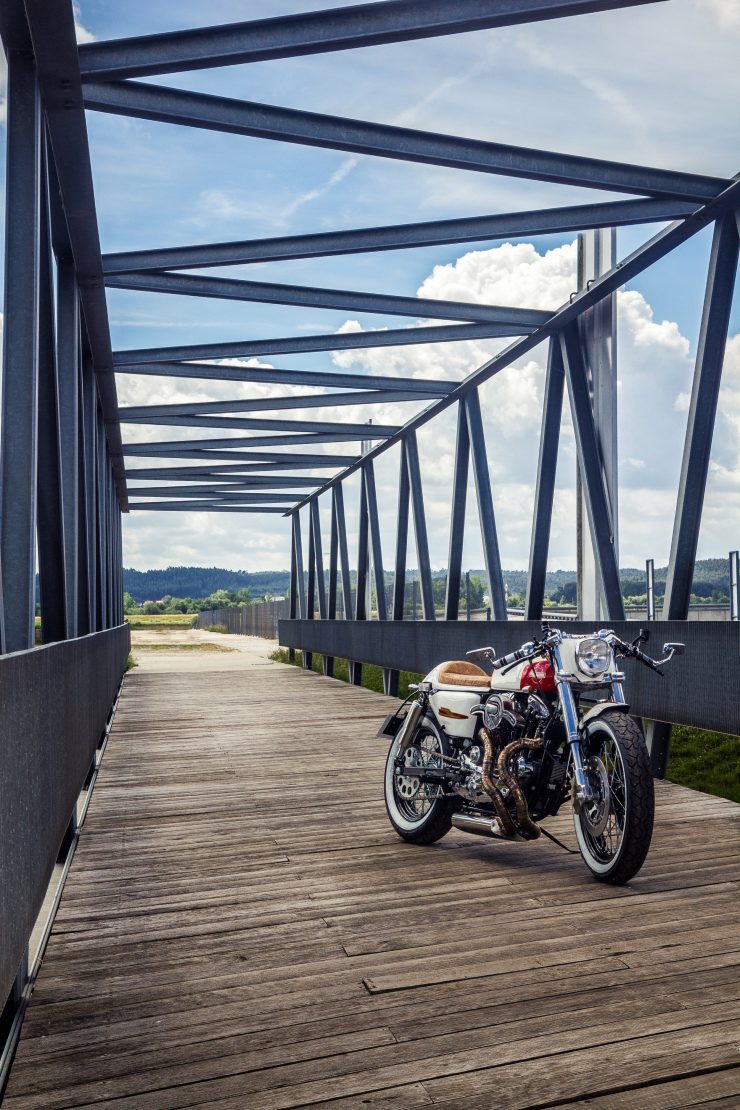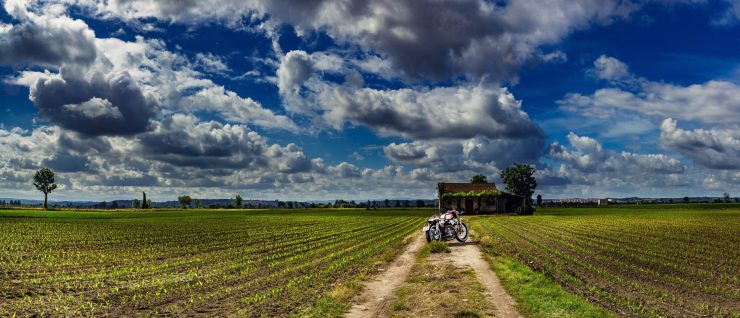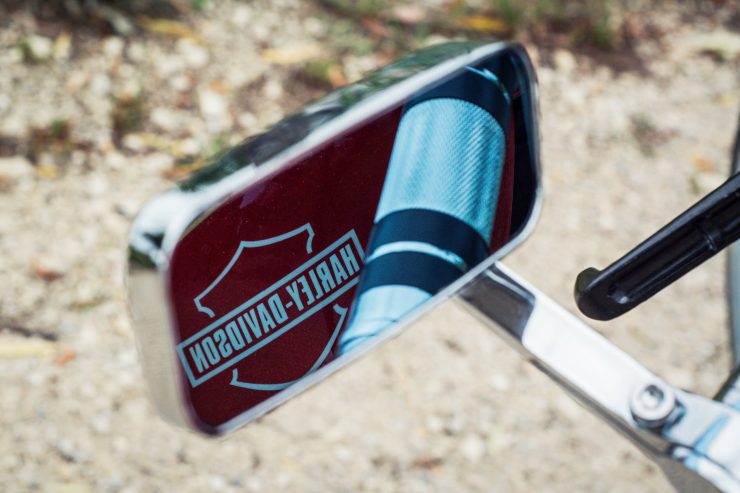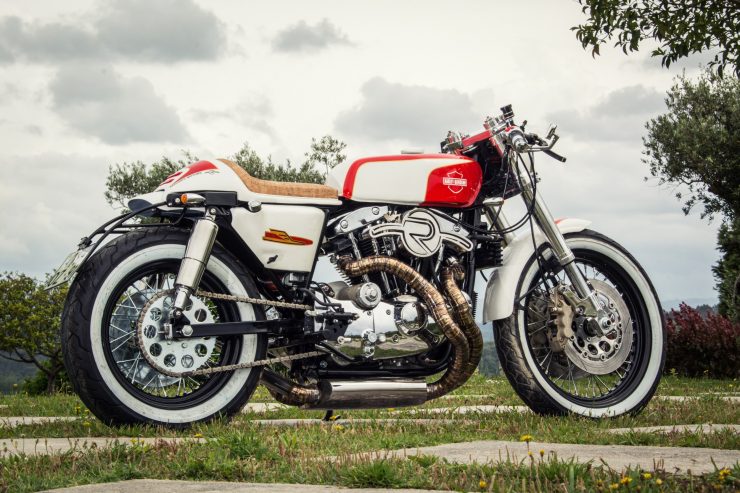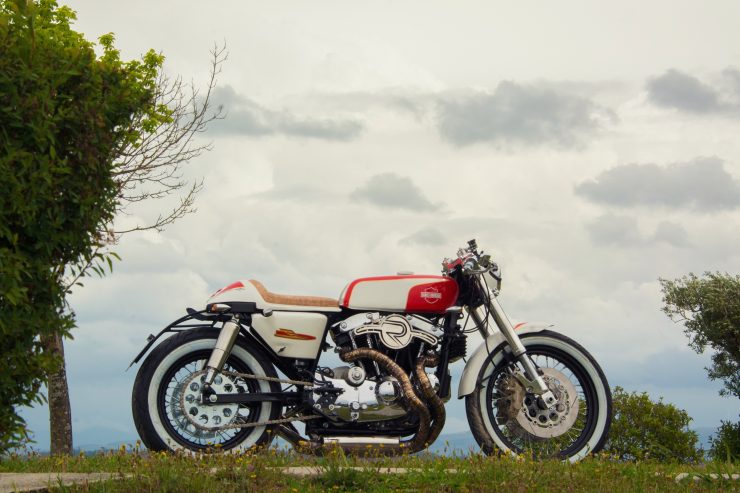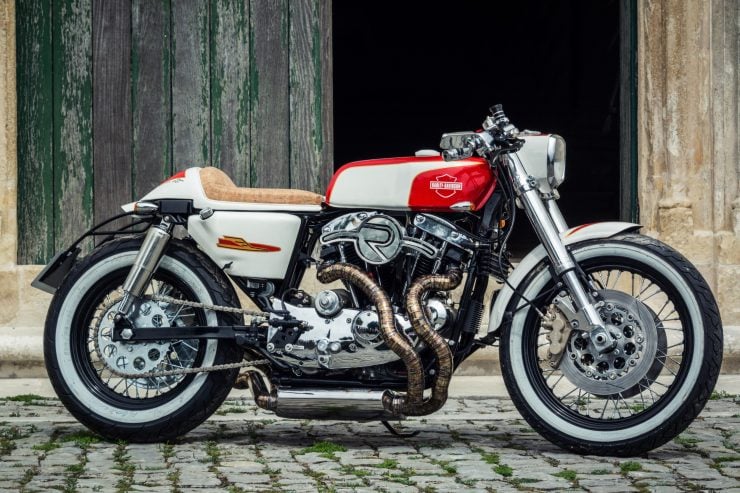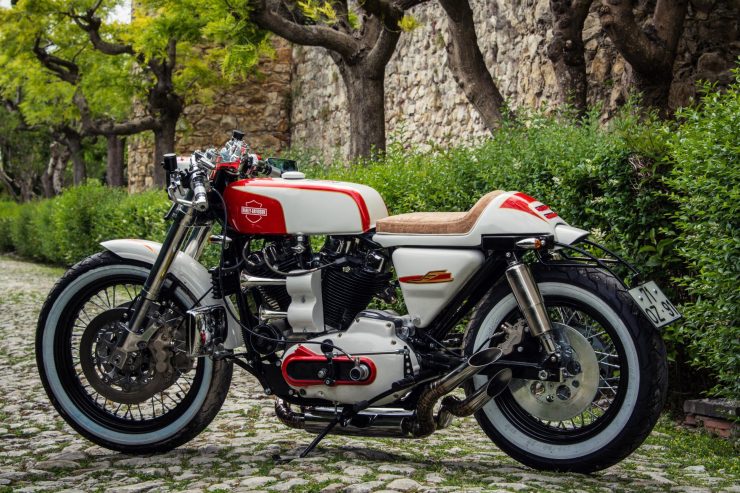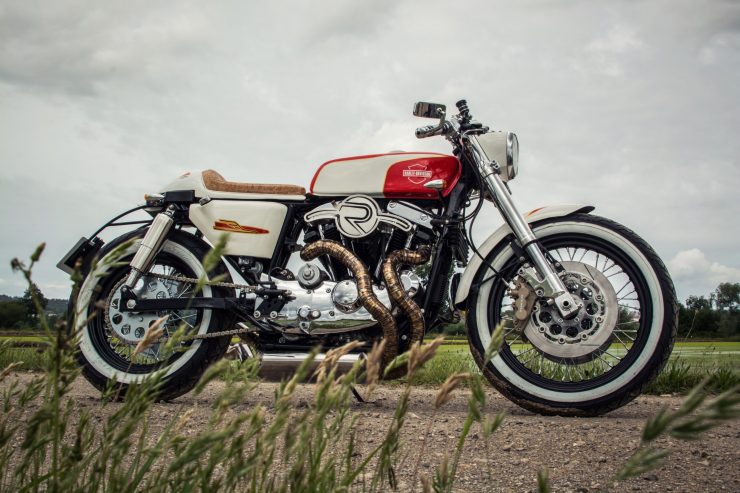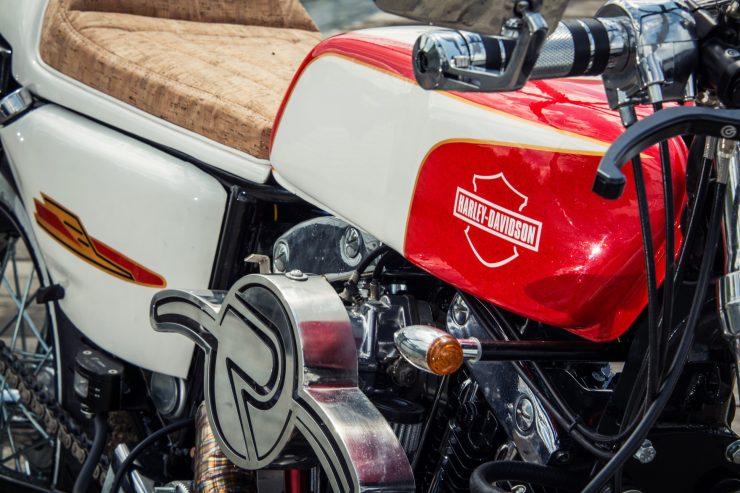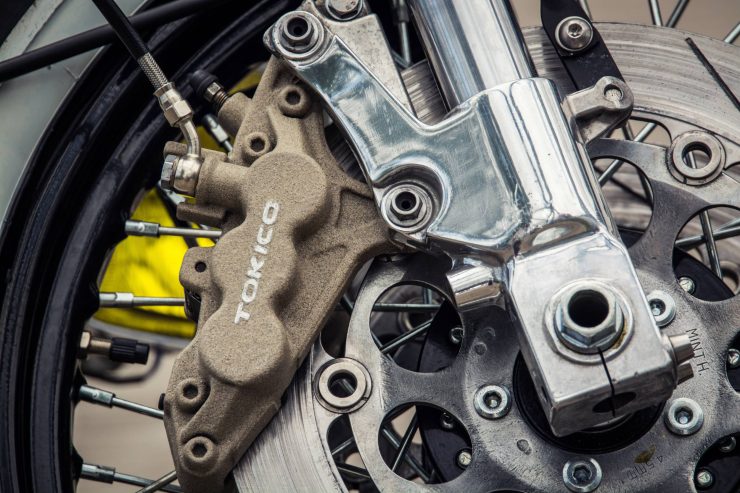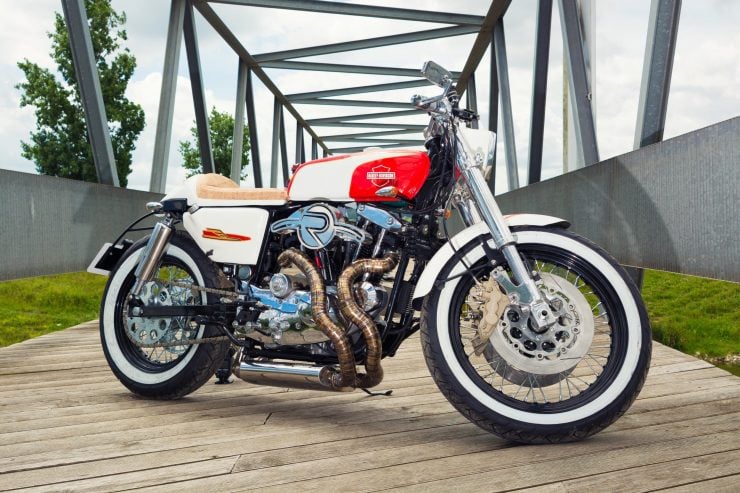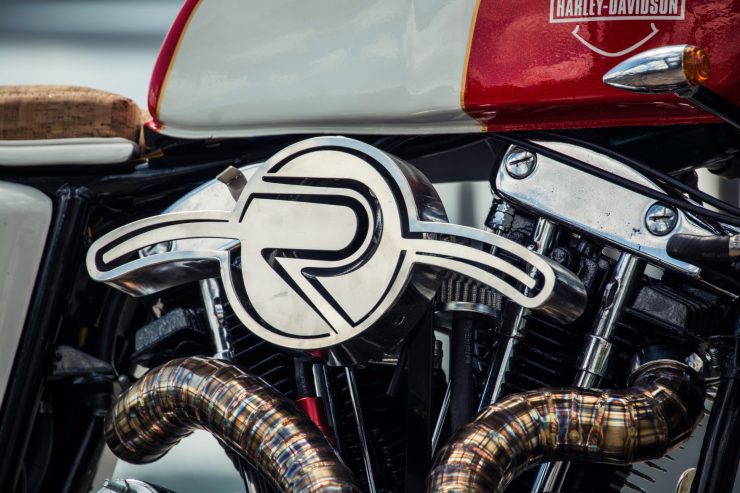 Photography courtesy of Joaquim Barranca and Helder Silva
This article and its contents are protected by copyright, and may only be republished with a credit and link back to Silodrome.com - ©2020