The Fiat X1/9 – A Fiat With a Difference
To understand the reasoning behind the Fiat X1/9 it is perhaps best to look at the sporting motor car scene in Italy in the decade that led to its creation in 1972. In the post war period Italians were keen to get just as much performance as they could but people on ordinary incomes had to accomplish this using cars with comparatively small engines.
The best example of this was small scale car maker Abarth who, among many other projects, took the original Fiat 500 "Bambina" along with the later Fiat 600 and 850, and turned them into quite respectable sports cars, not fantastically fast, but with good handling and respectable performance – they were cars with a lot of personality.
The situation in Britain was similar and contemporary cars such as the MG Midget, Austin-Healey Sprite, and Triumph Spitfire are all contemporary examples of sports cars with similar power engines and similar performance to the Fiat X1/9.
The X1/9 was created as the replacement of the Fiat 850 Spider member of the Fiat 850 family. These cars took their design cues from the Fiat 500 and 600 having a rear engine layout, but for the sporting replacement it was decided that this new model would need something to set it apart not only from its predecessor, but also from the sports cars it had to compete with such as those produced by the British.
It was therefore decided that the new model would be given a sporting mid-engine configuration: something that at that time was typically only on offer for expensive sports cars such as the Lamborghini Miura.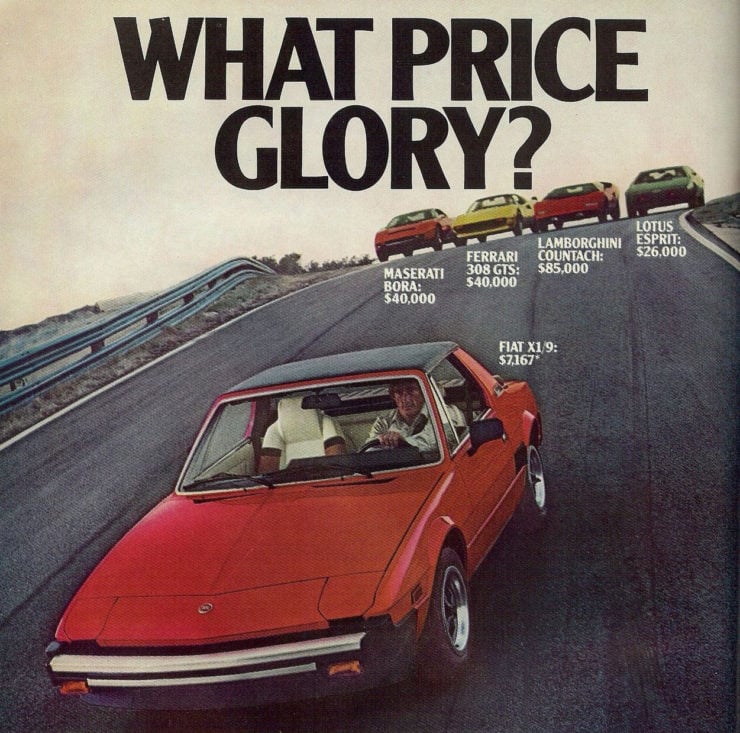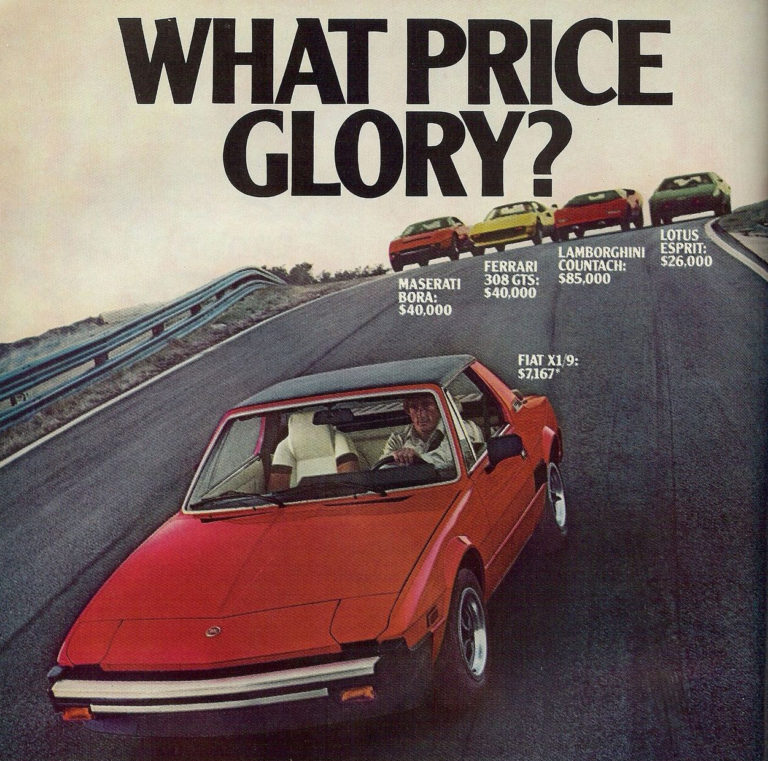 This was not a dreadfully difficult thing for Fiat to accomplish because the transverse engine and gearbox/differential unit were already in production in the front engine/front wheel drive Fiat 128 sedan, which was designed on a similar front transverse engine/front wheel drive layout as used on the British Austin/Morris Mini, 1100 and 1800 cars of the 1960's. All that was needed was to migrate that engine and transmission unit from the front to the rear to create a mid-engine sports car based on the Fiat 128.
The driving force behind the creation of the Fiat X1/9 was Italian design house Bertone and designer Marcello Gandini. Gandini is best known as the designer of the Lamborghini Muira, Countach, and Diablo. In 1969 he created a concept car based on the Autobianchi 111 sedan. Autobianchi were a subsidiary of Fiat and the small 111 sedan used a transverse front engine with front wheel drive layout. On the Autobianchi 111 Gandini created the wedge shaped, speedboat inspired, mid-engine, Autobianchi 112 Runabout, and this was to be the inspiration for the production Fiat X1/9.
It was not a difficult leap to upgrade from the Autobianchi based concept to a Fiat 128 based concept. The more radical and less practical ideas of the concept car were moderated into the very practical design for the production X1/9.
The X1/9 was designed with the United States market in mind as well as Europe and the world. 1965 had seen the publication of Ralph Nader's controversial book "Unsafe at any Speed" and during that late 1960's period the book was being given publicity, and thus gained quite a lot of credibility. Because engineering safety features had become something that American consumers would be looking for, and things that the US Government was already legislating to enforce, Fiat decided to over-engineer the new X1/9 to ensure it would meet any foreseeable safety regulations.
One of the car types that it was feared would be banned for safety reasons was the open top convertible or drop head coupé. The Autobianchi 112 show car incorporated a roll bar as its "C" pillar and the new X1/9 adopted this feature in its integral Targa style roof. Added to this were front and rear crumple zones and a very strong structural cage around the passenger compartment.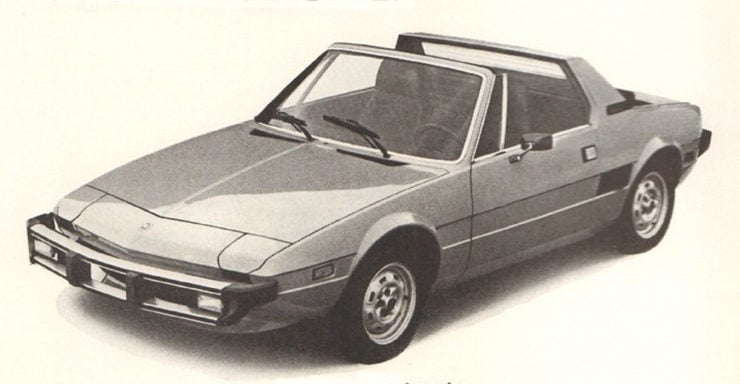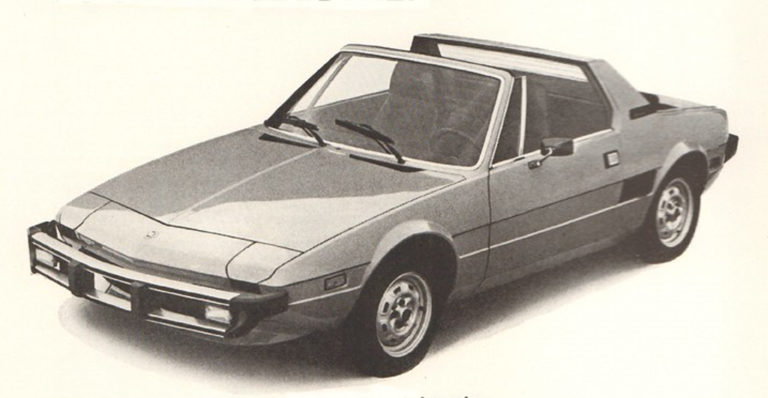 The combination of the eye catching wedge shape, minimal use of chrome, mid-engine, and impressive safety structurally integrated into the car, were things that set the X1/9 apart from its British rivals, especially the popular Triumph Spitfire and the MG Midget and its sibling the Austin-Healey Sprite (aka "Spridget").
The engine chosen for this new sports car was a  SOHC 1.3 litre (1,290 cc) which developed 75 hp DIN at 6,000 rpm and torque of 72 lb/ft @ 3,400 rpm. This version of the engine was unique to the X1/9 having a bore of 86 mm (3.4 in) and this was what allowed the capacity to be increased from the 1.1 litres used in the Fiat 128 to the 1,290 cc of the X1/9.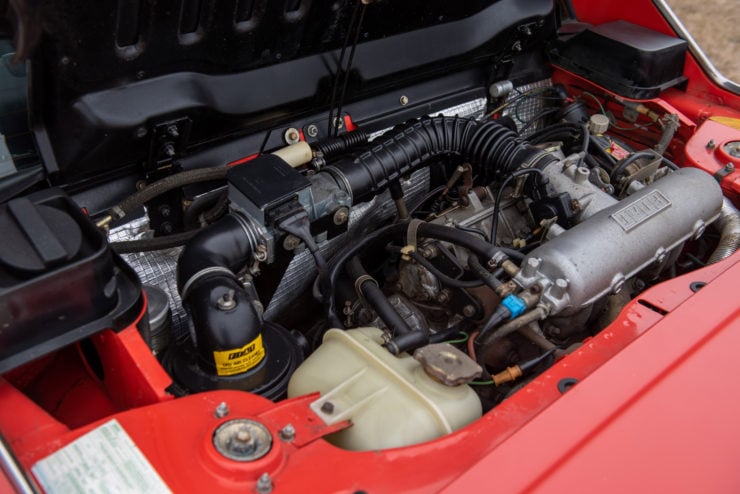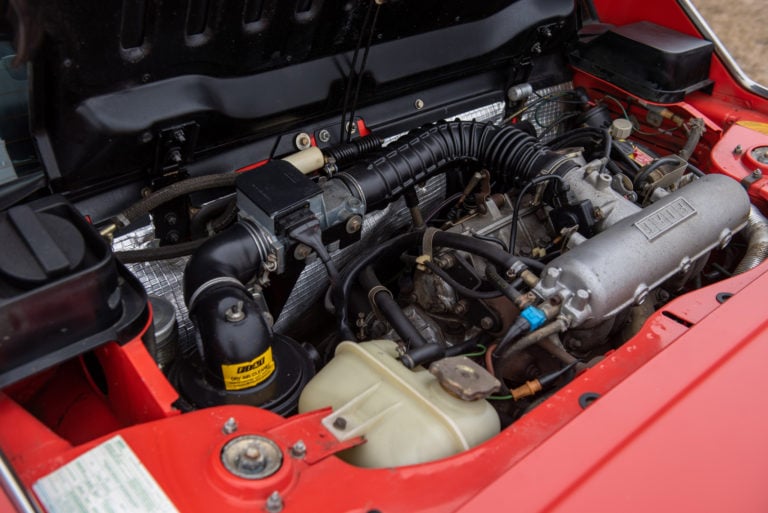 For the X1/9 this engine was fitted with an aluminium oil sump, radiator expansion tank, and breathed through a Weber twin-choke 32 DMTR carburettor. The radiator was mounted at the front of the car for optimum air flow but that necessitated the provision of coolant tubes running through the car's central tunnel to get coolant to and from the engine.
To compliment that mid-engine layout and get the best advantage from it the suspension was independent all around by McPherson struts using low wide base "A" arms. Brakes were discs all around and steering was by rack and pinion, while the gearbox was an all synchromesh four speed manual.
The kerb weight of the X1/9 ranged between 1,940–2,028 lb (880–920 kg) depending on equipment and specification: the original 1.3 litre car weighing 1,940 lb and the later 1.5 litre 2,028 lb. 75 hp is not a great deal of power to propel a couple of thousand pounds of automobile down the tarmac and so the X1/9's straight line performance is perhaps best described as disappointing.
It could manage a standing to 60 mph in 12.7 seconds and its top speed was almost, but not quite, 100 mph. But it was fabulous fun to drive, the mid-engine gave it outstanding handling, and the styling was very attractive: but an ordinary Japanese sedan such as the Datsun 510 would out perform it on a track day: it weighed about the same, had a 1.6 litre 96 hp engine, and fully independent suspension. The X1/9 however was a gem of Italian styling, it looked like it should be faster, in fact it was described as a "baby Ferrari", and the little car was enormous fun to drive.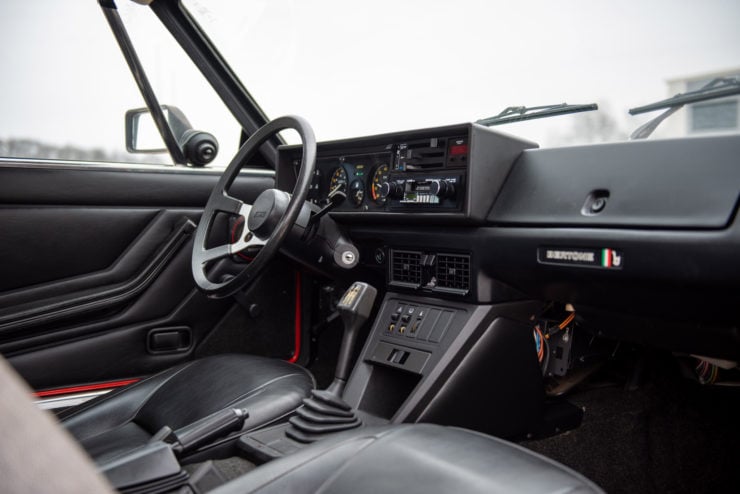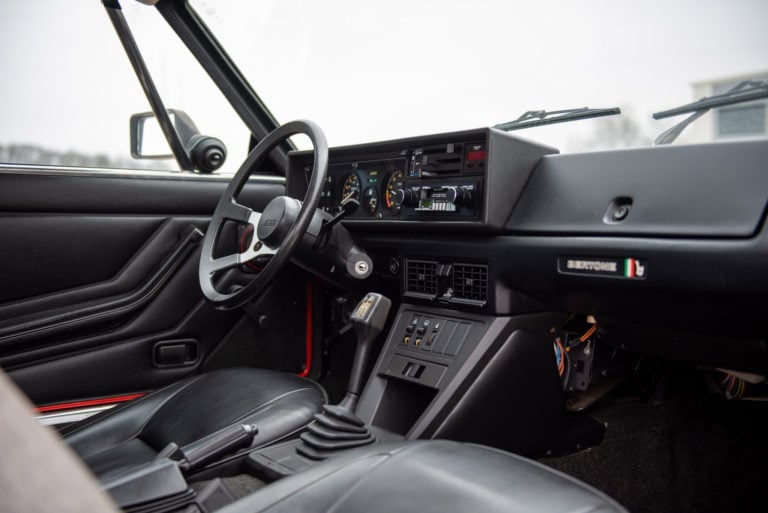 One of the drawbacks of using a mid-engine layout is that luggage space becomes more limited. Recognizing this Gandini fitted two luggage spaces into the X1/9, one in the front and the other in the rear. That being said the front space was designed to store the removable sections of the Targa roof when not in use. But if the Targa roof sections were fitted in the roof then that front and rear luggage space was capacious enough for two people's luggage for a holiday trip, making the car highly practical.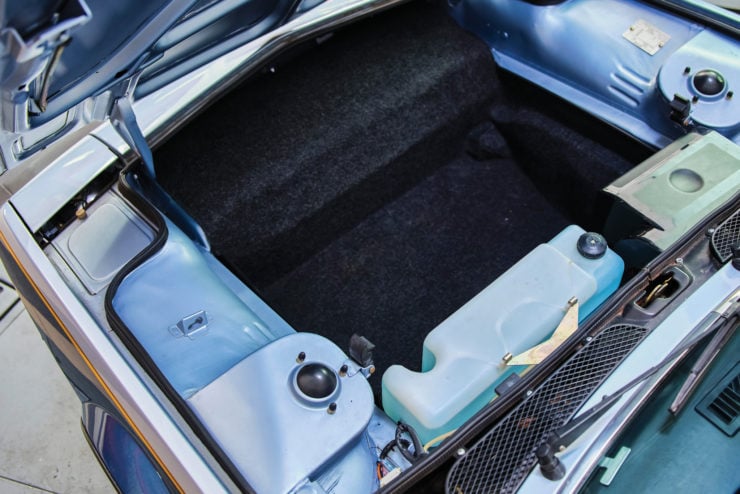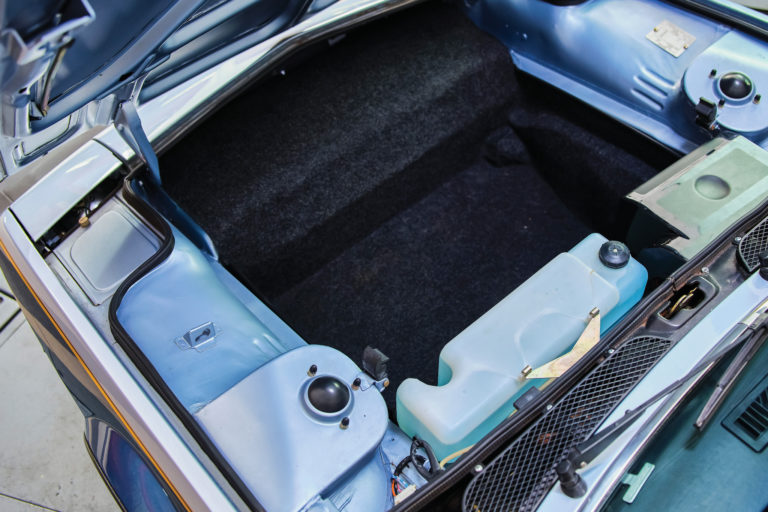 In addition to the problem of providing luggage space there is also the issue of where to fit the spare tyre. Gandini solved this by placing the spare tyre behind the right seat, and installed the fuel tank behind the left seat. In these modern times some car manufacturers try to solve the spare tyre problem by fitting "run flat" tyres and not providing for spare tyre storage at all.
This unhelpful practice might be manageable in an urban environment but if you are in the country and hit a road pothole that damages the tyre so it can't be driven on then the car is stranded until a tow truck can be summoned – not easy to do if there is no phone reception. So the fact that Gandini found the space for a spare tyre makes the X1/9 a good choice for country trips.
In truth when people buy a "sports car" they are not necessarily looking for neck muscle straining performance: they are often just looking for a car that is quick enough and which provides a fun driving experience, and that is what the X1/9 delivered in spades.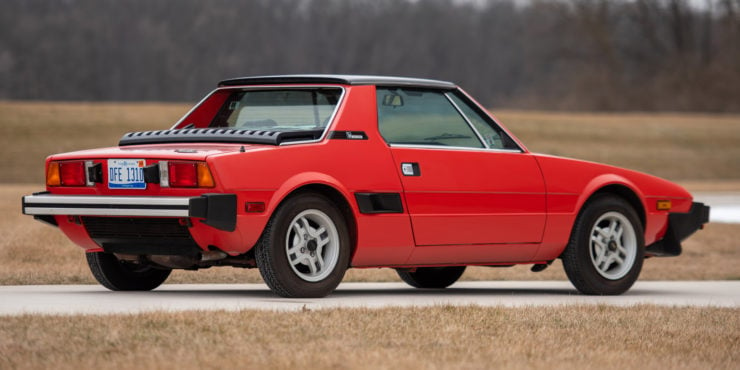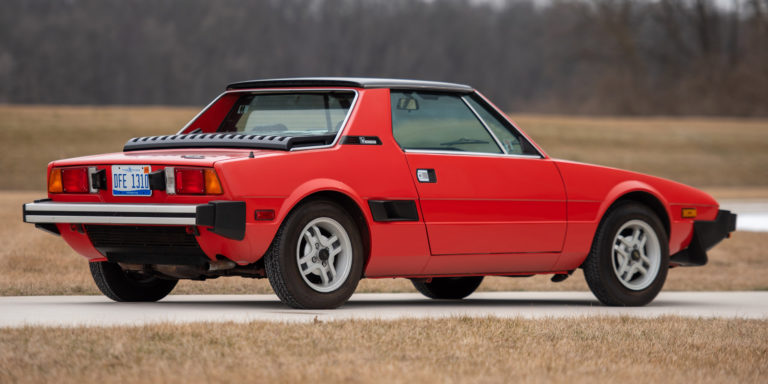 The original 1.3 litre X1/9 was in production from 1972-1978 and it was in 1978 that it was upgraded to a 1.5 litre (1,498 cc) SOHC engine delivering 85 hp with 87 lb/ft of torque. To go with the new engine the X1/9 was also treated to a five speed gearbox. With the new engine and transaxle the weight of the car increased but its performance improved now having a standing to 60 mph time of 10.8 seconds and a top speed of 110 mph. This version would remain in production from 1978 until 1988.
The versions of the X1/9 for the US market differed in a few small ways from their world market siblings. For the 1974 model, to cater for US emissions regulations, the already excessively modest 75 hp of the 1.3 litre engine was reduced to a quite anaemic 63 hp. This was further reduced in 1975 to 61 hp when an exhaust gas re-circulation valve had to be fitted along with an air pump and activated charcoal system.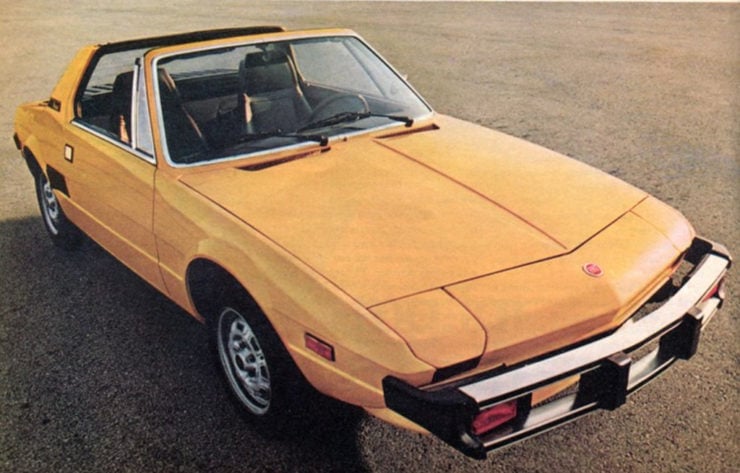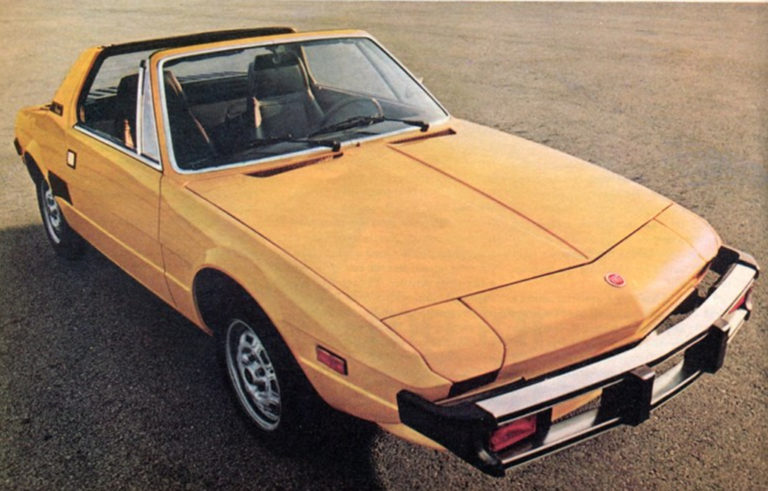 To meet US regulations regarding bumpers the US X1/9 was fitted with impact absorbing "ladder" bumpers front and rear, and so has a quite different appearance to the world market cars.
The 1.5 litre engine and five speed gearbox found its way into US market cars in 1979, but this engine was of course fitted with the same emissions control equipment as the 1.3 litre model so power only increased to 67 hp. This improved in 1980 and 1981 when first in California, and then thoughout the rest of the United States, the 1.5 litre engine was fitted with Bosch J-jetronic fuel injection. This brought the power of the 1.5 litre engine up to 75 hp – the same power as the original 1.3 litre engine configured for world markets.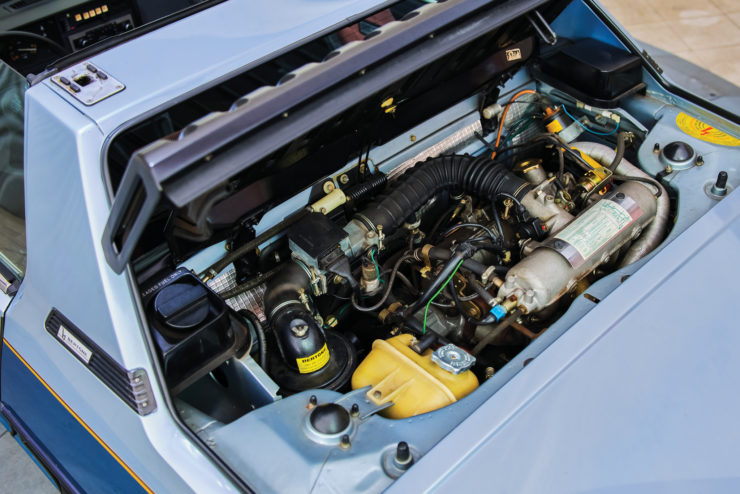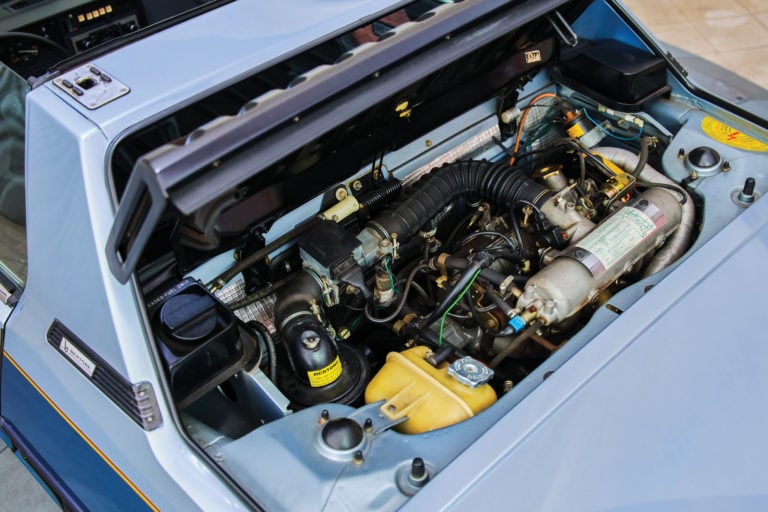 When combined with the use of unleaded gasoline and the fitting of a catalytic converter these cars were well configured to comply with California's ever more stringent emissions regulations in the years ahead.
The Fiat Becomes a Bertone (1982-1988)
In 1982 Fiat decided to exit the US market and with that decision it looked as if the X1/9 would cease to be available to Americans. American businessman Malcolm Bricklin stepped in however and obtained the rights to market the car through his International Automobile Importers, Inc., company. The X1/9's body had been actually manufactured by Bertone throughout the earlier production years and with the new arrangement Bertone took on the manufacture of the complete cars.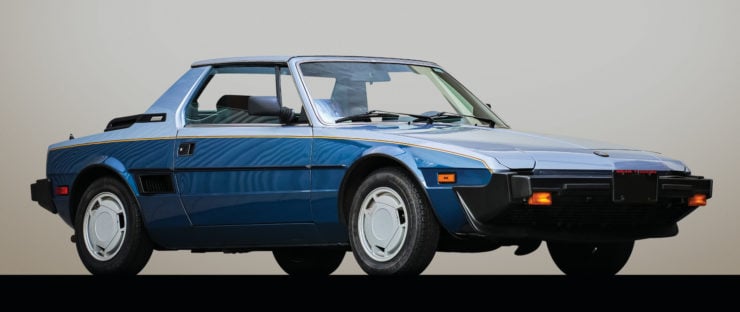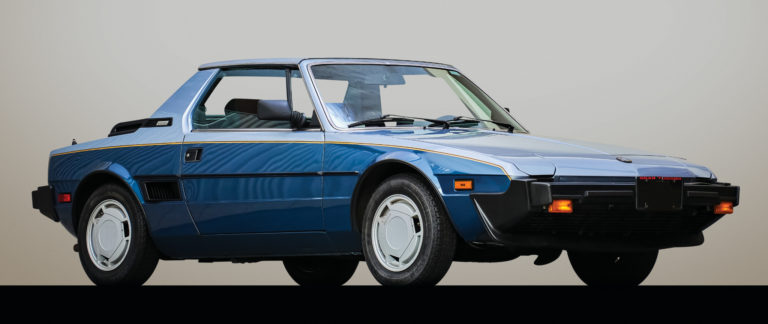 By 1983 the X1/9 was no longer being sold as a Fiat but instead it wore Bertone badges, and in the years of production Bertone and International Automobile Importers worked to progressively improve the quality of the X1/9. Among the more significant upgrades was a dramatic improvement in the rust proofing technologies used, something that is of great interest to those seeking to purchase one of these decades old cars.
Among the rust proofing technologies used was cathodic electocoating  which uses an electrical charge to attract paint into the hard to paint recesses of the car's body during production. This was combined with PVC undercoating to make the car's bodywork far more durable. The front section of the Bertone cars was in part made of aluminium.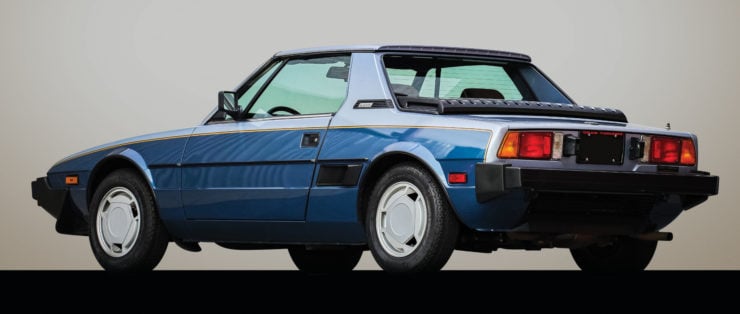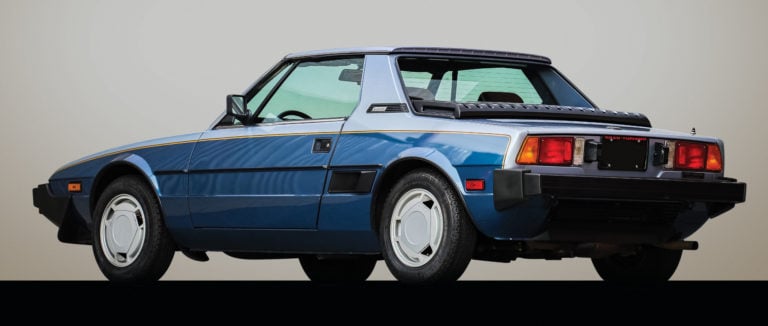 Not only was the paintwork of the X1/9 significantly improved but the Bertone models provided a two tone paint job that had been introduced in 1982. This improved the car's visual appeal, and when you are in the business of selling cars the visual attractiveness is a significant factor in creating buyer appeal.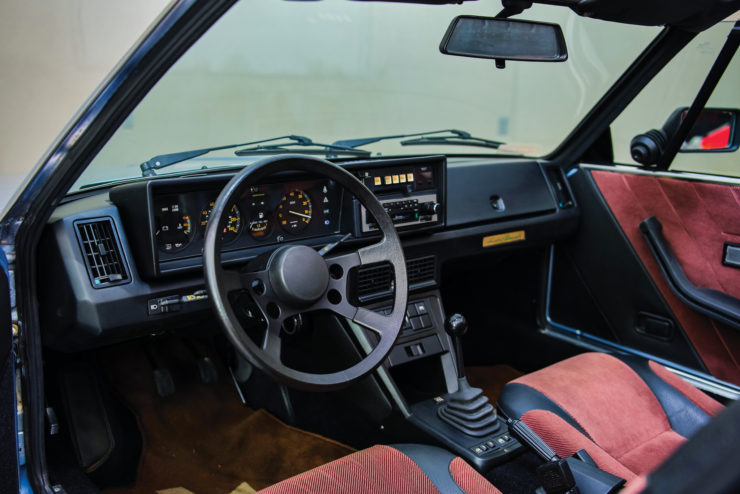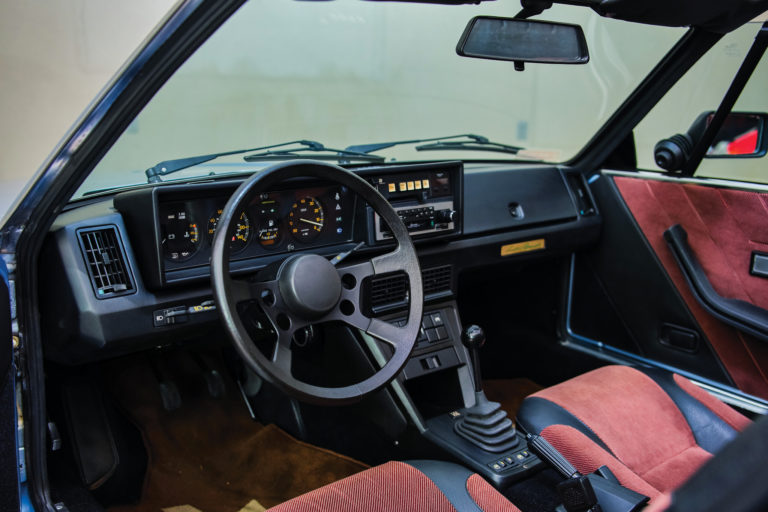 Buying an X1/9
If you are considering buying an X1/9, either a Fiat or Bertone produced one, the first thing to realise is that the bodywork is going to be the most critical item to evaluate. Like so many cars of this era rust is the number one killer of many a good car and both the early Fiat produced cars and the later Bertone ones, complete with their much improved rust proofing, are all prone to corrosion.
So a thorough examination for rust is essential; floor pan, sills (inner), windscreen surround, wheel arches etc. Pull out the spare tyre, lift up the carpets, get the car up on a hoist and be thorough, remembering that rust typically starts on the inside (where paint often did not penetrate during manufacture) and it works its way out.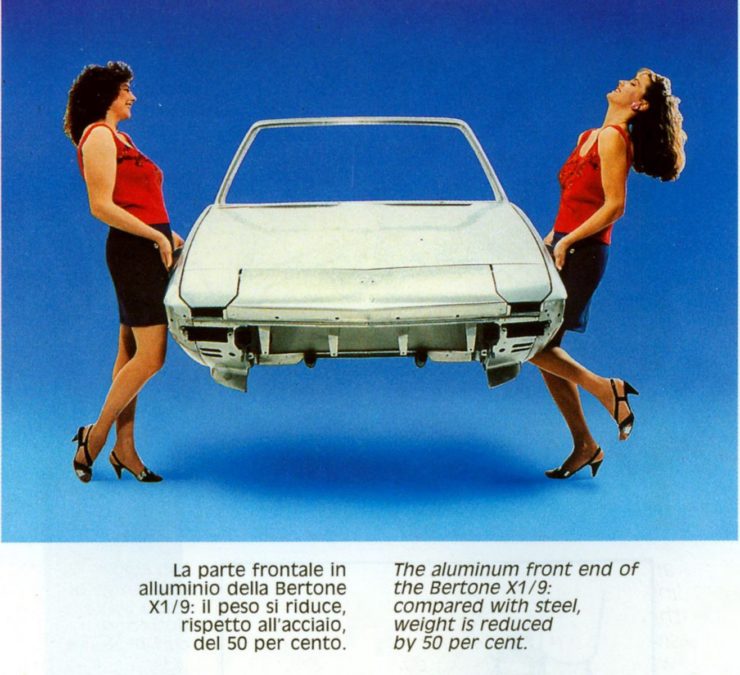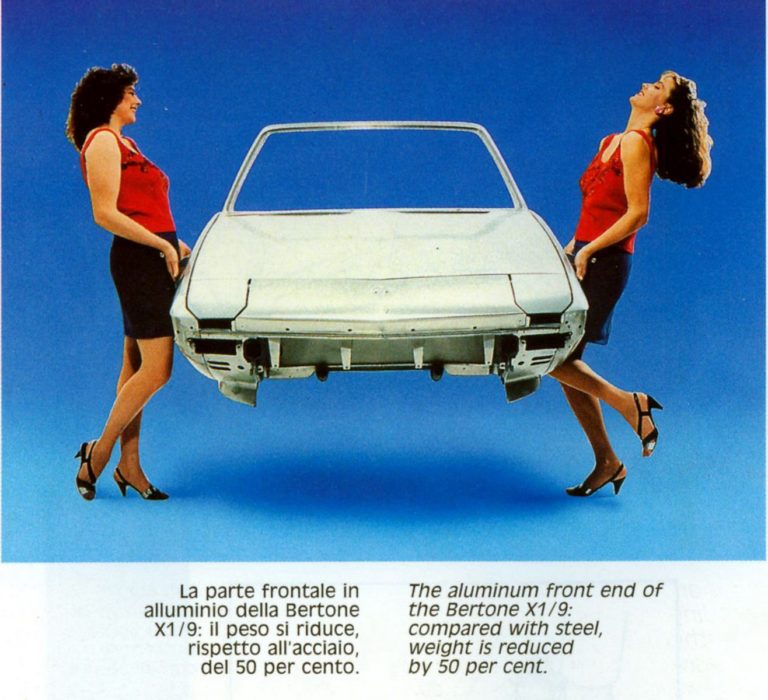 One of the unexpected areas to examine on this car is the central tunnel that carries the steel pipes from the front mounted radiator to the engine. Being made of steel these coolant pipes can corrode and/or leak, allowing water based coolant into that structural central tunnel. To fix a problem in this area that tunnel must be cut open, and then once the repair completed, it must be welded shut again. So make a point of looking to see if there is any sign of leakage from the grommets into this area among your bodywork checks.
Corrosion of the central tunnel coolant pipes may be an indicator that the car may not have had the correct corrosion inhibitor used in it throughout its life. Sometimes a less than conscientious owner may have used plain tap water in the cooling system for a period of time and that will not only have caused corrosion to get going in the central coolant pipes but also in the aluminium cylinder head and other alloy components of the cooling system. So when checking any car it is important to not only look at the faults that exist, but also to be a bit of a Sherlock Holmes and use those faults as an evidence base from which to deduce past maintenance conscientiousness – or lack thereof – for the car you are considering.
Other places to check for corrosion are the vertical panels parallel to the struts on either side of the front boot/trunk. These are triple layer and tend to rust from the inside out. Check the front and rear vertical shock tower panels and the two cavities in the rear between the engine cover and the integral Targa roll bar (they have plastic covers). The rear suspension pick-up points need to be examined with care as rust in that area may well be something that can't be properly rectified depending on how extensive it is.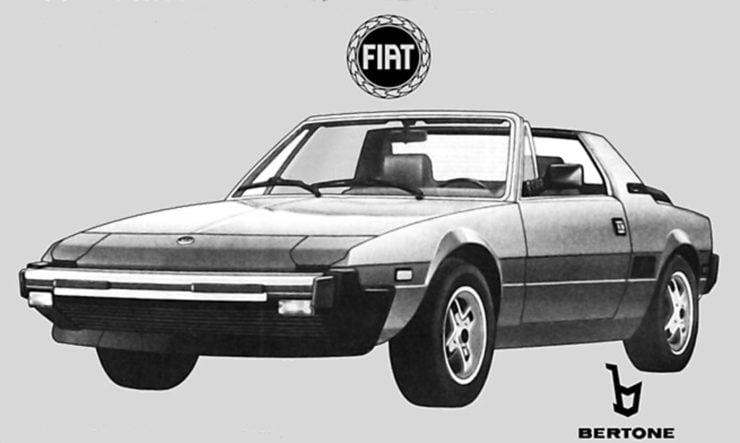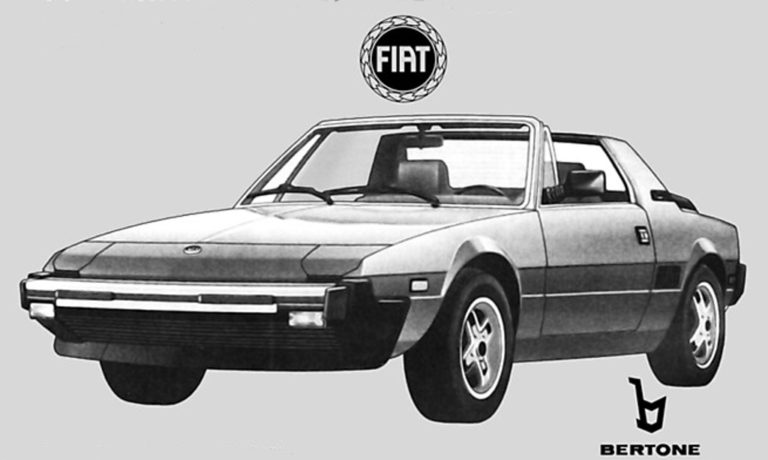 Parts for the X1/9 are not particularly easy to find despite the fact that over 160,000 of these cars were made. So if you need body panels or trim parts these may prove to be made of the illusive "unobtainium": i.e. unobtainable from anyone, and if something is unobtainable then the next choice is to have the required part made from scratch. This can be done, even for body panels, but it is an expensive option.
The engines used in the X1/9 were durable and have a good reputation. They have five bearing crankshafts and are OK to run with unleaded fuel. The big ticket item to watch is that these engines use a timing belt not a timing chain, and these belts need to be changed every 25,000-30,000 miles/40,000-50,000 km or every three years whichever comes first. The 1.3 litre engine is an interference engine so this is mission critical for that engine because if a belt breaks the valves and pistons will come into violent contact with each other becoming the cause of much wailing and gnashing of the teeth.
One noted issue for these engines are the head gaskets, which can develop problems due to engine overheating. The obvious maintenance strategy is to make sure the cooling system is in top shape and kept that way. The cooling system is adequate as long as its well maintained.
Both the four and five speed gearboxes are known to be well designed and reliable units. Repairs are straightforward and parts are generally available. In the same way the clutch poses no particular difficulty in replacing and the work can be done with the engine/transaxle still in the car, although you may prefer to pull the engine/transaxle unit out to make the job a bit easier.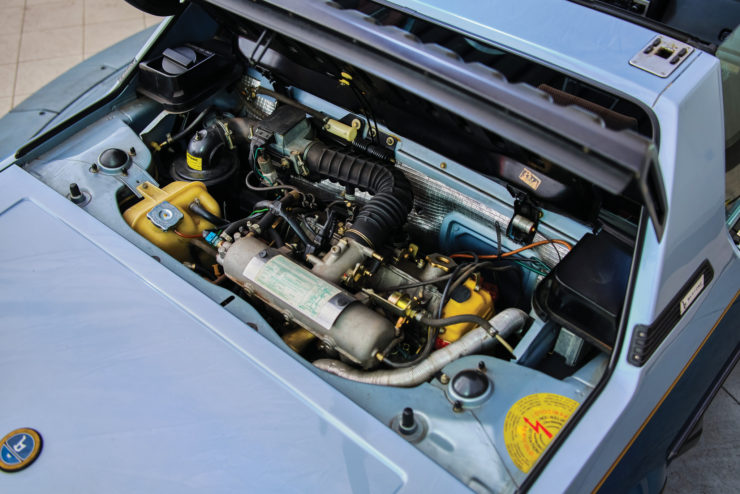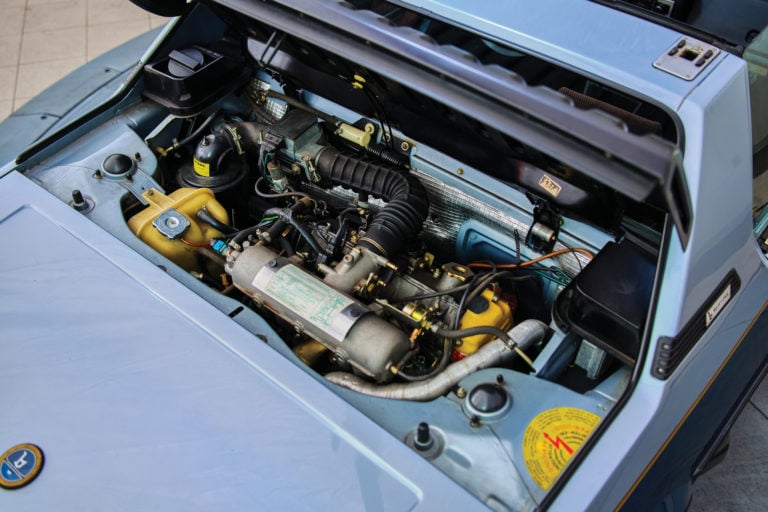 The brakes come from the Fiat 124 and so parts availability is not an issue. The brake and clutch master cylinders are located up in the dashboard and even if you take the left side seat out will require a certain amount of dexterity to get at them to remove/replace.
So its a case of wearing safety glasses to keep dripping brake fluid out of your eye sockets and try to restrain yourself from the sort of expletive language that your neighbours might find difficult to deal with. The tell-tale sign of failing master cylinders is brake fluid on the left side floor under the dashboard which will also tend to want to distribute itself on your clothing. If you decide to do the job yourself make sure you've got a decent tool kit: having the right tools to get at hard to reach items saves a lot of unpleasantness.
Specifications
Body: Steel unibody. Anti-rust protection greatly improved in 1984 with the use of cathodic electrocoat primer, and PVC undercoating.
Fuel Tank Capacity: 47.7 litres (10.5 imperial gallons; 12.6 US gallons).
Dimensions:
1.3 litre World Model:
Length 3,830 mm (150.8 in), Width 1,570 mm (61.8 in), Height 1,170 mm (46.1 in), Wheelbase 2,202 mm (86.7 in), Track front; 1,335 mm (52.6 in), rear; 1,343 mm (52.9 in), Weight 880 kg (1,940.1 lb) (dry).
1.5 litre World Model:
Length 3,960 mm (155.9 in), Width 1,570 mm (61.8 in), Height 1,180 mm (46.5 in), Wheelbase 2,202 mm (86.7 in), Track front; 1,350 mm (53.1 in), rear; 1,350 mm (53.1 in), Weight 920 kg (2,028.3 lb) (dry).
1.5 litre US Model:
Length 3,969 mm (156.3 in), Width 1,570 mm (61.8 in), Track front;1,355 mm (53.3 in), rear 1,362 mm (53.6 in), Weight (Kerb); 2,130lb, (with air-conditioning 2,210lb).
Suspension: Independent with McPherson Struts front and rear with lower lateral links.
Steering and Brakes: Rack and Pinion steering, Solid 8.9″ (227 mm) disc brakes front and rear with dual circuit hydraulics. Mechanical hand-brake.
Engines:
Transverse mid-engine layout.
1,3 litre World Model:
SOHC 1,290 cc (78.7 cu in) in-line four cylinder with compression ratio of 8.9:1 fitted with single two-barrel Weber 32 DMTR 22 downdraft carburettor. Power 75 hp @ 6,000 rpm. Torque 71.6 lb/ft @ 3,400 rpm. Aluminium cylinder head, cast iron block.
1.5 litre World Model:
SOHC 1,498 cc (91.4 cu in) in-line four cylinder with compression ratio of 9.2:1 fitted with single two-barrel Weber 34 DATR7/250 downdraft carburettor. Power 85 hp @ 6,000 rpm.
1.5 litre US Model:
SOHC 1,498 cc (91.4 cu in) in-line four cylinder with compression ratio of 9.2:1 fitted with Bosch L-Jetronic fuel injection. Power 85 hp @ 6,000 rpm.
Transmissions:
Manual 4 speed all synchromesh
Manual 5 speed all synchromesh
Hydraulically actuated clutch
Conclusion
It is important to be realistic about the future of an X1/9 if you purchase one. This is simply not a car that could be recommended as an investment that will appreciate over time. It might, and it might not. Its value will be no more nor less than someone is willing to pay for it.
If at some point they become fashionable then values might increase, but that is a gamble. My grandfather used to regularly gamble on the horse races but he always said that any money he wagered he considered to be lost: but if he happened to back a winner now and again then that was a nice surprise.
Treat any expectations you might have as to the investment potential of an X1/9 in the same way. Assume you are buying the car for the sheer enjoyment of owning and using it, and if it increases in value then treat that as a nice surprise.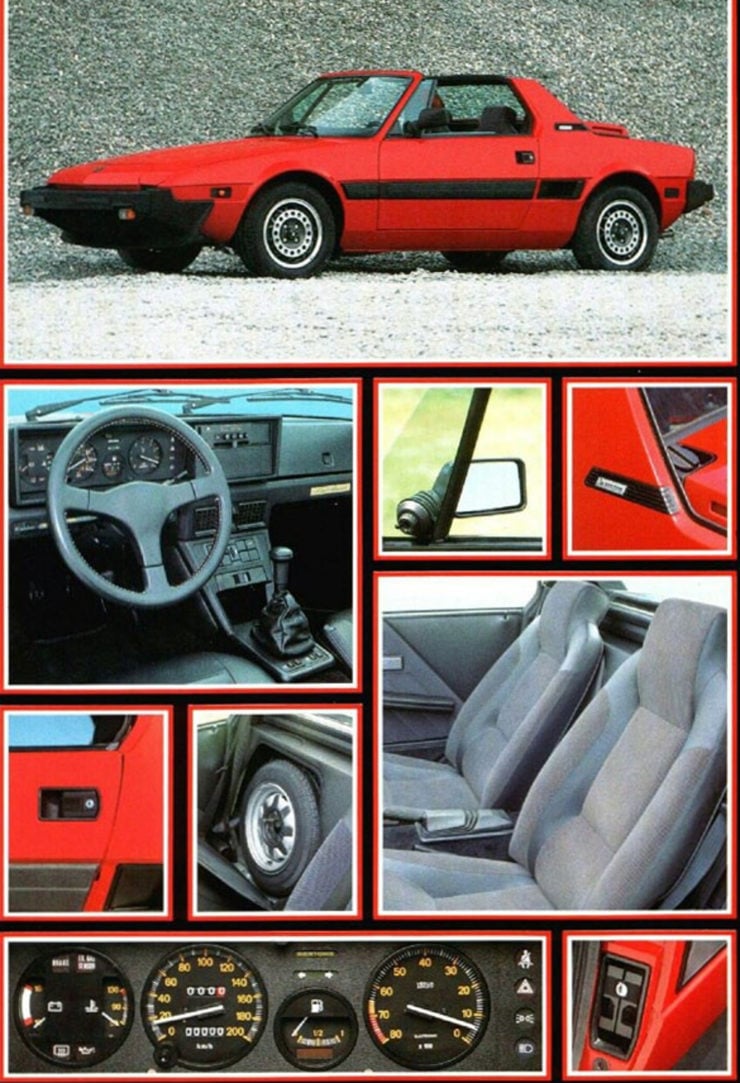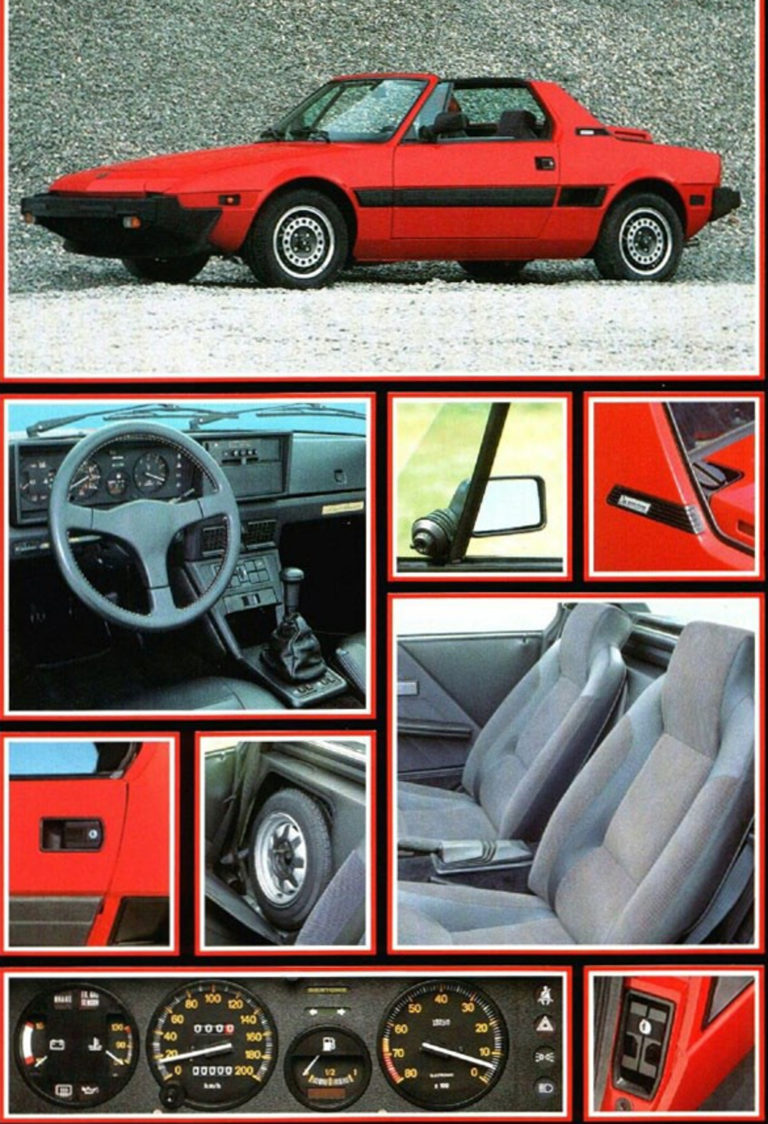 The X1/9 was always a car that had near supercar potential but was never fitted with an engine that would do the handling justice. Depending on what jurisdiction you live in you may want to remove the original engine and transaxle and replace it with something that will transform the car.
One of the potential swaps is to use the Honda/Acura K20 or K24 units which will deliver in the order of 200 hp. Reference sources tell us that the body (in excellent condition) will stand around 250 hp without body flex and without inducing handling problems.
If you decide to go this route make sure the work is done by a competent professional and that it is legal for the place you live in.
If you would prefer to keep the original engine and simply tweak it up then a change to a more high performance camshaft combined with dual Weber carburettors and a header can deliver a 25% power increase and make the little X1/9 an even more exciting little car.
The original handling can also be improved with the fitting of a front anti-roll bar and use of performance oriented coil overs: new suspension bushings are likely to help also. It is possible to change the wheels to 15″ with 4x98mm four bolts spacing but these must have the correct offset. Maximum diameter must not exceed 22½".
The Fiat/Bertone X1/9 is a fun classic car to own. It is relatively easy to work on yourself, and it is a stylish head turner that stands out from the mediocrity of the bulk of modern cars. If you are looking for a car that lends itself to some owner tweaking, a car that is enormously satisfying to drive and own, a car that looks and tries to behave like a "poor man's Ferrari", then the X1/9 might just be the perfect car for you.


Picture Credits: Bertone, Fiat, Mecum, RM Sotheby's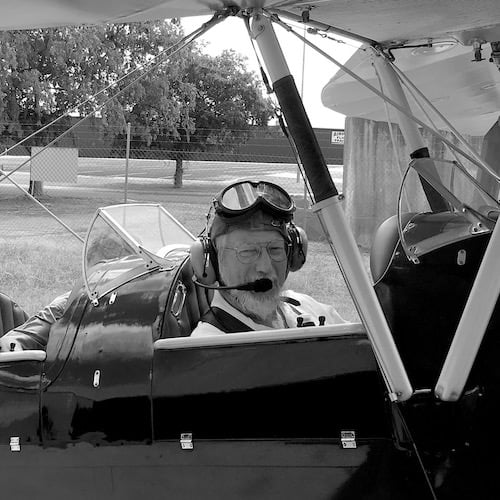 Jon Branch has written countless official automobile Buying Guides for eBay Motors over the years, he's also written for Hagerty, he's a long time contributor to Silodrome and the official SSAA Magazine, and he's the founder and senior editor of Revivaler.
Jon has done radio, television, magazine, and newspaper interviews on various issues, and has traveled extensively, having lived in Britain, Australia, China, and Hong Kong. The fastest thing he's ever driven was a Bolwell Nagari, the slowest was a Caterpillar D9, and the most challenging was a 1950's MAN semi-trailer with unexpected brake failure.