The Inspiration For The Corvette – Blame the British?
The people who, I think, were responsible for the inspiration of the Chevrolet Corvette, were the British, with a bit of help from the Italians.
You see it was all those American servicemen who came home from the second world war with British and Italian sports cars that created the market for affordable, lightweight sports cars in the United States.
The pioneering sports car was most likely the diminutive MG and also cars from Alfa Romeo. Once America had been bitten by the European sports car bug some British car makers got busy creating sports cars specifically for the US market, Jaguar and their XK120 being a good example along with Triumph, and the cars of Donald Healey, notably the Nash-Healey and the Austin-Healey.
Above Video: Jay Leno takes a closer look at the C1 Corvette.
By 1951 the leadership at General Motors had taken note of the European sports car phenomenon and figured that they could produce a great all American sports car just like the ones being imported from Europe and sell them for less money than the foreign cars.
The car that got General Motors designer Harley Early thinking was the Nash-Healey. Nash were one of GM's competitors and they had obtained their sports car by teaming up with British sports car designer Donald Healey and Italian design house Pininfarina. The Nash-Healey was very expensive, and Harley Earl believed that GM could make something competitive with it for a lot less money.
General Motors management were able to be persuaded to give the project the go-ahead and work began on "Project Opel" (named after GM's European division Opel) as it was called in late 1951, and Harley Earl's first prototype was called the "EX-122". That first prototype closely followed the basic specifications of the Nash-Healey and the Jaguar XK120, in fact the name "EX-122" was quite possibly inspired by the XK120 name.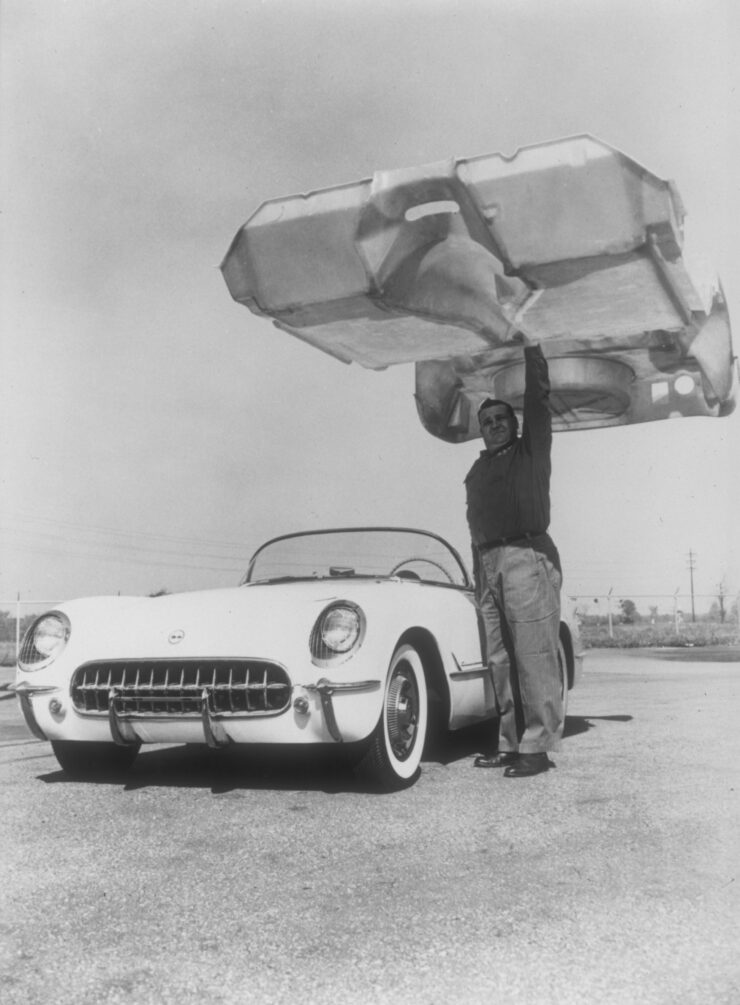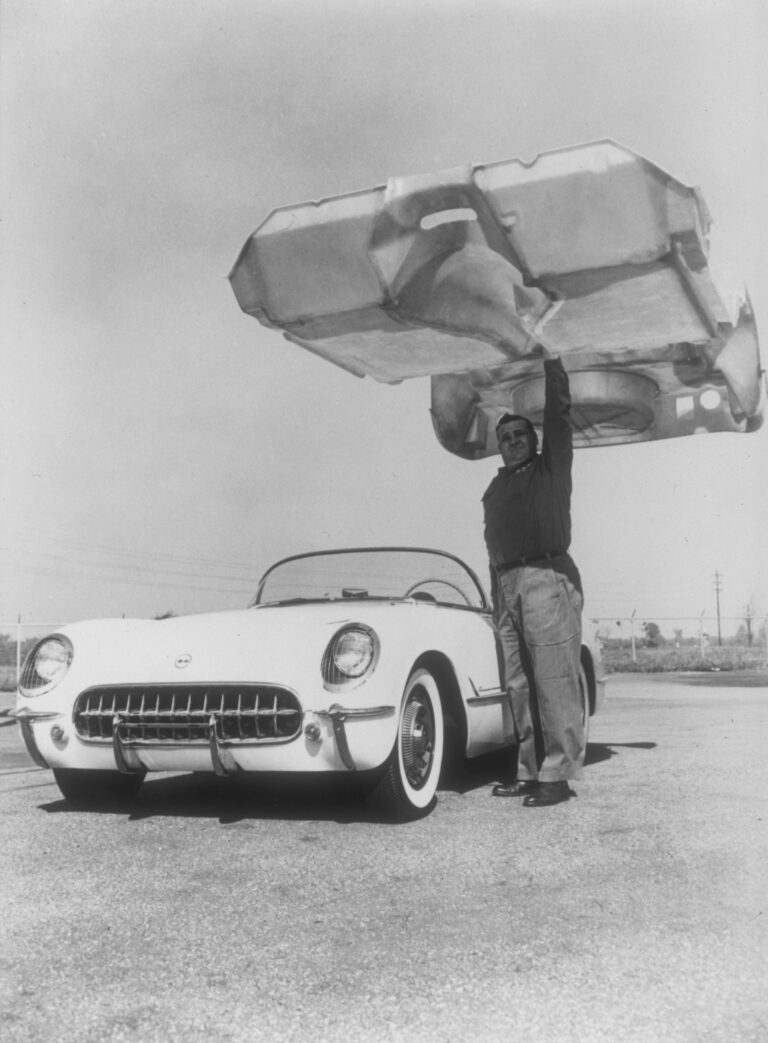 Above Image: An unusual photograph from the Chevrolet archive showcasing how light fiberglass body parts are.
The Nash-Healey and the Jaguar XK120 were fitted with inline six cylinder engines in the 3.4 to 3.8 litres range, had a four speed manual gearbox, front suspension was independent, rear suspension used a live axle with leaf springs for the Jaguar XK120, while the Nash-Healey used a more sophisticated coil spring and Panhard rod design.
Harley Earl's design for the EX-122 followed that same basic concept, based on off-the-shelf General Motors parts starting with a modified 1949-1954 Chevrolet passenger car chassis with the passenger compartment moved rearwards to obtain an even weight distribution front to rear, and the engine was to be a Chevrolet Blue Flame 3.85 litre inline six.
The three prototype show cars made their public debut at the GM Motorama held at New York's Waldorf Astoria Hotel on January 17, 1953. the two seater open sports car was called the Corvette and with it were shown a two door fixed head coupé called the Corvair, and a two door station wagon called the Nomad.
The Corvette was greeted with a positive reception by the viewing public. On the basis that there appeared to be buyer interest and that the car could be put into limited production without an excessive commitment to tooling up it was decided to set up a small scale assembly line in an old truck plant in Flint, Michigan.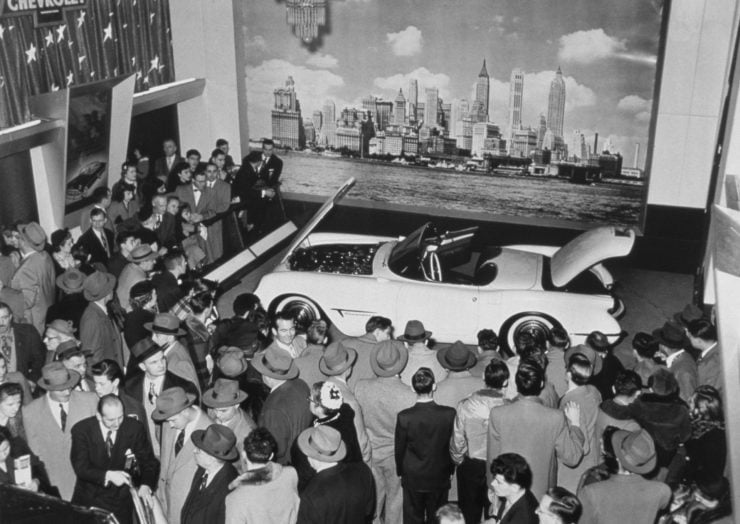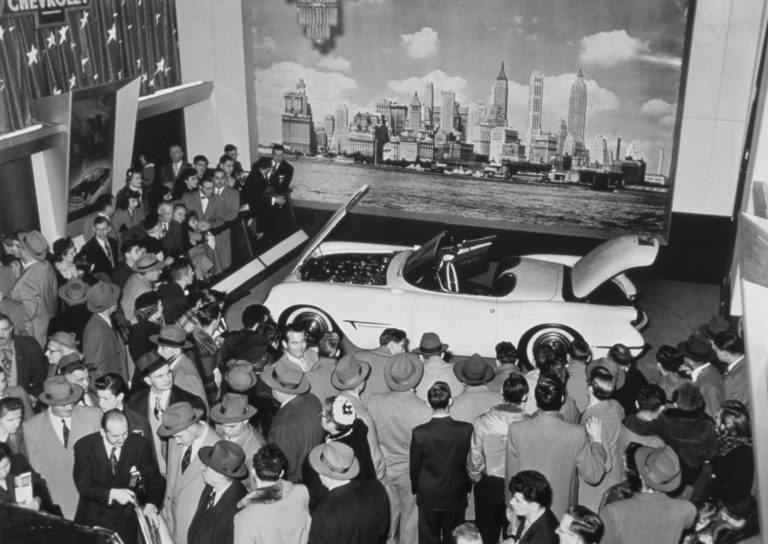 Above Image: A prototype Corvette being shown to the public for the first time at the GM Motorama at New York's Waldorf Astoria Hotel on January 17, 1953.
A Bumpy Beginning
Chevrolet were determined to keep costs to a minimum, something that was important as the Corvette was not expected to sell in large numbers because of its specialist appeal. In 1953 only 300 cars were made on a production line that was in a constant state of development hand building cars that were themselves in a constant state of development; so there were many variations in those first 300 cars.
In terms of collector value these first 300 would become the rarest, and thus most valuable, of the first generation Corvettes.
In order to keep the cost of the Corvette down GM decided to try using a fibreglass body. Fibreglass was being used by boat manufacturers and the plastics industry were keen to persuade automobile makers to give it a try. From GM's perspective the low production Corvette was a good vehicle on which to experiment with this new and unproven material.
Fibreglass provided the advantages of having light weight, and it is easier and cheaper to set up moulds to create interesting car body shapes. Not only that but fibreglass does not rust like steel does so in theory it should last much longer and not require rust proofing coatings in the way steel does. The fibreglass bodywork of the Corvette was mounted on a lightweight metal frame normally referred to as the "birdcage", and thus mounted onto the chassis.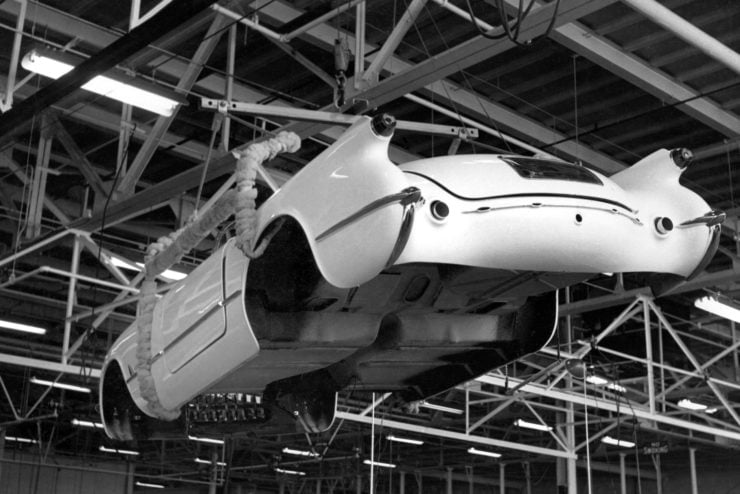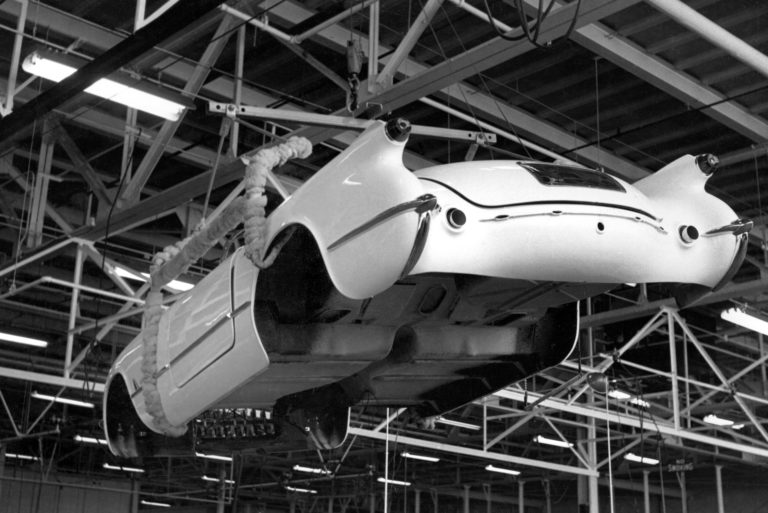 Above Image: A look at the fiberglass body of the first generation Corvette.
The Corvette's Chevrolet Blue Flame 3.85 litre inline six cylinder engine was given a performance enhancement by the fitting of triple Carter side-draft carburettors, something that made the engine look impressive under the hood, raising the compression ratio, and fitting a high lift camshaft with solid lifters. These enhancements brought the engine power up to 150 hp which was competitive with the Nash-Healey and Jaguar XK120.
The snag for GM however was that they didn't have a suitable manual gearbox. The GM solution was to only offer the Corvette with a 2 speed Powerglide automatic transmission as used on General Motors passenger cars. Some people like an automatic transmission in their sports cars, but the sort of driver who is attracted to a sports car is more likely to want to really drive it, and so would want a decent manual transmission.
The Corvette was fitted with conventional drum brakes as was common at that time but the combination of an automatic transmission with drum brakes did not give the Corvette a competitive edge when compared with the British and Italian sports cars. It just wasn't exciting to drive in the way the European imports were.

The other set of problems that plagued these first of the first generation Corvettes was the quality control over the finished new cars. The engineers had not worked with fibreglass before and were on a steep learning curve in trying to build cars of this new material on a production line. Customers complained of water leaks and even of doors unexpectedly popping open while the car was being driven.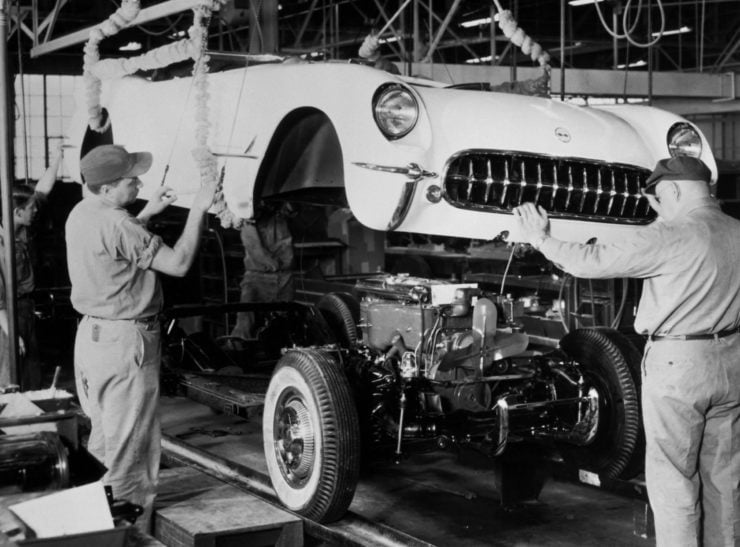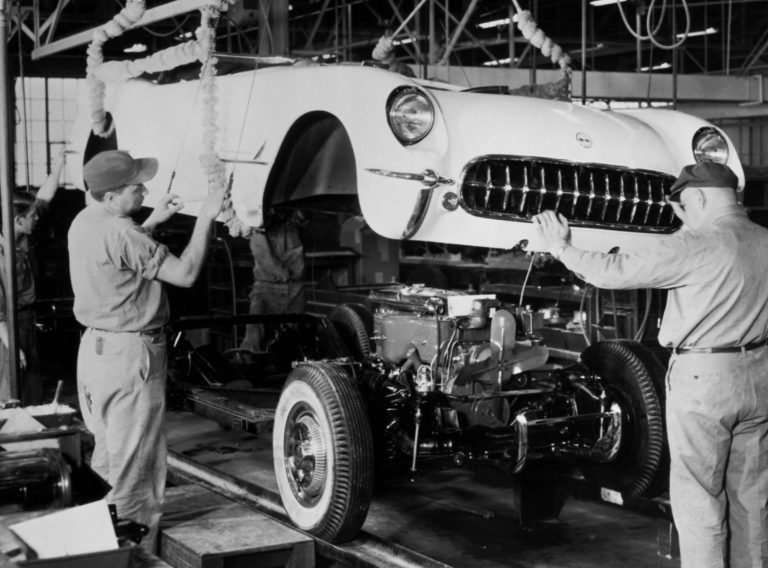 Above Image: A Corvette body being mated to its chassis.
The result of these problems was that the Corvette was getting an increasingly bad name and even Chevrolet's decision to offer a Paxton centrifugal supercharged engine option in 1954 was just not going to be able to redeem the image of the car. Management at GM were fast arriving at the decision to axe the Corvette so it couldn't do any more damage to General Motors otherwise good name.
Ford to the Rescue
Paradoxically it was to be Ford Motor Company that would prove to be the saviour of the Chevrolet Corvette. In 1955 Ford introduced their two seater "personal luxury car", the Ford Thunderbird. The Thunderbird was not made to be a sports car of the European style, but instead it created a whole new market segment. The only thing that General Motors had to compete with the Thunderbird was the Chevrolet Corvette and so it was that the Corvette was redeemed from nearly going into the scrap heap of automotive history and serious efforts were undertaken to make it a worthy competitor to the "T-bird".
Happily General Motors had been hard at work remedying the problems with the Corvette and had prepared a new manufacturing facility in St. Louis which would be capable of building up to 10,000 Corvettes per year. So with the T-bird to compete with there was commitment to make the car everything General Motors could make it to be.
Zora Arkus-Duntov – The "Father of the Corvette"
The sudden appearance of a Ford car model for the Corvette to compete against was not however the secret to its success, all that did was save it from obscurity. That visionary was a Russian immigrant named Zora Arkus-Duntov and he would turn the Corvette into an international icon and earn for himself the title of "Father of the Corvette" in the process.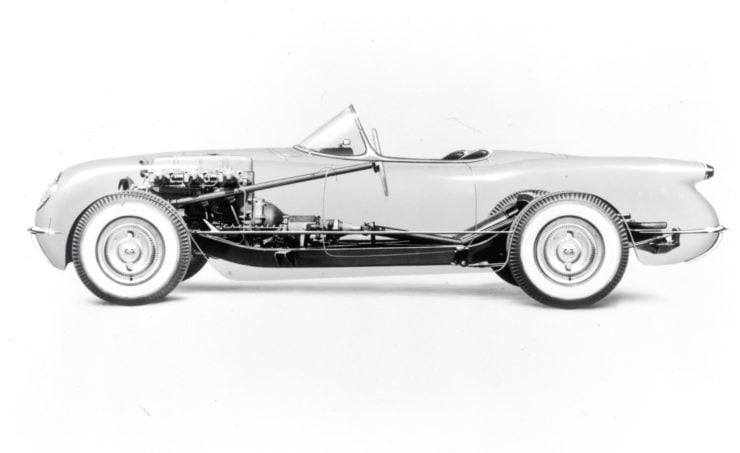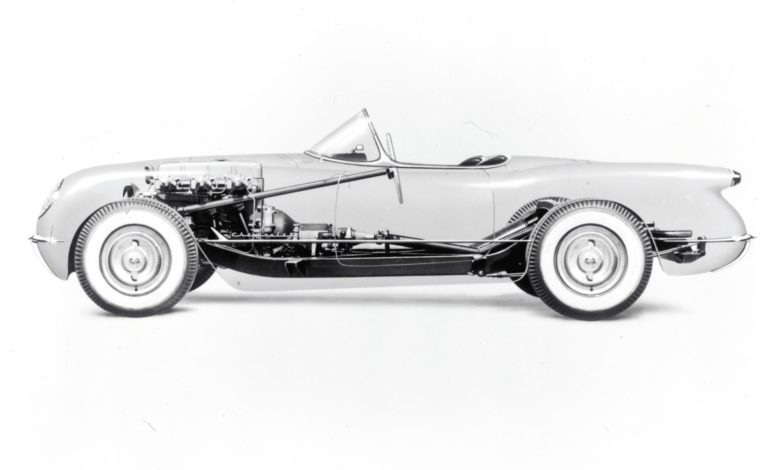 Above Image: A cutaway illustration of the Corvette.
But Zora Arkus-Duntov was not originally involved in the design of the Corvette. When the car made its debut at the GM Motorama at the Waldorf Astoria Hotel on January 17, 1953 Arkus-Duntov was just one of the people who attended the event and gazed at the car. But the car captured his imagination and he wrote to Chevrolet's Chief Engineer Ed Cole saying that he would very much like an opportunity to work on the Corvette and providing a technical paper as an example of his work. Ed Cole was impressed enough that he gave Arkus-Duntov a job as an assistant staff engineer.
Once established in his new job at GM Zora Arkus-Duntov prepared and presented a paper to management titled "Thoughts Pertaining to Youth, Hot Rodders and Chevrolet". In that paper he laid out a vision for Chevrolet and the Corvette, a vision that would re-model Chevrolet's public image from being the less expensive entry level General Motors passenger car maker to its also being the exciting performance car maker.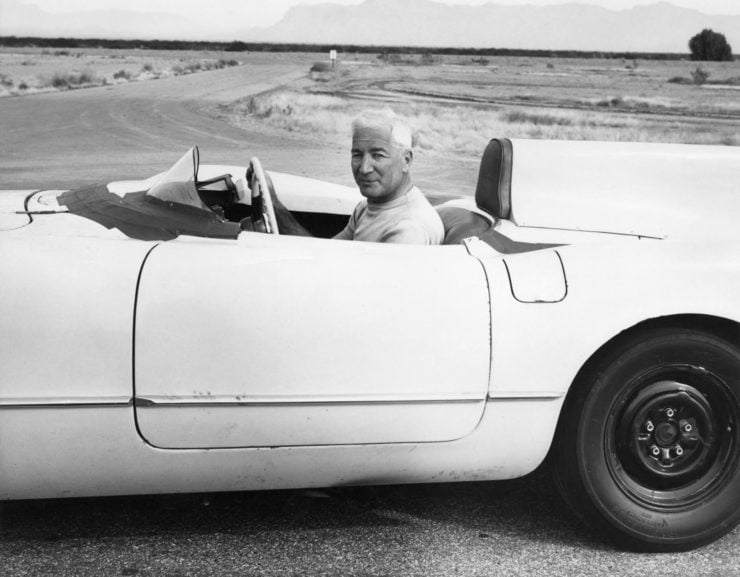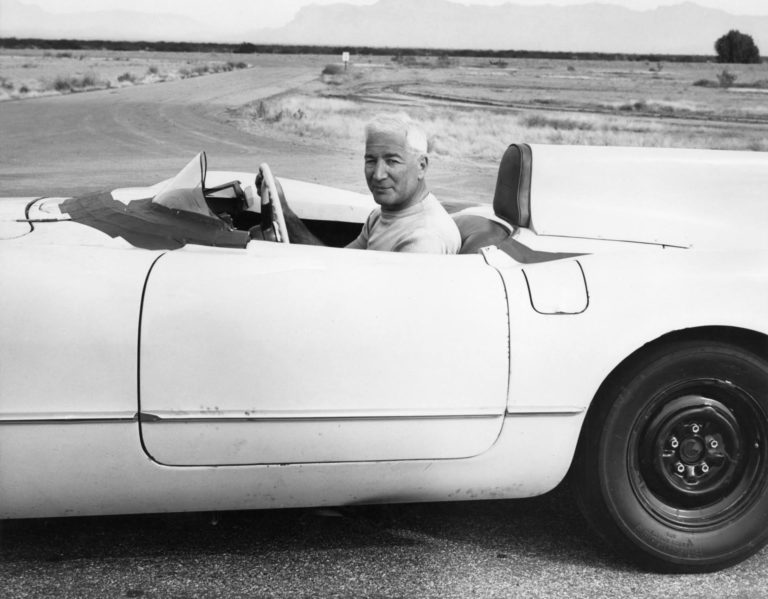 Above Image: "Father of the Corvette" Zora Arkus-Duntov.
As a part of this revamping of Chevrolet's image Arkus-Duntov lobbied to get a small block V8 engine installed in the Corvette and was successful. In 1955 he also set about creation of a special Corvette with the intention of demonstrating the car's performance – to give the Corvette some much needed "street-cred". That 1954 Corvette was installed with a small block V8 whose 225 hp was boosted up by a new high performance camshaft.
Arkus-Duntov did the math to ensure the engine would be capable of propelling the car to 150mph and he also worked on the body of this special Corvette to improve its aerodynamics. This included fitting a flat underbody floor to reduce turbulence under the car, and upper body modifications which included a streamlined cover over the passenger compartment, a fin behind the driver's head, and replacement of the stock windscreen with a low perspex racing type screen. In photographs many of these parts appear to be held in place with "speed tape" (i.e. duct tape), but this was not to be a production car and Arkus-Duntov's methods were to make something that was as light as possible to attain the best performance possible.
Arkus-Duntov took this specially prepared car to the Mesa Proving Grounds in December 1955 and demonstrated its performance with a 156.15mph top speed. He then took this car to Pikes Peak in 1956 and set a new stock car record followed by a 150mph Flying Mile at Daytona Beach. It is very probable that Arkus-Duntov's efforts in his specially prepared Corvettes were noticed not only in the US but also in Britain. Jaguar's Sir William Lyons set himself the target of building a Jaguar that could make 150 mph. He didn't quite manage it with his ambitiously named XK150, but he did make it with his 1961 Jaguar E-type (aka XKE).
For 1957 Arkus-Duntov and his team created the experimental Corvette SS. This car used a tubular frame and made extensive use of aluminium and magnesium.
Above Video: Footage of the experimental Corvette SS.
The Corvette SS was taken to Sebring in 1957 where it set a lap record but was forced to retire due to mechanical issues.
Arkus-Duntov did not stop there however and he managed to persuade racing driver Briggs Cunningham to take three cars to the prestigious 24 Hours Le Mans of 1960. Although one car was crashed and another was plagued with overheating before being forced to retire, one Corvette made the naysayers sit up and take notice by finishing in eighth place.
Chevrolet Corvette (C1) First Generation Models and Specifications
1953-1955
These are the first production cars with the 1953 cars being by far the most rare, there having been only 300 made. Door locks are of the Barchetta style, meaning that the driver needs to reach inside the door to operate the door latch to open the door.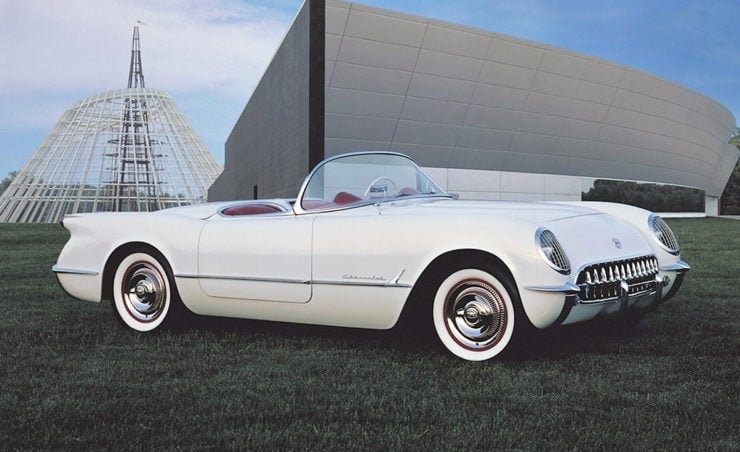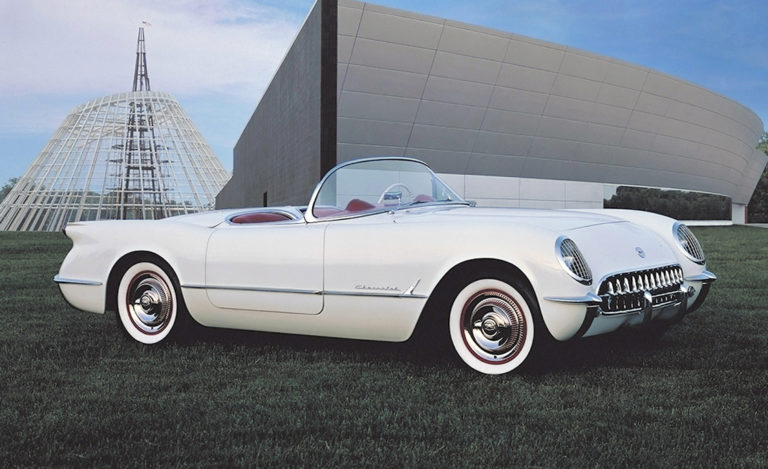 Engine:
235cu.in.(3.85 litre) Chevrolet Blue Flame in-line six cylinder OHV, modified with a high lift camshaft, solid valve lifters, higher compression ratio, and triple Carter side-draft carburettors, giving it a power output of 150hp. In 1954 offered with a Paxton centrifugal supercharger as an optional extra.
1955: 265cu.in. (4.34 litre) small block V8 engine producing 195hp.
Transmission:
2 speed GM Powerglide automatic.
For the 265 cu. in. V8 a three speed automatic was available as an option.
Electrical System: Six cylinder cars 6 volt. V8 equipped cars 12 volt negative earth.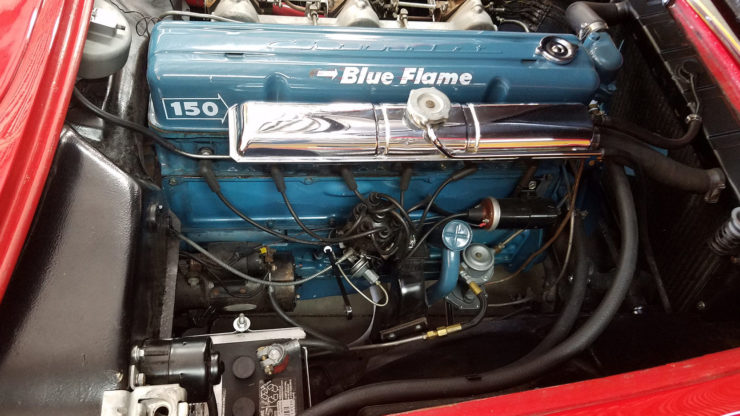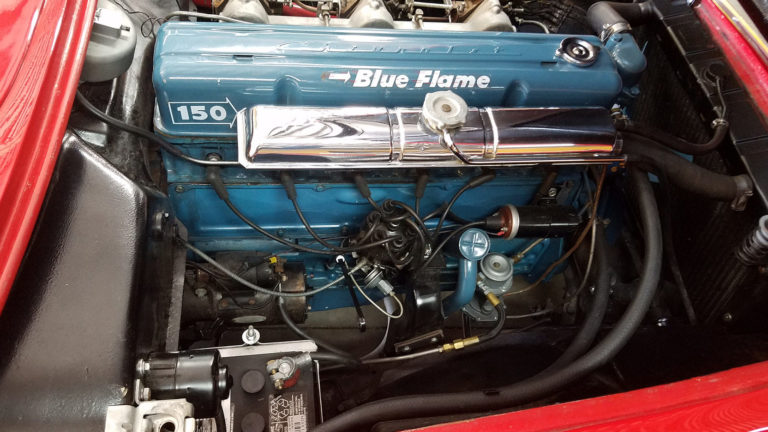 1956-1957
These cars were subject to significant styling changes. The trademark side coves were introduced and the car was also provided with wind-up windows, these being optionally power operated if desired. The folding roof was improved to make it far more weatherproof than on the early models and the doors were provided with external door handles and locks as opposed to the Barchetta style door locks of the earlier cars.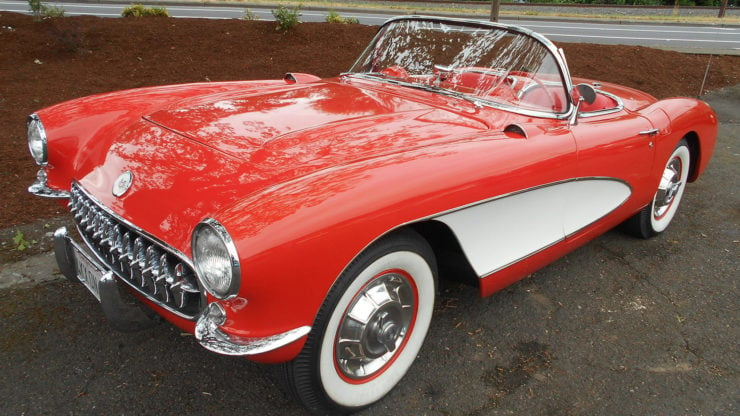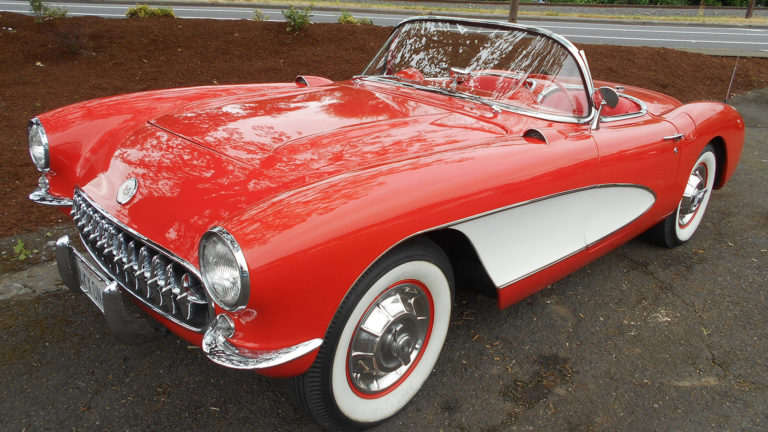 For 1956 Chevrolet offered a Delco hybrid transistor/valve signal-seeking radio. The transistor was new technology at this time and old fashioned glass valves were still in common use.
Engine:
265cu.in (4.34 litre) small block V8 provided in two stages of development producing either 210hp or 240hp.
April 9th, 1957 onwards: 283cu.in. (4.6 litre) V8 producing 220hp in standard form, or optionally 240hp, or 270hp. Fuel injection optional engine produced 290hp but General Motors decided to use the slogan "One HP per cubic inch" so they understated the fuel injected engine's power as 283hp.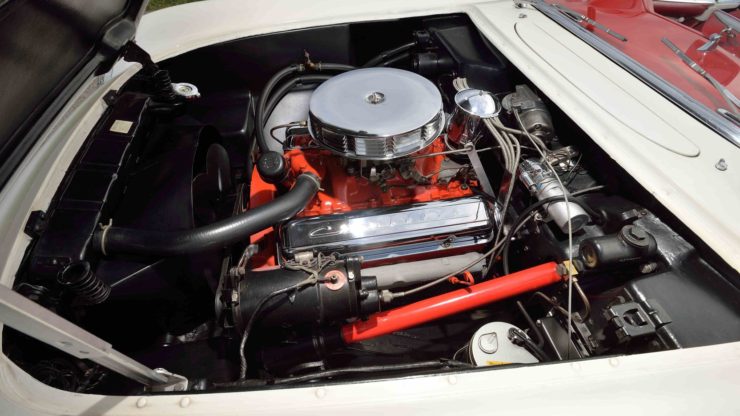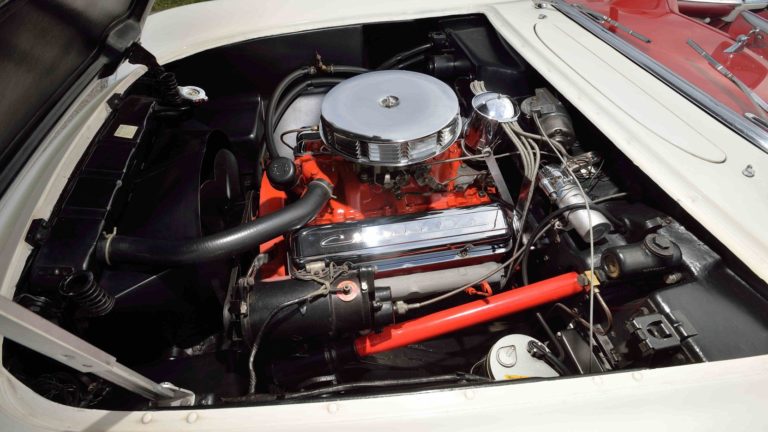 Transmission:
3 speed manual gearbox standard
2 speed Powerglide automatic optional.
April 9th, 1957 onwards: 4 speed manual transmission.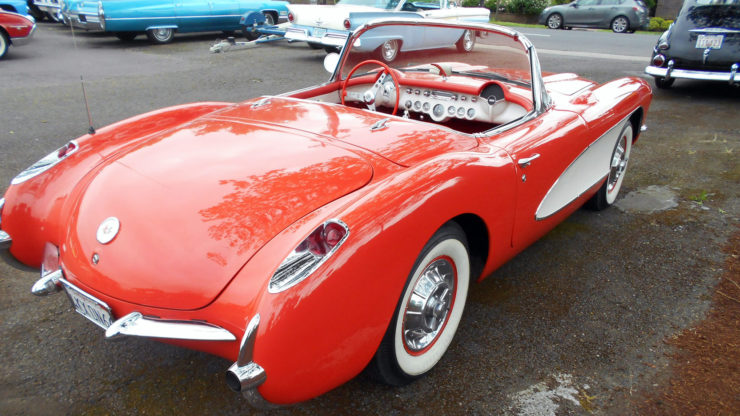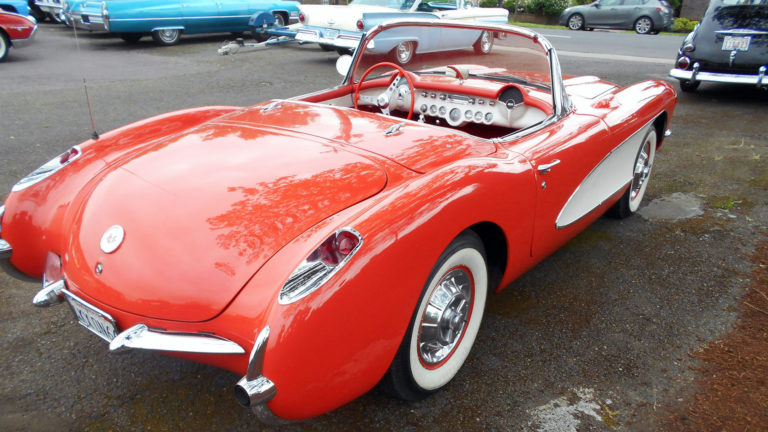 1958-1961
The front styling was altered to provide dual headlight clusters in place of the conventional single headlights of the earlier cars. With this new grille openings were placed under each headlight cluster in a placement that could provide cooling air to the front drum brakes. For 1958 the hood/bonnet was given faux louvres and the boot/trunk lid given two chrome "spears".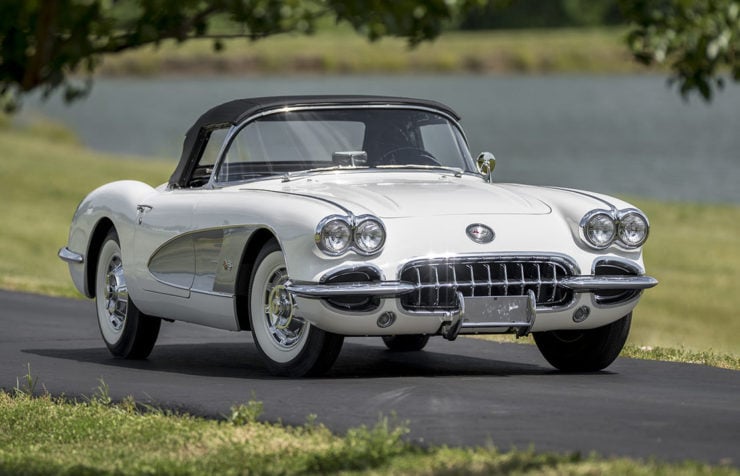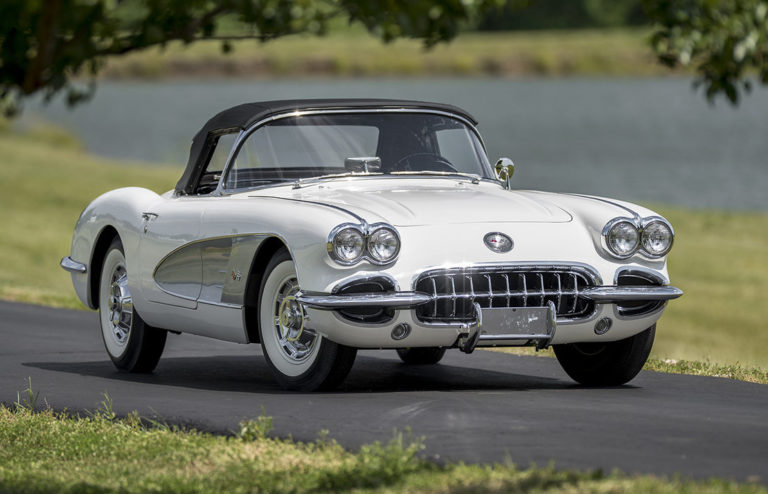 The car's interior was also updated with a new instrument panel that placed the tachometer directly in the driver's field of view. That tachometer was changed to read up to 8,000rpm as opposed to the previous model's 6,000rpm used with the 270hp and 290hp V8 models.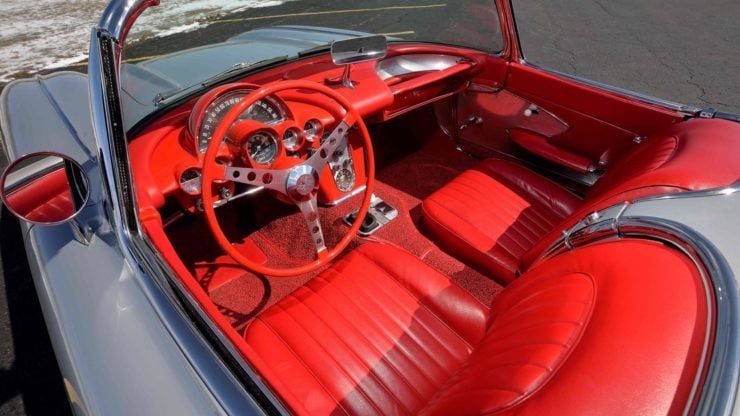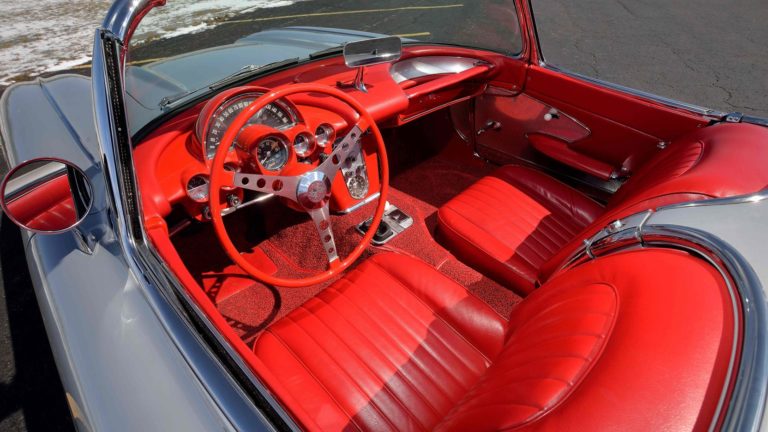 In 1959 the gear-shift was fitted with a "T" shaped positive reverse block to discourage drivers from accidentally shifting into reverse while driving along the road – something that could result in the premature retirement of the gearbox.
Only for hardtop cars a larger 24 gallon fuel tank was offered. This could not be offered for the soft top cars as the larger tank took up the space used for folding the soft top down.
Engines:
1958: The 283 cu. in. V8 was offered in two carburettor versions, and a fuel injected version:-
Twin Carter 2613S carburettors providing engine power of 245hp.
Twin Carter 2614S WCFB four-barrel carburettors for engine power of 270hp.
The fuel injection equipped engine is listed as producing 290 hp @ 6,200 rpm and 290 lb/ft of torque @ 4,400 rpm.
For 1960 the radiators were upgraded to aluminium.
Transmissions:
Fuel injected cars had to be ordered with the four speed manual transmission.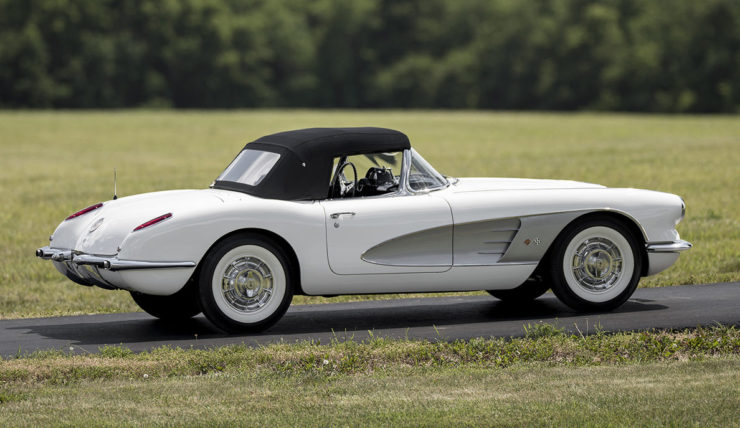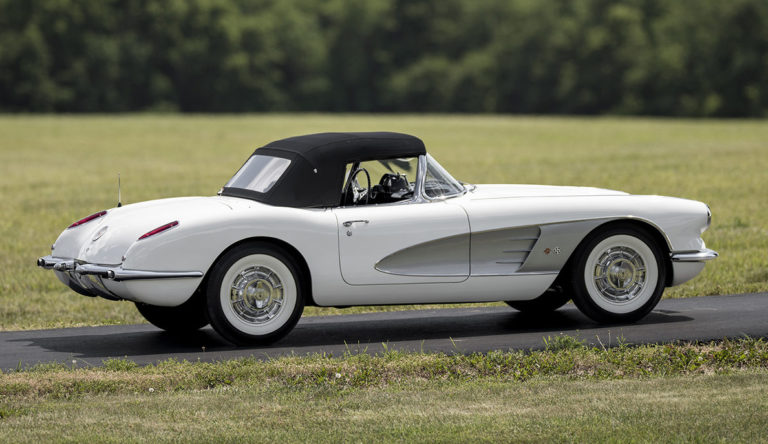 1961-1962
The rear styling of the Corvette was changed dramatically to a "boat-tail" style reminiscent of a water ski boat. This rear styling incorporated four tail lights and it was so well liked that it would be carried on to appear on the second generation (C2) Corvettes.
The other characteristic of the styling of these cars was that the side coves were painted in a contrasting colour. Between this colour contrast and the new rear styling the appearance of the Corvette was greatly enhanced.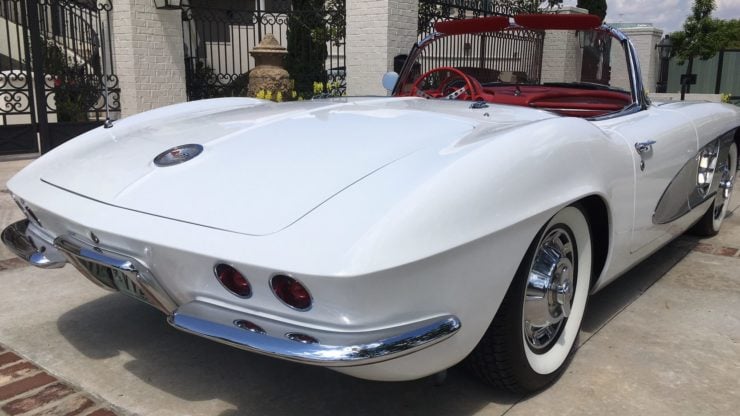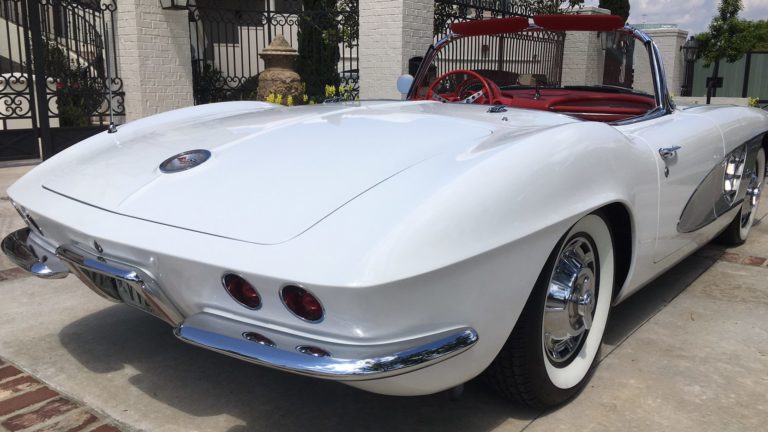 Engines:
1961: The carburettor equipped engines remained the same as for the previous model, and this was the last year they were offered.

1962: The fuel injected engines produced 275hp and 315hp. Additionally a new 327cu. in. (5.36 litre) V8 engine was offered as an option. The Duntov solid lifter cam versions of this engine produced 340 hp and 344 lb/ft of torque when fitted with the single Carter 4-barrel carburettor, and 360 hp with 358 lb/ft of torque when equipped with Rochester fuel-injection.
Buying a First Generation "C1" Corvette
If you're thinking of buying a first generation C1 Chevrolet Corvette the first consideration is what you want to do with the car? Are you a collector looking for a concours all original example? Are you someone who just loves the C1 Corvette and wants the joy of owning it and occasionally driving it? Or are you someone who wants a C1 Corvette as a regular driver and you are wanting to do some "restomod" improvements?
Whether you are a concours car purist or a restomod impurist will determine what sort of car you are going to look for, and what you are going to need to spend to own it, bring it up to the standard you want, and maintain it there.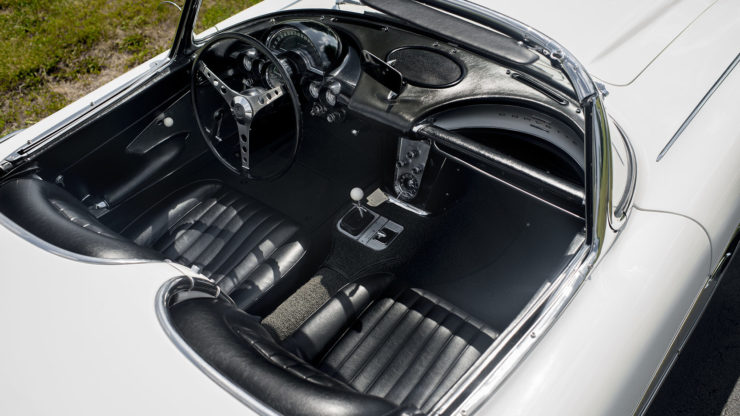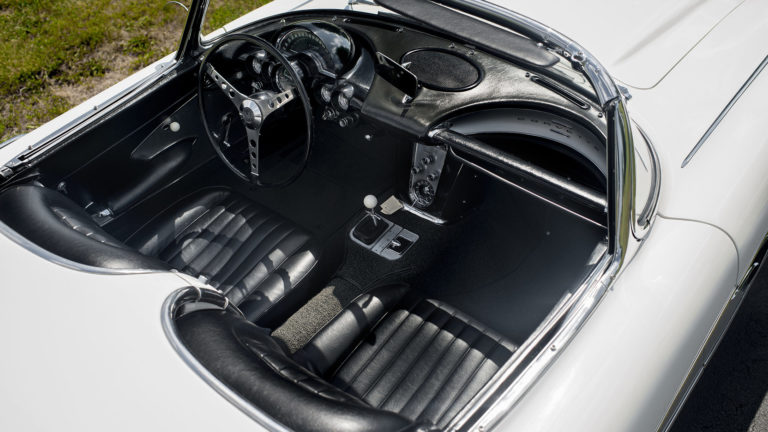 Doing your budget is an essential starting point. An initial assessment of the value of first generation Corvettes is best obtained by scanning the cars for sale at the time you are buying. Auction sites such as RM Sotheby's and Mecum Auctions to name just two will give you indications of past sale values to compare with advertisements for cars for sale at the time you are looking.
If you are wanting to obtain as original a car as possible then a thorough check of the documentation that comes with the car is a necessary investment of your time. You will be looking to ensure the car is, as far as possible, as close to when it left the factory as you can find.
One of the best sources of advice in your search for your Corvette will be a Chevrolet Corvette owner's club. If you are in the United States you might want to talk to the Corvette Club of America, while in the UK you might try the Classic Corvette Club, and in Australia try Corvettes Down Under.
Another group you might want to get in touch with is the National Corvette Restorer's Society, who are a great resource for restorers, owners, and potential owners and restorers.
Evaluating a Potential Purchase
A first generation Chevrolet Corvette will be around six decades old and a lot of things can happen to a car in six decades. With any old classic car the most important thing to evaluate will be the body and chassis. You're looking for signs of present or past corrosion/osmosis, and damage.
For example, if a car has been accidentally spun into a kerb the damage will extend to suspension, steering components, and potential chassis deformation. Any indication that this type of accident has occurred in the past and you'll need to have the chassis alignment checked, in addition to checking the chassis, suspension, and steering are all in perfect working order.
The Corvette's fibreglass body shell is attached to the chassis by a "birdcage" of metal tubing. The main areas where corrosion will show up is where these three things join. Similarly old accident damage or repair work can be detected in those areas. Fibreglass might not rust like steel does but it does chemically deteriorate over the decades and can exhibit cracking, or may have been repaired.
With regard to repairs to any old car, especially on one of high value such as the C1 Corvette, be aware that repairs may or may not have been carried out by someone who really knew what they were doing. So if the car you are considering as a purchase is of high value it is wise to get an expert in that particular vehicle to examine it for you – they know what to look for, and they know where to look.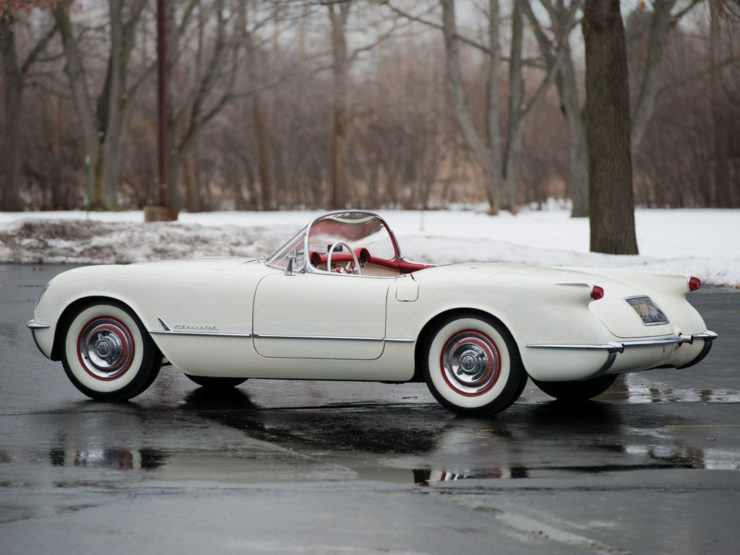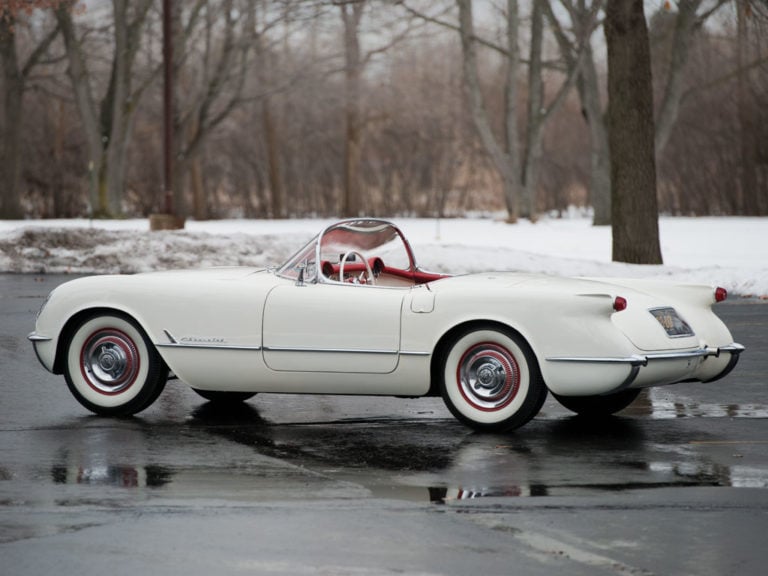 Mechanically the first generation Corvette does not present any surprises, it was made using off-the-shelf Chevrolet parts and as long as you are familiar with the usual things one looks for when buying a second hand car of this vintage then mechanical evaluation should not be difficult.
On the test drive make sure you are not distracted by someone who wants to chatter to you. You will need to be listening for the tell tale sounds of such things as worn/failing wheel bearings, shock absorbers, suspension bushings. You will be concentrating on the feel of the car through the steering, brakes and engine. You'll be taking in how the transmission sounds and feels.
When it comes to bargaining over the price remember that if you can't walk away from the car then you can't bargain. So always be prepared to walk away. My grandfather used to bet on the horse racing and he once said that any money he bet on a horse he presumed to be lost – but if it did win then the winnings were a nice surprise.
So with any car you look at assume its not the one until the bargaining is done.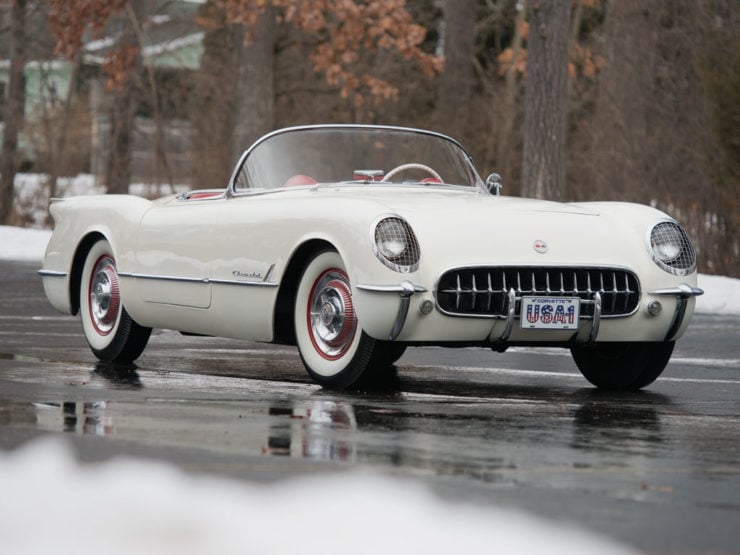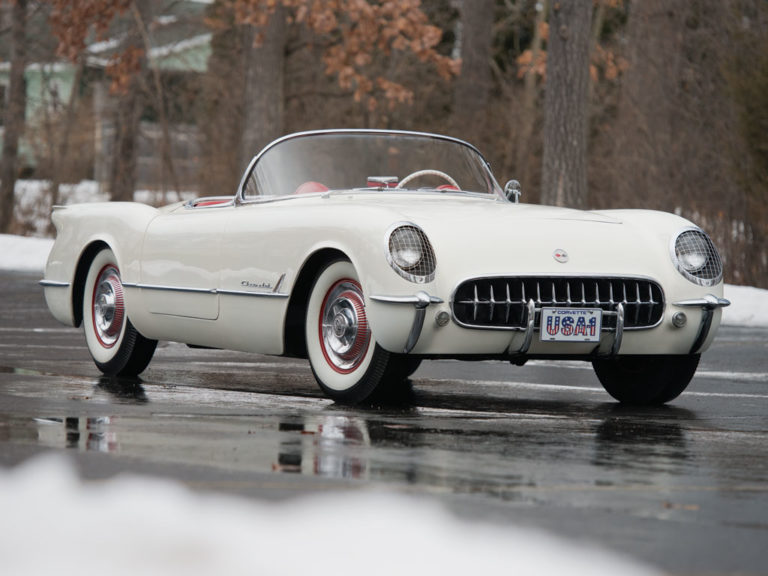 Picture Credits: GM, Chevrolet, Mecum Auctions, RM Sotheby's.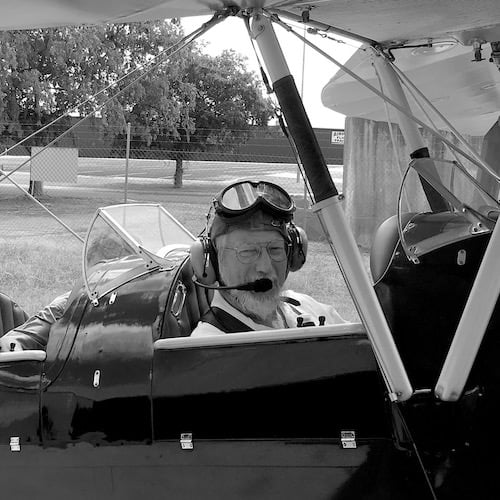 Jon Branch has written countless official automobile Buying Guides for eBay Motors over the years, he's also written for Hagerty, he's a long time contributor to Silodrome and the official SSAA Magazine, and he's the founder and senior editor of Revivaler.
Jon has done radio, television, magazine, and newspaper interviews on various issues, and has traveled extensively, having lived in Britain, Australia, China, and Hong Kong. The fastest thing he's ever driven was a Bolwell Nagari, the slowest was a Caterpillar D9, and the most challenging was a 1950's MAN semi-trailer with unexpected brake failure.