This post was written by the team at 86 Gear Motorcycles, a custom motorcycle workshop located in Warsaw, Poland and Kerken, Germany. When possible we like to bring you the story of a custom motorcycle in the words of the people who built it, to cut out the middle man and give you unique insight into their methods and reasoning.
My name is Christian Boosen, I grew up in Germany close to the Dutch border, where I have spent most of my life surrounded by motorcycles. As a self-taught mechanic, my passion and occasional hobby started from tinkering around several Vespa CIAOs and BRAVOs, and a SIMSON KR51 Schwalbe. During my first bike tour, I have spent half of the time fixing my 1981 Yamaha XT500 on the side of the road. It took a long time and a lot of hurdles but I made it the final destination: Istanbul. I guess that challenge became my defining moment.
When I finally made it home I was inclined to do my first complete rebuild. Shortly afterward I started to restore and sell some of these bikes every year. After 10 years of hard work and commitment, my hobby became my main occupation. I guess the passion for vintage motorcycle design has kept me going ever since.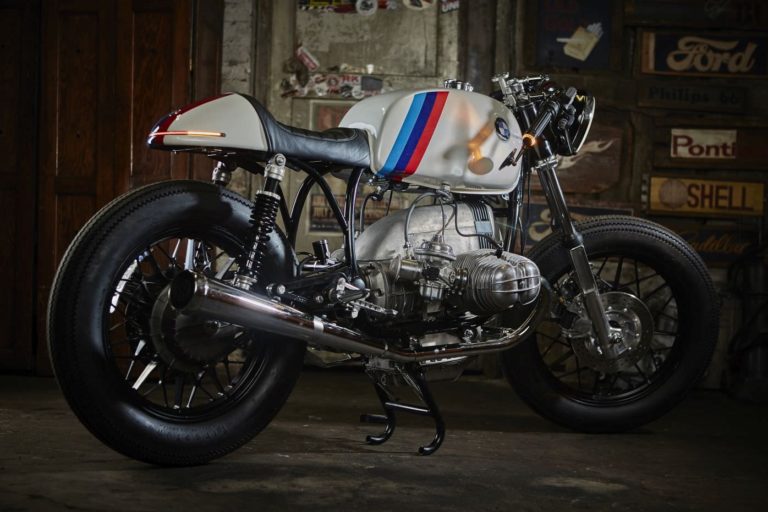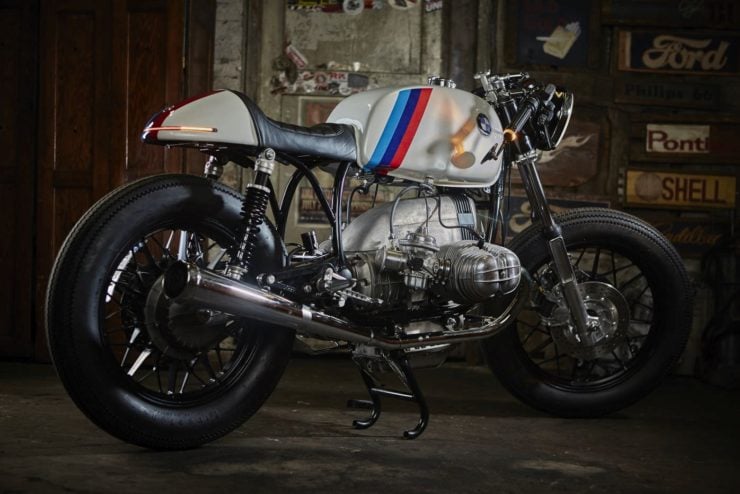 When it comes to motorcycles, the adage "form follows function" holds for me as a custom builder. Although the aesthetics play a large part in my design process, the essence of every custom motorcycle, no matter how stunning, is that it's meant to be ridden after all!
That's why I start every client brief with the intended purpose of the machine. It will take time, we will sit down and talk about ideas, dreams, and wishes, adding safety features and performance upgrades. Intensive talks about the details and how to build the bike are essential to make it special and one of a kind."
About 86 Gear Motorcycles
86 Gear Motorcycles specializes in building custom bikes from the '50s up to the mid 90's – café racers, street trackers, brats, and scramblers. We offer full builds, partial builds, repair, advice on building your bike, and fabrication of the parts you need to finish your project.
Since 2006 we have worked on every model made by the Japanese Big Four: Yamaha, Honda, Kawasaki, and Suzuki, a fair share of BMW bikes, and Italian brands like Moto Guzzi, Moto Morini, Benelli, and Ducati. Most of them 86'ed – found in someone's garage in a pitiful state, worn out and qualified for a total overhaul, hence the name. We are the enthusiasts, who restore them to former glory and transform into pure, elegant racing machines.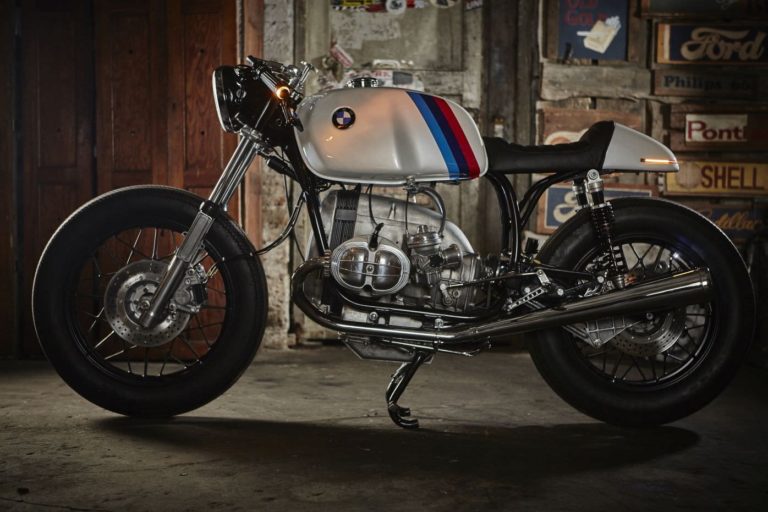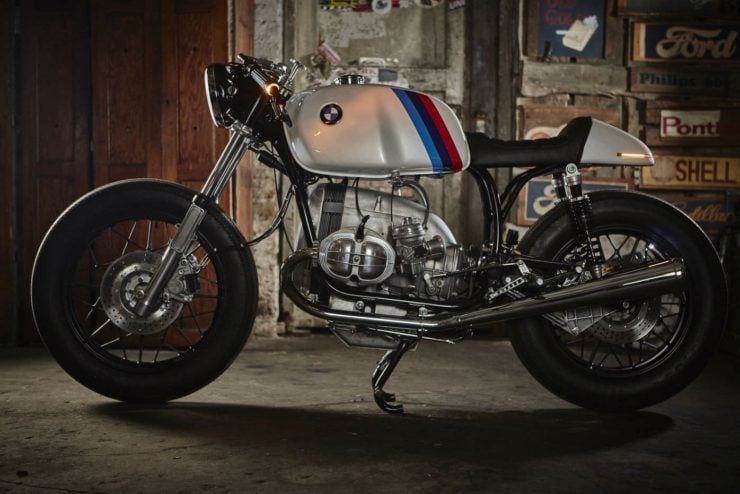 We are located in Warsaw, Poland. Although most of the work happens in a small, industrial railway building in the heart of the city, friends we cooperate with daily are what make our workshop thrive throughout all these years. Their creativity, eye for detail, and craftsmanship play a major part in every project we work on.
With only a few potential clients, the market has always been difficult and demanding. Nevertheless, passion for 'something different' is slowly fueling custom motorcycle demand. As vintage-style motorbikes in Warsaw are gaining visibility in the city, the 'best days' of our local custom scene are still ahead.
We had to source the bike. The search for the right bike went relatively fast. The base was a very well maintained 1982 BMW R100 RT, which spent its life in Berlin. With less than 80,000 km on the dial and a full-service book provided, this BMW was worth every dime. The RT was a full-house touring version of the R100, so it came with a lot of stock goodies we decided to keep: front forks, alloy snowflake wheels, stock steering damper, Brembo double front disc brake system, and a less common rear brake rotor.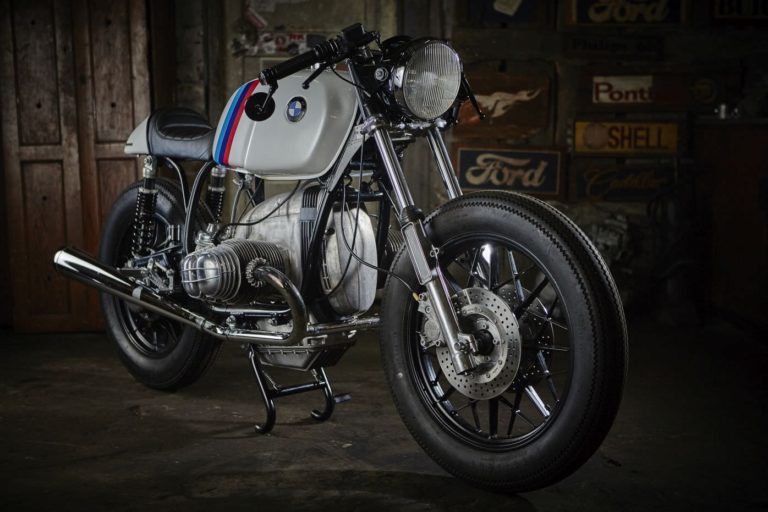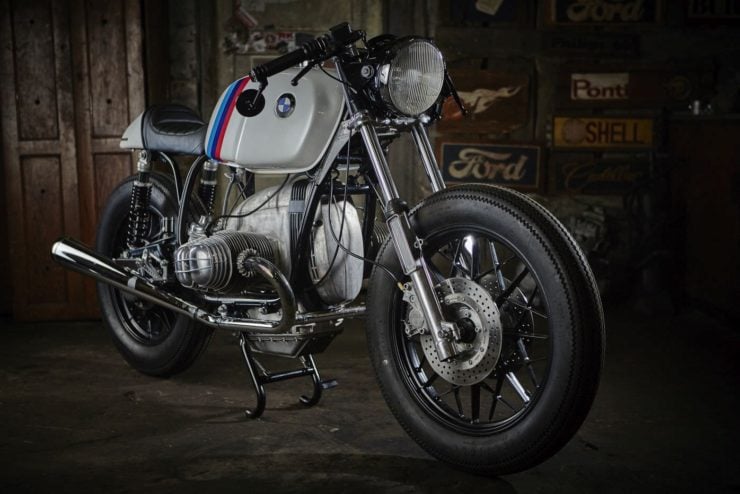 We were tasked to create a cafe racer that keeps all the significant parts and details of the 2-valve air-cooled boxer motor of that era. A solo seater with a rather sporty stance – a pure but elegant racing machine. Our client got inspired by one of his friends custom R100 but did not have any particular model in mind. With just a few inspirations from the web, he allowed us to get carte blanche with the project.
Café racer seat cowl was fabricated from metal, integrated with a LED stripe for position, brake and indicator light the battery was placed inside, the seat was also custom made with leather cover. Subframe – customized to match the visual lines of the tank.  There was also a custom made steering damper regulator cover
The fuel tank also remained stock, but to achieve an overall straight line, it was slightly lifted from the back, matching custom made subframe and a seating cow. The wiring loom was made from scratch, to fit the Motogadget Munit and other accessories listed below.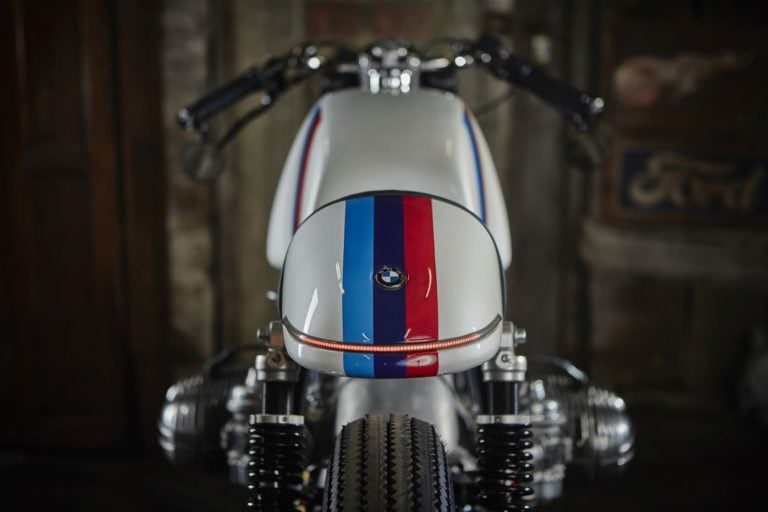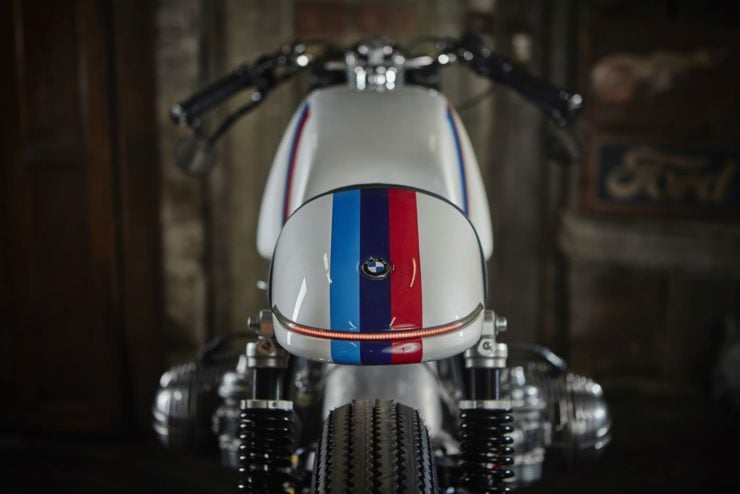 The project took 1.5 years to finish, it took me quite a while to finish this project. Intensive electrics work, custom subframe, to match the visual lines of the tank. Lots of goodies to add to the looks of the bike (and waiting for weeks for them to arrive to the workshop) and of course getting the carbs dialed in to work with the open air intake.
Electric regulator, had to be retrofitted form police bike – low rpm loading as opposed to stock high only charging. Tuning the carburettors with open-air intakes and modified exhaust was very challenging – the engine was running nice but was getting hot quick. Seat customization and overall frame design took a lot of time.
The engine and carbs were taken apart for a thorough inspection. Although it was kept in pristine condition, the motor received a new set of pistons and rings, a new clutch, and a cam chain. The oil cooler was removed. Instead, we upgraded the stock oil pan to an aftermarket, high capacity deep sump oil pan. With more oil flowing in the system, we've provided optimal cooling without compromising the looks.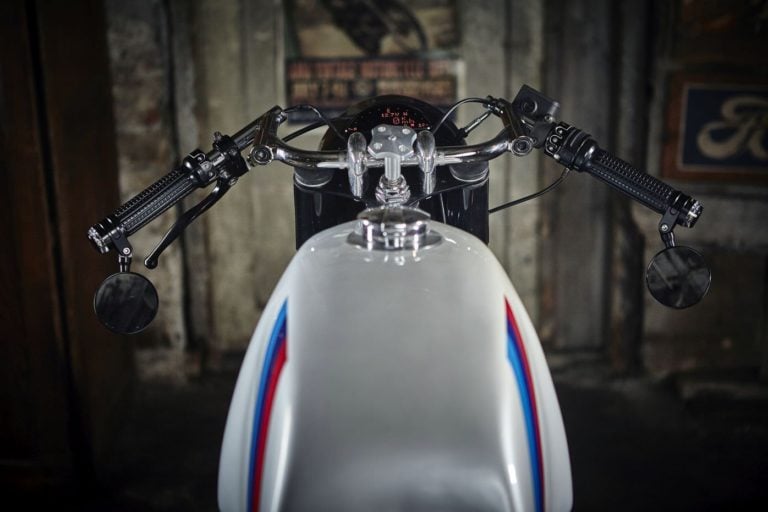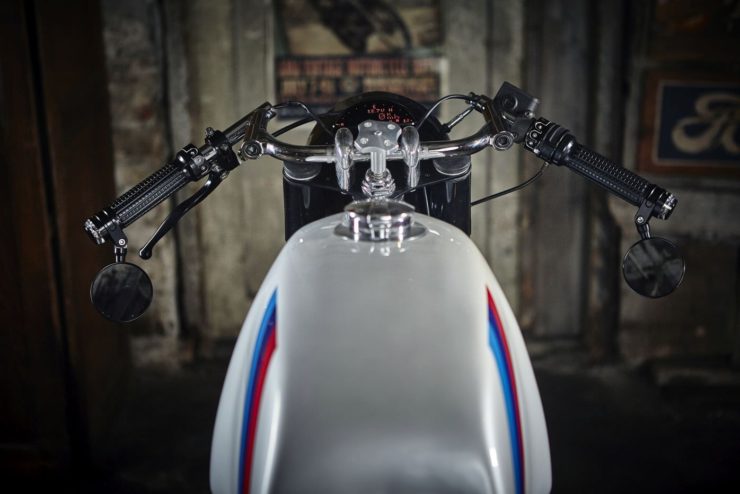 Tuning the carburetors proved to be the biggest challenge – fitting Siebenrock Velocity Stacks required serious skills but thankfully, all the parts required to mount the kit were included in the package, making the process less painful and time-consuming.
Our client is a real estate expert. By commissioning a custom café racer he celebrated a major career achievement. He got inspired by one of his friends custom R100 but did not have any particular model in mind. With just a few inspirations from the web, he allowed us to get carte blanche with the project. He was into BMW Rennsport vintage colors and raw metal. The white base coat was his wife's idea, we added the stripes and placed them accordingly to our customers' will.
In terms of performance the bike performs and handles better. It has more power, weighs less. We've got an extra 5hp increase from 65 hp to 70 hp. There was no compromise in safety in rear shocks configuration.
Visit 86 Gear Motorcycles here
Follow them on Facebook here + Instagram here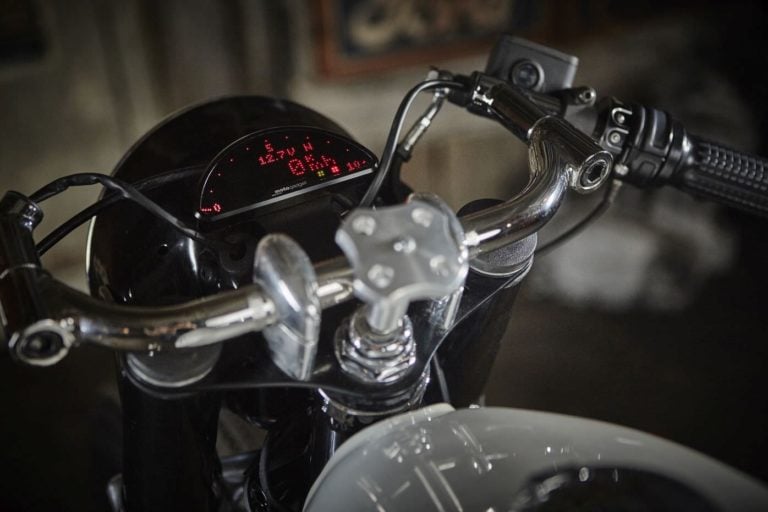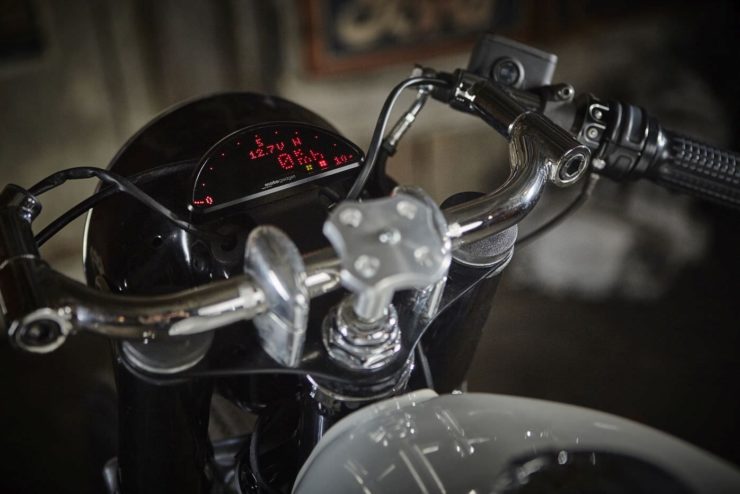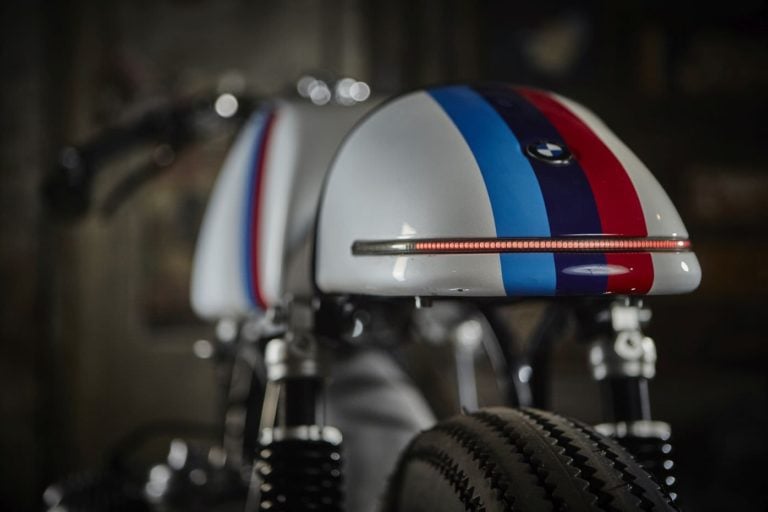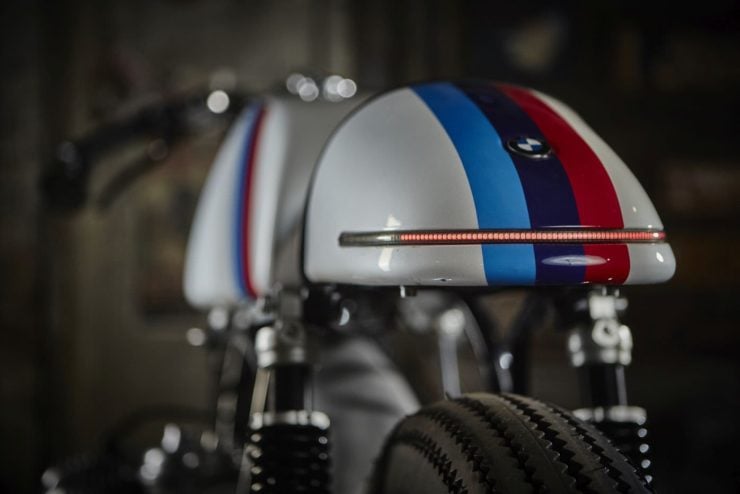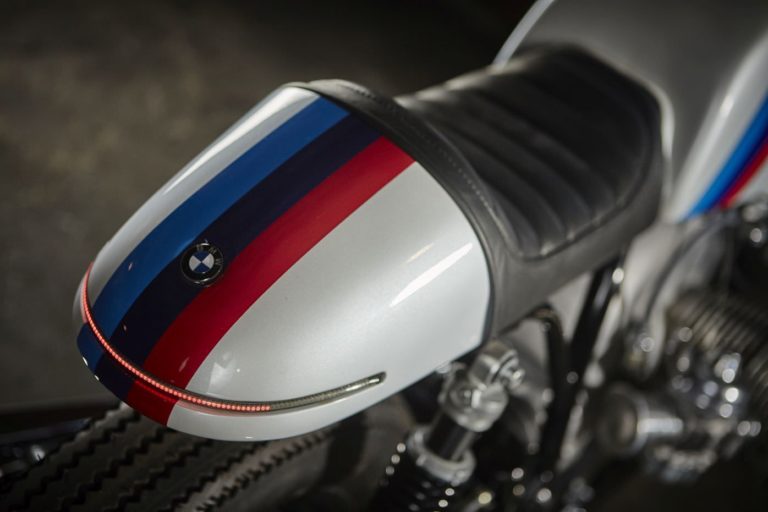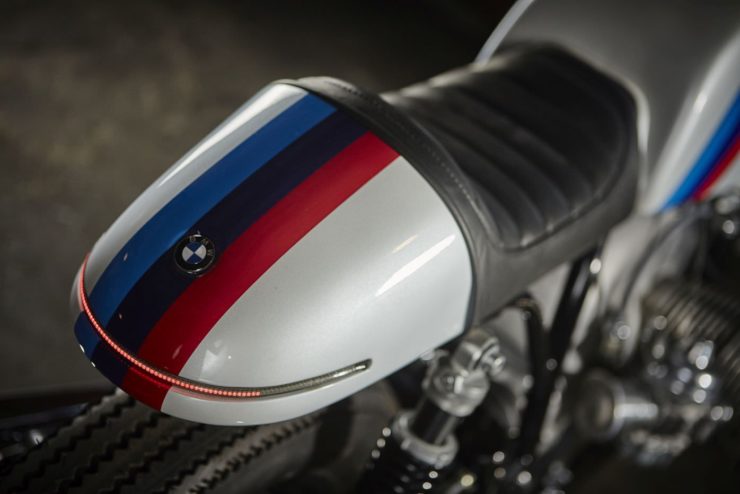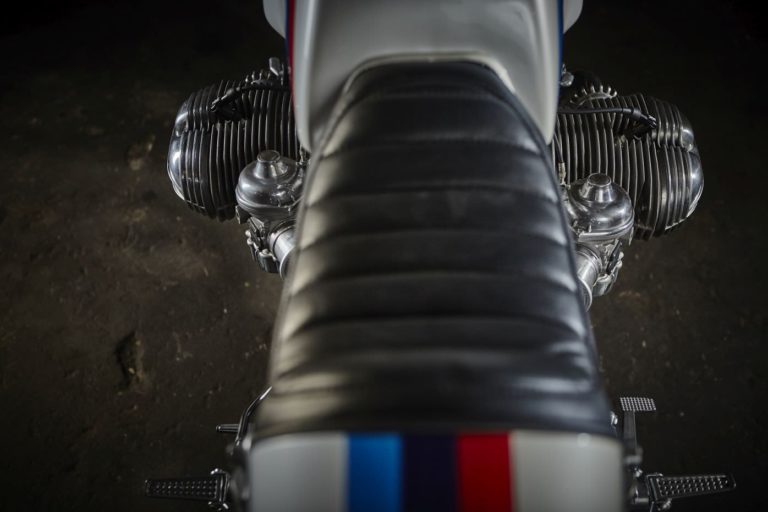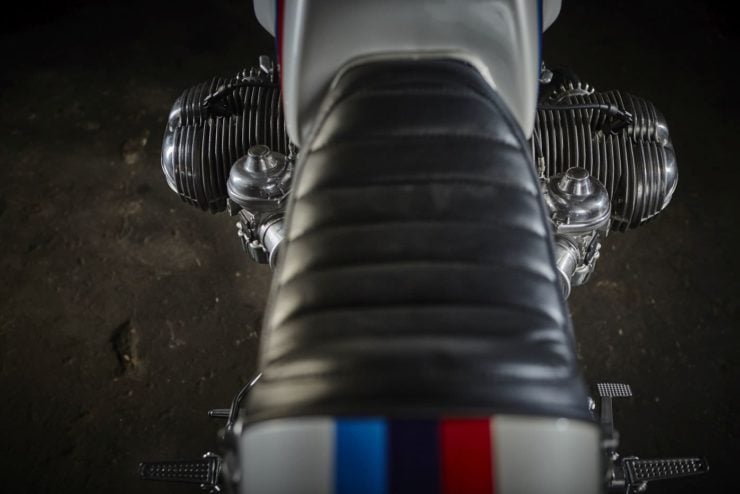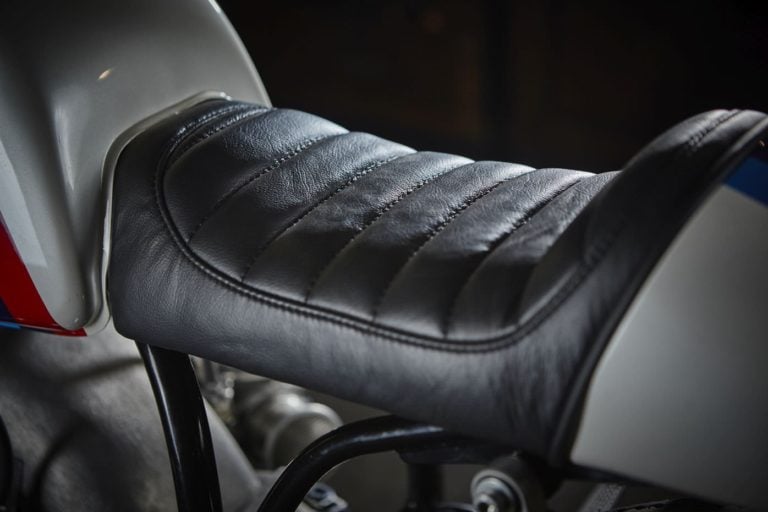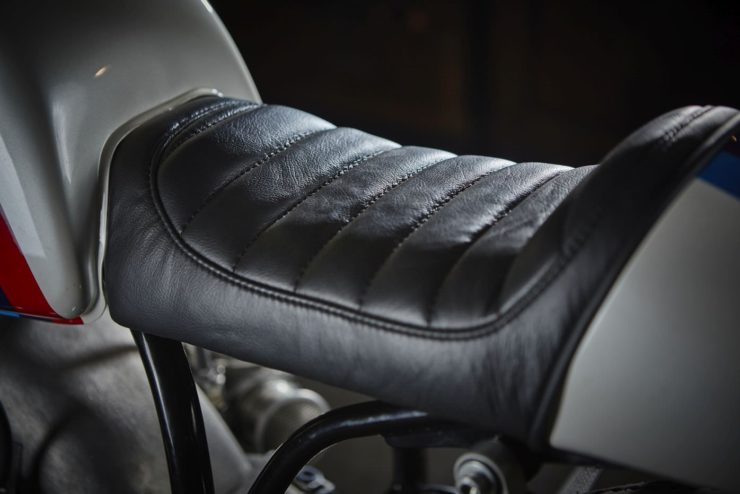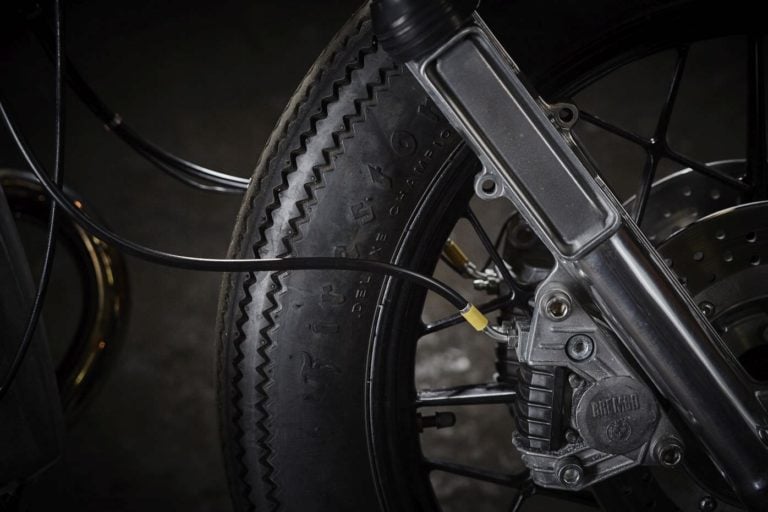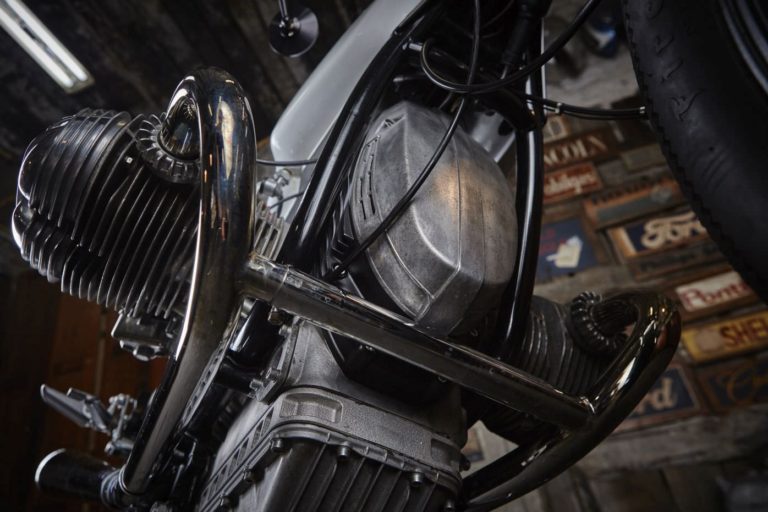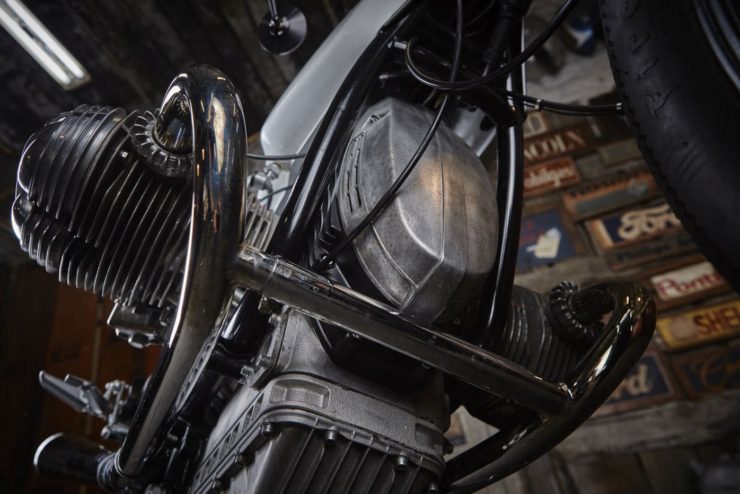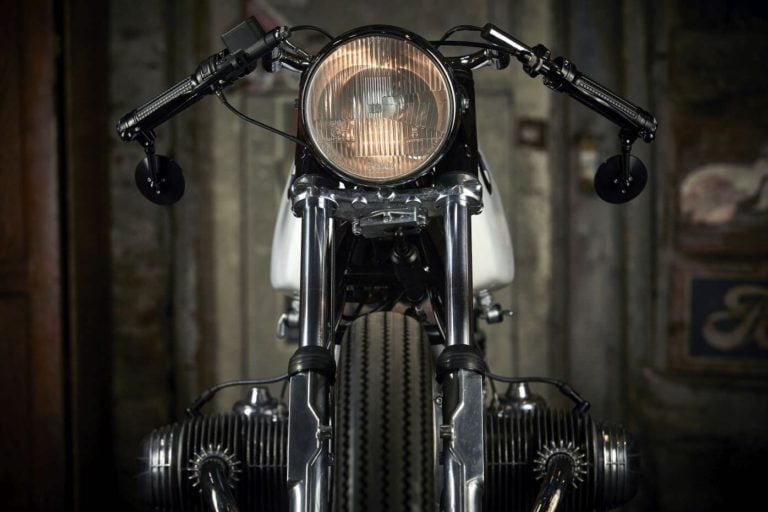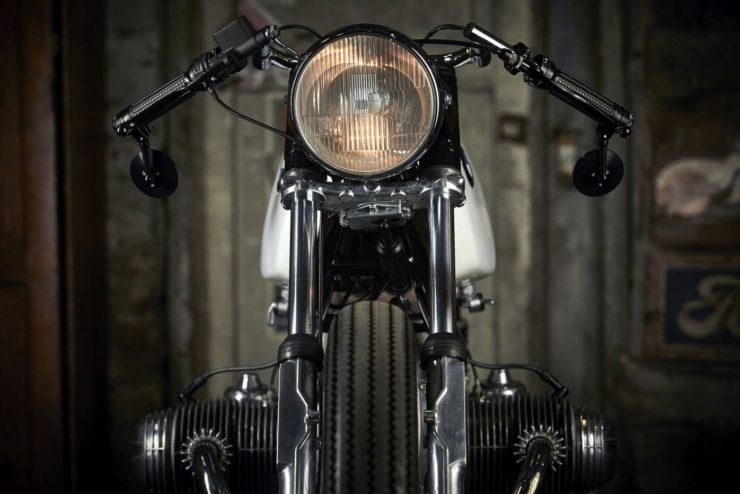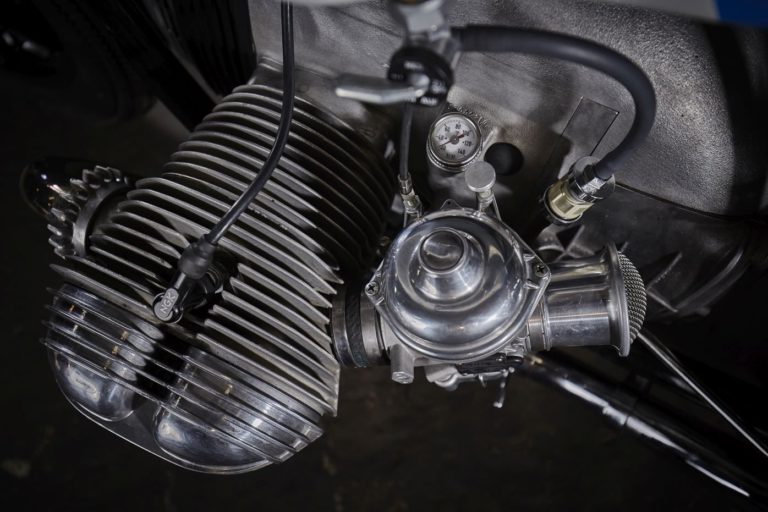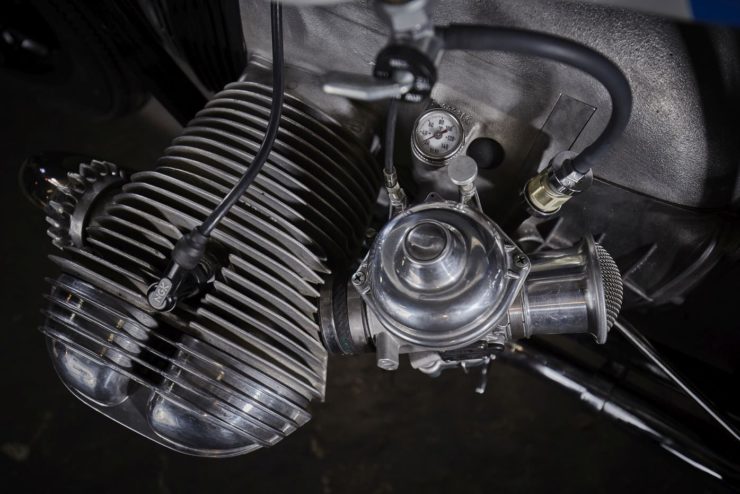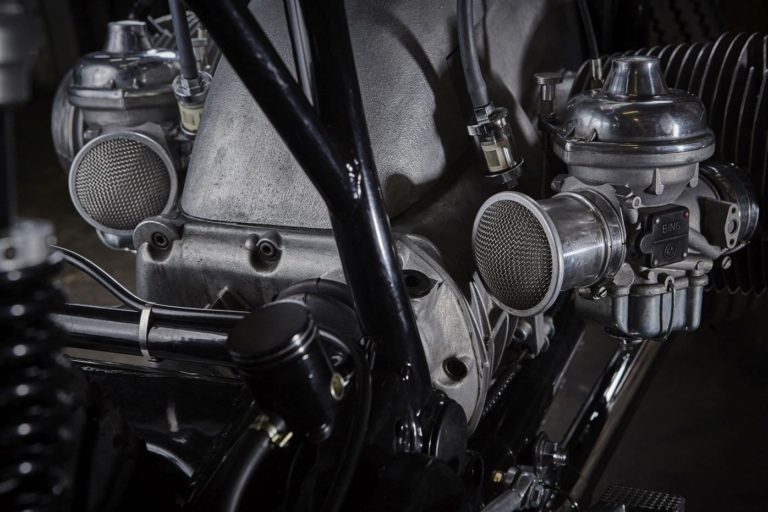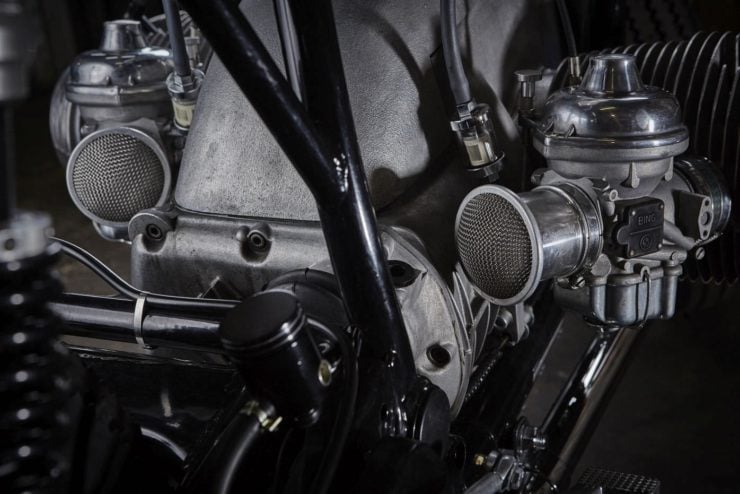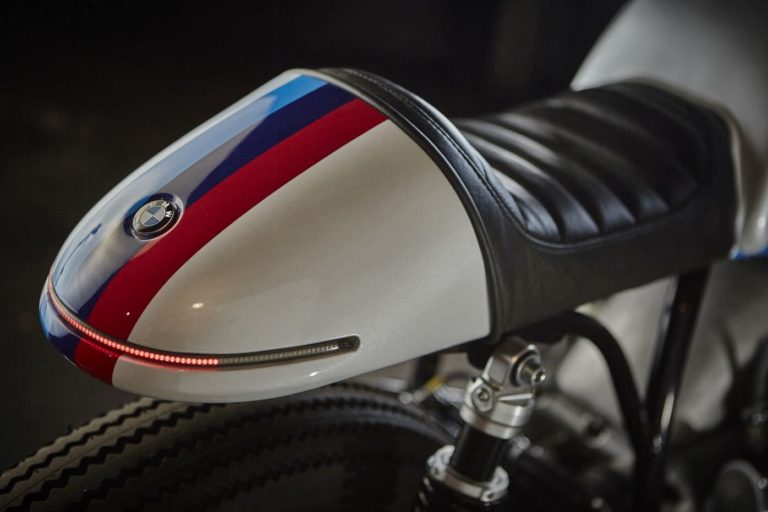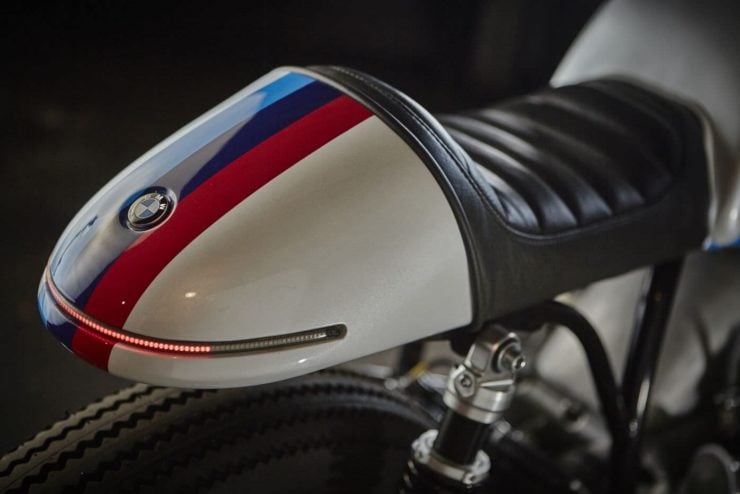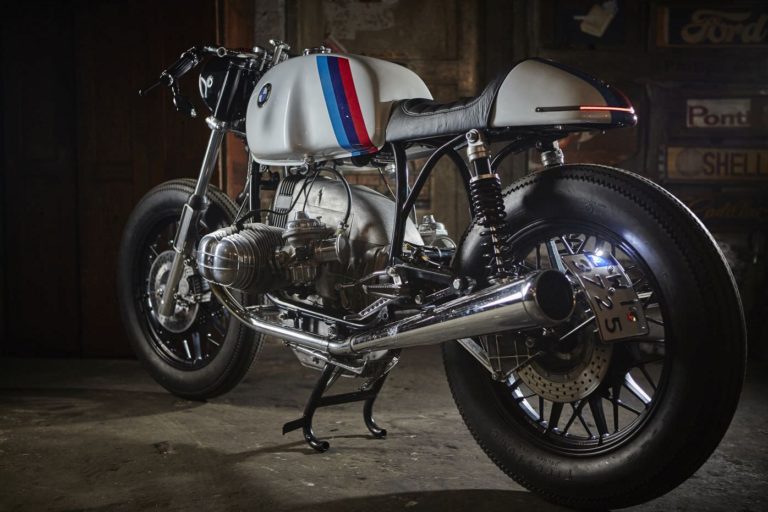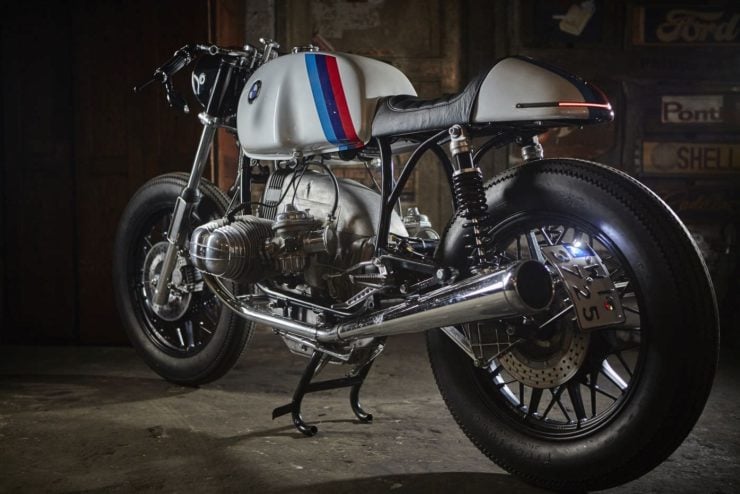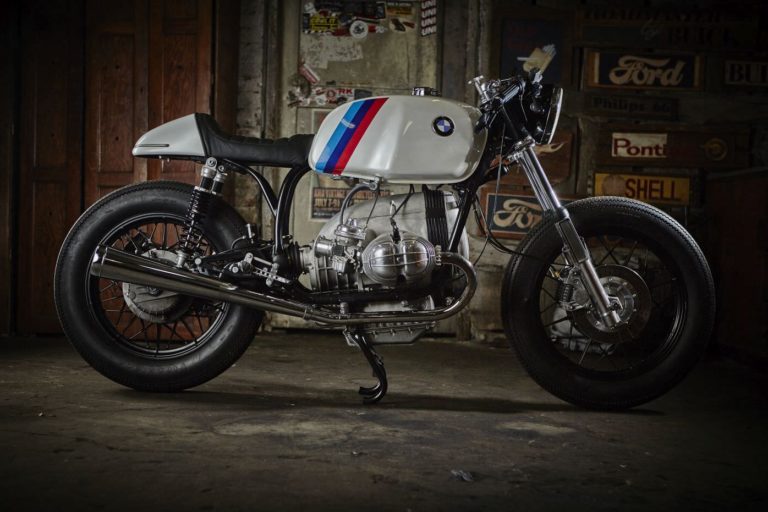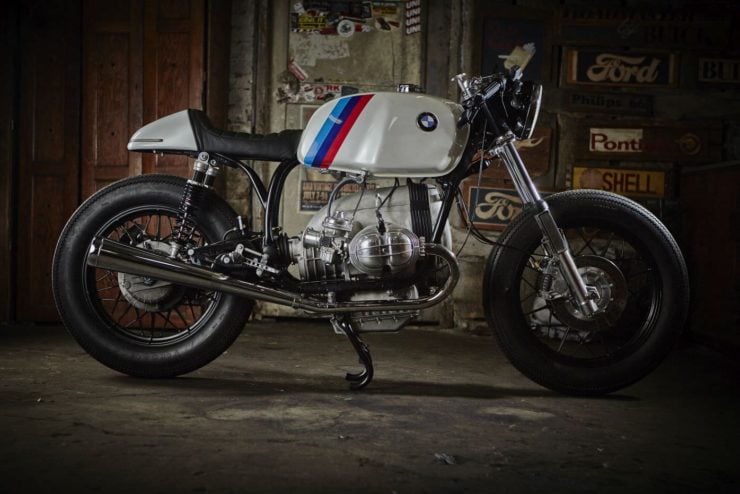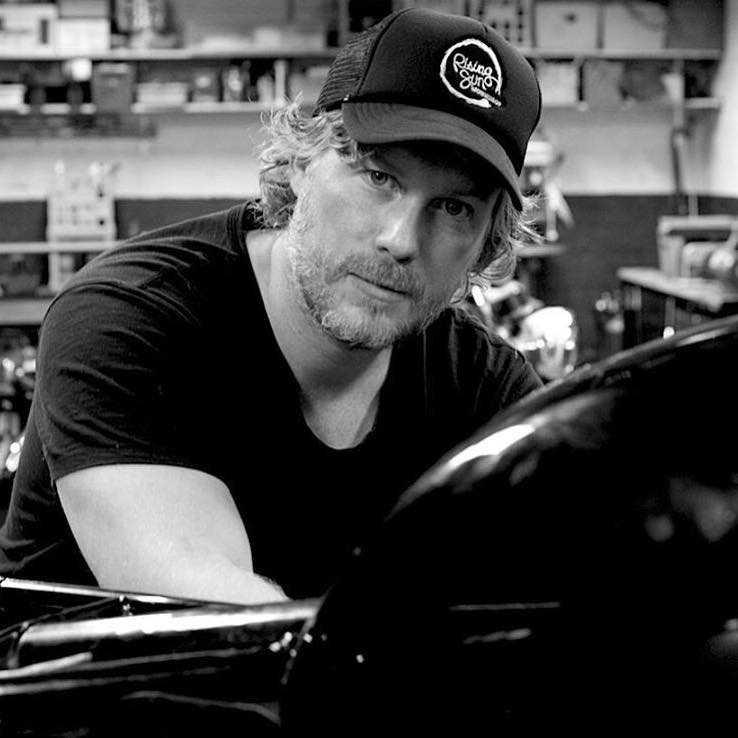 Ben has had his work featured on CNN, Popular Mechanics, Smithsonian Magazine, Road & Track Magazine, the official Pinterest blog, the official eBay Motors blog, BuzzFeed, and many more.
Silodrome was founded by Ben back in 2010, in the years since the site has grown to become a world leader in the alternative and vintage motoring sector, with millions of readers around the world and many hundreds of thousands of followers on social media.