Watch the 1985 Daytona 200 – Freddie Spencer vs Wes Cooley
Reading time: about 1 minute.
The 1985 Daytona 200 was a significant race in the career of "Fast" Freddie Spencer, he pulled out a lead early in the race before a mystery engine problem forced him into the pits and out of the race – or so many thought.
The engine problem proved to be a gremlin that would disappear for the rest of the race, leaving Spencer to carve his was back through the field on his Honda. 1985 was the year that the Daytona switched to Superbikes rather than the Grand Prix-style motorcycles that had previously contested the event.
The reason for this switch was two-fold, it was essential to lower speeds to reduce the number of injuries, and the use of Superbikes that were closer to the motorcycles that could be bought by regular motorcyclists was thought to be a smart marketing move.
I'm about to give away the ending of the race, so if you don't know who won and you want to watch the race above, please stop reading now.
The 1985 Daytona 200 was a remarkable race, it's still one of my favourite 1980s runnings of the famous American race.
This may be because I'm a Freddie Spencer fan, and his performance at this race was stunning. After the aforementioned engine trouble, Fast Freddie somehow managed to work his way through the field picking off one rider after another. If you haven't seen this race yet (or haven't seen it since 1985) make yourself a coffee or open a beer and hit play. You'll be glad you did.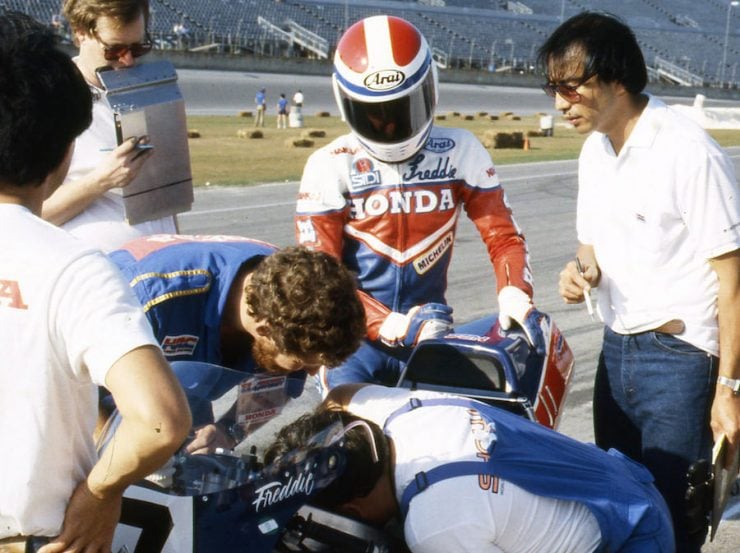 This article and its contents are protected by copyright, and may only be republished with a credit and link back to Silodrome.com - ©2020