In this article by Jon Branch we take a look back at the history of storied British motorcycle maker Brough Superior, and we take a look inside the modern factory turning out 21st century Brough Superiors for a new generation of riders.
A Superior Heritage
George Brough, the founder of Brough Superior motorcycles, did not believe in humble beginnings – when he first began his motorcycle manufacturing business he aimed as high as one could aim with the full intention of reaching heights that none before him had achieved.
We see this attitude in Brough's favorite snippet of poetry which comes from Rudyard Kipling's "The Mary Gloster" and it reads:-
"They copied all they could follow
But they couldn't copy my mind
And I left 'em sweating and a'stealing

A year and a half behind."
Prior to taking the gamble of setting up his own motorcycle manufacturing business George Brough had carefully laid the foundations to give his new enterprise the "street cred" that it would need in order to prosper. He'd begun back in 1906 when he was still at school by winning the London to Edinburgh and Back Trial three years in a row; 1910, 1911, and 1912. He completed 1912 by winning the Gold Medal and prize for best performance in the 1912 Scottish Six Days Trial adding nicely to his list of achievements.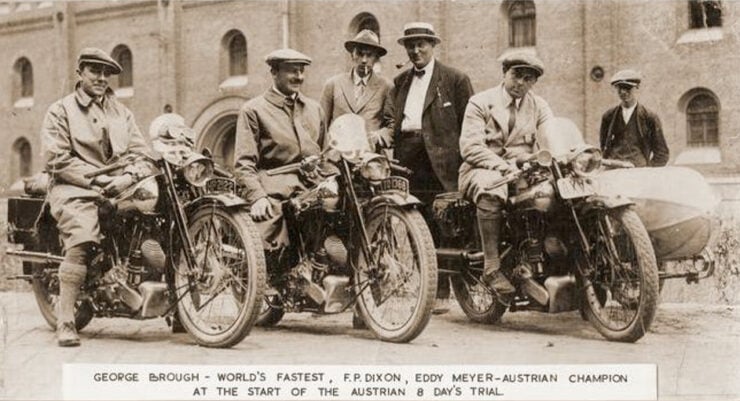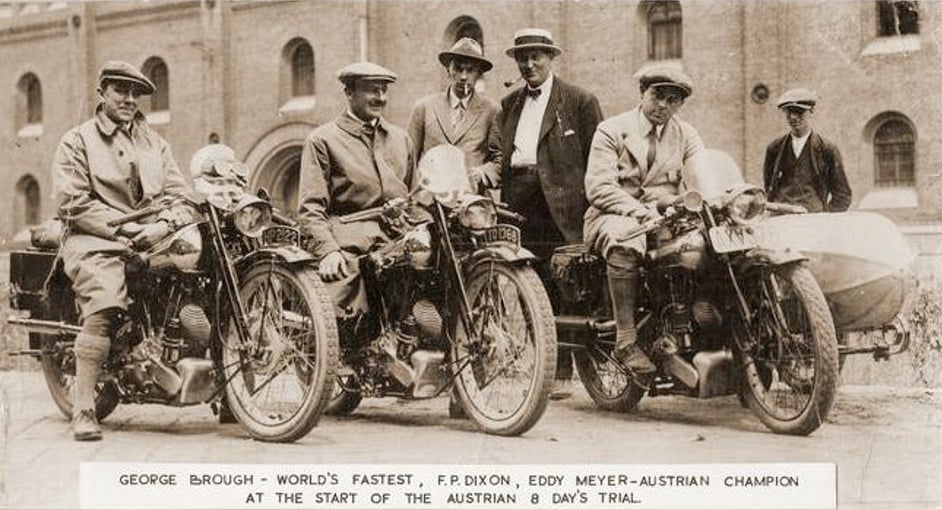 George Brough started Brough Superior motorcycles in 1919, after the end of the First World War and as the Spanish Flu pandemic that followed it naturally petered out heralding in the beginning of the prosperous years of the "Roaring Twenties". He continued to work on building up excellence in his motorcycles and excellence in publicity, and he set two records at the famed Brooklands race track when he took a bike of his own design and construction named "Spit and Polish" racing there.
He set a 100mph lap record for a side-valve powered bike and won his first five lap race. He then went on to set another less conventional record in a later race when the front tyre of "Spit and Polish" failed causing George to part company with the bike and continue his journey around the track on his backside: so we are told he broke the record for the longest "backside slide" at Brooklands also. No doubt as that story made the rounds of Britain's public houses George Brough progressed to become a household name.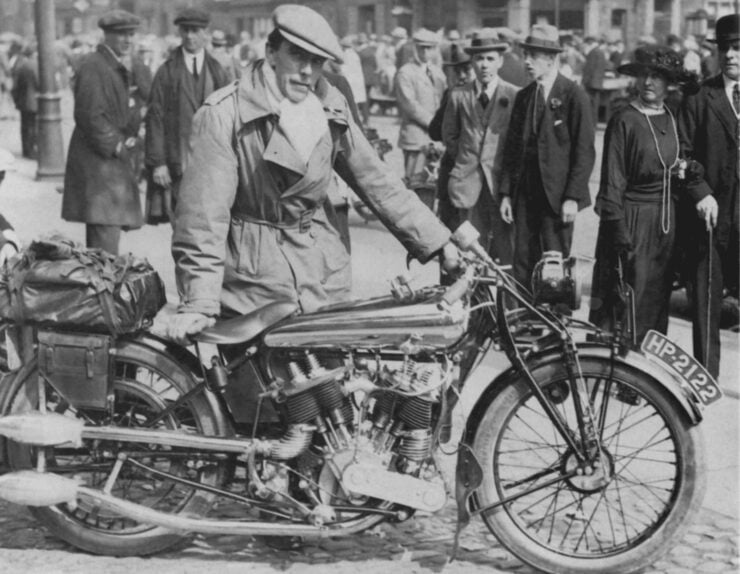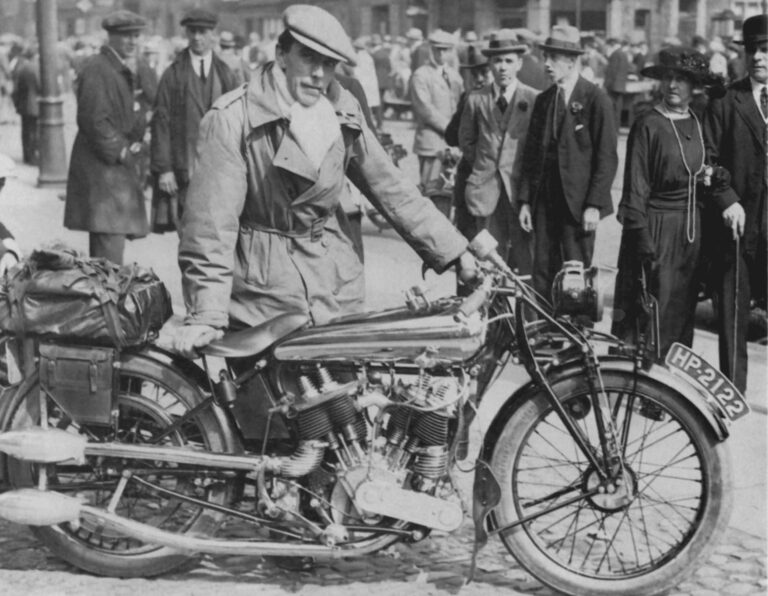 Above Image: George Brough showing one of his creations.
The Brough Superior became the best British motorcycle of the 1920's and 1930's, and was arguably the best in the world. In fact it was described as the "Rolls-Royce of motorcycles" and even Rolls-Royce were persuaded that the Brough Superior was worthy of being so called.
Broughs were owned and ridden by many famous men of the 1920's and 1930's although perhaps the only three of these whose fame continues to the present day are actor Orson Welles, T.E. Lawrence, better known as "Lawrence of Arabia", and playwright George Bernard Shaw who created the stage play "Pygmalion" that was subsequently re-created to become the musical "My Fair Lady".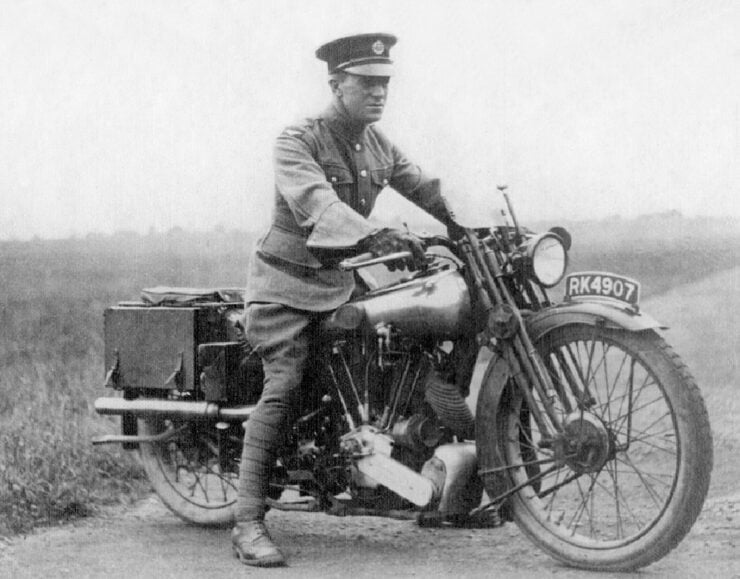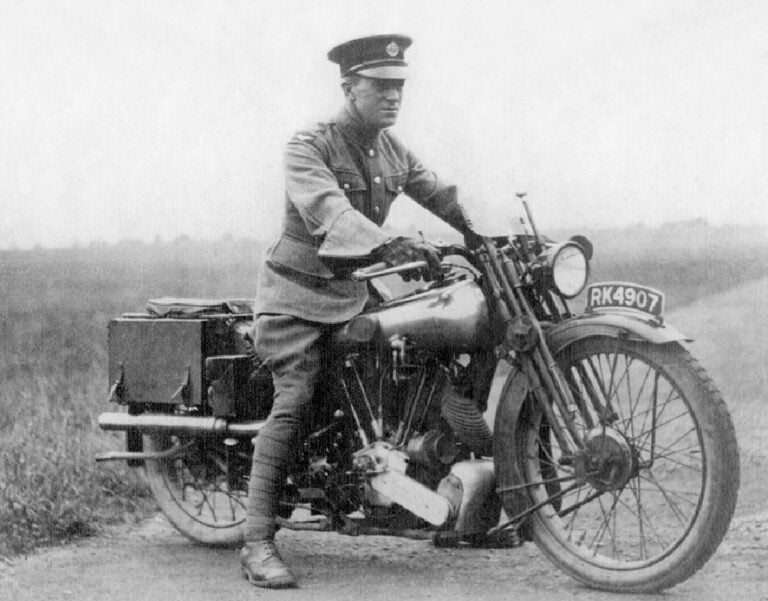 Above Image: T.E. Lawrence, better known as "Lawrence of Arabia", aboard one of his SS100s.
George Brough was very much a "no second place winner" man. He was determined to produce the best motorcycles money could buy, and his bikes were all tailor made to the customer's specifications just like a London Saville Row suit or a "best gun" from one of London's famous makers such as Purdey or Holland & Holland. Suffice to say that a Saville Row suit, a gun from Purdey, or a Brough Superior motorcycle, were expensive as one would expect a custom made top quality item to be.
Brough's determination to never be second best was, I think, the ultimate reason he closed Brough Superior at the end of the Second World War. A new motorcycle maker had appeared on the scene in the form of Vincent HRD and by the post-war period Vincent had vastly better motorcycles powered by far better engines. So an aging George Brough decided it was time to retire, and to close Brough Superior with dignity, and with its reputation intact for future generations to admire.
The consequence of this was that the original Brough Superior bikes acquired a collector cachet and nowadays attract eye-watering sums of money at auction.
You will find a more detailed Silodrome Brief History of the Brough Superior if you click here.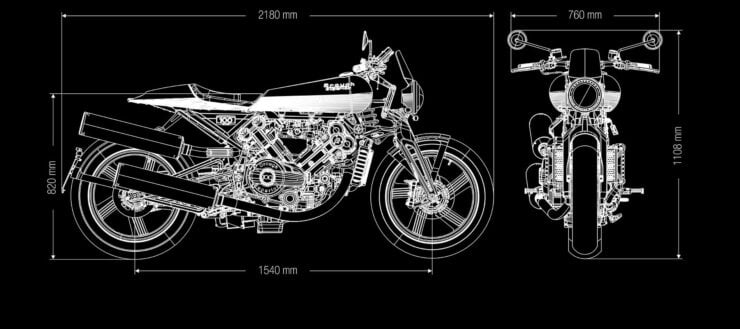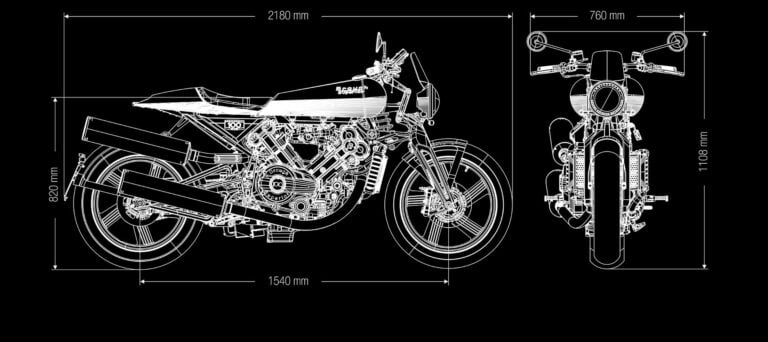 The Recreation of the Legend
Like George Brough, Mark Upham's vision for Brough Superior when he acquired the brand name in 2008 was to build motorcycles true to George Brough's original vision, and to make them superior to the original Broughs: no mean feat, but one he accomplished.
Mark Upham set up a workshop in a 700 year old farmhouse in the Alps and set about building recreated Brough Superiors built using the original 1930's design of the Brough Superior SS100. Upham called his "new" model the Brough Superior SS101 and this first model made its debut in 2009. He built two variants, an SS101 Pendine, which was the racing variant of the original SS100, and a model called the "Retro".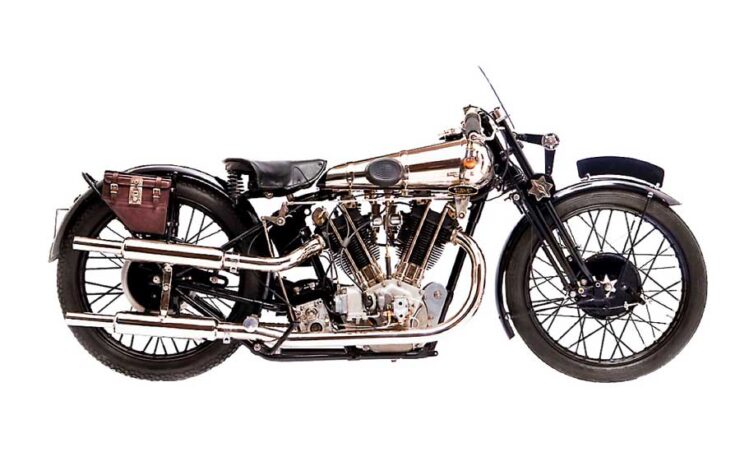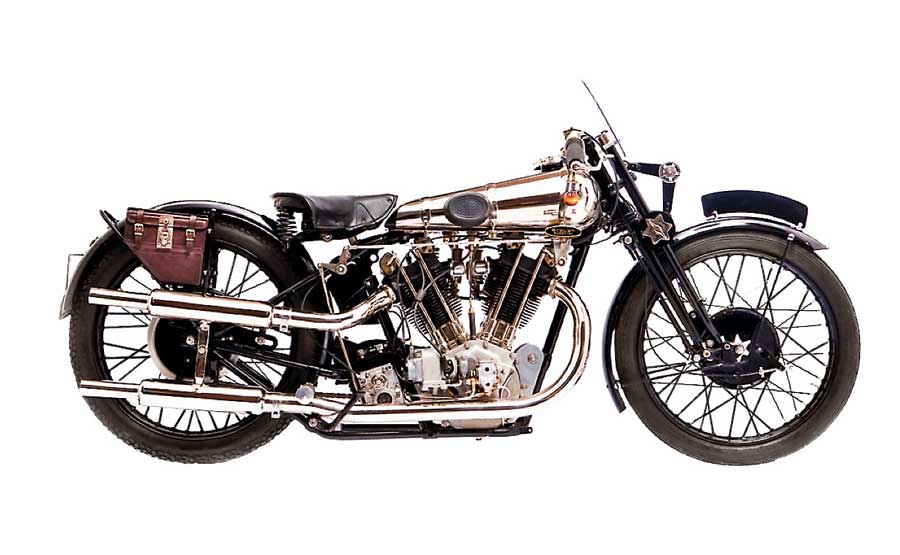 These recreations of the original Brough Superior were of very limited production and to simply say they were expensive does not really convey the full impact of just how "expensive" they were. Prices were around $250,000 of Uncle Sam's dollars and so, as one would expect, demand for these new Brough Superiors was limited to those with the cash, and the burning desire to part with it to acquire one of these new SS101's.
Mark Upham did not hold on to the Brough Superior name for long however, and once he had established the name anew he found a buyer for it in the person of Thierry Henriette and his business Boxer Design. Boxer Design have a reputation for designing some outstanding machines, examples being the Aprilia Blue Marlin and Mondial Nuda.
Boxer Design also had a working relationship with designer Claude Fior, famous for his Fior motorcycle suspension system. So when Mark Upham sold the Brough Superior name he sold it to people who had the technical abilities to bring the marque back properly, combined with years of practical experience building high performance motorcycles.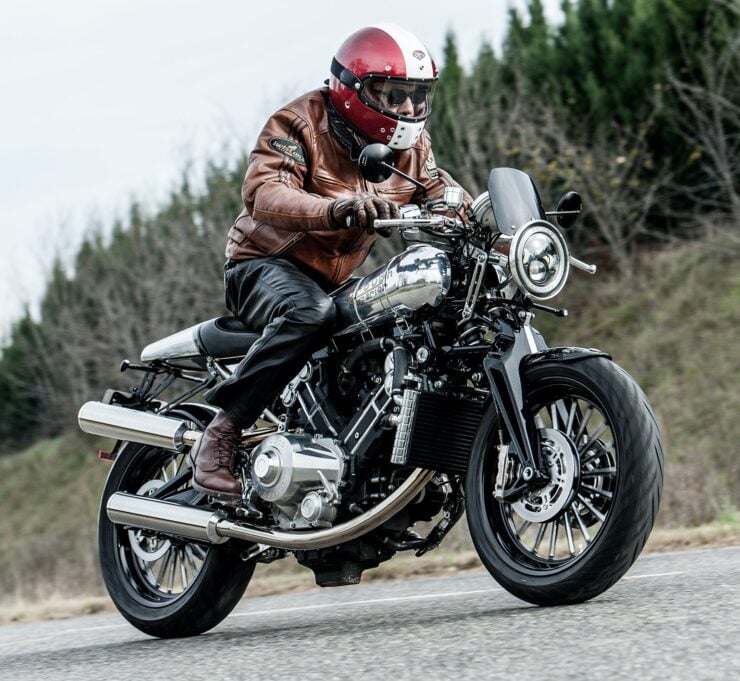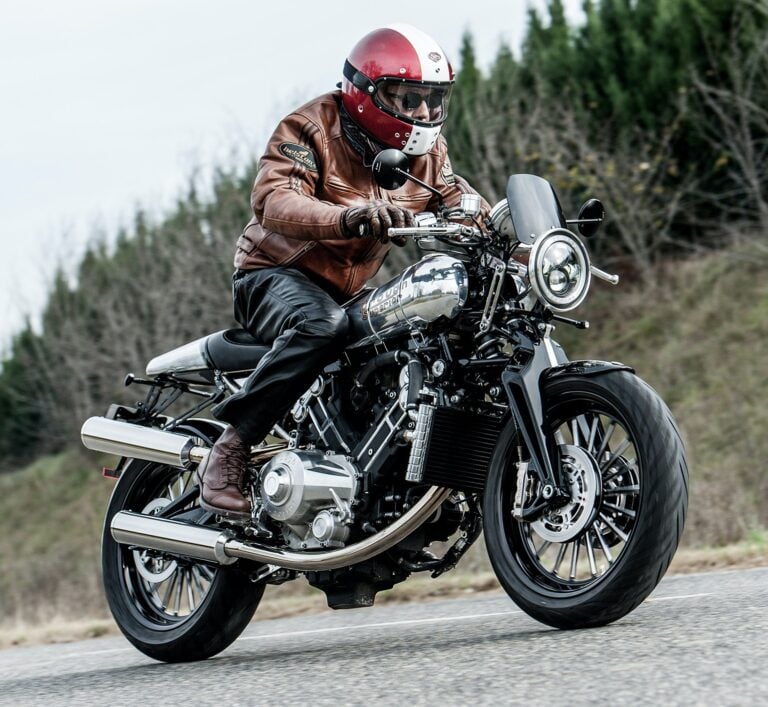 Thierry Henriette's vision for the new Brough Superior was somewhat different to Mark Upham's. Henriette decided to create a totally new Brough Superior built with the best of modern motorcycle technology. Had he still been alive this is, I think, exactly what George Brough himself would have done.
During his lifetime he was always at the leading edge of motorcycle design and, as mentioned previously, when he found in the post World War 2 1940's that he was no longer able to be at the leading edge he decided to gracefully retire.
We should also remember that George Brough originally left his father's motorcycle business to start up on his own precisely because his Dad wanted to continue building what were then traditional "old school" motorcycles and George wanted to build the most technologically advanced machines possible.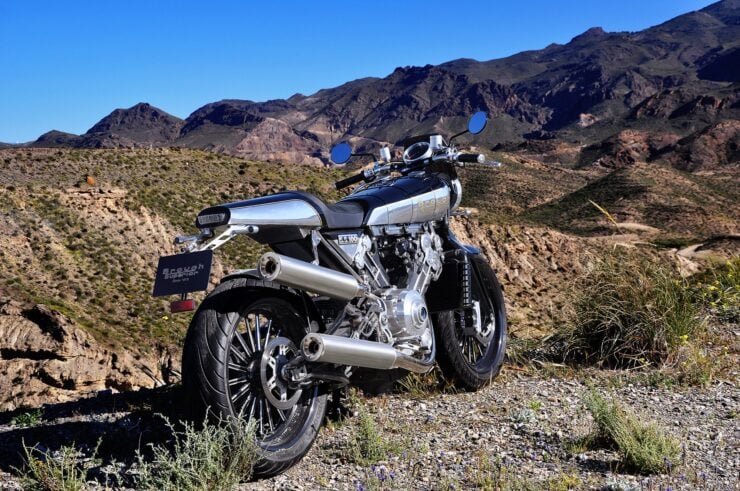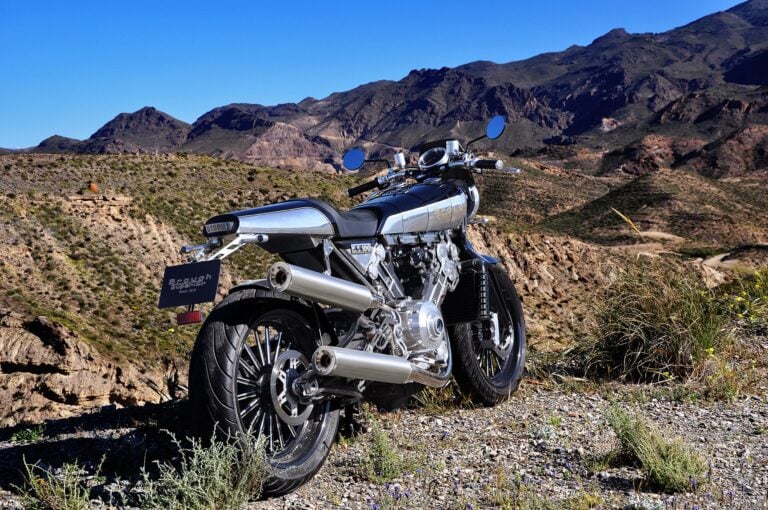 Thierry Henriette's new Boxer Design Brough Superior SS100 made its debut at the Milan Motorcycle Show (EICMA) in 2013. It was fitted with a custom designed 997cc 102bhp 88 degree V-twin engine with double valves. The chassis of the new Brough was of titanium, carbon fibre and aluminium with the engine used as a stressed member to assist in bringing the weight of the bike down to around 400lb dry.
So with 102bhp driving a motorcycle that weighs about 400lb the rider would need to ensure they wore modern protective clothing in case they came off and did an impression of George Brough's Brooklands backside slide: for it is sure that the slide would be from a higher speed and would thus beat George's backside slide record.
To help ensure the rider did not have such an unpleasant experience the new Brough Superior SS100 was equipped with Fior based front forks with an Öhlins shock absorber and at the rear an Öhlins monoshock, perhaps reminiscent of Phil Vincent's pioneering of monoshock technology in his Vincent HRD bikes.
Brakes were by Beringer and featured four rotors to ensure balanced and durable braking, while the SS100's bodywork such as fuel tank, fenders, side panels and rear cowl were all of hand beaten aluminium with the fuel tank attached by three bands reminiscent of the original SS100 Pendine.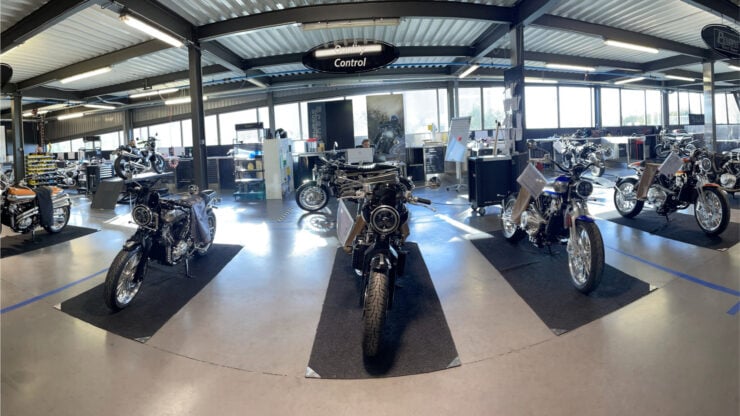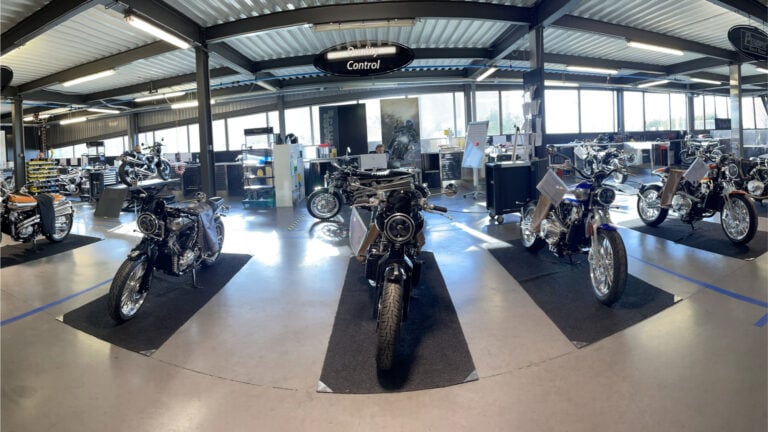 The new Brough Superior Factory is a place that replicates the best of George Brough's original workshop. Back when Rolls-Royce objected to the Brough Superior being described as the "Rolls-Royce" of motorcycles, sending a sternly worded lawyer's letter to Brough to that effect, George Brough's response had been to invite Rolls-Royce to send some representatives to have a look at his workshop and see what they thought.
What the Rolls-Royce men found was a workshop staffed by dedicated men in clean white lab coats meticulously assembling Brough Superiors. It was in all probability a workshop that exceeded what could be seen in Rolls-Royce's own factory and the result was the nice men from Rolls-Royce were happy to allow the Brough Superior to be referred to as the "Rolls-Royce of Motorcycles" and there were no more unfriendly lawyer's letters to deal with.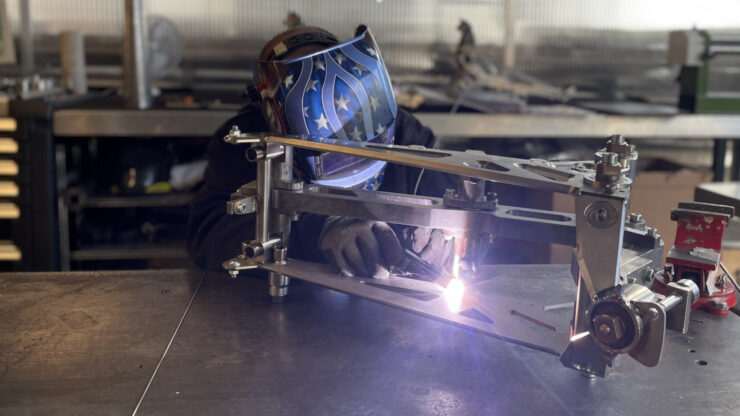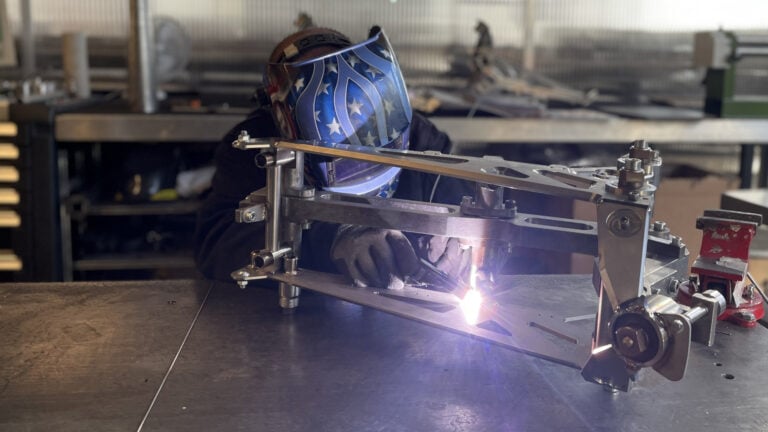 The new Brough Superior factory, located on rue Jean Monnet in Saint-Jean, on the outskirts of Toulouse, is much like the original, an environment in which the two dozen engineers work together to build motorcycles worthy of George Brough's name.
These craftsmen are typically motorcycle enthusiasts and active riders themselves, some of whom ride 70 or more kilometres to get to work each day. So it's not a soulless assembly line, it's a place that lives and breathes motorcycles.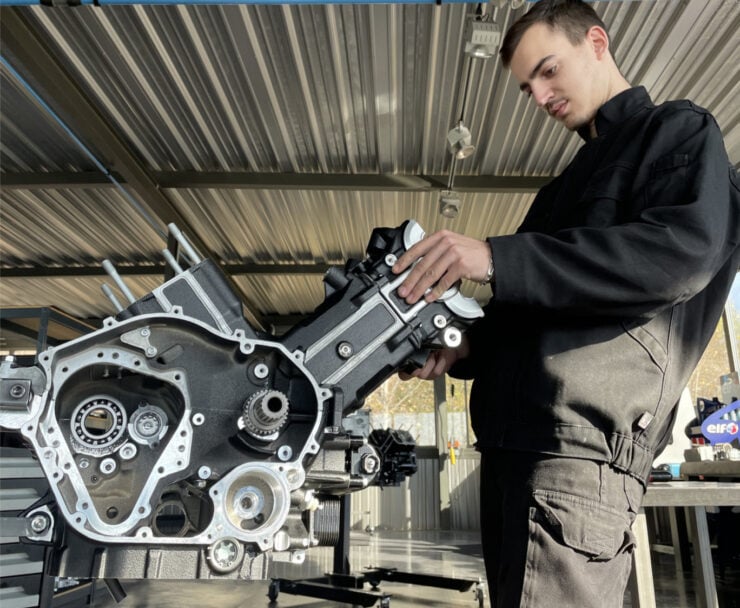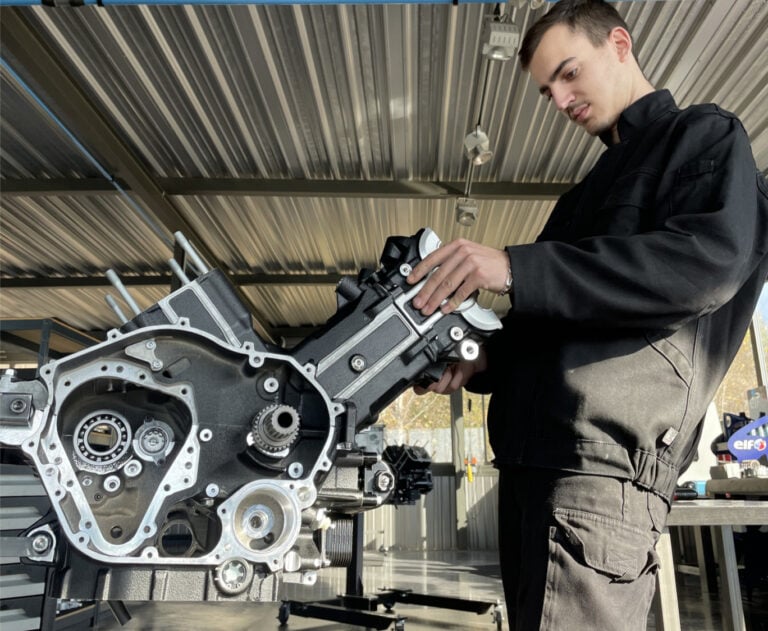 In a sense the new Brough Superior factory is a bit like a workshop in which a London "best gun" is made: except instead of making sporting guns of the highest quality they are making motorcycles of the highest quality, just as George Brough did.
The New Brough Superior Models
The new SS100 was the first of the Boxer Design Brough Superiors and it was made as a blend of a style hearkening back to the original 1930's Broughs, but in a motorcycle that is totally modern in its creation. It is fitted with a Brough Superior style teardrop shaped aluminium fuel tank held in place by three metal bands in a style reminiscent of the original Brough Superior Pendine model.
Pendine Sands being the name of the beach in Wales where George Brough demonstrated the performance credentials of his motorcycles: a place that has a similar history to that of the Bonneville Salt Flats in the United States.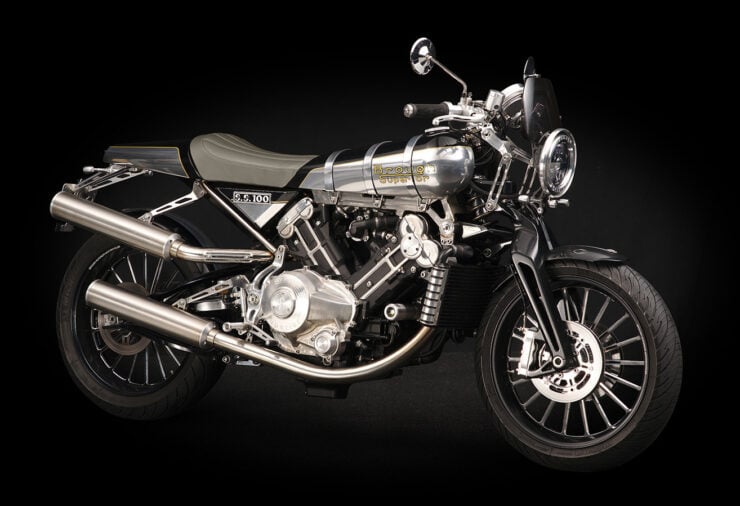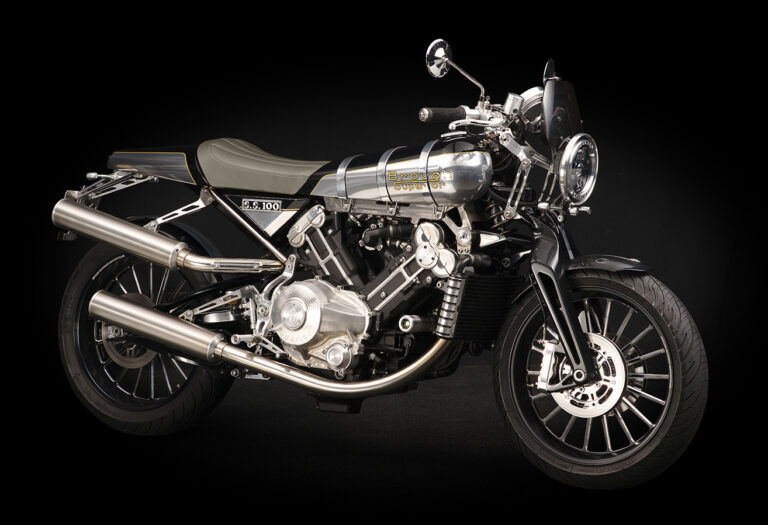 The heart of the SS100, and all the new Broughs, is the 102 bhp (75kW) @ 9600rpm, liquid cooled, 88 degree, V-twin eight valve engine. This engine has an 11:1 compression ratio and is fitted with an electronic fuel injection with Synerject ECU and 2 x 50 mm Synerject throttle bodies, each with a single injector. Torque is 64 lb/ft (87Nm) @7300rpm and the engine has Euro 4 homologation.
Unlike the original Brough Superiors which were fitted with customized V-twin engines from established manufacturers such as JAP (J.A. Prestwich) and Matchless, the new Brough V-twin is a custom design, so it is unique in the world. This engine is made for Brough by Akira Engineering of Bayonne, who are the same people who make the famous Kawasaki ZX-10R engines that have earned their reputation in World SBK racing.
This engine drives via a hydraulically actuated multiplate oil-bath clutch, and power is sent back to the rear wheel via a 6-speed gearbox and a chain final drive.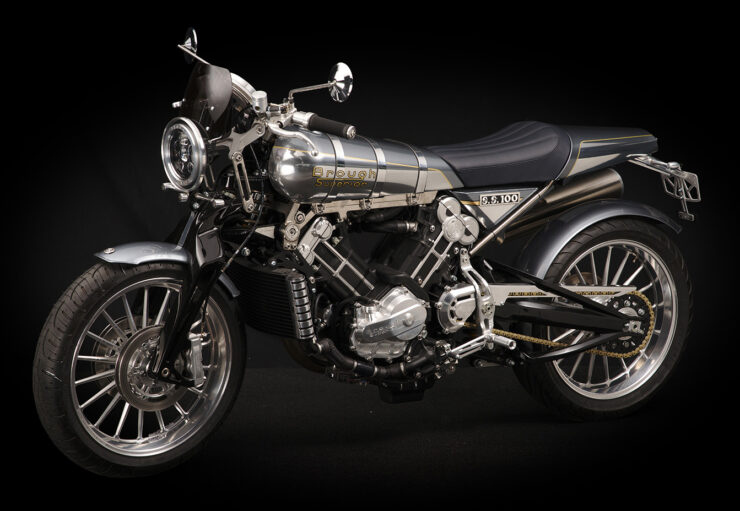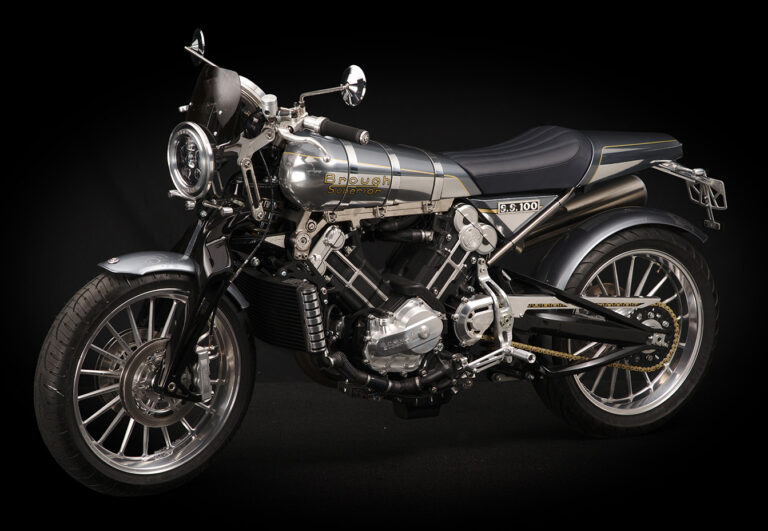 This new Brough V-twin as fitted in the SS100 is made to suit a road bike, having the characteristics of smooth and predictable power and torque delivery that make the Brough a motorcycle for a rider who "just wants to have fun", the sort of enjoyment that T.E. Lawrence described he got from riding his original Brough Superior bikes.
Wrapped around that engine is a motorcycle that George Brough would have likely loved for its practicality, cutting edge design, deeply thought through ergonomics, and performance. At the front is a Claude Fior inspired blade/double-wishbone front fork. Claude Fior was a racing rider who had been involved Formula 3 car racing as a mechanic and fabricator in his teens, and then established his own workshop in Nogaro, South-West France in 1976.
He sought to apply the refinements of racing car suspension to motorcycles and he came up with a design in 1979, which he chose not to patent. This design incorporated suspension concepts as used in car suspension so that the steering and suspension functions are separated, and the bike's front wheel was able to be set to move vertically or through an angle determined to be optimum for the behaviour desired.
This system enabled a designer to reduce or eliminate dive under braking and was able to reduce overall weight as well as unsprung weight. On the Brough SS100 this titanium double wishbone front fork system is equipped with an Öhlins preload and rebound adjustable monoshock with 120mm travel. The front suspension is set to give a minimalist dive effect under braking and has a 23.365° head angle with 93.65mm trail via 38mm fork offset.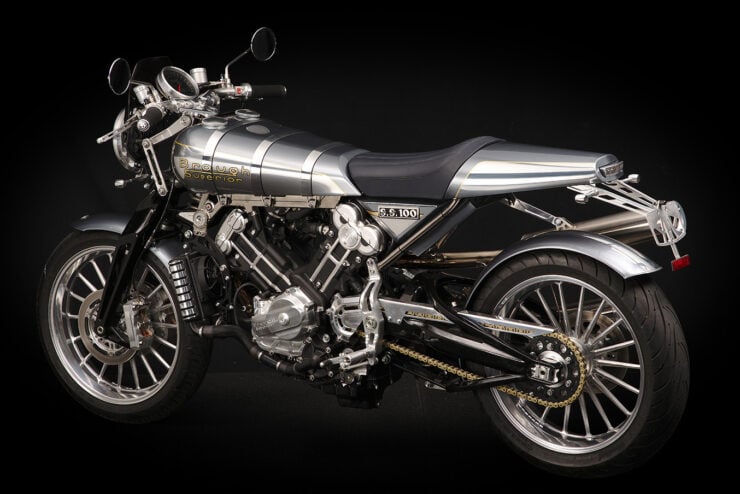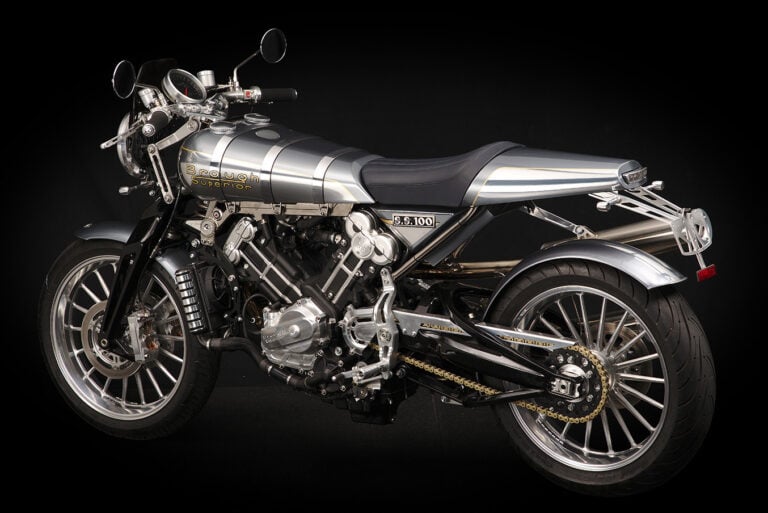 The SS100's rear suspension utilizes a cast aluminium swing-arm that pivots on the engine (which acts as a stressed frame component) with an Öhlins monoshock adjustable for preload and rebound damping and progressive rate link with 130mm travel. The frame is a minimalist machined titanium frame with titanium sub-frame and triangles.
To bring the SS100 to a neat and undramatic stop the bike is fitted with four 230mm Beringer Stainless Steel discs with two four-piston Beringer radial calipers at the front, while at the rear is a single 230mm Beringer Stainless Steel disc with a two-piston Beringer radial caliper.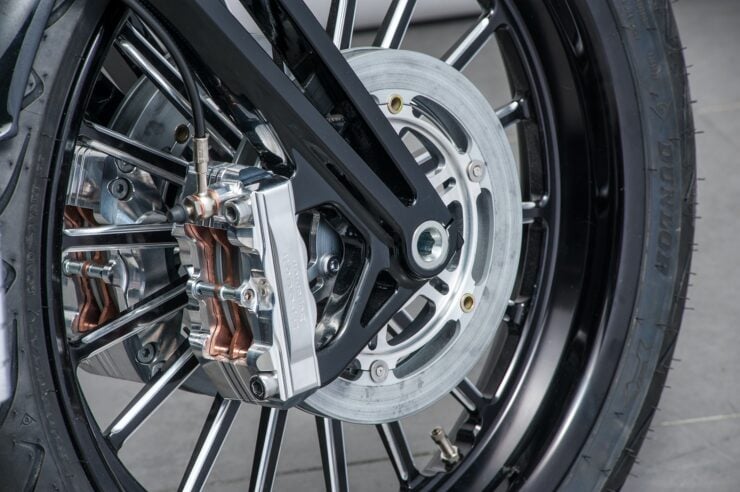 Wheels are 18″ eighteen spoke aluminium with 120/70 – 18'' tyres at the front on 3.5″ wide rims and 4.25″ wide rims at the rear wearing 160/60 – 18'' tyres.
The weight of the bike is 186 Kg (410 lb) and the weight distribution is a perfect 50/50 front to rear.
The Pendine Sand Racer is made in two versions; the "S" sport model and the "D" desert racing model. Both Pendine models are based on the SS100 but with alterations to make them ideally suited to the role for which they are designed.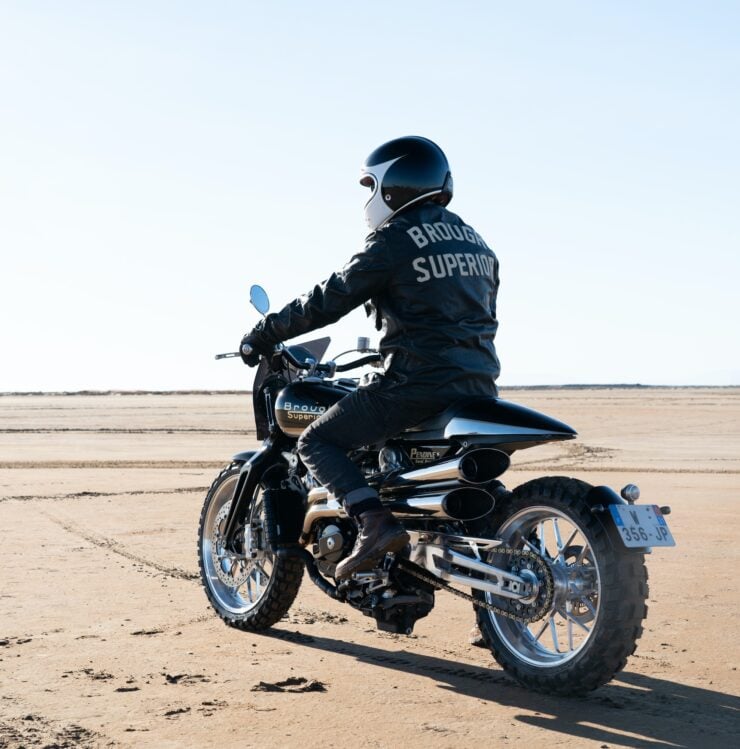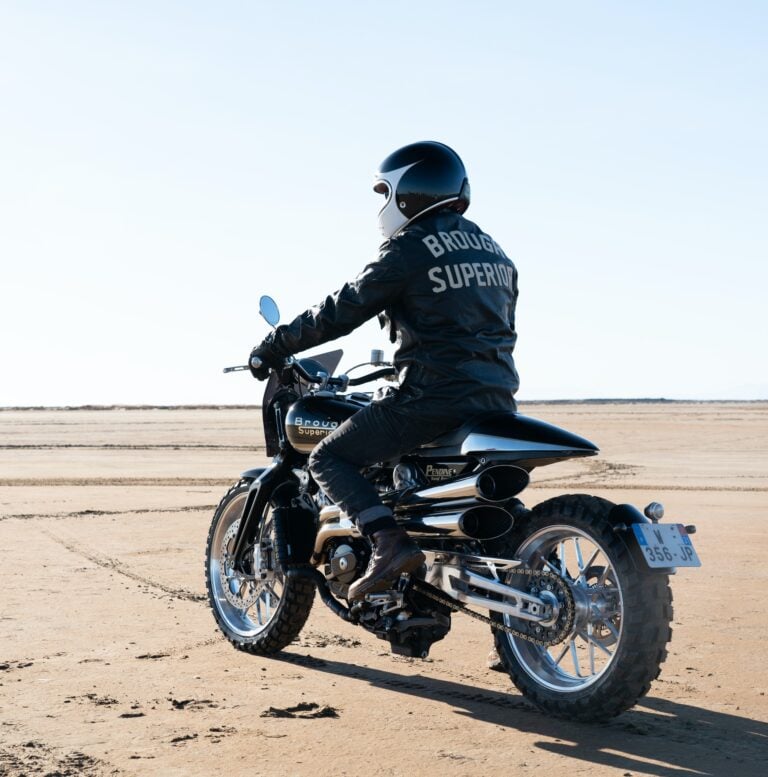 Engine and transmission specifications are the same as the SS100 but the bike's chassis has been changed to make it perfect for off-road use, and for the sort of competition in which George Brough's original Pendine model excelled.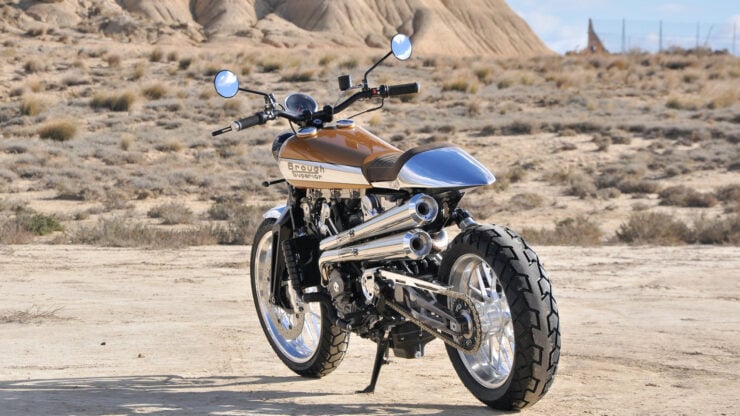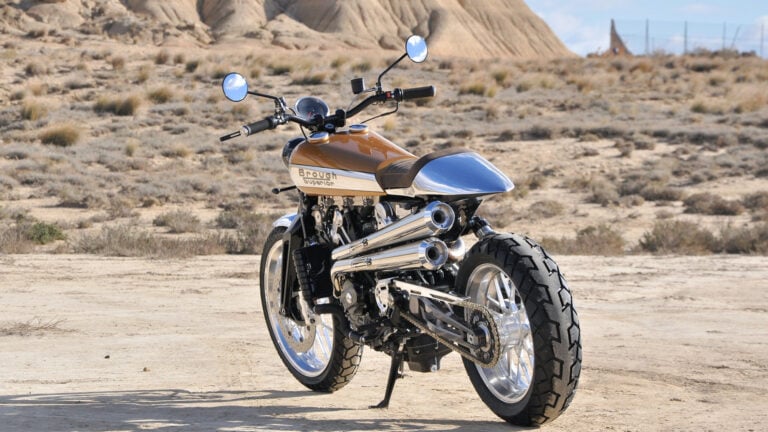 The Pendine models are the sorts of motorcycles that the likes of Steve McQueen would have appreciated, bikes that conjure up visions of open desert freedom and the wind-in-the-hair experience of high speed off-road riding – although of course those of us who want to enjoy life on earth for as long as possible will have the "wind-in-the-hair" experience via a well ventilated helmet.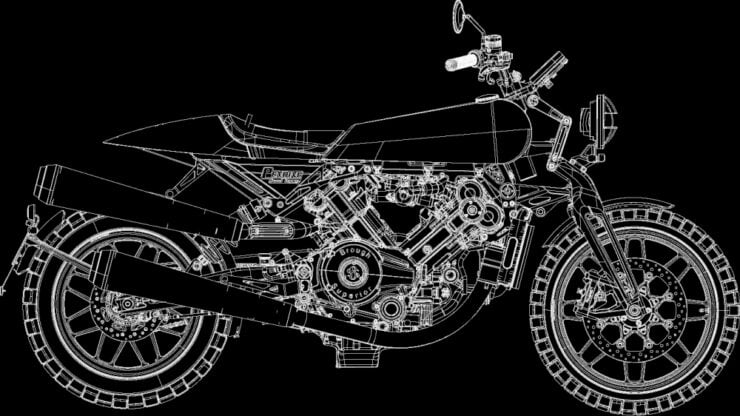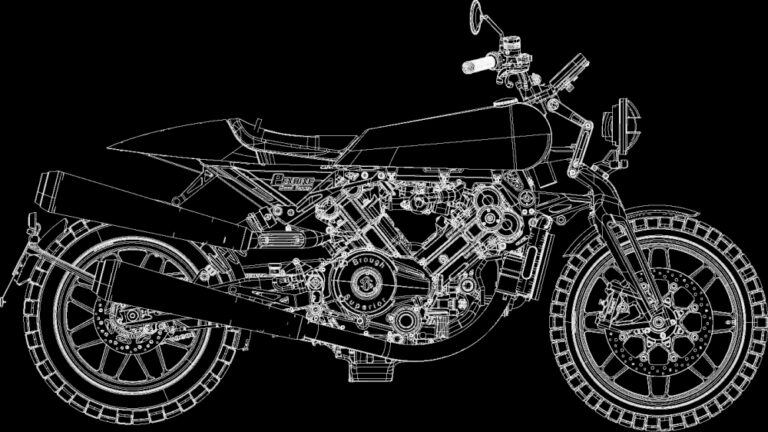 The Pendine's brakes are different to those of the SS100, being a pair of 320mm Beringer Stainless Steel discs with twin, two-piston Beringer radial callipers at the front, while at the rear is a single 230mm Beringer Stainless Steel disc with a two-piston Beringer radial caliper.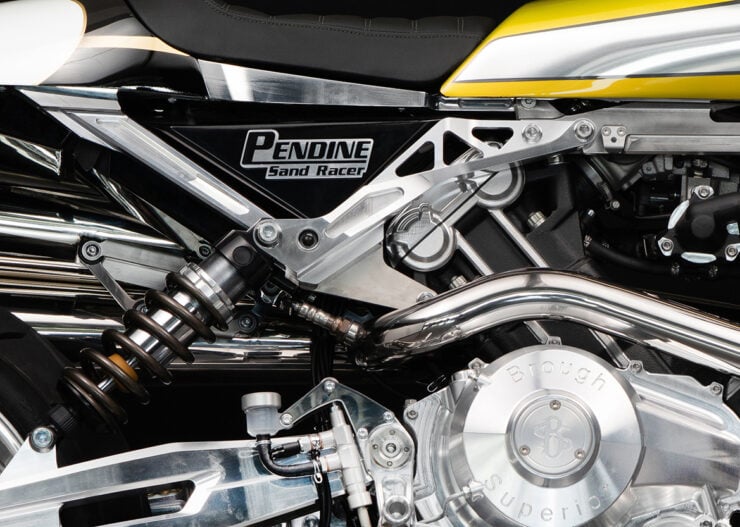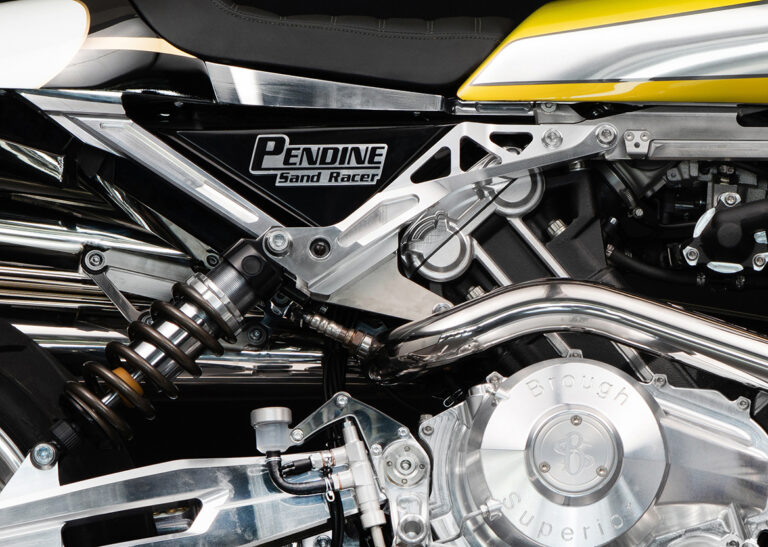 The suspension geometry is also different with the head angle set at 4.8° with 108mm trail via 38mm fork offset. Wheels are sixteen spoke machined aluminium with a 19″x3.5″ front wearing a 120/70 – 19″ tyre and at the rear a 17″x4.5″ wheel wearing a 170/60 – 17'' tyre.
The Brough Superior Anniversary model celebrates the centenary of the establishment of Brough Superior Motorcycles from 1919 to 2019. The Anniversary is based on the SS100 with some tasteful customizations some of which come from the Pendine models. Unique to this bike are the five spoke Art Deco wheels and body styling.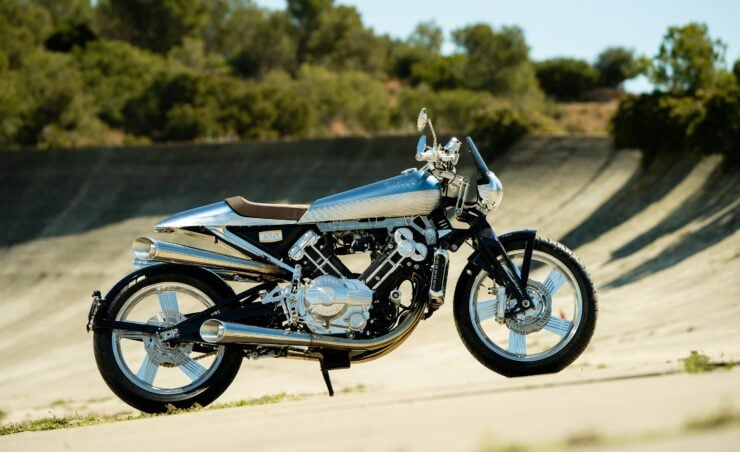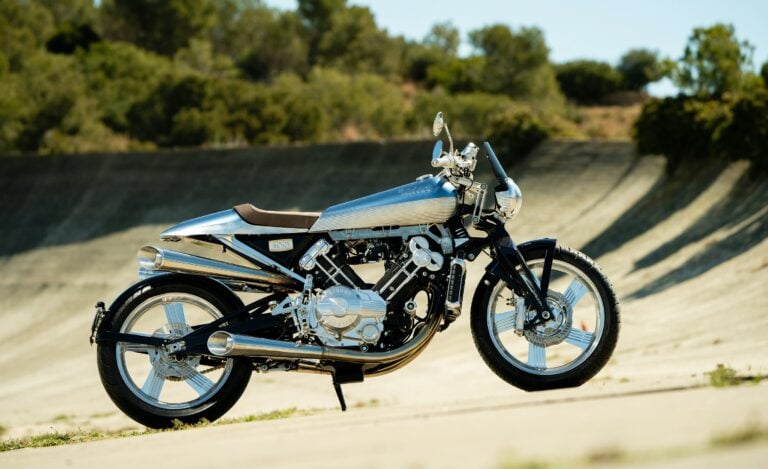 Exactly one hundred examples of the Anniversary model were made and this bike is undoubtedly the one for the rider who is looking for a modern Brough Superior with a clear legacy back to George Brough and his motorcycles of a hundred years ago. It's a very pretty machine with uncluttered aesthetics.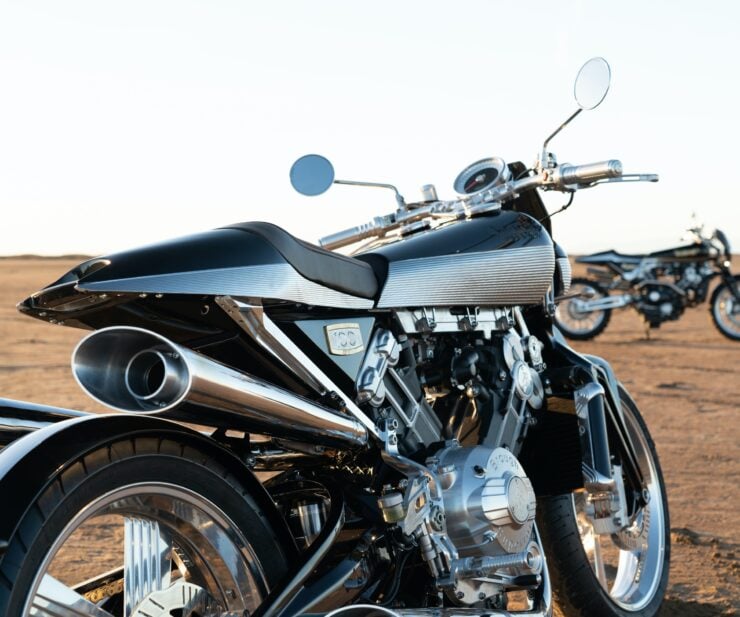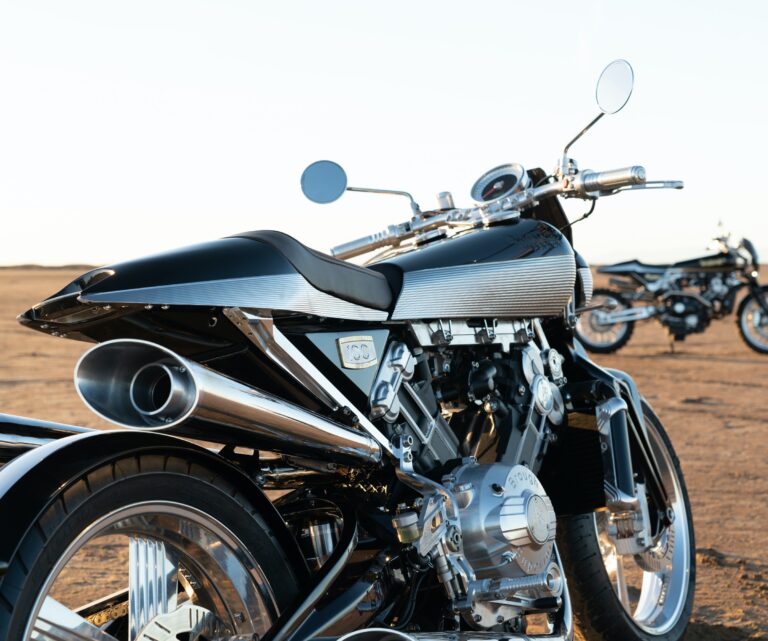 For the person who is looking for the ultimate in track performance in a Brough Superior enter the new Aston Martin Brough Superior. This bike marks a first for British car maker Aston Martin and as a result this AMB 001 is the first motorcycle to wear the Aston Martin name, having been created via a collaborative project between Boxer Design and Aston Martin.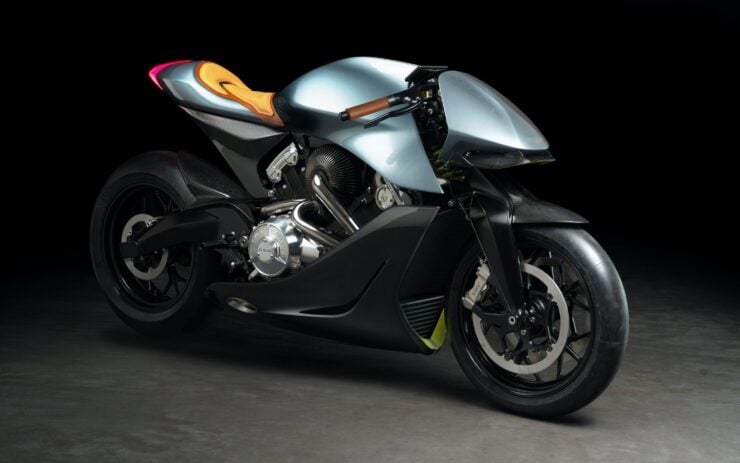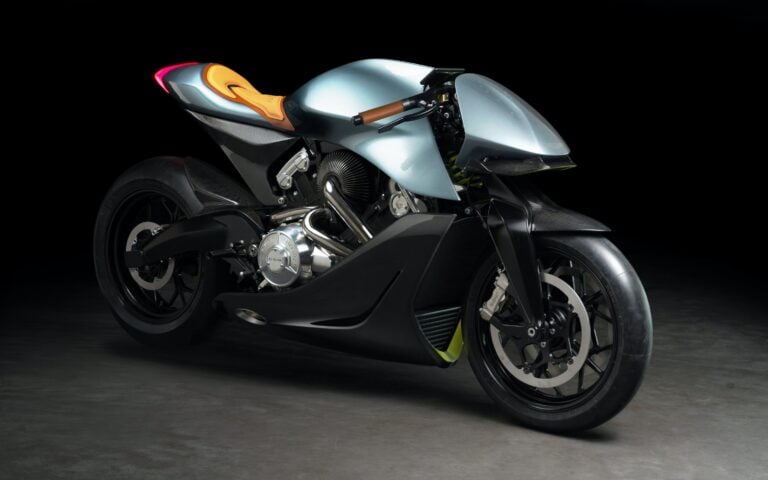 The Aston Martin Brough is not made as a road bike, so it would be inadvisable to buy one of these if you're intending to use it as your daily commuter. This 180kg (dry), 180bhp speed machine of quite unrestrained performance blended with tastefully restrained beauty is a motorcycle for the person whose intending to have a motorcycle that exemplifies the very best that money can buy.
The AMB 001, although based on the SS100, has many variations in its technical specifications. The brakes for example comprise a pair of 320mm stainless steel discs with twin four-piston radial callipers at the front complimented by a 230mm stainless steel disc with a two-piston caliper at the rear.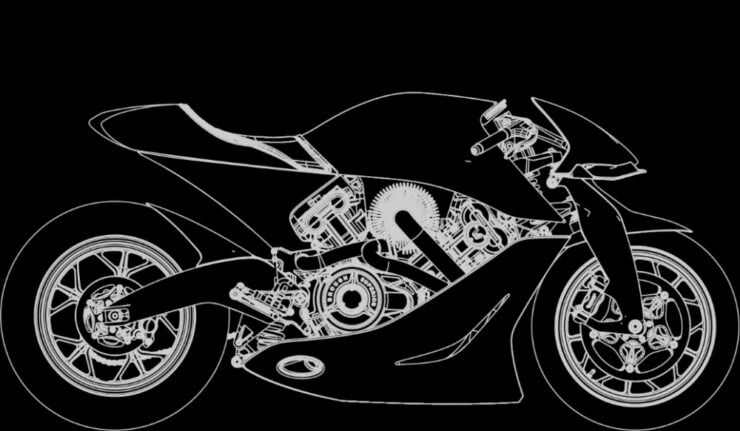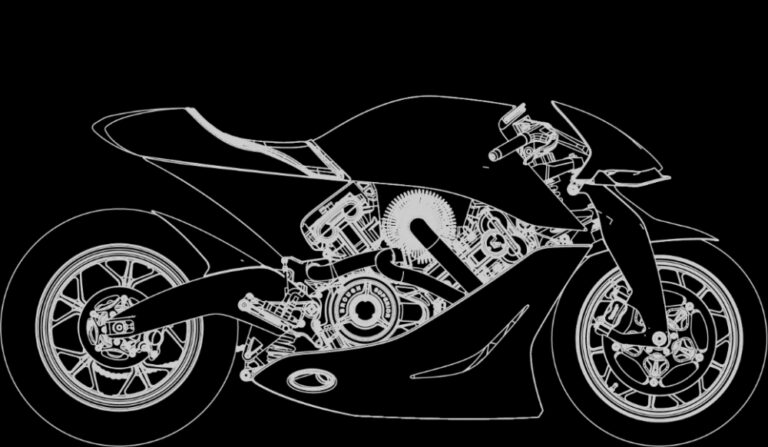 The head angle for the Fior-type CNC Machined aluminium front fork assembly is 23.9 ̊ with 102.6mm trail. This unit features twin articulated triangular/wishbone links and is fitted with a preload and rebound adjustable mono-shock with 112mm travel. At the rear is a CNC Machined aluminium swing arm pivoting on the engine crankcase and it also has a mono-shock adjustable for preload and rebound damping with a progressive rate link providing 124mm travel.
The 17″ wheels for the AMB 001 are of CNC machine forged aluminium with five spokes; the front 3.5″ wide rim being shod with a 120/70 ZR17 58W tyre while at the rear the 6.25″ wide rim is fitted with a 200/55 ZR17 78W tyre to tame those 180 horses being sent to the tarmac.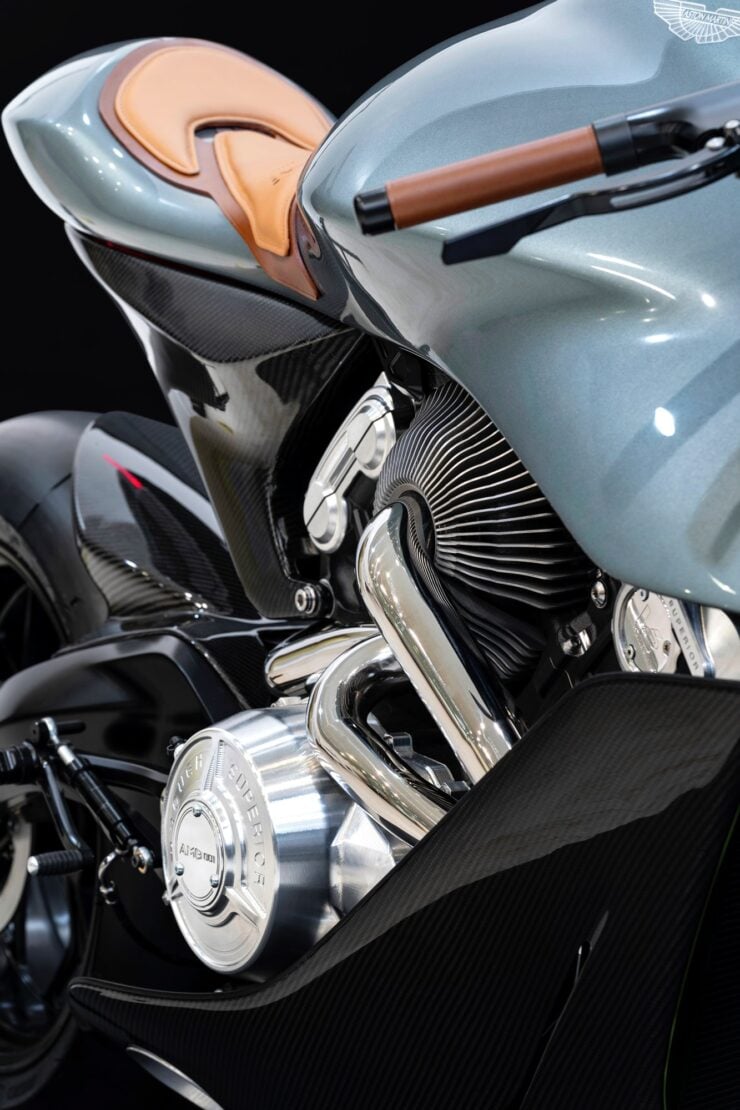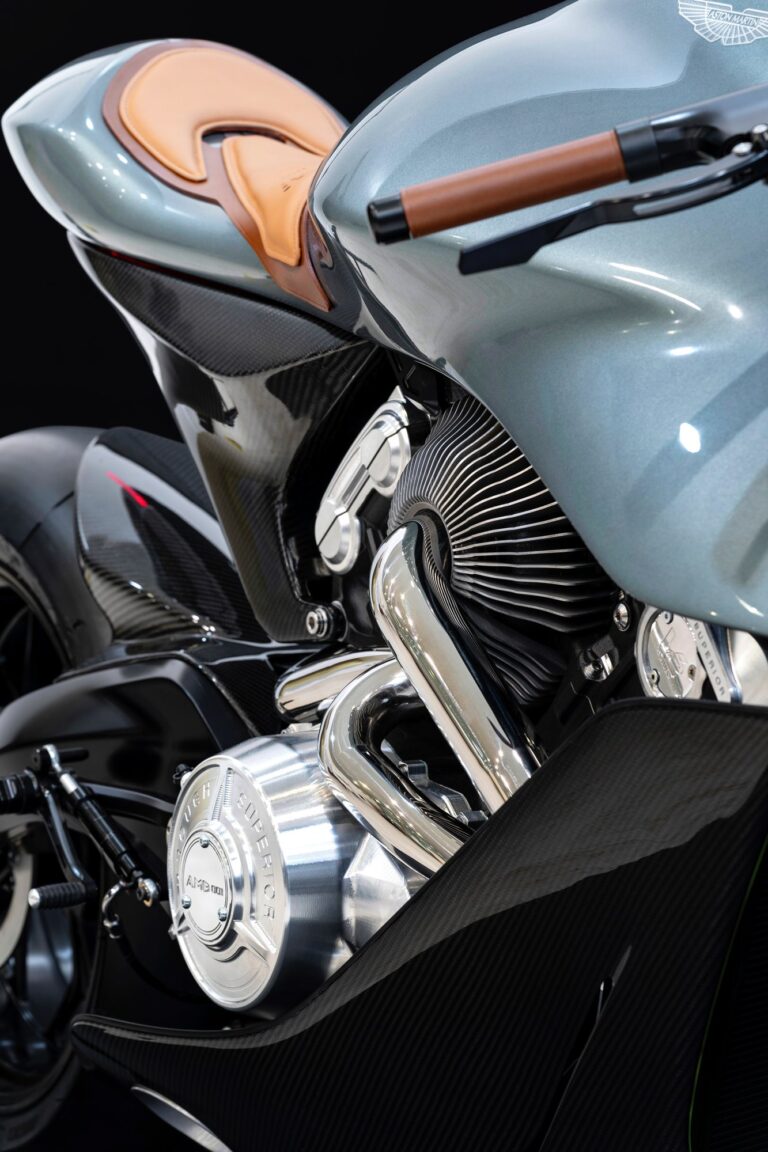 The Brough Superior engine for the AMB 001 features a semi-dry crankcase and is turbocharged using a variable geometry low inertia turbine to avoid turbo lag. The exhaust manifold being made of Inconel, a superalloy chosen for its thermal and mechanical properties.
The meat in the sandwich between that turbocharged engine and its six speed gearbox is a hydraulically actuated multiplate oil-bath clutch with hydraulic operation, APTC slipper clutch.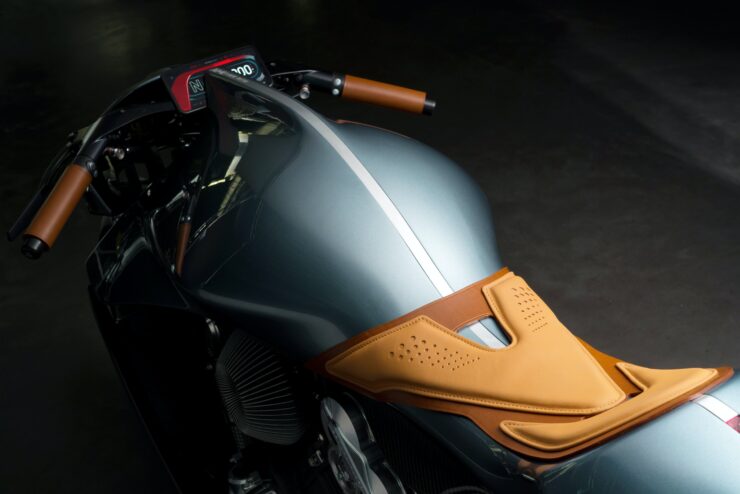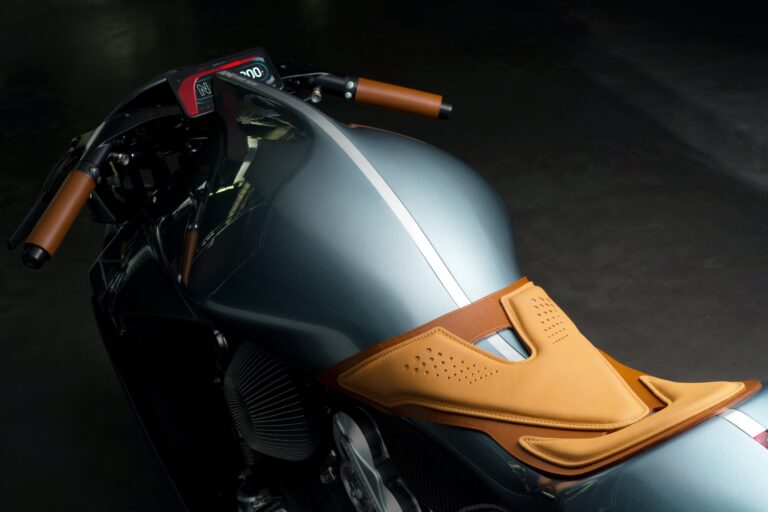 Suffice to say that this is a motorcycle that would satisfy not only George Brough's passion for speed and graceful handling, but which can be expected to satisfy the most discerning experienced high performance rider.
A New Brough Superior Factory, New Motorcycles, and the Dawn of a New Era
I suspect there will be two schools of thought on the dawning of a new era for Brough Superior. Inevitably there will be those who look back with fond nostalgia at the original Brough Superior motorcycles of the pre-war era, bikes that were not only iconic but that were the motorcycles that defined the best that Britain could produce. For this group of Brough Superior aficionados nothing other than a traditional Brough will satisfy.
But George Brough was not one for nostalgia or looking backwards: had he been willing to build traditional motocycles he would not have split with his father's business and take the gamble to strike out on his own.
George Brough's original vision was to build "superior" motorcycles that were at the cutting edge of design, and built to the highest standard possible. In fact when George Brough decided to name his company "Brough Superior" his father wryly remarked "Well I suppose that makes my motorcycles Brough Inferior." And although that was a tongue in cheek comment I think both George and his father knew that it was actually true.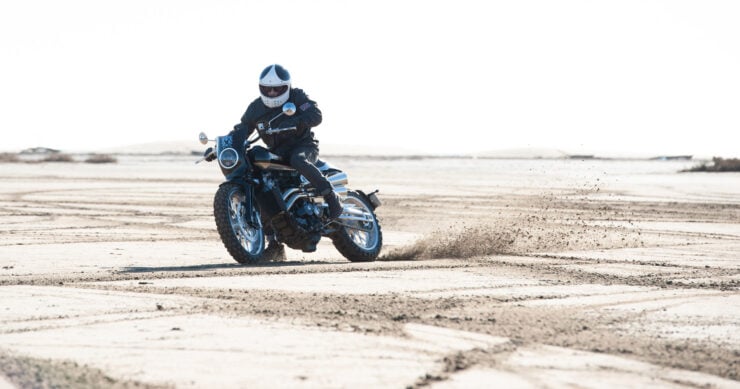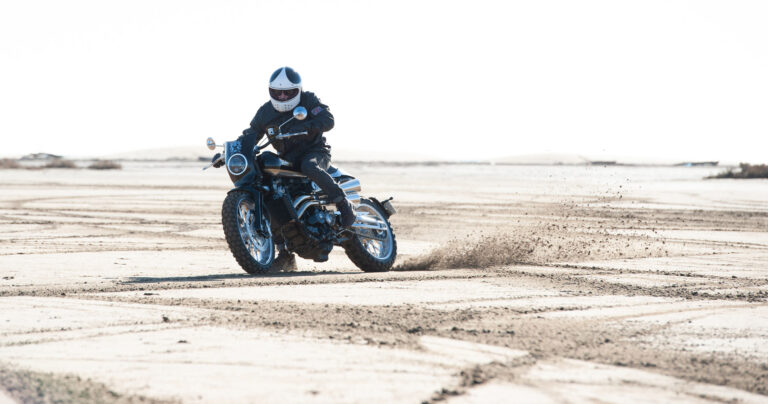 Were George Brough alive today and in the business of making motorcycles we can be absolutely sure he would be building bikes using the best and most proven technology available. His motorcycles would be twenty-first century wonders blending superior design, technology and ergonomics into each road going work of art: and that is what Boxer Design have accomplished in the new range of Brough Superior motorcycles.
George Brough was not a traditionalist, he was a man whose vision was persistently towards the best that modern technology could make possible.
On a final note we should add that these new Brough Superiors are priced much like their forebears, at the high end of the market. In Britain the SS100 was selling for around £45,000 which translates to around $60,000 USD. So these motorcycles are within reach for a elect few enthusiasts, costing approximately the same as a new mid-range performance car. So just as George Brough's original motorcycles were expensive, but not out of reach for the well-heeled, so are the new Brough Superiors.
Picture Credits: Boxer Design, Brough Superior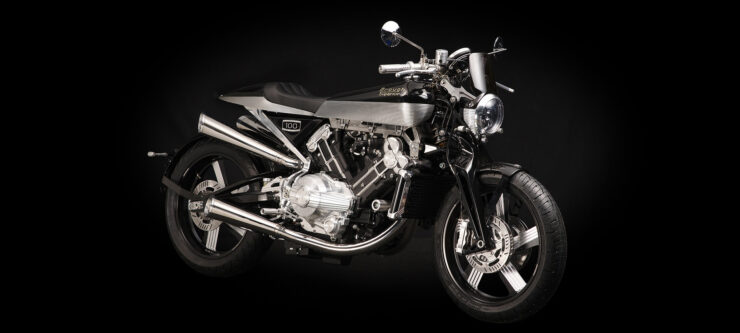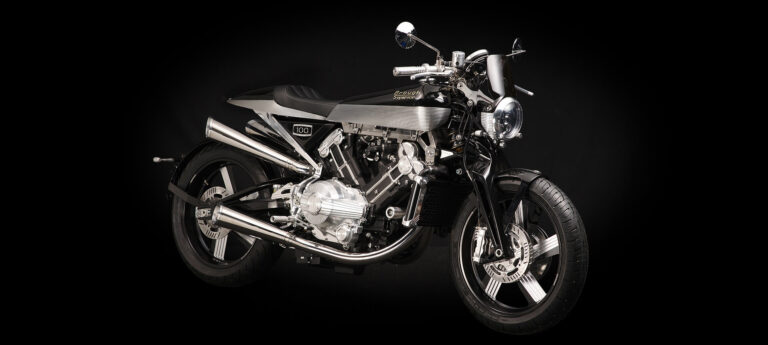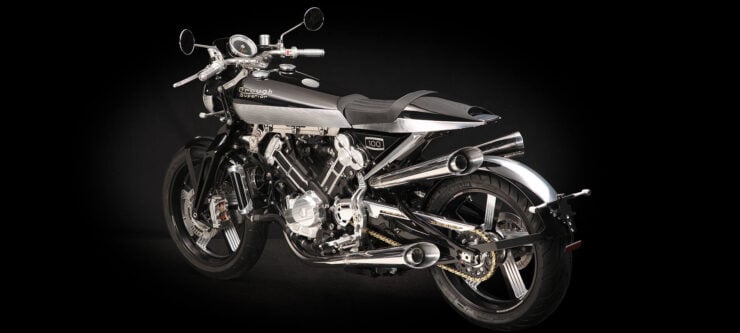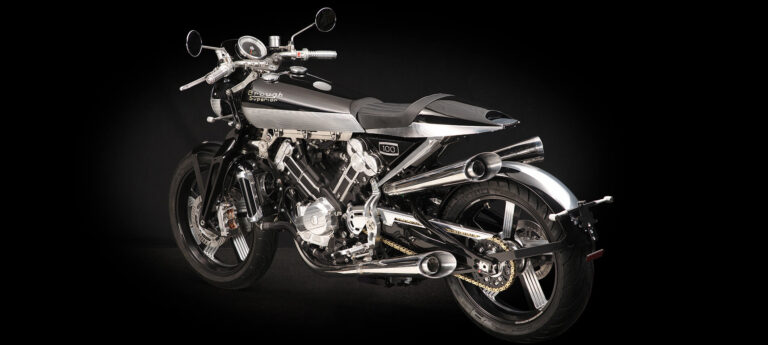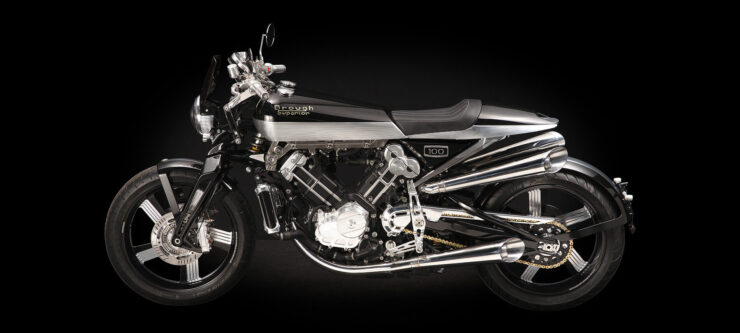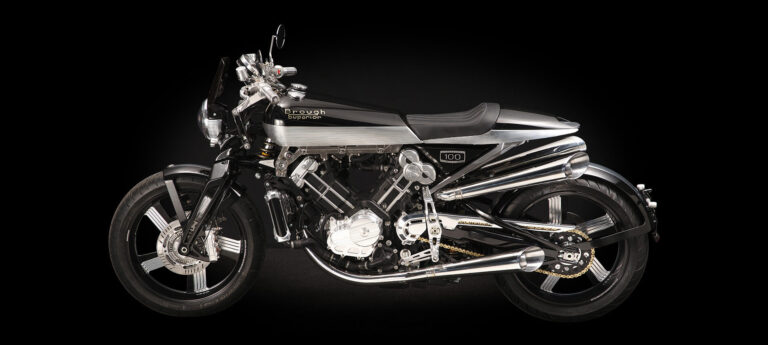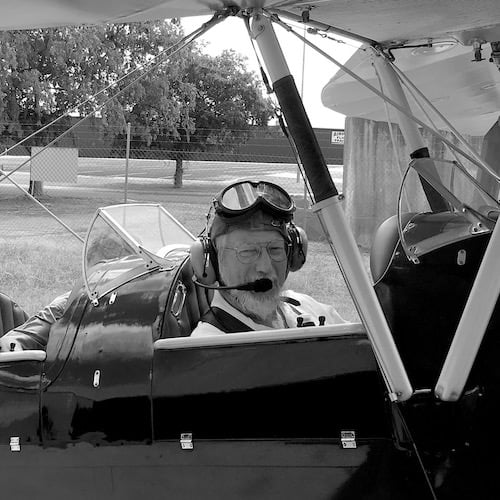 Jon Branch has written countless official automobile Buying Guides for eBay Motors over the years, he's also written for Hagerty, he's a long time contributor to Silodrome and the official SSAA Magazine, and he's the founder and senior editor of Revivaler.
Jon has done radio, television, magazine, and newspaper interviews on various issues, and has traveled extensively, having lived in Britain, Australia, China, and Hong Kong. The fastest thing he's ever driven was a Bolwell Nagari, the slowest was a Caterpillar D9, and the most challenging was a 1950's MAN semi-trailer with unexpected brake failure.