The Forensic Photography Archive is a collection of over 130,000 images taken in the 1910s through to the 1960s in jails and police stations in Sydney, Australia. The images from early in the collection are all scans of wet plate photographs, and the amount of detail and character captured is quite remarkable – arguably better than most modern digital cameras.
Some of the people pictured in the archive were immortalised in the Australian miniseries "Underbelly: Razor", which is a good introduction to what life was like for the criminally minded in the early part of the last century. It's important to note that some of the images and descriptions may be confronting, so proceed with caution. If you'd like to see the archive yourself you can click here to visit the official website.
Above Photograph: Jean Wilson had numerous convictions for housebreaking and theft. She preferred stealing jewellery as it could be easily pawned for money. She also robbed her employer. Wilson was charged with larceny, for which she served a 12-month sentence. Aged: 23 in 1924. DOB: 1904.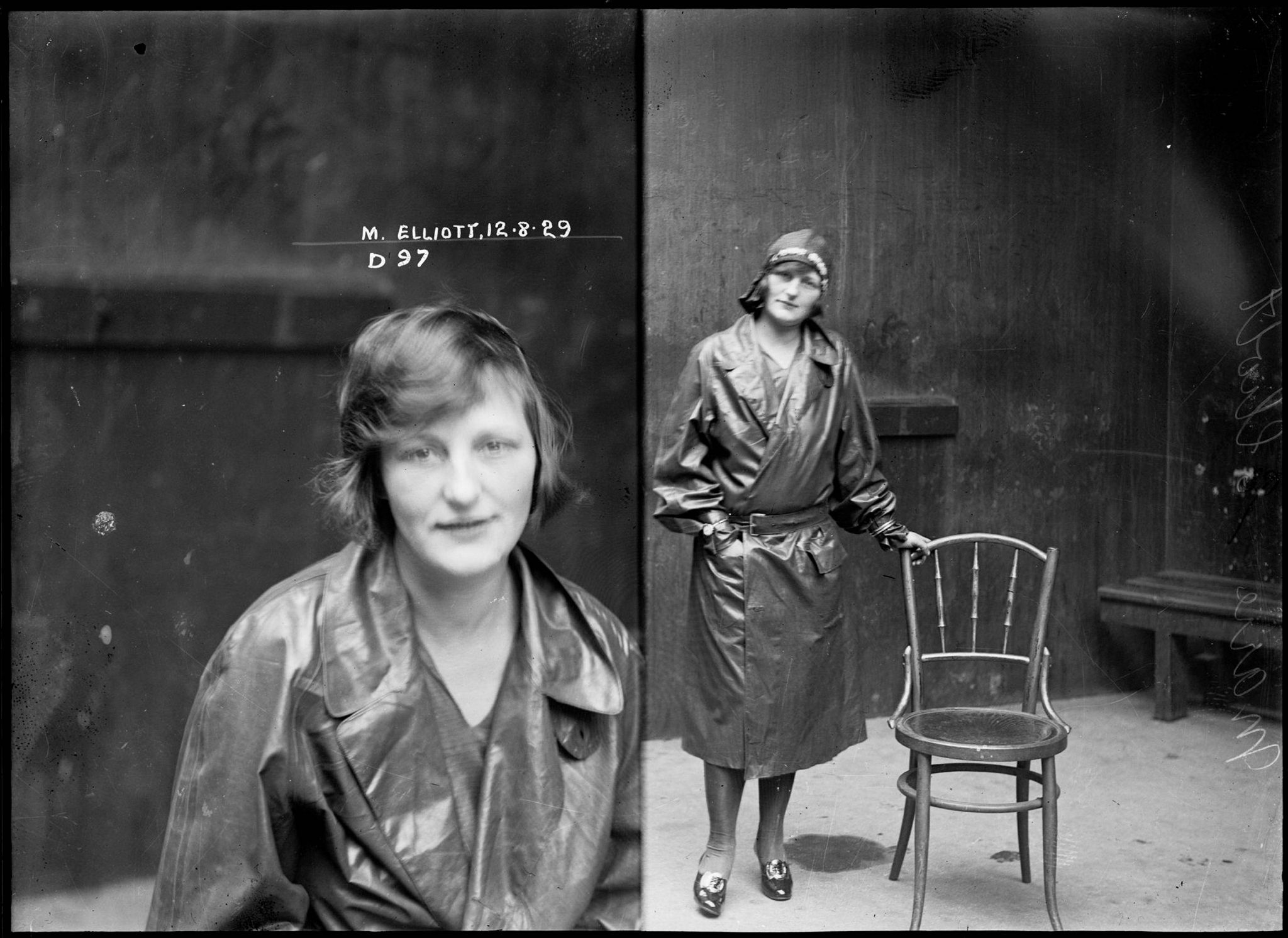 ⇞ Marie Elliott was arrested 10 August 1929 and charged with possession of cocaine. Elliot along with Patsy Neill and Henry Pierce, appeared in court 21 August 1929 and were each fined the maximum 250 pounds or 12 months gaol in default.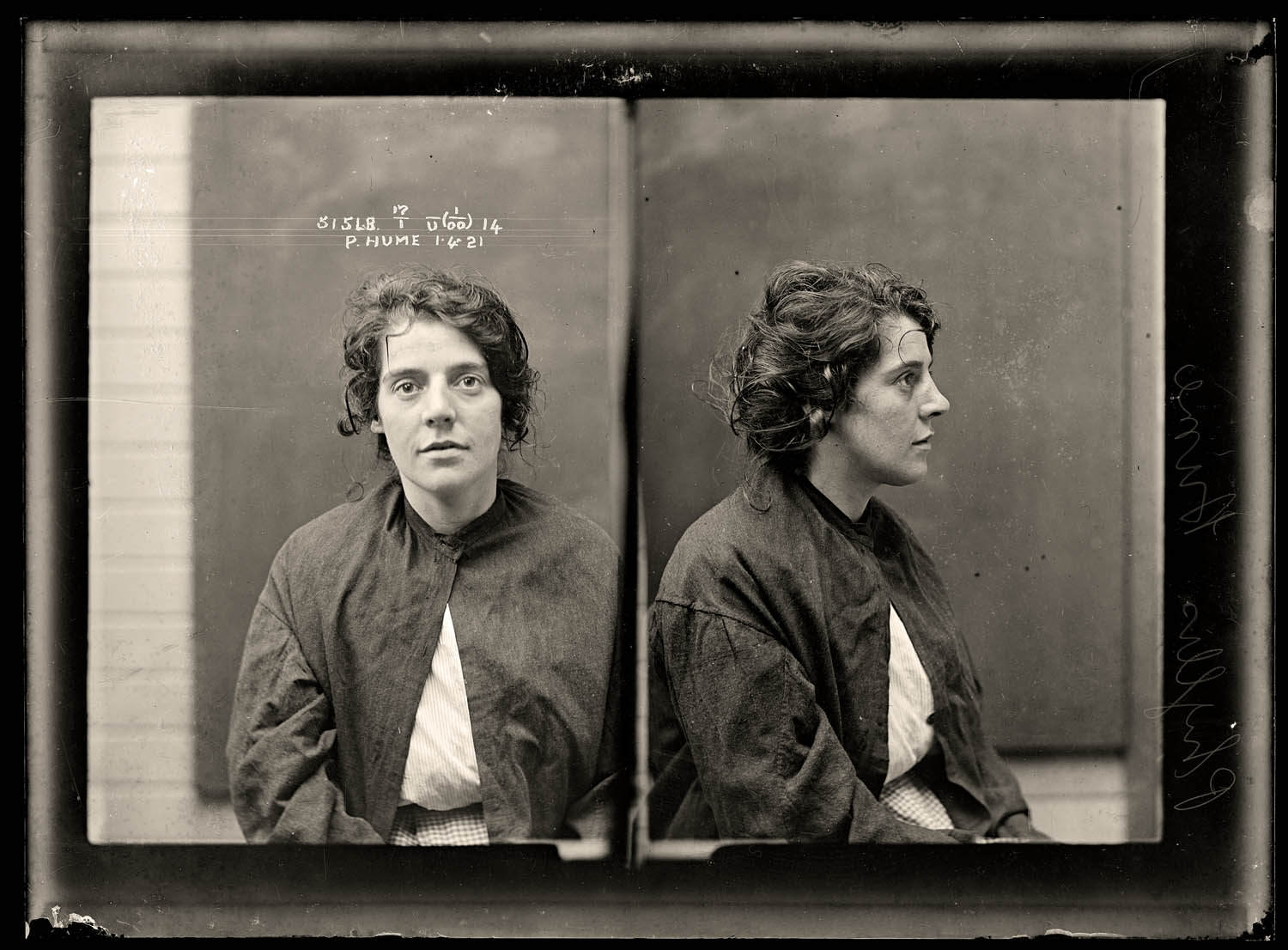 ⇞ British-born Carmier was known as 'Yankee' Phyllis because of her peculiar accent. She stabbed her 'bludger', or pimp, to death during a violent altercation in Crazy Cottage, a sly-grog shop in Surry Hills. Carmier attracted much sympathy in the media, who labelled her crime a justifiable homicide. Aged 32.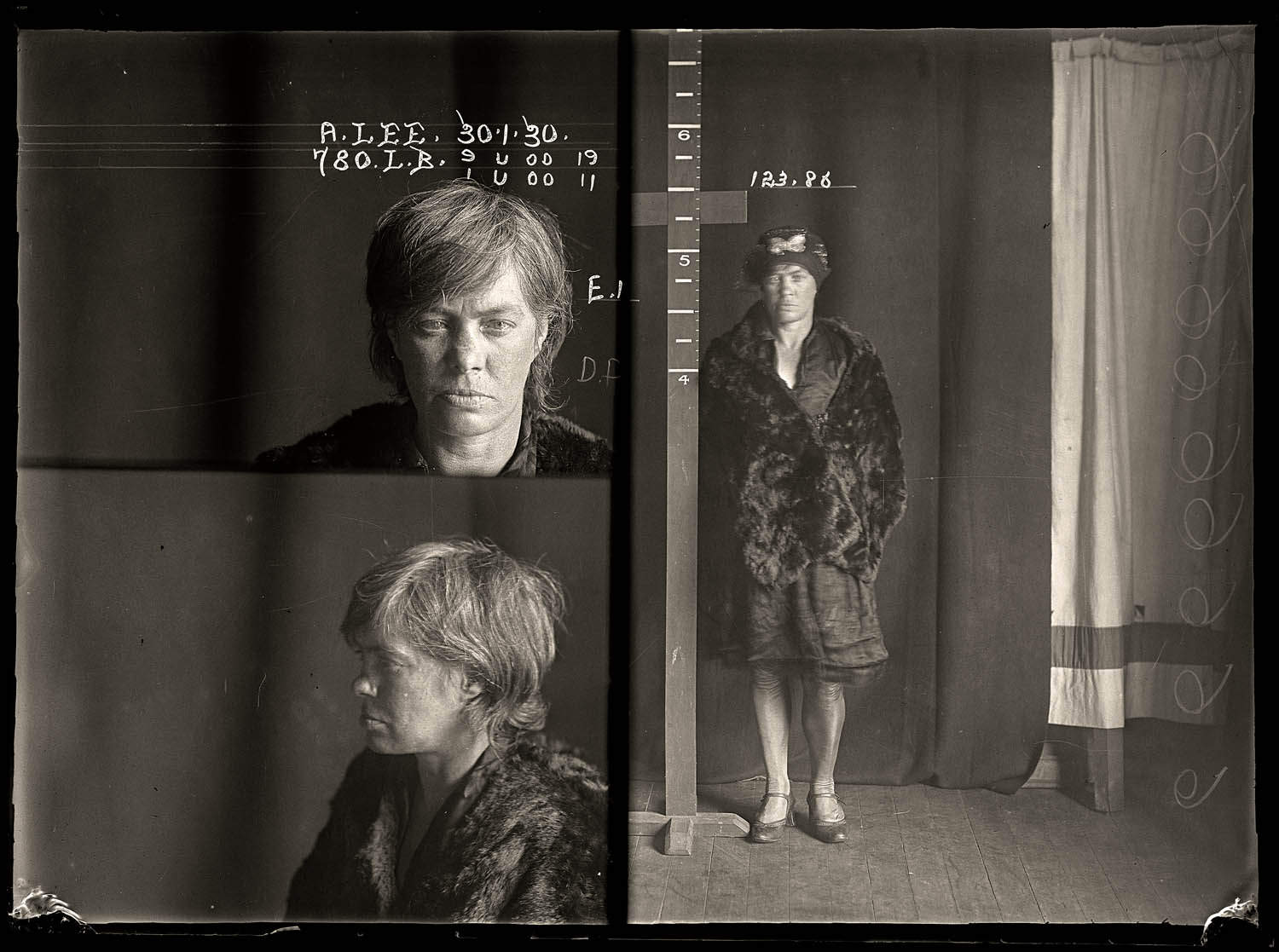 ⇞ Amy Lee was described in court as a 'good looking girl until she fell victim to the foul practice' of snorting cocaine. Her dry, blotchy skin is testament to the evils of addiction. Aged 41.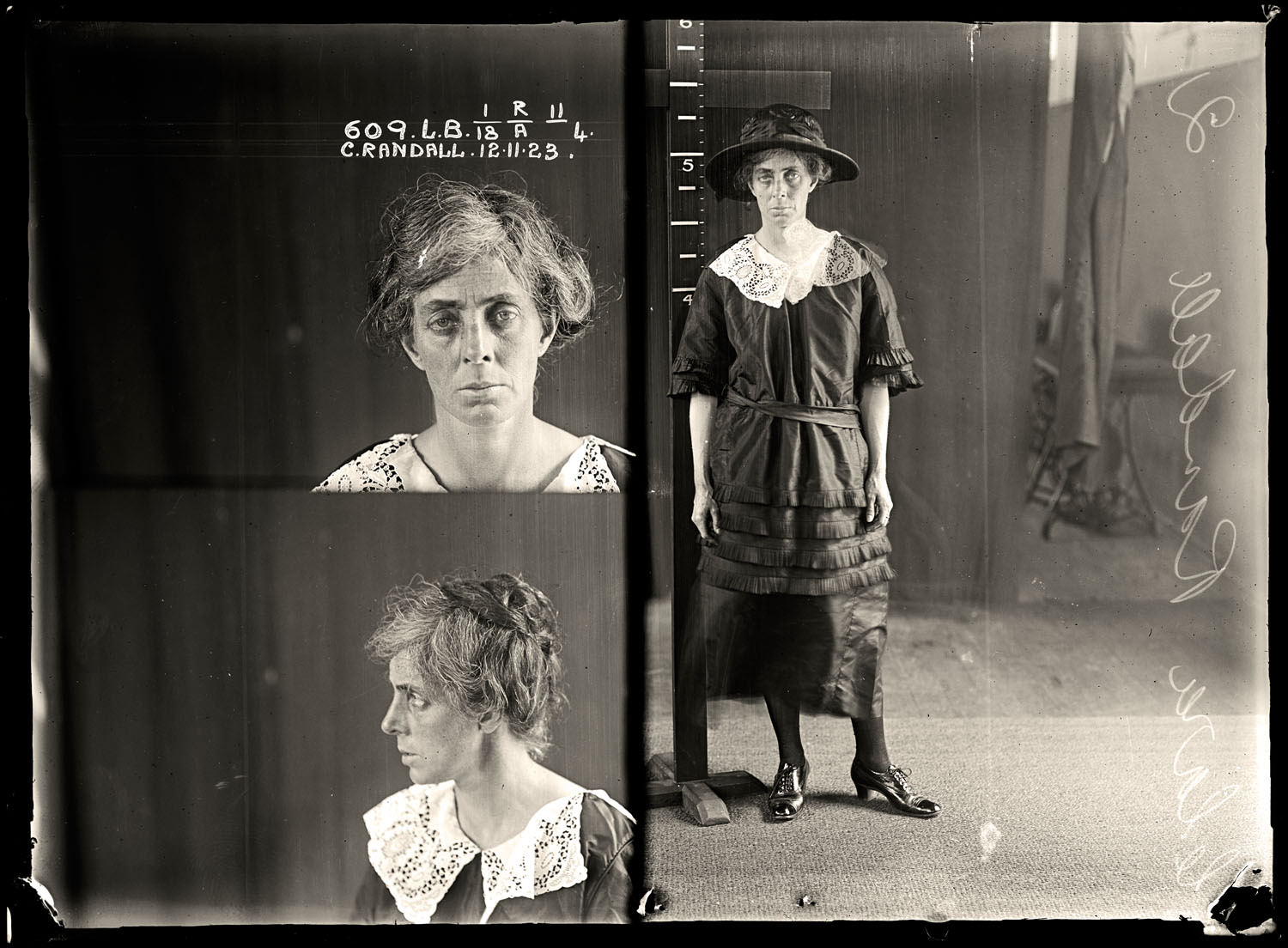 ⇞ Clara Randall worked as a travelling saleswoman for a jewellery company. She reported to police that her Bondi flat had been broken into and a quantity of jewellery stolen. It was later discovered she had pawned the jewellery for cash. A career criminal, Randall was sentenced to 18 months with light labour. DOB: 1884.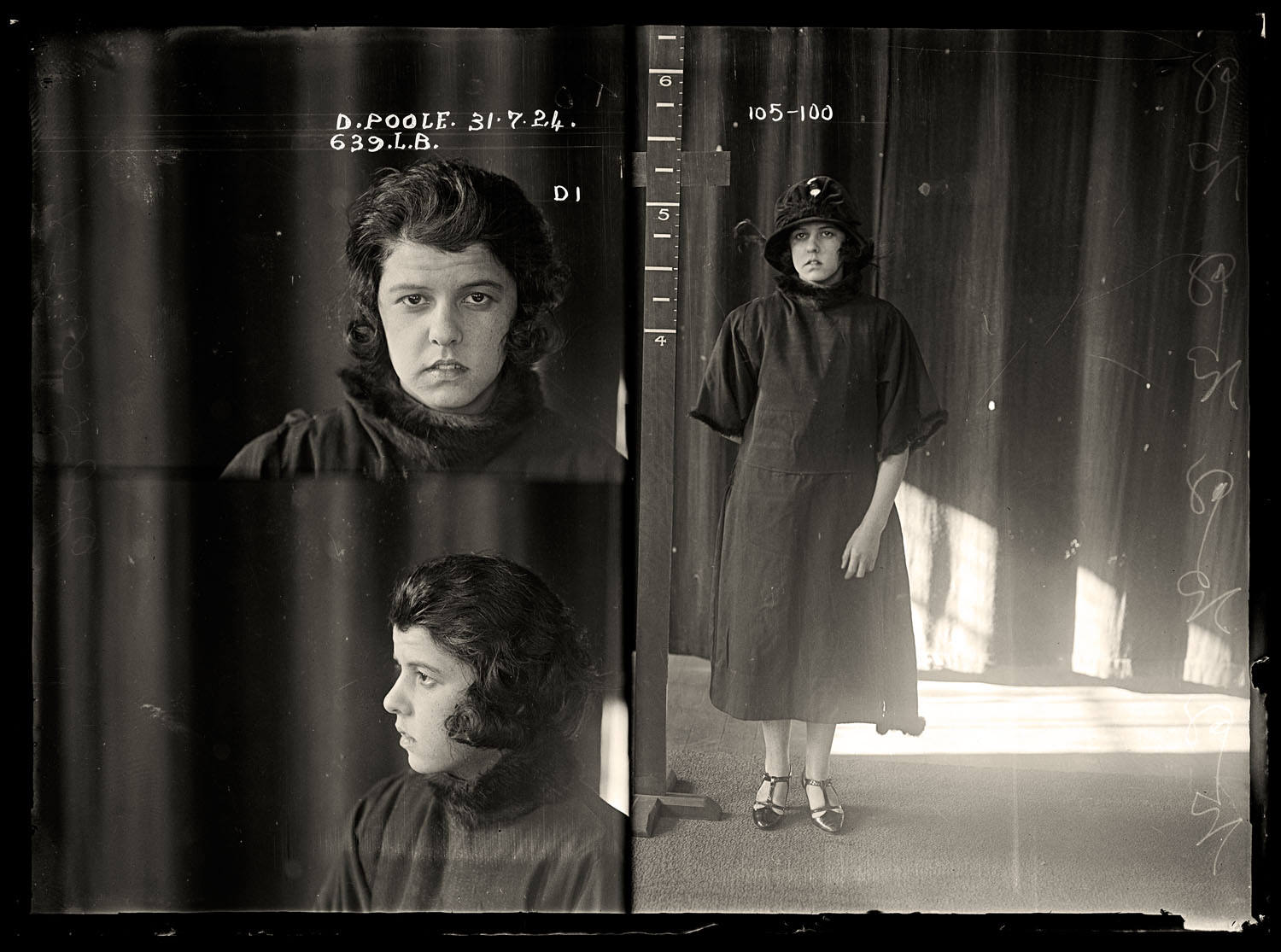 ⇞ Doris Poole appeared before the Newtown Police Court charged with stealing jewellery and clothing. She had previously been convicted on a similar charge in North Sydney and so received a six-month sentence with light labour. DOB: 6 June 1903.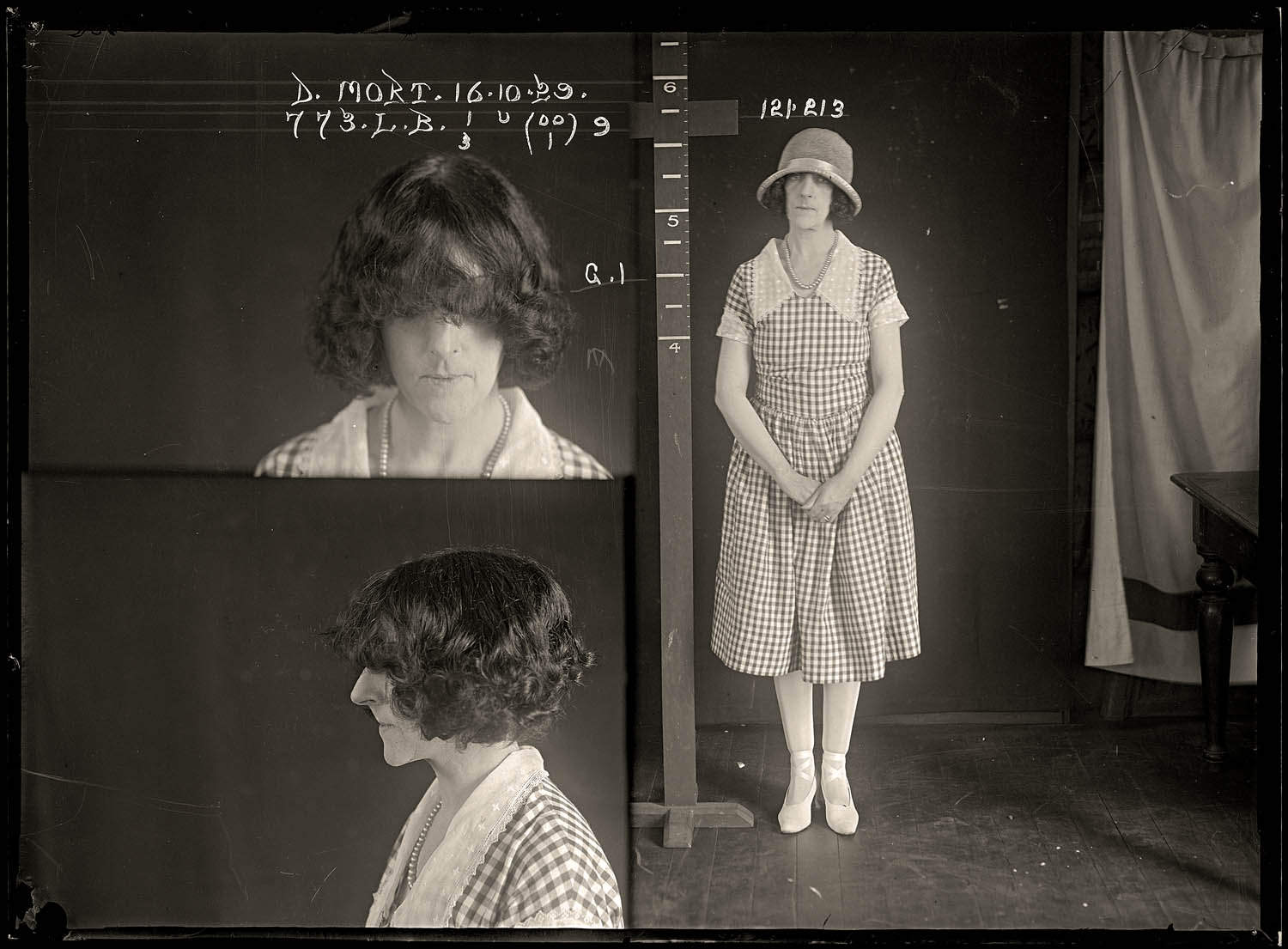 ⇞ Mrs Dorothy Mort was having an affair with dashing young doctor Claude Tozer. On 21 December 1920 Tozer visited Mort's home intending to break off the relationship. Mort shot him dead and then attempted to commit suicide. She was released from gaol shortly after this photograph was taken and disappeared from the public eye.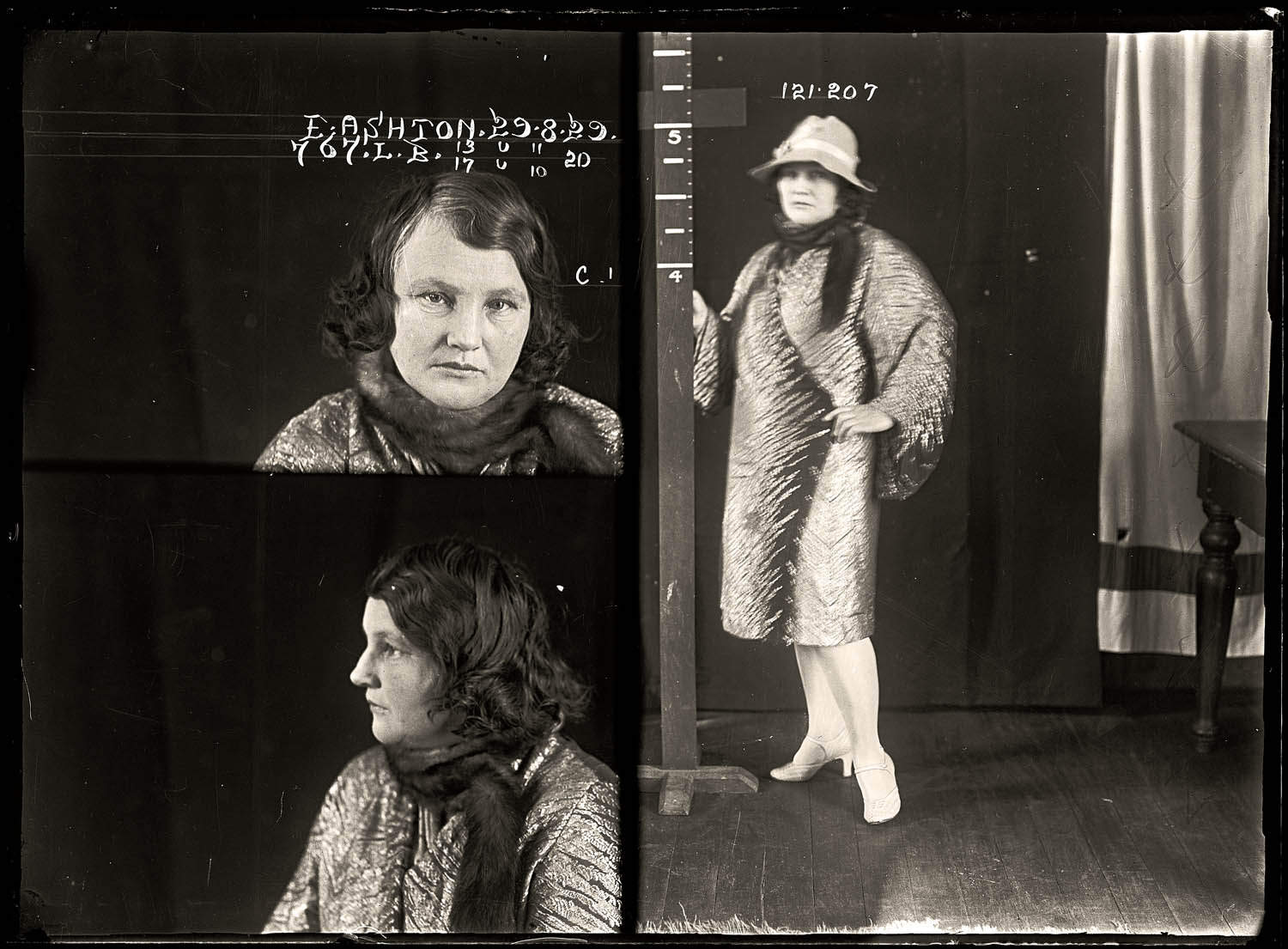 ⇞ Edith Ashton was a backyard abortionist who also dabbled in theft and fencing stolen goods. Described in the media as a 'social somebody' and an 'equestrienne' she was, however, not adept at performing abortions and was suspected of contributing to the deaths of at least two women. Aged 37.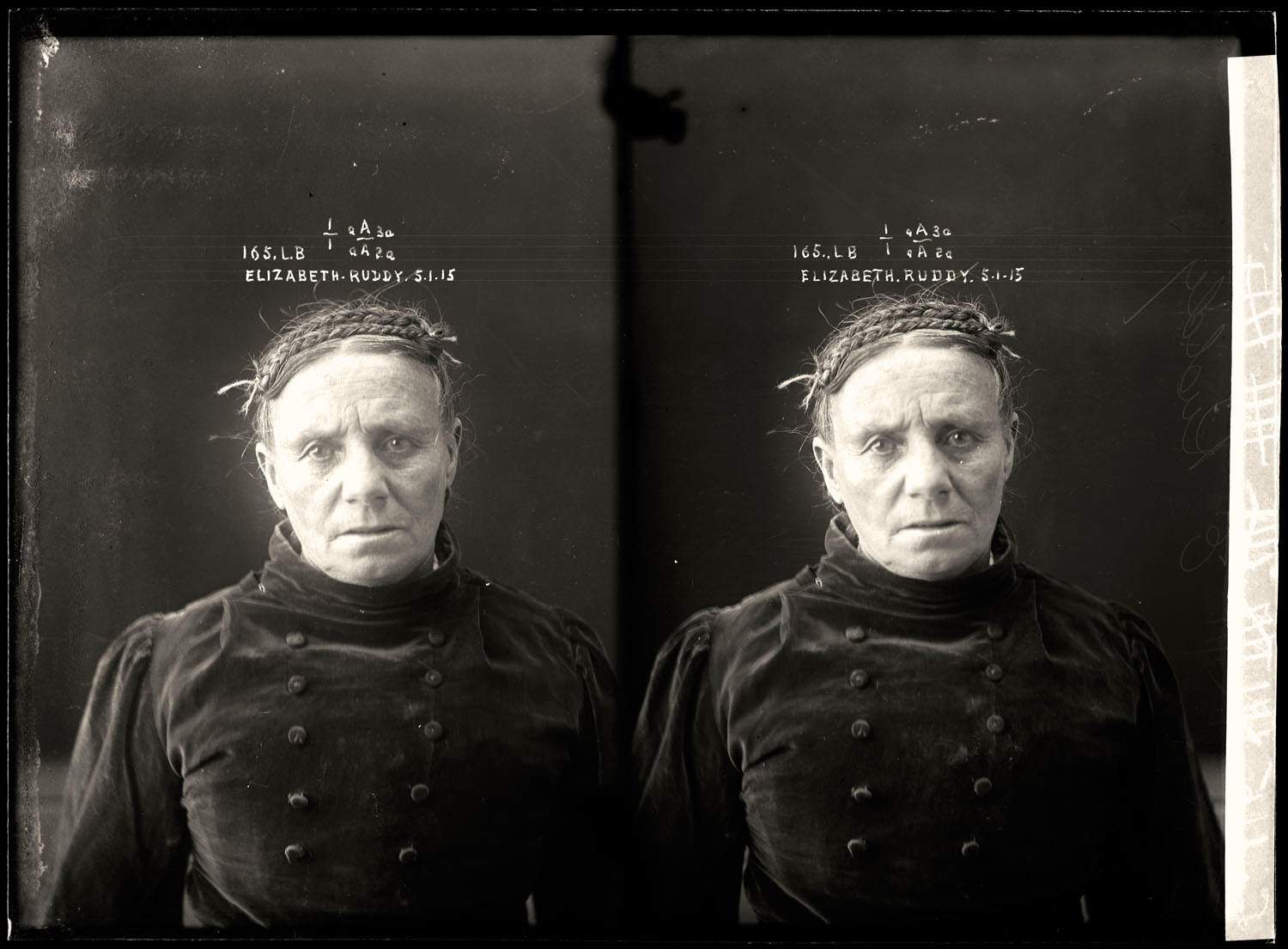 ⇞ Elizabeth Ruddy was a career criminal who was convicted of stealing from the house of one Andrew Foley. She was sentenced to 12 months with hard labour. DOB: 1854, Scotland.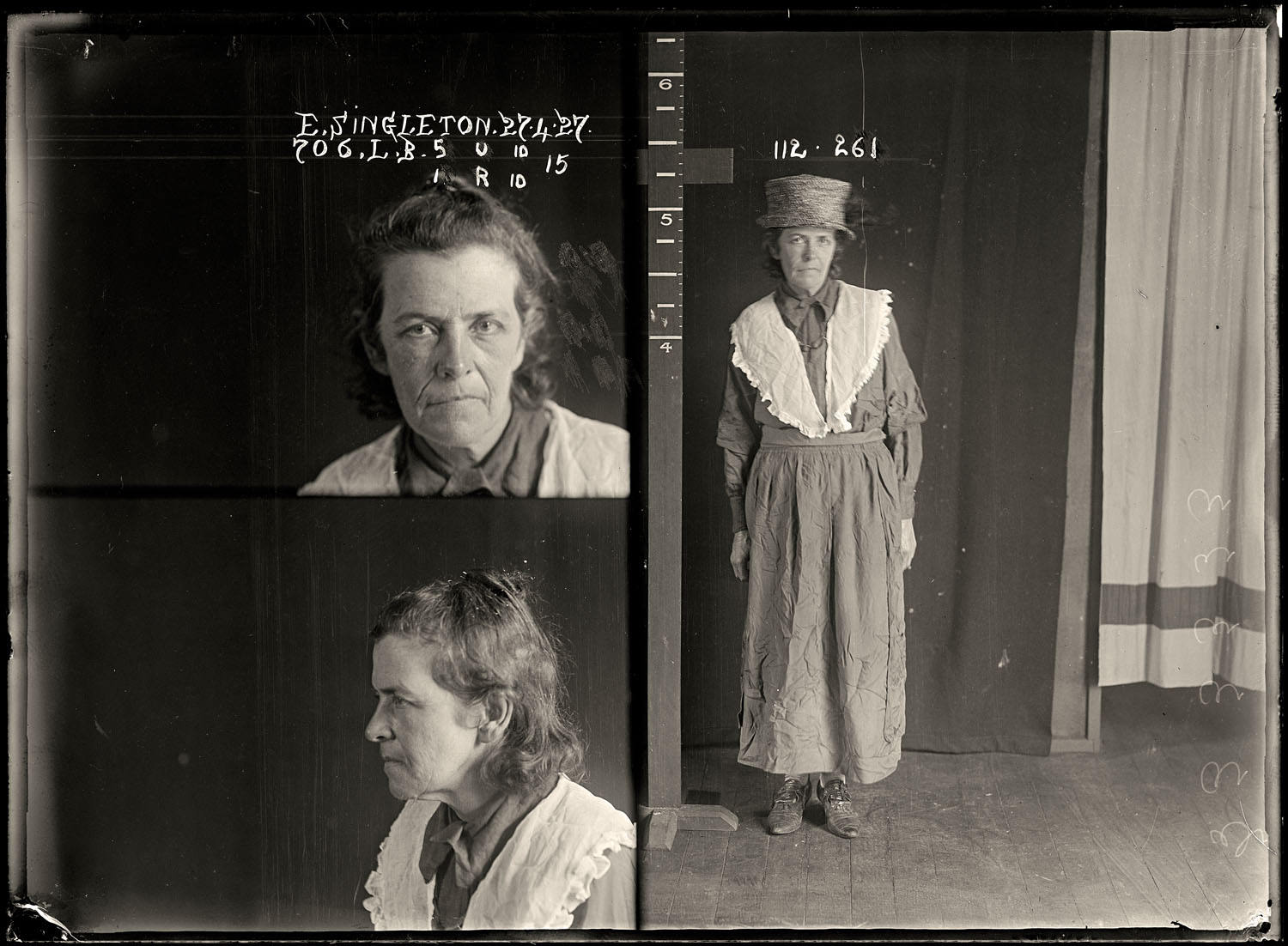 ⇞ Elizabeth Singleton had multiple convictions for soliciting and was described in police records as a 'common prostitute'. She was imprisoned at Long Bay but the details of her sentence have been lost. DOB: 9 July 1905.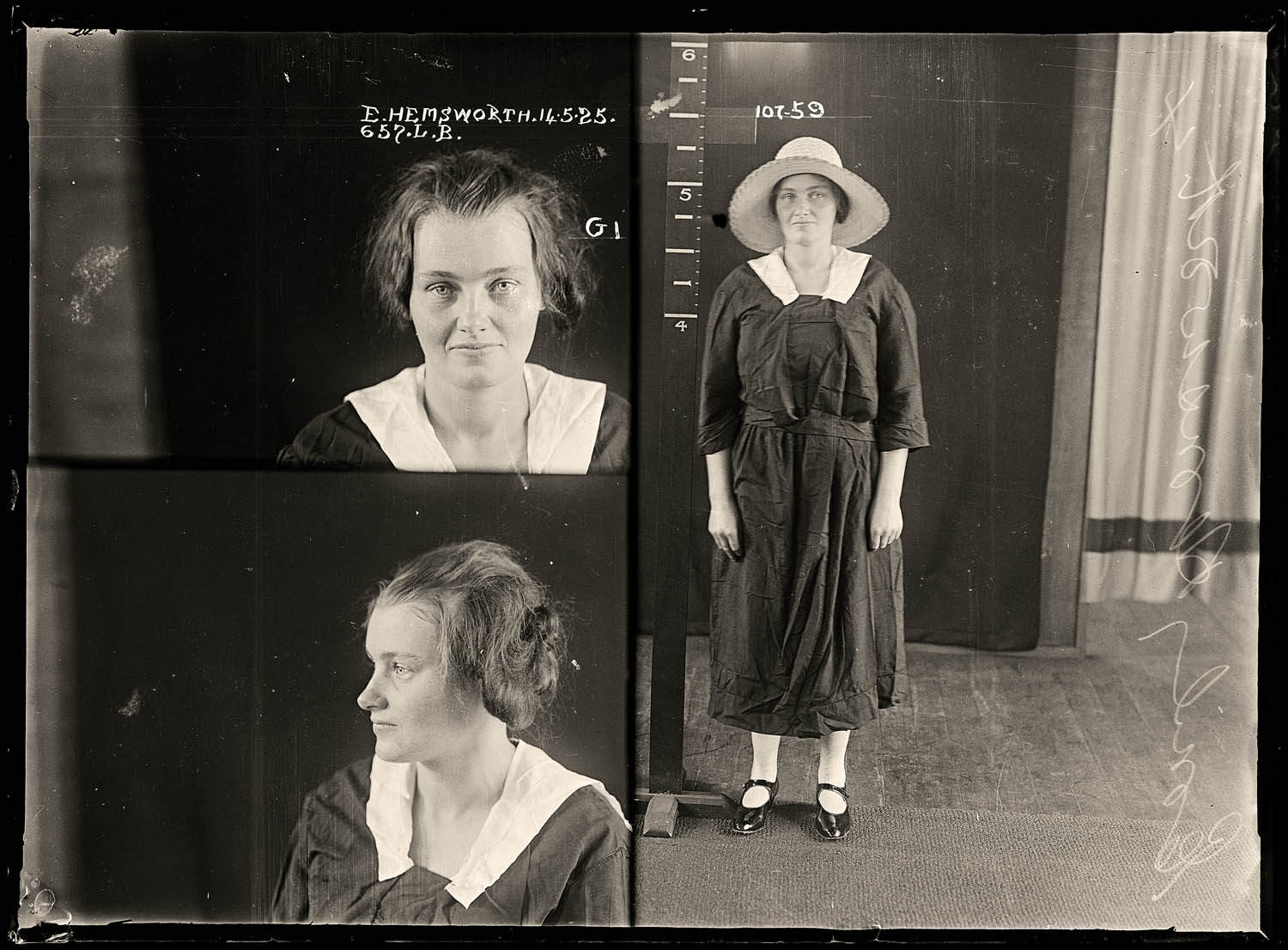 ⇞ Emily Hemsworth killed her three-week-old son but could not remember any details of the murder. She was found not guilty due to insanity. Hemsworth was to be detained in custody until judged fit to return to society – it is unknown if she was ever released. Aged 24.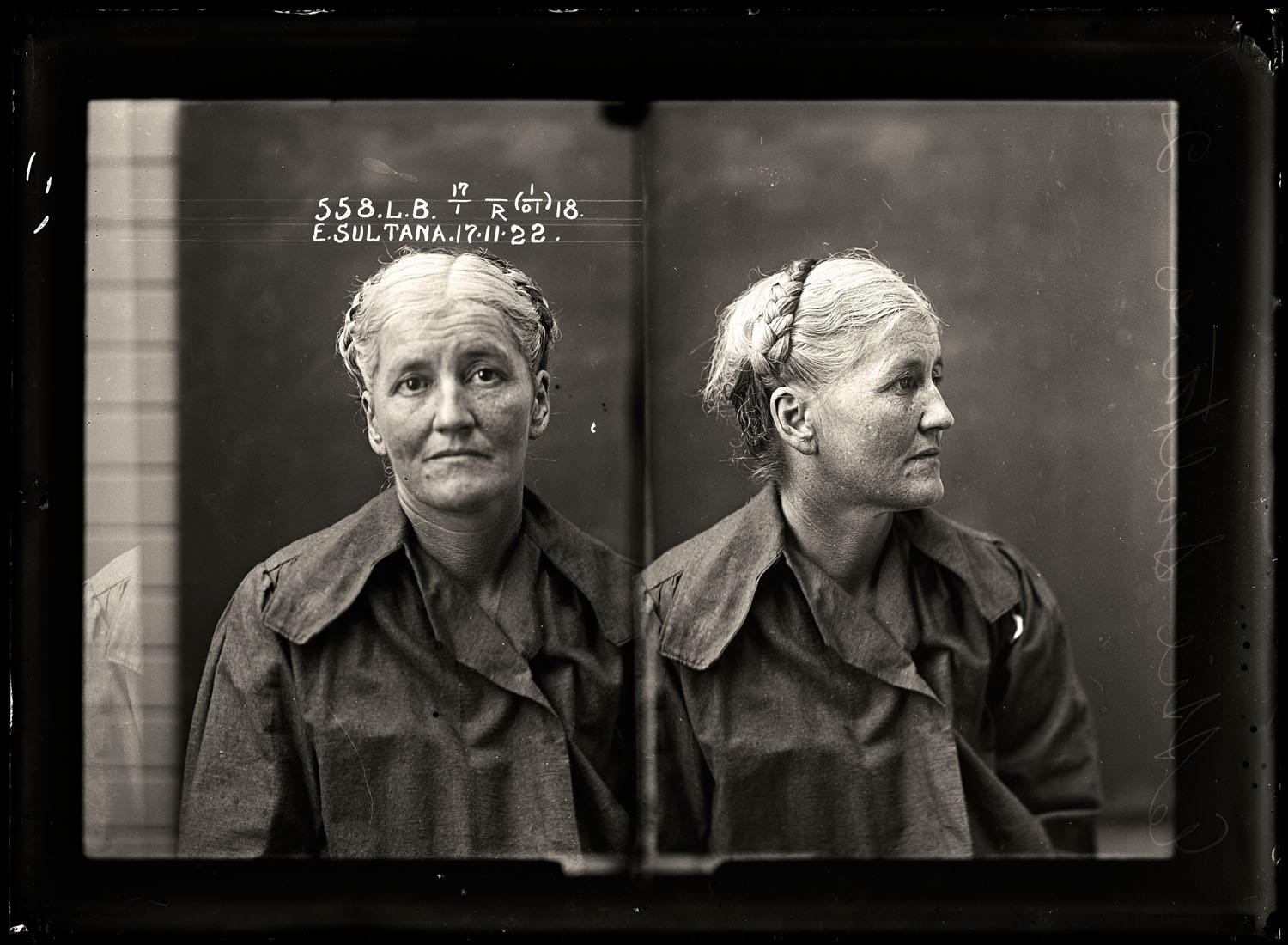 ⇞ Prostitute Ettie Sultana worked in northern New South Wales and in the Queensland cities of Brisbane and Toowoomba for most of her career. She had multiple convictions for prostitution, theft, drunkenness, swearing and vagrancy. She was sentenced to six months with hard labour. DOB: 31 December 1885.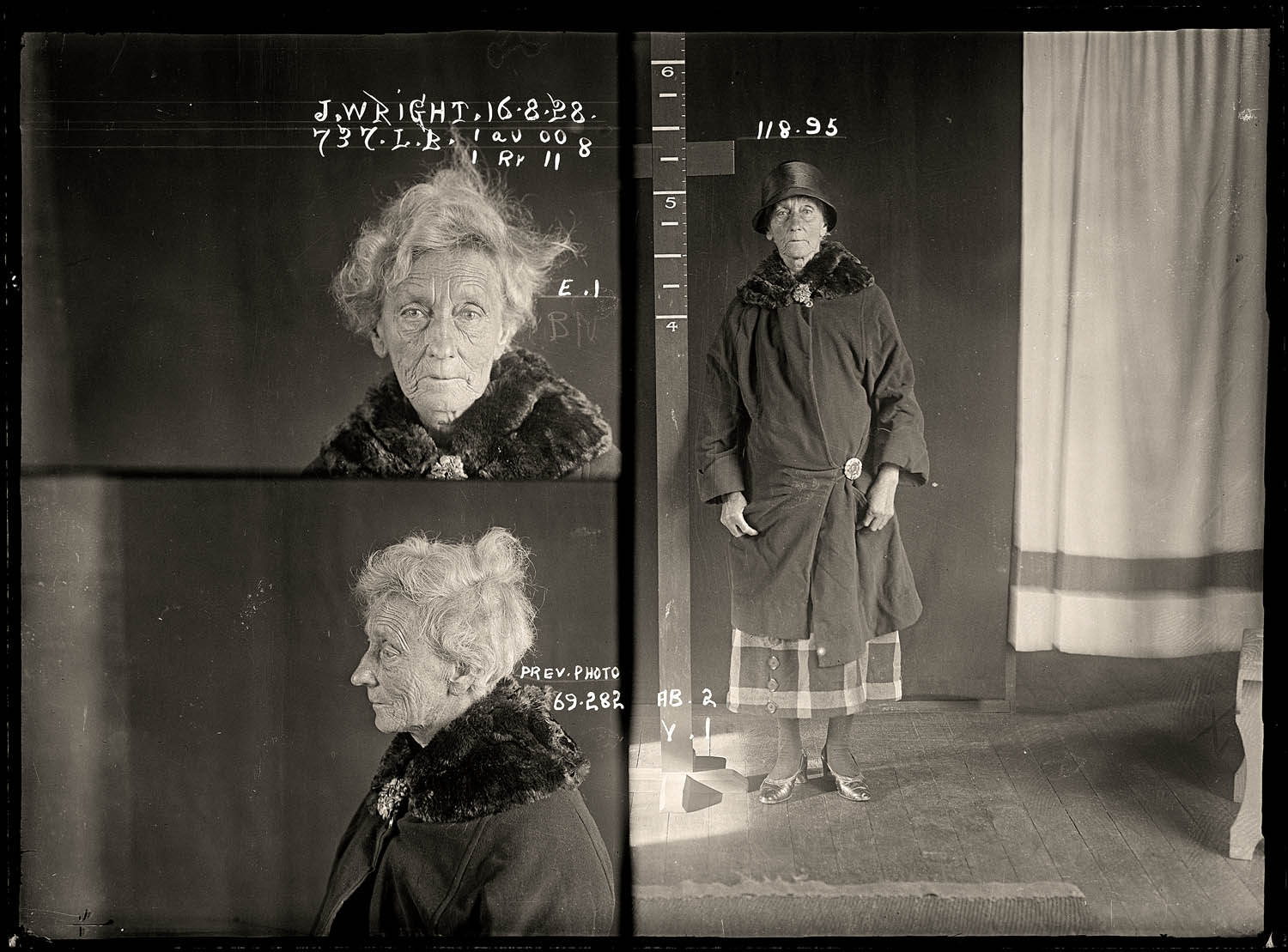 ⇞ Convicted of using an instrument to procure a miscarriage. Janet Wright was a former nurse who performed illegal abortions from her house in Kippax Street, Surry Hills. One of her teenage patients almost died after a procedure and Wright was prosecuted and sentenced to 12 months hard labour. Aged 68.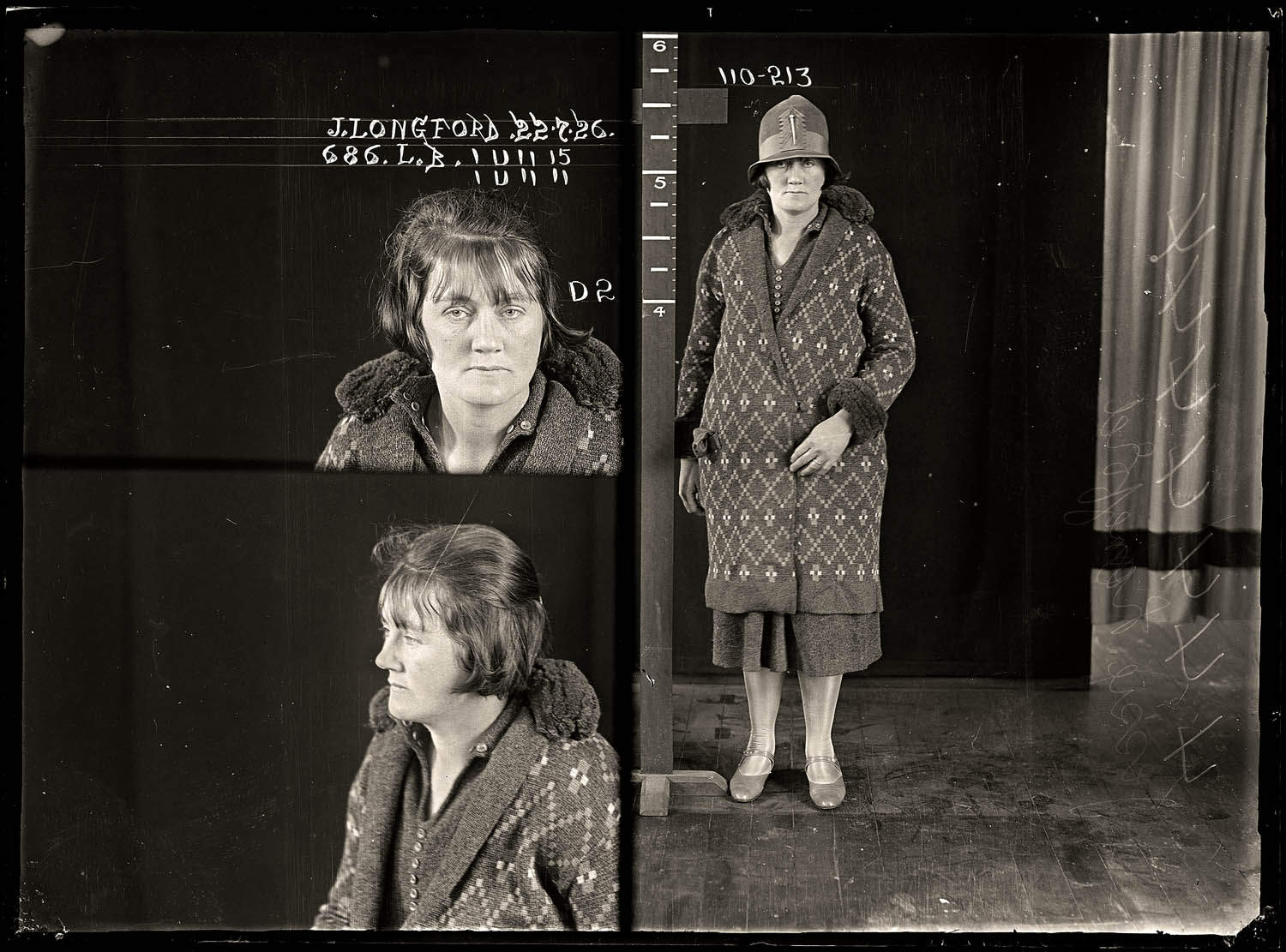 ⇞ Legendary undercover policeman Constable CJ Chuck, or 'The Shadow' as he was known within the criminal milieu, was responsible for the arrest of Jessie Longford, a well-known shoplifter. Aged 30.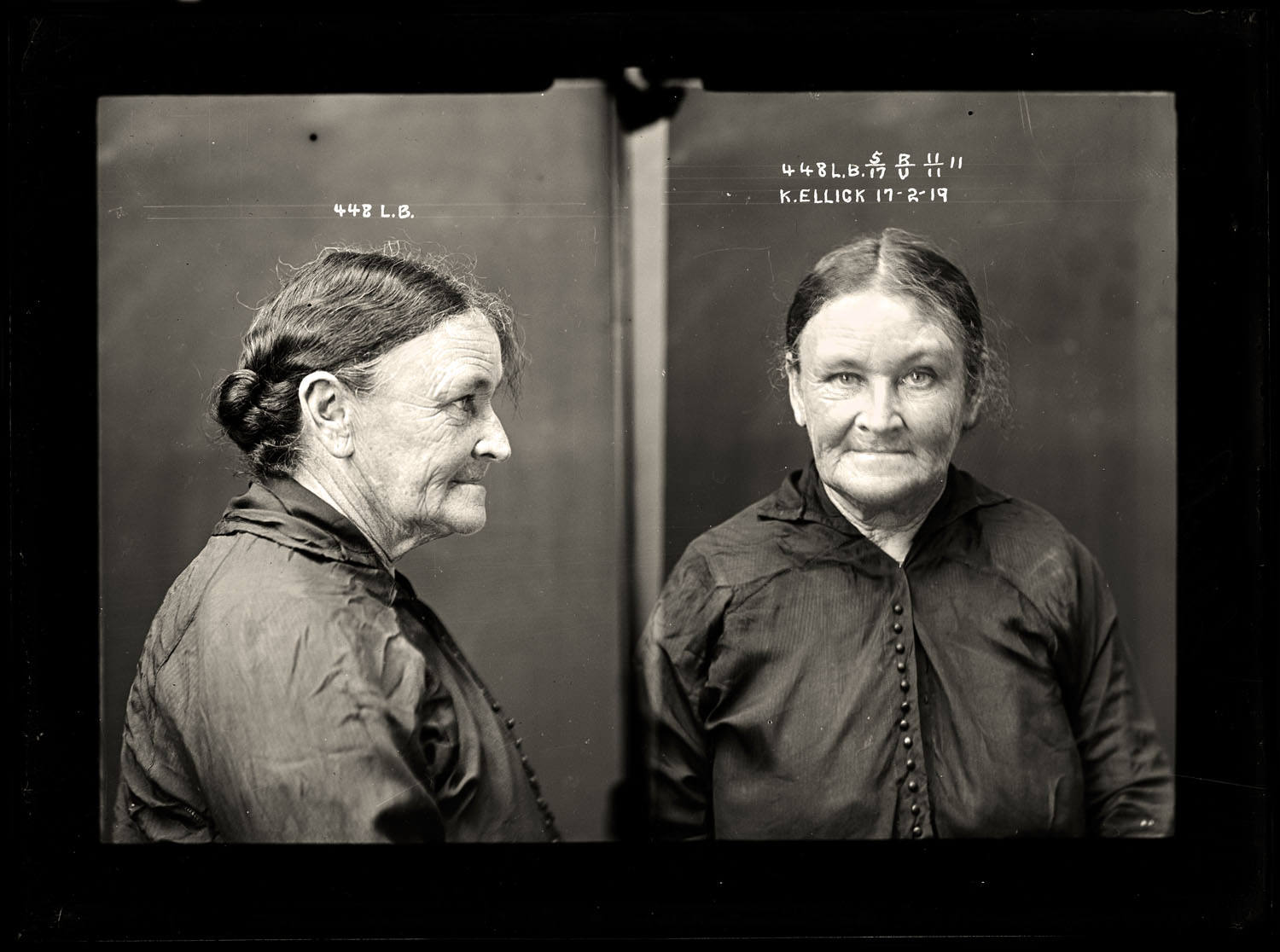 ⇞ Kate Ellick had no family to support her and no fixed address. In the early 20th century employment options were limited for women of her age and there was no aged pension. Ellick was homeless when arrested in Newcastle and was sentenced under the Vagrancy Act to three months in prison. DOB: 1860, Murrurundi.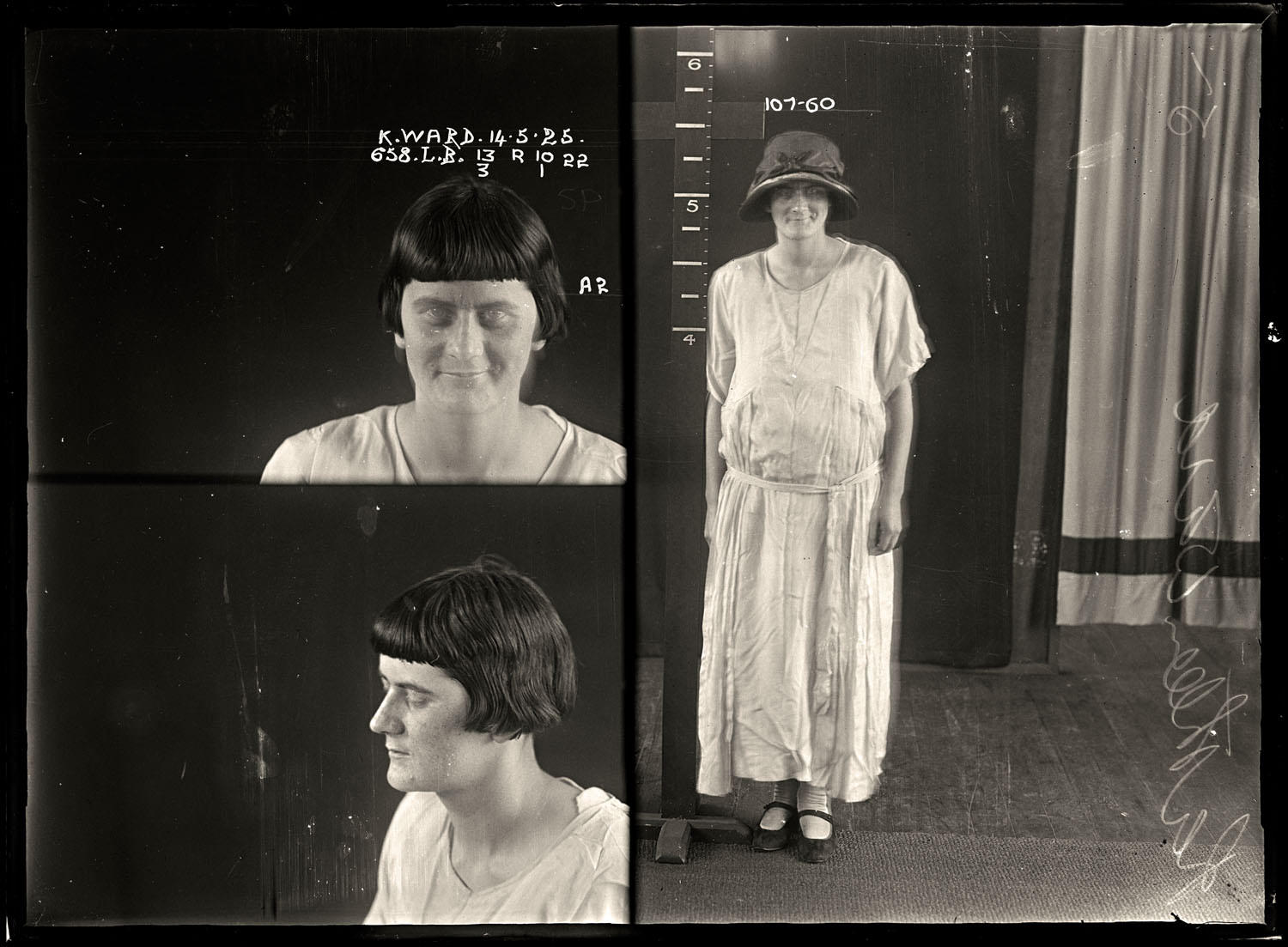 ⇞ Kathleen Ward had convictions for drunkenness, indecent language and theft. She obviously enjoyed thumbing her nose at the authorities, as can be seen in this image where she appears to have deliberately fluttered her eyes in order to ruin the long-exposure photograph. DOB: 1904.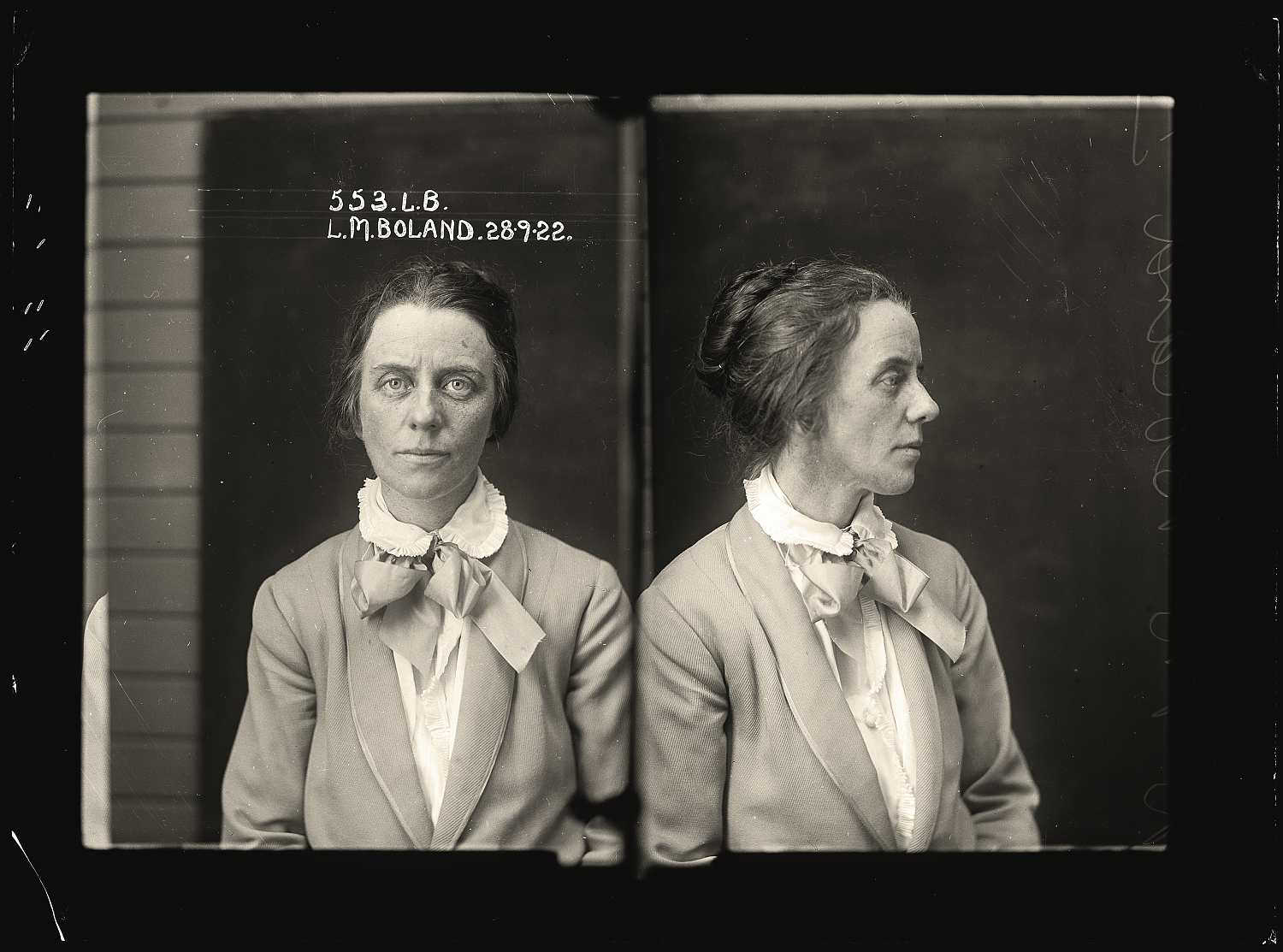 ⇞ Convicted of conspiracy to procure an abortion. Lillian Boland worked as a secretary for an illegal abortionist who operated out of a dentist?s surgery on Oxford Street, Paddington. Boland protested her innocence and ignorance of the 'doctor's' work; however, the court decided she must have had detailed knowledge of the business and handed her a suspended sentence of 12 months hard labour.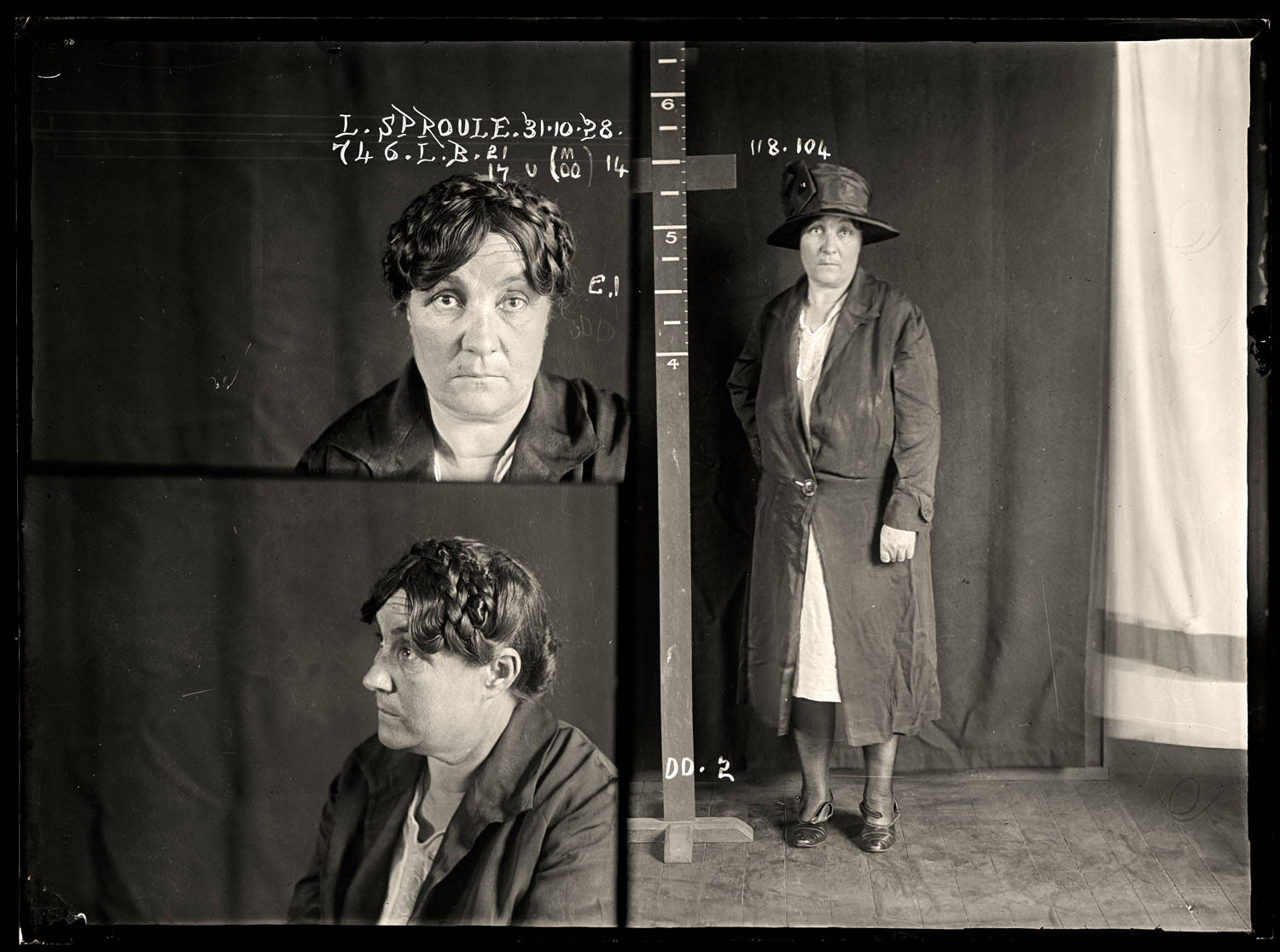 ⇞ Tasmanian Lillian Sproule became involved in Sydney's cocaine trade. She was labelled a 'parasite in skirts' by the newspapers and had multiple convictions relating to drug dealing. She was sentenced to six months in prison. DOB: 1878.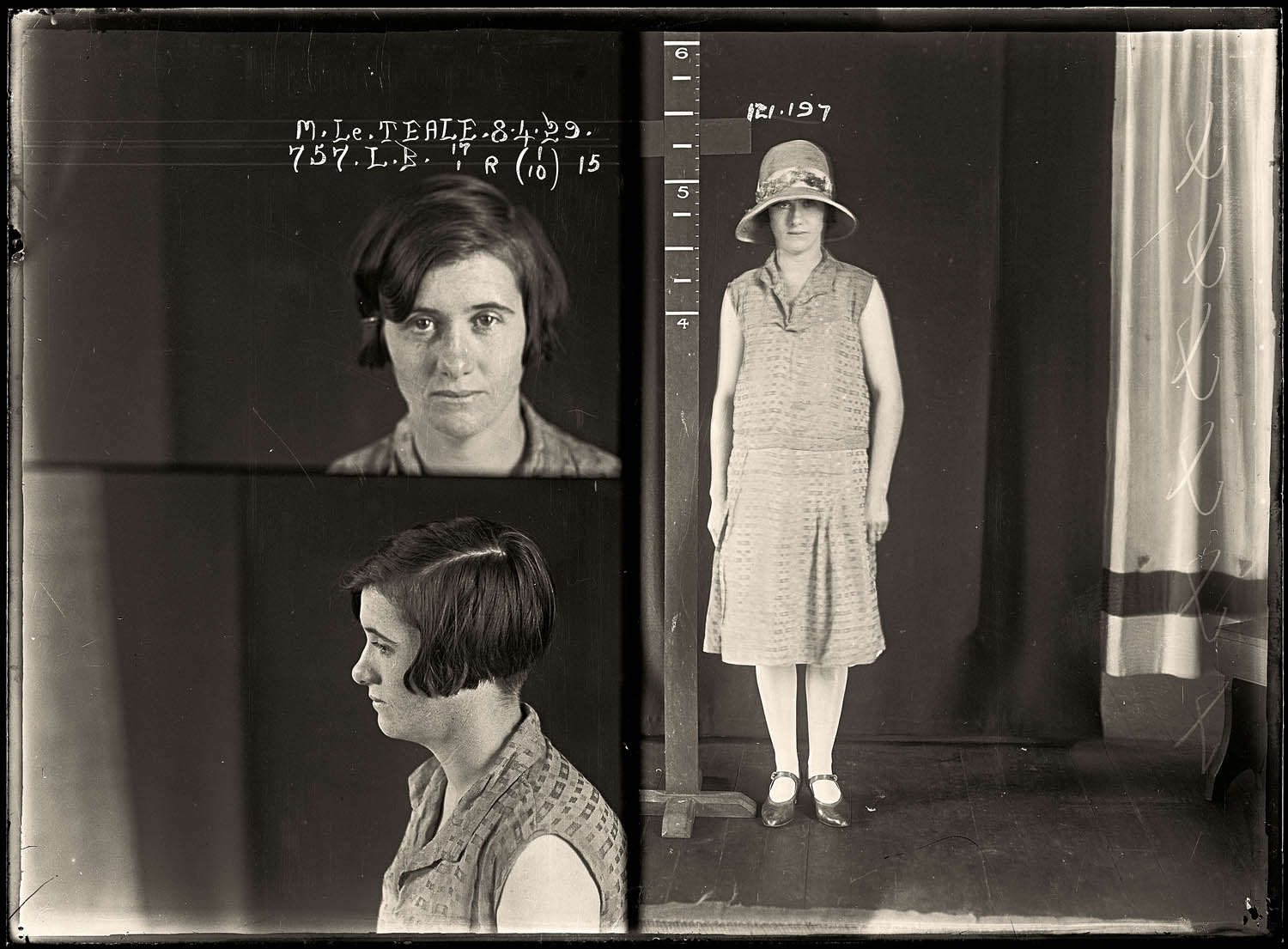 ⇞ Margaret Teale moved to the small Riverina town of Beckom where she married John Selby. Unfortunately, her first husband, Ernest Teale of Windsor, was still alive. She was charged with bigamy and sentenced to six months gaol. Aged 25.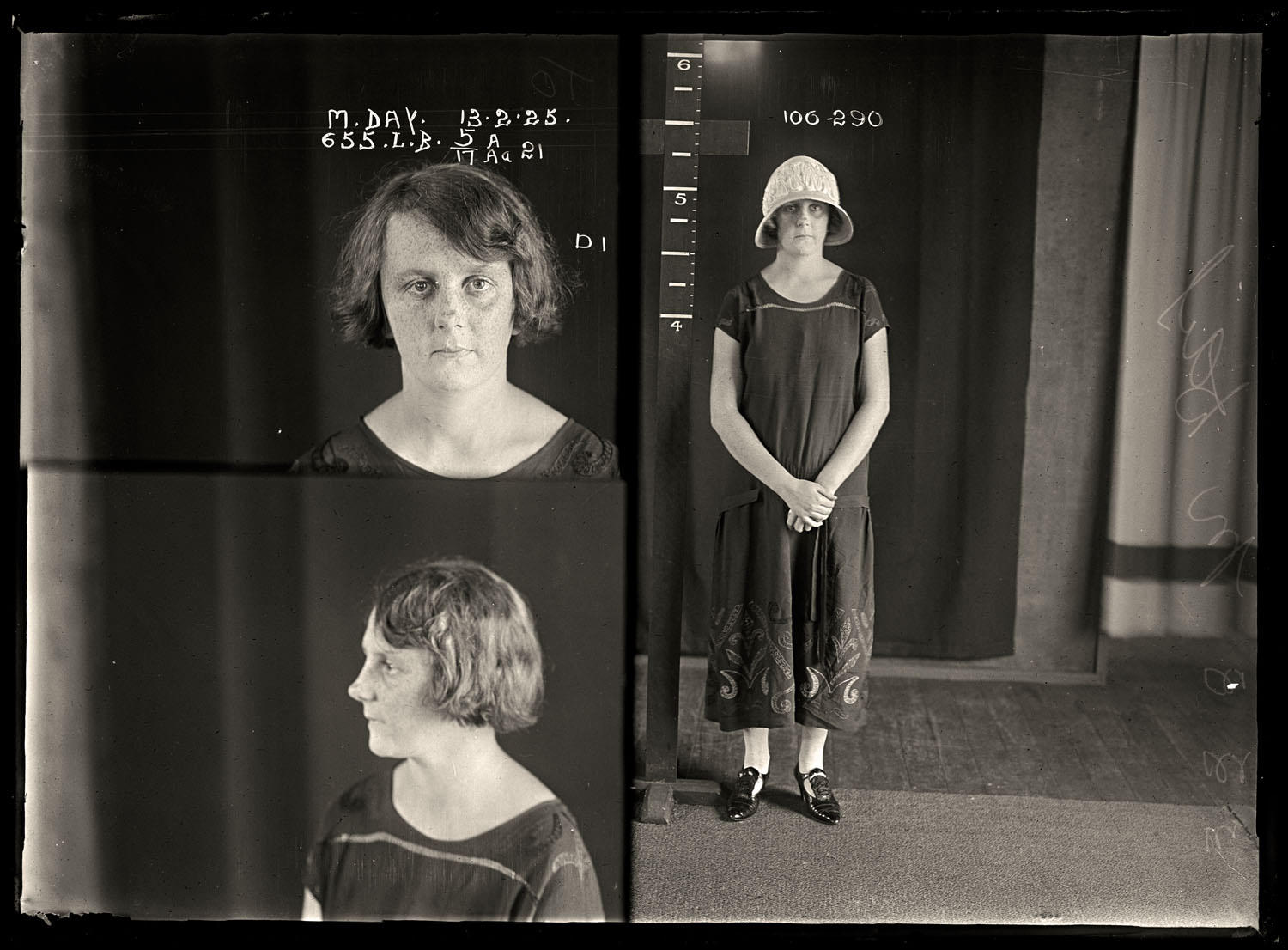 ⇞ Marjorie Day convinced a shopkeeper to let her take two dresses home to show her mother. She promised to return promptly but instead sold the clothes at a second-hand clothing shop. A repeat offender, Day was sentenced to six months prison. Aged: 20. DOB: 11 January 1905.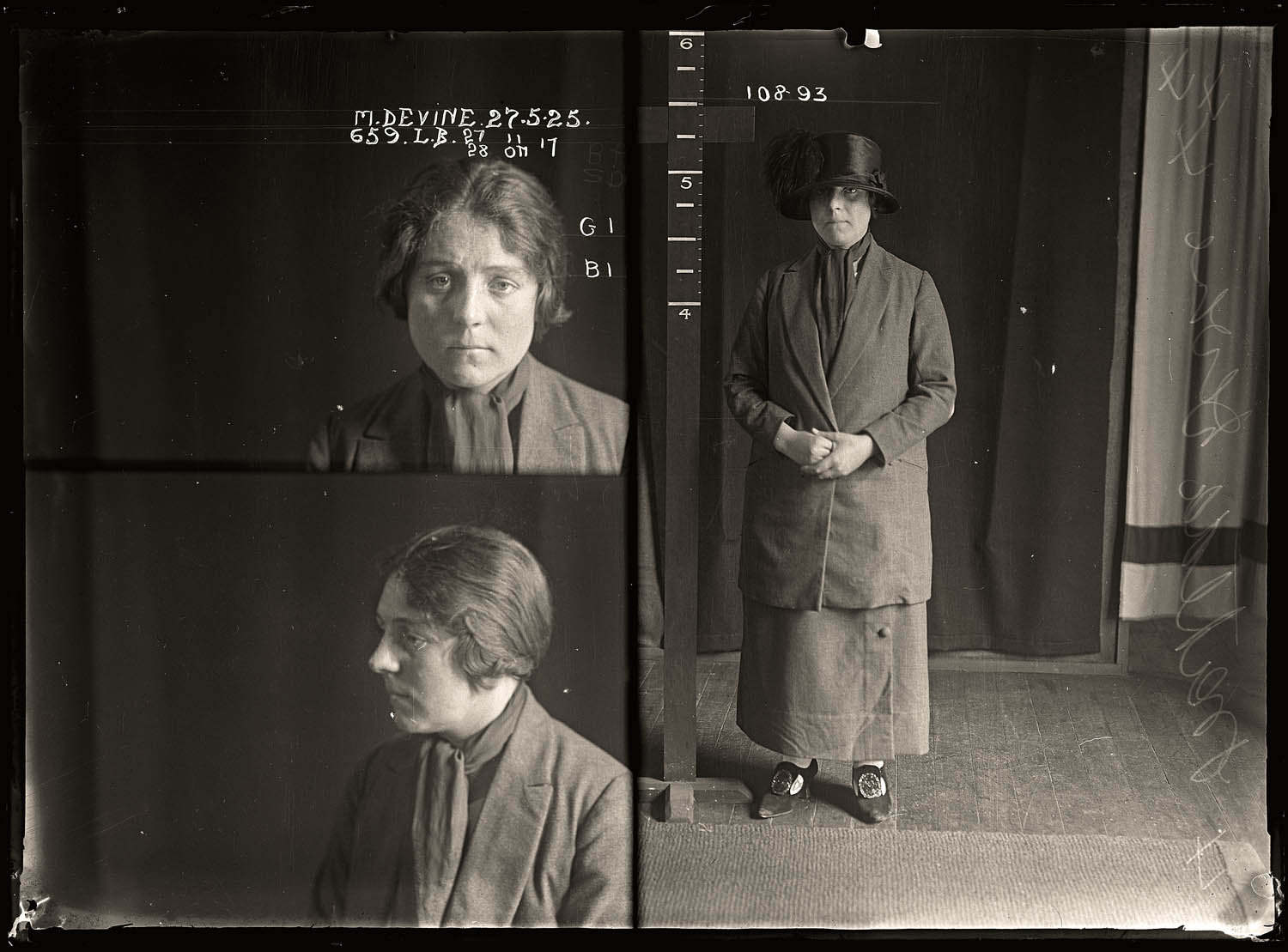 ⇞ Matilda 'Tilly' Devine used a razor to slash a man's face in a barber's shop and was sentenced to two years gaol. She was Sydney's best-known brothel madam and her public quarrels with sly-grog queen Kate Leigh provided the media with an abundance of material. Aged 25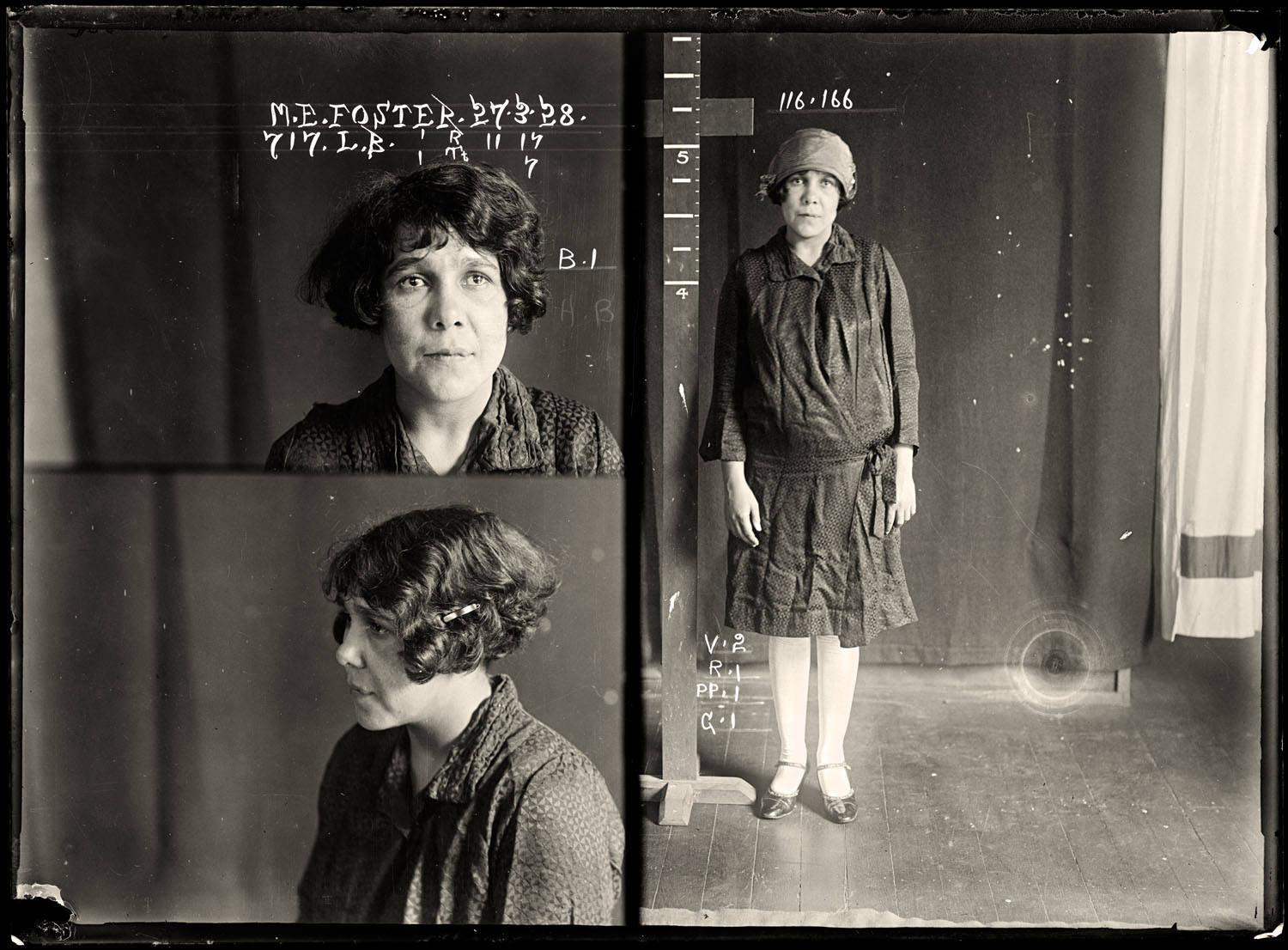 ⇞ May Foster worked with a male accomplice to break into numerous houses and steal the contents. She had previous convictions for vagrancy, failing to appear in court and receiving stolen goods. She was sentenced to six months with hard labour. Aliases: May Saunders, Hopkins. DOB: 19 September 1901. Criminal associate: Albert Roy Callaway (28).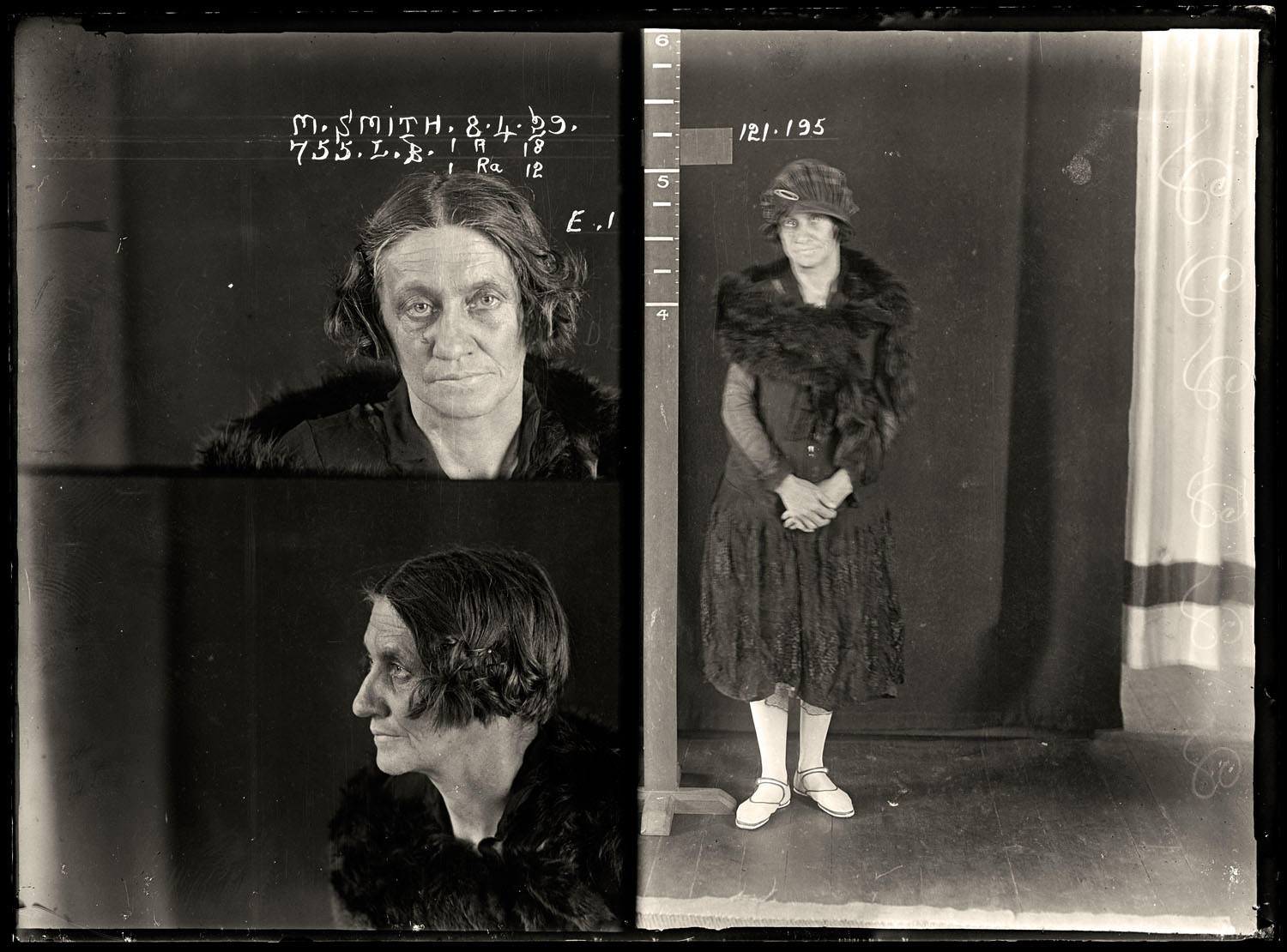 ⇞ May Smith, alias 'Botany May', was an infamous drug dealer. She once chased policewoman Lillian Armfield with a red-hot iron to avoid arrest. Smith was sentenced to 10 months with hard labour. DOB: 1880.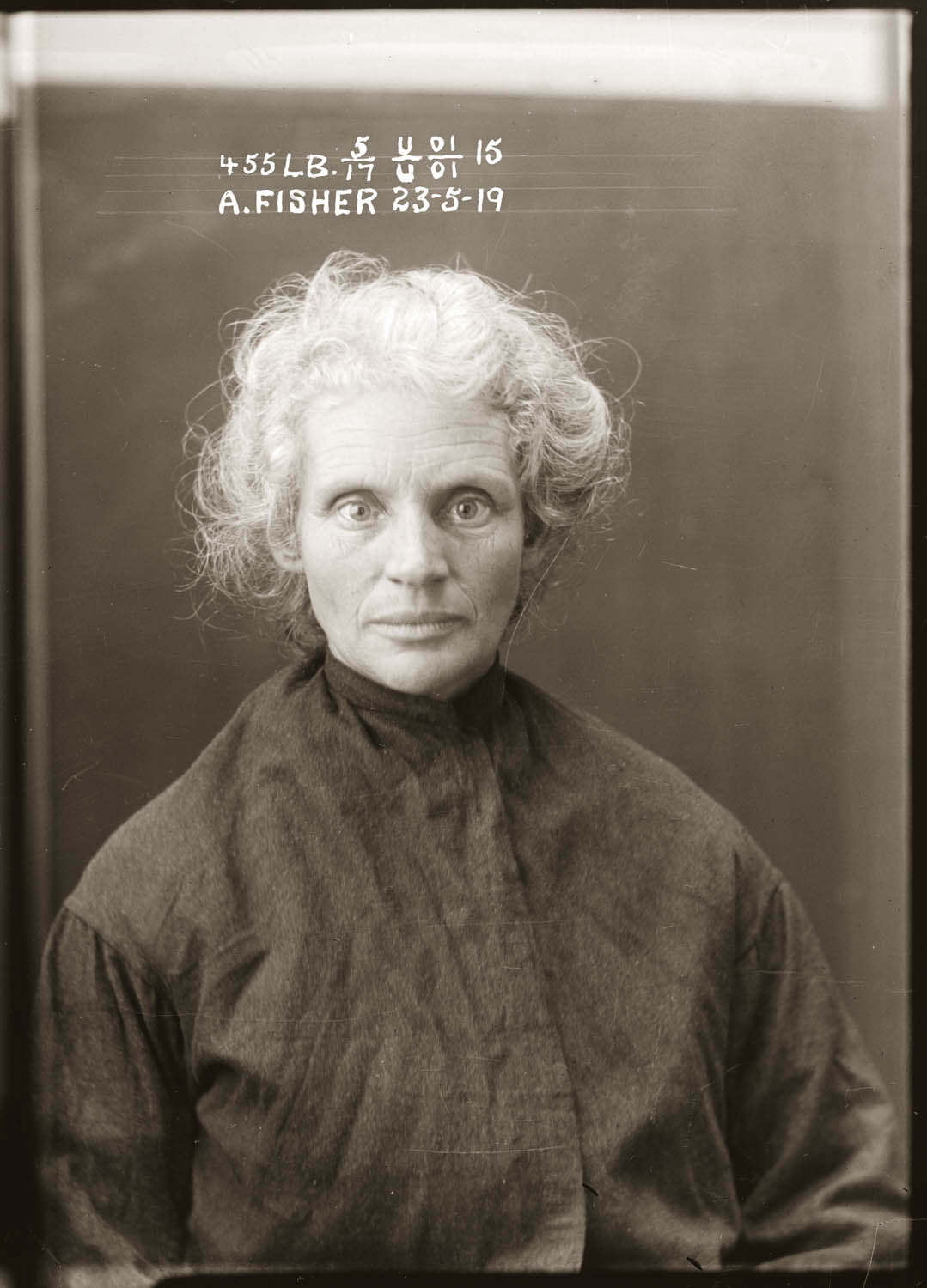 ⇞ Prisoner identification photograph no. 455 LB. When this photograph was taken, Alice Fisher, 41, was serving two consecutive sentences of four months for larceny.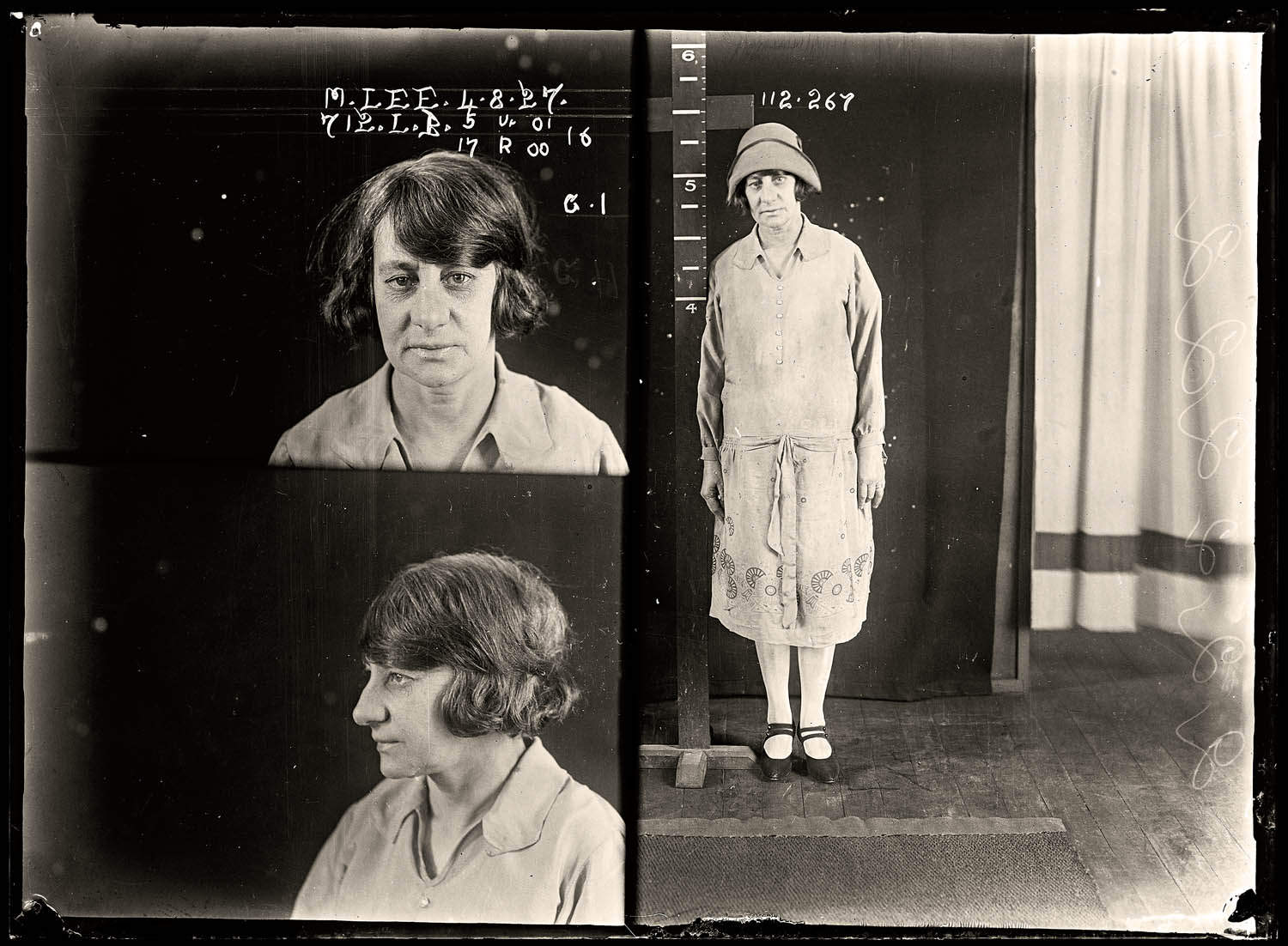 ⇞ Myrtle Lee, described in the media as 'a well-dressed woman', stabbed Mary Moon twice at the residence of a Chinese man in Alexandria. The press emphasised the racial nature of the attack with a headline 'White and Yellow'. Lee was sentenced to six months gaol. Aged 35.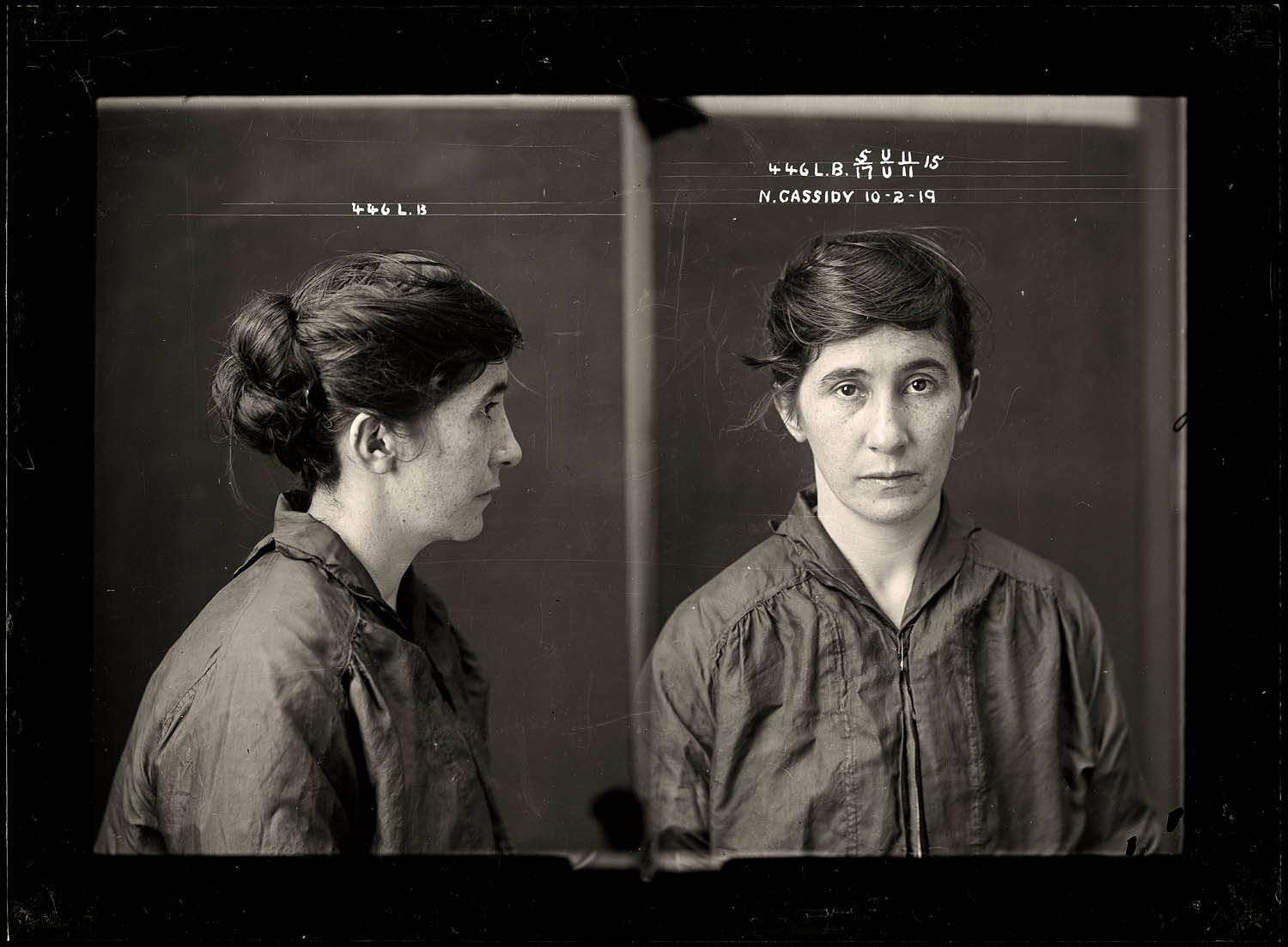 ⇞ Convicted of stealing. The jury could not decide whether Nellie Cassidy was guilty of 'stealing a lady's costume', or if she had merely acted as a fence, and so a special verdict 'that she was guilty of one or the other' was entered. Aged 23.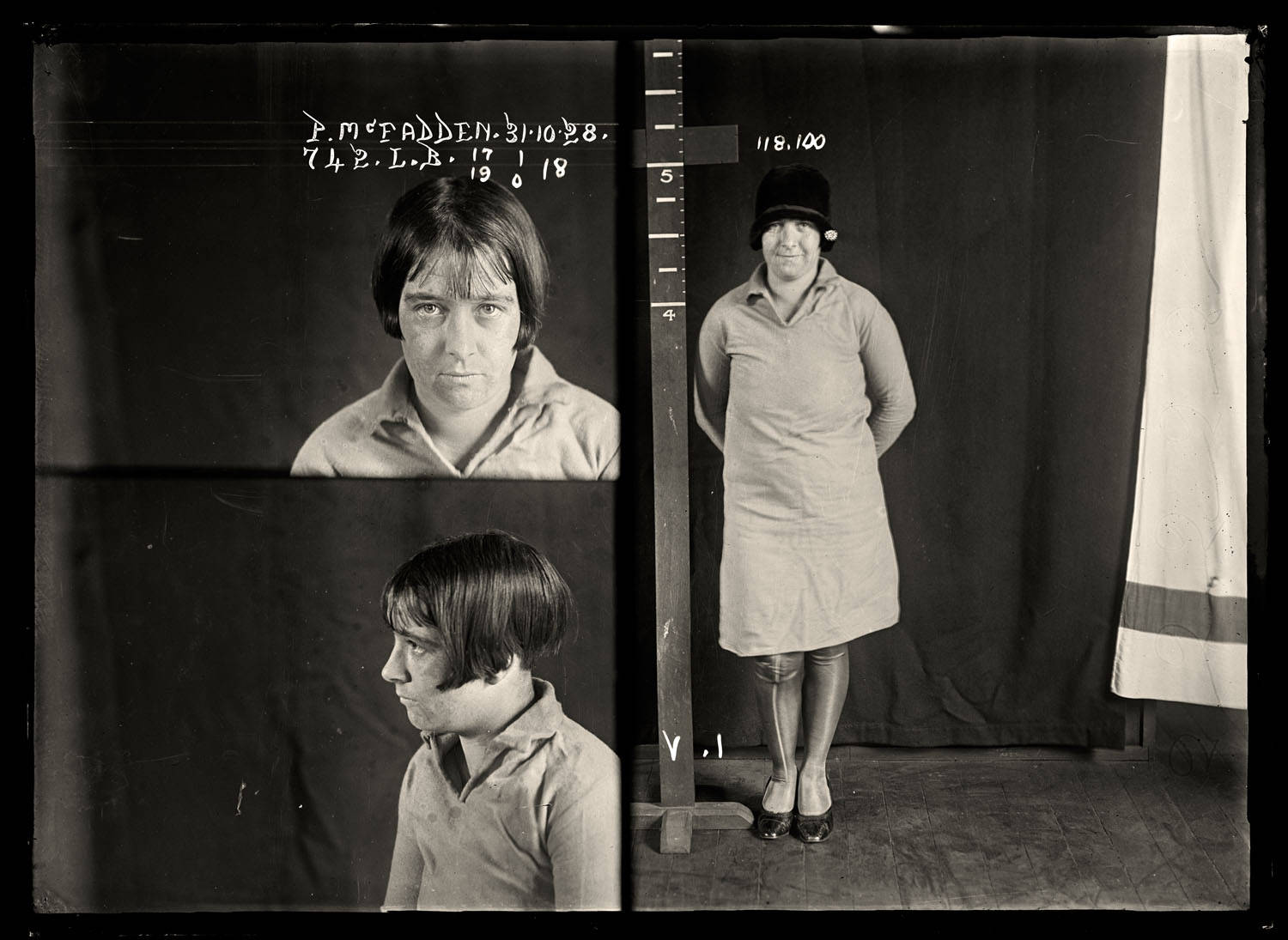 ⇞ Pearl McFadden may have been supporting herself by working as a prostitute. Many sex workers were charged with vagrancy and having insufficient means of support, as it was a relatively easy charge to prove. McFadden was sentenced to six months with hard labour. DOB: 1910.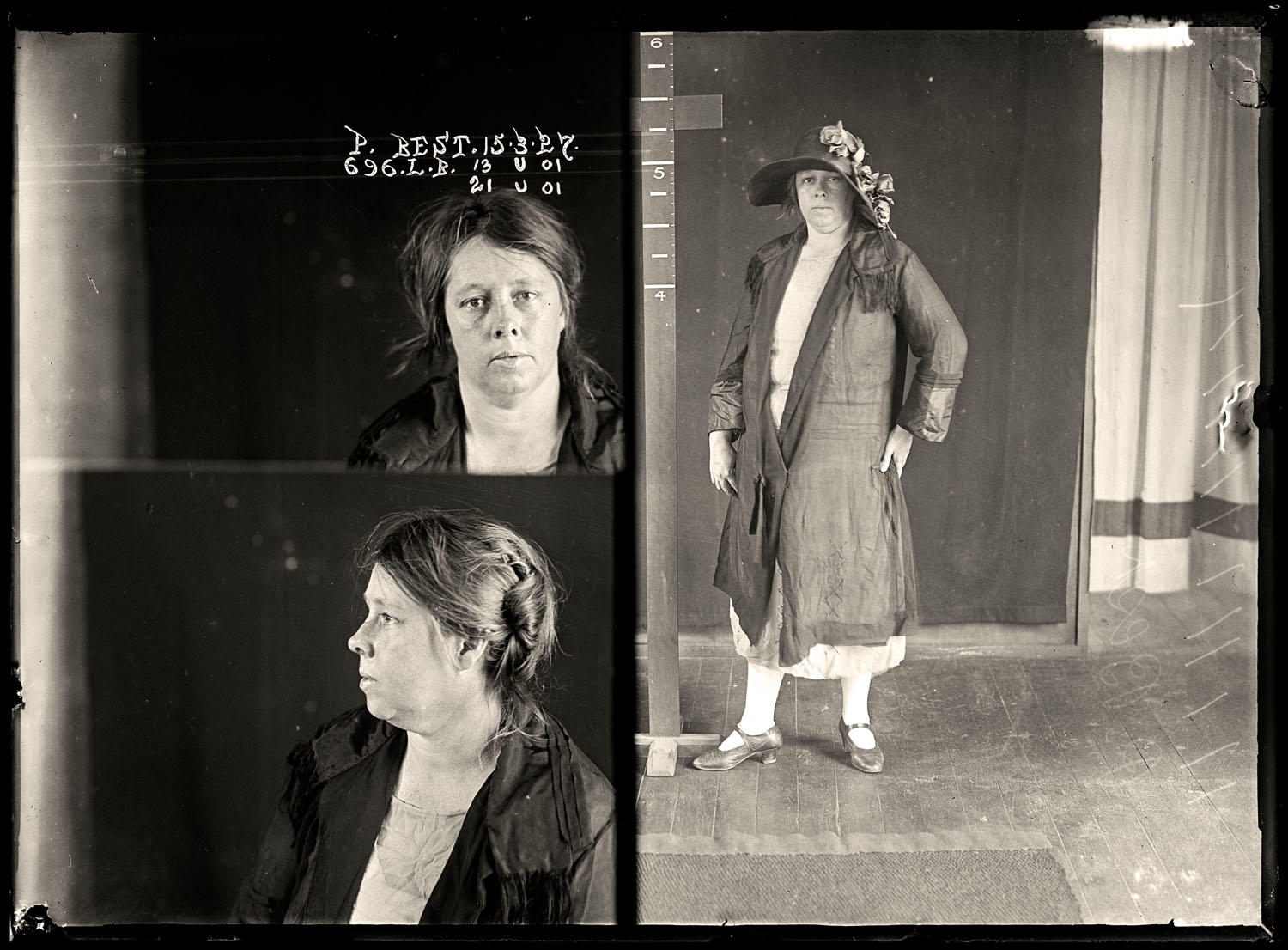 ⇞ Philomena Best stole silk and other goods valued at over 36 pounds (about $2000 today) from a Bourke shopkeeper. She was convicted and sentenced to 12 months with light labour. Convicted of larceny. Philomena Best stole sumptuous silk and other items from her employer Namut Khan of Bourke, in north-western New South Wales. Aged 33.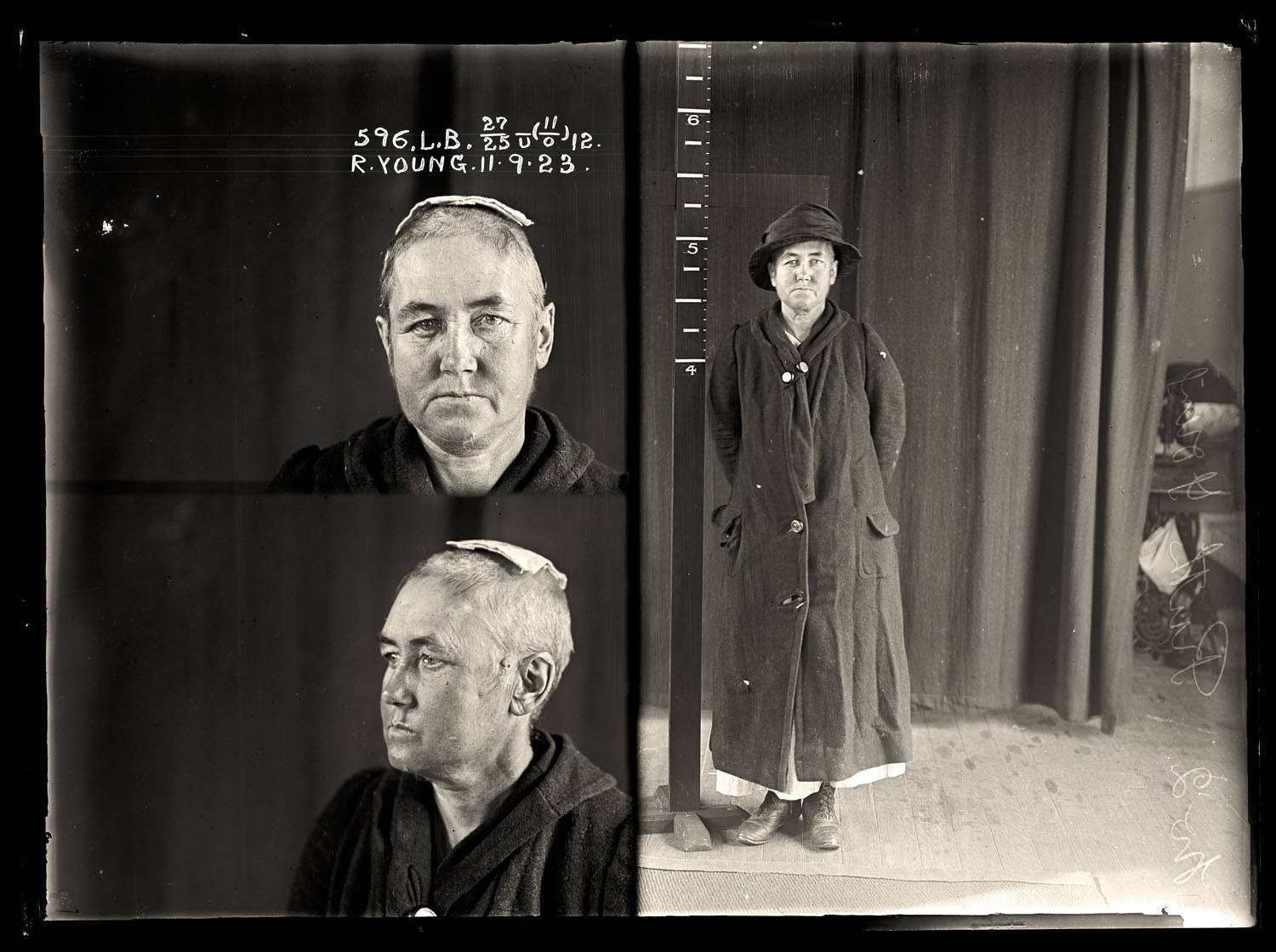 ⇞ Ruth Young had a problem with alcohol and was often homeless. She had multiple convictions for drunkenness, vagrancy and petty theft. Her head was probably shaved upon her entry to prison to eradicate head lice. DOB: 1880.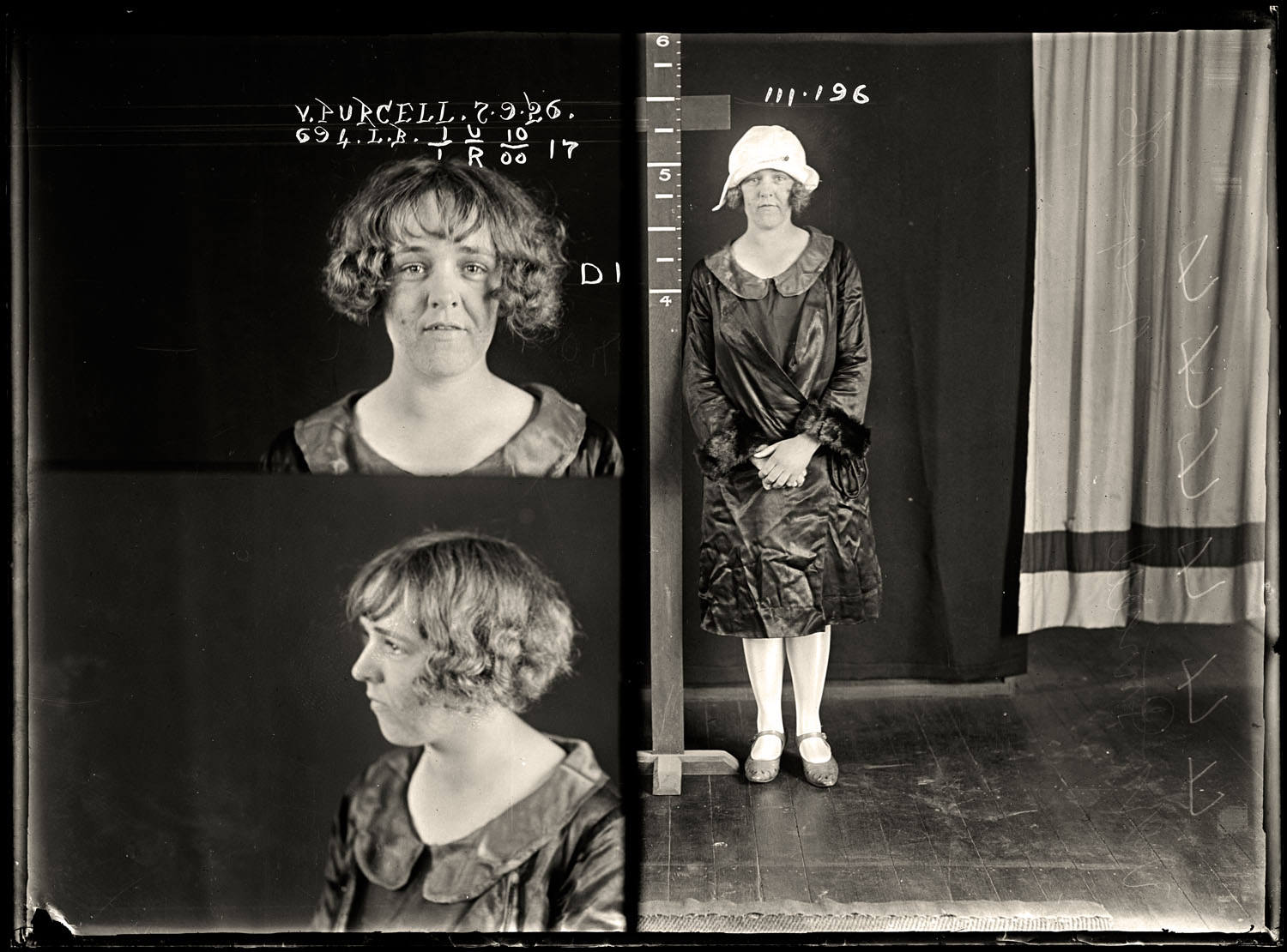 ⇞ Vera Purcell led a group of two other teenage girls, aged 14 and 17, who stole a large quantity of clothing from a Darlinghurst house. They were convicted and the younger girls were sent to charitable institutions. Purcell, however, was sentenced to six months with hard labour at the State Reformatory for Women at Long Bay. Charged with: stealing. Aged: 19. DOB: 1901. Criminal associates: Carrie Cadwell (17), Kathleen Costello (14).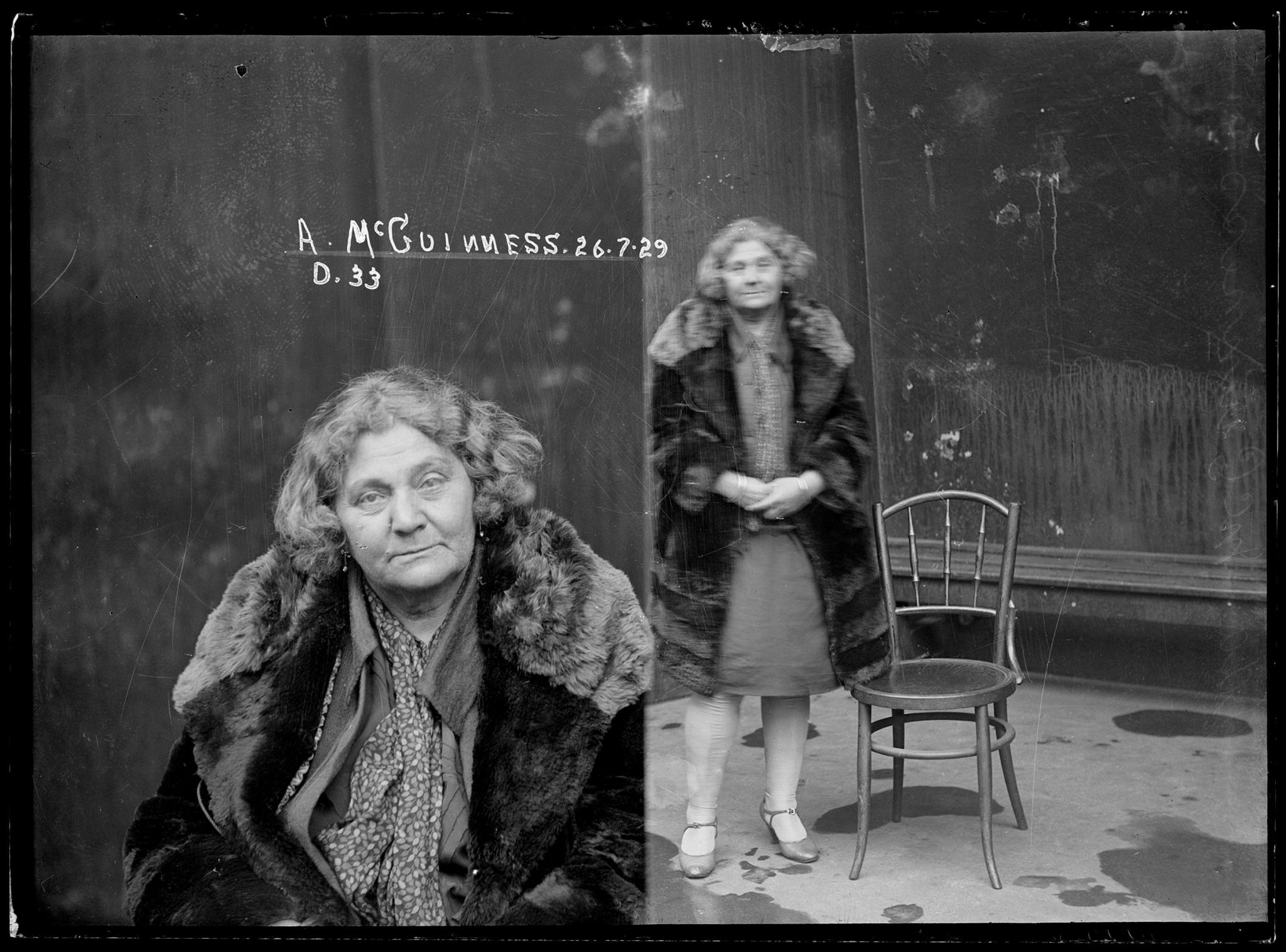 ⇞ McGuinness is listed in the NSW Police Gazette of 25 September 1929 as having been convicted of two charges of having cocaine illegally in her possession, for which she was sentenced to concurrent six and twelve months imprisonment with hard labour. Her daughter Hazel McGuinness also faced the court at the same time, on similar charges, but was released on a bond (see 'Mug shot of Hazel McGuiness').
Police and prosecution witnesses described McGuinness senior, who occupied a terrace house in Hargreave Street, as being one of the most active cocaine dealers in the Darlinghurst area at the time. A police witness described her as 'the most evil woman in Sydney'. In 1925, as 'Edith Cavanagh' she had been sentenced to twelve months (suspended) for having in her possession forged bank notes.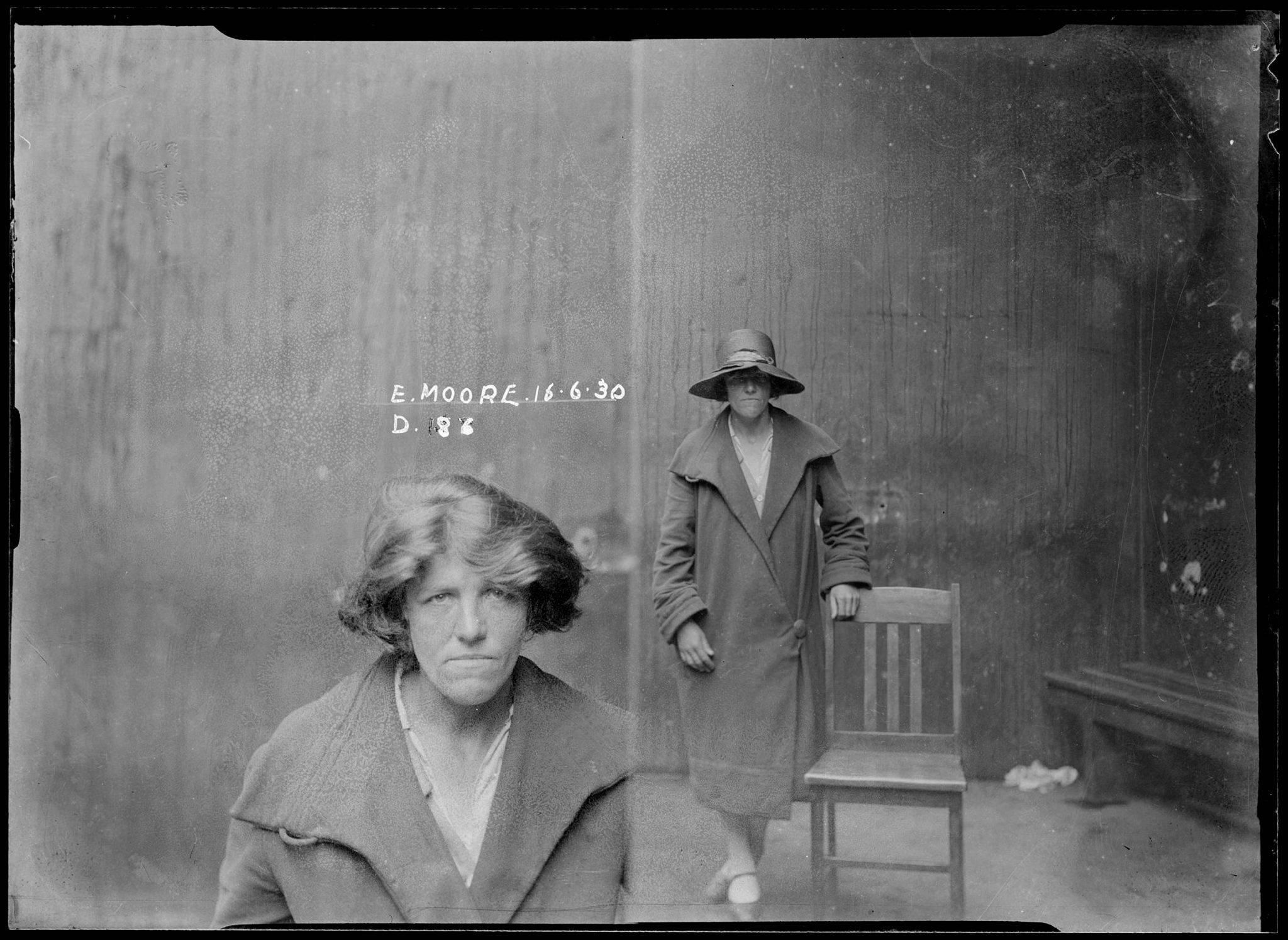 ⇞ Ethel Moore aged 36, was charged with unlawfully having drugs in her possession, sentenced to four months light labour.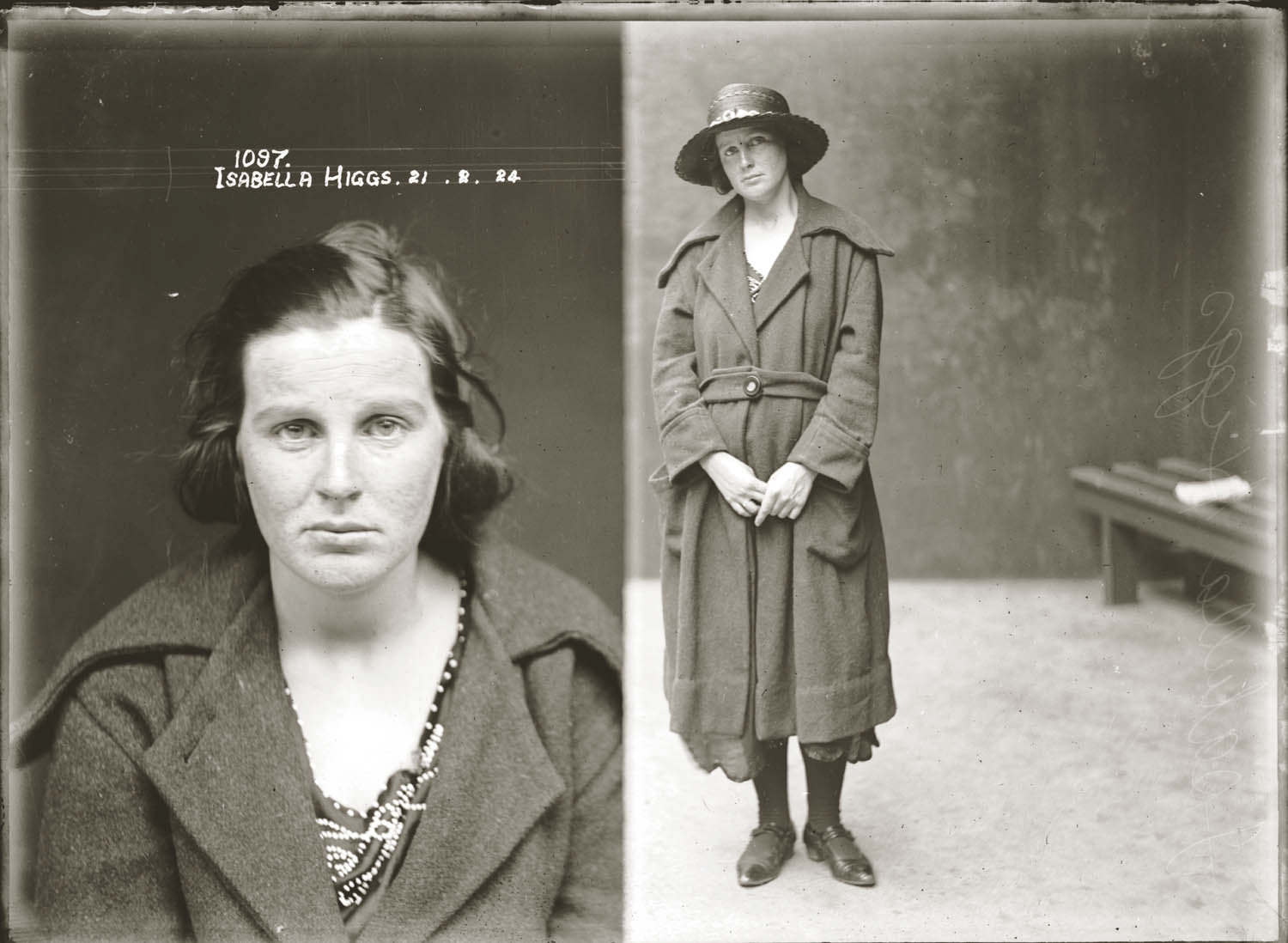 ⇞ Thomas Bernard Hooper (39), Harold George Hooper (34), Vera Crichton, (23), and Nancy Cowman (19) are listed in the NSW Police Gazette 24 March 1924 as having been charged with "conspiring together to procure a miscarriage" on Isabella Higgs. The women in the case were eventually put on good behaviour bonds. The Hooper brothers received gaol sentences of 12 and 18 months hard labour respectively. See also "Mug shot of Nancy Cowman" and "Mug shot of Vera Crichton".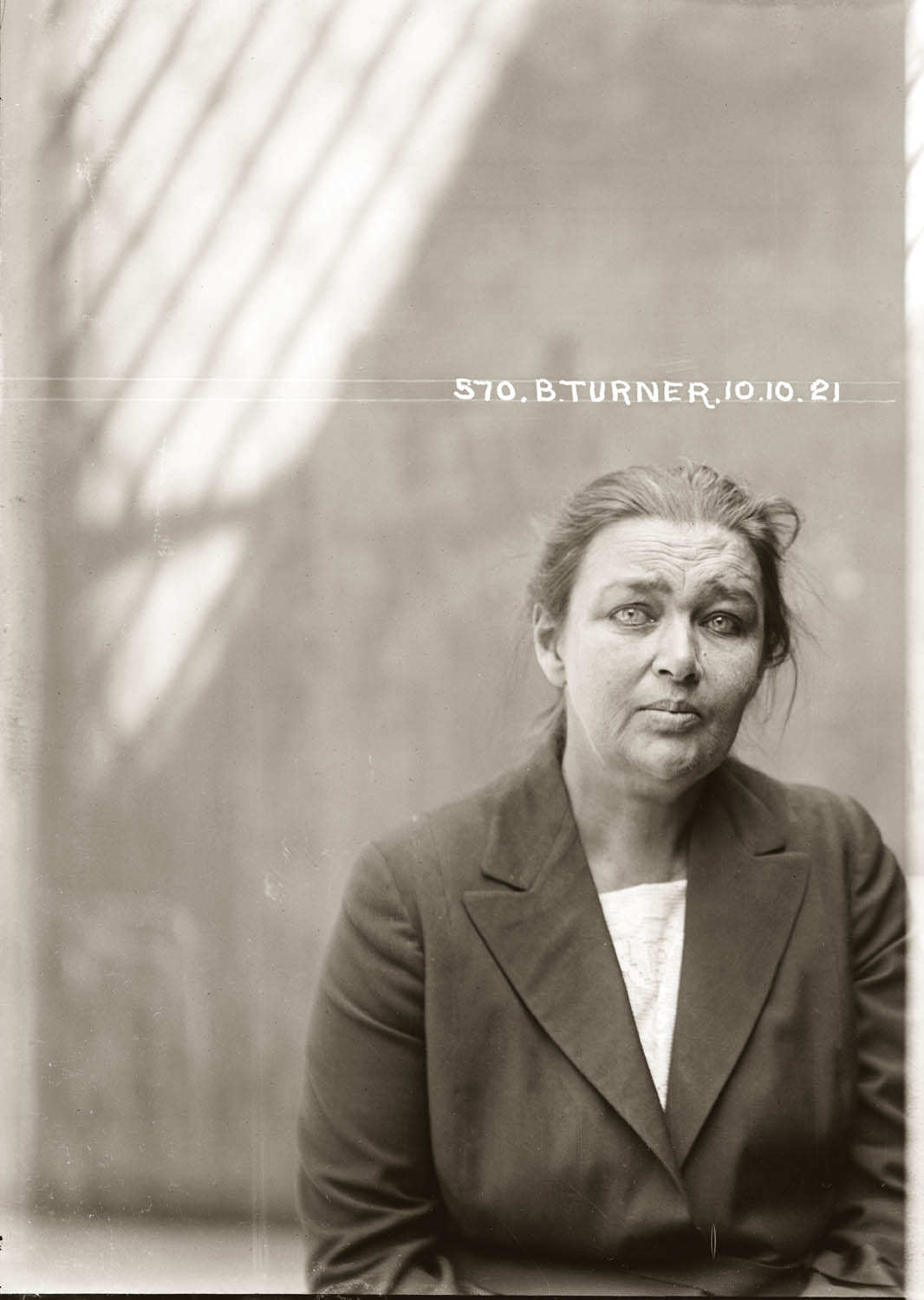 ⇞ Barbara Turner (alias Tierney, Tiernan, Taylor, Florence Gillespie or Jessi Turner, sometimes known as Barbara Turner Taylor) was a 'confidence woman' who operated in Sydney, Newcastle, Brisbane and Perth from the 1890s until the 1920s, and possibly beyond. This photograph was taken after she was arrested for defrauding one Henry Placings in Sydney of 106 pounds, by borrowing against a forged cheque, for which she received a year's imprisonment.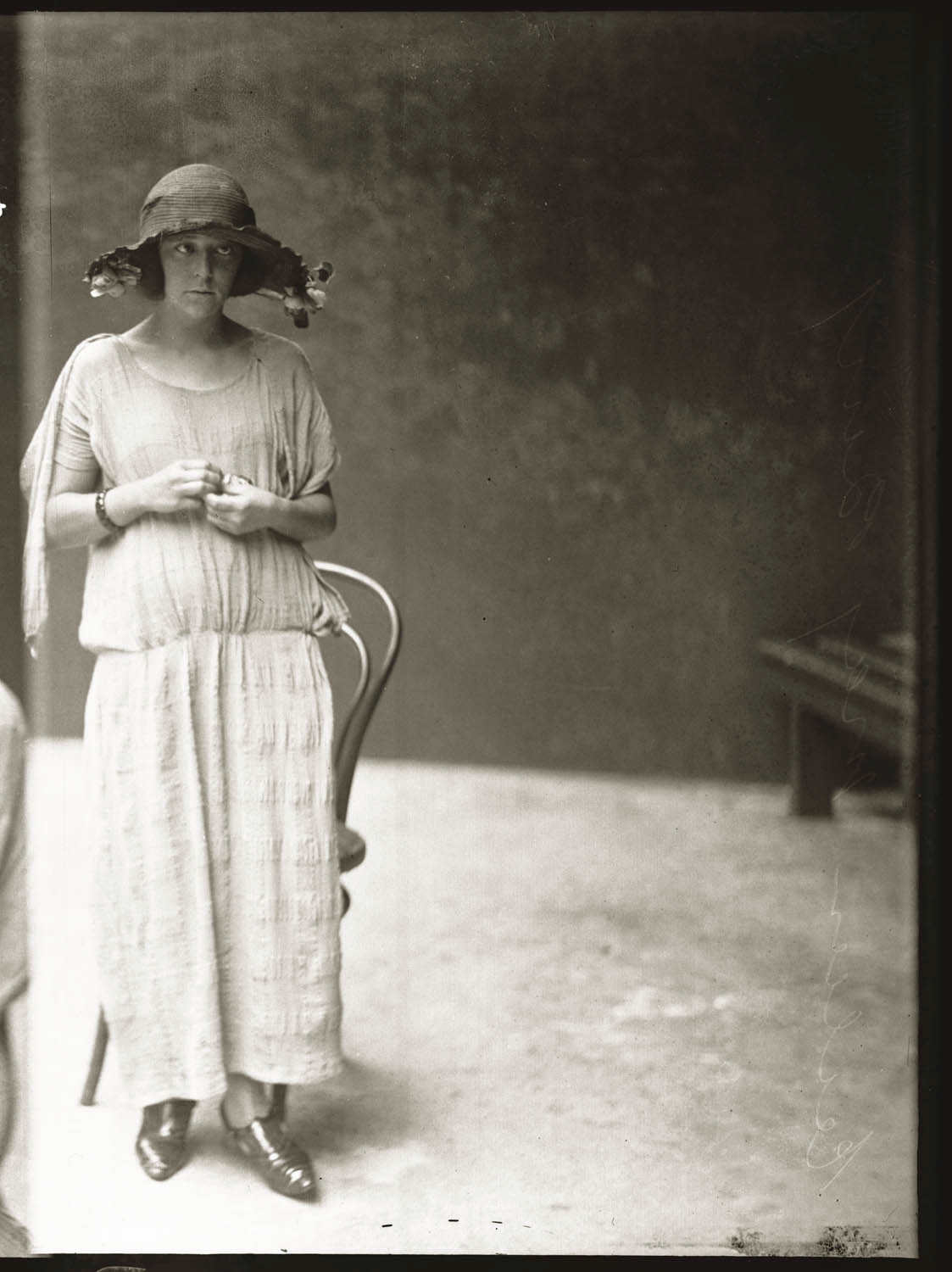 ⇞ The NSW Police Gazette of 30 January 1924 mentions Eileen May Burt, 18, being sentenced to seven days hard labour for stealing, but released under the first offender provisions of the Crimes Act, and charged to be of good behaviour for 12 months. Later that year a warrant was issued for her having breached those conditions and a further entry in October lists her as having been arrested and charged, but then released with a caution.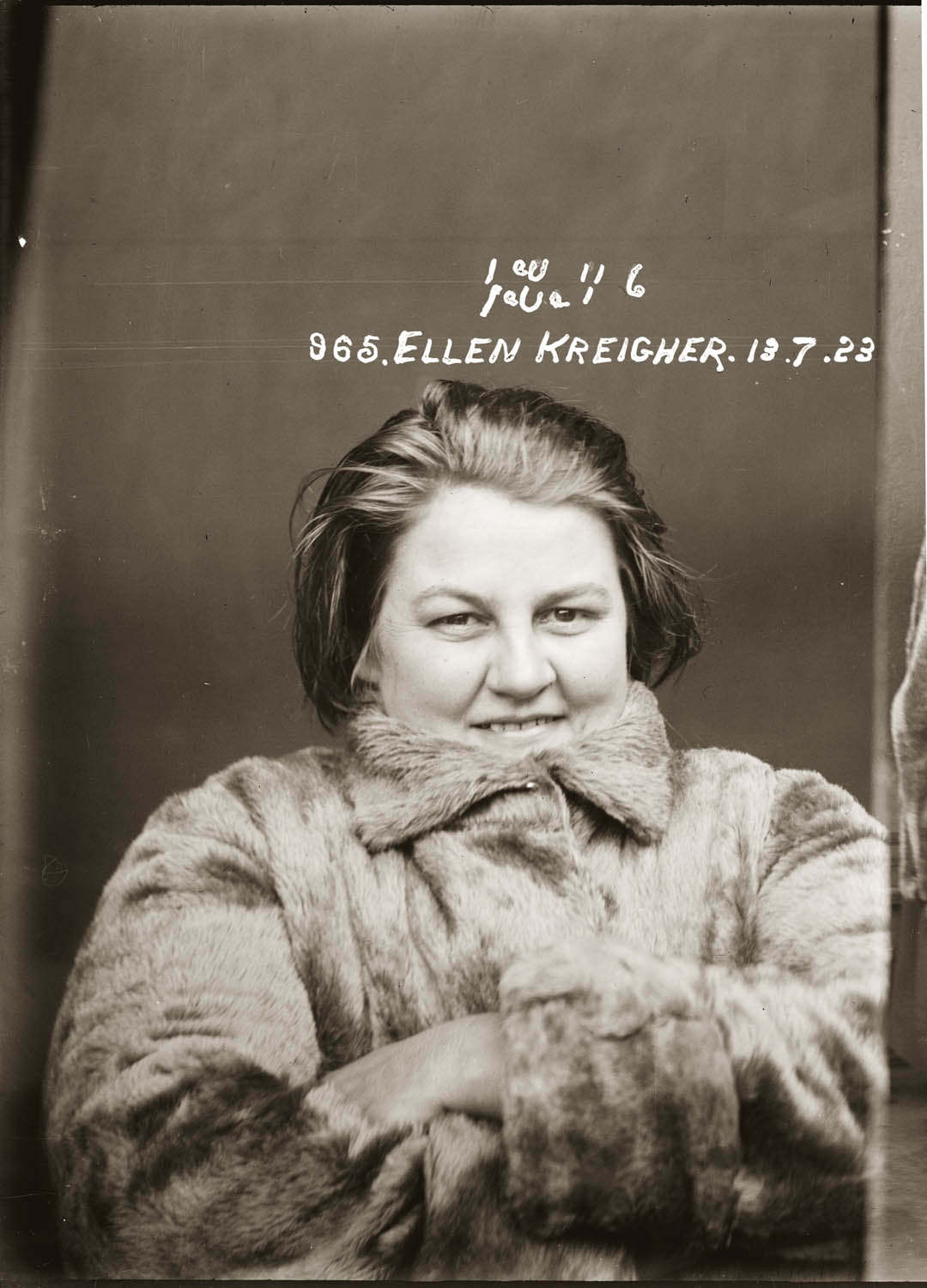 ⇞ Ellen ("Nellie") Kreigher was one of four people arrested and charged over the murder of Gertrude Mabel Heaydon. In October the previous year Gertrude Heaydon had been taken to the Coogee flat of a woman known as "Nurse Taylor" to procure an illegal abortion. She died there in the flat.
Police later claimed she was murdered by Nurse Taylor, at the behest of Heaydon's husband, Alfred. A team of low-lifes was eventaully assembled by Taylor's husband Frank to remove the putrefying remains in a horse and cart, and their somewhat farcical progress across Sydney was later recounted by numerous witnesses. Police became involved the following year after Gertrude Heaydon's relatives in England became suspicious. The case became known in the press as the "Coogee Trunk Mystery" (referring to the trunk in which the corpse was allegedly removed from the flat).
Alfred Heaydon, Frank Taylor, a man named Edward Riley (a trade union official and one time Labor senate candidate) and Ellen Kreigher, who had shared the flat with Nurse Taylor, were all eventually arrested and charged with murder, accessory to murder, concealment and with having illegally disposed of the body. (Nurse Taylor herself had died in the interim). With press interest running high – one paper offered a 1000 pounds reward for information – an intensive search was made for Mrs Heaydon's remains. In early August human bones were found under the flagstones of a garage in Westmoreland Lane, Glebe. The case promptly became known as the "Glebe Bones Mystery".
After a long inquest the coroner concluded that Gertrude Heaydon had been feloniously and maliciously murdered by the late Nurse Taylor, and that the eleven bones found in the Glebe garage were in fact Gertrude Heaydon's remains. Alfred Heaydon, Taylor, Riley and Kreigher were committed for trial, but a month later the police prosecutor announced that the Crown would bring no evidence against the four, and the charges were dropped.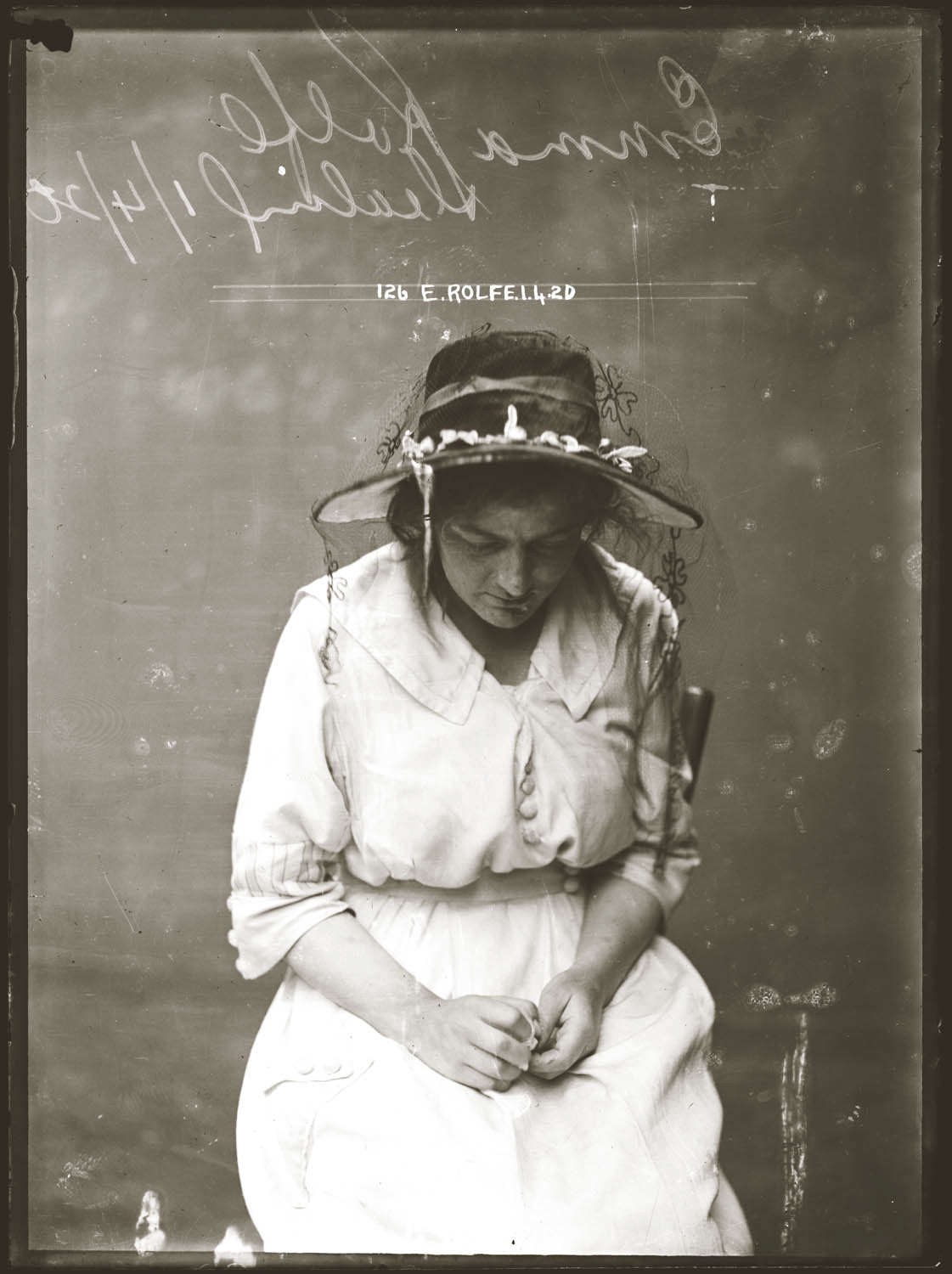 ⇞ Emma Rolfe better known as May Mulholland (also as Sybil White, Jean Harris and Eileen Mulholland) had numerous convictions in the period 1919-1920 for theft of jewellery and clothing (all quality items: silk blouses, kimonos and scarves, antique bric a brac etc) from various houses around Kensington and Randwick, and from city shops.
She appears as a mature woman in the NSW Criminal Register of 5 December 1934. By that time she is well known for shoplifting valuable furs and silks from city department stores. 'When subjected to interrogation by Police who are not acquainted with her character', the entry notes, 'she strongly protests her innocence, and endeavours to repress her interviewers by stating she will seek the advice of her solicitor.'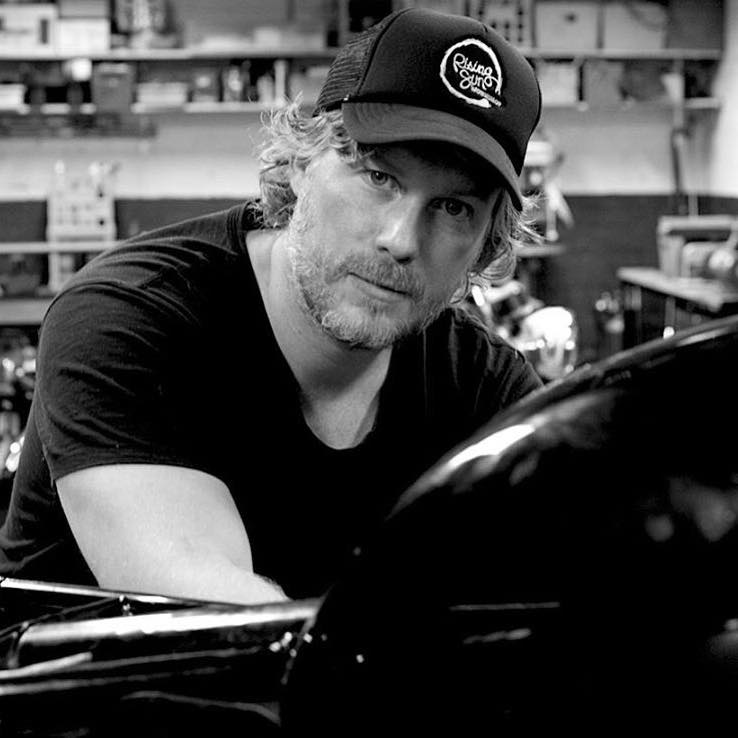 Articles that Ben has written have been covered on CNN, Popular Mechanics, Smithsonian Magazine, Road & Track Magazine, the official Pinterest blog, the official eBay Motors blog, BuzzFeed, Autoweek Magazine, Wired Magazine, Autoblog, Gear Patrol, Jalopnik, The Verge, and many more.
Silodrome was founded by Ben back in 2010, in the years since the site has grown to become a world leader in the alternative and vintage motoring sector, with well over a million monthly readers from around the world and many hundreds of thousands of followers on social media.