The E-Type, known as the XKE in the United States, is widely regarded to be one of the most beautiful cars of all time. Buying one is a dream held by many, which has led to the model seeing remarkable increases in value in recent years. This guide will give you the foundational knowledge you need to find your own E-Type, and avoid buying an expensive lemon.
Buying An E-Type – What You Need To Know
Of all the classic cars you might choose to buy, the Jaguar E-Type is one of the most loved, but it's also a car that you'll need to approach with educated caution: it could turn out to be the best purchase you ever made, or the most troublesome.
The E-Type is a thing of great beauty: but if you plan on owning one you'll need to get over its stunning beauty and do a cold heartless logical evaluation of any potential purchase. Being cold and heartless now can save you from having your heart broken later.
When the Jaguar E-Type (aka Jaguar XKE) made its debut at the prestigious Geneva Salon in 1961 Enzo Ferrari described it as "The most beautiful car ever made". This must have caused quite a bit of consternation and soul searching in the ranks of the designers back in Italy.
The Jaguar E-Type was a thing of breathtaking beauty. I remember first seeing one at the London Earls Court Motor Show when it made its British debut,  and being quite stunned by the vision it presented.
However, appearances are deceptive and it wasn't made of Kryptonite: it was made of inexpensive 20 gauge mild steel, making the car economical to build, and thus keeping its price staggeringly low. This was a car that was more beautiful than a Ferrari and a heck of a lot cheaper. No wonder Enzo Ferrari was just a tad annoyed.
Above Video: Jay Leno talks about why he loves his E-Type, and gives some background history on the model.
The Jaguar E-Type was Sir William Lyons' pièce de résistance. It was not only the most outstanding work of automotive art of the twentieth century, but it boasted technical sophistication that was shockingly advanced given the price that Jaguar was asking. The engine was the proven and highly desirable 3.8 litre XK DOHC inline six in near identical specification to that fitted in the E-Type's high performance predecessor; the Jaguar XK150 3.8 litre S.
The suspension was fully independent all around, steering by rack and pinion (of course), disc brakes all around and the rear brakes mounted inboard to keep unsprung weight to a minimum and the back end stable regardless of the lumps and bumps in the road.
The body was monocoque with a brazed Reynolds tubing front sub-frame, and the only things about the car that might have deterred a knowledgeable customer were the Moss four speed gearbox that had synchromesh on the top three gears but not on first, and the 12 volt positive earth electrical system by Britain's "Prince of Darkness" Lucas, which was electrified by an old fashioned dynamo.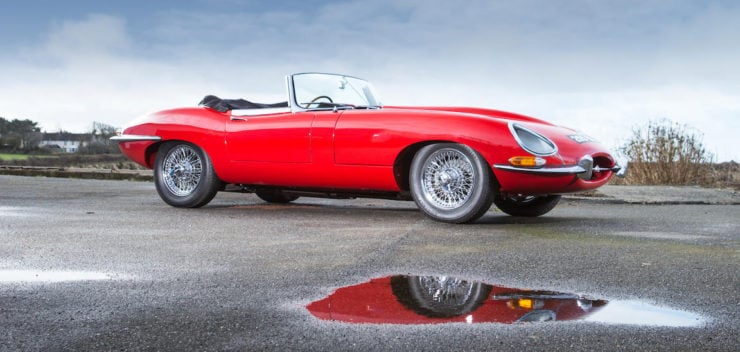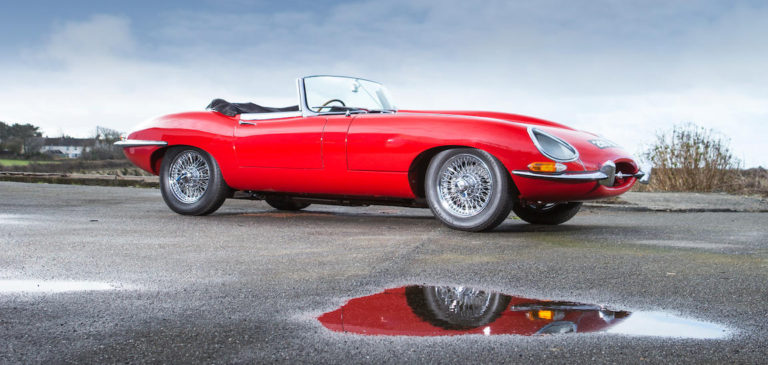 As we look at the Jaguar E-type as presented in 1961 we should realize that this was a car built to be just as attractive to a potential buyer as possible both in aesthetics and in technical specification, but it was built to a price, and it is certain that the bodywork was not made with a view to it lasting for decades into the future.
Rustproofing was not the high priority and as a result the bodywork was not particularly well rustproofed. We need to also remember that export cars were typically transported across the briny sea by ship in those days before widespread use of shipping containers and without the benefit of an undercoat of marine grade paint primer. So the bodywork of the car will only have survived the decades since its manufacture and possible sea voyage if the previous owner has been conscientious about rust prevention.
If you've in the market for a Jaguar E-Type and are getting ready to make that dream a reality the first question to ask yourself is are you ready to pay the price that fulfilling that dream is going to cost?  That cost will be both financial, and in the effort its going to require to find the right car, and to bring it up to the standard you will want it to be at.
If you've answered "yes" to those questions then the next question you will need to ask yourself is which model E-Type are you going to search for?
Jaguar E-Type Series 1 and "1.5" (1961-1968)
The first Jaguar E-Type was the Series 1, the exact car that Enzo Ferrari described in such glowing terms. Although this has been the model most highly prized by the collector fraternity it is not necessarily the best car to choose if you want an optimum E-Type driving and ownership experience.
The first of the Series 1 E-Types are normally called the "flat floor" cars. This is not because owners were known for pushing the accelerator pedal flat to the floor to find out if their car could really make 150 mph: although no doubt some did. Instead the term "flat floor' refers to the interior floor of the car being flatter than later models.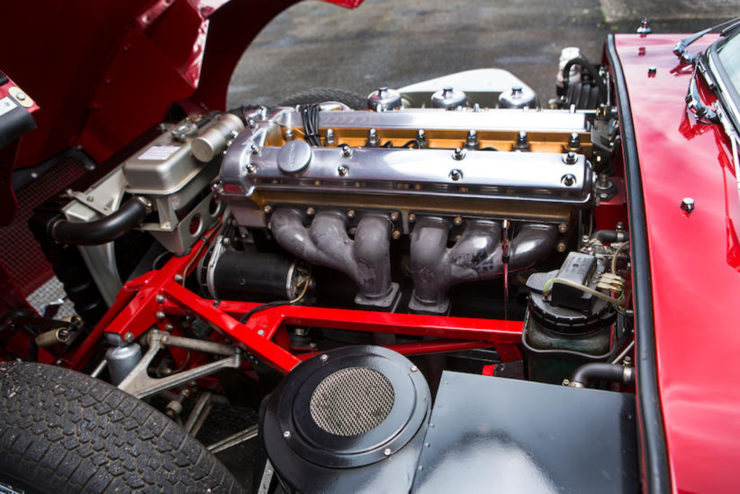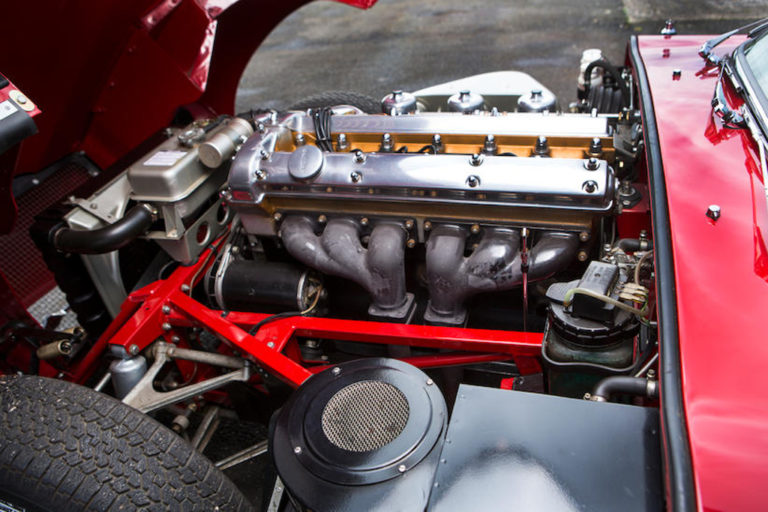 These Series 1 cars were made in two body styles; a Drop Head Coupé, which could also be had with a hard top roof instead of the folding convertible roof, and a Fixed Head Coupé, which featured a side opening "hatch-back" in the rear. The earliest cars were fitted with external bonnet latches which required a special tool to open.
The initial production Series 1 cars were fitted with the 3.8 litre (3,781cc) version of the Jaguar XK engine providing 265 hp at 5,500 rpm and 260 lb/ft of torque at 4,000 rpm. The XK engine had been created during the war years by William Lyons' engineers Bill Heynes, Claude Baily and Walter Hassan.
Some of the work having been accomplished during the dark days of the Blitz as the Luftwaffe tried to bomb the Jaguar factory, and all the other factories in Britain, out of existence. This was the Jaguar engine that was first fitted in the XK120 sports car and from there on formed the heart of all Jaguar cars including the the D-Type, the XK140, and the E-Type's immediate predecessor, the XK150.
The Moss gearbox used in the previous cars also found its way into the Series 1 E-Type despite the fact that it was not up to the standard of the rest of the car and provided a rather clunky gearchange made even more clunky when you tried to engage first gear on the move as it lacked synchromesh on first gear. So if you owned a Series 1 E-Type and were driving through mountain roads with many hairpin turns you got plenty of double de-clutch practice. By comparison owners of Porsche 356's had the sheer luxury of synchromesh on all gears and thus did not need to engage in the first gear double de-clutch gymnastics E-Type owners did.
The Moss gearbox sent power to the rear wheels via a sturdy Salisbury limited-slip differential, something that would do justice to the independent rear suspension made even better by having inboard disc brakes.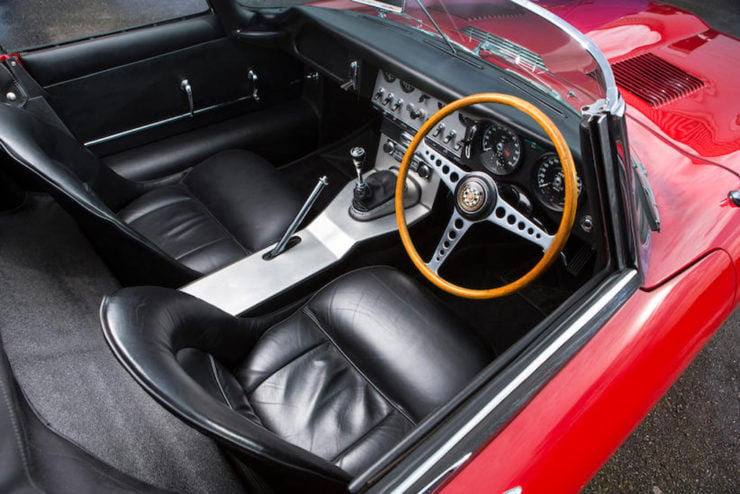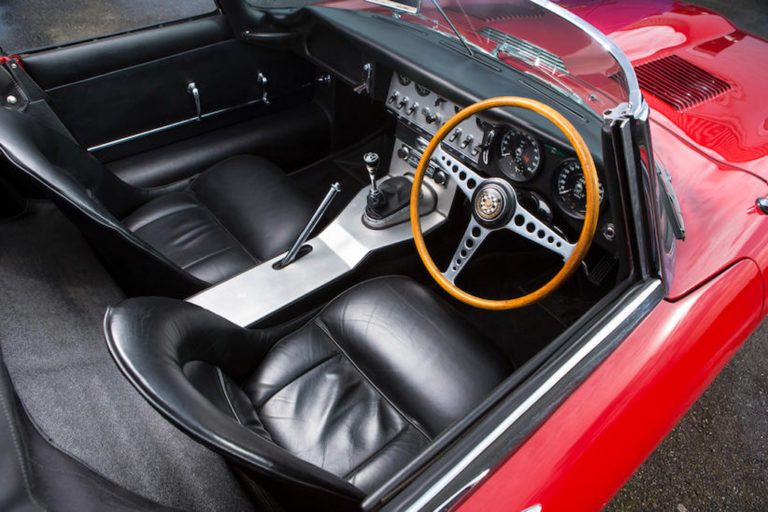 The Series 1 E-Types were developmental models and Jaguar were adept at hearing the feedback from both customers and sales personnel. One of the early improvements in June 1962 was made to the rather flat floor which was changed to be recessed in the areas in front of the seats and behind.
This provided more leg room and was a nice improvement from a practical standpoint, and it also had the probably unintended consequence of making the earlier "flat-floor" cars a preferred target for future collectors and thus of higher value. From the point of view of someone who is thinking about buying an E-Type the question this then poses is, are you looking for a rare collector car as a thing of beauty – or as an investment? Or are you looking for a car to own, drive, tinker with and enjoy?
Given that the values of collector cars, and of Jaguar E-Types in particular, has been quite volatile, it is really rather risky to invest a lot of money into a rare "flat-floor" Series 1 E-Type expecting it to increase in value. Values go up and down and an old classic car is only going to be worth what a buyer is willing to pay for it.
From 1962 a factory supplied air-conditioning kit was made available while 1963 saw modest improvements with the centre console becoming vinyl covered instead of hard uncomfortable aluminium, and on the fixed head coupé the rear door hinges were fitted with shields to prevent hinge damage to luggage. The big changes came in 1964 however and arguably resulted in the version of the car that should have gone on sale when the car debuted in 1961.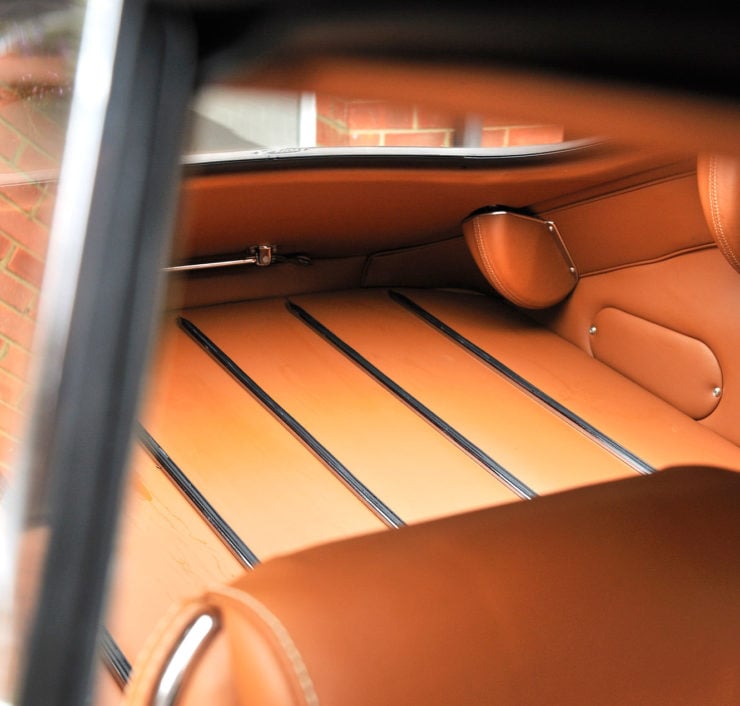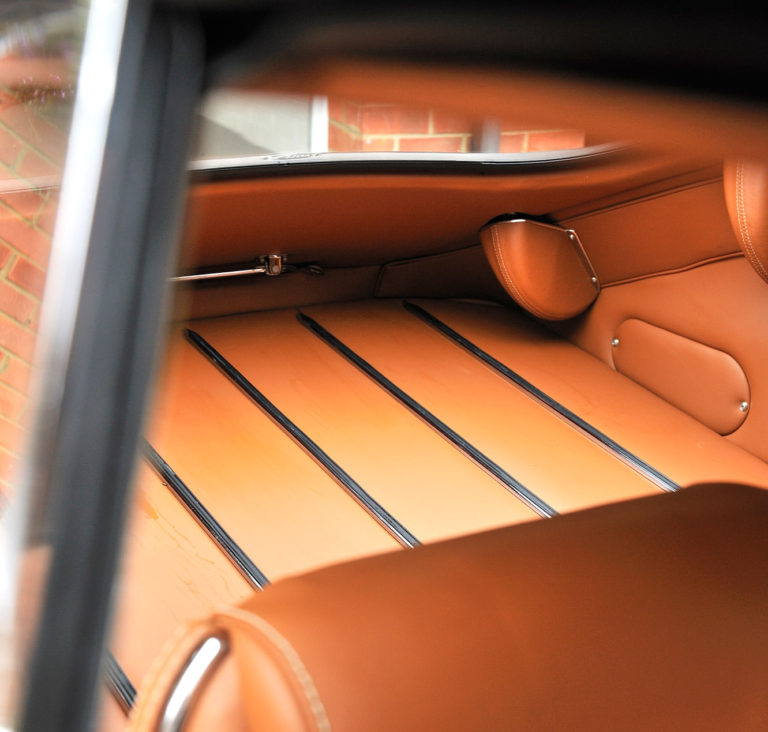 In this period the change would be made from the old Moss gearbox to a brand new Jaguar designed one that at last had synchromesh on all four gears: that gearbox being further improved in 1965 by use of chamfered gears to make it quieter.
The change was also made from a positive earth electrical system to a new negative earth system powered by an alternator.  Perhaps the most noticed change was the move from the 3.8 litre XK engine to an enlarged 4.2 litre (4,235 cc) version. During this transition period it is possible to find 3.8 litre cars fitted with the new Jaguar all synchromesh gearbox: they are rare, but some did exist.
The new 4.2 litre engine produced the same power as its 3.8 litre predecessor; 265 hp at 5,500 rpm, but torque was increased to 283-lb/ft. Inside the car the textured aluminium central dashboard was changed to a more practical vinyl, and in 1966 along with the new larger engine came an additional "long-wheelbase" model, the Fixed Head Coupé 2+2. The 2+2 featured a higher windscreen which only required two windscreen wipers instead of the three required for the lower screen of the DHC and FHC, a higher roof, and an additional two seats in the rear that would only be suitable for children or contortionists.
The 2+2 was offered with the option for a Borg Warner model 8 automatic transmission, probably to the gobsmacked horror of the enthusiast fraternity. Nonetheless the 2+2 was a rather more practical general purpose car than the body styles that came before it which were sports oriented, and it sold well. It is however a car that some dislike with a passion: but that being said the 2+2 is the E-Type I would buy and happily drive: although if it was fitted with a Borg Warner "slushbox" I'd be likely to change that to a modern five speed manual.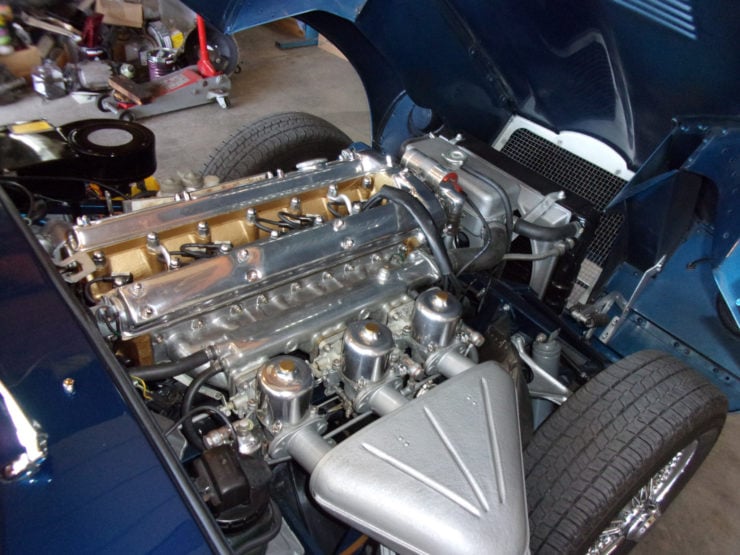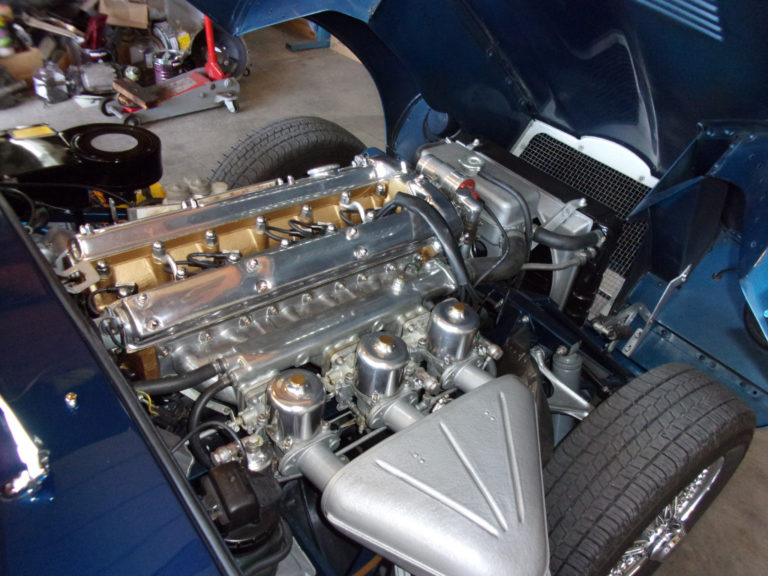 The main market for the this new Jaguar was North America, where the car was known as the XKE, and Jaguar found that they needed to adapt the car to make it fit with new vehicle regulations being introduced in the United States. 1967 was the year that things became most noticeable with the aesthetic glass headlight covers falling foul of American regulators so they had to go, much to the chagrin of the enthusiasts in Britain.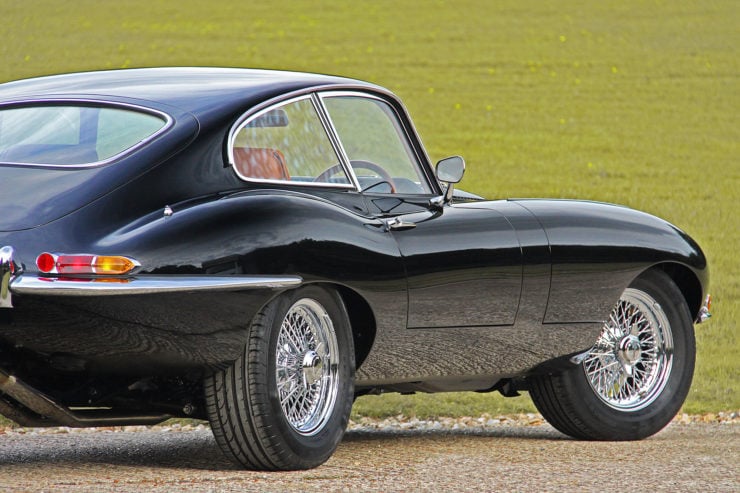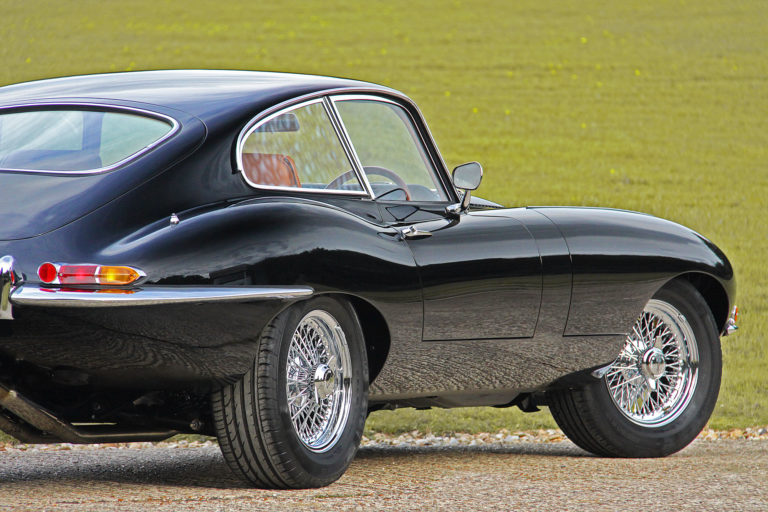 1968 produced the next casualty of US regulations: American regulators seem to have regarded the stylish and practical knock-off wheel hubs with much the same horror as that of the Roman soldiers in the path of Queen Boadicea's chariot with its scythe like sword blades protruding from each wheel.
Presumably American regulators were worried that the spinners were designed to "knock-off" pesky pedestrians. This resulted in the knock-off spinners ceasing to be "knock-off" as they were redesigned to make them rounded and safe, requiring a special tool to remove them rather than a traditional copper faced hammer. Another of the changes made in the name of safety was the dashboard toggle switches being replaced by rocker switches.
The E-Types subject to the 1968 changes were officially referred to by Jaguar as Series 1 cars but the enthusiast fraternity took a different view and decided to Christen them "Series 1½" (or Series 1.5).
The Jaguar E-Type Series 2 (1969-1971)
The Series 2 cars date from 1969 and represent what is arguably the most refined version of the original design. Two desirable improvements made for these cars was the fitting of headrests to help mitigate neck injuries in the event of the car being rear-ended, and the change to a collapsible steering column: This being a good idea because in the event of a front-end collision a non-collapsible steering column can tend to act like a medieval knight's lance into the chest of the hapless driver, which is never a good outcome.
The revised US regulations required a minimum bumper height and so the E-type's scythe shaped bumpers were moved up to meet the required standard with the result that the park and turn lights were moved from above the bumpers to below the bumpers.
The headlights were given a more forward positioning and the front air-intake was increased in size to assist with cooling, whether in down-town New York traffic or for a summer trip to Las Vegas across the Mojave Desert, where temperatures can be a tad higher than in England's green and pleasant land. Power steering was available on the Series 2 as an optional extra.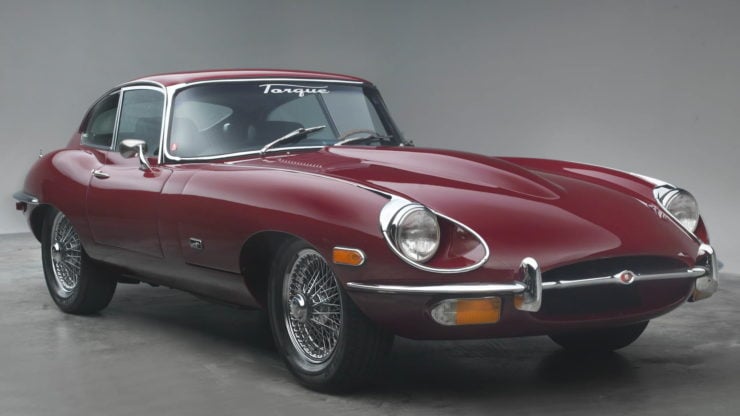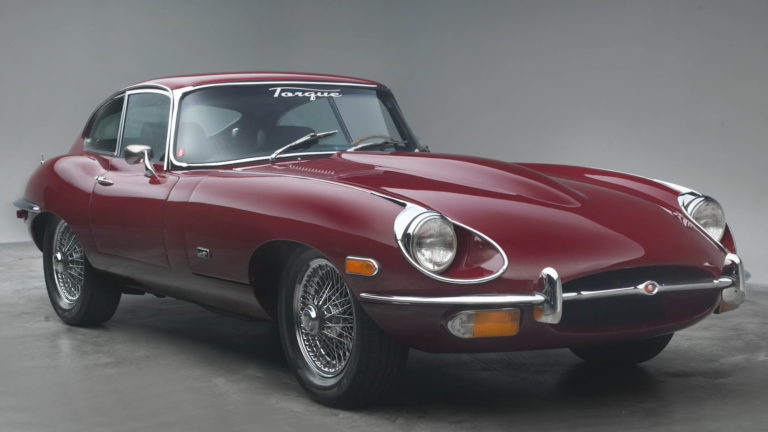 The safety improvements were not the only regulatory changes that needed to be made to North American specification Jaguar XKE however. Once one had enjoyed one's jaunt to Las Vegas one might have to travel back to somewhere like smog ridden Los Angles, and to make that city and many smoggy American cities like it less polluted emissions controls were required to bring engines down to what was then considered to be an acceptable level of pollution.
To achieve this North American market cars were not fitted with the usual triple British SU carburettors but instead with Zenith-Stromberg 175 CD2SE fitted in with an emissions reducing system. While this might have helped American cities become less smoggy it also meant that the Jaguar XKE's power was down to 246 hp @ 5,500 rpm combined with 263 lb/ft of torque @ 3,000 rpm: so a loss of 17 hp.
If you happen to buy a car fitted with the Zenith-Stromberg carburettors nowadays you may want to consider replacing them with suitable Webers.
The Jaguar E-Type Series 3 (1971-1975)
The Series 3 Jaguar XKE remains the most controversial of them all because it departs from the original "sports car" legacy inherent in the Series I and II cars and instead morphed into something rather different, both in appearance and character. At the heart of this transformation was the installation of the new Jaguar V12 engine, combined with the car's wider track and long 105″ wheelbase. The Series 3 was only made in two versions; the roadster and the 2+2.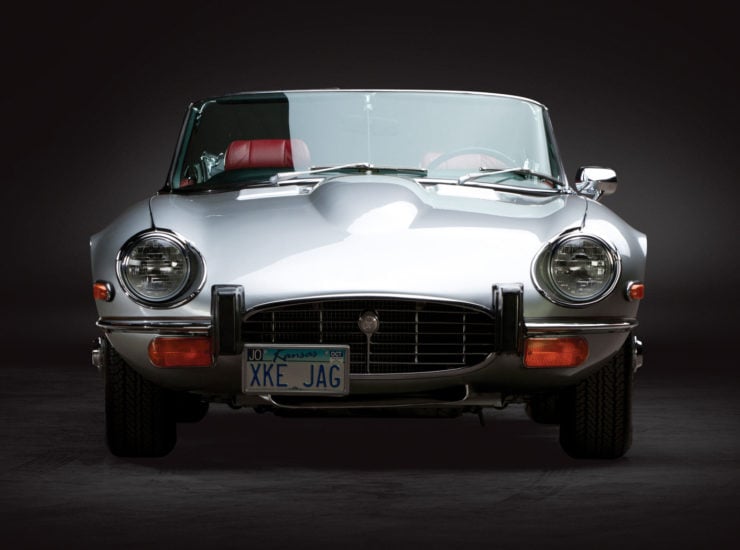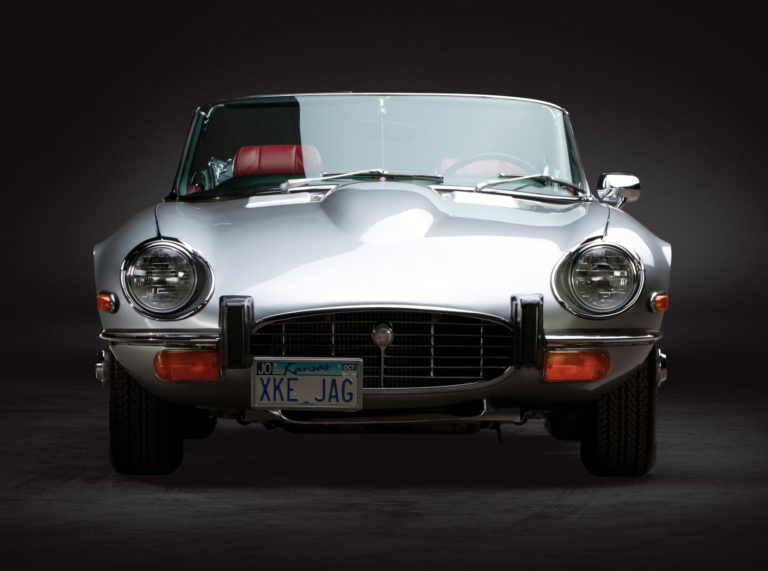 The need to have an engine that would be easily able to meet the ever more stringent emissions regulations for the all important North American export market led Jaguar's leadership to the conclusion that, good as the XK straight six was, its days were numbered.
Jaguar already had another possible engine that it could have installed in its cars, an engine it had acquired when it purchased the Daimler Company Limited in 1960, and that engine was the Edward Turner designed V8 as used in the Daimler SP250 in its 2.5 litre format, and in the DR450 limousine in its 4.5 litre form.
That engine in its 2.5 litre version found its way into a Jaguar Mk II with luxury appointments to become the Daimler 2.5 V8, later renamed to the V8-250, a car that was to become the most popular Daimler ever produced. But this engine was considered not to be the right engine for the new generation of Jaguar cars.
A new engine was required, and so it was time to get out some nice blank sheets of drafting paper and some sharp pencils to create the perfect Jaguar powerplant.
Jaguar was being pressed into creating this new engine by the needs of the North American market. So it had to be an engine that would offer things that the domestic American engines did not. America was the land of the V8, they had V8's of so many types and sizes it would make a car buyer's head spin.
In fact it would be one of their cast off V8 engines that would be purchased by Rover and thence British Leyland, into whose arms Jaguar would ultimately fall, and which would become the most loved British V8 ever, installed in Range Rovers, Land Rovers, Rover cars, the MG sports car, and the Australian Leyland P76.
But neither that engine, nor any V8, was going to be the right one for the Jaguar XKE for North America. In order to offer something the Americans did not, but which Ferrari did, Jaguar was going to need nothing less than a V12, and a nice big 5.3 litre one at that.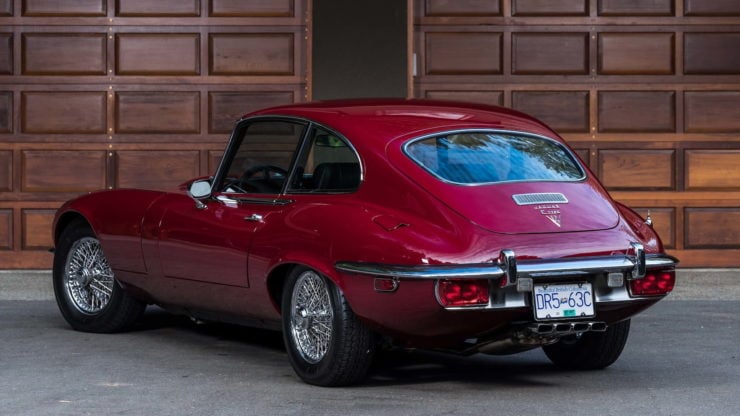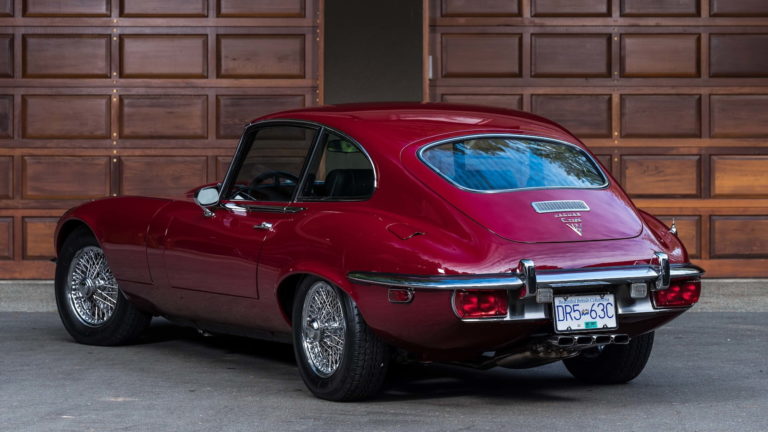 Work on the new V12 for Jaguar's post 1960's future was done by the same engineers who had created its predecessor; Bill Heynes, Wally Hassan, and Claude Bailey.
This engine was planned to be able to produce in production form the same power as delivered by the old XK six in racing form: i.e. 330 bhp. And the engine was to tip the scales as close to the weight of the XK engine was possible. This engine was to be able to fit into the engine space of Jaguar's existing models without major alterations to the engine bay.
Work had begun in the early 1960's and the test prototype was ready in 1964. This engine was a 60° 4,994 cc DOHC all alloy V12. It was fitted with iron cylinder liners and was made with the intention of using it for the 1965 Le Mans, so it was also fitted with a dry sump.
As it was developed it produced 502 hp @ 7,600 rpm. As the production version of this engine was developed it was decided to simplify it to a SOHC over-square design of 5,344 cc capable of 7,400 rpm thanks to double valve springs and a novel ingnition system that had been created for the competition verison.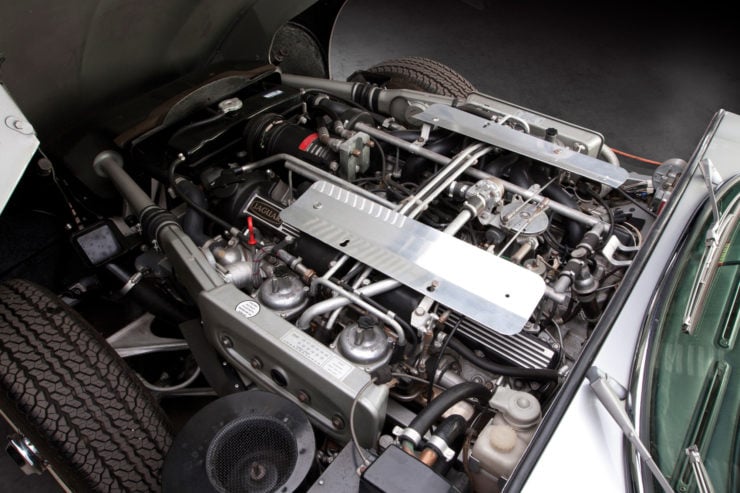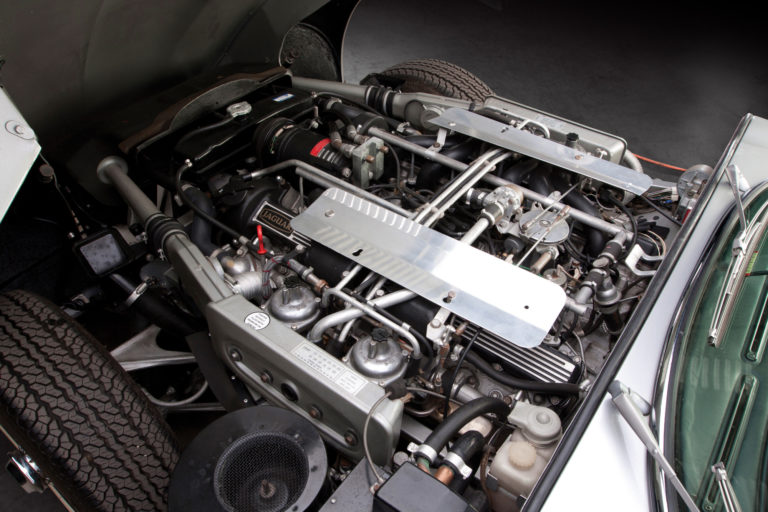 As installed in the Series 3 Jaguar XKE/E-Type this engine had a 9:1 compression ratio, produced 272 hp @ 5,850 rpm with torque of 303 lb/ft @ 3,600 rpm. As for weight, the V12 finished up weighing about 80 lb more than its DOHC six cylinder predecessor. It was, and is, an engine with a considerable margin available for tweaking up to rather impressive performance levels should an owner decide to go that route.
Engine capacity can be increased up to about 7.3 litres and power up to 700 bhp with 670 lb/ft of torque to go with it. So your V12 Jaguar XKE can be turned into a Shelby Cobra challenger if desired.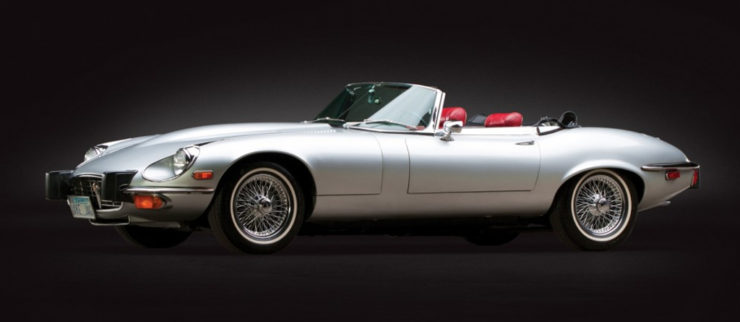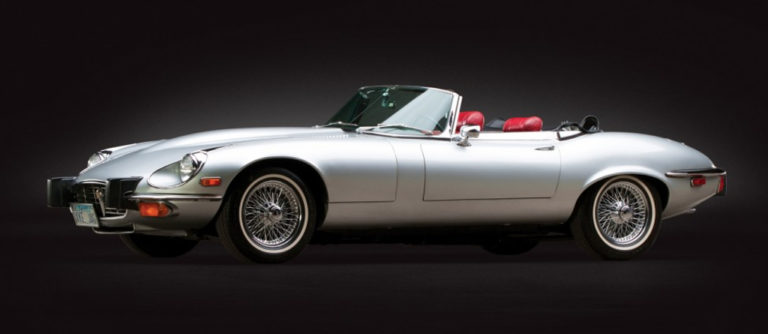 The effect of this larger engine on the Jaguar E-Type (XKE) was of course going to be significant. The old style Jaguar feeling of the XK six was replaced by a smooth and perhaps not so dramatic effect of effortless power and torque, although in truth there was not an enormous difference in power and torque between the European specification XK six and the V12: but the V12 certainly changed the feeling of the XKE, and so changed its character.
With its longer wheelbase, wider track, and the new engine, the car turned into an accomplished Grand Tourer, and in so doing tended to lose some of its race-bred "ride on the wild side" sports car feel. All that being said, if you are looking for an E-Type that will be a fabulous point-to-point grand touring car then the Series 3 is probably the best car for you.
Despite its being a great engine the V12 did not enjoyed a trouble-free reputation both in the XKE and in the other Jaguar and Daimler models it was fitted in. The problems that showed up in production cars are however able to be rectified to bring out its full potential, and when you go shopping for a Series 3 XKE you may find that those old problems have been rectified, and it's certainly something you should investigate.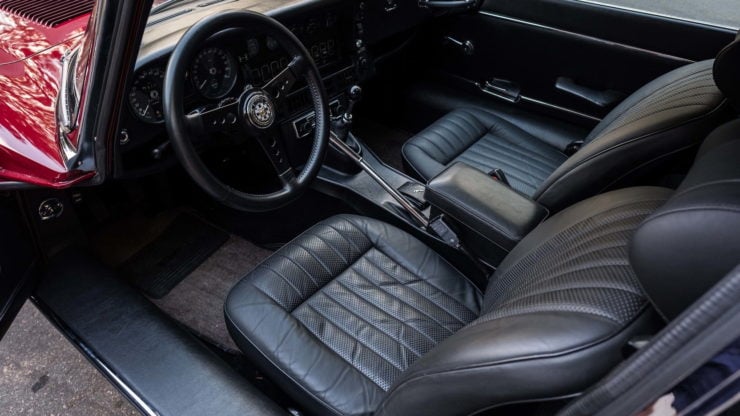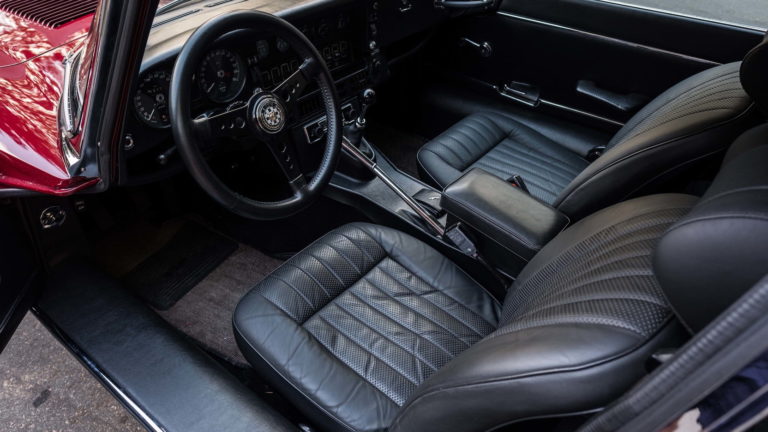 The V12 engine has been criticized for its complexity, tendency to overheat, and unreliability of the ignition system. Some have thought to criticize it for its thirst for fuel also, which is perhaps a tad unfair given that it is a 5.3 litre sporting V12: the Series 3 E-type is a champagne car and you should not expect to run it on a beer budget.
The Jaguar V12 is a sophisticated engine that requires informed specialist maintenance. The tendency to overheat was not inherent in the engine itself, but in the cooling systems used, and especially in the maintenance of them. For example the engine is alloy and requires the correct coolant mix to keep it unclogged and working efficiently. Similarly it also needs the correct thermostat fitted.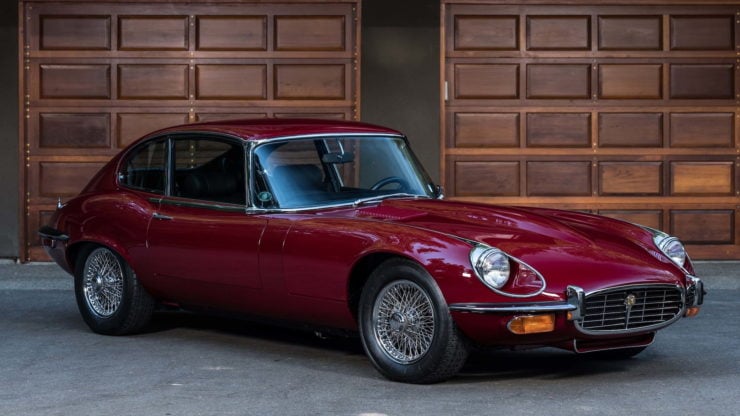 The ignition was the new Lucas OPUS system which developed a reputation for unreliability, and which it is good sense to replace if that hasn't been done already if you are planning to regularly use the car. OPUS stands for Oscillating Pick-Up System and it was designed initially for Formula One racing engines.
It was decided to use this in the V12 Jaguar engine because a conventional single distributor contact breaker system could not be expected to work reliably, especially given the V12's ability to run north of 7,000 rpm. The alternative would have been to use twin six contact distributors which then would present the maintenance difficulty of synchronizing them.
The OPUS system components were located in the "V" of the V12 which made for easy maintenance access but which also exposed the electronics to engine heat, which in turn tended to result in component deterioration and ultimate failure. The OPUS system was subsequently replaced by a Lucas Constant Energy Ignition which proved to be much better. There are kits available which retain the look of the original system but provide the improved performance of the Constant Energy Ignition system, such as the kit from Limora.
Other than these things the V12 engine is a fairly conventional alloy unit. Of note is that when you are on your test drive the oil pressure of the V12 should be up over 60 psi when the car is being driven: and your impression should be of an elegant sufficiency of smooth quiet power.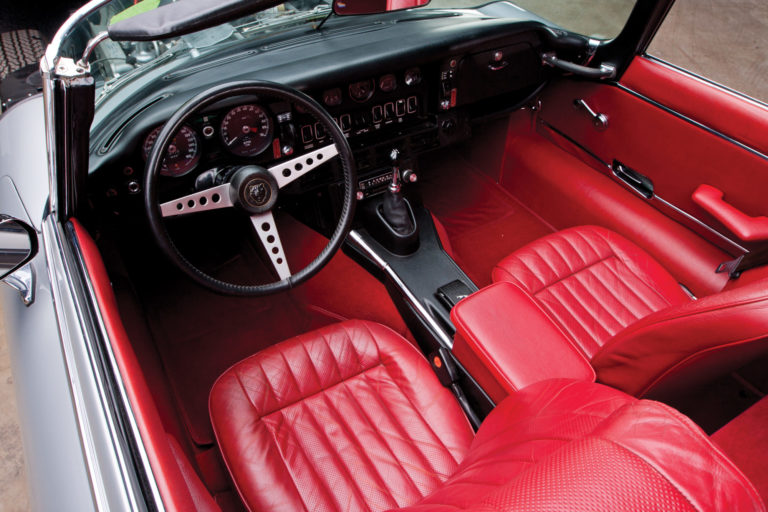 General Things to Look for when you Evaluate an E-Type
First and foremost, although you should most certainly look at and drive any car that you think you might purchase (assuming its drivable), you should not trust your own mechanical skill or background knowledge – unless perhaps you are an experienced Jaguar specialist. But to avoid later disappointment get the car evaluated by a specialist who knows these cars inside and out, and who therefore knows what to look for, and the things that ring alarm bells.
While with any old or classic car the first and most important thing to discover is whether rust is weakening the car's structure, and/or damaging its body panels. This inspection is absolutely mission critical in a car built with a unibody as the E-Type is: the body is the chassis. As we said earlier these cars were made using inexpensive 20 gauge mild steel with a brazed Reynolds tubing front sub-frame and export cars had the experience of a nice sea journey. In addition to that check for past accident damage, which may or may not be initially apparent.
The E-Type's unibody is quite intricate and it would be true to say that most body repair shops won't have expertise specific to these cars. So even if the car has had rust or accident rectification work done on it the quality of that work cannot of itself be trusted on face value, it needs expert evaluation.
Rust, and repair work in the sills, sill stiffeners and end plates is structural as are the floorpans. The Reynolds Tubing front sub-frame also needs expert evaluation, it can be expected to rust from the inside and "what the eye does not see the heart does not grieve over" until its too late. Finally the body structure needs to be checked for alignment – a specialist will have the necessary equipment to do this properly.
All that being said if you are contemplating a car with rust or accident damage issues there are good reproduction body parts available and specialists who can do the necessary reconstruction work. Don't make the mistake of expecting such work to be done cheaply however, think champagne budget, and when I think of champagne I think of Louis Roederer not Babycham.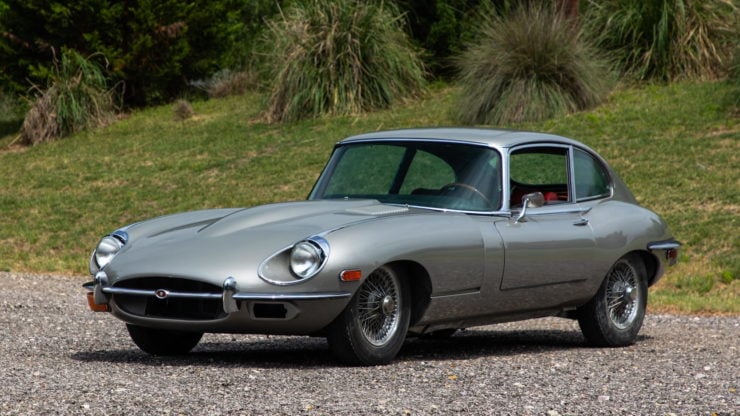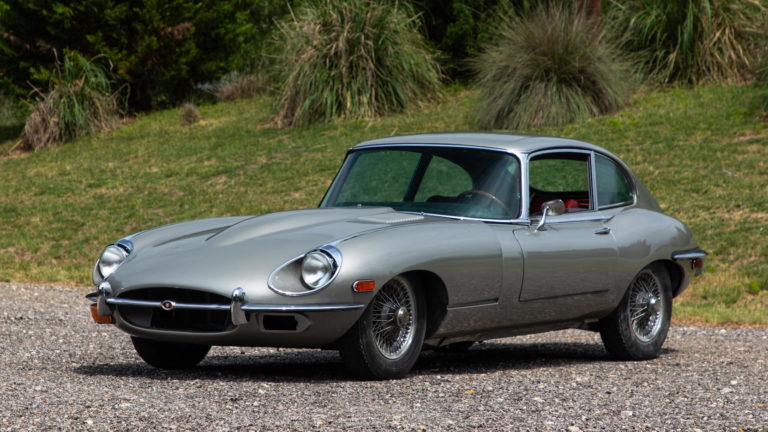 On the subject of the bodywork remember that the bonnet/hood forms a large part of the car and it requires skilled hand work to fit a new one: you can't just buy a replacement and bolt it on yourself if you want it to fit perfectly. When the E-Type was made at the Jaguar factory the bonnet/hood required hand fitting.
Moving from the bodywork to the suspension and steering, on your test drive the car should feel taut and responsive without a hint of wallowing. Expect the steering to feel positive and direct. If the car does not have power steering it will be a bit heavy but should not feel sluggishly heavy. Steering racks are probably the most neglected component on any old car and you should expect to need to have the rack in the car you plan to purchase checked and serviced if the service records do not show its having already been done in recent years. Similarly suspension components such as bushings may need replacement or upgrading also.
The brakes of the E-Type are conventional discs of varying types as the car was improved from Series 1 – 3. While the front brakes are mounted outboard and are thus easy to service the rear brakes are mounted inboard requiring a lot more work to get access to them. That's the price you pay for the light unsprung weight at the rear.
The XK six cylinder engines are solid and reliable units as long as they have been serviced. Some E-Types will have been driven hard for much of their lives and so their engines will either have been re-built before you purchased the car or are likely to need some extensive "Tender Loving Care".
The original 3.8 litre is regarded as the engine for the sports car enthusiast. This engine was near identical to the 3.8 litre used in the Jaguar XK150 3.8 S and as such it was created to be an exciting engine for someone who appreciates high performance. This character was carried over into the E-Type along with the Moss gearbox, which makes the car feel rather 1950's high performance sports car.
The 4.2 litre changed the character of the car and the new Jaguar all synchromesh gearbox added to that personality change, making the car feel more refined: transforming the E-Type from being a "wild cat" to becoming a "sleek and sophisticated cat", which is arguably what most customers were actually looking for.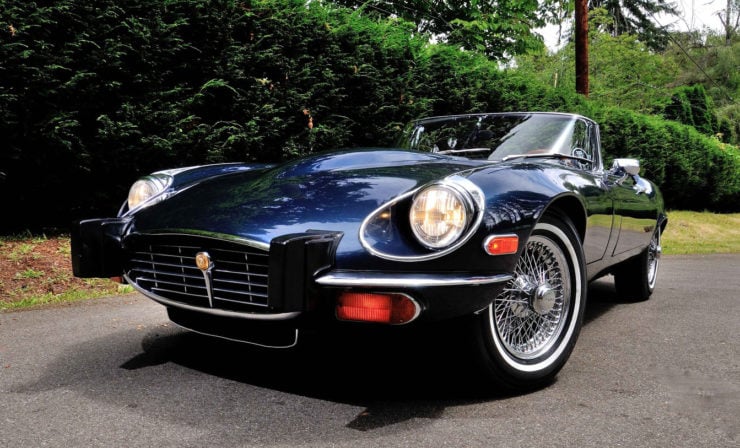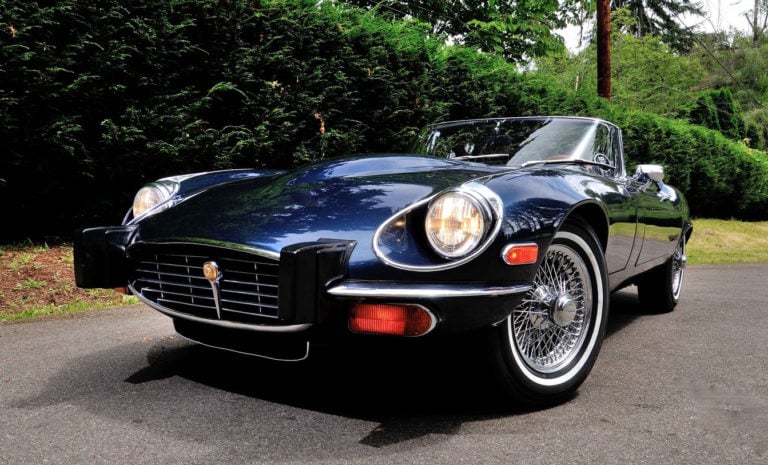 The V12 engine transformed the E-Type again, making it a smooth, powerful grand touring car. This engine is more complex but not at the level of some of the other GT cars out there, such as those from Ferrari etc. Spare parts for these engines are generally obtainable.
As mentioned in relation to the V12 in the Series 3 the cooling systems were regarded as a potential weak point but fitting a replacement aluminium radiator and properly servicing the cooling system, including making sure you have the correct thermostat, will correct overheating problems. Upgrading the cooling fans may also be a good idea. For the V12 attention to the Lucas OPUS system, if fitted is also wise.
There were four transmissions used for the E-Type; For Series 1 cars, the Moss four speed manual with synchromesh on the top three gears only, the Jaguar four speed all synchromesh gearbox, and the Borg Warner model 8 three speed automatic. For Series 2 cars the Jaguar all synchromesh manual or the Borg Warner Model 8. The Series 3 V12 cars have the Jaguar four Speed all synchromesh manual box or the Borg Warner model 12 automatic.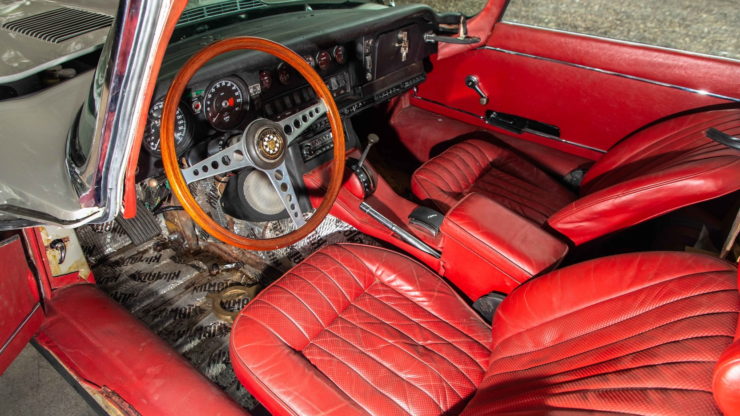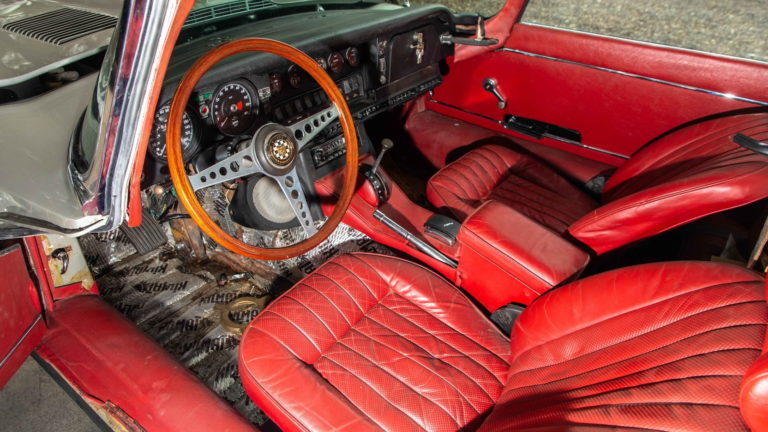 If fitted with a manual gearbox watch for signs of worn synchromesh, especially noticeable when changing down into second gear on the overrun, worn bearings or oil seals. If the car is fitted with an automatic transmission then the transmission fluid should look clean and red, not brown and old, and the gear-changes should be smooth and positive. If you purchase the car it would be wise to flush all transmission oils and fluid and put nice new oils and fluids of the correct type in.
If you've purchased a car with a manual gearbox you may want to have a modern five speed gearbox installed in it. There are specific gearboxes that are perfect for this and your Jaguar specialist should know about them. If you decide to do this make sure you keep the original gearbox with the car so it can be passed on with it when it comes time to pass on your E-Type to a new home.
Listen for clunks and knocks in the drive train or sounds of worn bearings. Servicing the differential requires its removal from the car along with brakes and suspension parts and the work is time consuming, and thus expensive. Similarly the inboard rear brakes require removal from the car: so if everything needs to come out to repair one component it is wise to do everything while the parts are on the workshop floor.
Specifications
Engines:
3.8 litre (3,781cc) XK DOHC inline six cylinder with cast iron block and aluminium alloy cylinder head fitted with triple SU carburettors and producing 265 hp @ 5,500 rpm with torque of 260 lb/ft @ 4.000.
4.2 litre (4,235 cc) version of this engine producing 265 hp @ 5,400 rpm and torque of 283 lb/ft @ 4,000 rpm.
Series 2 US market cars were fitted with twin Zenith-Stromberg carburettors and an emissions reduction system resulting in engine power of 246 hp @ 5,500 rpm combined with 263 lb/ft of torque @ 3,000 rpm.
5.3 litre (5,343 cc) V12 SOHC fitted with four 1¾ inch Zenith carburettors and producing 272 hp @ 5,850 rpm with torque of 303 lb/ft @ 3,600 rpm.
Transmissions:
Moss four speed manual with synchromesh on the top three gears and not on first.
Jaguar four speed manual with synchromesh on all four gears.
Borg Warner model 8 automatic transmission (six cylinder cars).
Borg Warner model 12 automatic transmission (V12 cars).
Suspension:
Front: Independent with unequal length "A" arms, torsion bars, and tube shock absorbers.
Rear: Independent with lower "A" arms, trailing arms, half-shafts, coil springs, tube shock absorbers, anti-roll bar.
Steering:
Rack and pinion. Option for power assistance on some later versions.
Brakes:
Disc brakes on all four wheels. Front mounted outboard, rear mounted inboard. Servo assisted.
Dimensions:
Series 1 and 2: Length 175.3″, width 65.24″, height (FHC) 48.1″ (Roadster) 46.5″ (2+2) 50.12″, wheelbase (FHC and Roadster) 95.98″ (2+2) 105″.
Series 3: Length 185″, width 67″, height (Roadster) 49″ (2+2) 51″, wheelbase 105″.
Performance:
Series 1 and 2 cars delivered top speeds of around 150 mph: the roadster being a tad slower than the aerodynamically superior FHC 4.2 litre, which made up to 153 mph on independent test. Standing to 60 mph was accomplished in about 7½ seconds and the standing quarter mile in about 15 seconds.
Series 3 cars had a lower top speed, in part due to a lower rear axle gearing to improve acceleration. Standing to 60 mph accomplished in less than 7 seconds.
Follow Your Heart: But Keep Your Head
If a Jaguar E-Type is the dream car you really want to own, and you've got the bank balance to turn that dream into a reality, then this is one of your best choices for a classic car. But go into any potential purchase with your eyes wide open and your mind in ultra logical Star Trek Mr Spock mode.
Preparation precedes blessing and you need to do some homework so you have as good a knowledge about the E-Type as you can. If you can, try to get the opportunity to drive at least one and preferably a few well maintained examples so you have a feel for the car to go with the head knowledge.
As for which model of the car to look for that really will be up to you and what you are looking for in the character of the car. The 3.8 litre cars with the Moss gearbox are a car for the performance driving enthusiast who enjoys the lively feel of the 3.8 litre engine and the old fashioned clunkiness of the Moss gearbox – a person who is willing to invest time into being able to double de-clutch and to master the heel and toe gearchange that goes with it.
The 4.2 litre cars provide a more refined driving experience and the Jaguar all synchromesh four speed gearbox makes driving less demanding. The V12 cars are accomplished grand tourers which can be kept quiet and ultra-civilized or transformed into much more powerful neck straining "muscle cars".
If you want a car with an automatic gearbox you'll most likely find you can get one a tad more cheaply than a comparable manual. The automatic gearbox has its advantages and as far as performance goes they were often chosen by the British police for pursuit cars: the police Daimler SP250 V8 sports/pursuit cars being an example.
Once you find the right car, always negotiate on the price, and unless you're a whizz on the tools it's a good idea to get an annual servicing done by a specialist. They'll be able to advise about preventative maintenance as well, and they'll help you keep your four-wheeled asset in the best shape possible.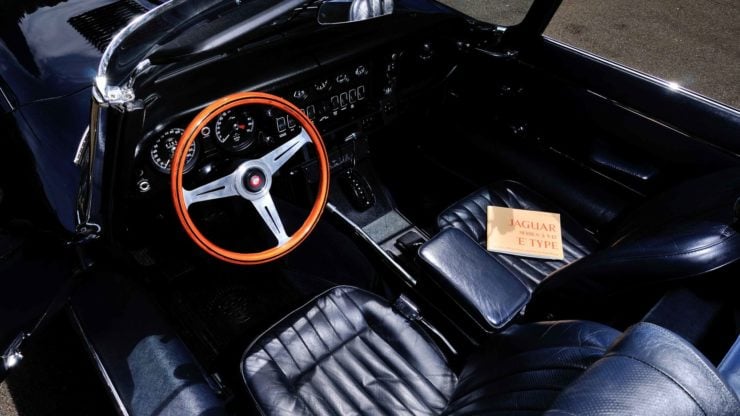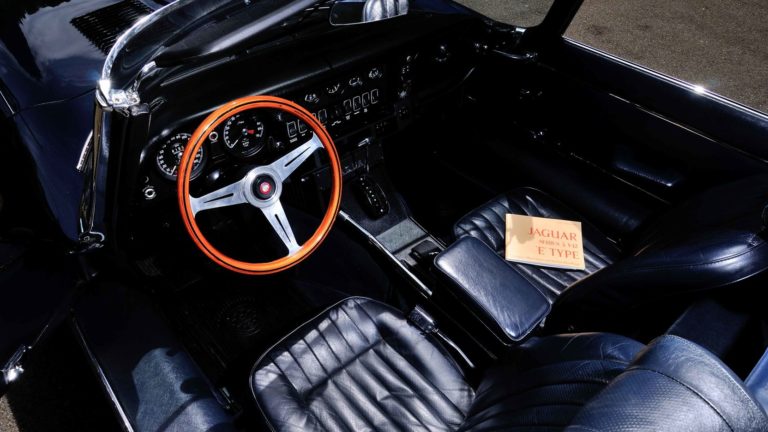 Picture Credits: Bonhams, Mecum Auctions, RM Sotheby's (including Dean Smith, Teddy Pieper)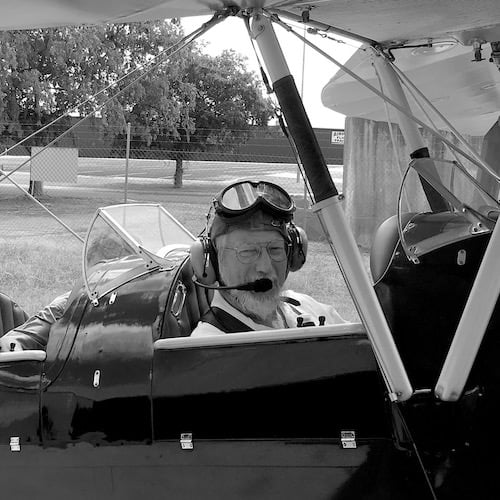 Jon Branch has written countless official automobile Buying Guides for eBay Motors over the years, he's also written for Hagerty, he's a long time contributor to Silodrome and the official SSAA Magazine, and he's the founder and senior editor of Revivaler.
Jon has done radio, television, magazine, and newspaper interviews on various issues, and has traveled extensively, having lived in Britain, Australia, China, and Hong Kong. The fastest thing he's ever driven was a Bolwell Nagari, the slowest was a Caterpillar D9, and the most challenging was a 1950's MAN semi-trailer with unexpected brake failure.