Written by Jon Branch
Introduction – A Quick History of the Shelby Cobra
The motto of the Australian Special Air Service Regiment is "Who Dares Wins". The story of Carroll Shelby and the Shelby Cobra is a story of a man who dared, and created a car that won the hearts and minds of sports car fans all around the world.
What is it that makes a "sports car"? It certainly isn't simply a case of making a car that is faster than most everything else on the road or track. Being fast helps, but it is not of itself what makes a sports car into something that is desired.
To build a car that sports car people will really want to own above all others you have to create something that appeals to the heart, not just the mind. A real sports car has a look, a sound, and a feel that pushes out quiet and conservative Dr. Jekyl and instead ignites the inner Mr. Hyde.
A car that, as you start the engine, the sheer sound of it makes the hairs on the back of your neck stand up as the adrenaline starts to pump. A real sports car gets to your heart, and the Shelby Cobra is a car that tells your heart to abandon being sensible, to forget logic, reason, and practicality, and to choose the car that's going to be unforgettable every time you drive it.
An Idea is Born
Carroll Shelby was an experienced racing driver and ex-WWII flight instructor, who had tried the respectable business of chicken farming and discovered it didn't suit him. His heart was in sports cars, and so a health issue brought his motor-racing career to an unexpected end (a health issue that required him to slip a nitro-glycerin capsule under his tongue when he went racing) he decided to dare to take the gamble and try his hand at sports car building.
Carroll Shelby understood that it was beyond his means to simply create a new car but he also knew, from his racing contacts, about potential cars that could serve as the basis for what he wanted to build. Over in Britain was a small specialist sports car maker called AC who were building a model called the AC Ace. It was intelligently designed and handled beautifully, but suffered from the great malaise of most British sports cars, it did not have a big thumping American V8 engine burbling under its svelte aluminum hood.
Instead it had either the AC inline-6 or the ex-BMW pre-war Bristol inline-6 cylinder engine, the latter of which sounded quite sporty in a conservative British style but which simply could not bring out the full potential of the car. Carroll Shelby's idea was quite possibly influenced by his earlier work as a racing driver for British car maker Allard – you take a lightweight British roadster and drop a nice big American V8 into it.
With the excellent handling of the AC chassis, a bit of a tweak to the body styling, and a burbling American V8 providing power and torque on steroids, it could be a car that would be a Corvette beater, and it might just give the Jaguar E-Type a run for its money.
The AC Ace 3.6
The logistics of creating this new car were challenging, but not rocket science. Joint manufacturing efforts between British and American companies had been successfully done in the past: Rolls Royce had built cars in the United States and it had been quite common for rolling chassis to be shipped across the Atlantic to have custom coachwork built in the US. Carroll Shelby's idea was to have AC Cars in Britain to build a version of the AC Ace that he could fit an American V8 engine into with a four speed Borg-Warner manual transmission. He approached AC in September 1961 and they could see the potential to both make money and build the AC name in the States, so they said yes, if he could find a suitable V8, and the Cobra was born, although it was not yet called a Cobra.
Carroll Shelby approached GM with a view to using Chevrolet V8 engines: but they were not willing. They had been through enough difficulty in turning their Corvette into a viable sports car and had almost given up on it. So the idea of helping Carroll Shelby create a challenger to the Corvette based on a British chassis with a V8 engine was just not something that GM was going to support. Ford on the other hand had the Thunderbird, which was doing very nicely but was not a proper sports car, and they were willing to provide Carroll Shelby with a couple of their new lightweight Windsor 221 cu. in. thin wall small block V8 engines to see what he and AC could come up with.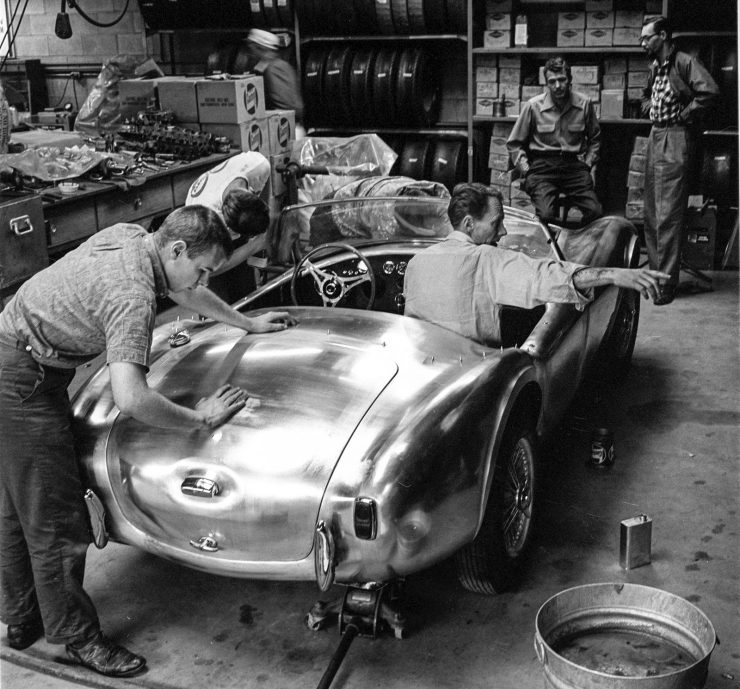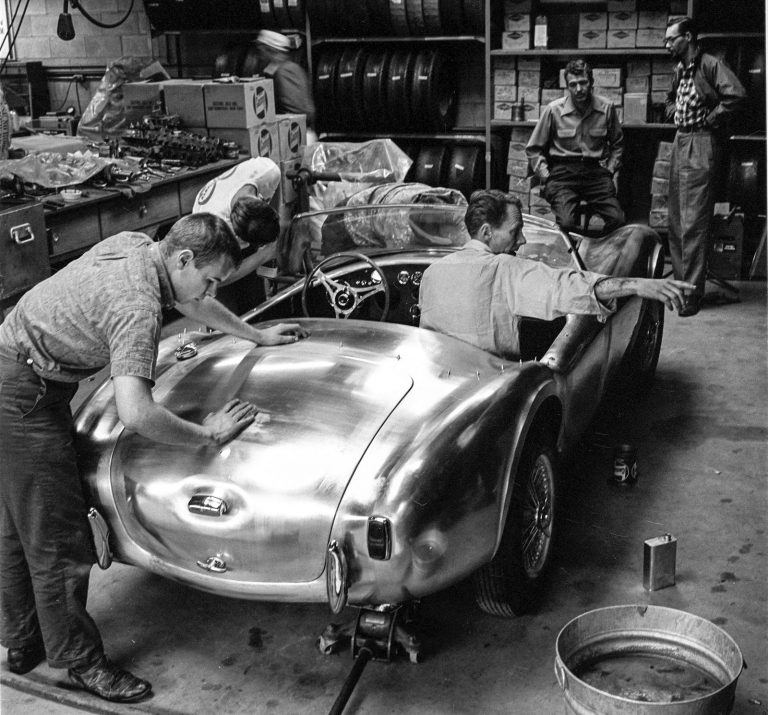 The mavens at AC got busy on this exciting new project. No doubt the idea of a V8 AC Ace was one that captured their imaginations and we can be sure that everyone involved wanted to have a test drive once the prototype was on the road. Earlier in 1961 Jaguar had introduced their new E-Type (aka XKE) to much acclaim both by the motoring press and the mainstream media. AC were being given the opportunity to create a car that could rival the E-Type, and in their design work AC's engineers installed the same Salisbury 4HU differential and in-board rear disc brake system as used on the Jaguar. The 3.6 liter Ford Windsor V8 was almost of the same capacity as the E-Type's 3.8 liter in-line six. AC's engineers were going to be able to make a lighter car with just as much power, and it was going to make the gorgeous V8 exhaust noise that we all just love. It was an inspiring project with great potential.
With the work completed AC removed the engine and gearbox unit from the car and shipped it back to Carroll Shelby's team at Dean Moon's workshop in Santa Fe Springs, California: the work was so thoughtfully done that a new engine and gearbox was able to be fitted and the car made ready for road testing in about eight hours. This was also proof that the trans-Atlantic manufacturing process was viable. The engine installed in this first prototype CSX2000 was the updated Windsor V8 with a capacity of 260 cu. in. (4.3 liters).
The Shelby Cobra Mark I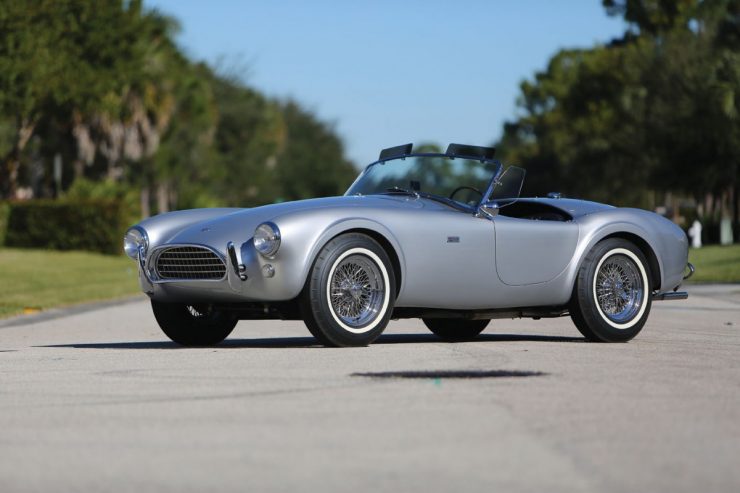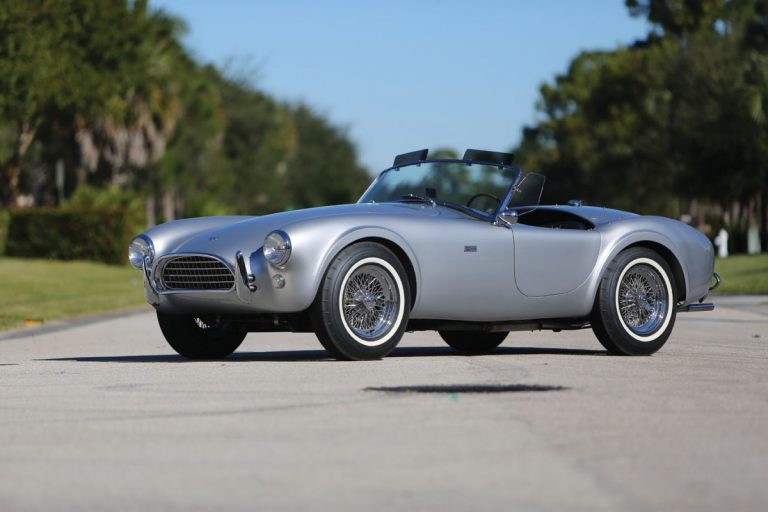 Carroll Shelby and his development team now had a viable prototype to test and learn from. Their next move was to examine what changes, if any, would be desirable to move from prototype to production car. The changes were kept minimal, but the decision was taken to do away with the inboard location of the rear disc brakes and to move them to the conventional outboard location. The downside of doing this was that the weight of the brake assembly was mounted in the hub, dramatically increasing unsprung weight and thus making the car's rear end less stable on rough surfaces. The car's independent rear suspension was still superior to the live axle arrangements that American cars were almost universally fitted with even with the brakes in the outboard position however. The upside of moving the disc brake assemblies outboard was that it made it easier to keep them cool under the heavy use of track competition, and it made the car a bit cheaper. The only other change was moving the fuel filler to the center of the car, a modification that required shortening of the trunk/boot lid.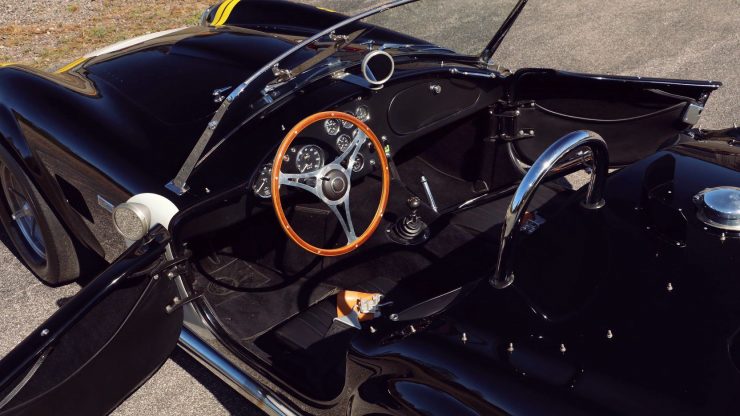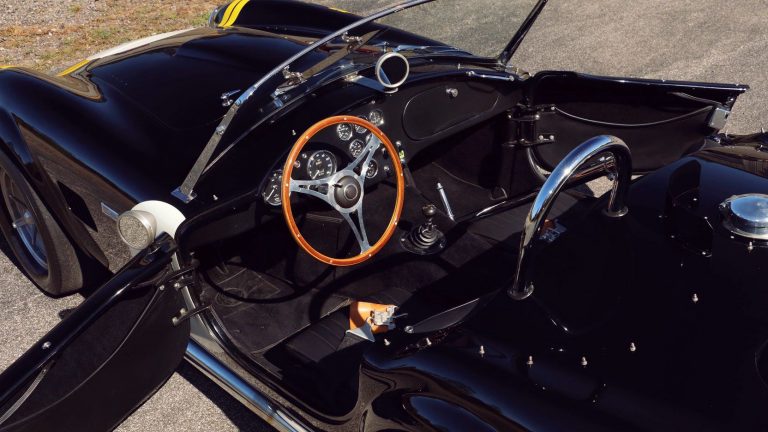 With a viable production model created the trans-Atlantic production line was kicked into gear: AC made the cars without engine or gearbox fitted and shipped them "across the pond" to the United States where they were completed, mainly at Carroll Shelby's facility in Los Angeles, and also a few at Ed Hugus workshop in America's eastern state of Pennsylvania (in fact the first production car CSX2001 was completed by him). In all 126 Mark I Cobras were made, the first 75 with the 260 cu. in. (4.3 liter) engine and the remaining 51 with the 289 cu. in. (4.7 liter) version of the Windsor V8. These were the days before shipping containers came into mainstream use and so the cars were shipped as break bulk cargo, individually loaded into a ship's hold. The result was that some damage was likely to occur in transit which needed to be rectified once the car arrived at Carroll Shelby's workshop in the States.
The Shelby Cobra Mark II
Over in Britain the design team at AC were looking to refine the design of their chassis and one thing it lacked was rack and pinion steering, the type that historically has delivered the best driver feel and responsiveness. The original AC Ace was fitted with worm and roller steering (sometimes called worm and sector steering). However in 1962 the new MGB sports car was introduced and it was fitted with a rack and pinion steering assembly that would work well in the AC Ace chassis. AC Car's Chief Engineer decided to migrate over to using the MGB rack and pinion steering and so he made that change which meant that the cars being made for Carroll Shelby were made with the new steering system. Low volume car makers, such as AC, tended to use off the shelf components wherever possible and so the MGB rack and pinion steering was mated to a Volkswagen steering column. The cars fitted with this new steering box were designated as the Mark II and entered production in 1963. It was at this time that AC decided to stop making the AC Ace and to rationalize their production line to just making V8 Cobras not only for the US market, but for Europe and the rest of the world also. These cars are numbered COB/COX 6001-6062, indicating that 61 were produced.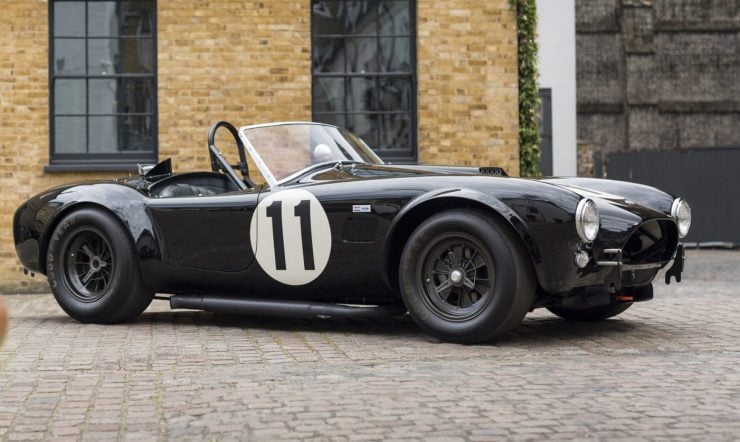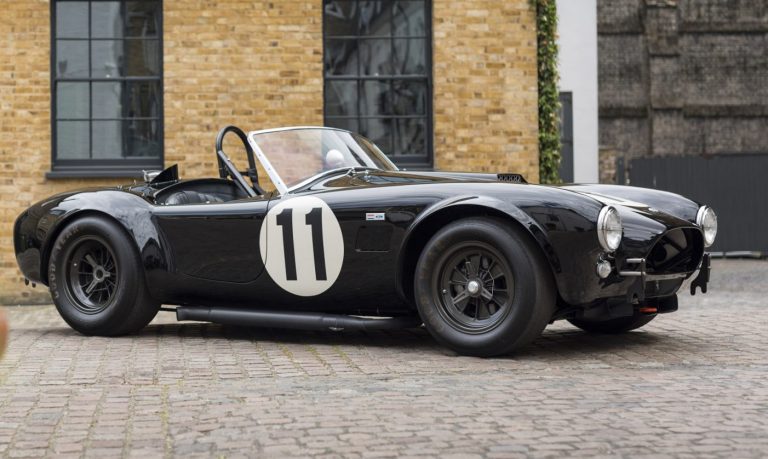 Altogether 528 Mark II Shelby Cobras were made up until the middle of 1965 with the last of the US market cars made in November of 1964, perhaps as someone's slightly early Christmas present.
Americans tend to believe that bigger is better, especially when it comes to V8 engine capacity, and Carroll Shelby understood this and decided to see just how big an engine could be fitted into the lightweight AC chassis and still keep the car controllable. His first effort was to install a 390 cu. in. (6.4 liter) version of the heavy Ford FE V8 in a Mark II car number CSX2196. Unfortunately this turned out to not be a happy marriage. The car was raced at Sebring by British driver Ken Miles who was nicknamed "Teabag Teddy" for his British propensity for regularly consuming nice cups of tea. Miles was unimpressed by the 390 cu. in. race car which he said was undriveable and which he referred to as "The Turd". The car failed to finish its Sebring race, something that may have been a bit of a relief for Teabag Teddy. Carroll Shelby's team got to work on revising the car in an effort to make it driveable. The changes made were significant and included an aluminum 390 cu. in. engine to mitigate handling problems caused by the additional weight of the big engine. The car was raced again, this time at Nassau but failed to finish.
Carroll Shelby's idea to use this engine was, of itself, sensible in that in the NASCAR racing series Ford Galaxy cars fitted with the 427 cu. in. version of the FE engine dominated the 1963 season. The FE engine would also go on in 427 cu. in. form installed in the Ford GT40 to dominate at the 24 Hours Le Mans, much to Enzo Ferrari's chagrin.
The original AC Ace, and thus all the Mark I and Mark II production cars, were fitted with fully independent suspension systems but using transverse leaf springs rather than individual coil springs. Although these cars handled well the next improvement would involve a move to an all coil spring suspension. If Carroll Shelby wanted to install the biggest of the American V8's in a Cobra then some strategic changes were going to be needed.
Shelby Daytona Coupé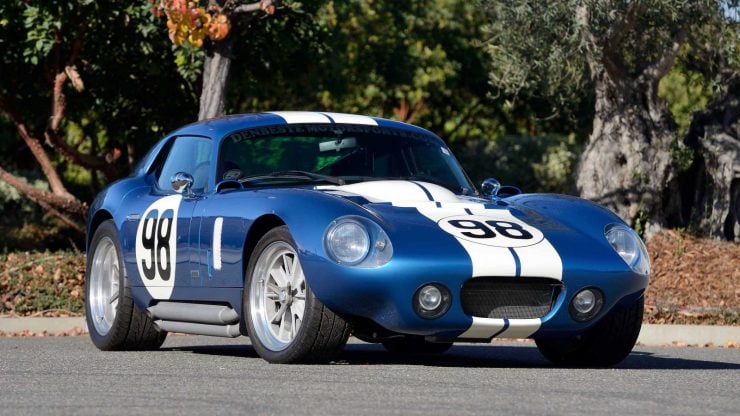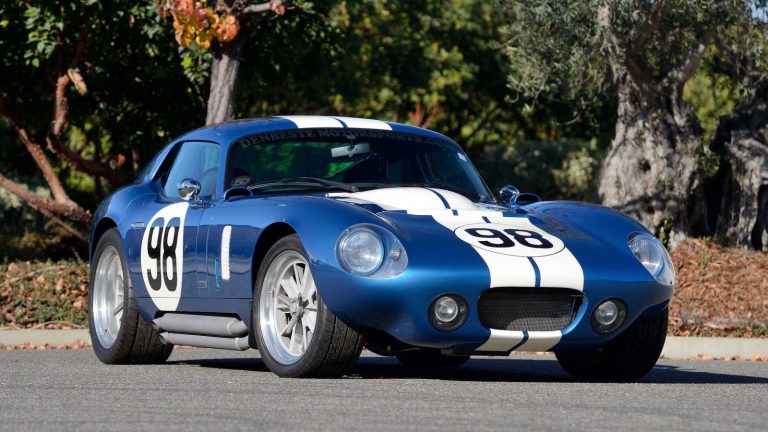 The Shelby Daytona began life in 1964 and remains one of the best known of the Shelby Cobra variants. The six cars built were all made for racing in GT class races such as the 24 Hours Le Mans and the 12 Hours Sebring. All these cars were built on the Mark II Cobra chassis with its lateral leaf spring independent suspension and 289 cu. in. (4.7 L) V8 engine. The chassis was remodeled to optimize it for the aerodynamic closed coupé bodywork and the car was created to be a Le Mans GT class winner. In order for the car to win at Le Mans it had to be able to match or beat the speed of the Ferraris down the 3 miles (4.8 km) of the famed Mulsanne Straight. To achieve this the Daytona needed a body that was as aerodynamic as possible so it could efficiently run at over 180 mph. Not only did the body need to be able to help the car slip through the air but it also needed to remain stable at those speeds.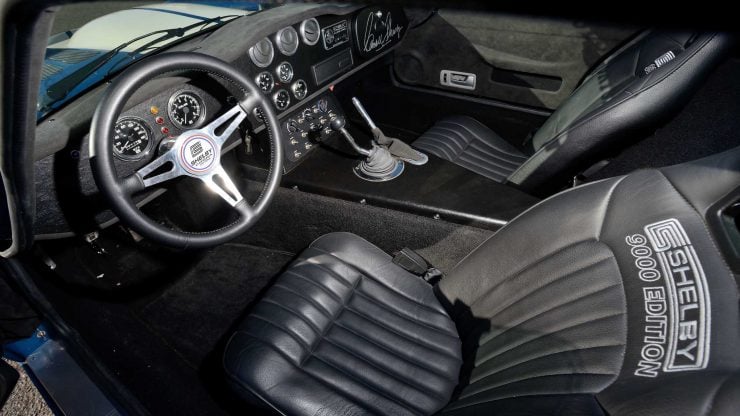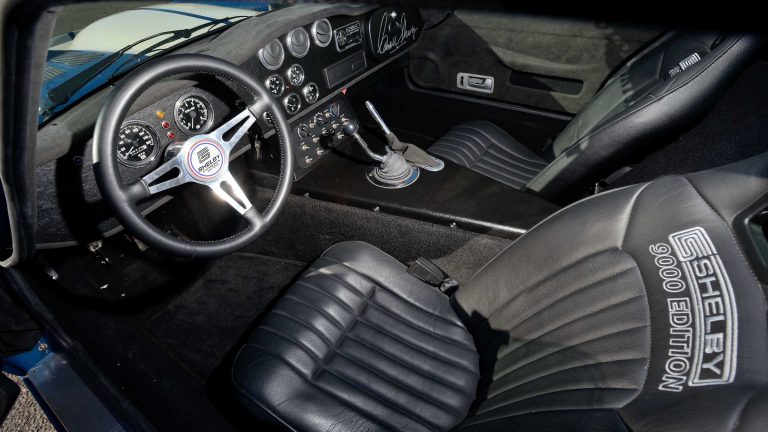 The body design work was entrusted to Pete Brock whilst the chassis re-design work was given to Bob Negstad. Pete Brock started his design work using Ken "Teabag Teddy" Miles as his model. He decided where he wanted the driver to sit in the car's chassis and then got Ken Miles to sit in that place whilst between them they worked out design and placement for the windscreen, which was the first thing made for the car. They then got into figuring out placements for steering wheel and controls. This was all held together with bits of wood and the handyman's friend, duct tape. Once the placement of things was figured out by Pete Brock and Bob Negestad with help from Ken Miles the Daytona's aerodynamic body was designed and then created in hand beaten aluminum.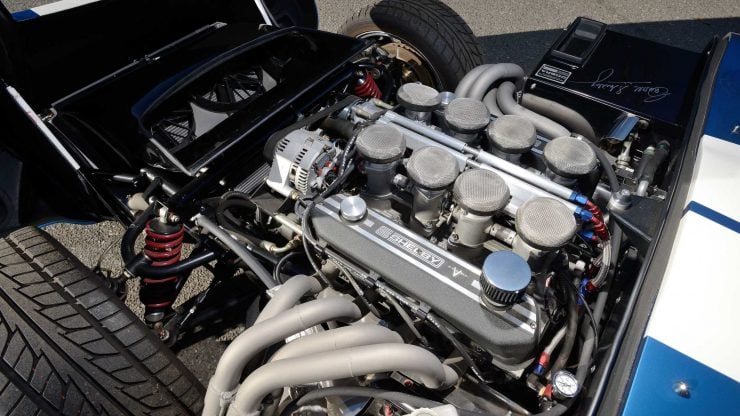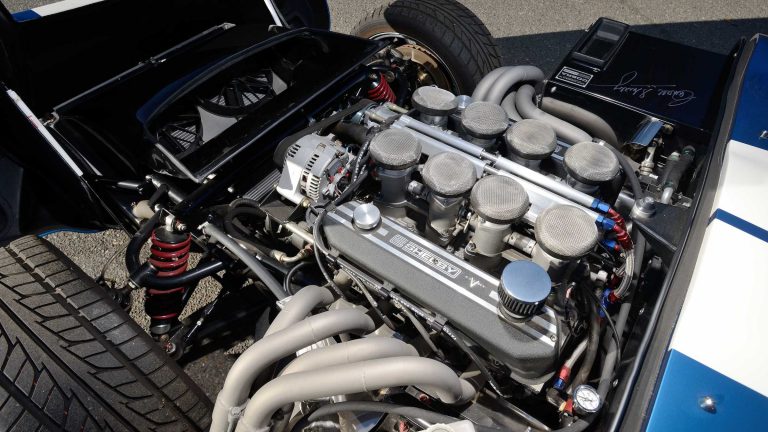 The primary mission of the Shelby Daytona was to achieve a win in the GT class at Le Mans that year. A feat it accomplished gaining first place in the GT class, and finishing in fourth place overall.
The six Shelby Daytonas made racked up an impressive stack of victories during 1964 and 1965 and set no less than 25 land speed records at Bonneville.
Dragon Snake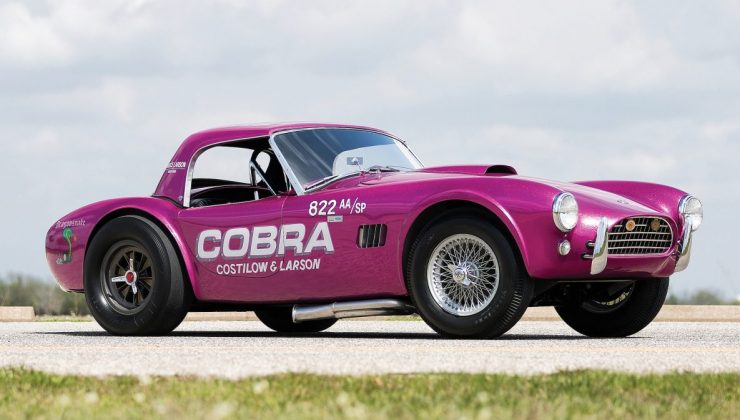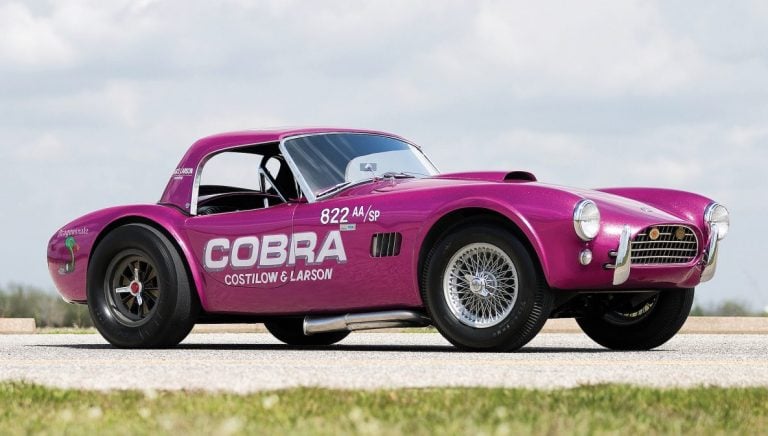 Carroll Shelby offered a modified "Dragon Snake" package for cars that were intended for drag race competition. CSX2093 was one of these and was campaigned by Bruce Larson or Ed Hedrick to win a number of National Hot Rod Aassociation National events. Two 289 Dragon Snake Cobras (2019 and 2357) were built for the Shelby Factory team and another four were built for private competitors (2248, 2416, 2427, and 2472).
Slalom Special and Slalom Snake
The Slalom Special and Slalom Snake package was designed to prepare cars for auto-cross type competition. This did not prove to be popular despite auto-cross being a common type of competition in car clubs. Two cars were factory prepared. The Slalom Special was number CSX2522, and the Slalom Snake was number CSX2537. Despite the different names the two slalom cars were almost identical. Both cars were fitted with front and rear anti-roll bars, and Koni shock absorbers. The "Slalom Snake"CSX2537 is listed as having front and rear brake cooling ducts with brake cooling scoops, a hood scoop, side exhausts, and a painted roll bar whilst the Slalom Special CSX2522 had a chromed roll bar.
The Shelby Cobra Mark III
With collaboration between Carroll Shelby, the design team at AC, and Ford, the original AC Ace was re-designed so it could accommodate the weight, power and torque of the Ford FE V8. The 3 inch tubing main chassis frame was upgraded to 4 inch diameter tubing. The transverse leaf springs were replaced with coil springs, although the equal length wishbones were retained. The front radiator opening was enlarged and the fenders were widened to accommodate the new model's wheels and tires, giving the car a more aggressive and purposeful look than its predecessor.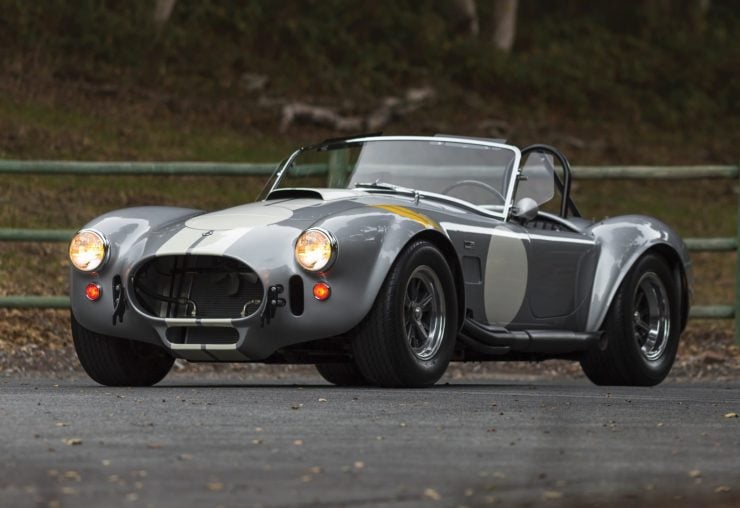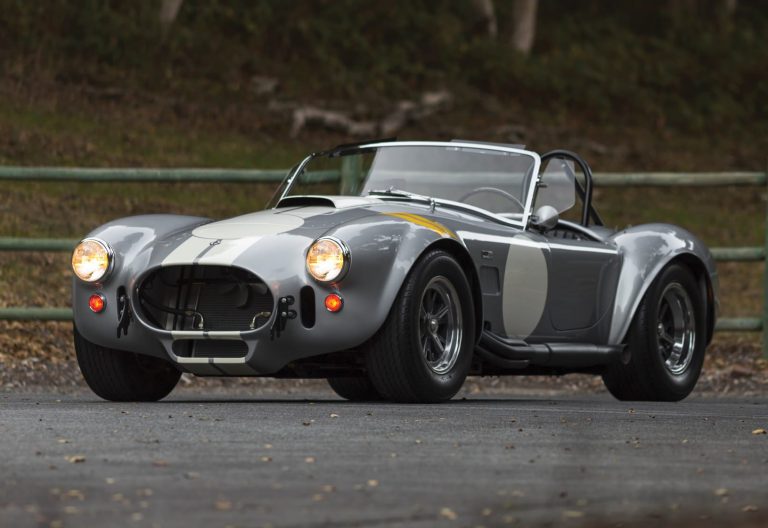 The first unpainted car sans engine and gearbox was shipped from AC Cars in Britain in October 1964, enabling Carroll Shelby's team to get to work on the car in January 1965. This car was designed for the 427 cu. in. (7.0 liter) "side oiler" Ford FE V8. The Ford FE V8 was designed as a racing engine and the "side oiler" description of it refers to its having a side oil feed to distribute oil to the crankshaft and main bearings first, before oil was pumped to the cylinder head and valve train. When racing a broken crankshaft or dropped con-rod can be a tad inconvenient, so they got the oil first. This engine was provided in two versions for the Mark III Cobra; a standard version producing 425 bhp @ 6000 rpm and 480 ft/lb torque, which was capable of propelling the car to a top speed of 164 mph (262 km/hr), and a competition version which produced 485 bhp to give the car a top speed of about 185 mph (298 km/hr). For the standard version the standing to 60mph time was just over 4 seconds and the standing quarter mile was accomplished in a neck straining 12.4 seconds, by which time the Cobra was doing 106 mph. This was more than an E-Type eater, it was potentially a Ferrari beater.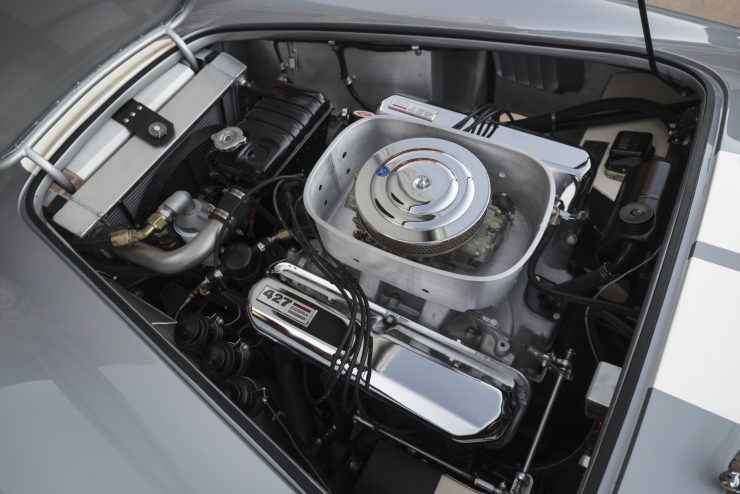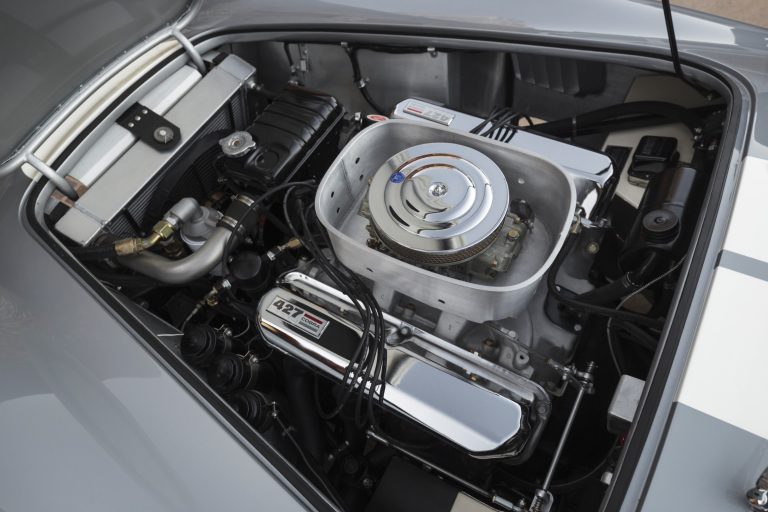 Fuel consumption for the 427 cu. in. V8 versions was of course not going to win an economy competition. The standard road cars were fitted with 18 gallon tanks whilst the competition version was fitted with a 42 gallon tank. Both standard and competition versions were capable of sucking fuel through the Holley four-barrel, 780 cfm carburetor freely enough to bring fuel consumption down into single digits, and driven hard into the low single digits.
Production of Mark III cars with numbers CSX/CSB 3001-3100 began in January 1965 and it didn't prove possible to achieve homologation by manufacturing the required 100 cars to enable the Mark III to be raced in the 1965 season. Only 53 cars had been made by the deadline. This left Carroll Shelby with competition specification cars that he could not sell, so these were modified by the fitting of windshields and de-tuning the engines to make them suitable for use as road cars. 31 of the 53 competition cars made in 1965 were altered in this way. They are known as the S/C (Semi-Competition) cars.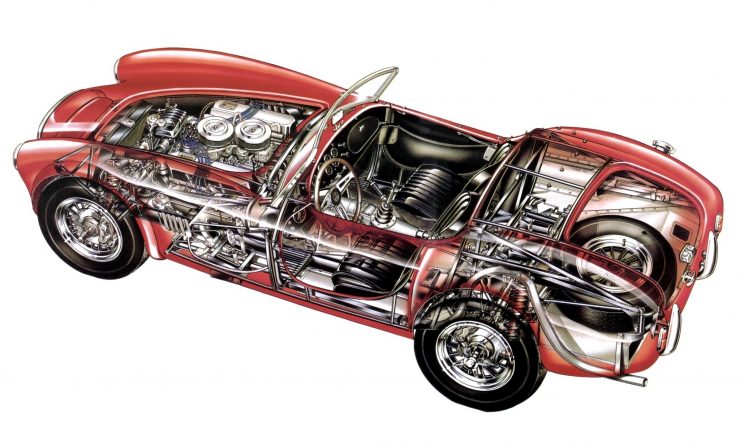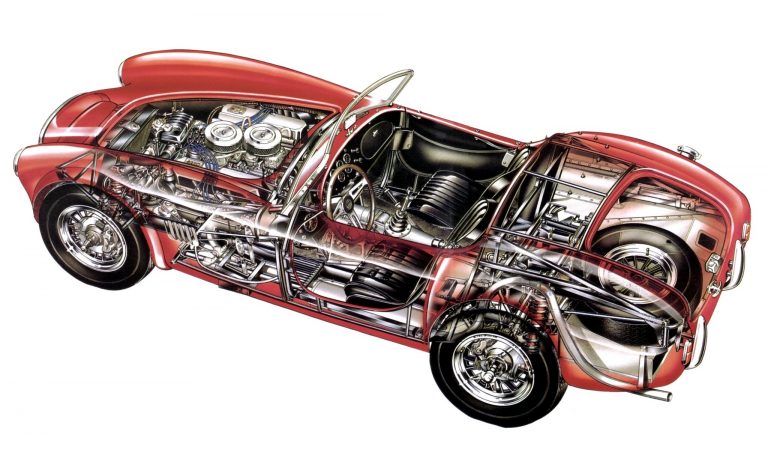 In addition to the 427 cu. in. Mark III Cobras Shelby made a lower cost version fitted with the less expensive long-stroke 428 cu. in. (7.01 liter) Ford V8 as road cars. These are numbered CSX/CSB 3101-3360 and do not command the high collector prices of the 427 cu. in. engine cars. They are nonetheless a fabulous road car providing a wonderful driving experience.
AC 289 Sports
With the changeover to the Mark III Cobra, AC in Britain needed to cease making Mark II cars, but they had viable markets in Britain, Europe and internationally to places such as Australia, and needed a model suitable for those markets. AC accomplished this by creating a Mark III Cobra version fitted with a small block Ford 289 cu. in. V8 engine. These are a superb sports car combining the inherently good handling of the AC chassis with a V8 engine small enough to bring out its best attributes. Numbered COB/COX 6101–6132 these are one of the best of the Shelby Cobra versions to own if you are looking for a car that is an ideal combination of British chassis and American V8.
Dragon Snake
Just one Mark III car is listed as having been factory made to Dragon Snake drag competition specifications, this was 3198.
The Super Snake and Bill Cosby's "200 MPH"
Perhaps the most famous of all the Shelby Cobras are the Mark III cars built to the Super Snake specification. The Super Snake was built to gain publicity and was touted as "The Cobra to End All Cobras". The way Bill Cosby describes the car it might better be described as "The Cobra to end all Cobra Drivers".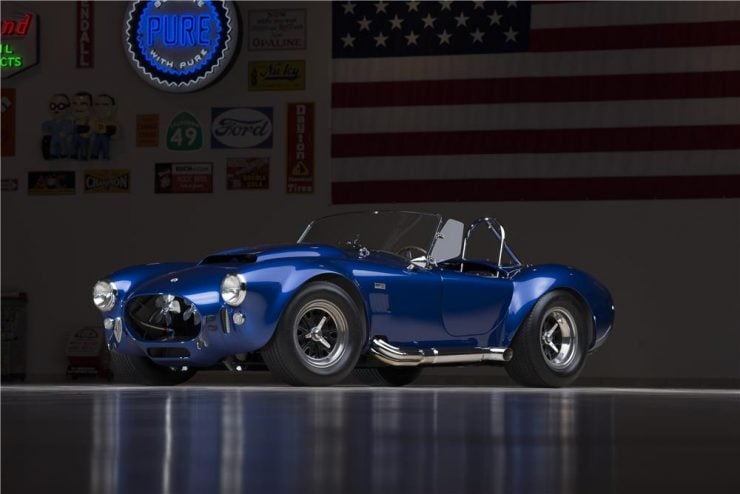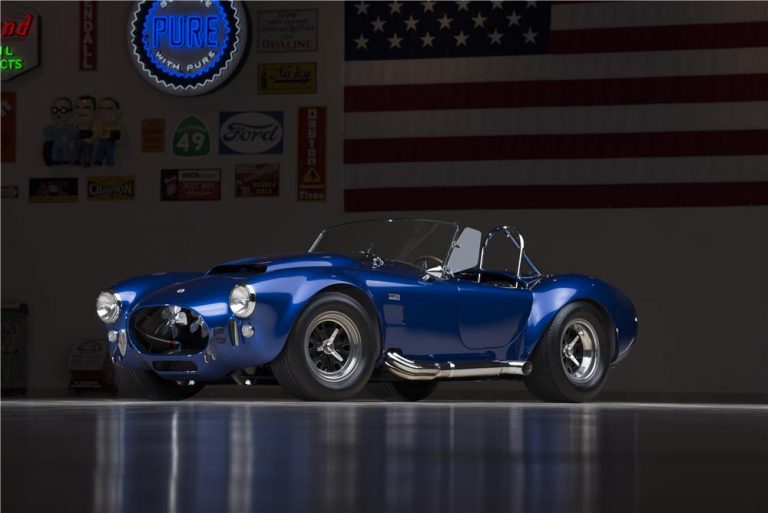 The Super Snake started out in 1966 with the modest aim of making a racing Cobra street legal. To this end car number CSX 3015 S/C (S/C = Sports/Competition) was chosen and the modifications to the racing car were kept as minimal as possible: it was fitted with mufflers, a windscreen, and nice chrome bumpers to make it look "respectable". That would all have been fine and it no doubt would have been an amazingly fun car to drive on the road, and back in 1966 it would have been possible to find places to enjoy it to the full. However, as the old saying goes "boys will be boys" and the boys in question just couldn't resist the temptation to go just a little bit further: so they also fitted twin Paxton superchargers to the little beast. Sources vary on just how much power this twin supercharged engine was putting out, but estimates around 800hp are probably close enough. This became Carroll Shelby's personal car which he also occasionally used for competitions such as the Turismos Visitadores Cannonball-Run race in Nevada. Carroll Shelby seems to have developed a great affection for the car and said of it that it would wake whole towns and blow out windows: twin Paxton superchargers and around 800 hp, we think he was not exaggerating!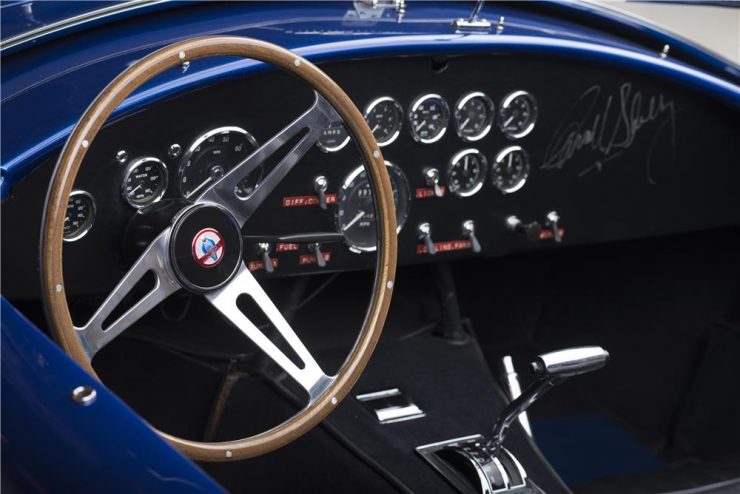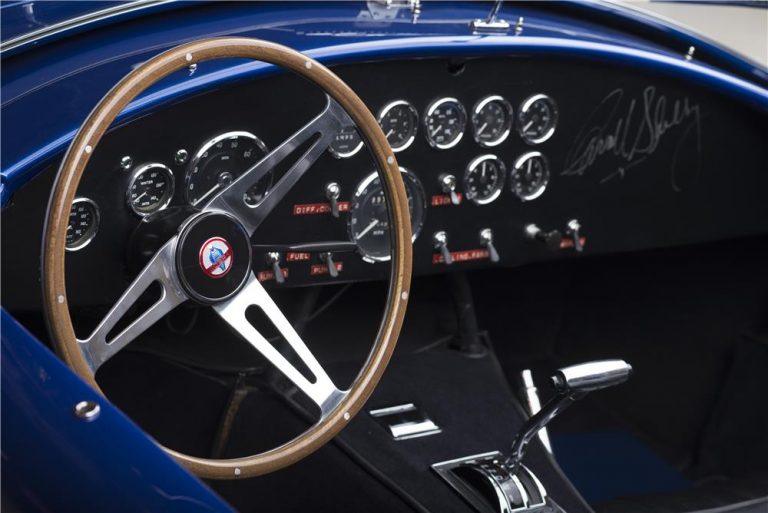 Carroll Shelby was friends with comedian Bill Cosby, and Bill Cosby liked fast cars, especially Ferraris. So it was that Carroll Shelby suggested to Bill Cosby that, as a patriotic American, he really should be driving an American car. Carroll Shelby set about building a Super Snake for Bill Cosby that would make his Ferrari seem tame: and to make the car easy to drive he fitted it with an automatic transmission. This was car number CSX 3303 and Carroll Shelby arrived in Bill Cosby's driveway one day with this sweet little Super Snake and he gave it to Bill Cosby. Bill Cosby and his daughter got into the Super Snake and started the engine. As Bill Cosby tells the story the car was terrifying in the driveway, before he'd even put it in reverse to back out. We don't know how far Bill Cosby drove the car, perhaps around the block, but he gave the keys back to Carroll Shelby and politely suggested that he'd just keep on driving his tame Ferrari. The Super Snake became the subject of his "200 MPH" sketch although the way he recounts the tale in his interview with Jay Leno is perhaps even funnier.
CSX 3303 was shipped to one of the Shelby dealers  S&C Ford of San Francisco where it was purchased by a man named Tony Maxey. Unfortunately the story has a sad ending because one day whilst he was driving Tony Maxey had the throttle of the Super Snake jam resulting in him losing control and the car going over a cliff and into the Pacific Ocean. The car was destroyed and Tony Maxey died of his injuries.
AC 428 Frua
Arguably the most civilized of all the Shelby Cobras was a car that did not actually have either the word Shelby or the word Cobra in its name. The AC 428 Frua was nonetheless built on a Shelby Cobra Mark III chassis that was made 6″ longer., The AC 428 Frua was fitted with the 7.01 liter "big block" Ford FE 428 long stoke engine, but the high performance Ford FE 427 side-oiler engine was available as an option, and cars fitted with that optional engine are normally referred to as an AC 427 Frua.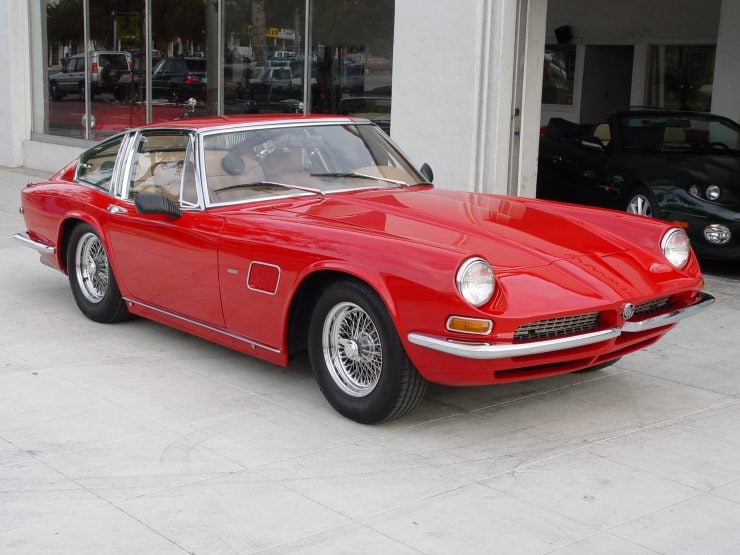 AC Cars in Britain were the ones who developed this version of the Shelby Cobra in cooperation with Pietro Frua in Italy. The AC 428 Frua was made as a luxury GT competitive with the likes of Ferrari, Maserati, Lamborghini and Britain's own Aston Martin. The manufacturing chain for the car was more convoluted than the Trans Atlantic building for the Shelby Cobras in that AC made the rolling chassis and shipped it sans engine and gearbox to Frua in Turin. Frua then made and fitted the bodywork using a square steel tubing frame supporting the body panels.  This construction method is quite complex, although rigid, and is prone to corrosion. The partially completed cars were then sent back to AC Cars for fitting with engines and gearboxes and final finishing work. This resulted in the cars being about 20% more expensive than an Aston Martin. The AC 428 however boasted a fully independent suspension, which the Aston Martin did not have.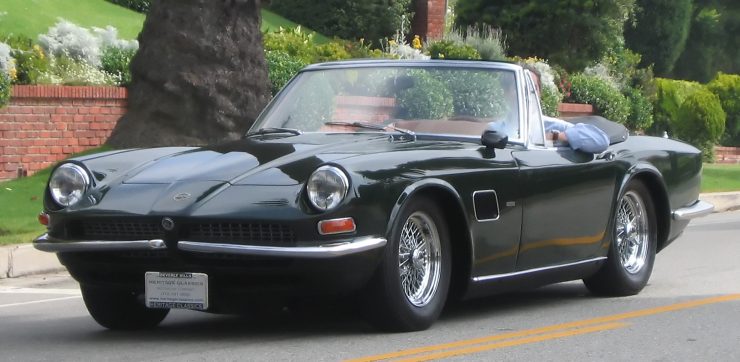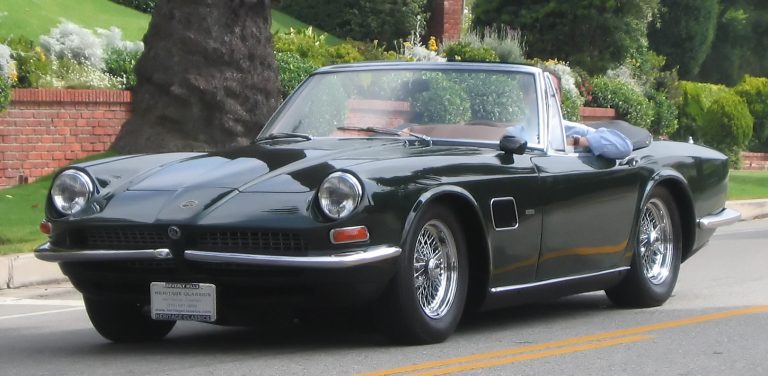 The AC 428 Frua tipped the scales at 3,150 lb and could do a standing to 60 mph in 6.2 seconds, which was quicker than the DB6, with a top speed of 141 mph, which was slightly less.
The AC 428 Frua was made in two body styles, an open convertible and a coupé. In all 81 of these cars were made between 1965 to 1973 and they remain one of the most desirable, most luxurious, and most civilized of all the Cobras. Bill Cosby would have loved this one.
The Cougar II, Bordinat and Ghia
There were a small number of one-off cars built on the Cobra chassis by Ford whilst they toyed with the idea of creating a head to head competitor to the Chevrolet Corvette. Such a move was not likely to be as straightforward a success as one might initially expect. Ford's sporty luxury car was the Thunderbird, with the Shelby Cobra filling what was seen as a niche market for an outright sports car. So it should not surprise us that the small number of prototype luxury Cobras never made it into production.
The Cougar II concept car was essentially a Corvette like coupé based on a Mark I Shelby Cobra chassis number CSX2004 and was made in 1963. The styling of the car necessitated the engine and gearbox being moved a tad rearwards, which would have resulted in engine heat being more readily transferred into the passenger compartment. Styling was done by Italian design house Vignale and the car featured gull-wing doors.
The Bordinat Cobra was made by the Ford Styling Department at the behest of Gene Bordinat. The car was built on the first of the Mark III chassis, number CSX3001. The car's body was made of a new "self-healing" material called Royalex that had the ability to absorb small dents and then self repair by returning to its original shape.
The Ghia Cobra was a styling exercise done by Italian design house Ghia. This car was built on a Mark III chassis in 1965 and was possibly an inspiration for the AC 428 Frua. The car was made as Ford considered whether it would be worthwhile to tool up for producing a stylish sports car using standard mass-production methods, although the prototype was made using hand-built coachwork methods. Although some have suggested that this might have been a Giugiaro inspired design that is not likely as he did not begin at Ghia until late 1965.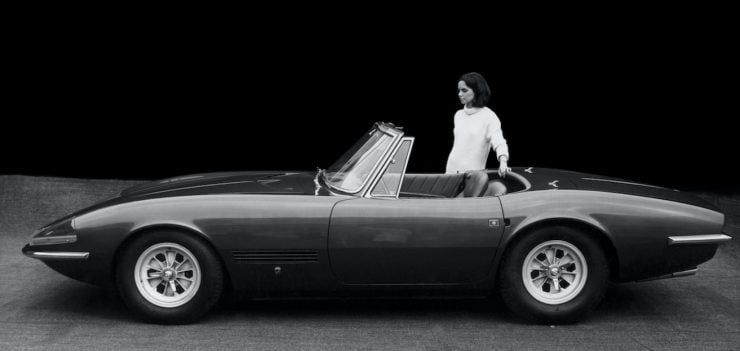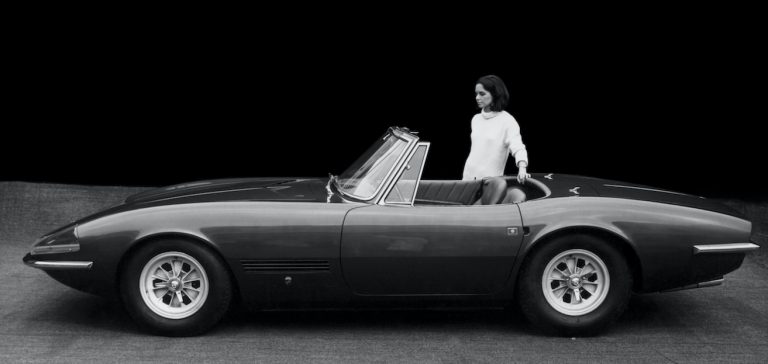 An Ending, And Some New Beginnings
AutoKraft and the Mark IV
Although the Shelby Cobra had proved to be a racing success, and had attained celebrity status, the car did not prove to be a great financial success and production was wound up in 1967. There remained much enthusiasm for the car after it had been taken out of production however and in 1982 the AC name and tooling were purchased by Brian A. Angliss' AutoKraft company. They set about putting a continuation Shelby Cobra in production which they called the Autokraft Mk IV. This car was based on the Shelby Cobra Mark III but was fitted with a 302 cu. in. (4.95 liter) Ford V8 mated to a Borg Warner T5 Transmission.
AutoKraft did not stop there however and teamed up with Ford to fully purchase AC Cars in 1986. Their new version of the car was called the AC Mark IV Cobra, this new version being fitted with a larger 4,942 cc Ford V8 engine producing 250 hp at 4,200 rpm giving the car a top speed of 134 mph (215 km/hr). The company also built a lightweight version of the Mark IV Cobra which tipped the scales at 2,360 lb (1,070 kg) whilst the standard Mark IV weighed 2,620 lb (1,190 kg). The lightweight boasted more engine power with 370 hp @ 5,750 rpm. In all 480 of the various versions of these cars were produced.
AC Car Group
Pride Automotive purchased the company in 1996 establishing AC Car Group. AC Car Group introduced two new models for 1997; the Carbon Road Series, a carbon fiber bodied car powered by a 225 bhp Ford V8 engine, and the Superblower which featured a more expensive aluminum body and was powered by a supercharged 4,942cc Ford V8 developing a robust 320 bhp. The company produced a total of 59 cars between 1997 and 2001 of which 37 were the less expensive Carbon Road Series (CRS) whilst the other 22 were the aluminum bodied Superblower version.
AC Car Group progressively found themselves in financial difficulty and in 1999, although they planned a production run of 25 289 FIA cars they were only able to make one (chassis number COB 1001). The company also created a different version called the 212 S/C powered by a twin turbocharged Lotus 3,506 cc V8 producing 350 hp in 2000, but only two of these cars were made.
After re-locating to AC Cars home town of Frimley the AC Car Group produced its last two cars;  a FIA 289 numbered COX 2610, and a 427 Cobra numbered COX 3361. By 2002 the company had ceased operations and was purchased initially by Private Corp. before being purchased by AC Motor Holdings.
AC Motor Holdings
AC Motor Holdings was formed in Malta in 2002 and they undertook to obtain the Frimley factory of AC Cars. Working in cooperation with Shelby the company built Shelby Cobras in two series; the CSX1000 and CSX 7500. Of these models 14 of the CSX1000 series Cobras were made and two of the CSX 7500 up to 2007.
The company also set up to produce cars in Malta. The Maltese cars are the AC Mark V Cobras which were powered by a 5 liter Ford V8 producing 340 bhp and featured carbon fiber bodywork. of these, three cars were made with right hand drive and two with left hand drive.
Acedes Holdings LLC
The current situation for the Shelby Cobra is that it still clings to life as a limited production car. Now under Acedes Holdings LLC a new Heritage Series has been announced with Brooklands Motor Company, doing business as AC Heritage for the British and European markets and AC AutoKraft, LLC located in Michigan authorized to make cars for the US market. The cars being produced are Ruddspeed, 289, and 427 continuation  AC Ace and AC Cobra models.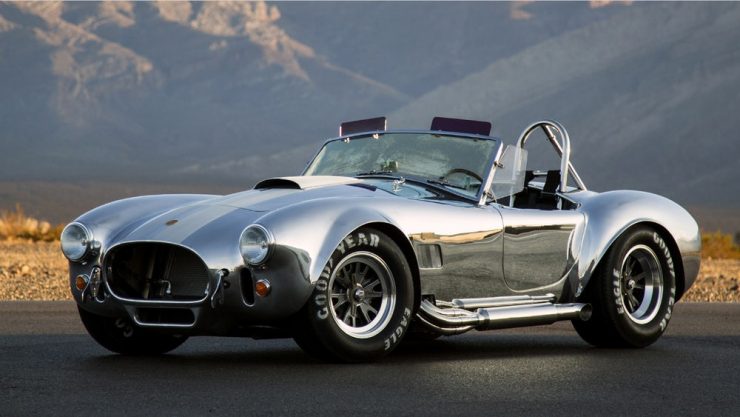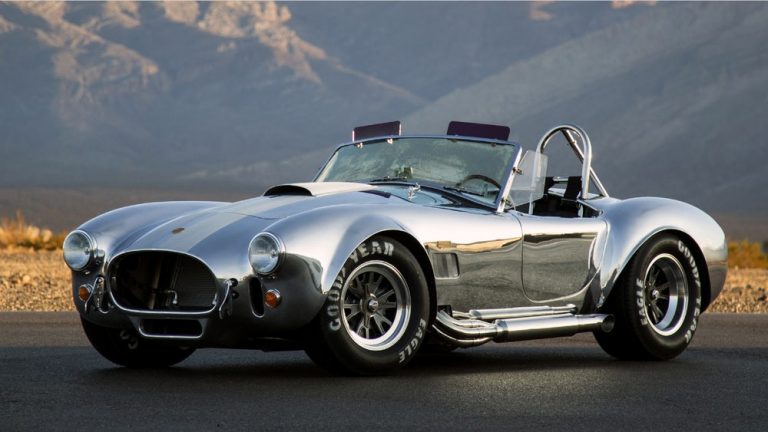 AC have also licensed Gullwing GmbH in Germany, doing business as AC-Automotive to produce a version of the car called the AC Mark VI. This car features a composite body coated with aluminum and is powered by  6.2-litre LS3 Chevrolet engine. The engine is available either conventionally aspirated producing 440 hp or supercharged delivering 550 hp.
More recently Acedes Holdings have arranged production of an AC Mark II Classic (in 2012), the AC Mark1 260 Legacy Edition (in 2017), and the AC 378.
Conclusion
The Shelby Cobra was never built to be a sensible money making project. It was created by a man who was passionate about sports cars and who had a vision for building what might best be described as the greatest fun machine in the automotive world.
As we said in the beginning, this is a car that pushes out quiet and conservative Dr. Jekyl and instead ignites your inner Mr. Hyde. It's a car that makes every driving experience unforgettable. And despite the fact that it is not likely to be a production car that makes enormous sums of money in company profit, it continues to have passionate people taking the commercial risk to continue making them.
Prices of original Shelby Cobras at auction have become so astronomical that a potential buyer might just need to slip a nitro-glycerin capsule under their tongue to guard against heart failure. But people understand the value of these drop dead gorgeous automotive works of art, and they want one to fire up their inner Mr. Hyde.
Photo Credits: RM Sothebys, Mecum, Barrett-Jackson, Fiskens, Worldwide Auctioneers, Dorotheum, AC.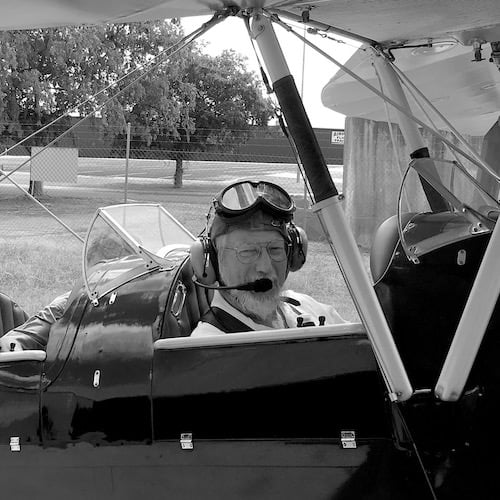 Jon Branch has written countless official automobile Buying Guides for eBay Motors over the years, he's also written for Hagerty, he's a long time contributor to Silodrome and the official SSAA Magazine, and he's the founder and senior editor of Revivaler.
Jon has done radio, television, magazine, and newspaper interviews on various issues, and has traveled extensively, having lived in Britain, Australia, China, and Hong Kong. The fastest thing he's ever driven was a Bolwell Nagari, the slowest was a Caterpillar D9, and the most challenging was a 1950's MAN semi-trailer with unexpected brake failure.