Project 13 Land Rover Defender 90
Reading time: about 4 minutes.
The Story of the East Coast Defender Project 13
The Land Rover Defender 90 shown here has been through a full tear-down and rebuilt at the hands of East Coast Defenders – it was commissioned by professional Major Soccer League player Servando Carrasco and his Olympic soccer star wife, gold medalist Alex Morgan. They worked closely with the team at ECD to choose every element of the new Land Rover, from the engine through to the final paint scheme.
They dubbed it Project 13 as a reference to Morgan's jersey number and the entire rebuilt took place in East Coast Defender's 21,000 square-foot facility in Orlando, Florida. The 29 member team at ECD have been building high-spec Land Rovers for over 25 years, and they're recognised as one of the foremost marque experts on either side of the Atlantic.
Once the tear-down was completed the chassis was fully inspected, before being galvanised for corrosion protection. The original 3.9 litre Rover V8 was removed and a new far more powerful GM LC9 5.3L V8 was fitted in its place – with 326 horsepower fed to the differentials via a GM 6L80E 6-speed automatic gearbox.
A set of BF Goodrich All-Terrain tires were fitted on new alloys, and new rotors and callipers were fitted front and back to improve stopping power. Morgan and Carrasco chose a tasteful Keswick Green for the body (with a black top) – a heritage Land Rover colour that'll be immediately recognisable to marque enthusiasts.
Elsewhere on the exterior a Zunsport grille was fitted, with KBX light surrounds and fender spats/vents, a Masai roof rack was added (on an exo-cage), new rocker guards were installed, along with new running boards and off-road bumpers.
ECD make a point of removing the original wiring loom and completely replacing it, they also added an Alpine touch-screen head unit with Bluetooth and Apple Car Play compatibility as well as GPS and a reversing camera. The original gauges were swapped out for Classic Instruments Moal Bomber gauges sitting behind a Momo steering wheel.
The completed Defender is now significantly quicker that it was before the 2000 hour rebuild began, without sacrificing any of its off-road capability. If you'd like to see more from East Coast Defenders or commission your own you can click here to visit the official website.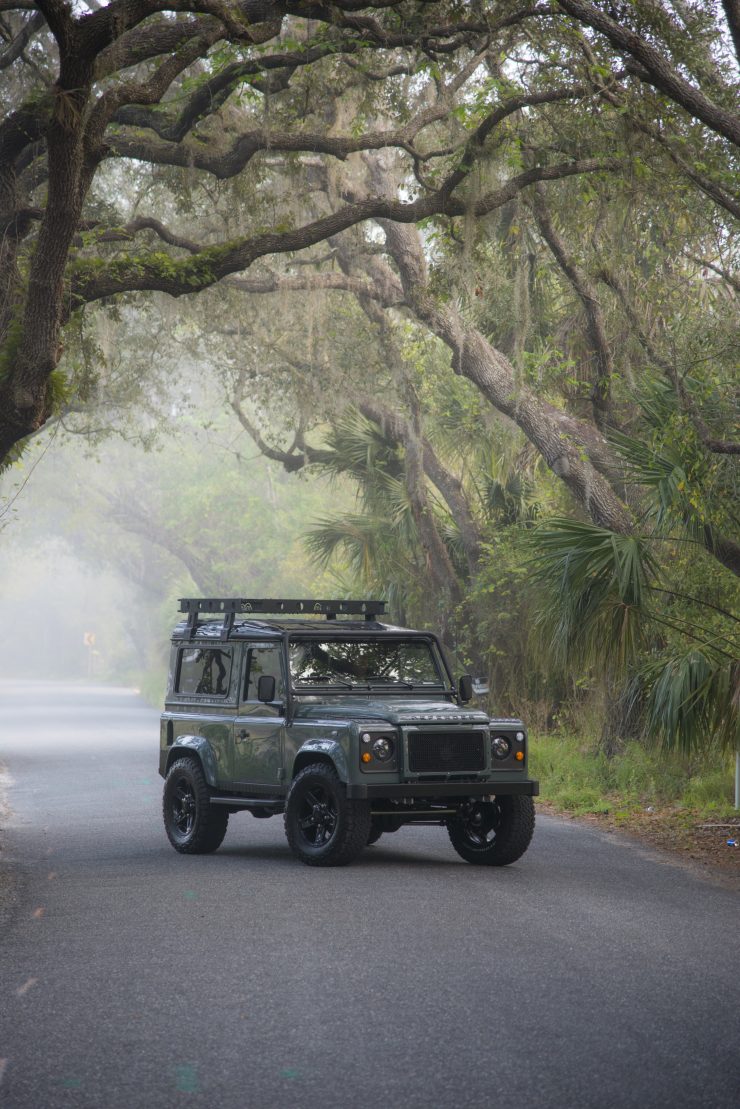 The Story of the Land Rover Defender
The Land Rover Defender was the successor to the Series III, it was originally called the Ninety or the One Ten (a reference to the wheelbase length in inches). As the Land Rover model range grew it was decided to rename the line to Defender 90 and Defender 110 to avoid any confusion.
To say the Defender had large shoes to fill would be a remarkable understatement. The Series I, Series II, Series IIA, and Series III Land Rovers took the world by storm and were very often the first motorised vehicle ever seen by people in developing nations.
The new Defender maintained the same basic structure as the Series vehicles, with a body-on-chassis design utilising a steel frame, a steel bulkhead, and aluminium body panels. Under the skin the Defender had been significantly updated with wider track axles, coil springs as opposed to leaf springs, a full-time 4×4 system borrowed from the Range Rover, and a lockable centre diff.
The interior had seen significant (and some would say overdue) upgrades over the Series Land Rovers, much improving the seats, sound-proofing, dashboard and instruments, and even offering amenities like air-conditioning and stereos.
Over the 3 decades of its production the Defender would get progressively more comfortable without sacrificing any of its raw off-road ability, and examples from the final few years of production are now highly sought after. Land Rover ended stopped making the Defender in early 2016 – largely due to increasingly stringent crash safety laws that the model couldn't meet with its older-style body-on-frame structure.
Land Rover have announced more recently an intention to introduce a new Defender, likely with a unibody design and significantly updated styling. It's widely hoped that Land Rover will stay true to the DNA of the model when they officially unveil the new Defender in 2019 – but only time will tell.
If you'd like to read more about the history of the Defender you can click here.