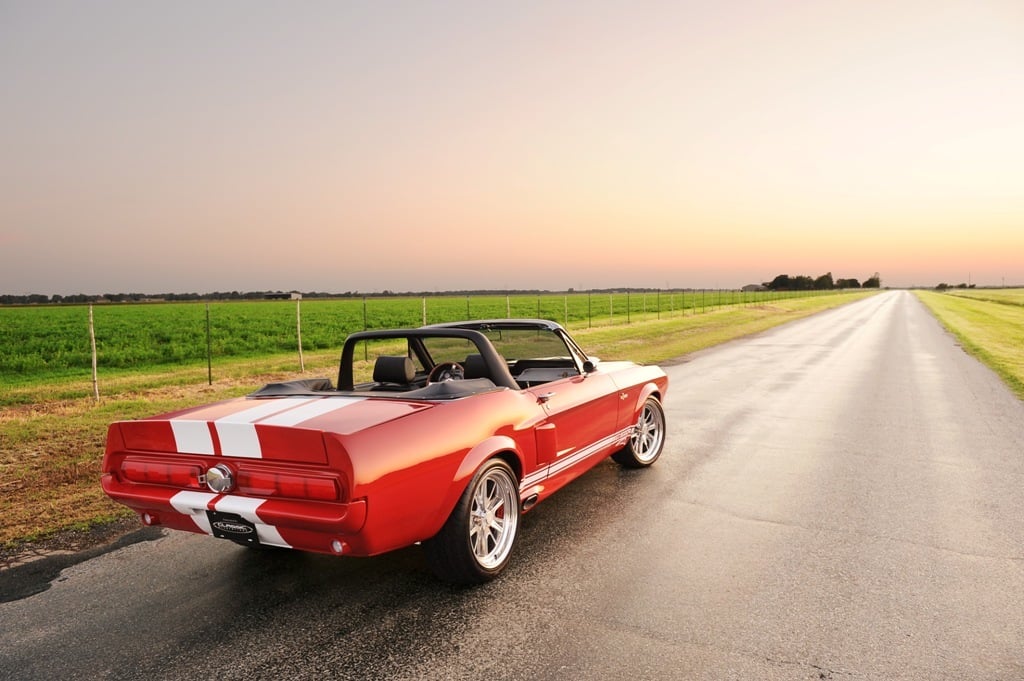 We are somewhat spoiled in the first part of the 21st century, for the first time in human history it's possible to pursue unusual hobbies, interests and pastimes without leaving the comfort of your swivel chair. Whether you're interested in motorcycles, cars, helicopters or planes it's now all laid out in front of you, neatly listed with pictures and descriptions, seller ratings and buy-it-now buttons.
This list is a collection of the coolest stuff we found on eBay over the past week, all of the auctions are still live with a few days left to bid so if you're looking for anything from a '68 Shelby Mustang, to a Honda CM200 Café Racer, to a Rokon Trail Breaker or even a Vietnam era helicopter gunship we've got you covered.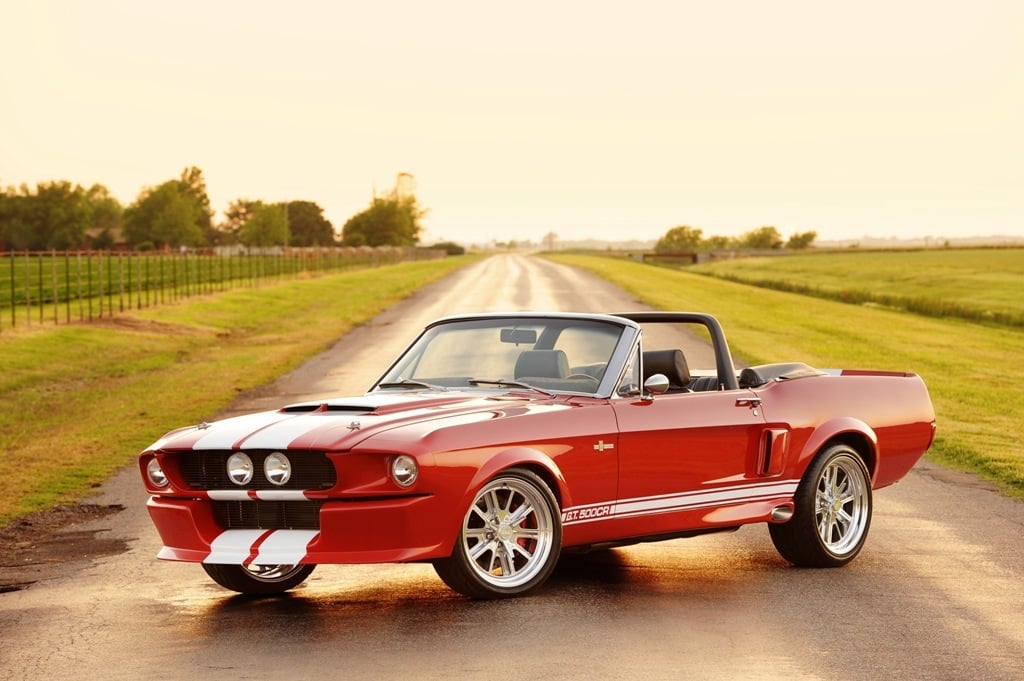 1968 Ford Mustang Shelby GT500CR Convertible
The '68 Mustang will always be synonymous with the classic film "Bullit" and the iconic car chase scene through the streets of San Francisco, though this model isn't a coupe like the one in the film, I have a feeling it may be just a touch faster than the dark green original.
This particular range of Shelby Mustangs are actually made to order from all new parts in Oklahoma, they have race-bred coil over suspension fitted front and back with sway bars, a 545hp 427 cubic inch Ford V8, Mass Flo fuel injection, a Tremec manual transmission, rack and pinion steering, ceramic coated exhaust headers and an interior that'll make living in your car seem like a significant lifestyle upgrade.
All of these "new" Mustangs are listed in the Shelby Worldwide Registry, making them just as authentic as a '68 original without the reliability, rust and handling issues of the vintage, 44 year old models.
If you've been hunting around for a classic Mustang capable of embarrassing a Ferrari in an impromptu drag race, this might just be your ride. Click the link here to view the full listing via eBay.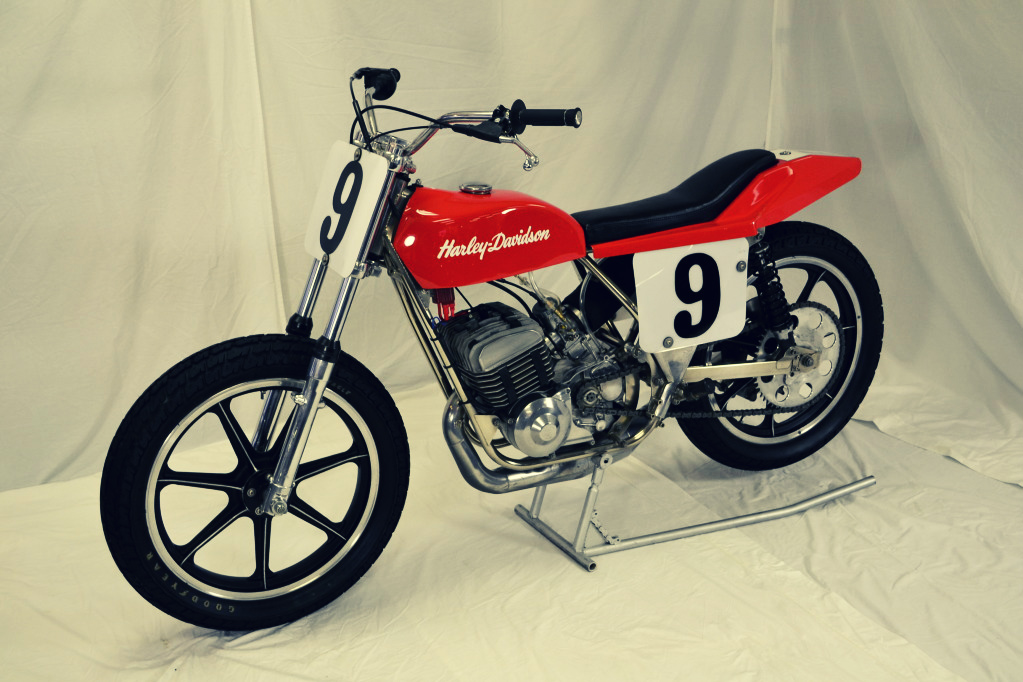 Harley-Davidson MX250 Flat Track Racer
The Harley-Davidson MX250 Flat Track Racer was the result of Harley-Davidson's brief attempt to go motocross racing in the USA, the bike was actually built by the talented Italian engineers over at Aermacchi, which was a Harley subsidiary in the '70s.
This particular MX250 has been modified into a professional-class flat track racer, it has a custom chrome-molybdenum alloy frame and a two-stroke engine that's been tweaked to produce over 40hp (from 32hp as stock). The bike's total weight is a smidge under 200lbs, surprisingly this is over 50lbs lighter than the factory spec Harley Davidson MX250 as built by Aermacchi in '77.
The powerplant in the MX250 had a slightly bi-polar personality and the throttle was more of an on-off switch than your more typical, gradual power delivery system. Overall the bike was a melting pot of international parts including Japanese Kayaba suspension, Spanish Akront wheels front and back, a Japanese made ignition system and an Italian carburettor.
The Harley-Davidson MX250 became known as a serious motocross contender in the late 1970s, sadly, the bean counters at AMF pulled the plug on the program despite the promise that was shown by the gutsy little 250 on dirt tracks around the United States.
This custom MX250 is listed with a Buy-It-Now price of just $6,888 USD, making it the best deal we've seen in the Flat Track section of eBay Motors for some time. If you have a burning desire to kick up some mud, hit the link here to check out the listing.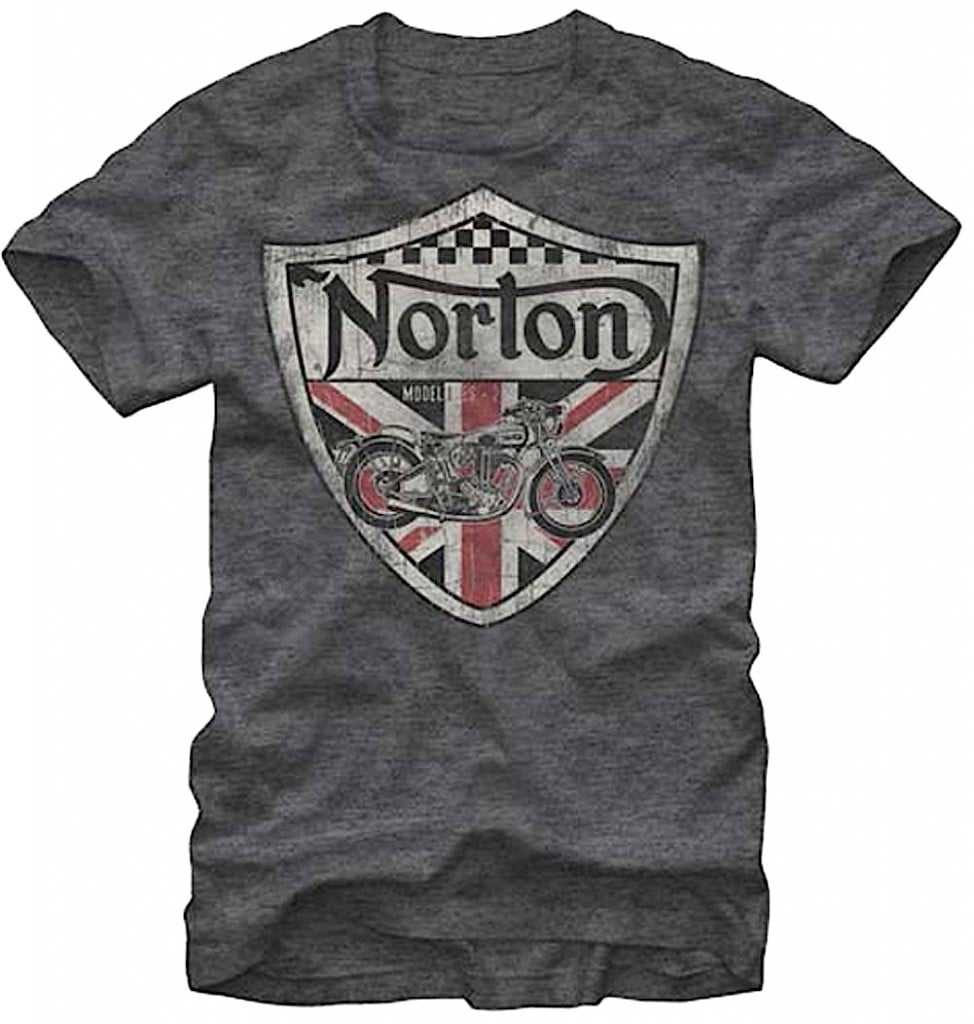 Norton Motorcycles Tee
The Norton Motorcycle Company was founded in 1898 in the British city of Birmingham, they went on to become one of the most famous motorcycle marques in history, they saw racing success around the world and today they're still producing some of the most beautiful bikes you'll find anywhere.
This retro Norton t-shirt features the iconic Norton logo set on a Union Jack shield, the shirts come in 6 sizes and cost just $19.95 apiece via the eBay store here.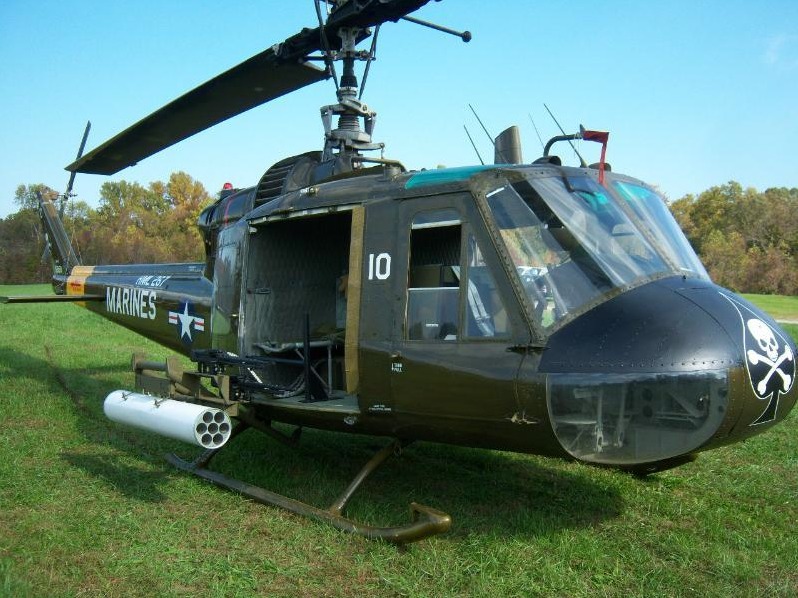 1965 Huey Gunship UH-1E Ex-Vietnam Bell Helicopter
We've all seen Hueys roaring across the skies of Vietnam in almost every movie that's ever been made about the conflict, this particular Huey is an original gunship UH-1E model and comes with all its 1960s era (though sadly non-functioning) weaponry.
The current owner of the chopper explains that it starts up and runs just fine, he's had it checked out by 3 helicopter mechanics and all 3 of them were so confident in its ability they wanted to go fly it after the inspection.
It's previous owner was the Florida Forestry Service and they spent over $50,000 USD on it before selling it on to upgrade to newer H models, in order to be fully airworthy it would need an inspection by a certified UH-1E mechanic and then have its papers resubmitted to the FAA.
This Huey carried some famous people during its time in Vietnam including a 2 star general and a flying cross recipient, it was also flown by famous chopper pilot, author and highly decorated war hero, Clyde 0. Childress.
She's currently for sale on eBay motors out of Annapolis, Maryland with a starting bid of $175,000 USD, if you love the smell of aviation fuel in the morning, you can click the link here to visit the listing.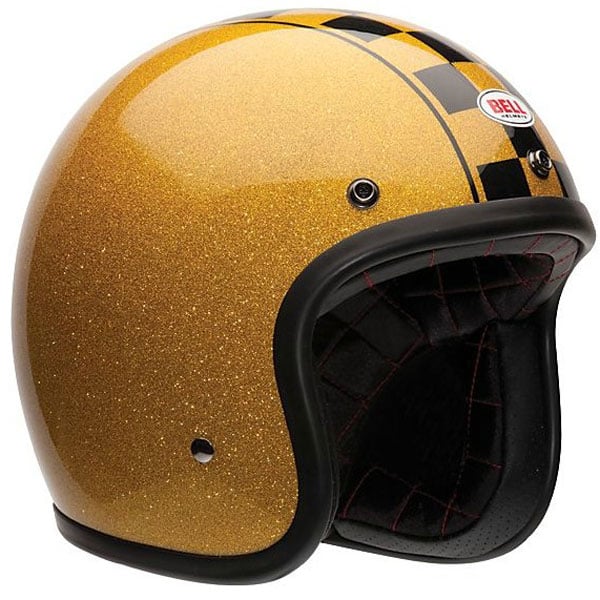 Bell Custom 500 Cabbie Helmet
The Bell 500 helmet series are, arguably, the most famous and most widely used motorcycle helmets of the 20th century. Steve McQueen wore them during his two-wheeled racing endeavours, perhaps most famously in the cult classic film "On Any Sunday".
This new line of 500 series lids is 100% DOT certified and made from state of the art materials and methods, this design is dubbed the "Cabbie" helmet due to it's gold and checkers patterning, it comes with a quilted liner, snaps for shields and visors, a total weight of just 880 grams and a 5 year warranty.
You can pick up an iconic Bell 500 Cabbie Helmet here via eBay Motors for $95.55 USD.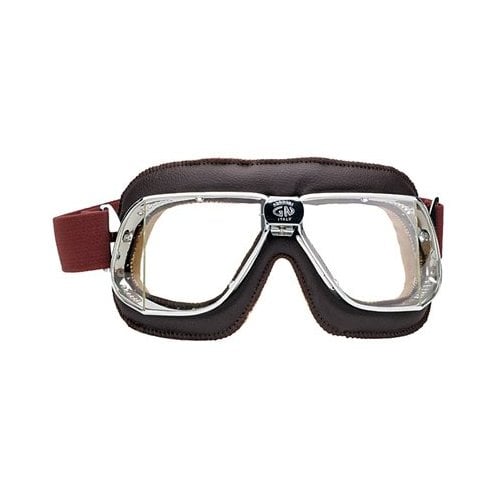 Nannini Motorcycle Goggles
Motorcycle goggles just aren't used often enough anymore, there are some companies out there trying to rectify this issue and one of the best is Italian company Nannini. All of their aviation-spec goggles have hand sewn leather padding around the eyes, interchangeable, scratch resistant, 100% UVA/UVB polycarbonate lenses and a rigid, chrome plated steel frame.
From a purely aesthetic perspective you'll be hard pressed to find goggles that look as good as these and it's nigh-on impossible to find any that are better built. If you need to protect your eyes whilst on your motorcycle, bi-plane or Zepplin, click the link here to take a closer look via eBay here.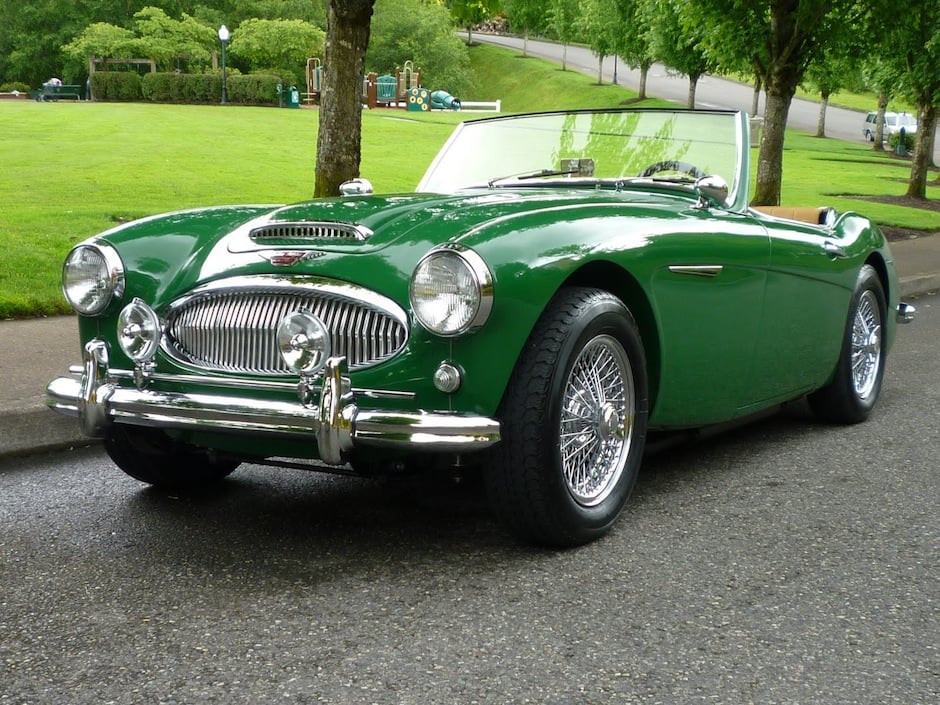 1962 Austin Healey Tri-Carb Roadster MKII
It's undeniable that the Austin-Healey 3000 is one of the most beautiful production cars of the late '50s and early '60s, the visually arresting, flowing lines of the body were built by hand and the famously gutsy 3 litre engine could propel the car to speeds well in excess of 100mph.
This Healey is a MKII fitted with 3 carburettors (known as a tri-carb model), it has an improved camshaft over the MKI and was fitted with wind-up windows, an improved hood and a slew of other, more minor upgrades. These "bug fixes" make the MKII a highly sought after car on the international classic car market and models in this condition are often snapped up within days of coming up for sale.
This forest green Healey underwent a years-long restoration process and is now in better condition than it was when it rolled off the production line in 1962, it's covered 6,700 miles since its rebirth and amazingly it's still fitted with it's original, numbers matching engine, chassis and transmission.
If you're a fan of immaculate, big Healeys, click the link here to view the official listing.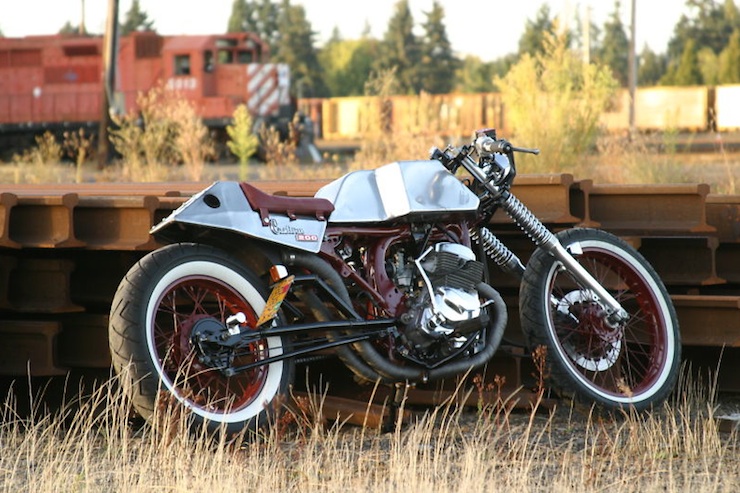 1980 Honda CM 200 Café Racer
The one thing you can always be guaranteed of when perusing the "vintage motorcycles" section of eBay Motors is that you're going to find some very interesting, if slightly unusual, custom bikes.
This Honda CM200 café racer is the perfect example of what I would consider an unusual custom, it's been converted on the rear end to run a mono-shock set up and the front forks have been tossed in favour of an exposed-spring chrome pair. The seat, fuel tank, engine covers and handlebars are all hand fabricated and the exhaust pipes feed out into the slip-stream via openings in the rear cowling.
I have to admit that I'm not entirely sure how this bike would handle on the twisties, though I do think it'd be incredibly fast in a straight-line due to its classic, drag-bike side profile. If you love the look of slightly unusual café racers, hit the link here to take a closer look at this one.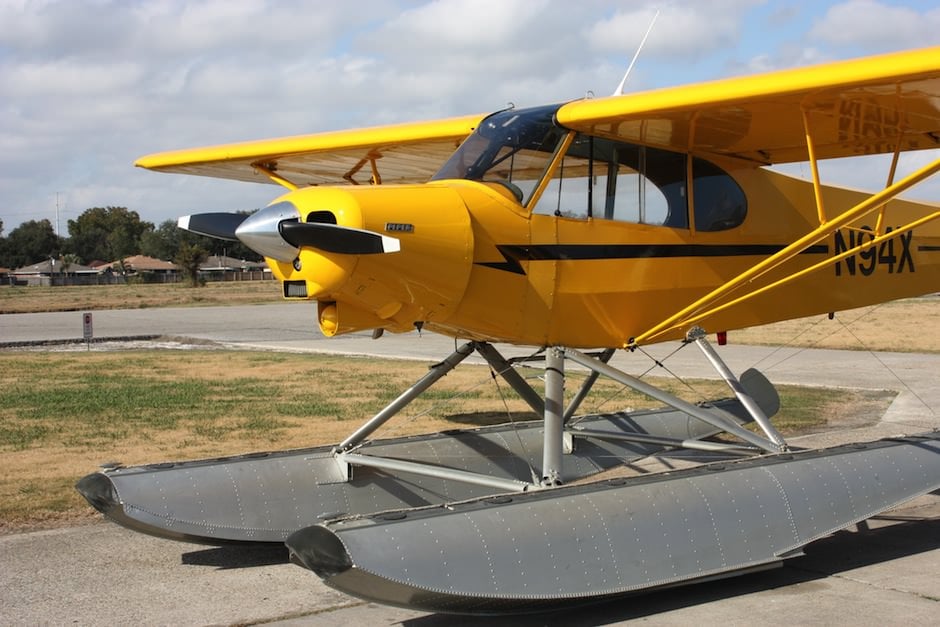 Piper PA-18 Super Cub
The Piper PA-18 Super Cub is one of the most famous bush planes ever made, approximately 9,000 were built during its 40 year production run and the overwhelming majority of them are still in the sky on a daily basis.
The PA-18 employs a simple and reliable build structure of steel tubing overlaid with sealed fabric, this allows the plane to be both rigid and light whilst making repairs to the fuselage and wing area easy enough for most owners to undertake themselves.
This Super Cub is fitted with floats but also comes with large, low PSI 26" tires for dirt runway landings. It's been fitted with all new instrumentation, a 14 volt alternator kit, a heated pitot tube, an extended baggage area, strobe lights, Cleveland brakes and it's been certified to run on regular unleaded auto fuel.
The dream of buying a plane just like this and heading off on a tour of the Alaskan wilderness is something that many people, including me, have high up on their bucket list. If you've got some time to spare and $78,000 handy, click the link here to check her out.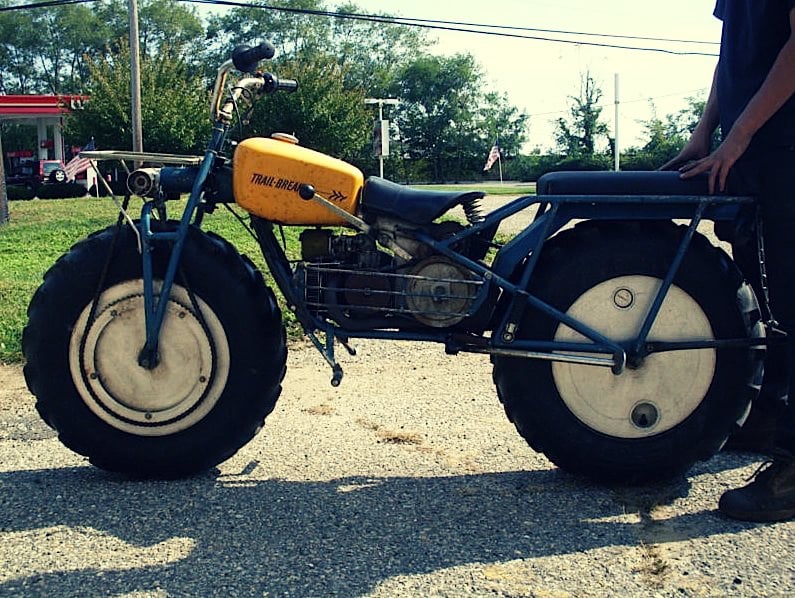 The Rokon Trail Breaker
The Rokon Trail Breaker is one of the most fascinating ATVs ever produced, the remarkable two-wheel drive motorcycle uses a 6.6hp 4-stroke Kohler engine and a series of surprisingly reliable belts, chains and shafts to transmit power to both the front and back wheels.
The tires used are designed to provide adequate suspension and to be gentle on the forest floor with a pressure rating of just 3.5 PSI, the tires contain so much air that it's possible to float the bike across rivers so long as you hold the handlebars upright and walk alongside.
The Trail Breaker is often used by hunters and campers due to its low environmental impact, ability to literally go anywhere and relative quietness compared to trail bikes. The Rokon has a top speed of 35mph and an average cruising speed of about 20mph depending on the terrain, this is one of the original 1970s models and they're known for being indestructible, spare parts are easy to come by and there's a really wonderful community of friendly people that surround Rokon motorcycles.
This Trail Breaker has a Buy-It-Now price of just $2,200 USD, you can click the link here to take a closer look.
DISCLAIMER:
This post is part of eBay Finders, a new partnership that presents collections of items curated by a carefully selected group of motors experts. Meet more of the Finders at ebaymotorsblog.com/tag/thefinders/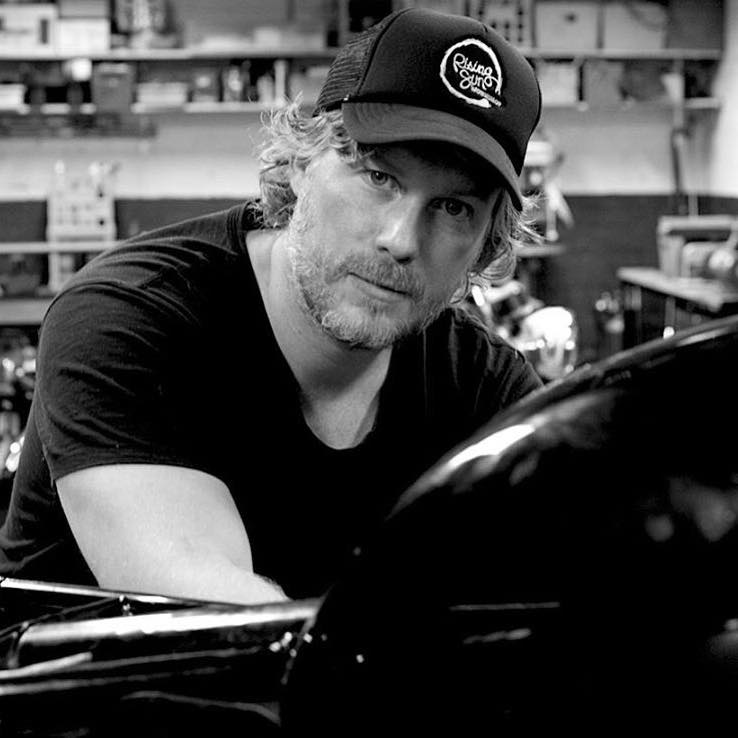 Articles that Ben has written have been covered on CNN, Popular Mechanics, Smithsonian Magazine, Road & Track Magazine, the official Pinterest blog, the official eBay Motors blog, BuzzFeed, Autoweek Magazine, Wired Magazine, Autoblog, Gear Patrol, Jalopnik, The Verge, and many more.
Silodrome was founded by Ben back in 2010, in the years since the site has grown to become a world leader in the alternative and vintage motoring sector, with well over a million monthly readers from around the world and many hundreds of thousands of followers on social media.