A Brief History of the Inline-4 Cylinder Motorcycle
Reading time: about 11 minutes.
Curiously the inline-4 cylinder engine was being fitted into motorcycles very early in motorbike history. I say curiously because we like to think of technology as starting out with the simplest design and then evolving into more complex forms.
So although some early motorcycles were built using a single cylinder or horizontally opposed "boxer" twin, there were bikes being built in Europe and the United States with inline-4 cylinder engines right back around the turn of the twentieth century. The people who are generally credited with first putting into production a viable inline-4 cylinder motorcycle were Belgian firearms manufacturer Fabrique Nationale (FN).
Their first FN Four went into production in 1905. This bike looks a bit like a stretched bicycle with the engine hanging from the bottom tube of the frame with the cylinders going up the side of the bottom tube. The FN Four motorcycles use an IOE (Inlet Over Exhaust) engine with a compression release for easier starting and made in capacities from 350cc up to 750cc. The FN Four also featured a shaft drive powering the rear wheel. The earliest FN Fours were single speed and started by pedalling them along until the engine could be started. By 1908 the bike had a two speed gearbox and later a three speed. The FN Four was a highly capable machine and by 1911 it became the world's fastest motorcycle.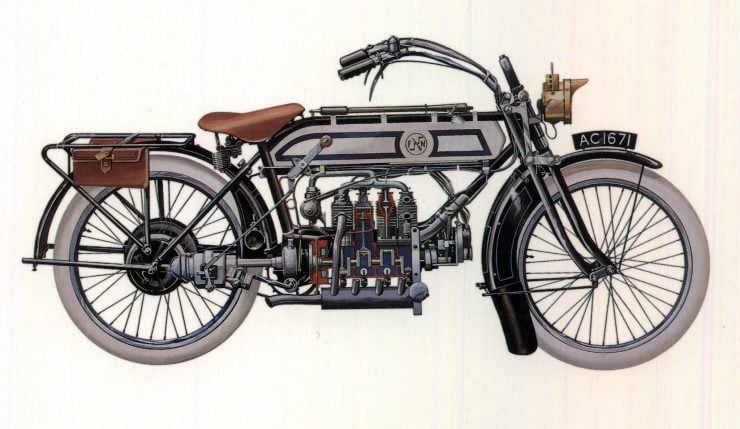 It was around this time over in the United States that a sixteen year old boy named William Henderson joined his family's manufacturing business which was called Winton Motors. In life everybody starts out as a beginner and William Henderson was no exception. He was a young guy with imagination and a passion for motorcycles. So it was that he began sketching his ideas for a motorcycle and showing them to his Dad. By 1909 William's sketches had morphed to become the blueprints for a four cylinder motorcycle and William's Dad realised that his son had a viable and excellent design. William Henderson worked together with his brother Tom to build the first working prototype in 1911.
The bike was so successful that the Henderson brothers were able to secure start-up capital of USD$175,000 to establish the Henderson Motorcycle Company. The factory was established and began production of the Henderson Four in 1912. This was when the FN ceased to be the world's fastest motorcycle. The Henderson had an inline-4 cylinder 59 cu. in. (934cc) IOE engine which drove through a single speed gearbox with clutch. The 1912 Henderson bike had quite a long wheelbase for stability and to allow a passenger to be carried. Back in those days the passenger was not always carried on a seat behind the rider but instead they often sat in front of the rider.
It was later that same year, in October of 1912 that an intrepid adventurer named Carl Stearns Clancy purchased a Henderson Four on which to undertake an around the world tour. Carl Stearns Clancy headed off on his Henderson making money to finance his trip by selling press releases and photographs as he travelled. This was great publicity for Henderson, vastly more credible than modern advertising, and so the journey was very helpful in making the Henderson name widely known. By 1913 Carl Stearns Clancy had covered 18,000 miles on his Henderson, but the clouds of war were gathering and by 1914 the biggest buyers of motorcycles were the armies of the Great War.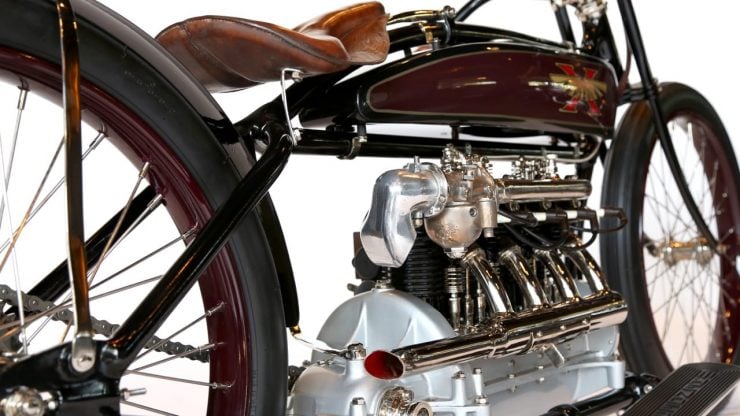 At the end of WWI William and Tom Henderson found themselves facing financial difficulties in part caused by problems in getting raw materials and parts for their business, and getting those materials at affordable prices. They finished up selling Henderson Motorcycles to Ignaz Schwinn who owned Excelsior Motorcycles in 1917. Ignaz Schwinn wanted to add the Henderson Four to top the line of his existing single and twin cylinder motorbikes. This was successful for Ignaz Schwinn and Excelsior whose Excelsior Henderson became a highly respected motorcycle but the sale did not work out for the creative and independent nature of William Henderson who found himself working for Excelsior.
William left Excelsior and started another motorcycle manufacturing company which he called Ace Motorcycles. Tom Henderson wanted some adventure so he left and travelled to Europe. The Excelsior Henderson Four was an F head four cylinder basically the same bike that the Henderson's had been making at that time. William Henderson kept the same basic F head engine design for his new Ace but increased the capacity to 75 cu. in. (1,220cc) and made various improvements including splash lubrication and a bolted on three speed gearbox. William wanted to keep the weight of his bike down to make it light and agile. This desire to keep the motorcycle light and agile had been one of the differences he had with Ignaz Schwinn who did not see a problem with Excelsior Hendersons becoming heavier. The Ace Four began production in 1920 and its weight was kept down to a mere 365lb.
The Ace Four were one of the most beautiful and best handling motorcycles of the era and good ones are much sought after by collectors and enthusiasts today. Sadly William Henderson was killed in a motorcycle accident in 1924 and though sales executive Arthur O. Lemon tried to keep the company going he realised in 1927 that it would be best to sell Ace Motorcycles to Indian. The William Henderson Ace then became the basis for the Indian Four.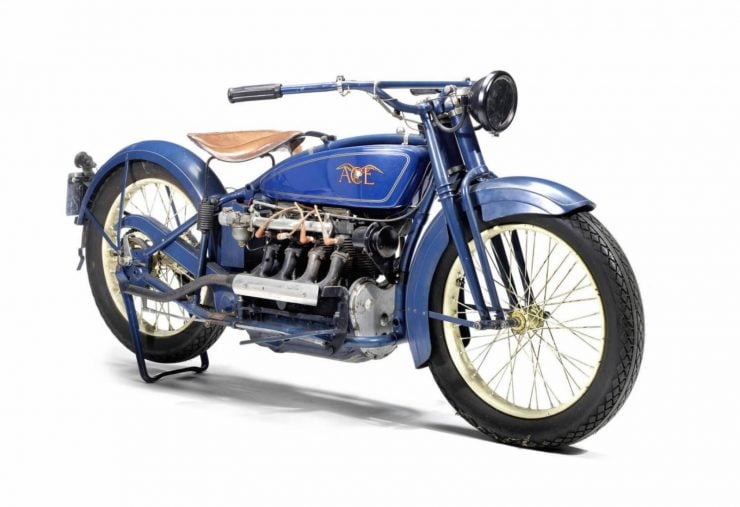 Indian were quick to capitalise on their acquisition of Ace and put their Indian version into production in 1928. This was the Model 401. In 1929 Indian moved to make some significant improvements to the bike's engine by giving it five main bearings instead of the original Henderson three. Indian also fitted an Indian-style twin down-tube frame with leaf spring front forks, the new model being designated the Indian Model 402. Not content with those successful modifications Indian decided to improve the engine by turning the Inlet Over Exhaust the other way up and making it an Exhaust Over Inlet. This created a more efficient engine but it also created an engine with an undesirable tendency to barbecue the rider's inner leg. Indian persisted with this "upside down engine" from 1935-1937 but falling sales finally forced them to revert to the original style of IOE engine much to the joy of Indian's customers.
The Indian Four was in production up until 1941 during the Second World War but did not re-enter production in the post war era. Meanwhile by the second half of the twenties Ignaz Schwinn wanted to re-create the Excelsior Henderson Four to "modernise" and improve it and to make it more like the mainstream motorcycles coming from the likes of Harley-Davidson and Indian. So he hired engineer Arthur Constantine from Harley-Davidson to re-design the Excelsior Henderson Four. The Harley-Davidson engineer improved the durability of the Henderson F head engine by giving it five main bearings instead of the original three, completely re-designed the frame, and gave the bike new stronger forks. The Arthur Constantine design also created the Art Deco styling that was to become a hallmark of American motorcycle styling.
This motorcycle was capable of going from 10mph to 100mph in top gear and was truly an outstanding bike, arguably more capable than pretty much anything else at that time. The Wall Street crash of 1929 created a dark cloud over this engineering and styling success however and Ignaz Schwinn could see the potential for the company to go under even though they had a good chance of survival. It was not a gamble he was willing to take and in 1931 Ignaz Schwinn called his management team together and told them "Today we quit". They ceased producing motorcycles but continued producing Schwinn branded bicycles – which were far more affordable, and better suited to a depressed market.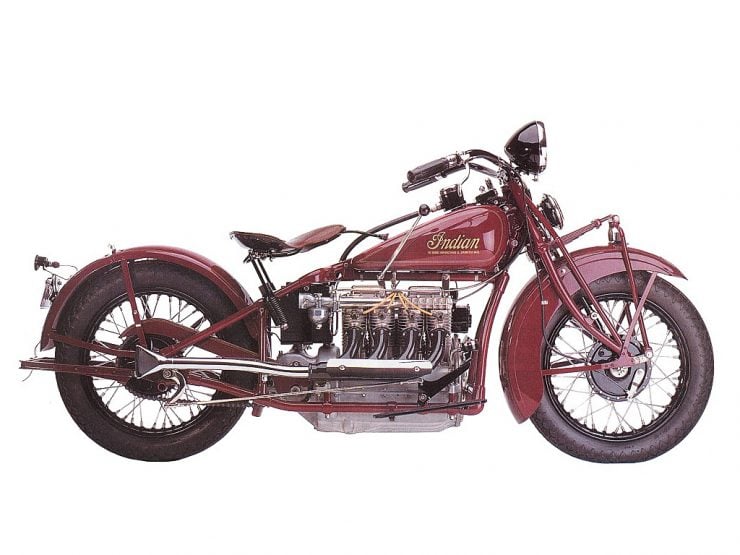 The Second World War had ended production of the United States last surviving four, the Indian, and in the post war era the design was not resurrected by anyone but remained as a revered memory. It would not be seen again for decades and then it would take rather different forms.
Perhaps surprisingly it was the Italians at Gilera and MV Agusta who are largely responsible for bringing the inline-4 back, initially for racing but production models did eventually begin to follow in 1966 with the illfated MV Agusta 600GT. The 600GT had a complex inline-4 with DOHC capable of 50hp, however it was universally derided as being ugly, and so just over 120 were made.
One of the first companies to mass produce an inline-4 after WWII was Honda, who created a bike that was in one sense completely different to the original teenage ideas of William Henderson. But it was a bike that William Henderson would have looked at and likely exclaimed "Why didn't I think of that".
This bike was the Honda CB750. The story of the Honda development of the inline-4 began in 1967 with US Honda dealer Bob Hansen flying to the Land of the Rising Sun to propose to Soichiro Honda that he should build the "King of Motorcycles" aimed squarely at the American market. Bob Hansen's ideas included using Honda's established technology base built up in Grand Prix racing and motorcycle racing to create what was to become the world's first "Superbike". Soichiro Honda decided to put Bob Hansen's ideas into practice and got his design team busy on the project.
Honda's team were well aware that their main competition had been from the British and American motorcycle makers so they knew they needed to create a bike that was reliable, did not leak oil, and was easy to start. Honda created a modern inline-4 cylinder motorcycle engine, the single overhead camshaft air-cooled 750cc unit that Honda would fit transversely into the bike's frame to solve the inherent cooling problem of the Henderson derived bikes, the cylinders at the rear not being cooled as efficiently as the one at the front of the bike. It's likely that Honda engineers took inspriation and engineeering ideas from the Italians, but it wouldn't be until the late-1970s that they would match the technical sophistication of the inline-4 used in the 600GT.
The CB750 was fitted with a front disc brake and an electric starter. It was and still is a phenomenal motorcycle and it did not take long for other Japanese makers to decide that Soichiro Honda's idea was a really great one so they got their own similar models out into the marketplace. Kawasaki were the first to step up to the plate with their 900cc Kawasaki Z1, better known as the "Kwacker 900" back in 1972 when the bike made its debut.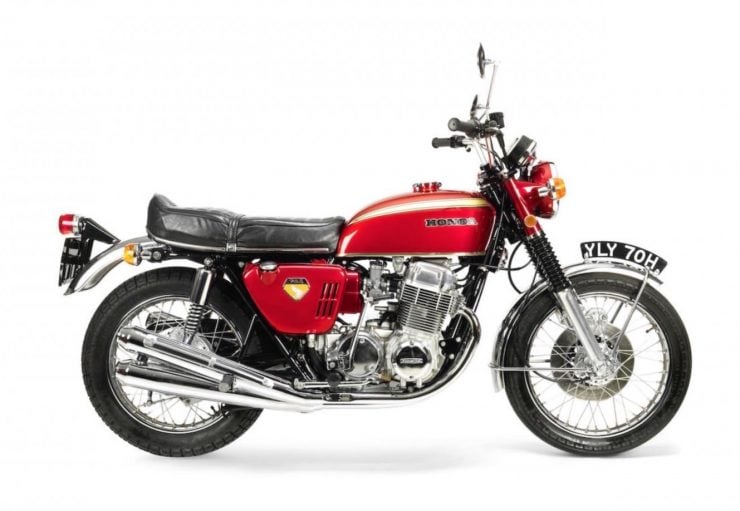 The success of the Honda CB750 and the Kawasaki Z1 got the attention of the Germans over at BMW. The Honda especially had been an industry game changer. BMW's motorcycle engine at that time was a horizontally opposed "boxer" twin cylinder engine that the company had settled on when they reverse engineered a British Douglas motorcycle with a boxer engine mounted longitudinally in the frame at the end of the First World War.
BMW had originally improved on that First World War era boxer engine and mounted it laterally in the frame of their new series of bikes. The resulting BMW boxer engined bikes with their shaft drive had been improved over the years and earned a reputation for reliability and engineering excellence. But the old boxer twin was ageing and BMW were looking for a replacement that could combine performance, reliability, and great handling in a new bike.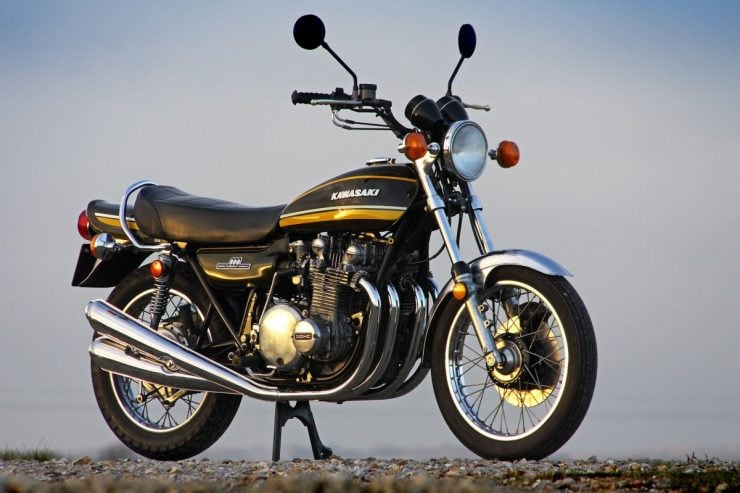 BMW engineer Josef Fritzenwenger came up with the idea that probably took some time to explain to management and get them convinced simply because it was very different to what had become fashionable in the Japanese dominated marketplace. Josef Fritzenwenger's idea was to take a water-cooled small inline-4 cylinder car engine from the Peugeot 104, lay it on its side and mount it longitudinally in the bike's frame. This engine was then connected via its transmission by a shaft drive to the rear wheel. This pretty much created a 1980's bike that used the same basic design thinking as the original 1904 FN Four.
This bike was to become the BMW K100 and it would be in production from 1982-1992. BMW was a company with a lot of experience in working with liquid cooled automotive engines and so the development of the K100 and its smaller three cylinder sibling the K75 meant the design team were able to work with familiar, tried and proven technology to create the new motorcycle. The K100 proved to be an excellent motorcycle, not intended to be a "road racer's" bike so much as to be a great touring motorcycle and a bike of choice for that "Around the World in Eighty Days" adventure you have highlighted on your "bucket list".
The bike earned itself the nickname of "The Flying Brick". The inline-4 cylinder engined motorcycle has come a long way from the idealistic sketches of a sixteen year old named William Henderson. William created the foundational ideas that would not only create the motorcycles that bore his name but also the iconic Indian Four. Soichiro Honda turned Henderson's ideas sideways, and then BMW put them back inline complete with a shaft drive like the old FN. Inline-4s are now a staggeringly common engine configuration in a broad variety of different motorcycle genres, they typically provide smooth power delivery and low vibration – making them ideal for everyone from new riders to those who have decades of experience in the saddle.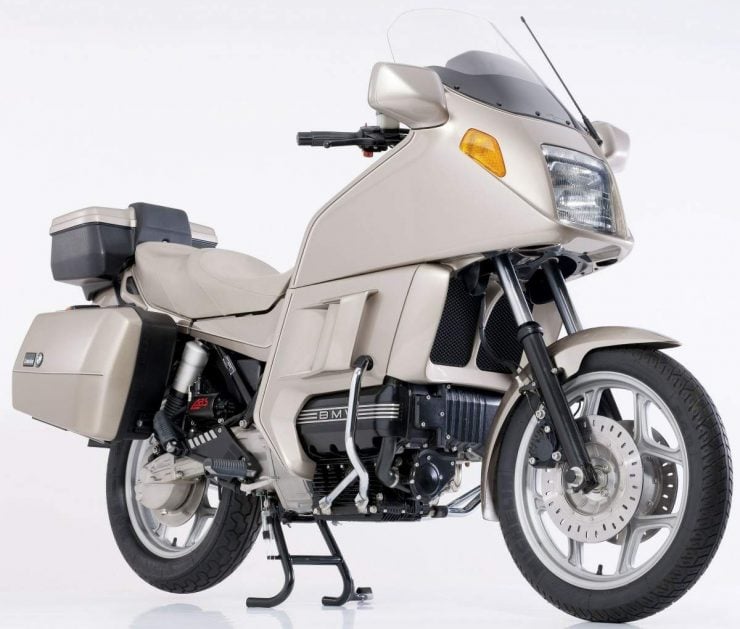 This article and its contents are protected by copyright, and may only be republished with a credit and link back to Silodrome.com - ©2020