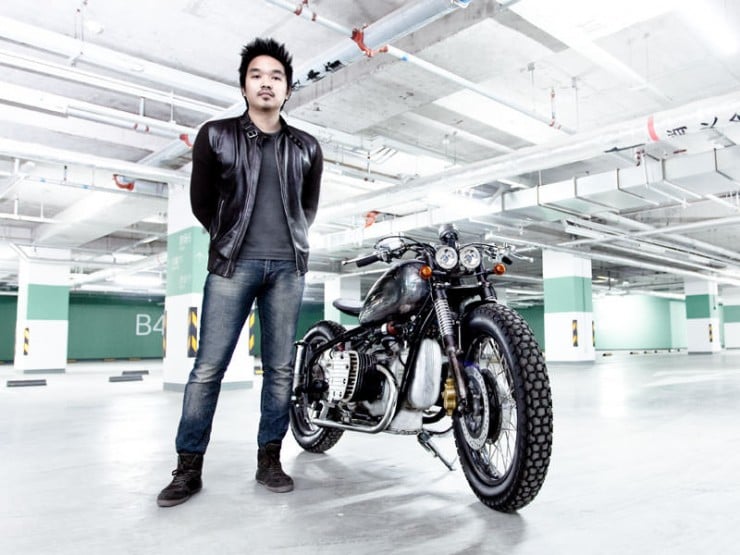 This is the first in a series of interviews on Silodrome by Alicia Elfving aka MotoLady, featuring significant figures from the world of Gasoline Culture.
Daryl Villanueva is the founder and director of Bandit 9 Motorcycles, a custom garage based in Beijing that's been turning out some genuinely phenomenal motorcycles over the past few years – earning them a place on any short-list of the world's most innovative and interesting custom motorcycle garages.
Q – Tell us a little about yourself – you know, the basics.
A – So I was born in the Philippines. I went to Hong Kong when I was about 6 and was there for about 8 years. I then moved to Melbourne, Australia for 2-3 years. Went to high school and graduated in Malaysia.
My dad had to move around a lot so he took us everywhere he went. I hated it when I was younger but looking back it's probably the best thing that ever happened to me. I'm super thankful for it – growing up with a lot of kids from different backgrounds. I mastered the art of swearing in 8 different languages, calculating time zones and different currencies, it was a lot of fun.
After I graduated in Malaysia, I moved over to Los Angeles to study graphic design and eventually discovered advertising. I became an art director for an advertising agency called TBWA\Chiat\Day – the dudes that did all the cool dancing silhouette iPod ads, I was working on PlayStation which was a lot of fun. After 3 years in LA I decided to move to Dubai and continue my career in advertising there, that was a surreal experience. Then after 3 or 4 years in Dubai, I moved to Saigon, Vietnam and was there a little over a year. Then finally, Beijing!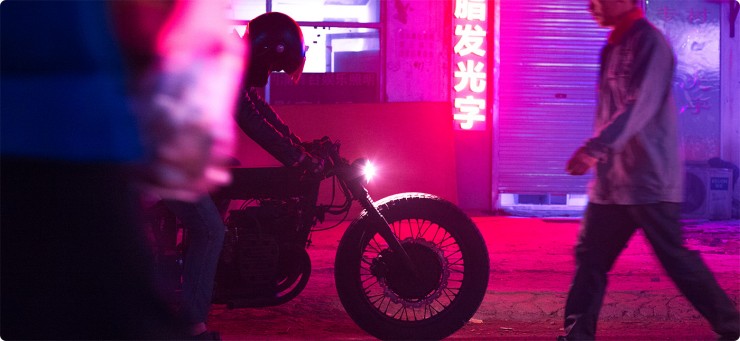 Q – So now you're in Beijing, building bikes and living the dream! What got you into motorcycles, and more specifically what got you into building them?
A – I actually started in Saigon in 2009, hence the 9 in Bandit9. My very first motorcycle was a 50cc Honda Cub, well it's more of a scooter but who cares. But riding on that thing, it was like achieving nirvana. I used to go out for these midnight rides with my girlfriend (at the time), and Saigon is so beautiful. The streets were completely empty, stars above you, a very still lake on one side and jungle on the other, it's completely quiet except for the buzzing of the 50cc engine. There was something really poetic about the ride itself and yeah, something kinda clicked inside me. So I started small, with a paint job, then I amped up my skills working on larger machines and doing more complex work.
Q – So your first build was Loki, what inspired that bike? How did it come to be?
A – So I was new to Beijing working in advertising and looking for a bike to roll in. I must have been looking for months and I couldn't find a bike that really spoke to me. So i said fuck it and decided to build a bike instead of buy one.
I was watching a Top Gear special on the Jaguar E-Type… and so I drew some inspiration from that classy English green, which is where Loki gets it's green from. I put the bike up online, it gained quite a bit of momentum and it was my girlfriend (now ex) that gave me the idea to start up Bandit9… so Loki became the first bike of the fleet. To be honest with you, we've come a long way since that bike, but i'll never forget Loki. It kinda got us on our way, so I'm very thankful for that bad boy.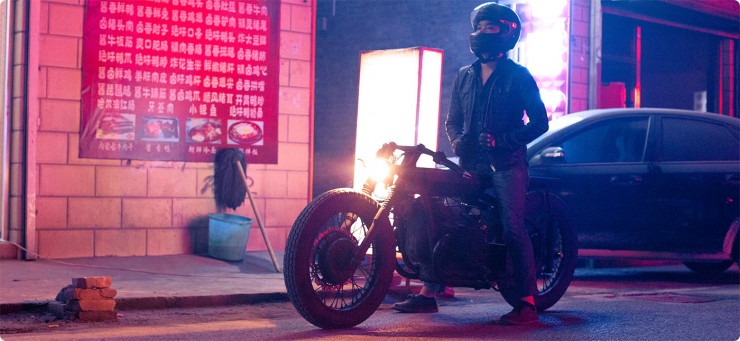 Q – There's a pretty stark difference between Magnus and Nero- the angled tank and tail sections being just the start of it. Was there a big inspiration for going that direction and how quick of a transition was that for you?
A – Hehe, yeah… I'm not really sure what i was thinking!
I guess I was just trying to push myself to stay out of my own comfort zone. I really hope I don't ever fall into the trap of getting too comfortable- I'd really like to keep experimenting. Failing has never really bothered me and I hope I don't lose that. I want to keep building with the chance of completely failing. I guess that's my new business model.
Magnus was more of an art experiment, if you will. I had a few classes on metal sculpting and one of the coolest things I learned was about were the effects of burning metal. So the thing that makes Magnus stand out is the lack of a paint job. Instead of going in there with a paint gun, I went in there with a blowtorch. So I burned the shit out of the tank and the frame, and once the metal cools down and you wipe off the residue, you get this beautiful organic pattern. It makes the bike look like it's made of stone. I'm not sure if it's clear in the photos but the tank looks like a giant pebble which is quite cool. As for the rest of the bike… well, I didn't want it to look like your average Chang Jiang (the base model of the bike) so I basically scrapped all the original parts and crafted our own specifically for Magnus. I kinda went nuts with the gas cap- I used an old crankshaft to get that chunky look. The speedometer was embedded in an old headlight, which I destroyed. I wanted to show the guts of the speedometer so all of it's actually exposed in the back. I'm also a big fan of watches and I thought the speedo had this quality of a classic watch.
With all my builds there are no plans, no sketches, no 3-D renderings. I kinda have this rough idea in my head and I just go for it. I don't like locking designs on paper. There's something to be said about discovering the bike as you build it. I guess it's like the difference between seeing a country on a tour bus versus venturing out there on your own and discovering the country for yourself. There's something deeper in the experience of discovering a bike and it kinda forces you to think that you can do better.
So the time difference between Magnus and Nero… not long, maybe a month? I already had a rough idea of what I wanted to with Nero while I was building Magnus… we just needed a bit of down time.
With Nero I wanted to create something raw and visceral but beautiful. I took a lot from Giger's work- if you take a look at his art there's something raw but very sensual about it. So I tried to incorporate some of the ideas Giger put in his work onto the Nero. Even though the bike is incredibly rigid there are areas with gentle curves. The tank has a very subtle curve if you look at it from the top. The handlebars, which are directly welded to the fork, also have really gentle curves. Same story with the exhaust pipe, it just adds this organic quality to the bike. Nero looks mechanical but alive at the same time. We purposefully left some of the wiring loose and exposed so it feels like you can see the bike's nervous system. And when you start up the Nero, man, it really sounds like a monster breathing. It even spits fire sometimes.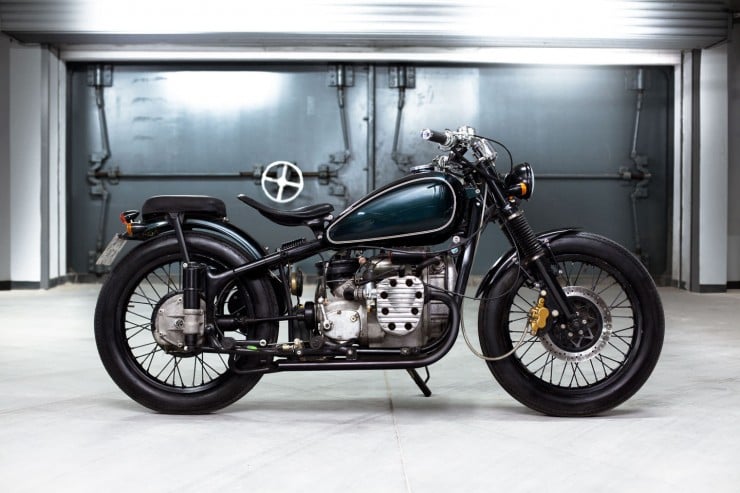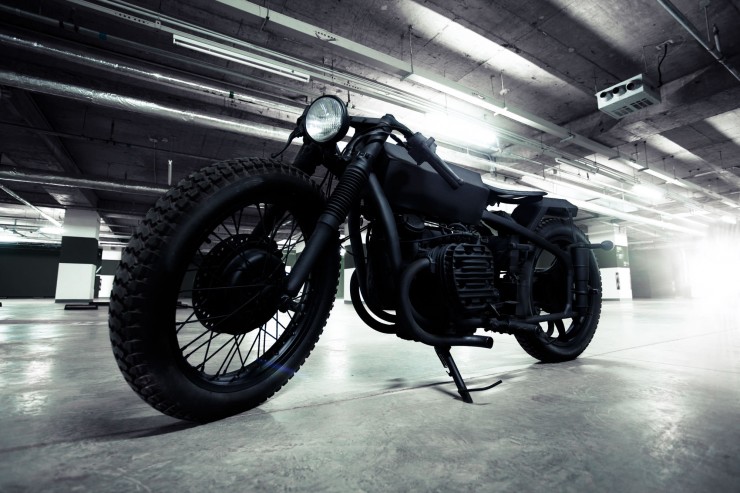 Q – So, you've built quite a few bikes in the four years since you've started Bandit9. Do you have a favorite bike… favorite client?
A – Well I really like the last one we built, the Nero Mark II. It's everything I wanted to do with the original one. I feel like it's more of a mature design than the original, the silhouette of the bike is completely flat, which was insanely hard to do. The embedded brake light is such a nice touch, I love the shape of it. I feel like I put most of what I've learned into the Nero Mark II and we took our time with it.
As for my favorite client… well, it's this dude who used to be a Ferrari Designer. What a cool guy. He invested in a Nero Mark II without seeing a single sketch, so he went in blind and so did I quite frankly. But he had a lot of faith in what we were capable of and he gave us the space to do "our thing" and that really made me want to work even harder. He had a lot of valuable input in the design of the Nero MKII as well, so we incorporated a lot of his thoughts in there. I always thought of him more as partner rather than a client, and I enjoyed building the bike with him.
Q – From magical midnight starlit rides on a cub to building custom motorbikes with a retired Ferrari designer… do you have any big plans for the future?
A – Yup, a few things! Starting small, we're gonna start creating non-motorcycle products. the motorcycles aren't exactly cheap and I really want everyone to be part of the Bandit9 family. So we'll try to create affordable products that are just as fun as the bike themselves.
Now the big stuff, as I mentioned earlier, we're going to start a Bandit9 in Saigon early 2014.
I just went back for a two week trip and I got back on the cub that inspired everything. I realized one really important thing… we've kinda forgotten what the "joy of riding" really means. The simplicity and philosophy of it.
You don't need a fancy high-end bike to enjoy the feeling of freedom. As soon as I turned the throttle on the cub I was thrown into a flashback- I was 25 again, going for a midnight ride with my girl on the back. Nothing but the stars above me, the road ahead of me and the sound of the raspy little engine around me. Life was simple again… and that simplicity is kinda what gives you that emotional connection with the machine. The cub isn't just a bike… it's a time machine. So yeah, I'm opening up Bandit9 Saigon hoping to share that feeling with everyone. And by simplicity, I don't mean stripping down a motorcycle… I'm talking about simplicity as a philosophy. The idea is to share that experience with everyone by creating beautifully designed, affordable bikes… I want everyone to experience it regardless of the size of their wallets.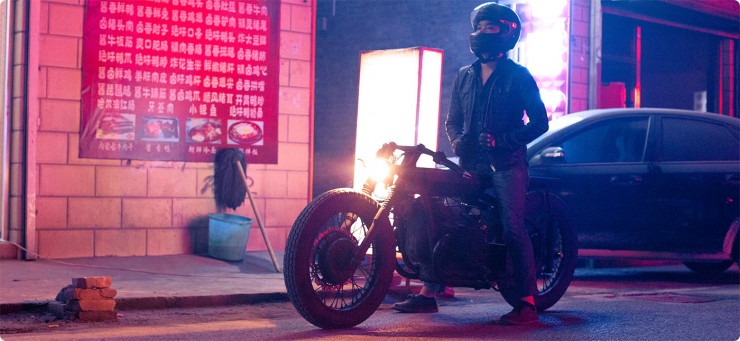 Q – You obviously feel pretty passionate about motorcycles, and moreover sharing the feeling of the ride with anyone who'd like to try. Did anything or anyone in particular inspire you to start?
A – I went for those midnight rides because my ad job was ridiculously stressful. I wouldn't be able to sleep thinking about work, I couldn't focus on conversations because my mind's back in the office… I was never present. So the midnight rides were, let's say, an escape from that. It was a form of meditation for me. I was relaxed, present, I had my eyes open and appreciated everything around me. It was simple. I actually think that it was my girlfriend's idea and her way of calming my mind down and slowing time. For the last few years, I've been trying to chase that feeling again. I'm always looking for that "high"- not in a druggie sense, but in an enlightenment/epiphany sense.
Q – When you're not out riding, or in the garage building, do have favorite builders you follow?
A – I'm certainly a big fan of Shinya. The guy has this crazy dedication to his craft, and his bikes are built like a refined Samurai Sword. The man basically reimagined the motorcycle and I love how wacky and out of this world his bikes are. What's really cool is that he's not in it for the fame or the glory, the fame and glory chased after him.
Bandit9 has a lot of catching up to do… give me 50 years, maybe we'll be half as good as that guy.
Q – Lastly, where can we keep up with you online?
A – Well Bandit9's gonna open up a proper journal/blog really soon on our official website: www.BanditNine.com we use our Facebook Page to chat with our humble following and if anyone has any questions or wants to send me love or hate mail… my email's open to everyone :) daryl@banditnine.com
I'm always looking for negative feedback (constructive that is…) so feel free to drop me a line.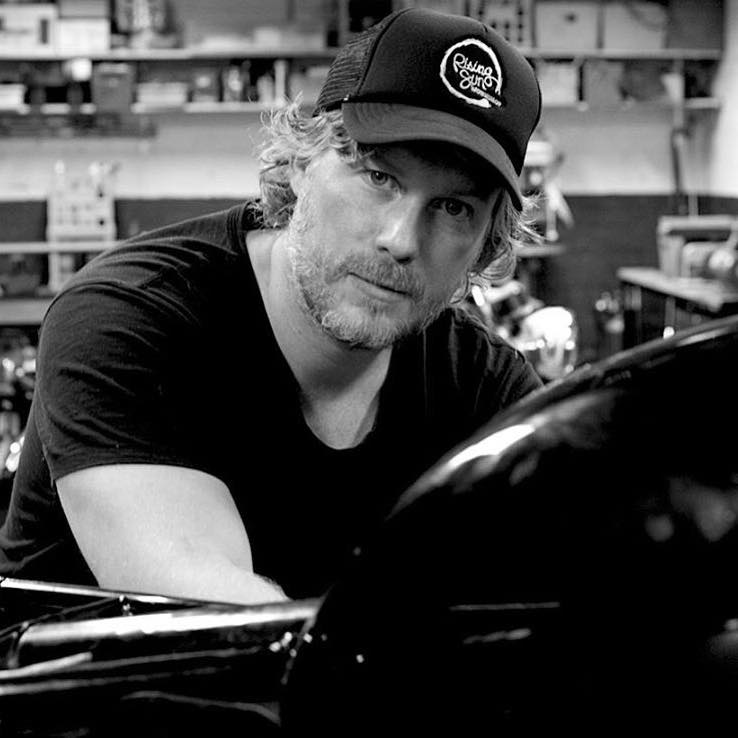 Articles that Ben has written have been covered on CNN, Popular Mechanics, Smithsonian Magazine, Road & Track Magazine, the official Pinterest blog, the official eBay Motors blog, BuzzFeed, Autoweek Magazine, Wired Magazine, Autoblog, Gear Patrol, Jalopnik, The Verge, and many more.
Silodrome was founded by Ben back in 2010, in the years since the site has grown to become a world leader in the alternative and vintage motoring sector, with well over a million monthly readers from around the world and many hundreds of thousands of followers on social media.