The Porsche 911 Turbo was originally developed as an homologation special that would allow Porsche to take a high-performance turbocharged version of the 911 racing in FIA Group 4 and 5 competition. It quickly became a performance car icon in its own right, and it remains one of the most desirable vehicles of its age.
The 1978 Porsche 911 Turbo you see here is finished in Arctic White with the timeless Martini livery. It has 75,681 kms on the odometer, it rides on a set of 16 inch Fuchs alloy wheels, and it has a black interior with a 3-spoke steering wheel, VDO dials, and a stereo.
Fast Facts – The Porsche 930
Porsche engineers led by Ernst Fuhrmann first started experimenting with turbocharging in the late 1960s, they originally used it on the Porsche 917/30 Can-Am race car to great effect.
This newly-perfected turbocharging expertise was then focused on the company's most famous production car – the Porsche 911.
The initial plan for the Porsche 911 Turbo, known internally as the Porsche 930, was to develop a homologation special race car to compete in FIA Group 4 competition.
When it was released in 1975 the Porsche 930 began selling far faster than Porsche had anticipated. They sold hundreds in the first year and 1,000 before the middle of 1976. They had a new halo car on their hands and it quickly became a legend.
What Is Turbocharging?
Turbocharging is an automotive technology designed to increase an engine's power output without significantly increasing its size or weight. In simple terms, turbocharging allows an engine to produce more power by forcing more air (and thus more oxygen) into the combustion chambers.
Above Video: This episode of "The Big Thing" with Magnus Walker goes into detail about the history of the Porsche 930 including plenty of onboard driving footage which includes the sound of that iconic engine.
This enables the engine to burn more fuel, resulting in a significant boost in horsepower and torque, leading to improved acceleration and overall performance.
What we now know as a turbocharger was first patented back in 1905 by Alfred Büchi in Switzerland. It took 10 years for the first functional prototype to be completed and another 10 years for them to be used in a commercial application – on 10-cylinder diesel engines used in large passenger ships.
A turbocharger consists of two primary components: a turbine and a compressor. The turbine is connected to the exhaust system and is driven by the engine's exhaust gases which exit the exhaust ports at considerable velocity. This energy would otherwise be wasted, but a turbocharger makes good use of it.
As the exhaust gases flow through the turbine, it spins at high speed, which in turn drives the compressor. The compressor is responsible for drawing in fresh air, compressing it, and then forcing it into the engine's combustion chambers. This increased air (and oxygen) supply allows the engine to burn more fuel, producing more power.
Turbocharging offers several benefits, including increased power output, better fuel efficiency, and reduced emissions. By utilizing the engine's exhaust gases, a turbocharger can help a smaller engine produce power equivalent to a larger, naturally aspirated engine while maintaining better fuel economy.
However, there are some drawbacks to turbocharging, such as turbo lag, which refers to the delay in power delivery as the turbocharger spools up. Additionally, these engines may require more maintenance due to the added complexity and higher operating temperatures associated with turbocharging systems.
Turbocharging Comes To The Porsche 911
The first turbocharged production cars were the Chevrolet Corvair Monza and the Oldsmobile Jetfire which had both been introduced in 1962. Interestingly the Corvair Monza used an air-cooled flat-six engine, similar to the engine used in the then-new Porsche 911.
Porsche engineers led by Ernst Fuhrmann first started experimenting with turbocharging in the late 1960s, they originally used it on the Porsche 917/30 Can-Am race car to great effect and soon began looking at turbocharging the 911 to boost its performance – initially the plan was focussed on racing the car rather than creating a long-lived production car for consumer use.
They didn't know it at the time, but the car they developed, internally codenamed the 930, would become one of the most significant Porsches ever made with a reputation for exceptional performance – if the driver was skillful enough to manage it that is.
Thanks in no small part to FIA homologation rules for Group 4 and Group 5 racing, Porsche had no choice but to build and sell at least 400 turbocharged production cars within 24 months from their regular dealerships to consumers in order to homologate the car for racing.
Though there was some initial trepidation from Porsche about whether the considerably more expensive turbocharged variant of the 911 would sell in enough volume they needn't have worried. They sold the required 400 cars in 1975, the first year it was offered for sale, they then hit 1,000 cars sold by May of 1976.
Porsche's car for FIA Group 4 was the 934 which was quickly followed by the Porsche 935 which was the Group 5 entry. Both became among the most successful race cars of their time and they're remembered today as two of the most important Porsches of the era.
The Arrival Of The Porsche 930
When developing the drivetrain of the production version of the Porsche 930, Fuhrmann and his engineering team seem to have taken a "simple is better" approach. They took the 3.0 liter Porsche 911 flat six and lowered the compression ratio to 6.5:1, they then added a single KKK turbocharger with no intercooler.
Power was sent into the tough Porsche 4-speed transmission, chosen as it was said to be stronger than the 5-speed box, and from there to the rear wheels.
It was decided that wider wheels and tires would be needed, and so the body work was given flared wheel arches front and back to accommodate them – a look that would become distinctive for the model.
The suspension and brakes were similarly upgraded, which was deemed essential as the 930 was developing 256 bhp at 5,500 rpm and 243 lb ft of torque at 4,000 rpm – vastly more than the standard 911 it was based on.
The first major upgrade to the 930 arrived three years after the initial introduction in 1978. This newer version featured a larger 3.3 liter flat-six and an air-to-air intercooler, increasing output to 296 hp at 5,500 rpm and 304 lb ft of torque at 4,000 rpm.
Other upgrades included a re-profiled "whale tail" spoiler, uprated shock absorbers, larger diameter rear torsion bars, new anti-roll bars, and brakes that were sourced from the Porsche 917 race car.
There were a number of other upgrades over the 930's history until it left production in 1989, to be replaced with the new Porsche 964 Turbo in 1991. Porsche has kept the 911 Turbo in production ever since, as the primary halo car of the 911 model series.
The 1978 Porsche 911 Turbo Shown Here
The car you see here is a desirable 1978 Porsche 911 Turbo, this was the year that the car received the upgraded 3.3 liter engine and the air-to-air intercooler which increased power to almost 300 bhp. The car also received a slew of suspension and brake upgrades, making it notably quicker than its predecessor.
This car is finished in Arctic White with a Black interior, and it's currently wearing a tasteful Martini livery – though this can be removed if the new owner so wishes, it's a decal kit rather than a custom paint scheme.
It has 75,681 kms on the odometer, which works out to approximately 47,043 miles. It's now being offered for sale out of Anzing, Germany on Collecting Cars and you can visit the listing here if you'd like to read more about it or register to bid.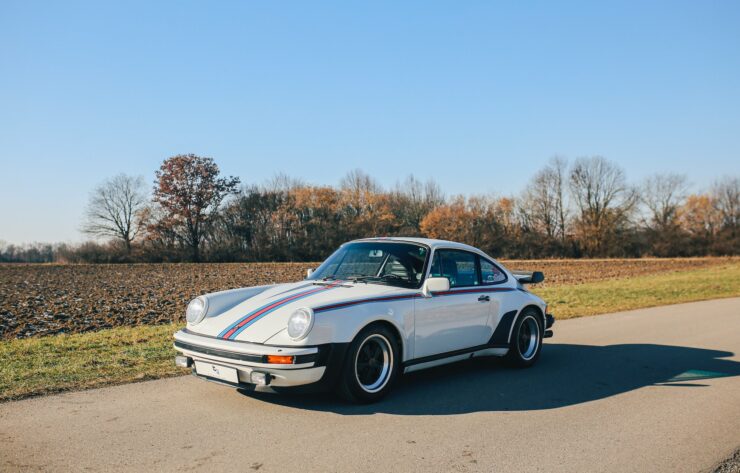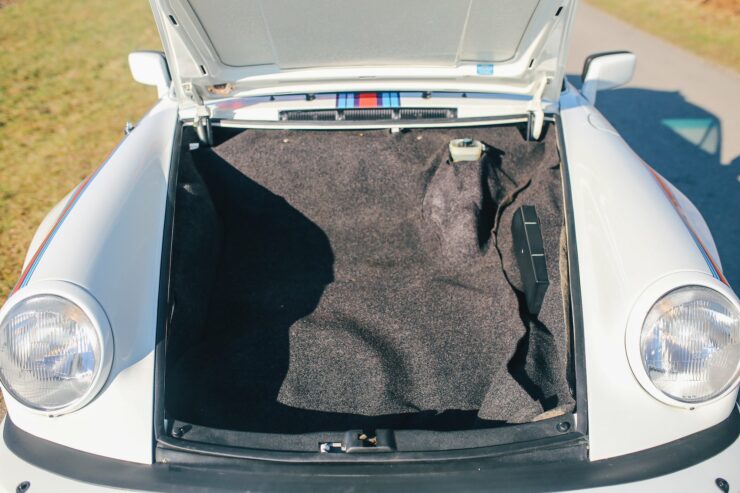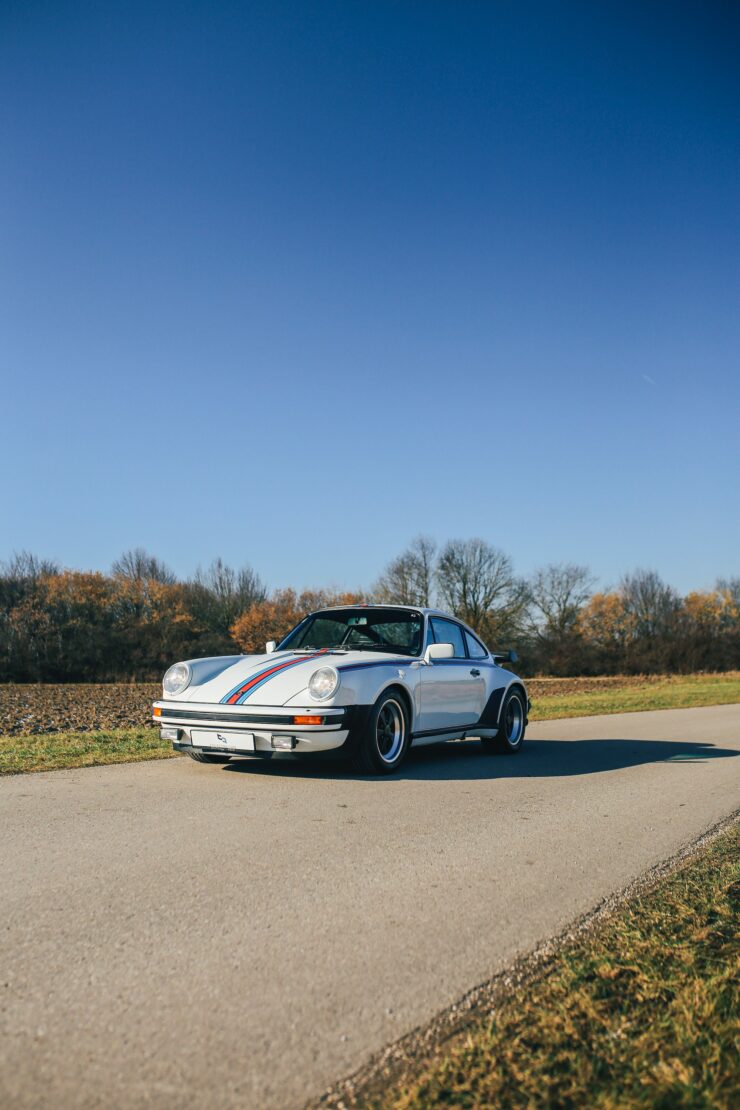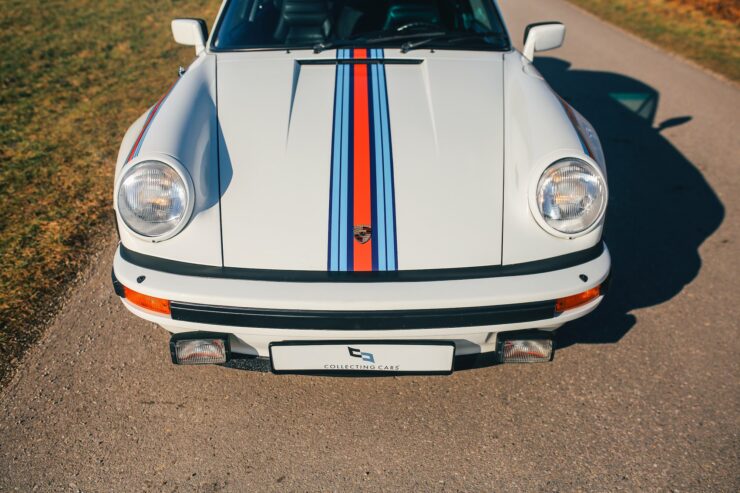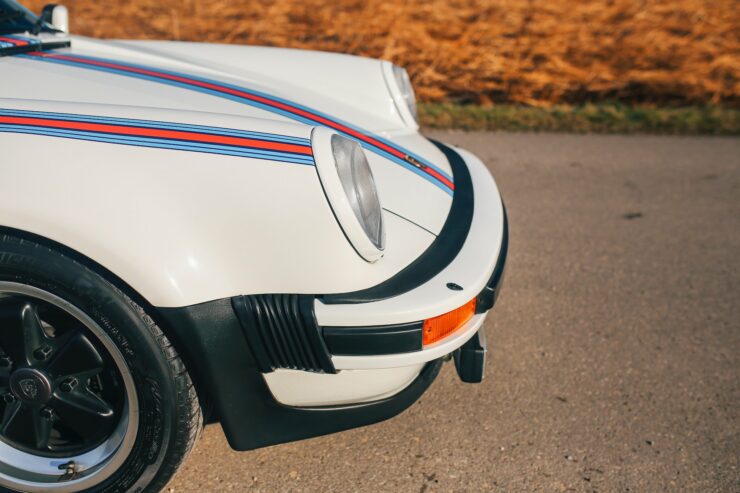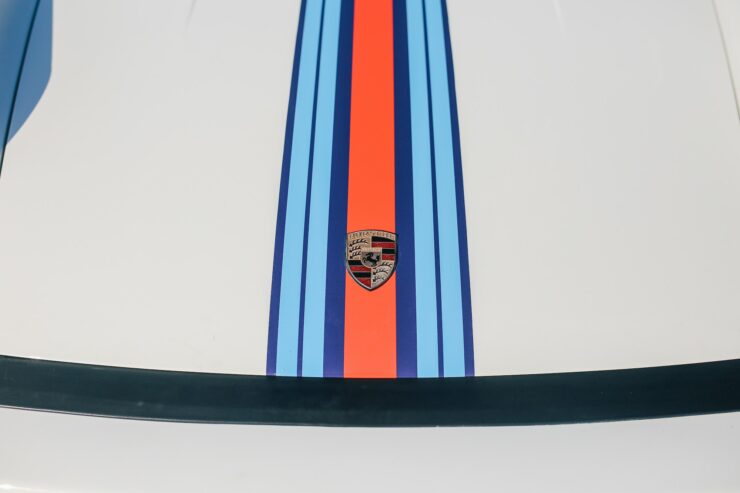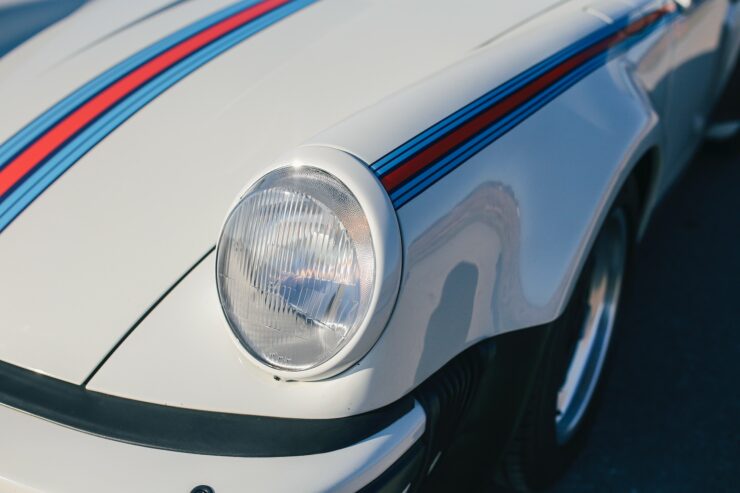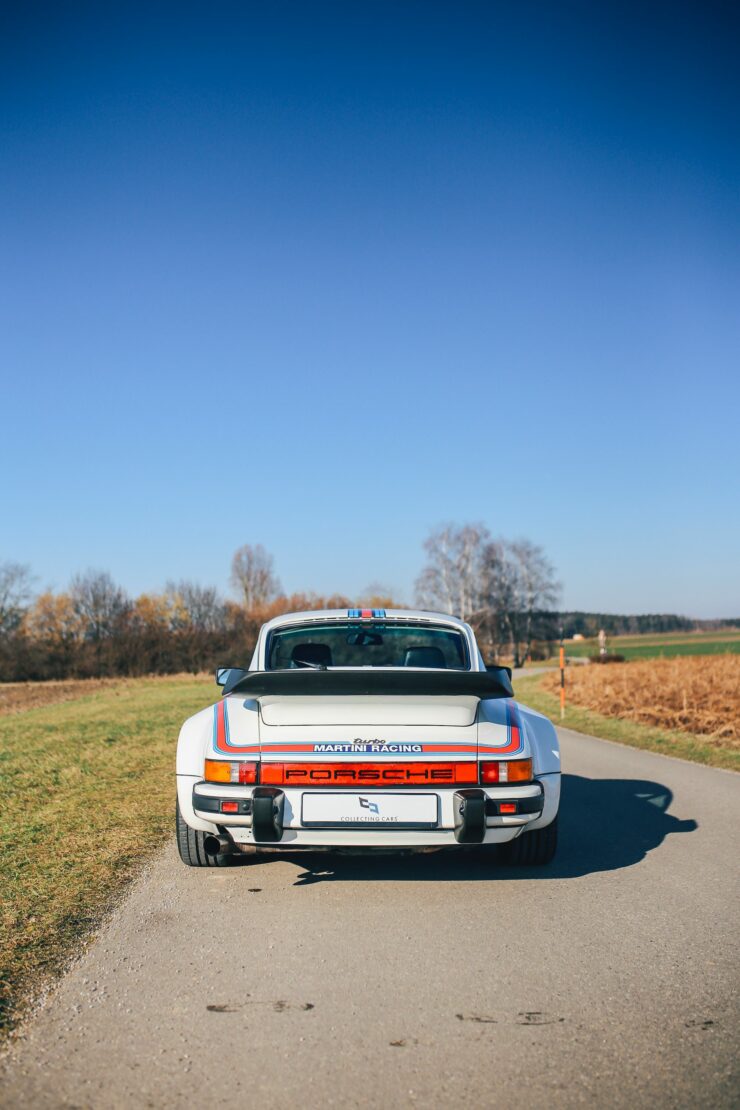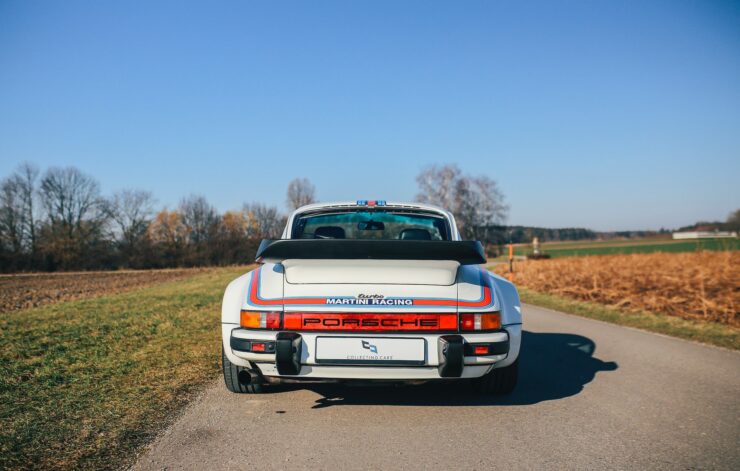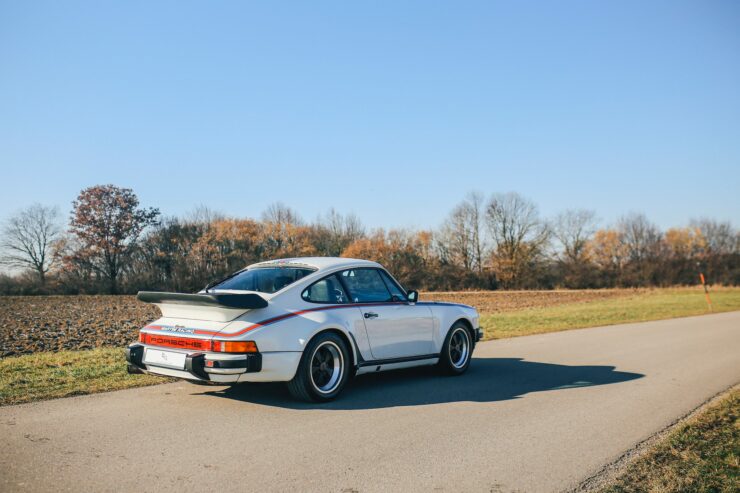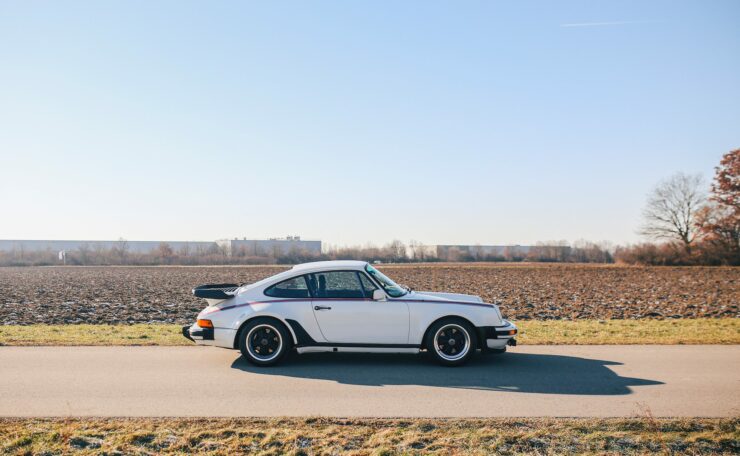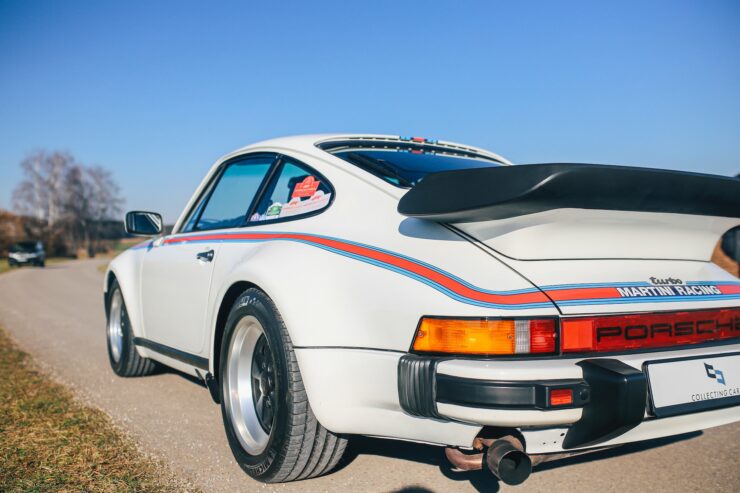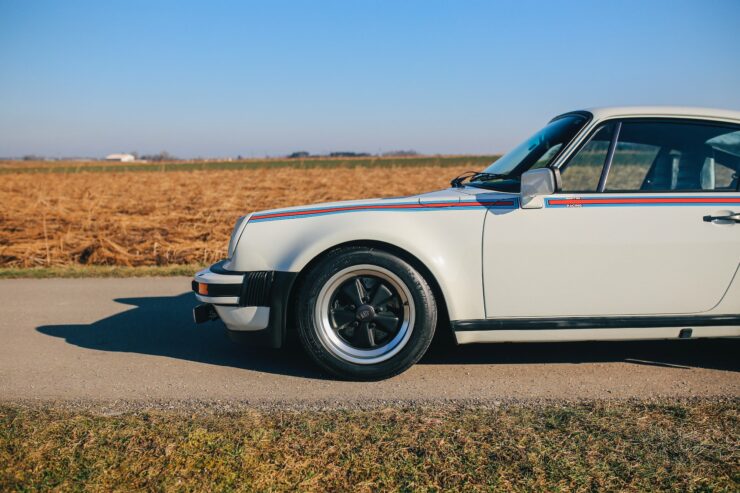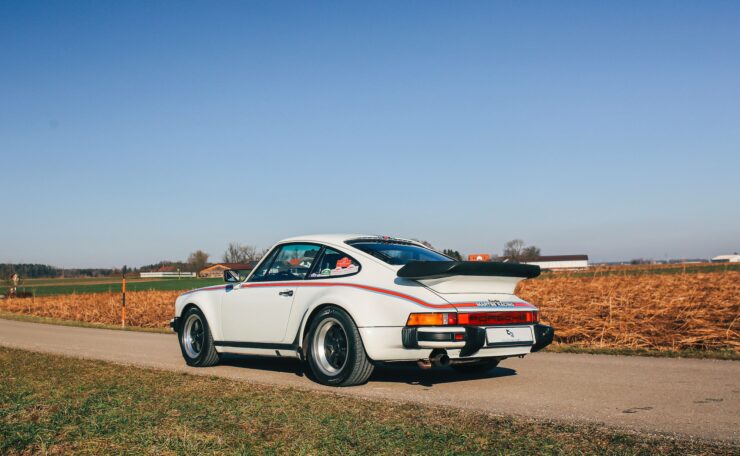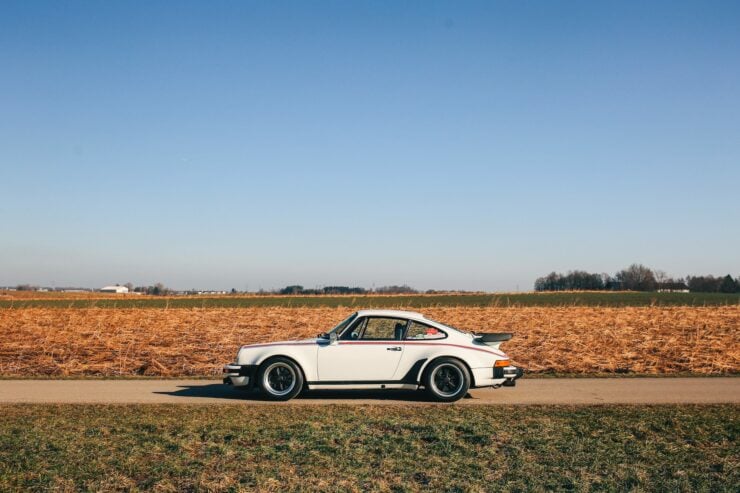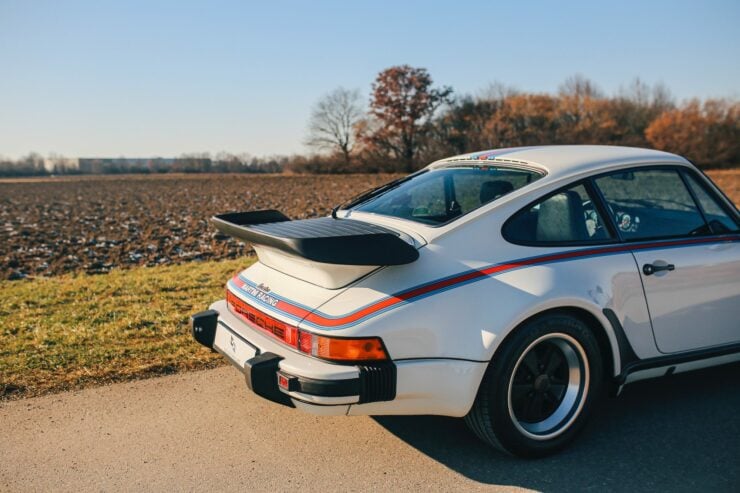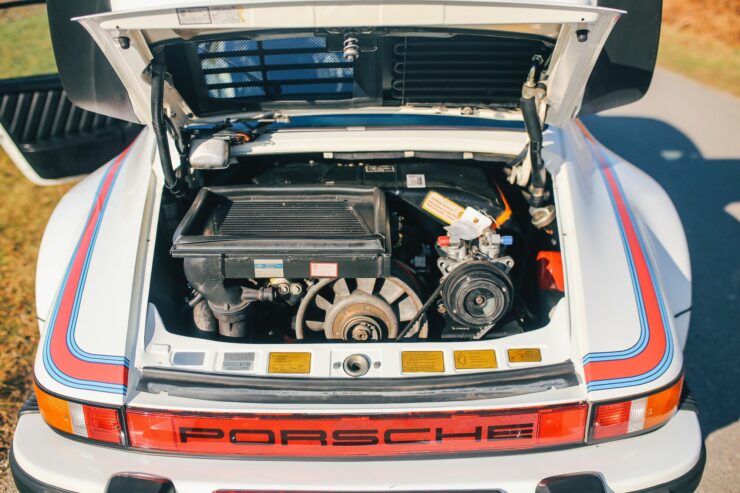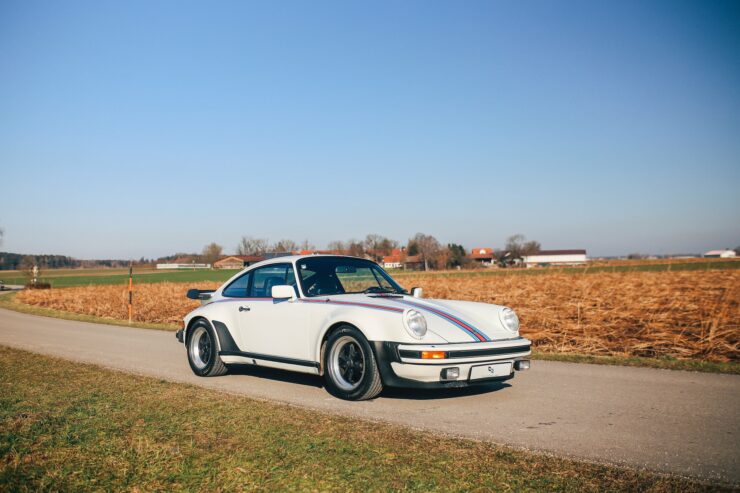 Images courtesy of Collecting Cars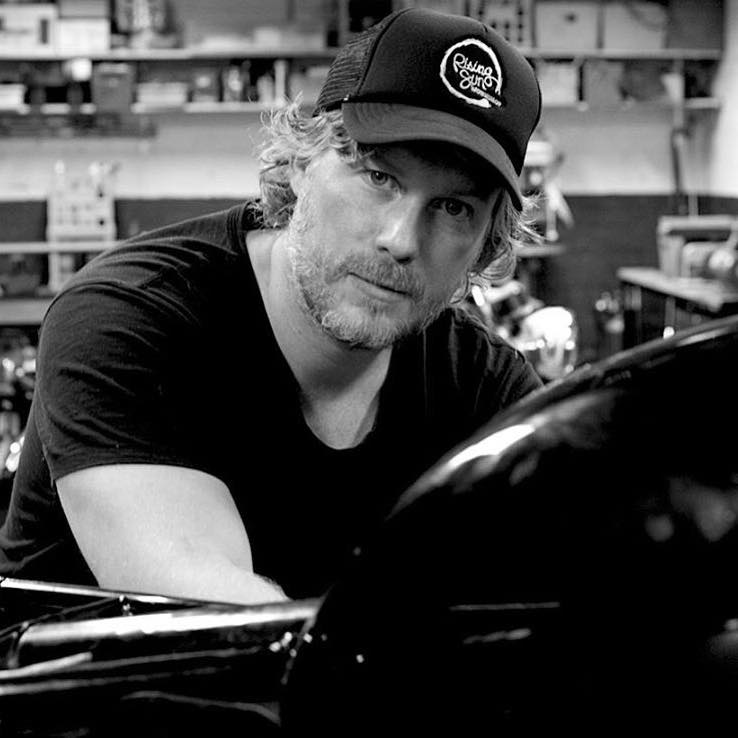 Articles that Ben has written have been covered on CNN, Popular Mechanics, Smithsonian Magazine, Road & Track Magazine, the official Pinterest blog, the official eBay Motors blog, BuzzFeed, Autoweek Magazine, Wired Magazine, Autoblog, Gear Patrol, Jalopnik, The Verge, and many more.
Silodrome was founded by Ben back in 2010, in the years since the site has grown to become a world leader in the alternative and vintage motoring sector, with well over a million monthly readers from around the world and many hundreds of thousands of followers on social media.