Testadoro is a sports/racing car maker whose fame was short lived yet significant in the post-war years of Italian motor racing. Among those who started out racing in Testadoro cars were designers Elio Zagato, Nuccio Bertone, and Mario Revelli di Beaumont.
Despite the fact that the name has been all but forgotten, except perhaps in Italy, Testadoro has been given a new beginning by Dario Pasqualini, an artist from Cumiana, who decided to bring the name back to life by constructing a new Testadoro, based on the one that the original factory did not complete back in 1951.
Fast Facts – The Story Of Testadoro
The Testadoro automotive marque was one which shone briefly for three years between 1947-1949.
Testadoro ceased creating cars in the wake of a tragedy in late 1949.
While it was in operation Testadoro cars were used by some of the greatest names in the Italian automotive industry including Elio Zagato, Nuccio Bertone, and Mario Revelli di Beaumont.
Recently the Testadoro marque has been registered anew by Dario Pasqualini, and he has begun his renaissance of the marque by re-creating the 1951 Testadoro Barchetta that was planned by Giorgio Giusti and Arnaldo Roselli while the company was in operation, but never constructed.
Testadoro: A Short Yet Significant History
The story of Testadoro began in the late 1930's when the fascist government of Benito Mussolini was in power. With less expensive automobiles coming onto the market, and bringing car and goods vehicle ownership into the reach of people on modest incomes, the number of cars on the road began to increase. The limiting factor in Italy and much of Europe was the relationship between people's incomes and not only the price of the vehicles themselves, but also the fuel with which to make them go.
The upshot of these factors was that there were lots of people with automobiles using small capacity engines – typically from 500 cc – 750 cc – and of course not only did they want to use their car to "get from A to B", but many wanted to get into racing, using those same cars despite their lack of power.
Increasing the power of the common FIAT engines to make them viable power plants for competition cars was a business opportunity and a car enthusiast and entrepreneur named Arnaldo Roselli decided to design and manufacture replacement cylinder heads for the small capacity FIAT engines. Roselli was an engineer who had worked for Alfa Romeo and Scuderia Ferrari – so he understood a great deal about wringing performance from engines.
Roselli began by creating a replacement cylinder head for the Fiat 508 "Balilla". the 508 was made from 1932-1937 and was powered by an inline four cylinder OHV engine of 995 cc capacity. The 508 Balilla  was succeeded by the Fiat 508 C which had many upgrades including an 1100 cc engine and independent front suspension. The 508 C was made from 1937 until 1953.
The Roselli cylinder head provided hemispherical combustion chambers with much improved gas circulation and increased power. It earned itself the nickname "Testa d'Oro", which in Italian translates as "head of gold". This was because Roselli decided to make his new cylinder head using a bronze alloy that would have better heat transfer characteristics than the original cast iron one: this bronze head had a dark gold appearance and thus earned its "Testa d'Oro" nickname.
Roselli needed financing for his venture and he found this in the person of Turin businessman and motor racing enthusiast Giorgio Giusti, who suggested that Roselli do a cylinder head conversion for the Fiat 500 Topolino also.
This new cylinder head for the 569 cc inline four side-valve Topolino engine was made in Roselli's trademark bronze and so it was gold in colour. This head converted the Fiat engine to much more efficient overhead valves and was made in three configurations; "N-Normale ", "S-Sport", and "C-Corsa". The "N" gave a useful power increase for normal road driving, the "S" was for those who favored exuberant and exciting driving, and the "Corsa" was for the race track drivers who wanted just as much horsepower as could be extracted from the little Fiat engine.
Giorgio Giusti and Arnaldo Roselli in partnership registered the trade name "Testadoro" with a view to not only continue the performance cylinder head operation but also to embark on a more ambitious project. They wanted to make racing cars and so they geared up for small scale racing car production. Both Giusti and Roselli were racing enthusiasts and drivers: they were of that rare breed who want to build and race cars of their own design.
1947 Testadoro Sport and "Drin Drin"
Testadoro's first complete racing car was the Sport of 1947. This car was built on a Fiat 500 "Topolino" chassis which was lowered and stiffened. The engine was fitted with a Roselli cylinder head. Interestingly the Roselli cast bronze head gave the engine an overhead valve layout known as "radial valves" in hemispherical combustion chambers. The engine was increased in capacity to 660 cc.
The concept of "radial valves" in this case refers to the valve layout and the gas flow they are intended to create, not to the valves being of some novel type. In this kind of "radial valve" engine the valves are arranged in the head so as to create a radial motion of the gases in the hemispherical combustion chamber so the gases are circulated as seen from the top.
The intent of this is to improve combustion and gas flow, and to assist with cylinder head cooling.
This car was raced in various events such as the Varese Circuit in 1947. It really served as a test-bed for Giusti and Roselli to evaluate what design features they wanted to incorporate into their next car.
The next Testadoro car used the same basic foundation as the Sport, a modified Fiat 500 chassis which had been lowered and stiffened, and the engine was the same being a 660 cc Topolino engine with the bronze Roselli cylinder head.
The bodywork style was a bit more refined in no small part because Giusti and Roselli had entrusted Elio Zagato to design the bodywork for it, and so it wore a Zagato "Z" on its hood.
This car was called "Drin-Drin", named after Giusti's wife Andreina, for whom "Drin-Drin" was Giusti's nickname.
Drin-Drin won a race at the famed Montlhéry racing circuit in France and managed a number of placings in open competition, demonstrating the potential success that Giusti and Roselli might achieve as they sought to improve their car designs.
1948 Testadoro Marinella and Marinella Barchetta
For their next car Giusti and Roselli wanted to go to a much higher level of design and construction. Starting with the engine Roselli ceased using a modified Fiat engine and instead designed and made a new cylinder block on which to mount one of his special high performance cylinder heads.
This new cast iron cylinder block had a bore of 55 mm and stroke of 78 mm giving the engine a capacity of 742 cc: this made it just eligible for the 750 Sport racing class.
Roselli created his own chrome-nickel steel crankshaft and gave the engine three main bearings.
For the cylinder head Roselli decided not to continue using a bronze alloy but instead made the new head using aluminium, which had even better heat conducting properties than the bronze and which was lighter.
The compression ratio for this new engine was 9:1 and it delivered 45 hp at 6,500 rpm, which might not sound like much by today's standards until we think in terms of how light the car was, and how skinny the tyres were.
The Marinella was also to pioneer a completely new tubular steel chassis. Giusto and Roselli understood that the secret to success in such competition as the 750 Sport class was to reduce the weight of the car, make the chassis as light as possible, and use a suspension which would effortlessly keep all four of those skinny bias-ply tyres in firm contact with the road.
The man whose chassis Giusto and Roselli wanted to use was none other than Gilberto Colombo – after whom the Ferrari Colombo engine was named – the man who designed the first Ferrari – the 1947 125 S.
Colombo's chassis was made of chromium-molybdenum steel tubing and using the Gilco brand name he sold chassis designed to accept the components of popular Fiat models such as the Fiat 500 and 1100 (which was the successor of the Fiat 508 Balilla).
The two cars that followed this design were Marinella and Marinella II, each a little different from the other. These cars featured front independent suspension using "A" arms with tubular shock absorbers giving them stability which was especially marked on rough surfaces, and great precision in steering.
Giusti drove Marinella II with great success, he was greatly impressed with the agility of that diminutive speed machine, its ability to deal with winding hazardous roads with speed and ease that often enabled him to keep up with and even pass heavier more powerful cars in higher classes. Giusti said that in Marinella II he "made sparks".
The bodywork of the Marinella cars was by Zagato and he gave them his characteristic flowing rounded looks. The mudguards were detachable so the car could be easily adapted to closed racing circuits or to road racing.
The history of these cars presents some difficulties to analyze because there are conflicting sources. It is possible that the Marinella II car was built on the Isorigid small tube chassis that was used on the subsequent Daniela cars.
The last version of the Marinella was the Marinella Barchetta. The Barchetta was made like the first Marinella but fitted with a removable hard top. The bodywork was designed by Elio Zagato and he featured it on his stand at the Milan Italian Coachwork Exhibition of November 1947.
The Marinella Barchetta was created with road rallying in mind, for events that were often long and for which weather protection emerged as being important: if a driver is wet, cold and can't see though his goggles then he won't be able to drive as fast as he could when dry, warm, and able to see where he was going.
Elio Zagato drove the Marinella Barchetta in the Targa Florio of 1949 with experienced Testadoro team driver Ugo Puma. Zagato and Puma won the up to 750 cc class that year. Following on from that victory Ugo Puma teamed with Aquilino Branca and campaigned the Marinella Barchetta in the prestigious Mille Miglia.
The name Testadoro was becoming well known in motorsport competition in Italy and other parts of Europe, specifically in the smaller capacity engine classes.
The 1949 Testadoro Daniela
The Testadoro Daniela was named after Giusti's second daughter and it moved Testadoro into a new era of racing car design.
The Daniela was built on a completely different chassis and suspension to the Marinella I, a chassis called the "Isorigid" which was made using small diameter tubes – not so complex as the later Maserati "Birdcage" that would appear just over a decade later, but tending towards the principle that many small tubes in triangulated structures could reduce weight and improve stiffness by comparison with fewer larger diameter tubes.
By comparison the Marinella had been built on a frame founded on two longitudinal large diameter Chrome-Moly tubes.
The Isorigid chassis was made by Gilberto Colombo's company Gilco while the bodywork was by Zagato.
There were a number of Testadoro Danielas made and proved to be such a good design that many of them were subsequently fitted with different engines after Testadoro ceased operations and continued racing, so good was the chassis/body combination.
The Daniela cars racked up an impressive array of podium victories including the 1949 Gran Criterium 750 of Monza by a Daniela, and the victory for Ugo Puma at the Senigallia race track.
Testadoro had formed the "Squadra Testadoro" team and had become a recognized force in motor racing in Italy.
The "Squadra Testadoro" included drivers Ugo Puma, Antonio Stagnoli, Aquilino Branca, and Nuccio Bertone who would go on to establish the world renowned Bertone automotive design house.
The 1951 Testadoro Barchetta
By this stage of the Testadoro story Giorgio Giusti and Arnaldo Roselli were at the height of their success, and looking forward to their next upgrade – to move up into the "1100 Sport" 1100 cc class competition.
It was however at this time, in the closing stages of 1949, Arnaldo Roselli and his co-driver Dante Spreafico were both killed while competing in a race.
It was a moment of a cold, hard reality check for all at Testadoro and Giorgio Giusti was very badly affected by the death of his friend and business partner Arnaldo Roselli – the man who had done so much to create the engines at the heart of the Testadoro success story.
It was clear to Giusti, to his wife Andreina, and to their daughters Marinella and Daniela, that the motor racing that had once been fun was undergoing some changes. The cars were getting faster, and being made to be as light as possible, and offered scant protection to the driver in the event of a crash. Added to that the road and track conditions were not improving, and Giusti's family became concerned at the burgeoning danger.
These concerns would be born out in the following years, culminating in the infamous 1955 Le Mans disaster in which 84 people lost their lives and approximately 120 sustained injury.
So it was that Giorgio Giusti decided to close the Testadoro racing car business, exit from motorsport, and much to his father's delight he returned to the family business.
This left the work on what was to be their next car, the 1951 Barchetta as an unfinished project.
Roselli's last engine design, the 1100, was sold to others and became the heart of the Rovelli-Monaco 1100 Testadoro, and some other competition cars.
The probability was that had Roselli not been killed that he would have used Gilberto Colombo's tubular chassis/suspension for the new 1100 Sport car by Testadoro.
Roselli's design for the new 1100 engine survived him.
The proposed chassis was the Gilberto Colombo "240 Competizione", a design that Colombo had left unfinished. But not only did the chassis design drawings survive but also the body design with which to clothe it.
The Testadoro Renaissance
Turin car and enthusiast and amateur designer Dario Pasqualini decided that he would like to re-created the car that could have been, and so he registered the Testadoro brand name with the aim of creating cars in the theme of the 1940's and 1950's as works of art.
Pasqualini has collaborated with Paolo Giacometto, a young man who spent time working with experienced Turin panel-beater Carlo Maino before starting a business of his own. Between them they worked to build a car that is as faithful as they can make it to the 1951 Testadoro Barchetta, thus bringing to life that which was denied existence as a result of tragedy.
Paolo Giacometto is currently working on another project – he is building a two-seater berlinetta by hand live to an audience at the Turin National automotive Museum, a project that is expected to take six months.
The newly created Testadoro has a website which you can find here. On the site you'll find both history of the cars and the people, and information about the 1951 Testadoro Barchetta re-creation.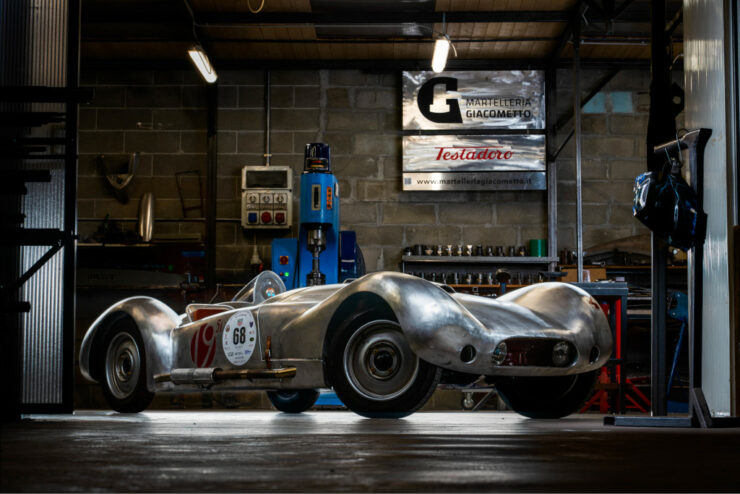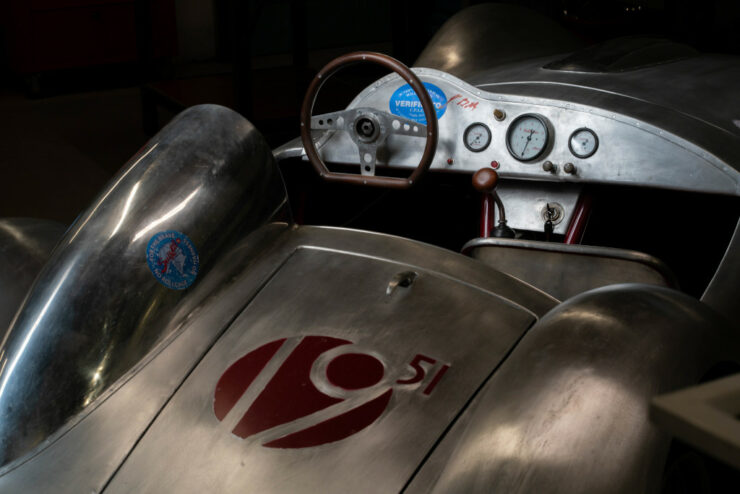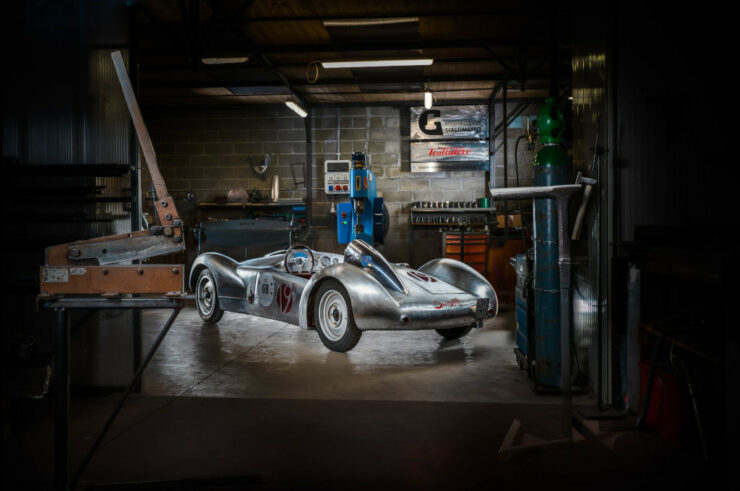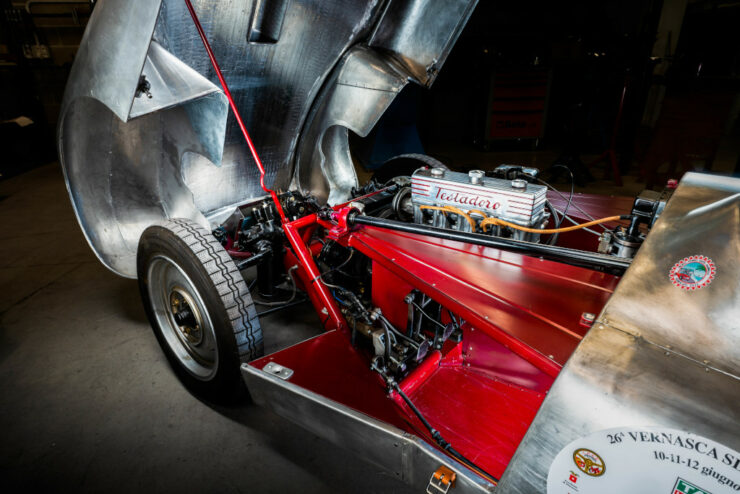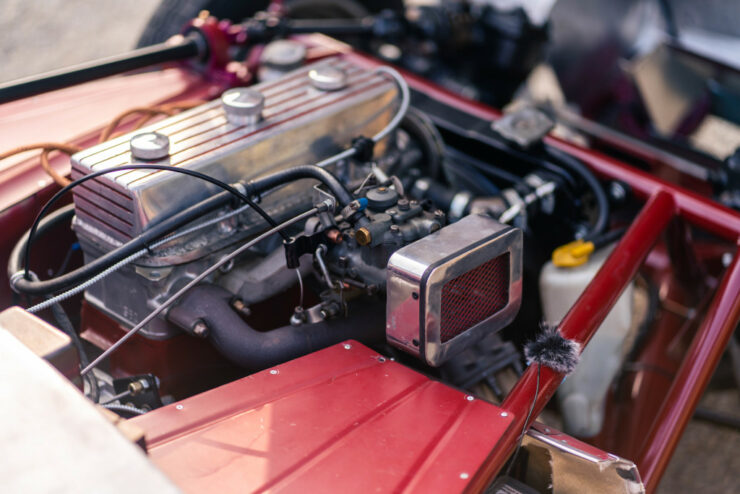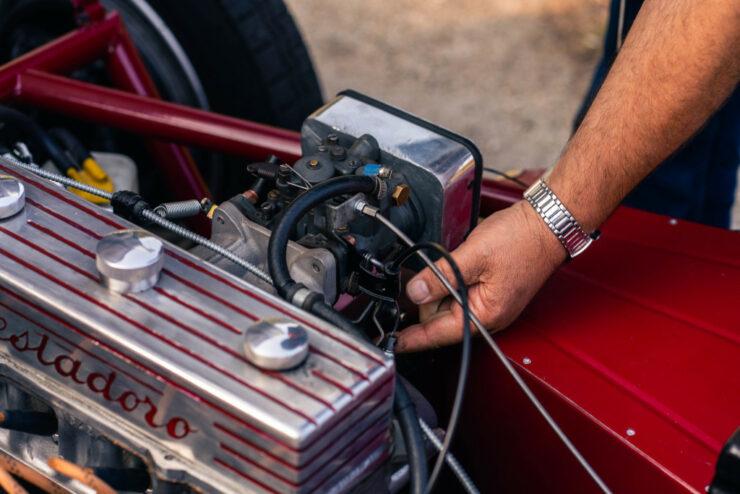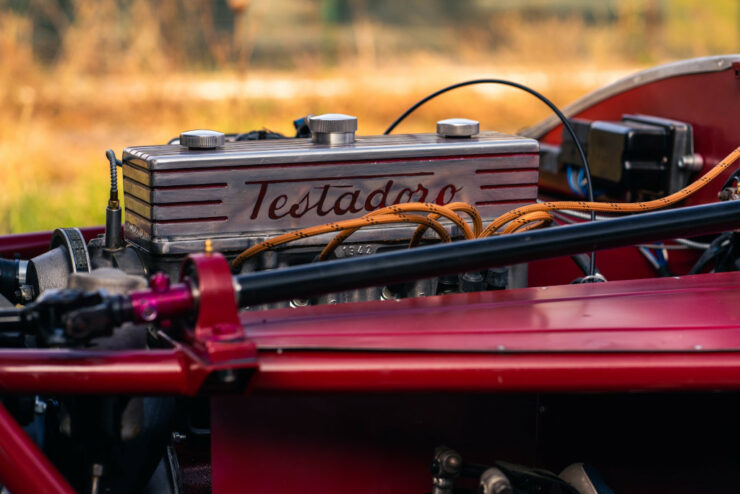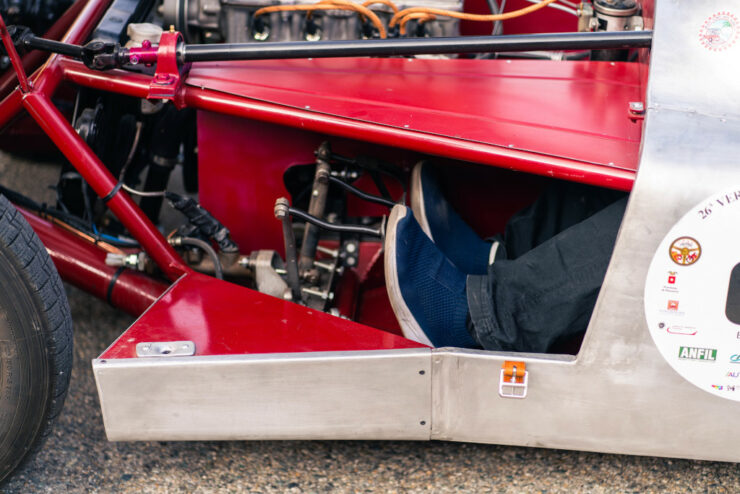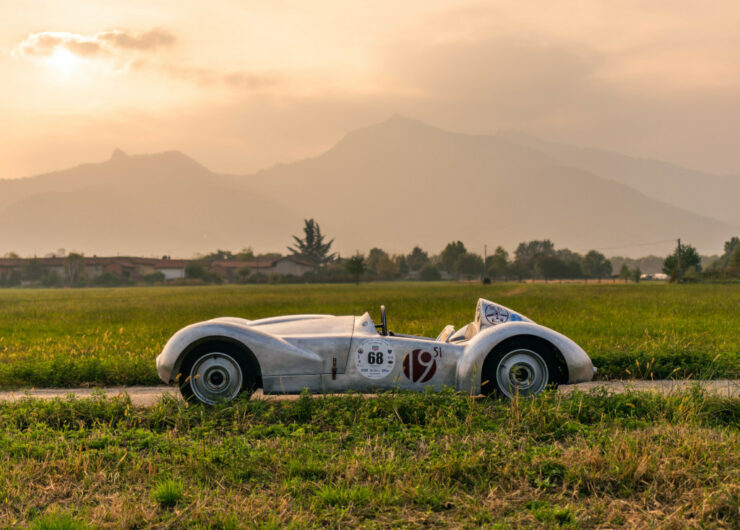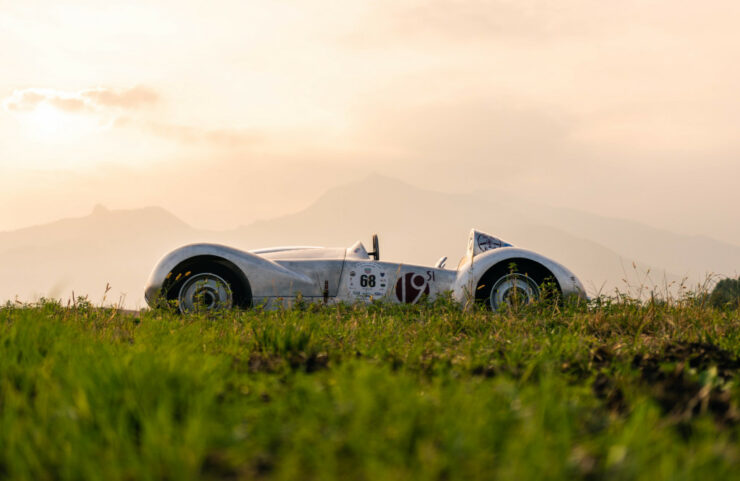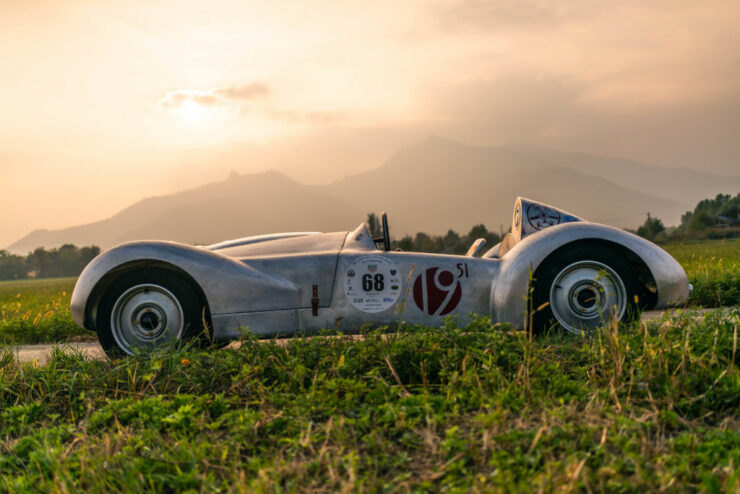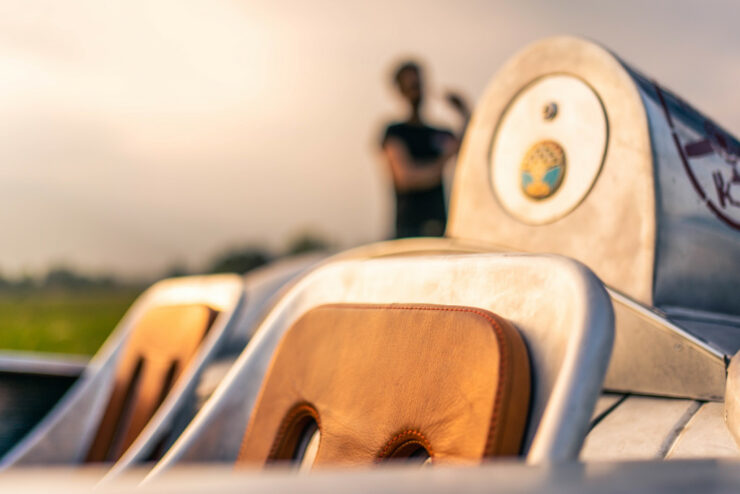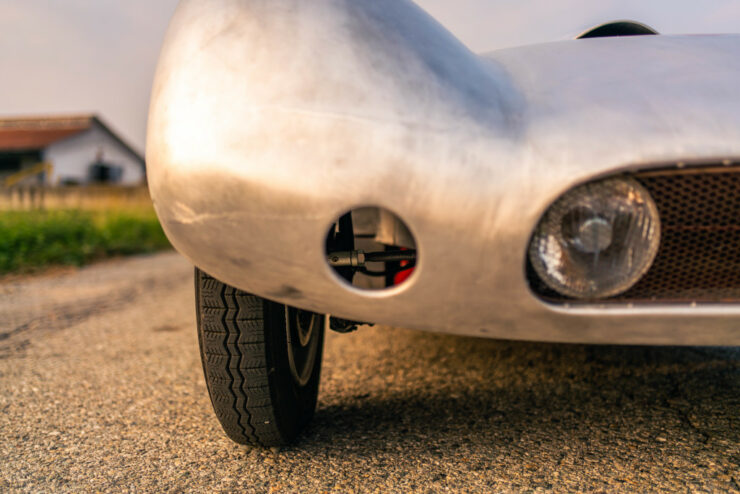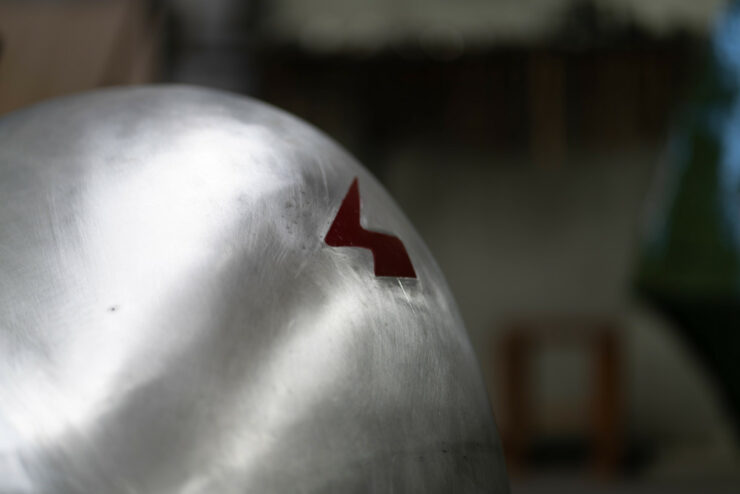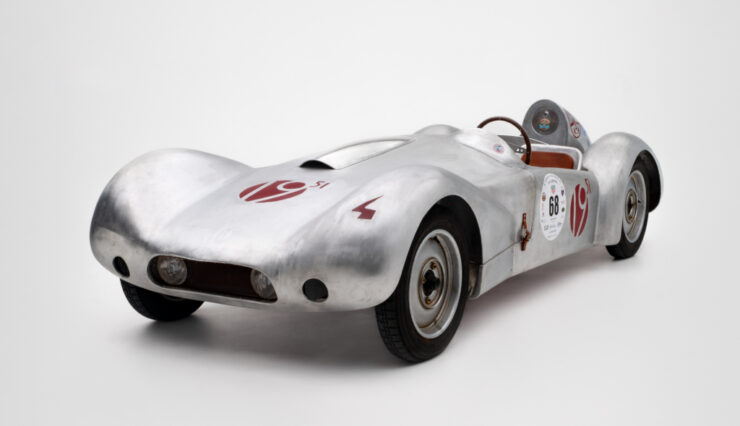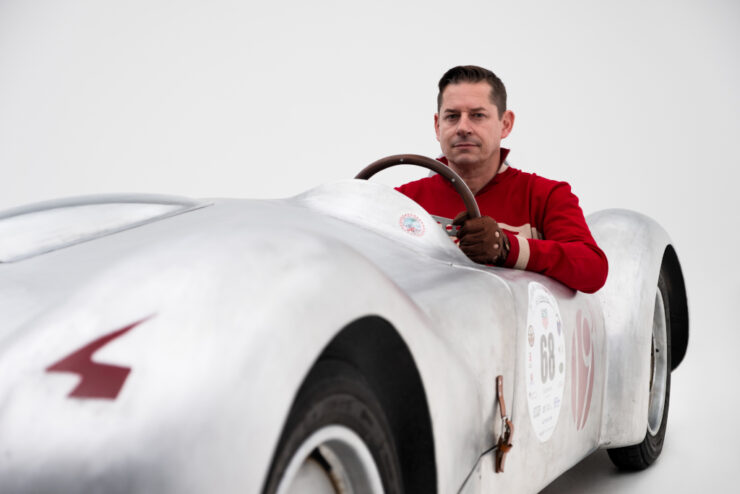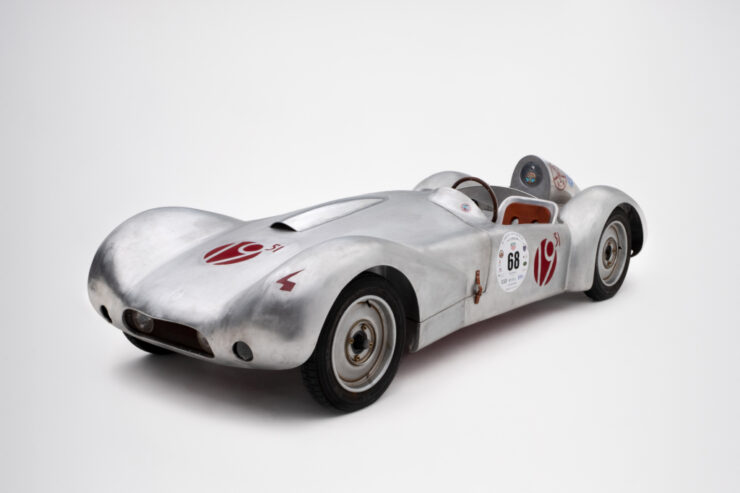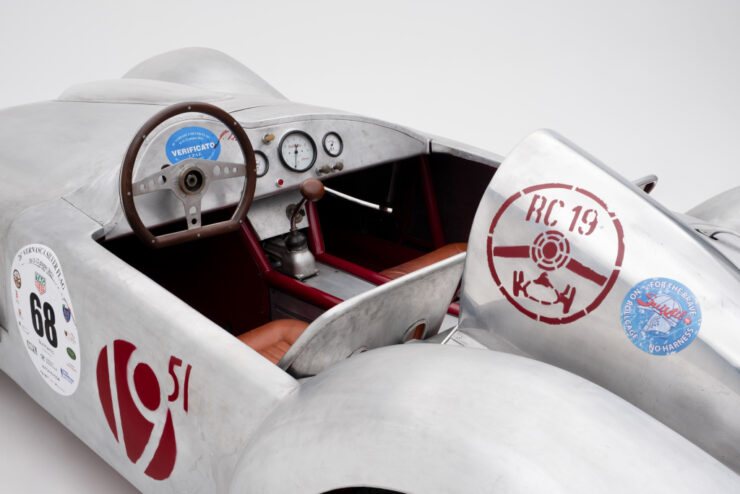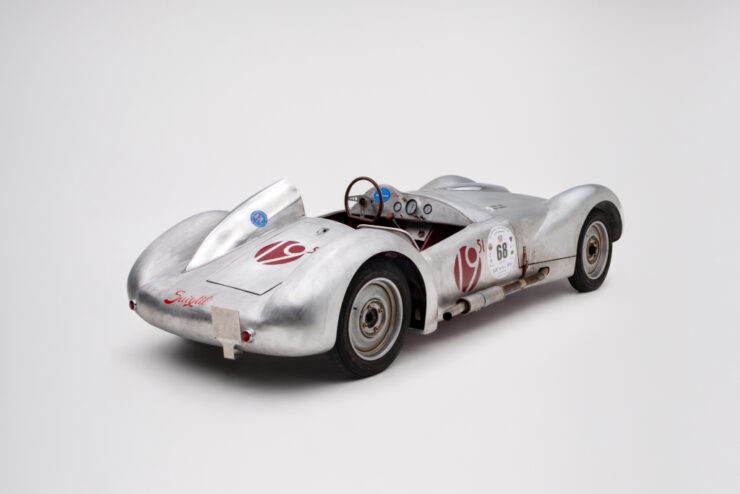 Picture Credits: All pictures of the new Testadoro 1951 Barchetta courtesy Testadoro, others as individually noted.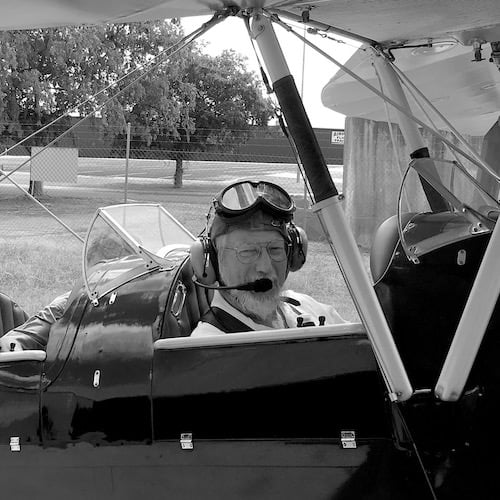 Jon Branch has written countless official automobile Buying Guides for eBay Motors over the years, he's also written for Hagerty, he's a long time contributor to Silodrome and the official SSAA Magazine, and he's the founder and senior editor of Revivaler.
Jon has done radio, television, magazine, and newspaper interviews on various issues, and has traveled extensively, having lived in Britain, Australia, China, and Hong Kong. The fastest thing he's ever driven was a Bolwell Nagari, the slowest was a Caterpillar D9, and the most challenging was a 1950's MAN semi-trailer with unexpected brake failure.