This motorcycle is the North London Garage 2.7 Liter J.A.P. – or perhaps more accurately it's a brand new version of the bike built by Pavel Malanik who machined and fabricated every part to recreate one of the early motorcycling world's most memorable creations.
Malanik is a skilled machinist and engineer, he makes almost every part of his custom motorcycles by hand – which includes building his engines from scratch. His passion is for motorcycles from 1900-1910 and he has carefully re-created a few of them, each able to be ridden and enjoyed just like the originals.
Fast Facts – The North London Garage 2.7 Liter J.A.P.
The North London Garage was established in the Highbury district of London in 1908 and set about making a name for itself as a manufacturer of racing and touring motorcycles.
The NLG was immediately successful and in the year of its founding made the motorcycle that rider Will Cook used to win the first ever motorcycle race at the famed Brooklands racing circuit.
For 1909 NLG teamed up with Will Cook to make an attempt at the world speed record for the "Flying Kilometre" for a motorcycle.
To create a bike with a high probability of success NLG made a motorcycle that was a tad more powerful than the current record holder – who had used a 2.5 litre 14 hp engine. So NLG made a 2.7 litre J.A.P. V-twin powered bike delivering about 20 hp.
A failure of the electronic timing equipment at Brooklands prevented Will Cook's speed attempt being measured accurately, and so no record was officially broken.
That original NLG motorcycle vanished but in the Czech Republic a toolmaker/machinist with a passion for the motorcycles of this era saw pictures of this bike and determined to build one as faithful to the original as he could manage. His name is Pavel Malik and he had built four re-creations of motorcycles of this era prior to attempting this one.
Pavel hand made every part of the bike – except the tyres for which he used Avons, and indeed proved that the NLG bike was very much capable of breaking the Flying Kilometre speed record, had the Brooklands timing equipment been working.
The Incredible North London Garage 2.7 Liter J.A.P.
When we think of the early days of powered flight we think of the Wright brothers and of course the "Red Baron" Baron Manfred von Richthofen among others. These were the magnificent men and their flying machines.
But at this time in history – before and around 1910 – there was another group of magnificent men whose machines did not sport wings but which came pretty close to flying. These magnificent men literally dared death by attempting to get their two wheeled contraptions up to the "ton" (i.e. 100 miles per hour).
These motorcycles were made to go, but not necessarily to stop. Many had no brakes at all, while some had brakes that looked like they had been commandeered from a bicycle.
Back then the technology of the internal combustion engine was very much at the experimental stage and so the conventional thinking said that in order to go faster one needed a more powerful engine, and to make a more powerful engine one needed a bigger engine.
In 1908 the North London Garage began operation in Corsica Street, St Pauls Road, in the Highbury district of London in England. As one of their first projects they created a racing motorcycle built around a 944 cc V-twin Peugeot engine and took it down to the famed Brooklands racing track to indulge in a bit of racing. This bike weighed a mere 120 lb (54 kg) and thus it was the epitome of Colin Chapman's mantra "Simplify, then add lightness," which of course was a large part of the success of Lotus Cars.
That North London Garage bike was ridden to victory by Will Cook in the first official race to be held at Brooklands, ensuring a place in motorcycling history.
Will Cook and North London Garage decided to create a bike that, in 1909 technology thinking, would be able to break the "Flying Kilometre" world speed record for a motorcycle. The engineers at NLG almost tripled the size of the racing bike engine, and went from that 944 cc V-twin to a 2,714 cc V-twin made by Britain's J.A. Prestwich (the same J.A.P. who would later make engines for the Brough Superior motorcycles).
This 2.7 litre 80 degree V-twin produced between 16-20 hp and was reckoned to be able to propel the NLG two wheeled road rocket at speeds around the then stratospheric 90 mph mark.
The Attempt At The World Record
Will Cook took it to Brooklands three mile circuit in 1909 to attempt a new world speed record. On his first try Cook managed a flying kilometre of 84.247 mph. The record at that time stood at 87.32 mph and had been set by Frenchman Henri Cissac on a 14 hp Peugeot powered bike. Cissac had set that record in 1905 riding a 2.5 litre V-twin. Cook went back to Brooklands on 11th November 1909 to have a second attempt.
Unfortunately on the day that Will Cook was to attempt his record setting run the electronic timing equipment at Brooklands became subject to "Murphy's Law" which states that "If anything can go wrong it will, and at the worst possible moment". Efforts to bring the system to life by the "anything electrical give it a good whack" method failed to work.
Will Cook was forced to make his ride without anyone having a means to measure accurately just how fast he was going. He was hand timed over the distance with a stopwatch which indicated that he had indeed made 90 mph: but that could not be entered as an official record time.
So although the idea of a 2.7 litre V-twin sounds to our modern ears to be an unbelievably big engine for a motorcycle, it was only slightly larger than the record holder, and gave a modest 6 hp power increase (i.e. 20 hp by comparison with Cissac's bike with its 14 hp engine). So in logical deductive thinking the NLG bike should have been able to exceed Cissac's 87.32 mph and achieve 90 mph or better.
The hand timed result was sufficient for Motor Cycling magazine to feature Will Cook and the 2.7 litre NLG on their front cover. The publicity was good for NLG who set about making and selling motorcycles for racing at Brooklands and elsewhere – these bikes normally having engines under 1 litre, Will Cook's NLG racing bike for the 1910 season was powered by a 995 cc J.A.P. engine.
NLG were also kept busy making touring motorcycles as the brand name had acquired a certain cachet because of Will Cook's exploits.
Cissac's record was officially broken in 1909 by Walter Goerke in Florida on a 7 hp Indian.
The North London Garage 2.7 litre V-Twin Reborn
The fate of the impressive 2.7 litre NLG motorcycle is unknown: it may have been sold or scrapped for its parts, it apparently had two spare engines with it, but it vanished having left its brief mark on history.
The North London Garage remained in business until 1915, by which time Britain was in the second year of the First World War and motorcycle speed records and racing were pretty much the last things on people's minds.
Britain was facing an existential threat and all resources were focused on winning the war. So with the North London Garage business's closure memories of the 2.7 litre speed record bike faded into the vagaries of memory: memory that would be awakened a century later far away from England's green and pleasant land.
Pavel Malanik: Engineer Extraordinare
It was in the Czech Republic, in Central Europe that a man named Pavel Malanik discovered old photographs and some historical information about this motorcycle and decided that he could build a new North London Garage speed record bike pretty much exactly like the original.
Pavel Malanik is a toolmaker and highly skilled machinist. His professional life has been devoted to making things in steel, aluminium or brass, and over the years he has built up a comprehensively equipped workshop in which he can fabricate complex machinery – such as a motorcycle engine – and in fact he can build a complete motorcycle, and has done so a number of times.
As Pavel made the decision to re-create the NLG 2.7 litre motorcycle this was not to be his first veteran motorcycle that he had either built from scratch or rebuilt, but it was to be his fifth.
Pavel's interest is in the motorcycles of the period around 1900-1910 and his previous re-creations had been of Eastern European motorcycles of that period, including a Laurin & Klement CCCC, which had been the first inline four cylinder motorcycle in Eastern Europe, and a Trojan and Nagl "Torpedo" W-4, which is a rare and fascinating machine with a four cylinder  engine.
This new project however marked Pavel's first move to re-create a historic motorcycle with British origins, and not only that but a thoroughbred speed record machine, and one for which detailed technical information was scant. Pavel would have to create his own drawings based on the few photographs that existed of the bike and what technical information was able to be found such as its engine bore and stroke.
Armed with that information Pavel used photographs to extrapolate scale dimensions of the bike, then set about creating drawings, and then the parts that would make up the bike, beginning with the re-creation of the engine.
Pavel's passion is not simply to create replicas of the motorcycles of that era, but to make them by hand in much the same way that the originals were made, and to have the experience of riding and enjoying them. He had begun prior to 1989 when Czechoslovakia was still under communist rule.
Pavel's previous re-creations had been of rare Eastern European production motorcycles which were made for general transport and touring. In embarking on the re-creation of the North London Garage world speed record machine Pavel was setting out to make a motorcycle that in its day had been dubbed "the monster" because it was not only powerful but difficult to handle.
This was a bike that not only required a firm grip on the handlebars, but it required an experienced rider with the finely developed skills and wisdom to keep it under control and get the best from it.
Pavel wisely began his work on this bike with the most difficult part – the engine. It had taken a year of research to arrive at the point of making the engine from pieces of bulk steel. That meant that there would be a lot of steel shavings deposited on Pavel's workshop floor as he bored out cylinders and other components, so we might imagine that Pavel Malanik created this motorcycle knee-deep in metal shavings.
Each cylinder was machined from a cylindrical block of solid steel, whose alloy was the best choice for that component of the engine.
The external shape was machined, and then each cylinder bored out, depositing large quantities of steel alloy shavings onto the workshop floor: and as Pavel patiently worked through the making of each part, small and large, so the J.A.P. engine progressively took shape.
This sort of process was repeated in milling out the two halves of the crankcase, turning the crankshaft and camshaft, and fabricating each of the parts of the engine literally one component at a time.
Once the engine was complete it was time for Pavel to use his skills with the steel tubing used to make the frame. The North London Garage bike used a twin tube frame to provide the needed support and stiffness for the 2.7 litre engine. Because of the size and power of the engine NLG used triple rear forks.
The handlebars were long, and had to have cross-bracing support to the forks to survive the weight, vibration and power of the engine.
The bike does not have any suspension, just like an old fashioned bicycle, but that means the tubing frame has to absorb the shocks of the road with next to no flex.
The whole build process has been covered in a ten part series which you'll find here.
Once the NLG 2.7 litre was completely built Pavel set about essentially learning to ride it and get the best out of it. When he was ready he took it to the Slovakia racing circuit, and then to push it up to its full speed he took it to the most suitable track in Europe, Montlhéry.
Above Video: This is footage of Pavel at the Montlhéry circuit putting the 1909 North London Garage 2.7 Liter J.A.P. through its paces.
At Montlhéry Pavel was able to discover that the bike seemed capable of speeds up to around 90 mph, but the track was a tad too rough to risk a serious attempt at getting up to that speed.
Pavel was able to get it up to approximately 140 km (87 mph) at an airport in the Czech Republic where conditions were sufficiently good for the bike to show its best. Pavel says that the bike felt like it had the ability to exceed that, but that it was just not safe to keep going faster on it as the "Monster" is not an easily controllable motorcycle and it just wasn't wise to keep pushing.
The NLG is running on 3×21 inch tyres from Avon, which are rather better than the rubber available to NLG and Will Cook back in 1909.
So the bike proved its potential more than a century after it was first created to break a world speed record. It may well be capable of "the ton" but it would not be wise to try to find out.
Pavel Malanik was satisfied he had fulfilled his aims in the re-creation of the NLG 2.7 litre J.A.P. powered "monster", but for his next project he determined to build a bike that would get even closer to being a "flying machine": a motorcycle powered by a period correct V8 J.A.P. aircraft engine.
If you'd like to see more of Malanik's incredible work you can visit his official website here.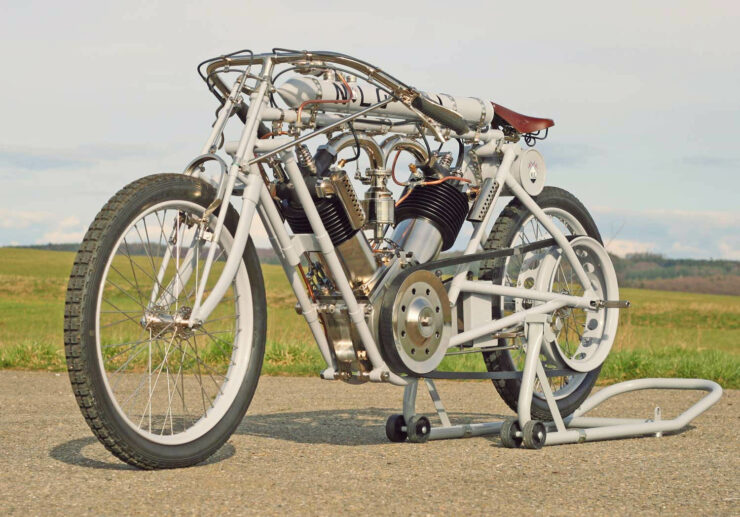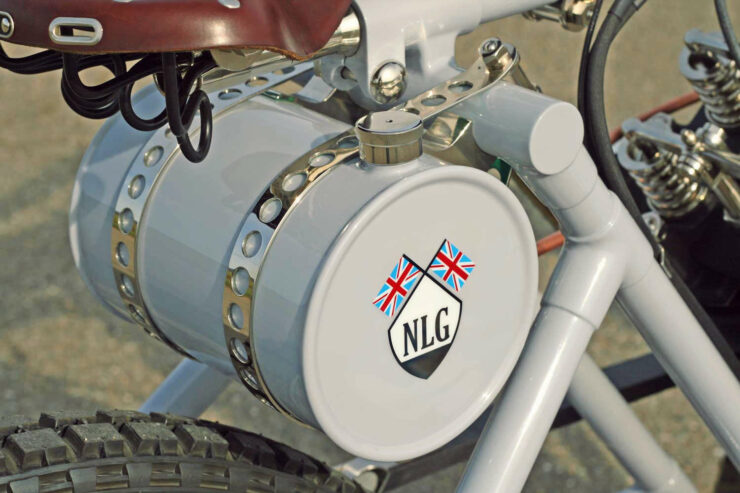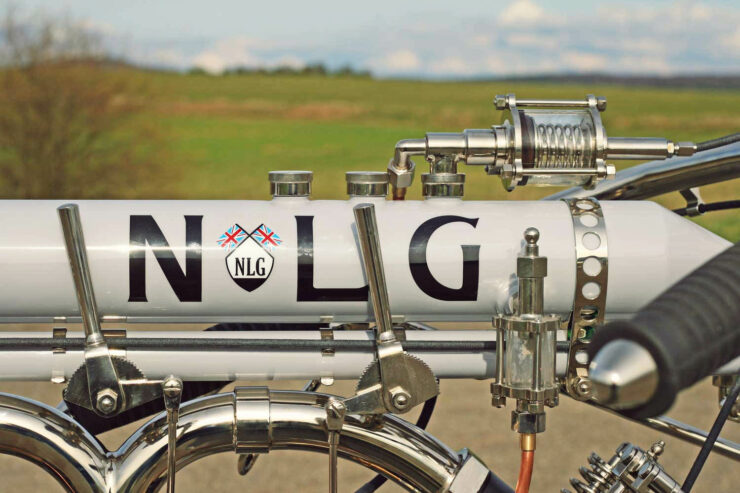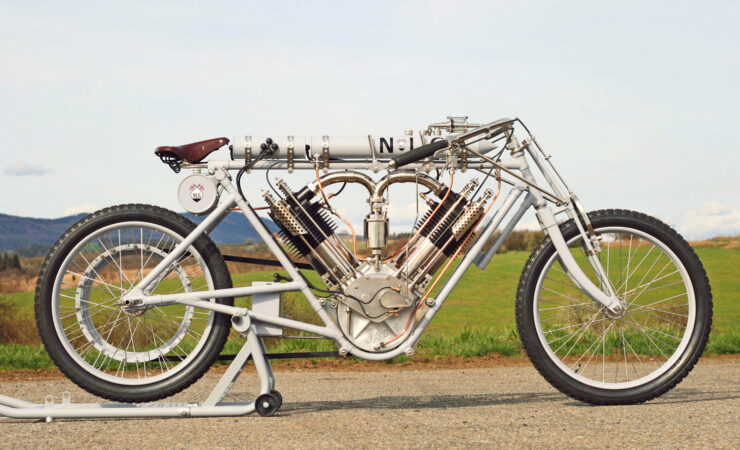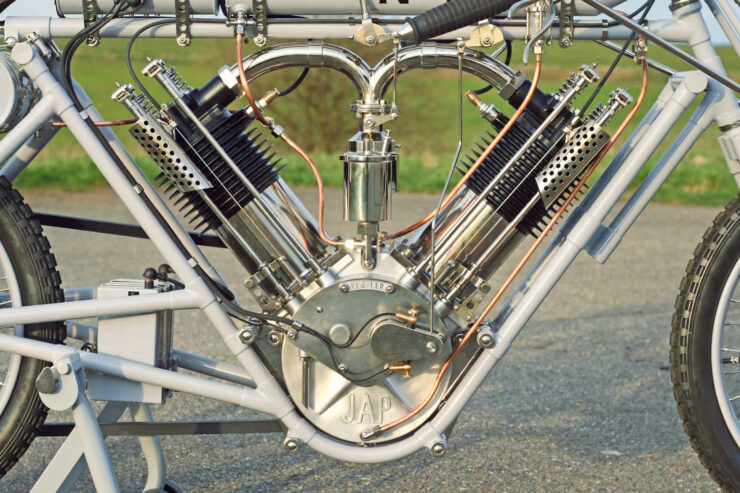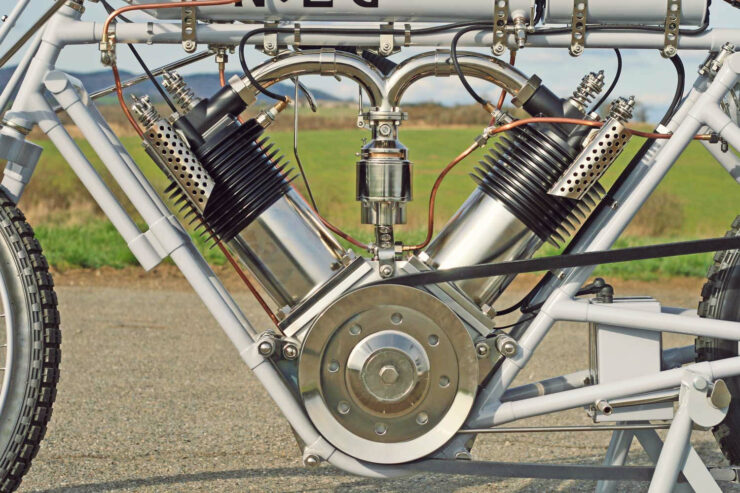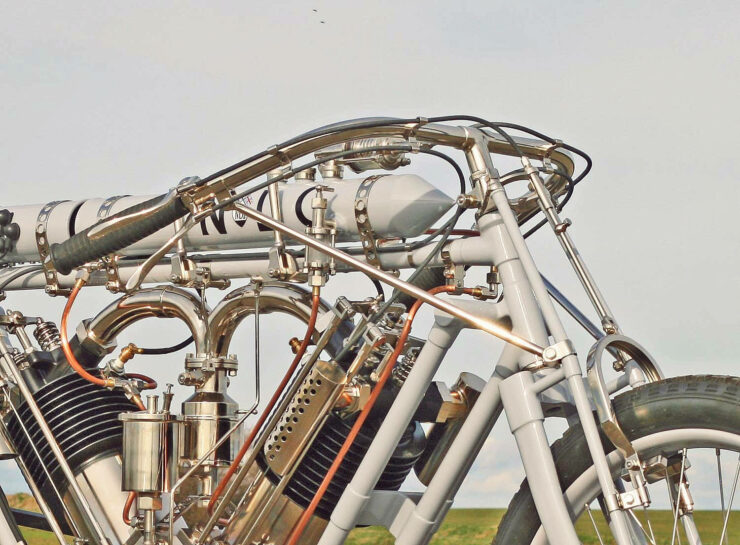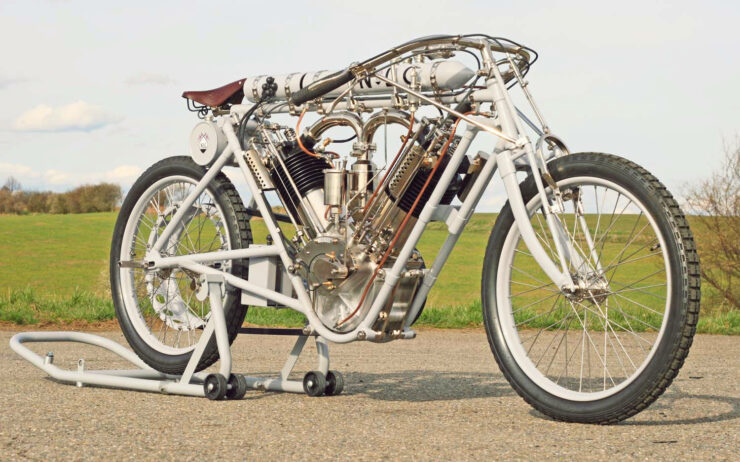 Picture credits: All pictures of the re-built North London Garage J.A.P. V-twin copyright and courtesy Pavel Malanik.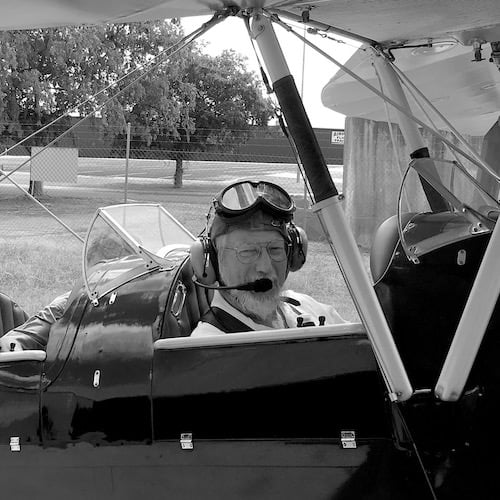 Jon Branch has written countless official automobile Buying Guides for eBay Motors over the years, he's also written for Hagerty, he's a long time contributor to Silodrome and the official SSAA Magazine, and he's the founder and senior editor of Revivaler.
Jon has done radio, television, magazine, and newspaper interviews on various issues, and has traveled extensively, having lived in Britain, Australia, China, and Hong Kong. The fastest thing he's ever driven was a Bolwell Nagari, the slowest was a Caterpillar D9, and the most challenging was a 1950's MAN semi-trailer with unexpected brake failure.