This is an exact replica of the 1888 Daimler Airship cockpit/gondola, featuring an engine, two propellers, and the controls, all contained in a structure which would have been attached to the underside of a 100 foot hydrogen-filled zeppelin.
This unusual vehicle was built by Master Craftsman William Eggers of Goshen, Connecticut to recreate the remarkable original that had been built by Dr Friedrich Hermann Wölfert in 1888 using a 2 hp Daimler Standuhr "Grandfather Clock" four-stroke engine with a displacement of 603cc.
It would be this Wölfert airship that would complete the world's first engine-driven flight with a combustion engine. He had previously developed human-powered airships, and it was a new report about one of these that attracted the attention of Gottlieb Daimler.
The Origins Of The 1888 Daimler Airship
Daimler held a vision that his revolutionary engine designs would power vehicles across the land, sea, and air. The Mercedes-Benz three-pointed star logo would be a testament to this, with each of the arms of the star said to be pointing to the land, sea, and air respectively.
After reading about his airship creations Gottlieb Daimler invited Dr Friedrich Hermann Wölfert to the Daimler factory at Cannstatt. He supplied him with an engine of his own design, the Daimler Standuhr which was nicknamed the "Grandfather Clock" due its tall, narrow shape.
Wölfert developed a simple gondola design that would hold the engine, a pilot, and two propellers – one facing rearward for propulsion and the other facing downward to help control buoyancy. A 100 foot hydrogen-filled airship was attached above the gondola however there was one significant problem – Wölfert was too heavy to be the pilot.
Instead of flying the craft himself, Wölfert had Daimler employee Gotthilf Wirsum fly the craft as he weighed 30 kilograms less. And so it was that on the quiet, windless morning of the 10th of August 1888 the thumpthumpthump of the single-cylinder Daimler Standuhr engine echoed across the Daimler factory yard in Cannstatt.
A crowd had gathered to see what would happen, they would either see a tragedy or they would see history made right in front of them. Fortunately for Wölfert and Daimler, and perhaps most of all for Wirsum, the aircraft performed beautifully. It launched slowly into the air and completed a flight of four kilometers across to Kornwestheim and landed on the Aldingen parade ground.
"10 August 1888: on this day, at 9 o'clock in the morning, the airship belonging to Dr Friedrich Hermann Wölfert begins a journey spanning more than four kilometres starting from Daimler's factory courtyard and ending at the Aldingen parade ground near Kornwestheim."
"Whilst the floatation panel of the airship, filled with hydrogen gas, mainly overcomes gravity, the 2.5 hp, high-speed Daimler single-cylinder engine powers the two propellers (horizontal and vertical) and is therefore responsible for propulsion and trimming. On this morning, it becomes clear that the four-stroke engine has great potential as an aircraft engine." – German news report
The Future Of Air Travel
A number of other flights would be undertaken over the next few weeks to showcase the design, the airship flew in Cannstatt, Ulm, Augsburg, Munich, and Vienna. Future designs based on this first prototype would later set a new record altitude for an airship of 1,940 metres (6,360 ft), and one flight would complete the first delivery of post by air.
Airships, including the mighty German Zeppelins, would dominate the early years of flight but it wouldn't be long before Wilbur and Orville Wright would turn the world on its head with the world's first successful motor-operated airplane – the Wright Flyer of 1903.
Ultimately it would be the heavier than air aircraft that would win out, however in more recent years airships have been making a major comeback, with significant sums invested to develop modern cargo and passenger carrying lighter than air dirigibles.
The 1888 Daimler Airship Cockpit Shown Here
The 1888 Daimler Airship cockpit/gondola you see in this article is currently being offered for sale. As mentioned higher up it's an exact replica built by the talented Master Craftsman William Eggers of Goshen, Connecticut who is pictured below with his creation shortly after building it.
It has a largely wooden frame with some iron used in joints for additional strength. That large white fabric-covered rudder sits to the front and provides directional control – though of course the airship needs to be moving for it to have an effect.
A model of the 2 hp Daimler Standuhr "Grandfather Clock" four-stroke engine is fitted along with its simple controls that allow the pilot to direct varying amounts of power to the two propellers – one controlling forward motion and the other helping to control altitude.
Of course, this particular 1888 Daimler Airship has never flown due to the fact that the FAA now don't look too kindly on applications to fill 100 foot balloons with hydrogen before taking flight.
It's currently being offered for sale on eBay of all places, out of Morgantown, Pennsylvania with an asking price of $24,000 USD. If you'd like to read more about it or register to bid you can visit the listing here.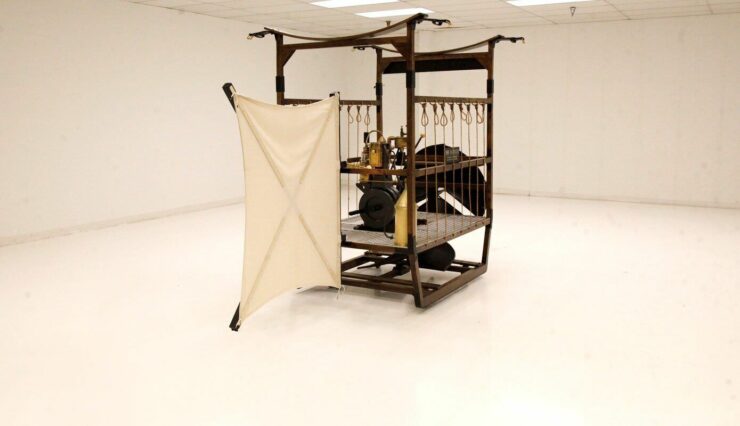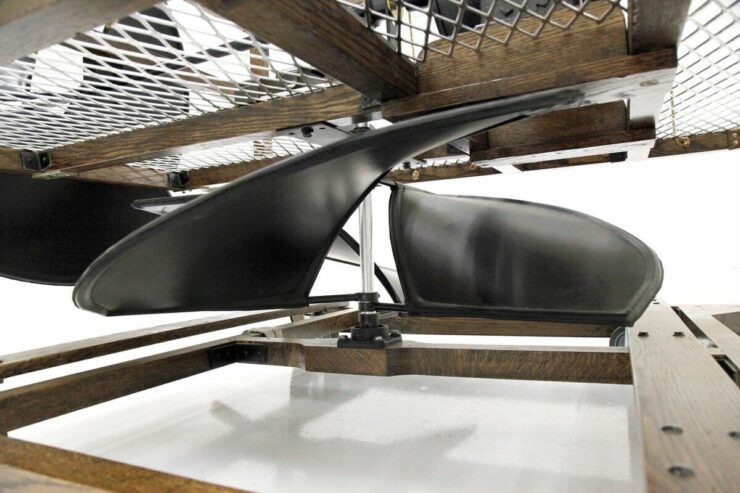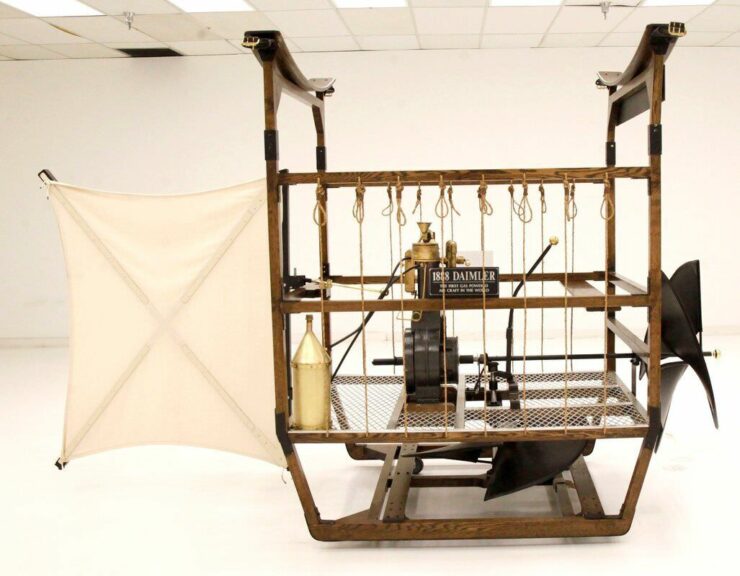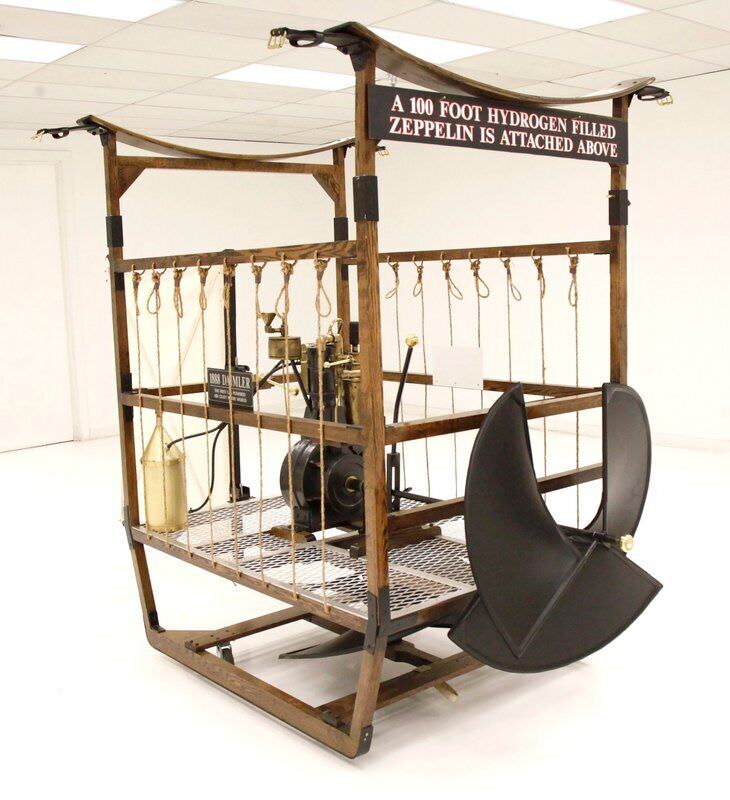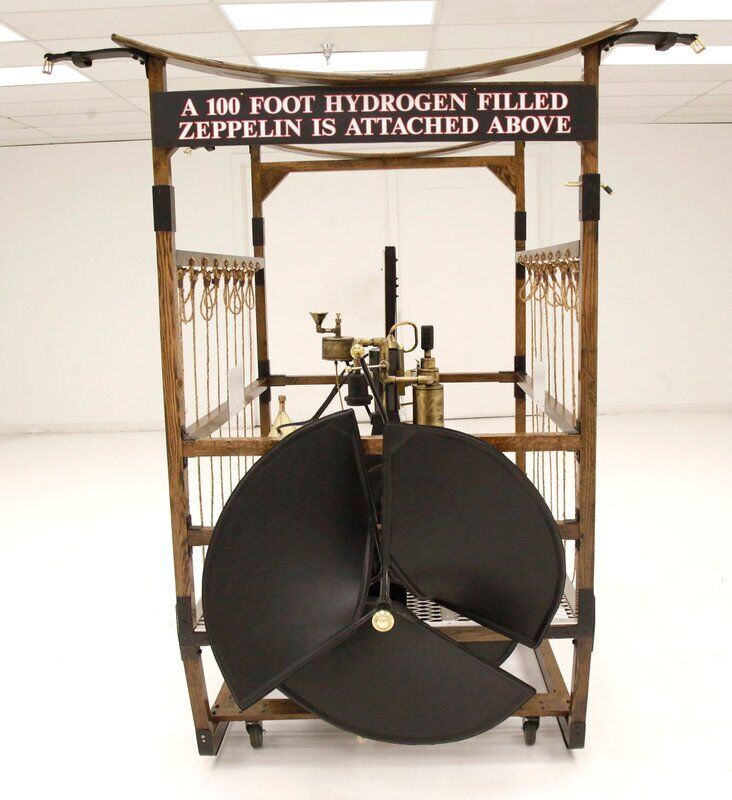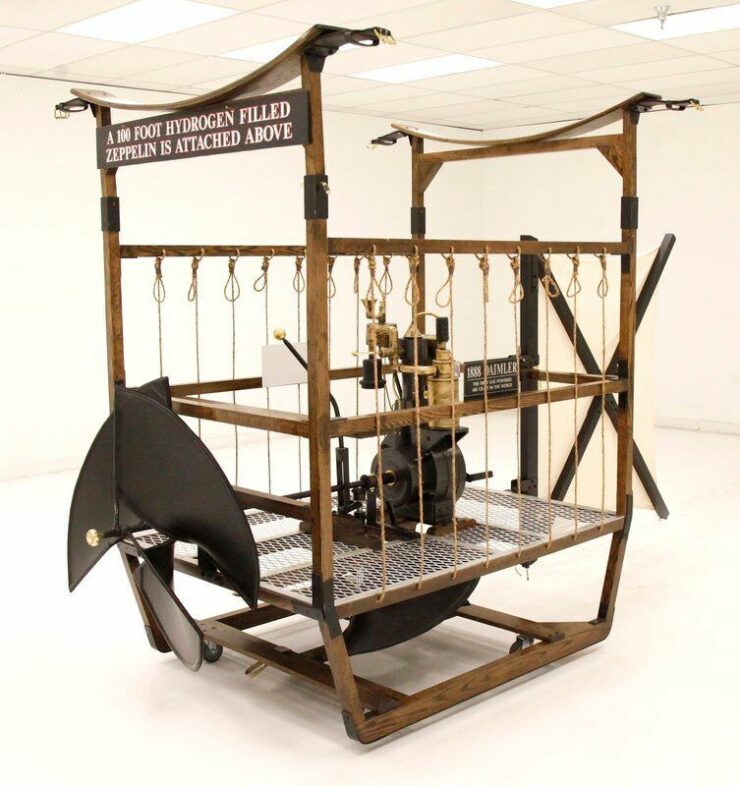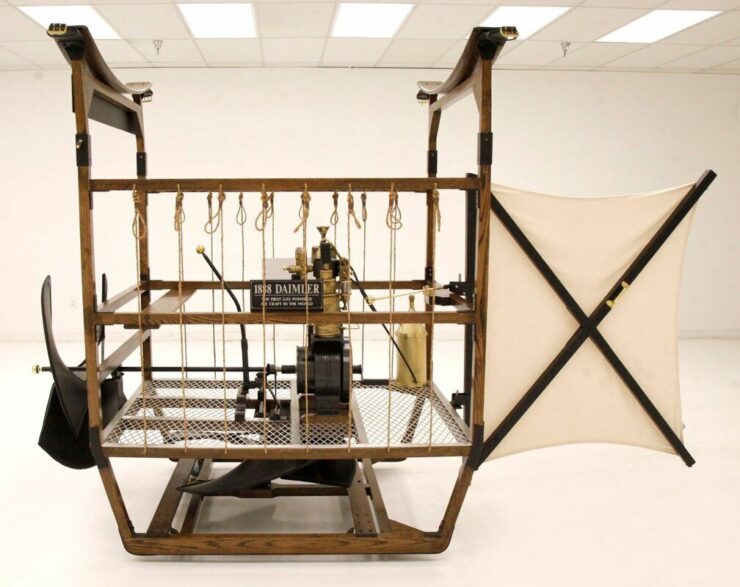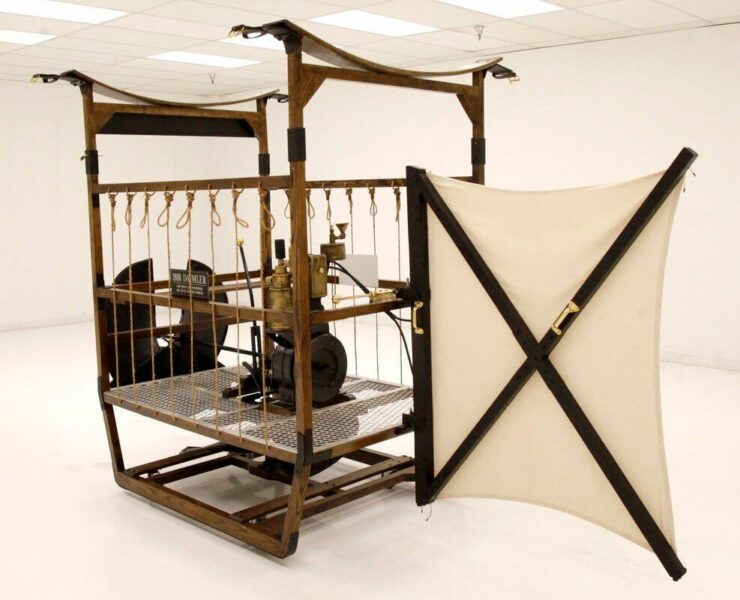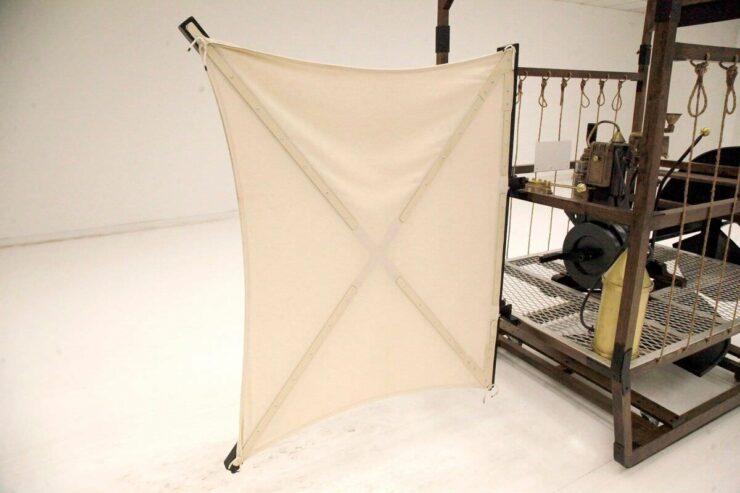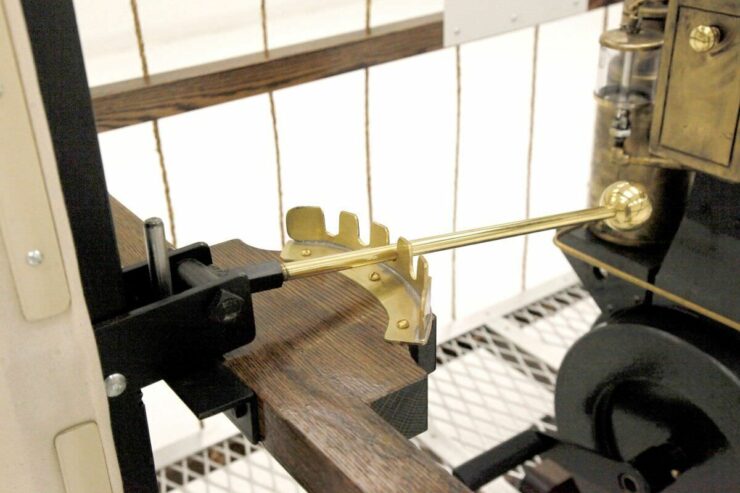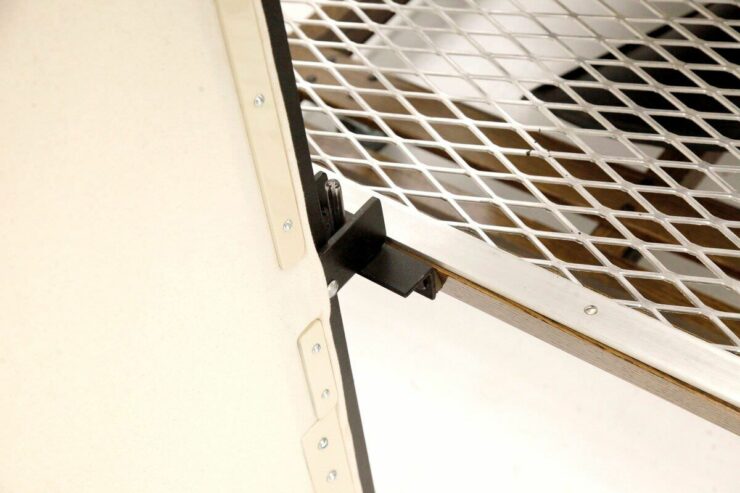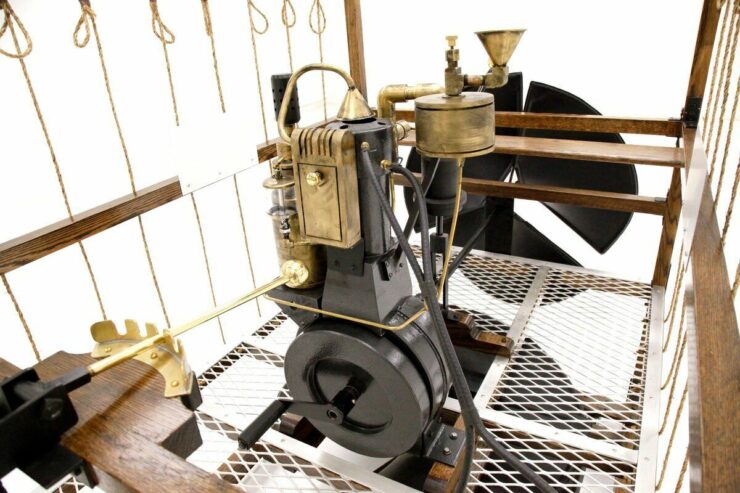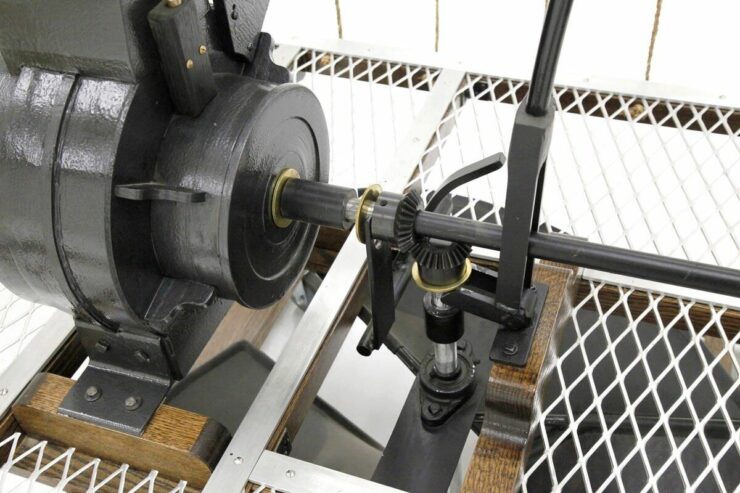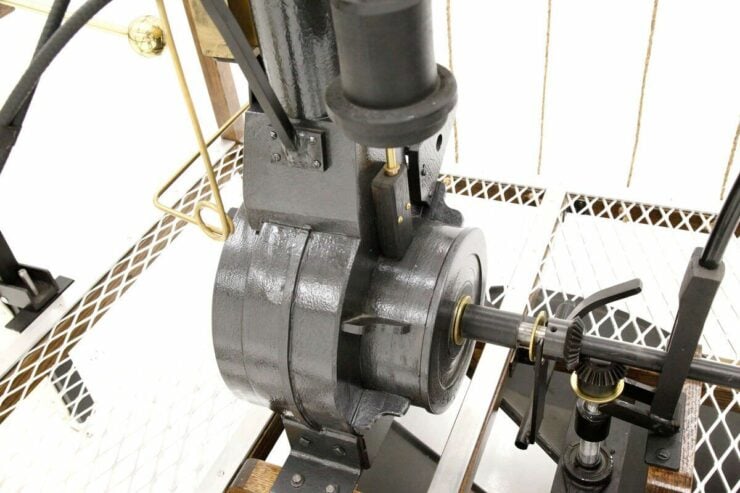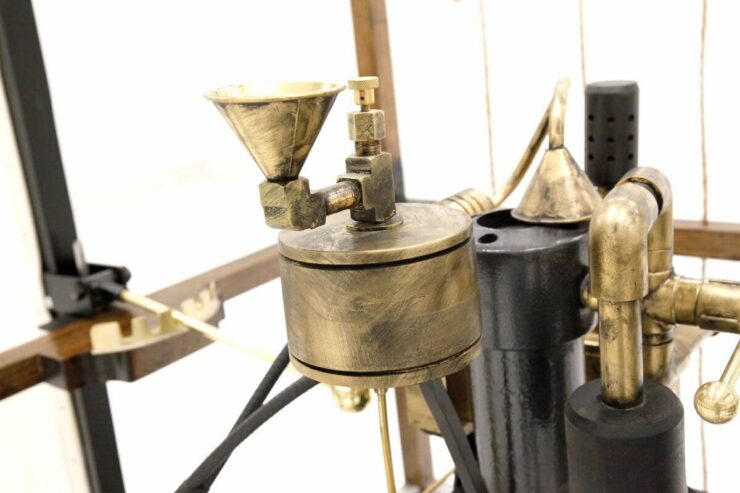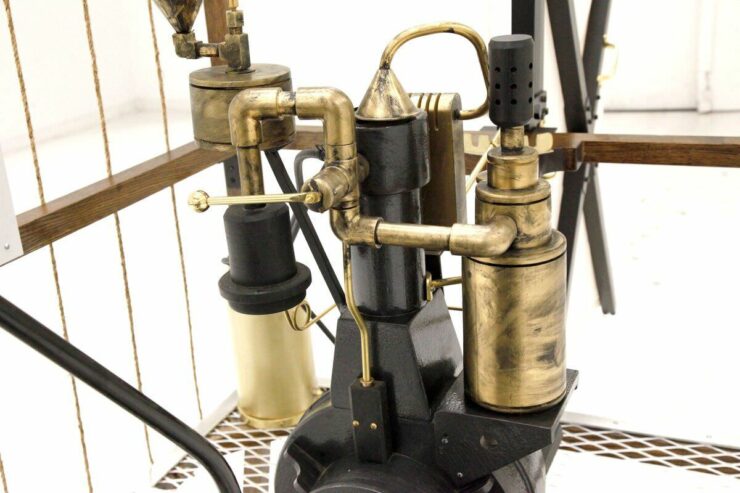 Images courtesy of eBay + Classic Auto Mall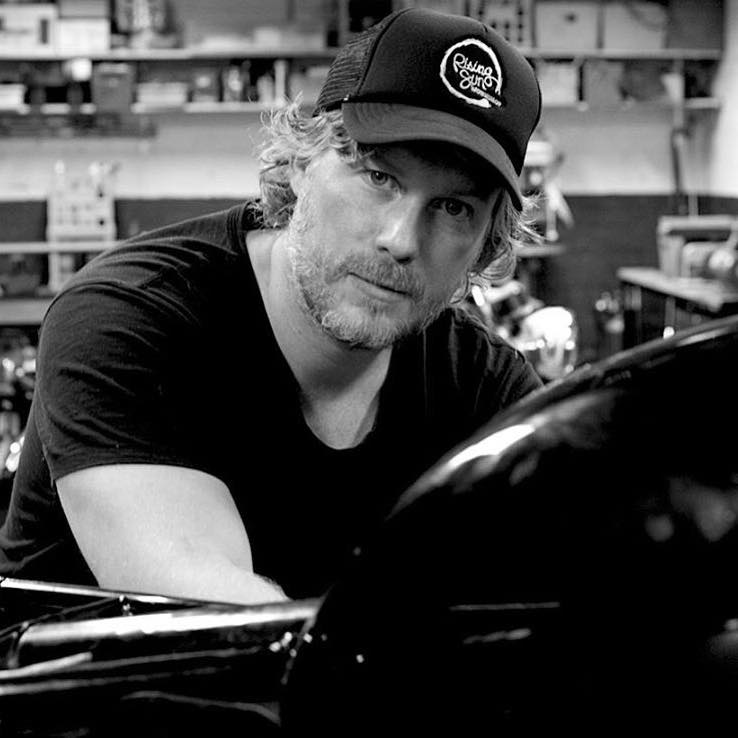 Articles that Ben has written have been covered on CNN, Popular Mechanics, Smithsonian Magazine, Road & Track Magazine, the official Pinterest blog, the official eBay Motors blog, BuzzFeed, Autoweek Magazine, Wired Magazine, Autoblog, Gear Patrol, Jalopnik, The Verge, and many more.
Silodrome was founded by Ben back in 2010, in the years since the site has grown to become a world leader in the alternative and vintage motoring sector, with well over a million monthly readers from around the world and many hundreds of thousands of followers on social media.