This remarkable barn find of 20 historic Ferraris was discovered in a barn which collapsed during Hurricane Charley – damaging some of them in the process. The cars were then moved to a warehouse not far from the historic Indianapolis 500 circuit, where they were largely forgotten.
These Ferraris are now being called the "Lost & Found Collection," they include a number of historic vehicles including veterans of Le Mans, the Targa Florio, and the Mille Miglia. The cars will be auctioned individually by RM Sotheby's in mid-August. Some will likely sell in the low five figures, while others may push up into the seven figure range.
Fast Facts – A Barn Find Of 20 Historic Ferraris
Barn finds come in all shapes and sizes, and for those of us who grew up reading tales of lost treasure the barn find phenomenon is about as close as we're likely to come to finding a buried wooden chest full of pirate gold.
This particular barn find is likely to go down in history as one of the most significant of the current era. It encompasses 20 Ferraris from the company's golden age stretching from the 1950s all the way into the 1970s and including some of the Italian marque's most desirable creations.
The early origins of this collection aren't described in the listing and they may not be known with certainty. What we do know is that they were packed into a small dilapidated barn that collapsed in 2004 during Hurricane Charley.
The cars were later moved to a new warehouse facility not far from the famous Indianapolis 500 circuit and forgotten, until they were recently rediscovered and placed in the care of RM Sotheby's who will be auctioning them off individually.
The Lost & Found Collection
We're going to add images and a brief description on each of the 20 cars in the Lost & Found Collection below, we will then be covering some of these cars in more detail on the site in the coming weeks. If there are any in particular that you would like to see us write about please send a message via the "Contact Us" page linked in the footer below. If you'd like to read more about this collection, see individual lots in detail, or register to bid you can visit the listing here.
⤈ 1954 Ferrari 500 Mondial Spider Series I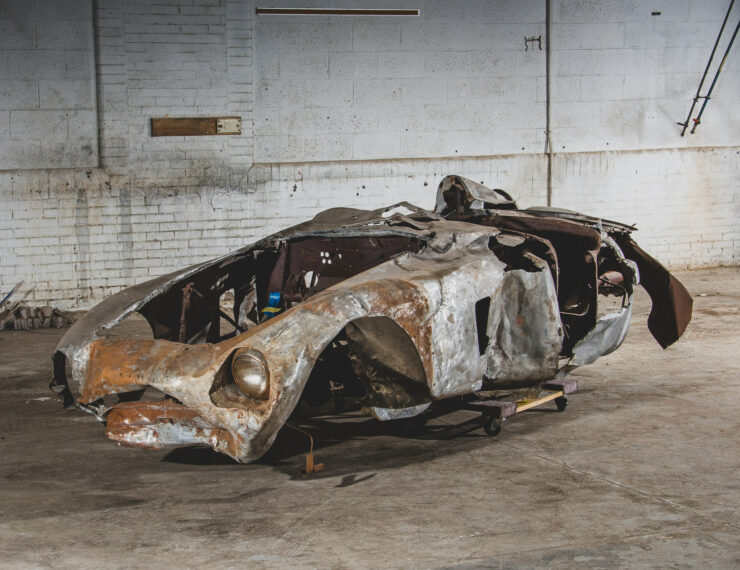 According to the research of marque expert Marcel Massini, and as confirmed by copies of factory build sheets, this Ferrari was assembled during March 1954 and finished in Rosso Corsa paint over a Similpelle Beige vinyl interior. The following month the car was sold by Enzo Ferrari to Franco Cornacchia, the Milan-based sports car dealer who also helmed the Scuderia Guastalla, one of the region's most significant privateer racing teams.
In April 1954 the Ferrari was piloted by former factory driver Franco Cortese and co-driver Perruchini at the Coppa della Toscana, finishing 19th overall and 2nd in class. It is interesting to note that Cortese is listed as the owner on the factory build sheets, and his name appears several times in the engineering notes, prompting speculation that the car was purchased by Cornacchia specifically for Cortese's use.
⤈ 1960 Ferrari 250 GT Coupe Series II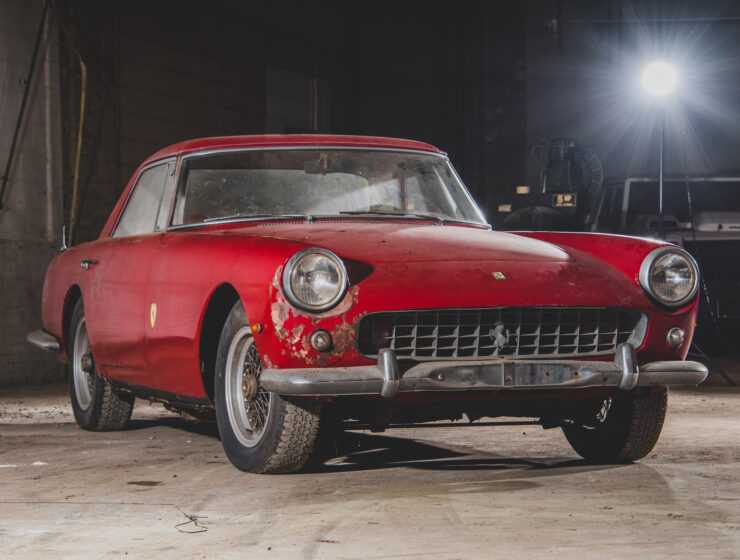 This car, chassis number 1775 GT, is the 299th of 353 such examples built. According to the report on file from Ferrari historian Marcel Massini, its chassis and running gear was completed and sent to Pinin Farina's Torino facility on 30 January 1960. The carrozzeria completed its work on 22 March 1960; it was originally finished in the attractive combination of Grigio Conchiglia (shell gray) over an interior of Rosso Connolly leather.
Sold new to a Mrs. Maria Clara Locuoco of Trieste, Italy in May 1960, this car was exported to the Netherlands in 1964. It would remain in that country until 1980; during this period, its exterior was repainted in its present red, though it apparently retained its Rosso interior. In 1980 it was sold to a new owner in Toronto, Canada, who would eventually list it for sale in 1986.
⤈ 1968 Ferrari Dino 206 GT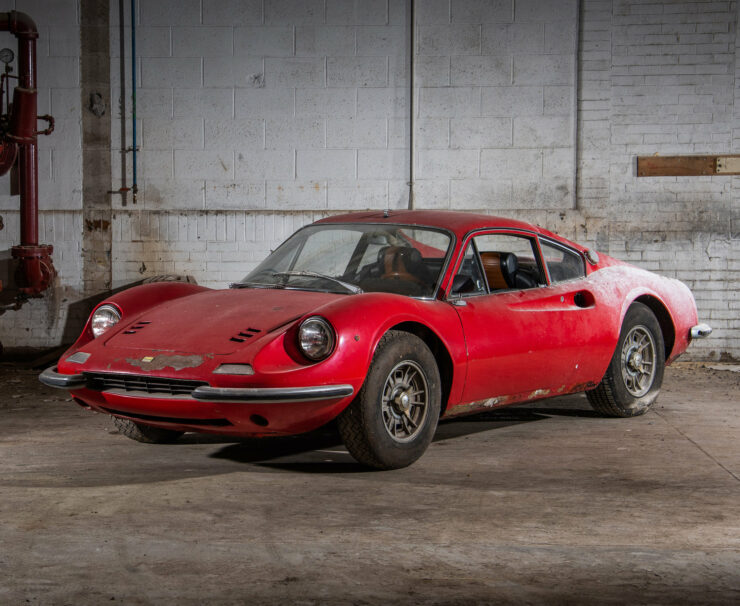 The Dino 206 GT offered here completed production on 25 October 1968 and was delivered new to Ferrari dealer Romeo Pedini Auto S.r.l. in Perugia, Italy. It was finished from the factory in Rosso Dino over a Marrone interior with Panno Grigio cloth inserts. It was sold to its first owner, Ugo Bosca, a resident of Assisi, on 6 December 1968.
The following July, the 206 GT was sold to its second owner, Paolo Pietro Lattanzi, who resided in Granaro and re-registered the car with the Italian license plate "AP 91249," which remains affixed to this day. In April 1974, the car was sold to its third owner, Giuseppe Paci, a resident of San Benedetto del Tronto, Italy. In the late 1970s the Dino was with Carrozzeria Leurini, in San Benedetto del Tronto, Italy.
⤈ 1966 Ferrari 330 GT 2+2 Series II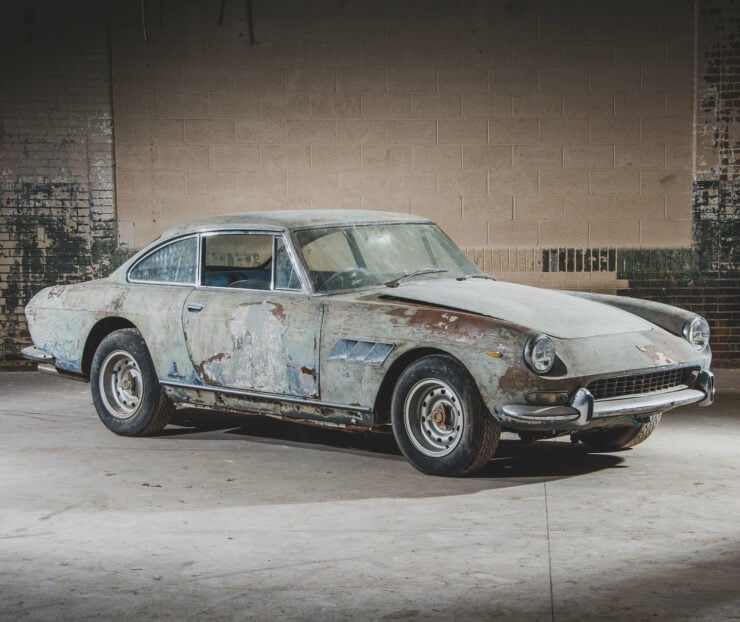 This 1966 Ferrari 330 GT 2+2 Series II certainly ranks among the most unique 330 GT 2+2s ever constructed. One of just 36 right-hand-drive examples produced, 8563 was ordered new via Maranello Concessionaires of Surrey, United Kingdom for delivery to Dar es Salaam, Tanzania in East Africa. It was optioned with power windows and finished in the exquisite livery of Azzurro (silver blue) over Bleu Nuvola (cloud blue) leather trim.
According the 330 GT Registry, 8563 would make its way back to the United Kingdom, registered under the plate "APG 18H" in the early 1980s; acquired by collector John Kelly from noted racecar driver David Piper in 1983, it was exhibited by Kelly at the now-famous Ferrari Days Modena event in September 1983 before being exported to the United States that fall. It was later acquired by Walter Medlin in 1984.
⤈ 1972 Ferrari 365 GTC/4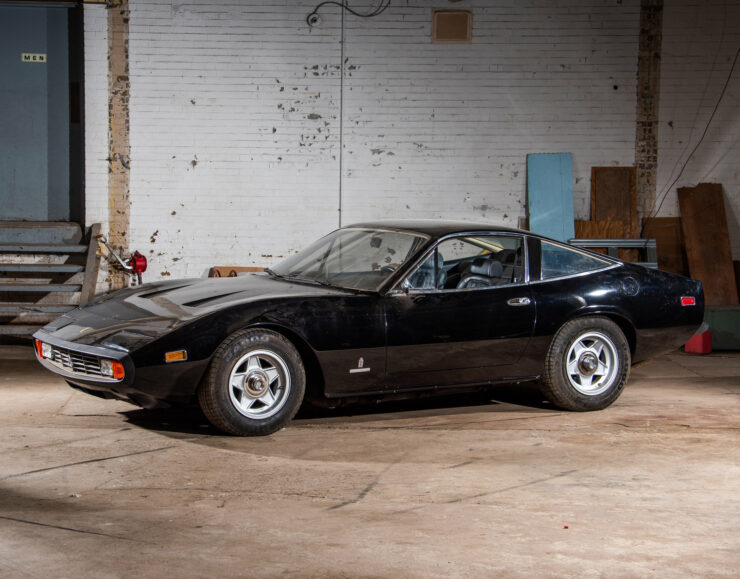 The US-spec example offered here completed production in December 1971 and was delivered in January 1972 to official importer Luigi Chinetti Motors in New York, finished in Nero over Nero Cogolo full leather seats with red carpets. It was sold new to Dr. Robert H. Bailey of Augusta, Georgia and remained in Georgia with only one other owner until 2011, making multiple appearances at Ferrari Club of America events in Atlanta during the early 2000s.
In November 2011, Walter Medlin acquired the 365 GTC/4 from Ferrari of Atlanta, which advertised the car as having a recent repaint in black and a redone interior by the famous specialists Luppi in Italy, also in the original black. Mileage was listed at 36,546 miles.
⤈ 1976 Ferrari 308 GTB "Vetroresina"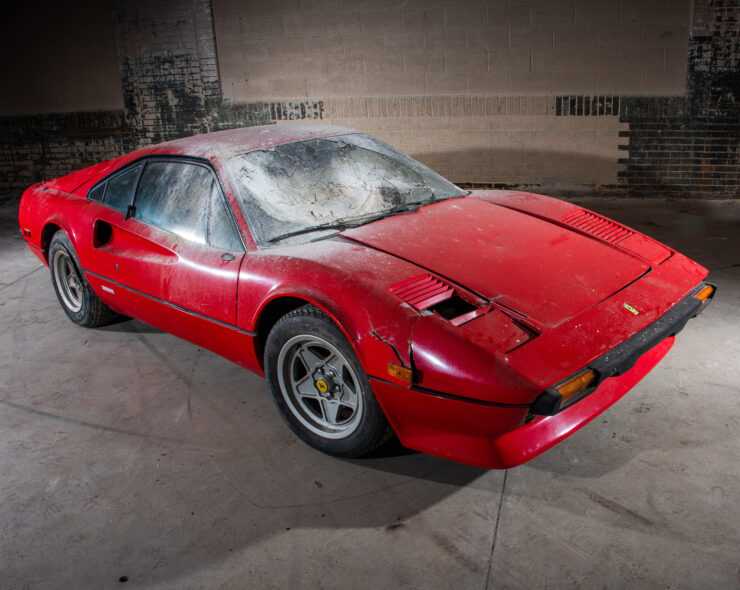 This 308 GTB was completed in June 1976, and it sold new to the United States via Luigi Chinetti. By 1978 was offered for sale in the Ferrari Market Letter by Mark Derish of New York, who described it as red with beige interior and having only 3,000 miles. Prior to its acquisition by Walter Medlin in April 1979, the car was offered for sale by FAF Motorcars in Tucker, Georgia and was described as having 5,200 miles.
Photographs on file taken circa 1980 show the car in its present colors: The classic combination of Rosso Corsa over tan leather with black inserts. Despite its great performance potential, this Ferrari apparently enjoyed only limited road use; at the time of cataloguing, its odometer displayed just 9,587 miles.
⤈ 1980 Ferrari 512 BB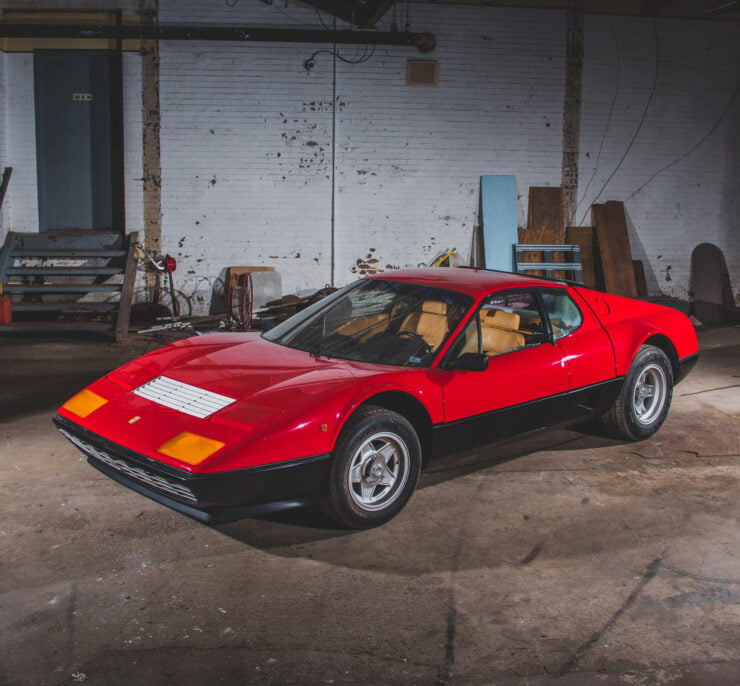 Being sold for the first time in nearly three decades, the 512 BB on offer here is one of these coveted gray market examples. Manufactured in April 1980, chassis 31359 was imported to the United States via Trend Import Sales, Inc. In 1987 and 1988 the Ferrari resided in New Mexico, registered under the vanity plate "GIDDYUP."
In the summer of 1988, the 512 BB changed hands, bought by Jefferey B. Lewis, a significant Southern California Ferrari collector who would go on to own the car into the mid-1990s. It was purchased by Walter Medlin in October 1996.
⤈ 1969 Ferrari 365 GT 2+2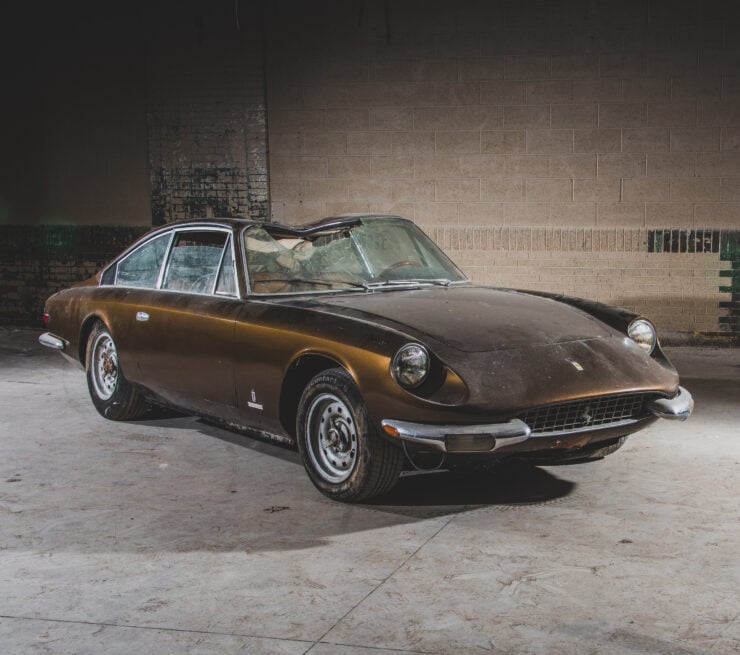 Originally finished in an Argento exterior over Beige Connolly leather, this Ferrari was delivered new in March 1969 to an official Ferrari dealer, Dino Ravasio & Sons. Later that year this 365 GT 2+2 was purchased by a resident of Verona by the name of Piccolotto. Eventually, the Ferrari left its home country and was imported to the United States.
While the exact year of export is unknown, the car was sold by Auto Palace Sales of Pittsburgh, Pennsylvania on 20 April 1978 to Thomas Boniface of Poland, Ohio. A Georgia registration sticker issued in April of 1978 remains on the windshield, and in May of 1978 FAF Motors of Tucker, Georgia listed the car for sale through Ferrari Market Letter.
⤈ 1991 Ferrari Testarossa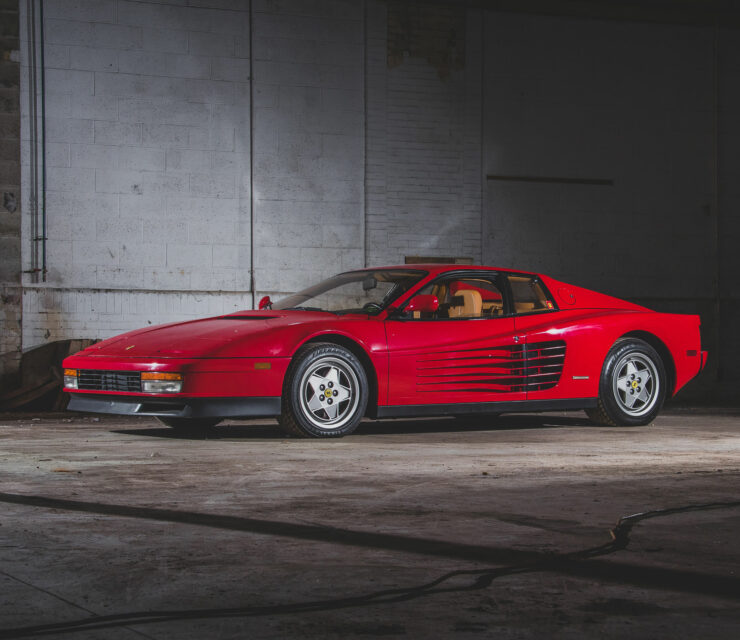 This remarkable US-market Testarossa was completed at Maranello in January 1991 and desirably specified in the classic Ferrari color scheme of Rosso Corsa over beige leather with contrasting Rosso carpets.
Research compiled by Dutch Ferrari historians Edvar and Arvid van Daalen lists an approximate, unofficial tally of 266 examples configured for the US market in the model's final year of production. Late Testarossas such as this one benefit from the fitment of standard five-lug wheels, dual side-view mirrors, integrated rear brake light, and an improved air conditioning system.
⤈ 1965 Ferrari 330 GT 2+2 Series I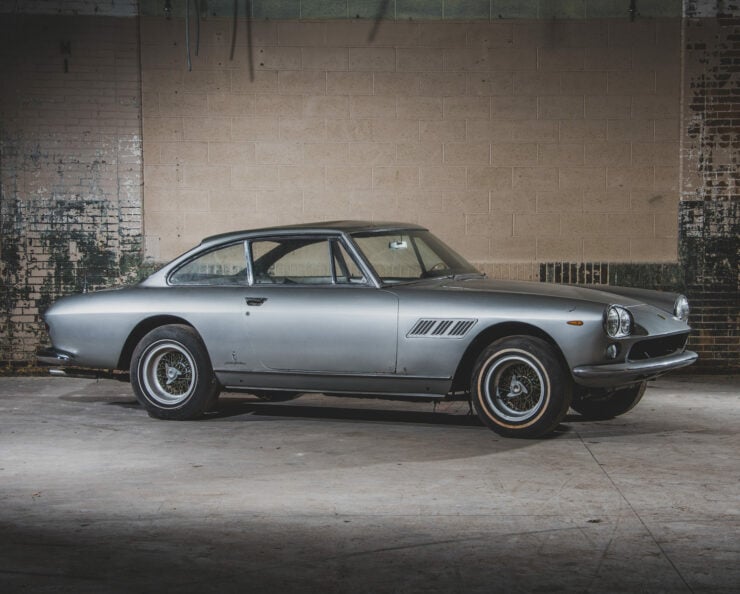 Delivered new to the United States in 1965 through Luigi Chinetti Motors, this Ferrari was finished in Grigio Fumo over a Rosso interior. A rare series I "interim" car, just 124 examples of these 330 GT 2+2 models are believed to have been built prior to the introduction of the Series II.
These cars retained the earlier quad-headlight design but featured a five-speed transmission, drop pedals, power windows, and upgraded brakes.
⤈ 1978 Ferrari 512 BB Competizione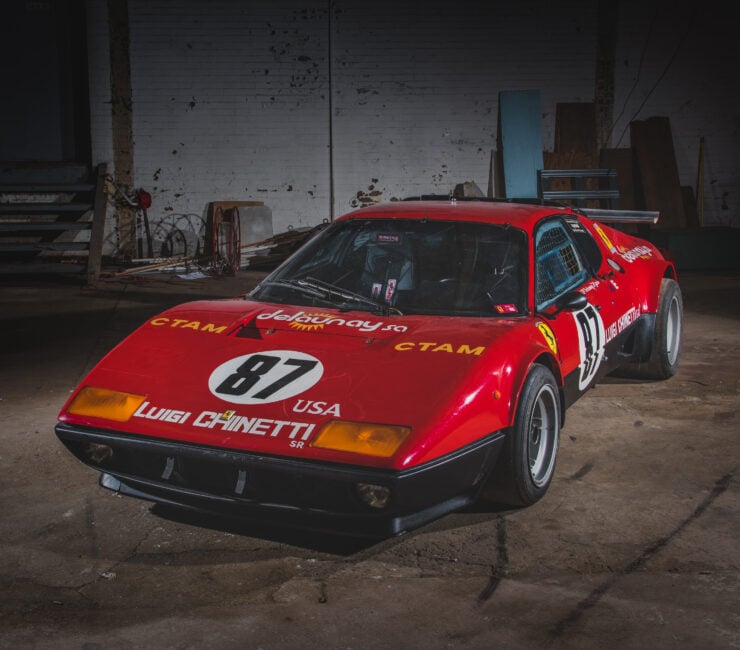 In preparation for the 1978 24 Hours of Le Mans, three 512 BB chassis were specially prepared to meet IMSA regulations, being built in Modena with full factory support. Various weight-saving measures were implemented to reduce the car's girth to about 2,425 pounds, and the 5-liter engines were tuned to develop an uprated capability of 460 horsepower, while the rear suspension was revised to accommodate wider rear tires. Pininfarina's production coachwork design was built in alloy and fitted with plexiglass windows, and modified with the addition of a larger chin spoiler and a large rear wing derived from Ferrari's 312 Formula One car.
Two of these 512 BB Competizione examples were entered by French marque distributor Charles Pozzi for competition in the IMSA GTX class. The remaining example, the featured lot chassis number 24131, was entered by Luigi Chinetti's North American Racing Team (NART) as race #87, and driven by the team of Jean-Pierre Delaunay, Jacques Guérin, and Gregg Young.
⤈ 1977 Ferrari 400 Automatic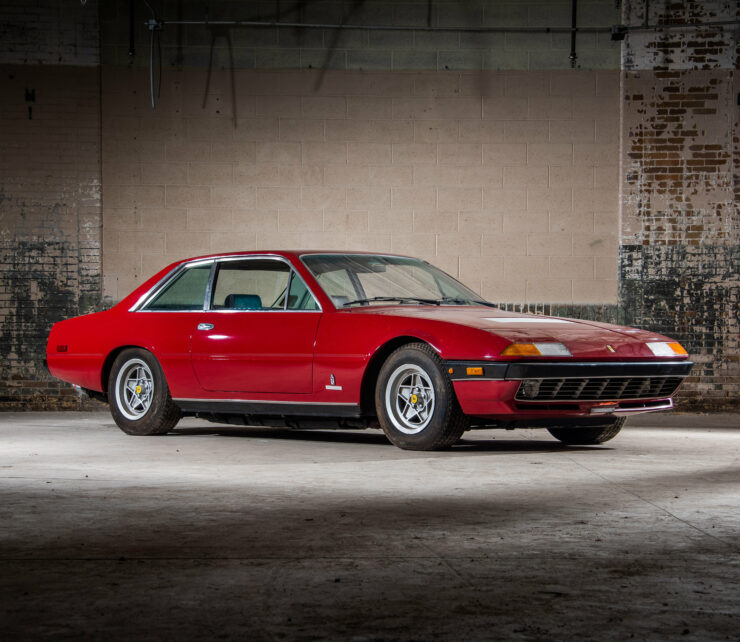 Sold new in Italy, this 1977 Ferrari 400 Automatic is finished in the attractive shade of Rosso Nearco. It is equipped with a Vitaloni Tornado driver's sideview mirror, ANSA exhaust tips, and rides on Cromodora wheels. The interior is trimmed in black leather with red seat and door card inserts, red carpet, and a white leather-trimmed headliner.
Inside, the driver is treated with a leather-wrapped Momo steering wheel, a Kenwood radio unit with cassette, power windows, air conditioning, and seating for four. Later imported to the United States, the Ferrari was purchased by Walter Medlin in September of 2003. The odometer displays 85,316 kilometers (~53,013 miles) at time of cataloging, having covered just 20 kilometers since its acquisition. Stored for many years, this example will require mechanical sorting prior to use.
⤈ 1965 Ferrari 275 GTB/6C Alloy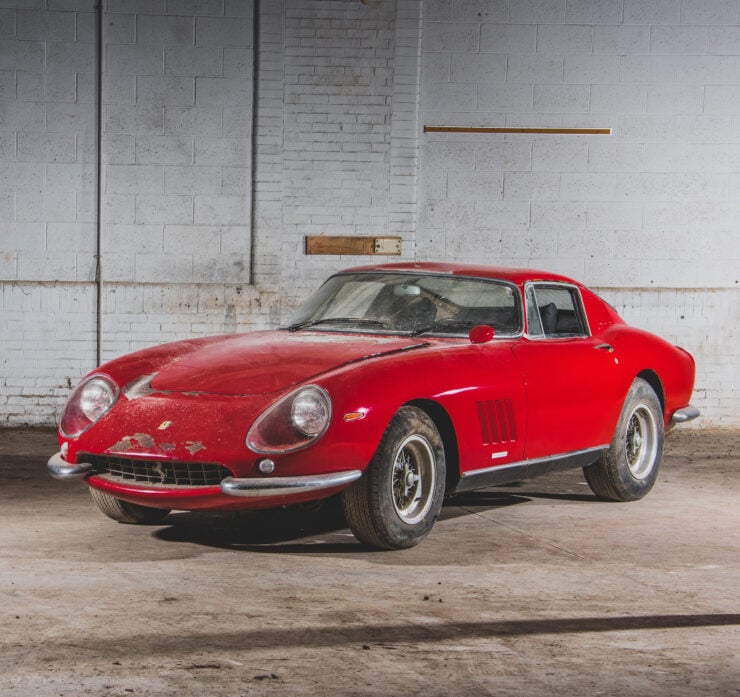 Claiming a number of significant metrics, as well as being Ferrari's 1965 Turin show car, this fascinating 275 GTB/6C Alloy has emerged from a multi-decade bout of storage, offering an ideal slate for a thoughtful restoration project. According to the combined research of marque experts Marcel Massini and Dyke Ridgley, chassis number 07809 was clothed by Scaglietti during October 1965.
The berlinetta is just the third roadgoing example of the long-nose body configuration fitted with CV joints, and it was the very first example to be clothed with a low-weight alloy racing body and fitted with six carburetors.
⤈ 1956 Ferrari 410 Superamerica Coupe Series I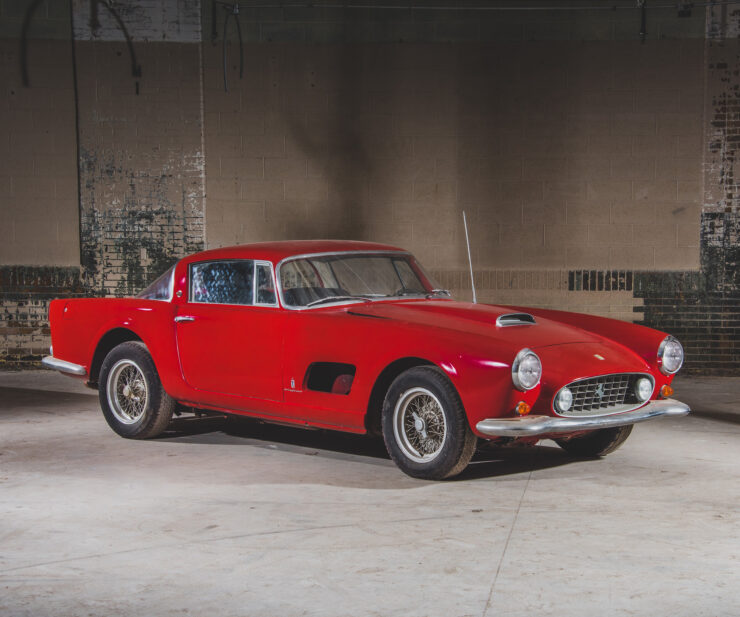 Indubitably rare, this enchanting 410 Superamerica is the 10th of 12 Series I examples bodied by Pinin Farina. According to the research of marque expert Marcel Massini, chassis number 0497 SA entered the Pinin Farina workshop in May 1956, and the coachwork was finished in Blu Artico paint over an interior of Naturale vaumol leather from Connolly. Blu Artico is one of the rarest paint colors to be found on a vintage Ferrari, which therefore endows this car with a very special build provenance.
In October 1956 the Ferrari experienced its most prominent brush with grandeur when it was displayed on the manufacturer's stand at the Paris Salon. As depicted in a period photograph, the Superamerica and a 250 GT Berlinetta flanked the Superfast concept car, brilliantly conveying the marque's focal points of competition, luxury, and advanced design.
⤈ 1956 Ferrari 250 GT Coupe Speciale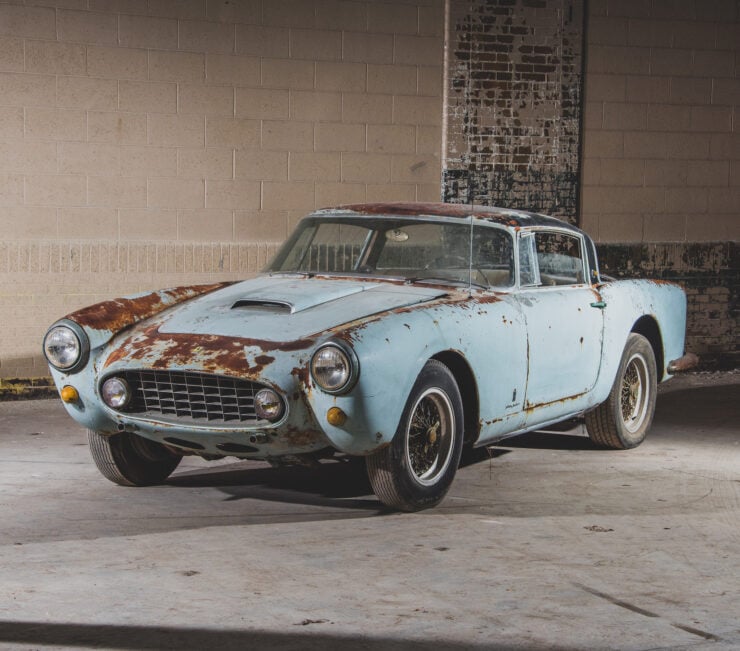 According to the research of marque authority Marcel Massini, this rare 250 GT is the last of the four coupes that featured Pinin Farina's Superamerica-style coachwork, and it is one of three built without fender vents. Dispatched to the coachbuilder's workshop in May 1956, chassis number 0469 GT was finished in a two-tone exterior of a Celeste body crowned with a Nero roof, and the interior was upholstered in Naturale leather by Connolly.
After being completed in August 1956, the Ferrari was delivered to its first owner, Mohammed al-Khamis bin Yusef bin Hassan al-Alawi, better known as Mohammed V, King of Morocco.
⤈ 1967 Ferrari 330 GTS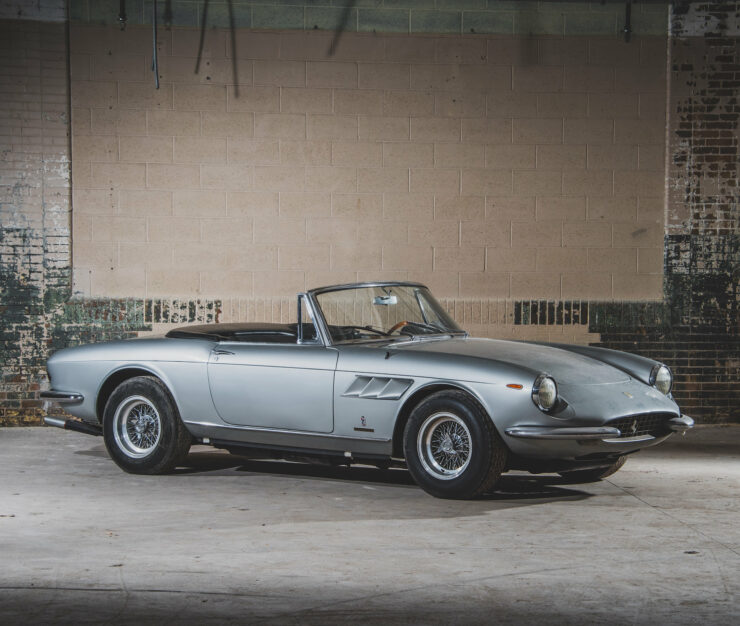 The 1967 Ferrari 330 GTS offered here was delivered new to Luigi Chinetti Motors in New York in May 1967 and was promptly sold to its first owner, Gary Fader of Marietta, Georgia, that same month. Mr. Fader would retain the car until at least 1987, according to a detailed report by Ferrari historian Marcel Massini.
In 1989 and early 1990, the 330 GTS was listed for sale. A 1990 sales listing described the car as having one owner, a new soft-top, air conditioning, power windows and Borrani wire wheels.
⤈ 1971 Ferrari 365 GTB/4 Daytona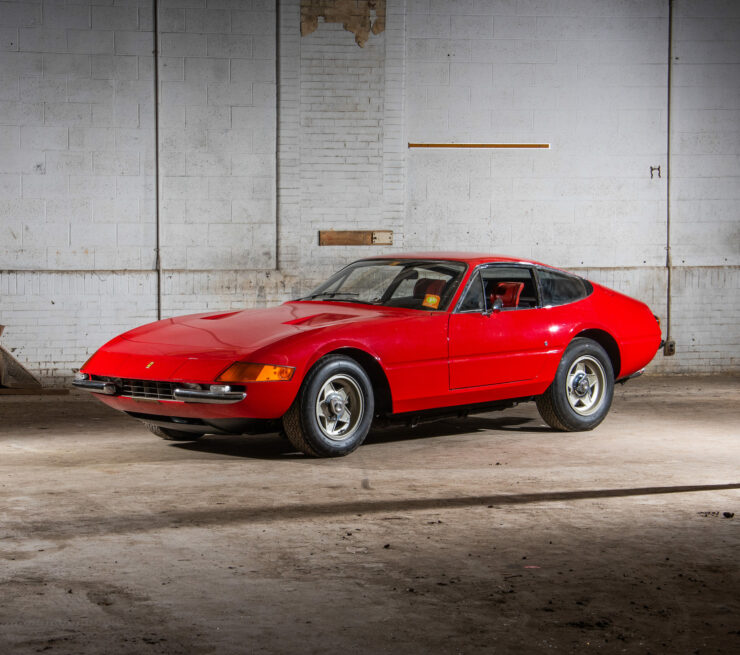 This Daytona Berlinetta, chassis number 14341, is offered for the first time in nearly three decades. Completed on 17 June 1971, it was originally finished in the stunning, extremely rare color combination of Azzurro La Plata over Rosso Connolly leather. A left-hand-drive, United States-specification Daytona, chassis 14341 was sold new via the famed Luigi Chinetti Motors of Greenwich, Connecticut to its first owner, Mr. Lee Becker.
Following Becker's tenure, the car was repainted red and passed through a series of owners. The car was once part of Japan's famed Matsuda Collection, and still exhibits what is believed to be a 1980 Japanese registration sticker on the center of the windshield. The car was eventually acquired by Walter Medlin in October 1996.
⤈ 1964 Ferrari 250 GT/L Berlinetta Lusso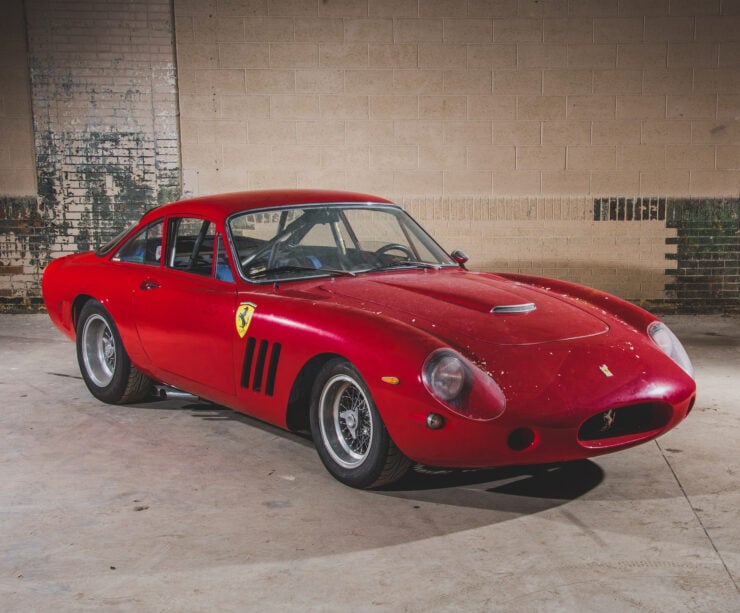 Converted to racing specifications, and now emerging from 20 years of storage, this unique Ferrari is an intriguing prospect. According to the research of marque expert Marcel Massini, chassis number 5521 GT is the 269th example built, and it completed assembly during April 1964 with a finish in Amaranto paint over a Beige leather interior.
Specified in left-hand drive, the 250 GT was delivered to the UK marque distributor Maranello Concessionaires and sold new to a Mr. Moll, an English resident living in Sicily. Over the next two years, the Lusso was serviced five times at the Ferrari Factory Assistenza Clienti in Modena before being sold to an enthusiast based in Geneva, Switzerland. After receiving attention twice more at the Assistenza Clienti, the berlinetta was sold into British ownership in 1967, eventually passing to racing enthusiast Mike McQuaker of London by 1973. By this time the coachwork had been refinished in light green, and shortly thereafter the car was painted yet again in dark green.
⤈ 1965 Ferrari 275 GTS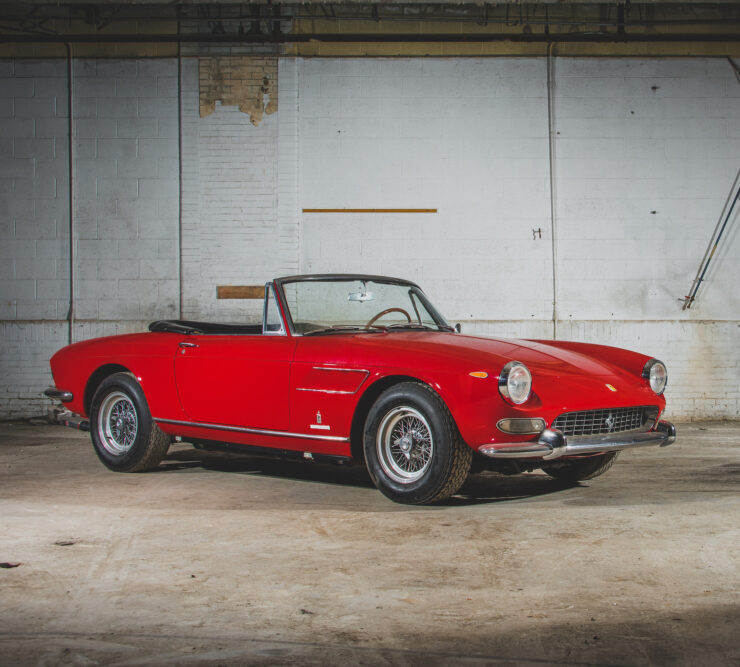 The 19th example of its kind to be completed, this Ferrari 275 GTS, chassis number 06923, was finished on 14 April 1965. According to the report on file from Ferrari historian Marcel Massini, it was delivered to its first owner (whose identity is not presently known) that June via the storied Luigi Chinetti Motors of New York, New York.
Although it was originally finished in the seldom-seen combination of Giallo Solare (sunny yellow) over a Nero interior of Franzi leather, it was at some point by the late 1970s refinished in black with a tan interior.
⤈ 1972 Ferrari 365 GTB/4 Daytona Berlinetta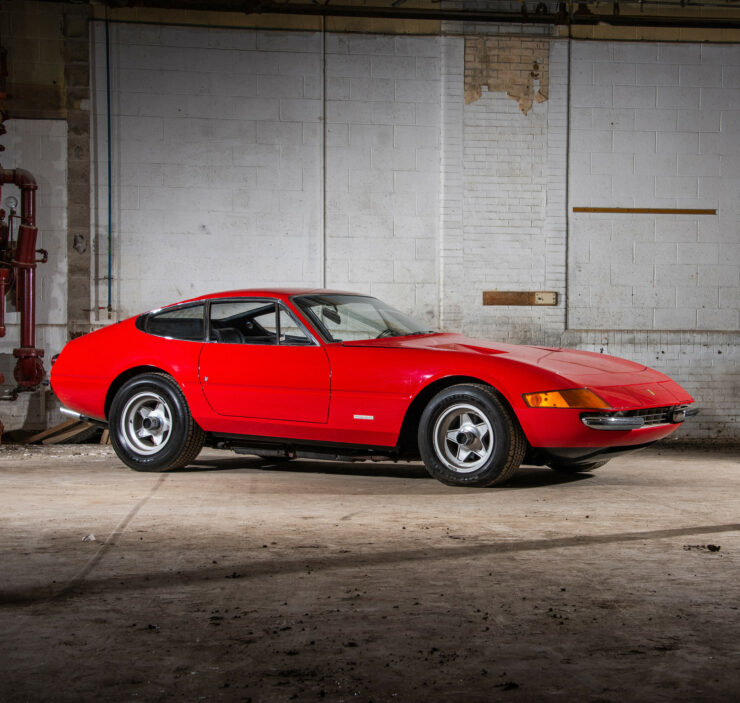 This 365 GTB/4 Daytona, chassis number 14663, is a US-specification example completed at Maranello on 5 November 1971 and subsequently delivered new to Yonge Steeles Motors in Toronto, Ontario. According to Hilary Raab's book Ferrari Serial Numbers Part I, the car was shown at the January 1972 Montreal Auto Salon.
Despite its Canadian delivery, research by marque historian Marcel Massini notes that 14663 still received all the requisite US-market equipment including power windows, air conditioning, and instrumentation reading in miles.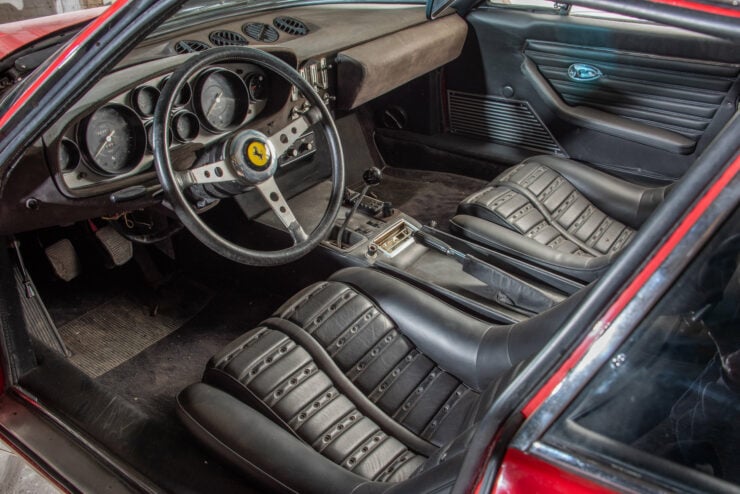 All images ©2023 Courtesy of RM Sotheby's
Individual vehicle images courtesy of Darin Schnabel ©2023 of RM Sotheby's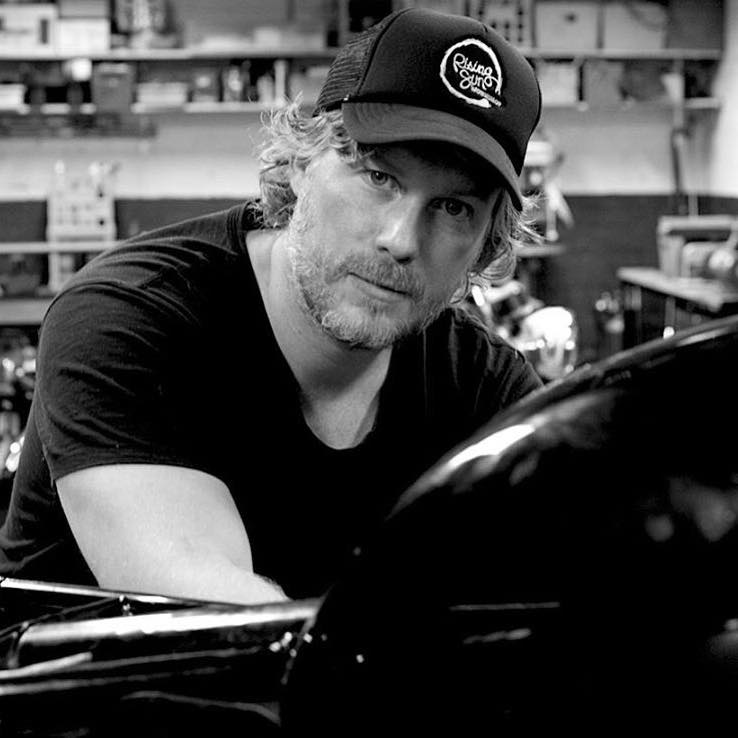 Articles that Ben has written have been covered on CNN, Popular Mechanics, Smithsonian Magazine, Road & Track Magazine, the official Pinterest blog, the official eBay Motors blog, BuzzFeed, Autoweek Magazine, Wired Magazine, Autoblog, Gear Patrol, Jalopnik, The Verge, and many more.
Silodrome was founded by Ben back in 2010, in the years since the site has grown to become a world leader in the alternative and vintage motoring sector, with well over a million monthly readers from around the world and many hundreds of thousands of followers on social media.