The AMC Gremlin was introduced in 1970 with a controversial design that was said to have been first sketched on an air-sickness bag. The car would be come a cult classic, with over 670,000 made before production ceased in 1983.
The Gremlin was developed to target the leaders in the economy car market, vehicles like the Chevrolet Vega, Ford Pinto, Volkswagen Beetle, and the Toyota Corolla. Though it was ultimately not as successful as its rivals, it remains a popular (albeit unusual) 1970s-era classic today.
Fast Facts – The AMC Gremlin
The original concept design for the Gremlin was first sketched on an air-sickness bag – which those who think the Gremlin is vomitably ugly consider to be totally appropriate.
Late models of the AMC Gremlin were offered with a VW-Audi four cylinder carburetor engine that was also used in fuel injected form to power the Porsche 924.
AMC claimed that the Gremlin was so cheap that if you could afford a car you could afford two Gremlins.
There was a "Levi's" version of the Gremlin made with faux denim seats and interior trim in an effort to make the Gremlin a trendy cool car.
Late model Gremlins were offered with optional Laycock de Normaville electric overdrive such as one would expect to find on high end imported Jaguars and British sports cars.
The Gremlin Concept
The 1960's-1970's were one of the most creative periods in automotive history, and in world history. This two decade era in which men first walked on the moon produced some of the most desirable automobiles ever, before the decline into conformity wrought by corporate "market research" exacerbated by increasing government regulation.
It was during this period that American Motors Corporation brought into existence their bobtail answer to the increasing flood of small European cars being imported into the United States – and just to emphasize the uniqueness of this rather unconventional new offering they gave it an attention grabbing name "Gremlin", and made its debut on April Fool's Day 1970.
One of the imports that was being brought into the United States was the Volkswagen Beetle, a car created by Dr. Ferdinand Porsche with some help from Hans Ledwinka during the 1930's at the behest of Adolf Hitler. It had become a car that somehow – despite its rather dubious origins as the Third Reich's "People's Car" – had obtained a significant "coolness factor" among the young generation, those attracted to the "Hippy" life philosophy and all things trendy.
This coolness undoubtedly brilliantly fostered by the Volkswagen advertising that was fabulously out of the box and sure to appeal to that young generation.
Among the other affordable imports for the Gremlin to compete with were the Toyota Corrolla and the Datsun 510: both of which had to overcome the notion that Japanese cars were not as well made as American ones. By comparison with the Gremlin the Datsun 510 offered an SOHC efficent four cylinder engine, an all synchromesh four speed gearbox, front disc brakes, and fully independent suspension front and rear, earning it the nickname the "poor man's BMW".
AMC's design and management wisely did not attempt to mimic the Volkswagen nor the Datsun but instead sought to create their own "American as Apple Pie" automobile that would appeal to a mainstream US market, and which would offer size and economy.
The Gremlin concept was first birthed on a Northwest Orient Airlines flight in 1966. AMC's Chief of Design Dick Teague was taking a flight with stylist Bob Nixon. The two hadn't planned to do any concept sketching on the flight so the only blank paper to be found was an air sickness bag conveniently placed in the seat pocket.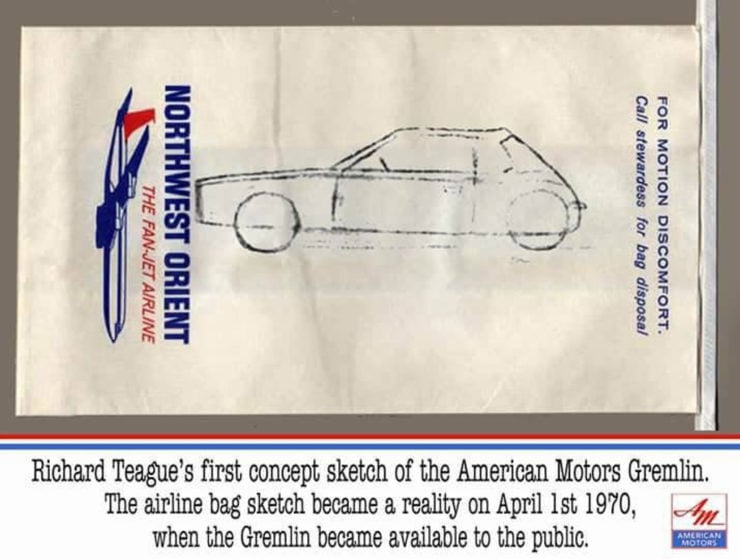 The idea was not completely new, but based on the previous AMC AMX-GT concept car.
Interestingly despite the fact that the AMC AMX-GT was considered by many to be beautiful, once it was shortened and the roof was left a bit higher while it was simplified and made as inexpensive as possible, it lost a lot of its aesthetic appeal. It would get something of that aesthetic appeal back as the Gremlin's style was developed over the production years, and it would become more conventionally attractive when at the end of Gremlin production it was morphed into the AMC Spirit.
As AMC did not have surplus money available with which to create completely new models Dick Teague and Bob Nixon had to develop new models using as many existing production components as possible. So the new Gremlin needed to be created as a "parts bin special".
Models History
1970: This was the first and most basic model. The rear seat was optional and the rear window fixed, so to load luggage one needed to fold the front seats forward and maneuver bags and cases over the folded front seats.
Standard engine was the 199 cu. in. AMC inline six cylinder with seven main bearings and producing 128 hp. Optional was the 232 cu. in. inline six producing 145 hp. The transmission was a three speed manual with column shift lever and synchromesh only on second and third gears. A Borg-Warner three speed automatic was available as an optional extra.
Because the profit margin on building the standard car was so slim AMC chose to offer an extensive list of optional features as the profit margin on the options was high, thus helping to offset that narrow profit margin.
1971: The "X" equipment package was offered as a US$300.00 option. This simplified selection of options for customers. This package included front bucket seats to replace the standard bench seat, and provided paint and decal features as well as Goodyear "Polyglas" tyres size D70x14. The Polyglas tyres were a bias-ply tyre that Goodyear claimed provided the best benefits of both radial and bias-ply tyres.
At that stage of tyre manufacturing the then new radial ply tyres were recommended for surfaced road use in which environment they kept more tread in contact with the road but because of their flexible side-walls were more prone to damage from rough un-surfaced roads and potholes. Bias-ply tyres featured stronger and less flexible side-walls so were a better choice for rough unsurfaced roads and tracks, but being stiffer they tended to lose contact area gripping the road under cornering. The Goodyear Polyglas tyres provided a wider tyre footprint on the road than standard bias-ply tyres.
Engine compression ratios for all engines were lowered from 8.5:1 to 8.1:1. The 232 cu. in. six cylinder became the standard engine and its power was 135 hp. The optional engine for this year was a 258 cu. in. six with a longer stroke that produced 150 hp.
1972: This was the year that AMC changed to stating engine power in accordance with the SAE standard. So the 232 cu. in. six's power was rated at 100 hp SAE, and the 258 cu. in. six at 110 hp SAE.
This was the year that the Gremlin became a potential "poor man's Corvette" with the addition of a V8 to the engine options. This engine was a 304 cu. in. (5.0 Litre) V8 and it churned out 150 hp SAE making the little Gremlin quite capable of delivering tyre smoking wheel spin whenever desired.
The original Borg-Warner automatic was replaced with a Chrysler TorqueFlite unit and the former three speed manual transmission lacking synchromesh on first gear was replaced with an all synchromesh three speed one.
Among the list of options disc brakes appeared with the choice of having them power assisted if desired.
1973: This was the year the famous "Levi's" trim package was introduced. This option provided a "denim jeans" interior with about as "Hippy Friendly" a look as corporate America could manage.
Vehicle safety regulations would not permit the Levi's trim to be made of real denim however because of fire safety requirements. Customers had their choice of exterior colour, and of course faded denim blue was one of the options. So if you were looking for a car in which to drive around West Virginia listening to John Denver then this was the car for you.
This year saw the introduction of new low speed crash regulations that required a vehicle's bumpers to withstand a 5 mph impact at the front and 2.5 mph at the rear without damage. So the Gremlin, like all new cars that year, was fitted with suitable strengthened bumpers.
October of 1973 saw the beginning of the First Oil Crisis, which was an oil embargo launched by the Organization of Arab Oil Exporting Countries (OAPEC) against nations which had supported Israel in the Yom Kippur War. The United States was one of the countries affected by this action and saw the price of gasoline triple while it was in effect. Suffice to say that sales of small and fuel efficient cars were impacted positively.
1974: This year began with AMC having to deal with new safety regulations from the National Highway Traffic Safety Administration (NHTSA)and the United States Environmental Protection Agency (US EPA).
The NHTSA rules concerned bumpers: these had to be of a set uniform height and able to absorb a 5 mph impact from a variety of angles without damage. For the Gremlin AMC accomplished this by using larger bumpers front and rear set to the required height. These bumpers were mounted on energy absorbing and self restoring oil and gas cylinders.
1975: New US EPA (Environmental Protection Agency) regulations kicked in and Gremlins had to be fitted with catalytic converters. Cars were also required to use unleaded gasoline and so engines were changed to enable this. A Prestolite electronic ignition was fitted, and notices advising that "unleaded fuel only" was to be used were placed on the fuel filler and speedometer.
A curious addition to the options list for six cylinder Gremlins with manual transmissions was the fitting of the Laycock de Normanville electric overdrive. This was a feature common on British cars such as the Jaguar sedans and sports cars, and common on sports cars such as the Austin-Healey six cylinder sports cars and the MGB.
The control for the overdrive was on the turn signal stalk and it also had a "Kick Down" feature so that if the accelerator was pressed down sharply it would disengage the overdrive to enable faster acceleration. The overdrive was only active when the car was in third gear and was able to be activated once the car's speed went up over 35 mph. It would automatically disengage at speeds below 32 mph.
The overdrive option imparted to the six cylinder Gremlins a bit of an exotic driving experience and served to lower engine revs at highway cruising speeds which served to both reduce fuel consumption, increase range, and reduce engine wear.
For cars equipped with the "X" option package the Goodyear Polyglas tyres were replaced with the relatively new style steel belted radial tyres, which were a significant improvement.
1976: The Gremlin was given an annual styling facelift as was typical of US car makers while the effect of the anti-emissions equipment required by the US EPA regulations caused the power of the 304 cu. in. V8 engine's power to to be dropped down to 120 hp.
This was something that seems to have reduced the V8's appeal and it was dropped from production in the middle of the year. To give the Gremlin a sporting feel as the V8 disappeared a new all synchromesh four speed gearbox was added as an option. A four speed manual was by that stage a standard fitting on Japanese and European imports and no doubt AMC felt under pressure to keep up in order to make the Gremlin more of a "driver's car".
The Laycock de Normanville continued to be offered as an option on the three speed transmission but not on the new four speed. This seems a bit incongruous as the electronic overdrive on the four speed transmission should have been something that would appeal to buyers looking for a "driver's car".
I encountered the same phenomenon when I visited the Ford Stand at the London Earl's Court Motor Show of 1962. The new Zephyr 6 was offered with either a three speed manual column shift with overdrive or a four speed manual – but no overdrive was available on the four speed.
1977: Front disc brakes finally became standard for the Gremlin and the car was treated to an extensive face lift which saw the front of the car shortened by 4 inches. Also of note for this year was the offering of a Volkswagen/Audi  inline four cylinder 120 cu. in. (2.0 litre) fitted with carburettors. This lighter engine was essentially the same as fitted in fuel injected form in the front engined Porsche 924, giving the Gremlin a very efficient engine with exotic European appeal.
AMC did not stop their engine improvements there and put some technological advancements into their own inline six cylinder offerings. Both the 232 cu. in. and 258 cu. in. engines were treated to new revised cylinder heads complimented by twin barrel carburettors in an effort to claw back some of the power lost due to compliance with US EPA restrictions.
1978: In mid-1978 the "GT" package made its debut. This was available with the 258 cu. in. AMC six and four speed manual gearbox. The bodywork featured flared wheel arches and a front air-dam. Customers were beginning to appreciate the benefits of a front air-dam during the 1970's and they had begun to appear on performance oriented cars such as the Australian Ford Falcon GT as early as 1969.
Also introduced in 1978 was a "Custom" model which could be had with either the VW-Audi four or AMC 258 cu. in. six cylinder engine and four speed manual gearbox as standard. Also standard were the sporty vinyl front bucket seats.
The Gremlin was replaced in 1979 with the AMC Spirit.
Specifications
Chassis and Body
Separate steel chassis with steel pressed steel bodywork.
Length:
1970-1972: 161.3 in. (4,097 mm)
1973: 165.5 in. (4,204 mm)
1974-1975: 170.3 in. (4,326 mm)
1976: 169.4 in. (4,303 mm)
1977-1978: 166.5 in. (4,229 mm)
Width:
70.6 in. (1,793 mm)
Height:
51.8 in. (1,316 mm)
Wheelbase:
96 in. (2,438 mm)
Weight (Kerb): 2,633 lb./1,194 kg (Approximate, depending on model, engine, and optional equipment fitted).
Suspension, Steering and Brakes
Front: Twin ball joint design with coil springs, sway bar, and telescopic shock absorbers.
Rear: Semi-elliptic leaf springs with live axle.
Steering: Recirculating ball.
Brakes: Drums all around with 10 inch (254 mm) front discs available as an option, and later as standard equipment on some models (see summary above).
Engines
3,258 cc (198.8 cu. in.) AMC 199 inline six cylinder.
3,801 cc (232.0 cu in) AMC 232 inline six cylinder.
4,230 cc (258.1 cu in) AMC 258 inline six cylinder.
4,978 cc (303.8 cu in) AMC 304 V8.
From 1977: Volkswagen-Audi 1,984 cc (121 cu in) EA831 inline four cylinder.
Transmissions
Three speed Borg-Warner manual with synchromesh on second and third gears only.
Three speed Borg-Warner manual with synchromesh on all forward gears, and with the option of a Laycock de Normanville electric overdrive.
Four speed fully synchromesh Borg-Warner manual.
Three speed Borg-Warner automatic (1970-1971).
Three speed Chrysler TorqueFlite automatic (1972-1978).
Buying a Gremlin
With any classic car it is best to get a potential purchase checked by a competent professional.
A recommended resource if you intend to do the inspection yourself is the book "Illustrated AMC Buyer's Guide" by Larry G. MItchell.
As far as chassis, bodywork and mechanicals the AMC Gremlin is about as generic an American car as it can get. As it has a separate chassis that's made of "rust in peace" steel that is the first place you start looking for the classic car's worst enemy. Pay special attention to the places where the chassis is connected to the pressed steel bodywork.
Ensure you get a professional assessment of chassis and suspension alignment in order to recognise if the car has been badly kerbed or crashed at some point.
Check engine and transmission mountings.
Check the bodywork, especially in rust prone areas such as the underside of the wheel arches, sills, and structural areas.
Check suspension for alignment and wear of bushings etc.
Do all the usual engine checks including compression/cylinder leakage tests, cooling system and ignition.
Check the transmission. ensure the gearbox does not show signs of excess wear such as the synchromesh failing on second gear or jumping out of gear on the overrun.
Listen for transmission clunks and whines which indicates excess wear or damage.
Have the electrical system checked by a competent auto-electrician.
Remember that some parts for these cars can be exceedingly difficult to obtain. The rear glass window for models with the lift-up window is a good example.
Before you start talking with potential sellers make sure you have a solid working knowledge about the Gremlin. For an investment quality Gremlin you need to be able to validate whether or not it is what it claims to be or a fake. Expect that there will be cars that have been modified to make them appear to be what they are not – and collector value depends greatly on the car being exactly original, and not a surreptitious "replica".
As far as values are concerned the best strategy is to look at auction sites such as RM Sotheby's or Mecum Auctions and gain an accurate impression of what market values are at the time when you plan to go shopping.
The Gremlin appears to be an up and coming classic car and values of good examples should be expected to climb. Not only that but the car has a truckload of quirky appeal and just oozes character.
Picture Credits: AMC, RM Sotheby's.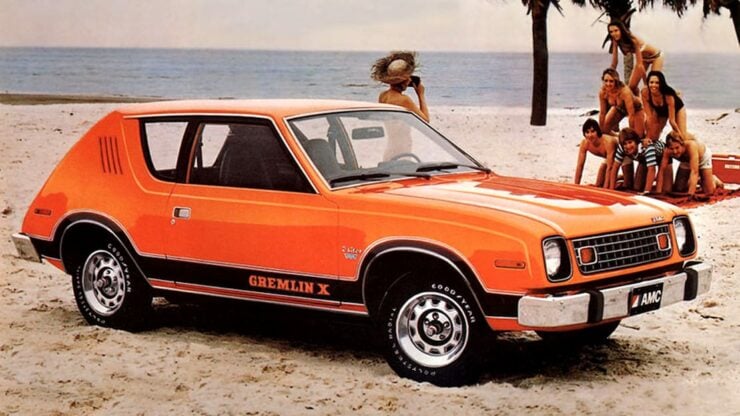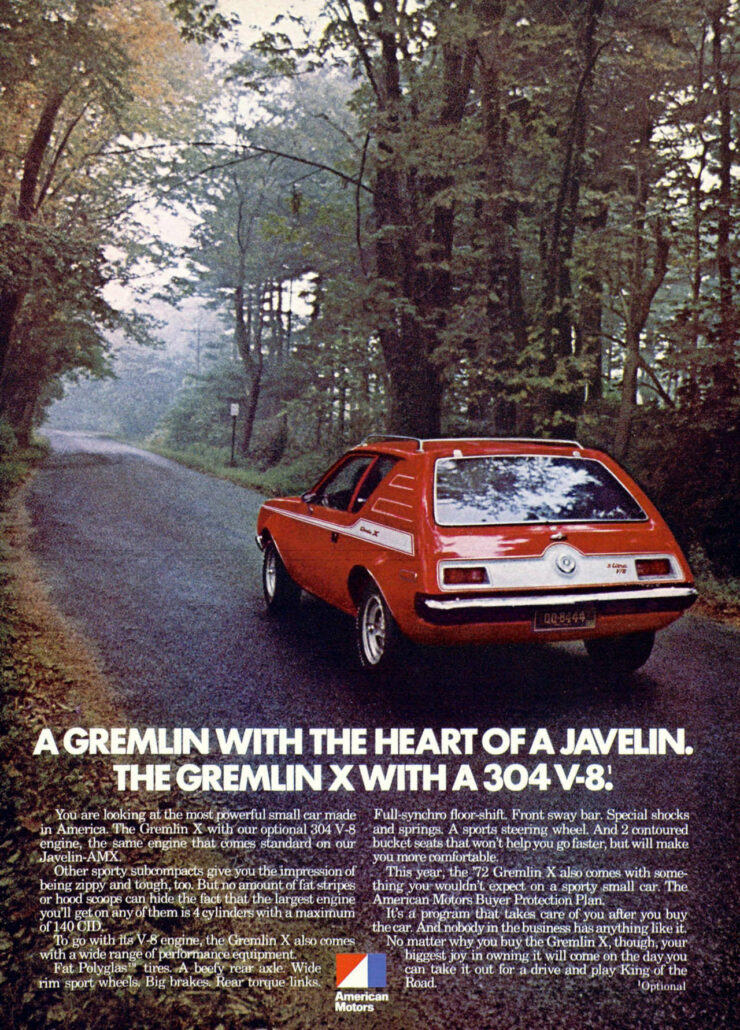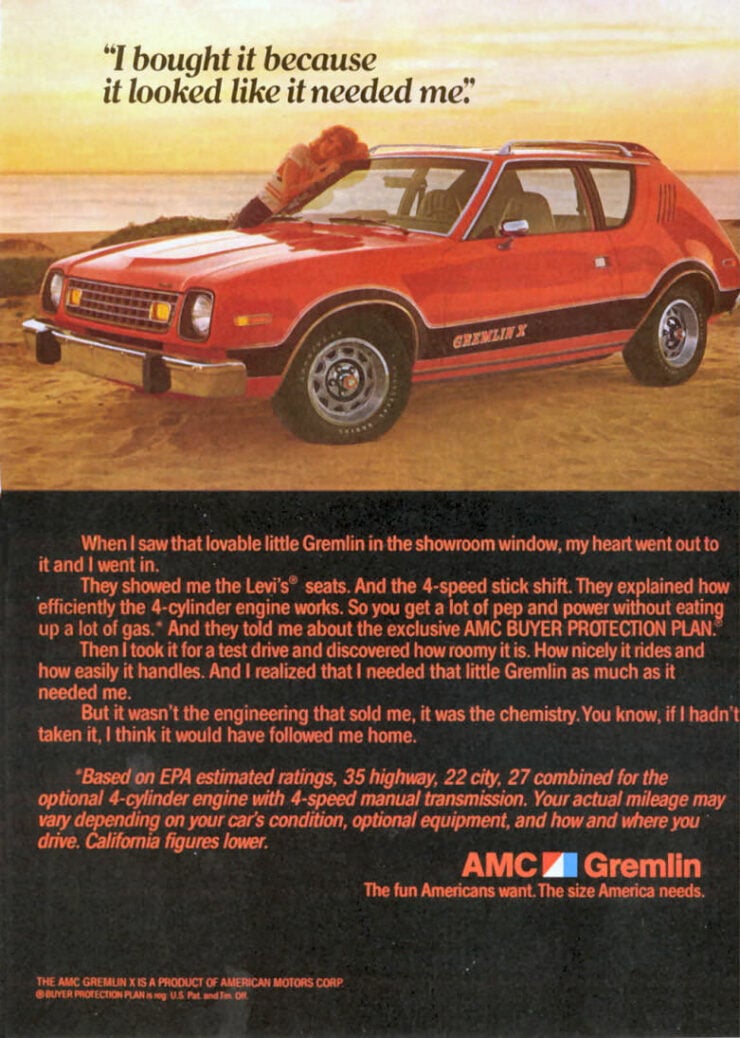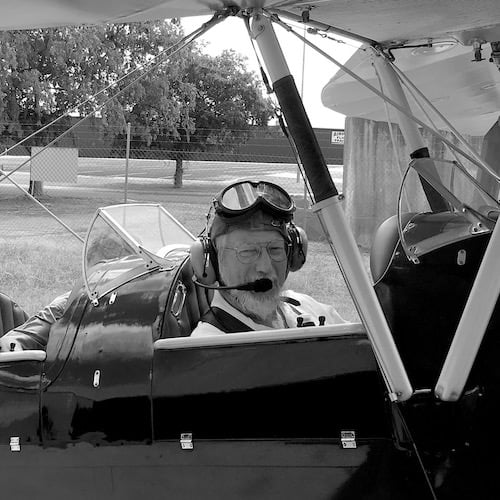 Jon Branch has written countless official automobile Buying Guides for eBay Motors over the years, he's also written for Hagerty, he's a long time contributor to Silodrome and the official SSAA Magazine, and he's the founder and senior editor of Revivaler.
Jon has done radio, television, magazine, and newspaper interviews on various issues, and has traveled extensively, having lived in Britain, Australia, China, and Hong Kong. The fastest thing he's ever driven was a Bolwell Nagari, the slowest was a Caterpillar D9, and the most challenging was a 1950's MAN semi-trailer with unexpected brake failure.