Introduction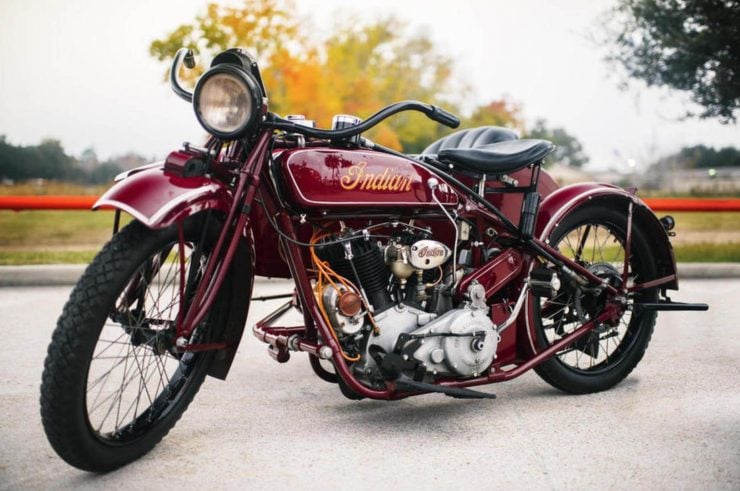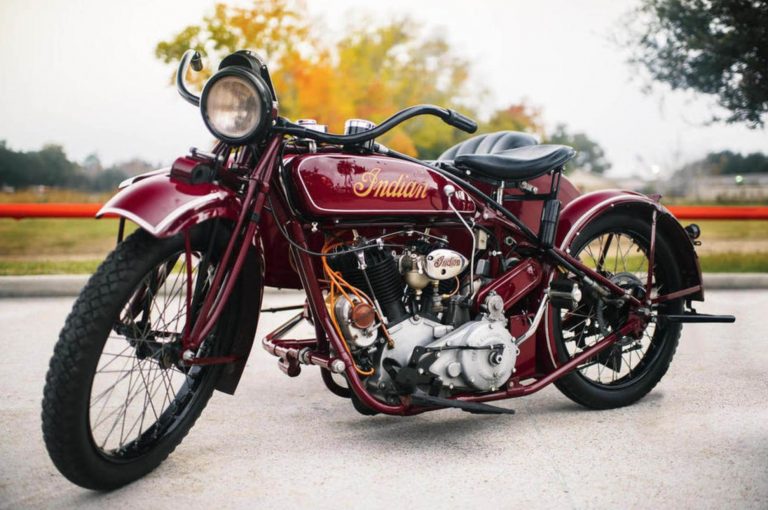 The story of the Indian Chief is one that is not quite of the order of sadness of a Shakespearean tragedy but it is nonetheless one that evokes a number of "what if" questions from motorcycle enthusiasts and especially Indian enthusiasts. The Chief was first produced in 1922 fitted with a 62 cu. in. (1 liter) 42° V-twin flathead engine. This was Indian Motocycle's big bike which meant it was not so much intended as a lively sports bike so much as it was created as a long legged touring bike and side-car hauler. A bike ideal for police departments with a big lazy under-stressed reliable engine able to carry the typical gear one needs when touring, and the gear a police bike has to transport.
As the biggest motorcycle in Indian's line at the time this was the top of the range motorcycle and was the bike to be desired even if its handling was not going to be as lively as the smaller Indian Scout. It didn't take Indian long to decide that a 1000cc engine was a tad too small for their top of the range motorcycle so in 1924 they enlarged the Indian Chief's engine to a whopping 74 cu. in. (1200cc), they called it the Indian Big Chief and thus it remained the biggest and most impressive motorcycle of the Indian range until 1927 when Indian purchased the Ace Motorcycle Company and began producing their in-line four cylinder motorcycle as the Indian Ace and later Indian Four. The Indian Chief however retained its place at the top of the size and desirability charts – it just shared the glory with the Indian Four. The Indian Chief was first designed by Charles Bayly Franklin who had also designed the earlier Indian Scout.
Charles Franklin was an Irish engineer who was also a motorcycle racing rider who competed in the prestigious Isle of Man TT seven times between 1908-1914 and achieved a second place in the Senior TT in 1911. He was a man with a considerable experience of motorcycles based not just on theoretical engineering but on that combined with extensive practical experience. Franklin's first design work for Indian was an improvement of the existing Powerplus engine that had originally been designed by Charles Gustafson. Franklin's refinement of the Powerplus engine created it as a high performance side-valve and it was an engine so good that it effectively replaced the overhead-valve, multiple-valve, and overhead camshaft designs that were then being used on racing motorcycles because it delivered the necessary power, in a more simple and reliable design. Indeed Franklin's high performance version of the Powerplus endured as a core design right up until after the Second World War in US Class-C motorcycle racing.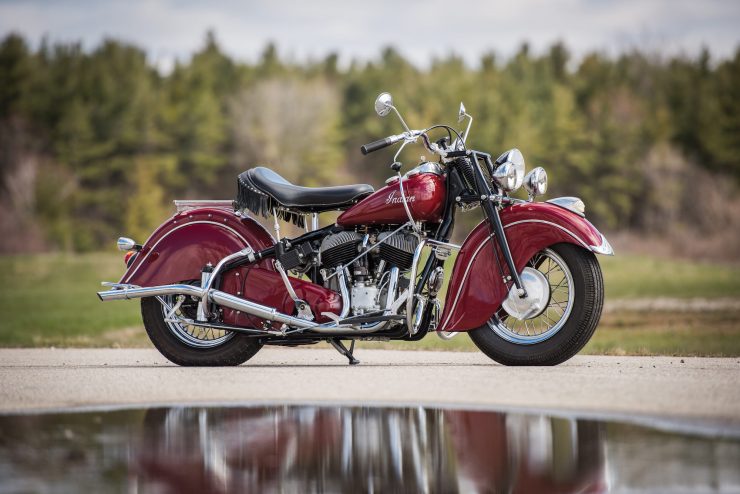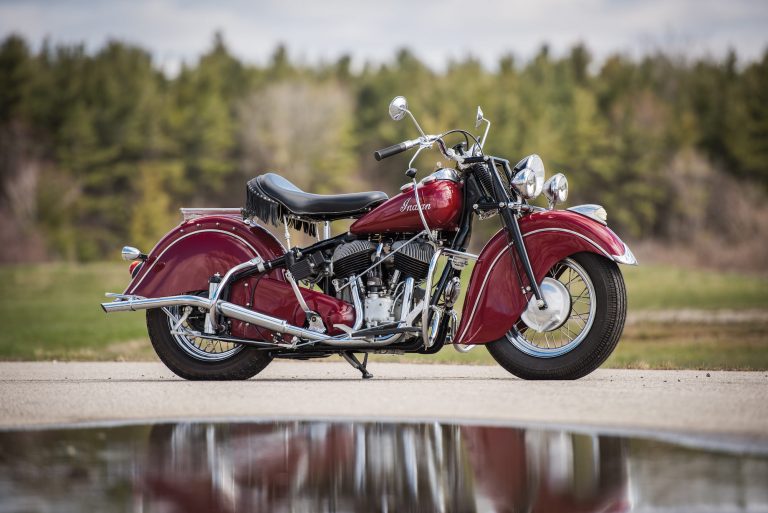 Franklin's first motorcycle designs for Indian were the Indian Scout of 1920 and then the Indian Chief of 1922. Franklin's designs for both bikes were similar and brought in some great improvements over earlier designs. In both models Franklin used a gearbox that was bolted to the engine and driven by efficient helical cut gears instead of the chain drive that had been used previously. For the Indian Chief engine Franklin gave it dual camshafts and a wet clutch. Interestingly Franklin did not design the Indian Chief to have rear suspension, just leaf spring trailing arm suspension at the front although its predecessor the Powerplus had rear suspension.
The design of the Indian Chief continued largely unchanged right up until 1940 when it was modified to give it plunger type rear suspension. It was also in 1940 that the iconic Indian enclosed fenders were introduced giving the bikes a look that became the Indian hallmark. The war years came and passed with some Indian Chief motorcycles being sent to war, many on the lend lease program to British, Canadian, New Zealand and Australian troops in various theatres and a few made their way into French hands. At the end of the war Indian decided that the Indian Chief would be the only pre-war designed motorcycle they would offer. The only big change was the replacement of the leaf sprung trailing arm forks with girder forks. The reason for this may well be linked to Indian establishing a relationship with British motorcycle maker Vincent.
Phil Vincent and his chief engineer Australian Phil Irving were both convinced of the superiority of girder forks and this may have influenced Indian to adopt them for the Indian Chief. There was more to the relationship with Vincent than just the change of front suspension however. Indian's V-twin engine was feeling its age by the 1940's and a new engine was needed to make the bike competitive with its opposition. Indian were struggling financially and did not have the resources to develop a new engine of their own. Vincent motorcycles however made one of the best V-twin motorcycle engines in existence. Thus it was that management at Indian indulged in a "what if" experiment and sent an Indian Chief without its engine across the pond to England's green and pleasant land to see if a Vincent Rapide engine and gearbox would actually fit into an Indian Chief. It did.
The Vincent engine and four speed gearbox was a tight fit into the Indian Chief frame but it fitted without major modification to the frame. In fact the fit was so good that the stock generator drive with belt and cover fitted without modification. The resultant "Vindian" was probably the best bike Indian had ever made. The exhaust pipes had to be routed one on each side but that actually improved the Indian Chief's handling and style. This prototype bike could have been not only a saving bike for Indian who were in financial difficulties, but also for Vincent who had similar struggles. However, in a move that can best be described as "snatching defeat in the face of victory" Indian chose not to go ahead with the Vindian but instead aborted it. Sales of the Indian Chief with its old fashioned and uncompetitive engine were poor and Indian finally closed in 1953. Vincent similarly closed in 1955.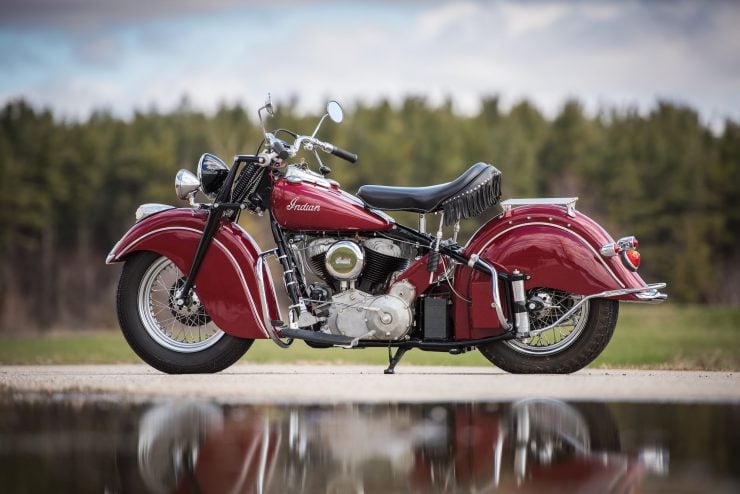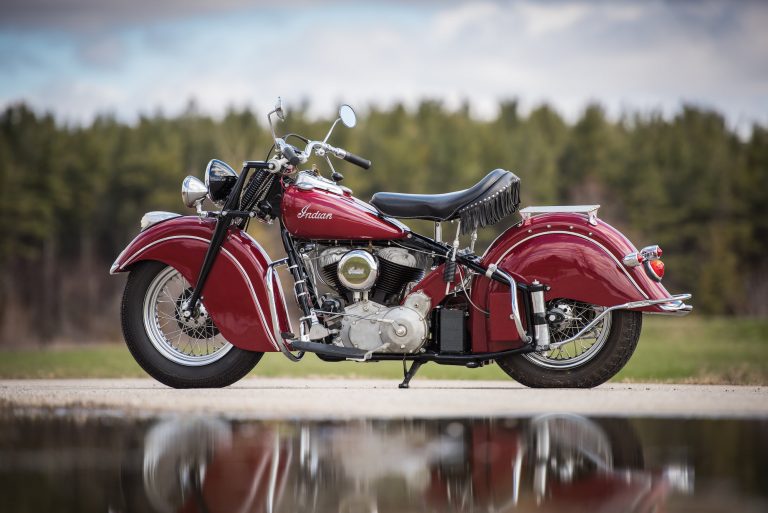 In the immediate post war years the Indian Chief had various minor changes made to it, some good and some not, including a 1948 change to the oil pump gears making them out of cheaper aluminium alloy instead of steel which was a cost cutting measure as was replacing the ammeter with an idiot bulb that same year. In 1949 during the time of testing the waters with Vincent the Indian Chief was not produced but once the decision had been made to abort the Vindian project the Indian Chief was given some upgrades and went back into production from 1950 until Indian closed for business in 1953.
The upgrades to the Indian Chief were the fitting of telescopic front forks and an increase in engine size to 80 cu. in. (1300cc). By this time the Chiefs had speedometers driven by the front wheel which was a more accurate and reliable set up but by 1951 Indian were into cost cutting at every turn and so that was replaced by a cheaper and less reliable option as were the American Linkert carburettors which were replaced by Amals which supposedly provided a bit better performance but which did not provide the same level of reliability and longevity. By comparison with the Harley-Davidson with its four speed synchromesh gearbox the Indian Chief was just not competitive any more.
So it was that Indian finally ended production of the Chief as they went into receivership in 1953. A few Chiefs were apparently built from existing spare parts and sold up until around 1955 but these rare bikes are not documented and are therefore impossible to verify. They were effectively custom built parts bin specials. The story of the Indian Chief is a sad one. A tale of management making decisions that would doom it to oblivion. Indian had the knowledge and technology to create an Indian Chief using the Vincent engine and gearbox and features it had built into its wartime model 841, but they chose not to do it. However if you can get your hands on an original Indian Chief you will have an iconic American motorcycle that will turn heads wherever it goes and draw crowds like a star.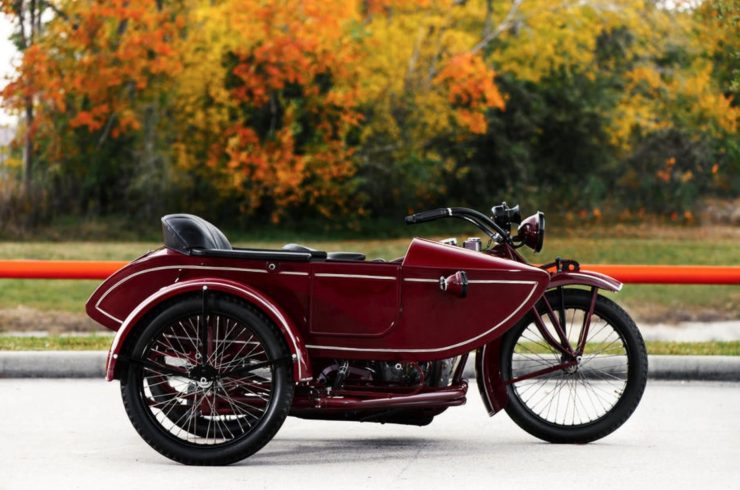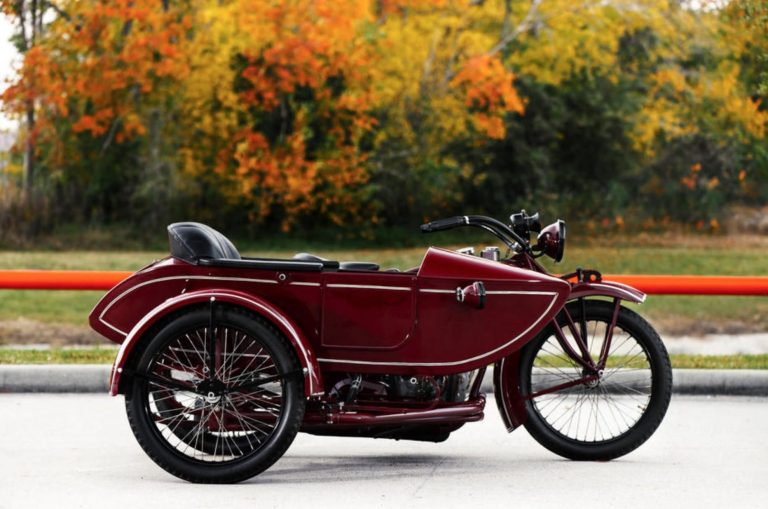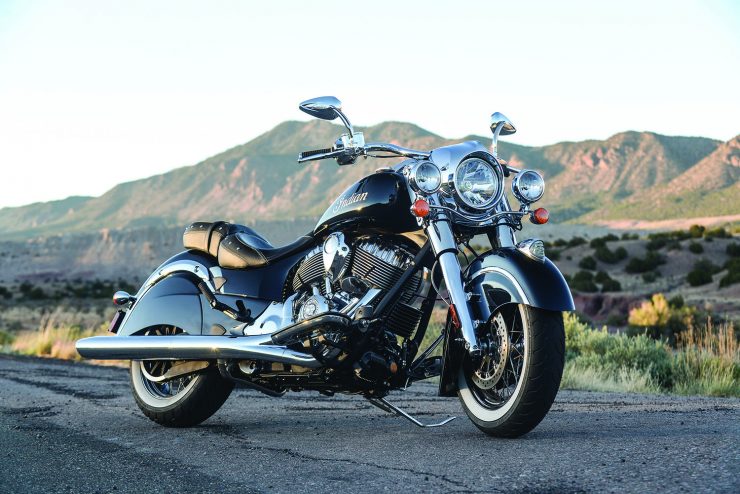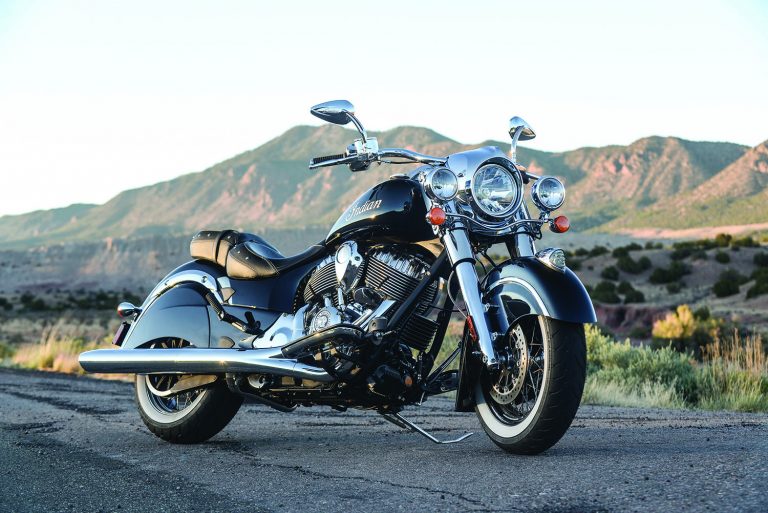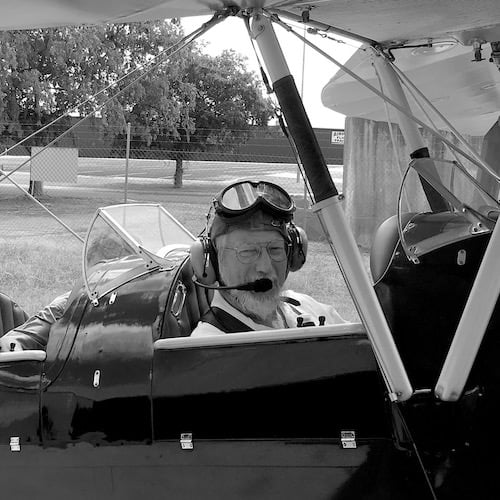 Jon Branch has written countless official automobile Buying Guides for eBay Motors over the years, he's also written for Hagerty, he's a long time contributor to Silodrome and the official SSAA Magazine, and he's the founder and senior editor of Revivaler.
Jon has done radio, television, magazine, and newspaper interviews on various issues, and has traveled extensively, having lived in Britain, Australia, China, and Hong Kong. The fastest thing he's ever driven was a Bolwell Nagari, the slowest was a Caterpillar D9, and the most challenging was a 1950's MAN semi-trailer with unexpected brake failure.