Ness-Stalgia
Reading time: about 2 minutes.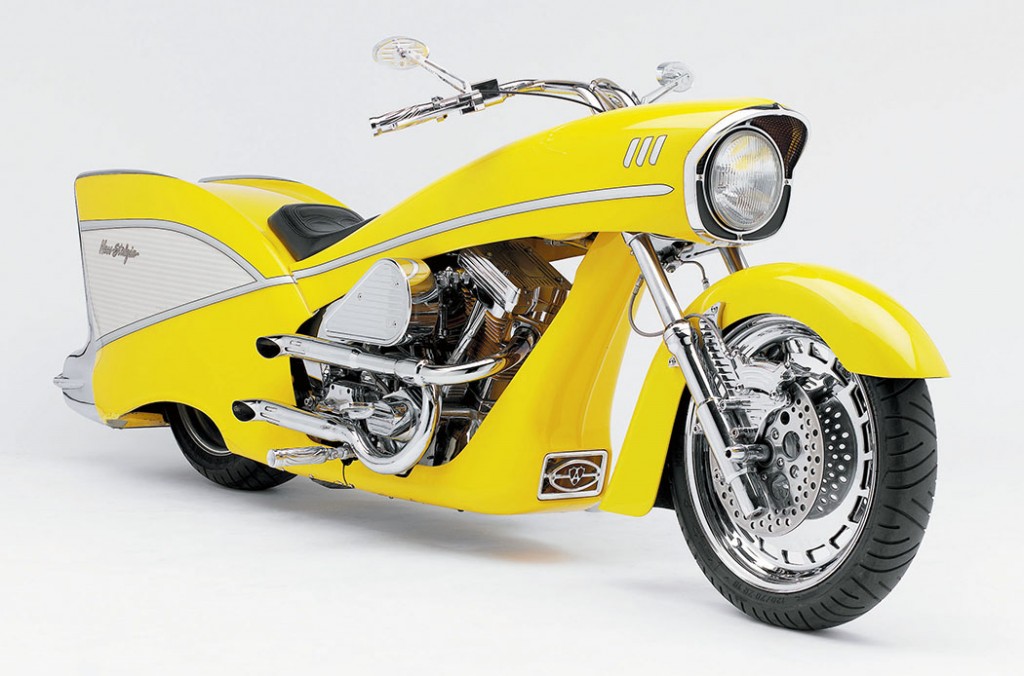 There's something about the chopper scene in the US that fascinates me, the bikes aren't something that I'd personally build or buy but I do have a deep respect for the passion and skill that goes into creating them. Arlen Ness is doubtless one of the most famous names in the business, he started off in the '70s and his name has become synonymous with long, flowing choppers featuring some of the best fabrication work you'll find this side of the Bentley factory.
Ness-Stalgia originally started life as a rudimentary sketch on a pizza box by motorcycle designer Carl Brouhard, he'd been watching a TV show about the '57 Chevy Bel Air and decided it'd make a great basis for a motorcycle, all he had handy was a pizza box and a pencil and so this quickly became a greasy drafting board as he scribbled out the design before it wandered off to that black hole that good ideas sometimes wander off into.
He spent a week working on the design (using mediums other than pizza boxes) and finally approached Arlen Ness with the designs and asked if he'd like to buy them. Arlen said thanks but no thanks and so Carl went and talked to the hot rod and chopper loving guys over at ZZ Top who loved the idea, however before they could finalise anything Arlen called Carl and said he'd had a change of heart.
Once the design was safely in the Arlen Ness workshop Ron Covell, a master fabricator, spent 8 months working on the body, frame and fittings, paint work was done by a few of the top guys in California with final assembly and finishing all done by Alern Ness himself.
The finished bike is a testament to the '57 Bel Air and although I wouldn't choose it over a Triton, I'd love to take it motel hopping along Route 66.